"Oh this old thing? It's Hennes and Mauritz daaarling" Our digital editor Natalie Salmon set herself a sustainable challenge for the new season
"Sorry about the mess," is the first thing I hear as I make my way inside a vast showroom, surrounded by floor to ceiling rails. Clothes drip from every hanging object in the room, like bunting at a carnival the day after the revellers have left.
I've been given access to H&M's archive collection, where they keep all the clothing from their previous designer collaborations, and am in the middle of what can only be described as H&M's, "greatest hits." A powder-puff pink version of Kendall Jenner's magenta AMFAR Giambattista Valli gown turns my head instantly, as if Jenner was still wearing it herself. Out of the corner of my eye I spot a Simone Rocha tulle concoction adorned with red beads reminiscent of lingonberries, which wouldn't look out of place in a patisserie. As I cast my eye upwards I notice - at the tippity-top of the double-decker clothing rail before me - it is bulging with adorably cropped fire-hydrant red Moschino puffers, complete with gold buttons the size of marbles. Nestled smugly alongside them are scarily-sexy Balmain bomber jackets.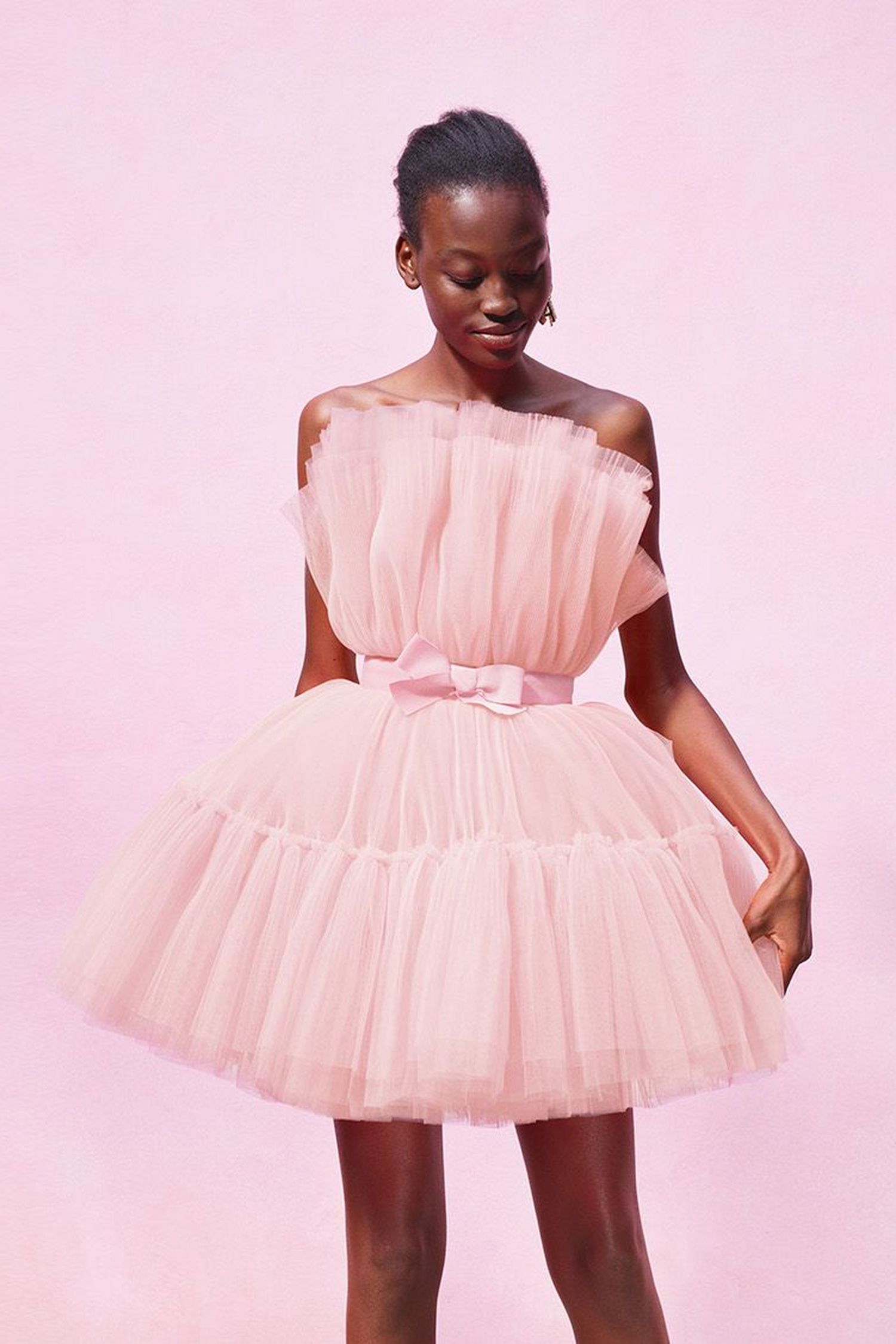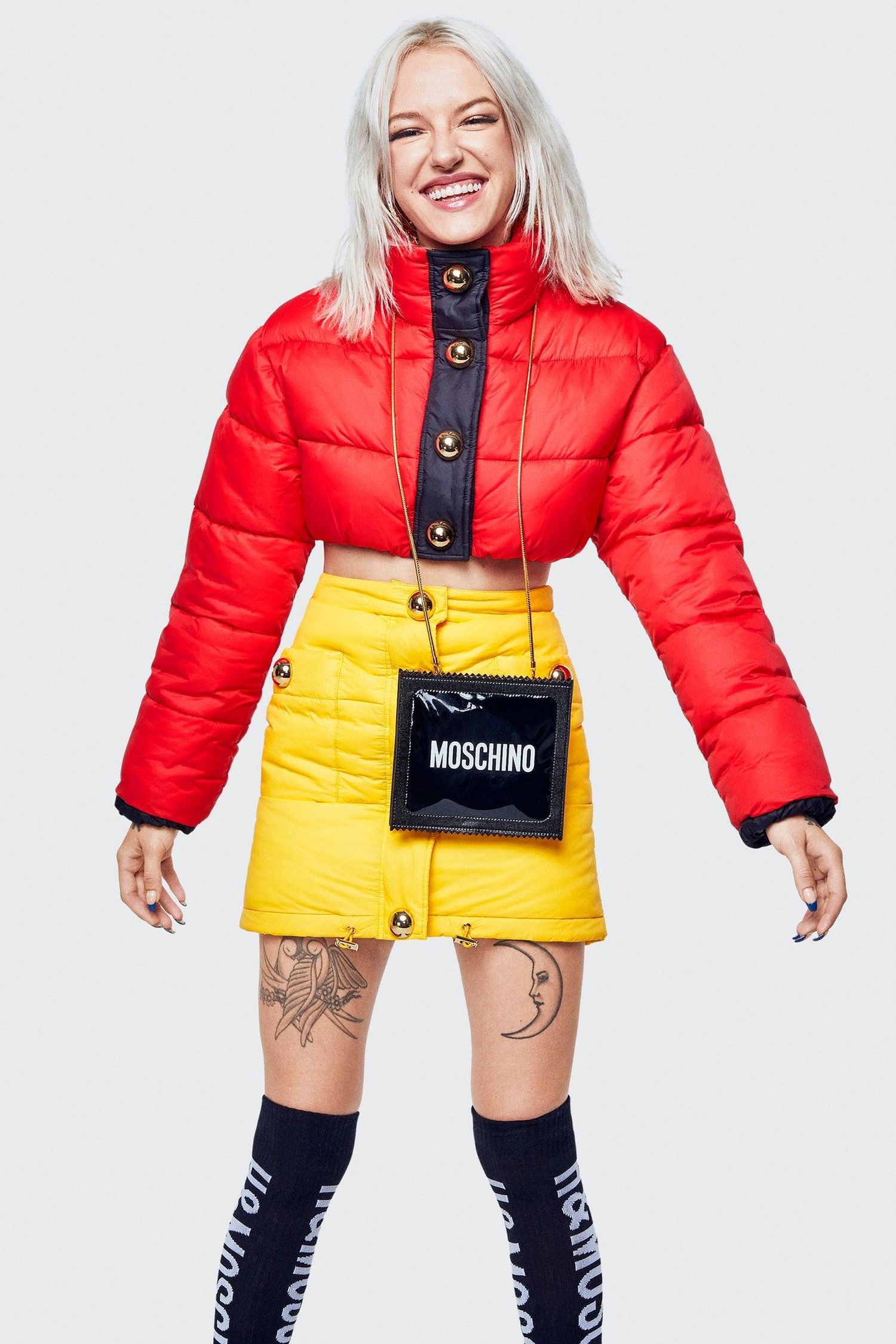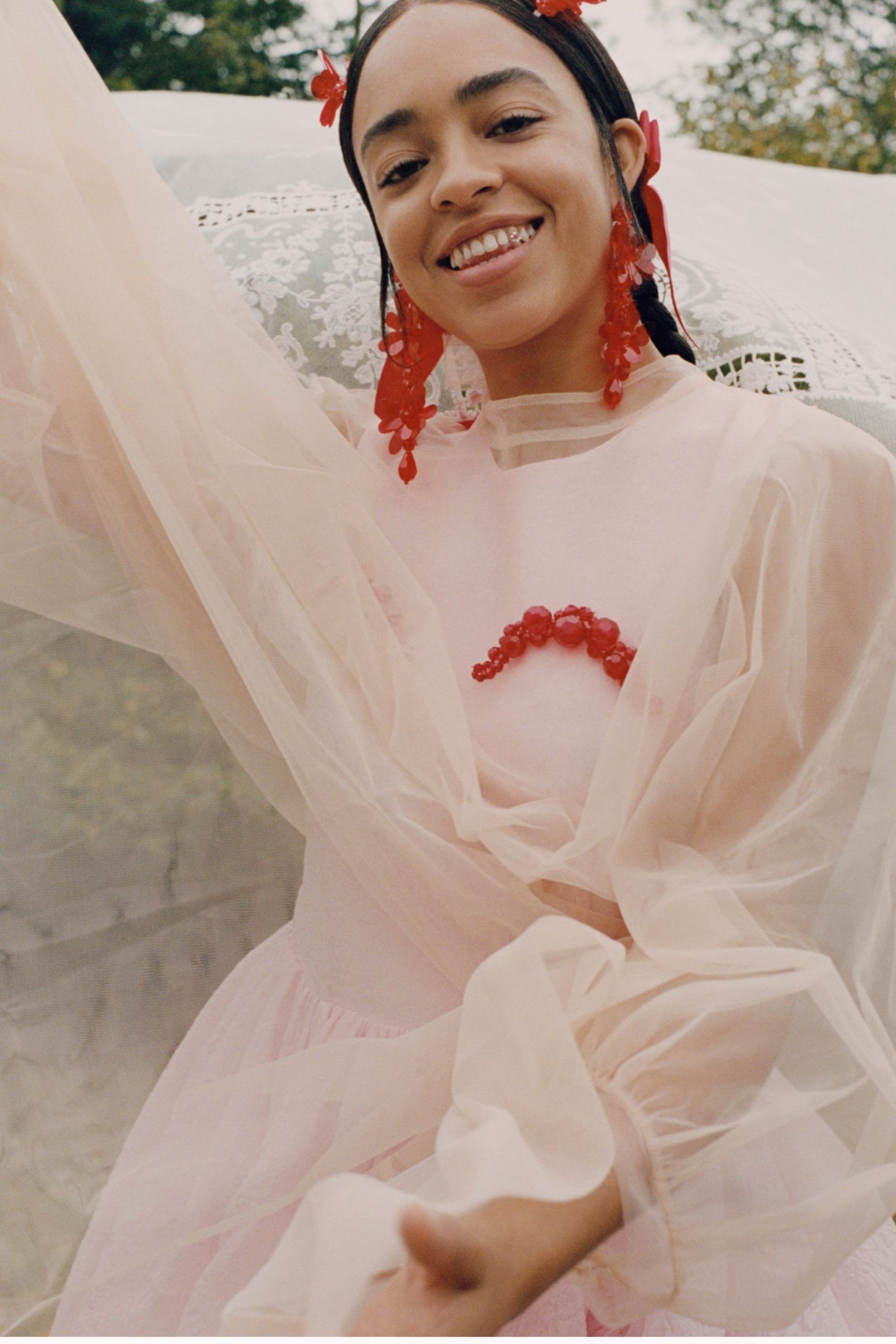 keep a hold of your cherished garments, they can live on long past their seasonal sell by date
Of course I was clamouring to get my hands on these aforementioned pieces when they first came out, but as we've come to expect from H&M's designer collaborations they all sold out almost instantly. Amongst the household-name designer wares, are pieces from their previous studio collections, samples that never made it onto the shop floor, stacks of shoes and every kind of accessory you could possibly name.
I start caressing a dress which catches my eye and am told, "oh that's not out yet," so I can't describe it to you, but let's just put it this way; I wanted it.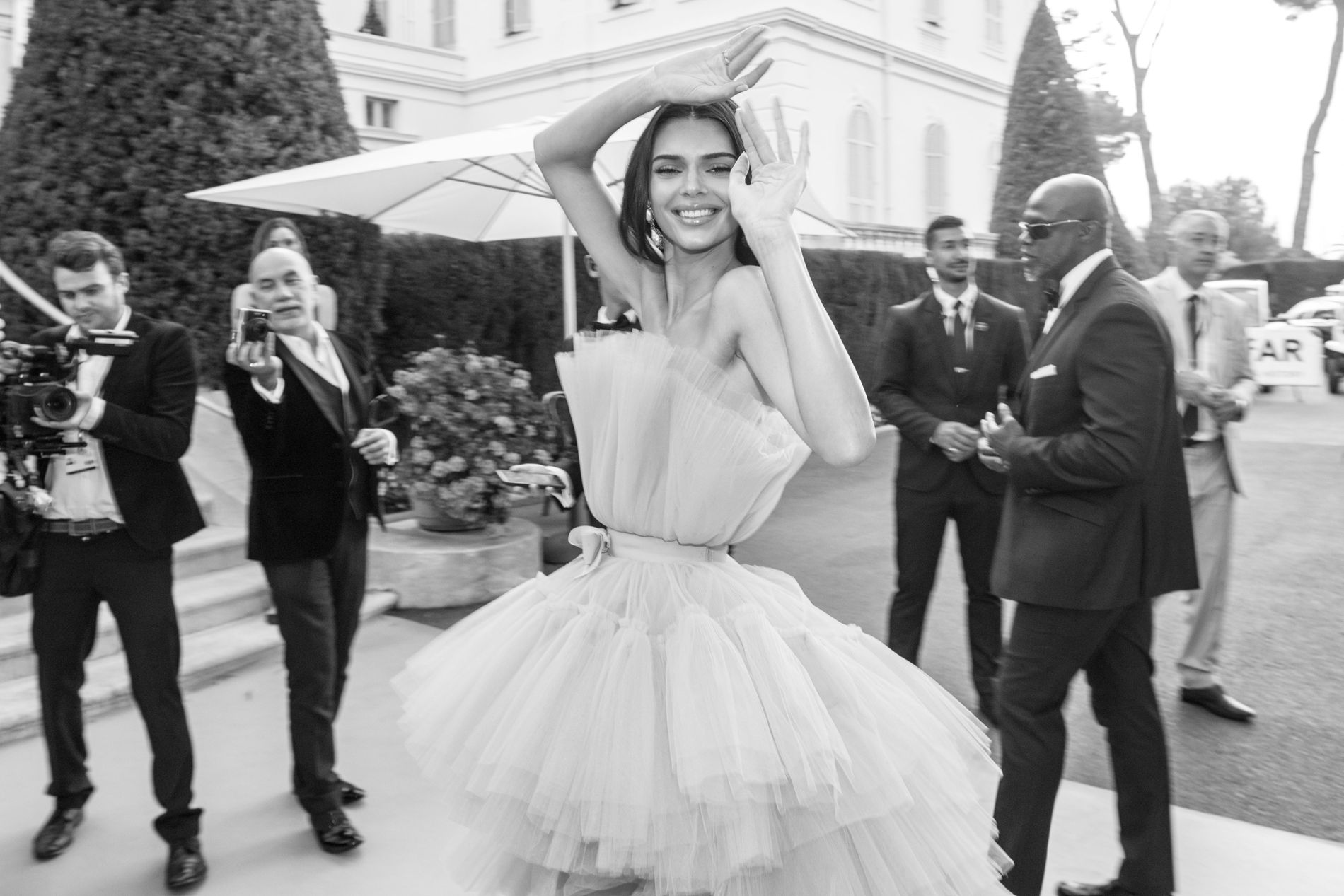 Starting in 2004 with the Karl Lagerfeld collection (featuring then-emerging - now established supermodel Erin Wasson), H&M paved the way for the high-street and high-end collaboration. They certainly sparked a trend... afterwards the now defunct Topshop launched their collaboration with Kate Moss in 2007, and in 2009 we saw Uniqlo team up with Jil Sander. Since then it's become the norm for famous designers to work with mass-market retailers on capsule collections. Nearly 20 years later H&M'S designer collaborations are still one of the most hotly anticipated events on the sartorial agenda, and Gen Z and seasoned fashionistas alike all want in on the action.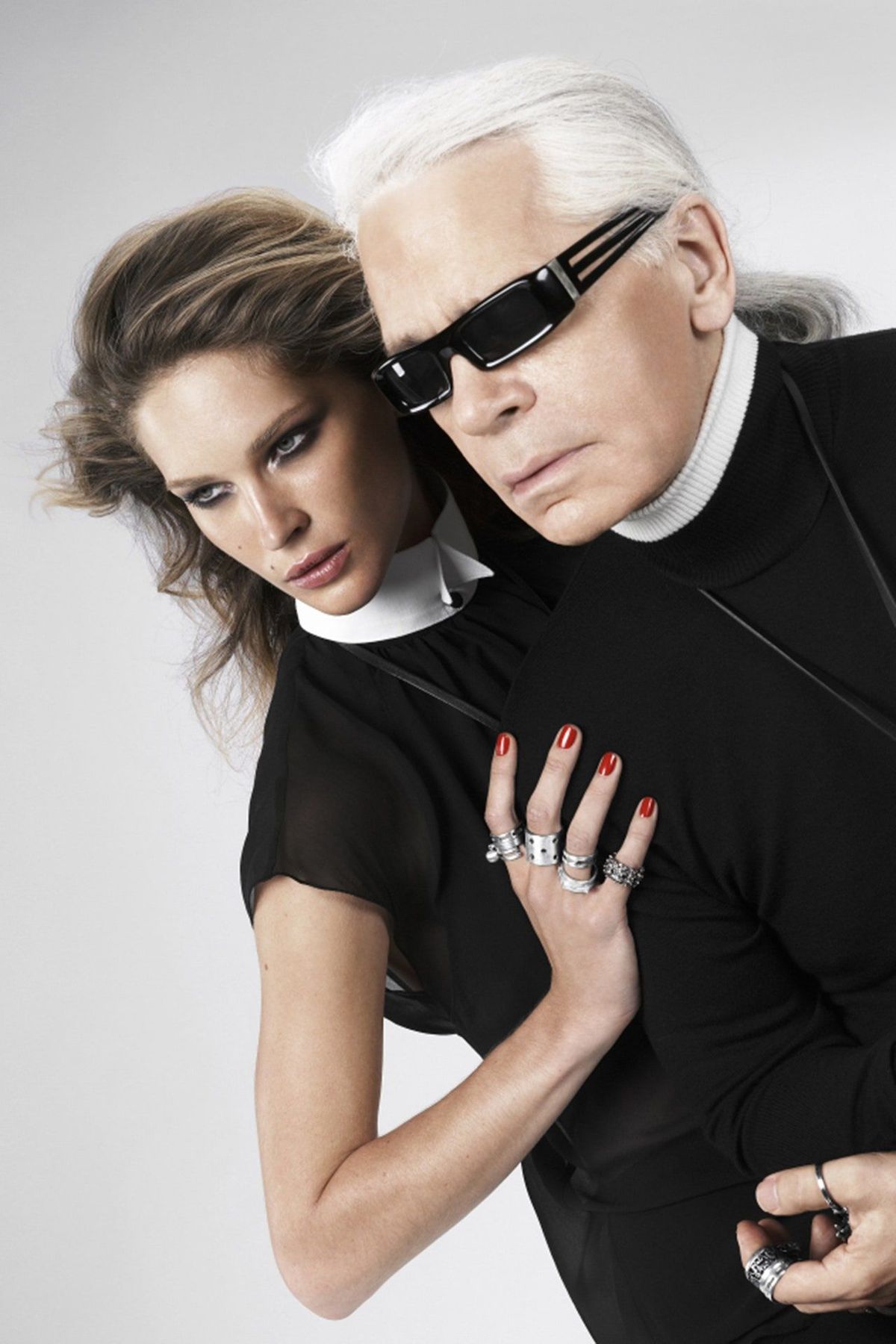 Karl Lagerfeld teamed up with H&M in 2004, which at the time was an unprecedented move for a high-end designer. Photo: H&M
If you don't act quickly you miss out, the pieces can be resold on eBay and Depop for almost five times the amount you'd pay in store. This year their collaboration with Toga Archives flew off the shelves, with pieces snapped up quicker than you could reach for your credit card. Showroom manager Carolina explains "It's crazy, the pieces sell out online almost instantly."
I remember being 20 years old and joining a queue outside their flagship store, which wrapped around the building, from six in the morning to get my hands on their Lanvin collection with my best friend from university, hoping we'd be rewarded for our eagerness and that we'd be able to wear the Alber Elbaz crafted delights on offer that year.
H&M's headquarters in Stockholm keep all of these garments, preserved in perpetuity for posterity, to loan to celebrities and for the occasional photo shoot. Seeing them all in one place unlocks memories I forgot I even had. When I am in the room I feel exactly as excited to see the garments up close as I did when I was still a student, running my hands through rails of the only Lanvin pieces I could actually afford at the time.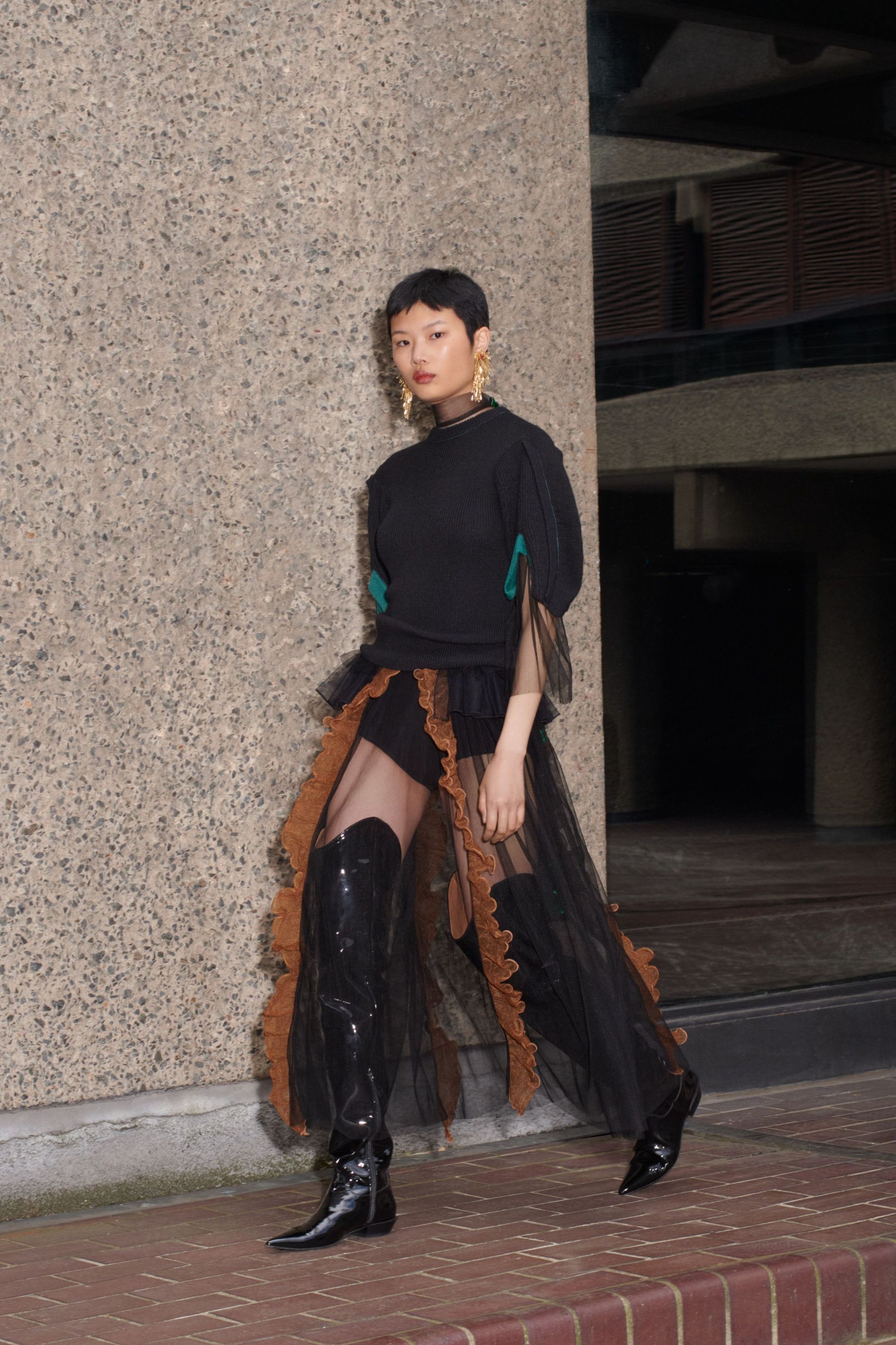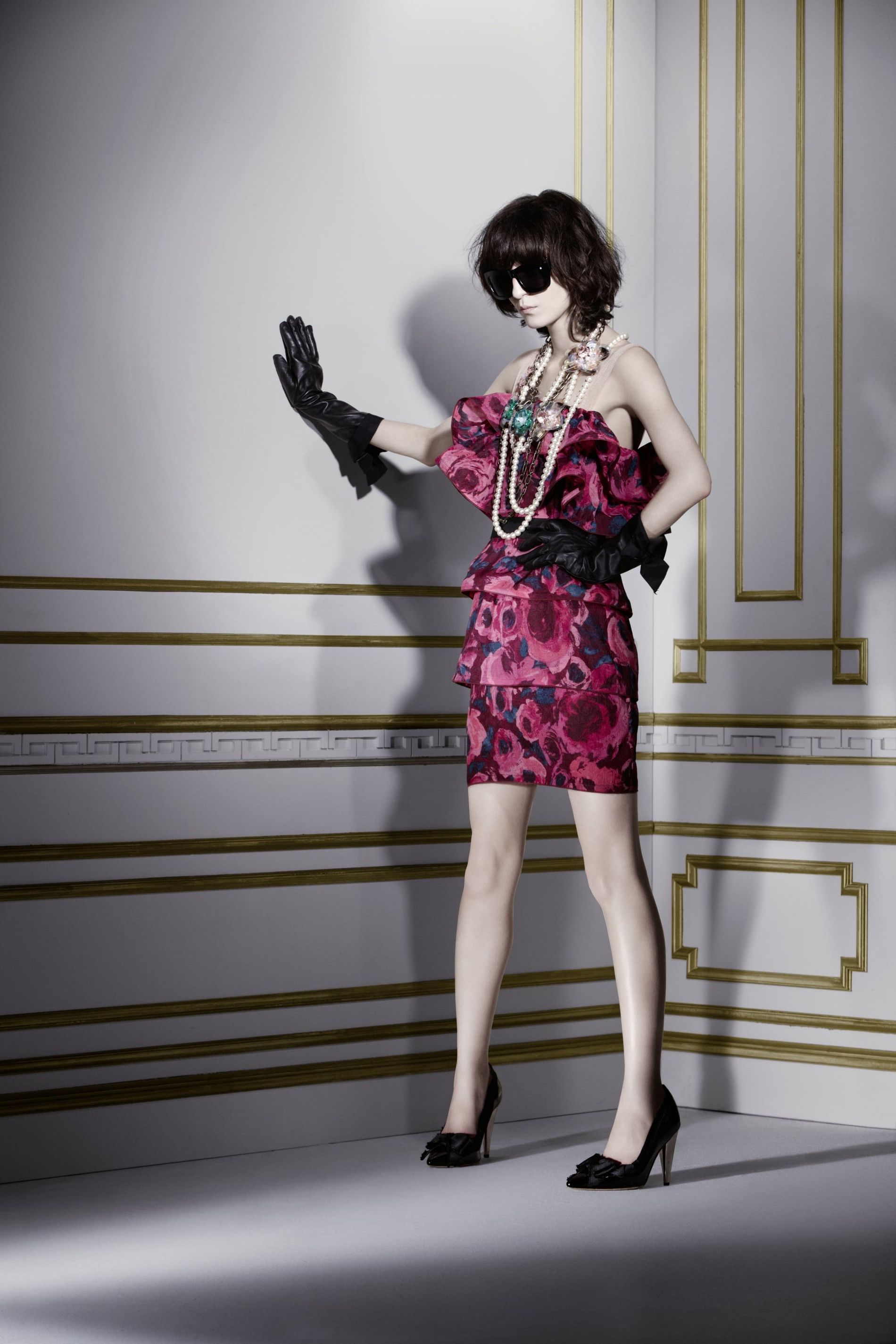 At Vogue Scandinavia we live and breathe sustainability, our magazine is the only one not found in newsstands in a bid to make the business of producing and distributing a magazine more sustainable. You can only order it online so it arrives straight to your door so that we can mange the supply chain. Likewise our editor in chief, Martina Bonnier is a champion of circular fashion.
So with this in mind and a new dip in temperature to dress for, I set myself a challenge. Could I go an entire week without buying or wearing a single 'new' item of clothing? (this may sound easy to you but I am a bonafide shopaholic) Would it be possible to still be a sartorial success only using vintage or archive pieces? I hate to sound cliché but; 'there was only one way to find out.' For every day of the week I wore only the items I found in the H&M archive to see if pieces from past years would work - proving that we don't need to constantly buy new things for a new season.
This is how the looks were received on the streets of Stockholm:
Monday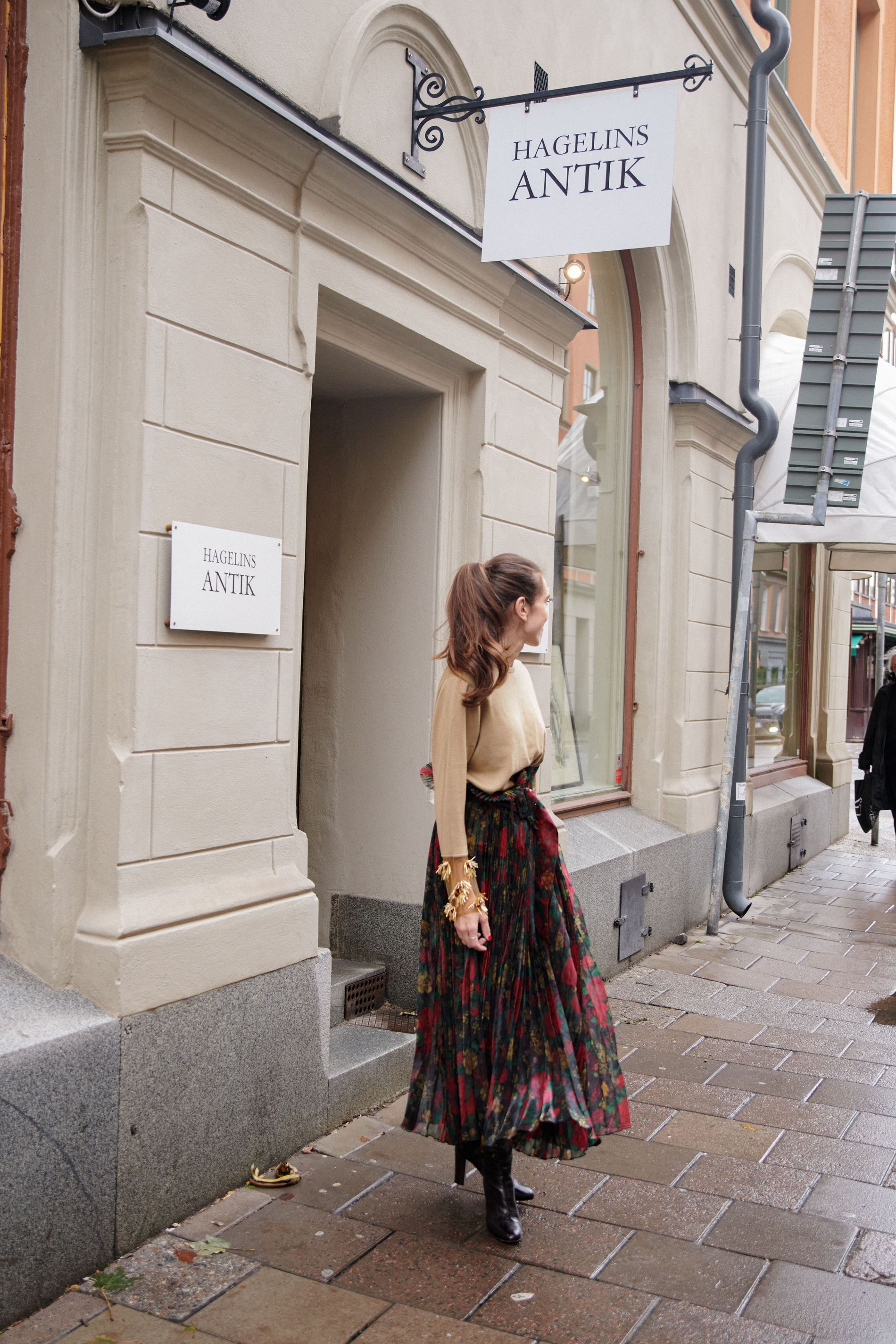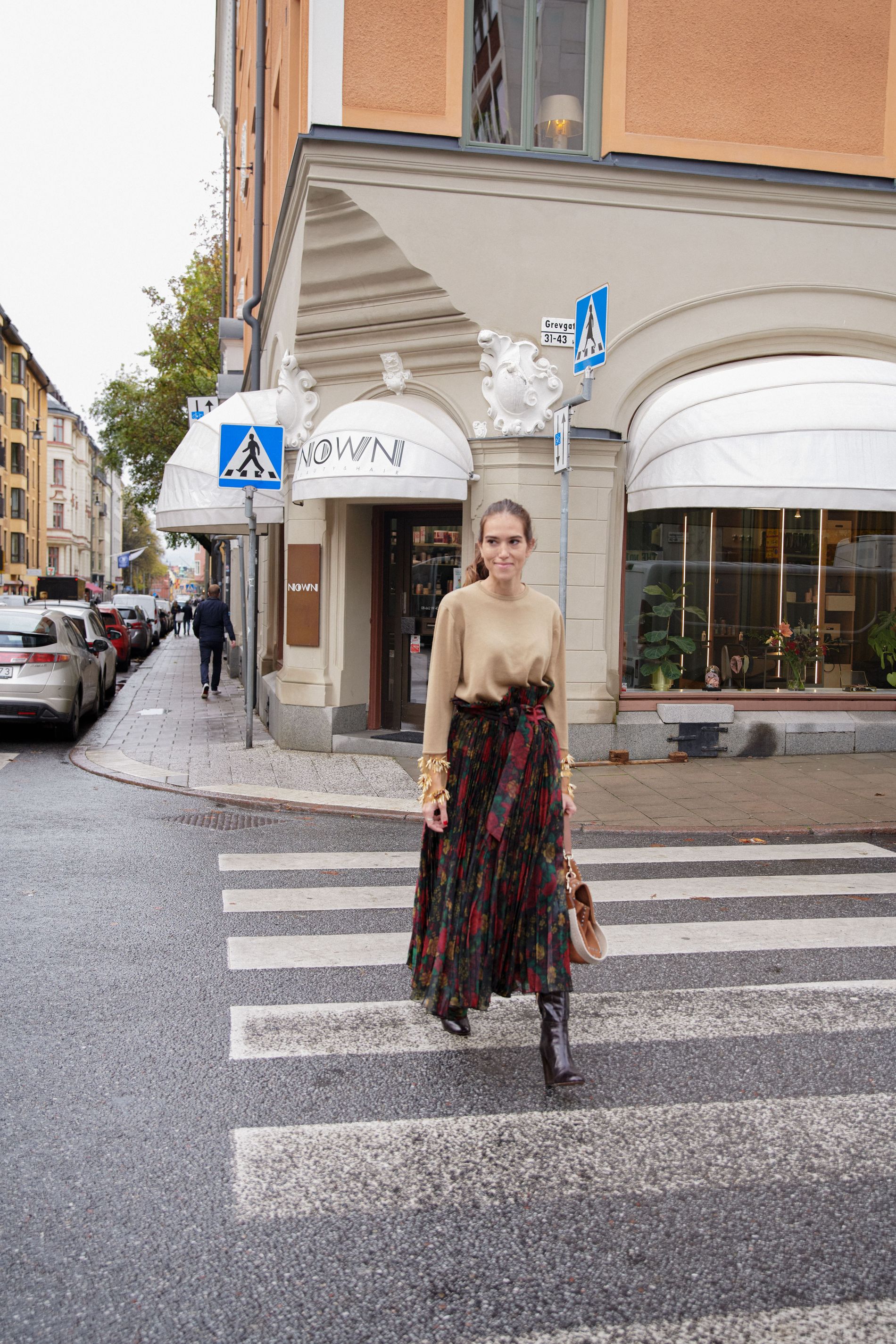 On the first day of the week I opted for H&M's brand collaboration with Toga Archives, which had just made it into the archive showroom floor. The sweater with statement cuff detailing was paired with a skirt from the same collection, which our fashion assistant Amelie Langenskiöld had pointed out to me as her favourite piece. I wore it with my deceptively comfortable burgundy LK Bennet boots and trusty suede Carolina Herrera bag.
Tuesday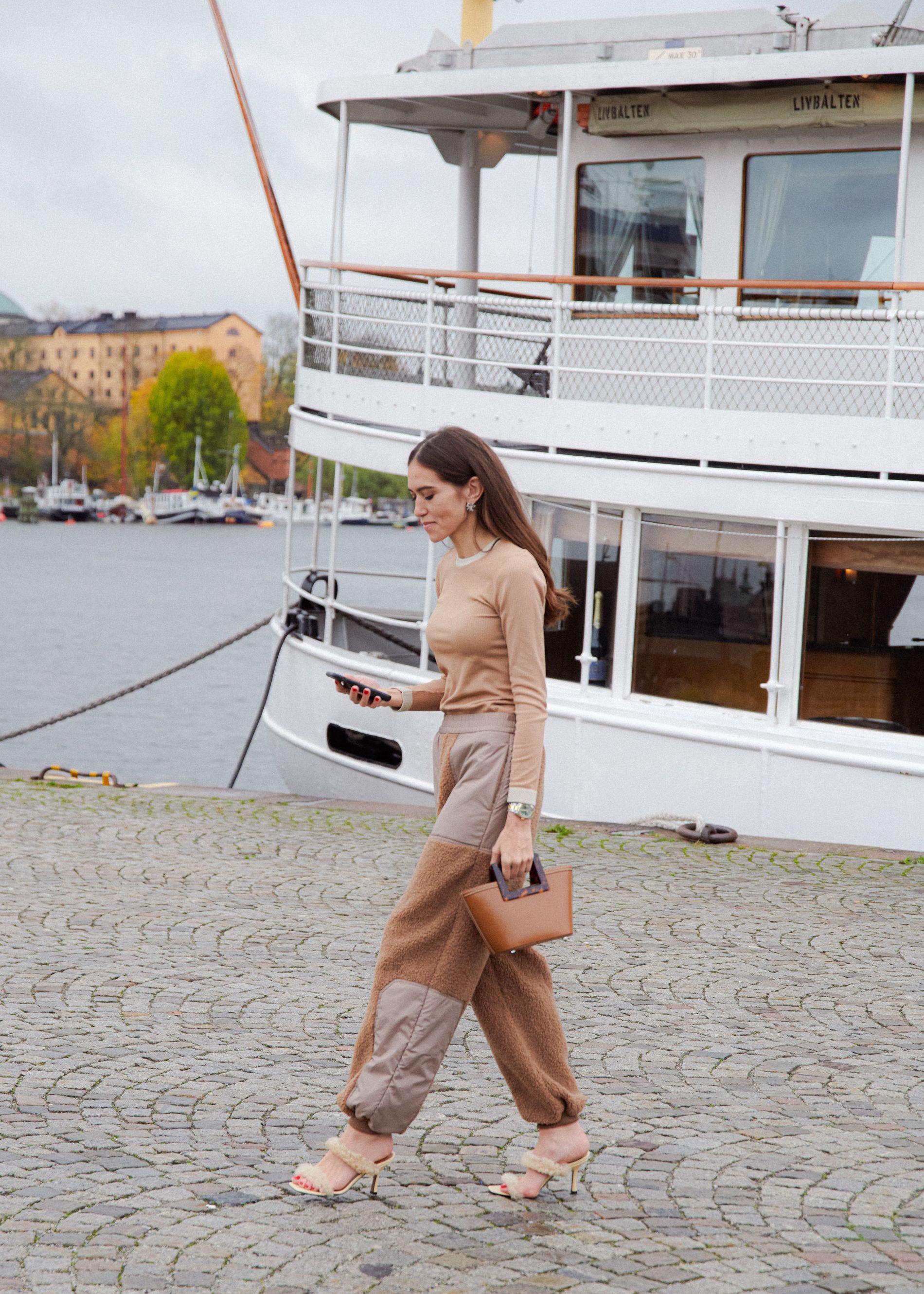 Photo: Carolina Diaz
According to a close friend of mine I'm about as "edgy as an orange" so this look was probably the least "me" but I sent it in WhatsApp to our junior fashion writer Josefin Forsberg while I was in the H&M showroom... and she told me to "go for it." Shearling joggers which I paired with these shearling mules from ATP Atelier and my Marina Raphael handbag. Maybe I looked good, maybe I looked like Kim Kardashian's Skims Lamborghini. I think my colleagues were too polite to tell me the truth when I got into work that day.
Wednesday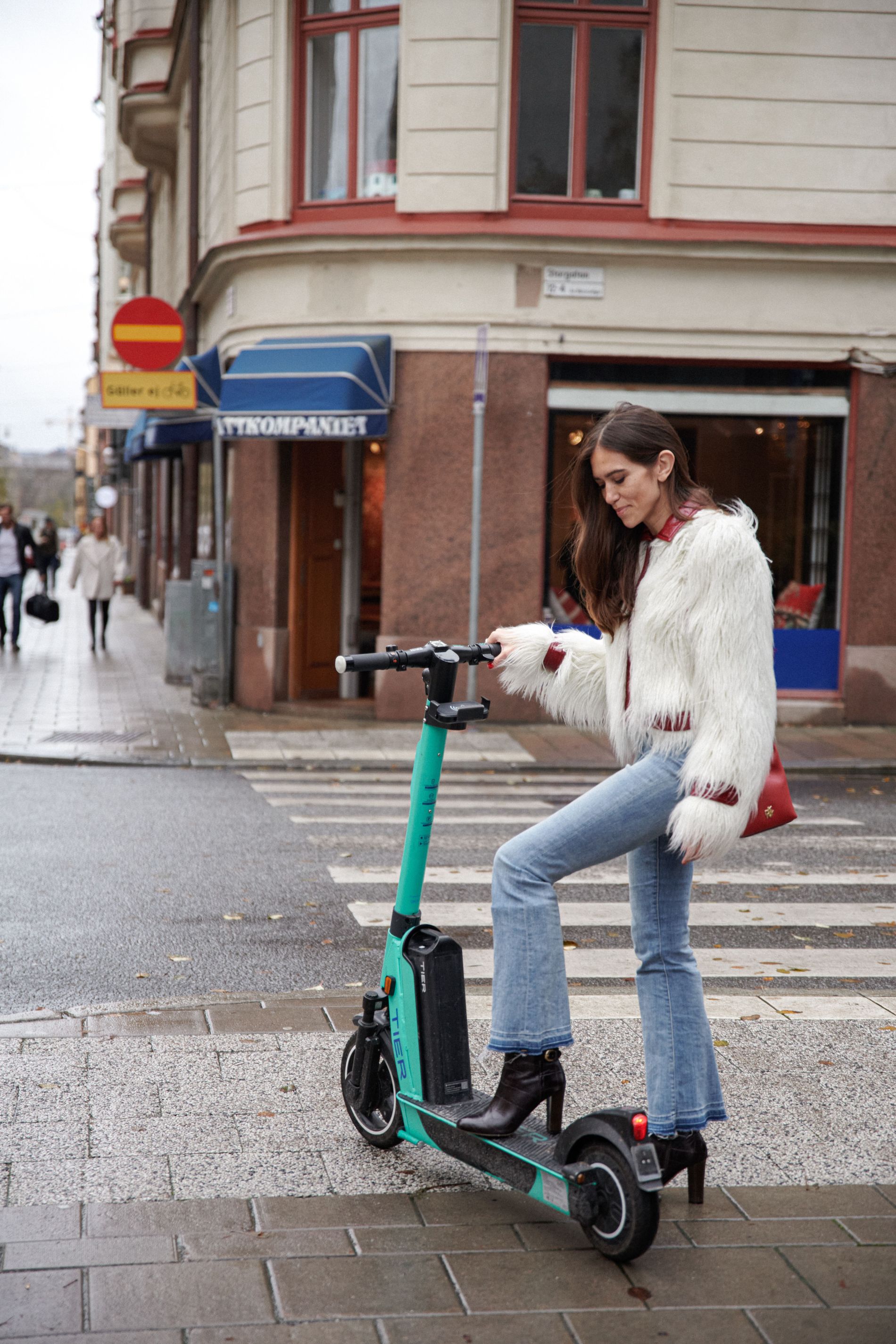 Photo: Carolina Diaz
I take an electric scooter to the office everyday as it's the most eco-friendly way to get around the city (other than walking of course). As it was particularly chilly that day I decided to wear the H&M x Giambattista Valli jacket with kick-crop flared jeans. That 70's Show eat your heart out.
Thursday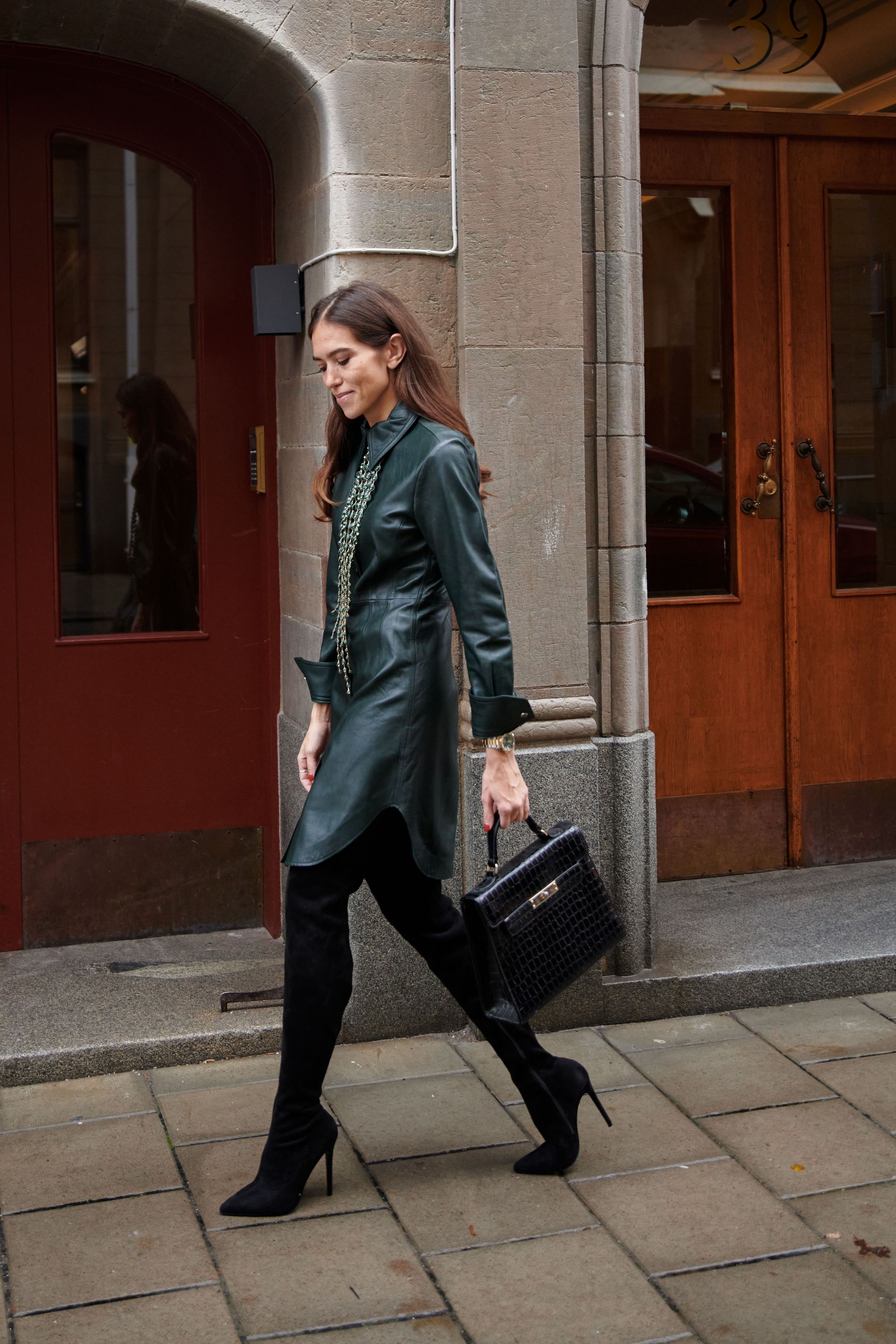 Photo: Carolina Diaz
On Thursday evening I had an after work event for Tiger of Sweden so I had to 'dress up' so I could be ready to head straight there from the office. I decided to 'update' this forest green shirt-dress from an archive H&M studio collection with the brand's latest Studio AW21 necklace which I already own. The response I got from other guests at the soirée that night was asking if I was wearing was a designer dress. Normally for something like this I'd rush out and buy something new for the occasion but as I received compliments on my outfit, my confidence was growing in my circular wardrobe.
Friday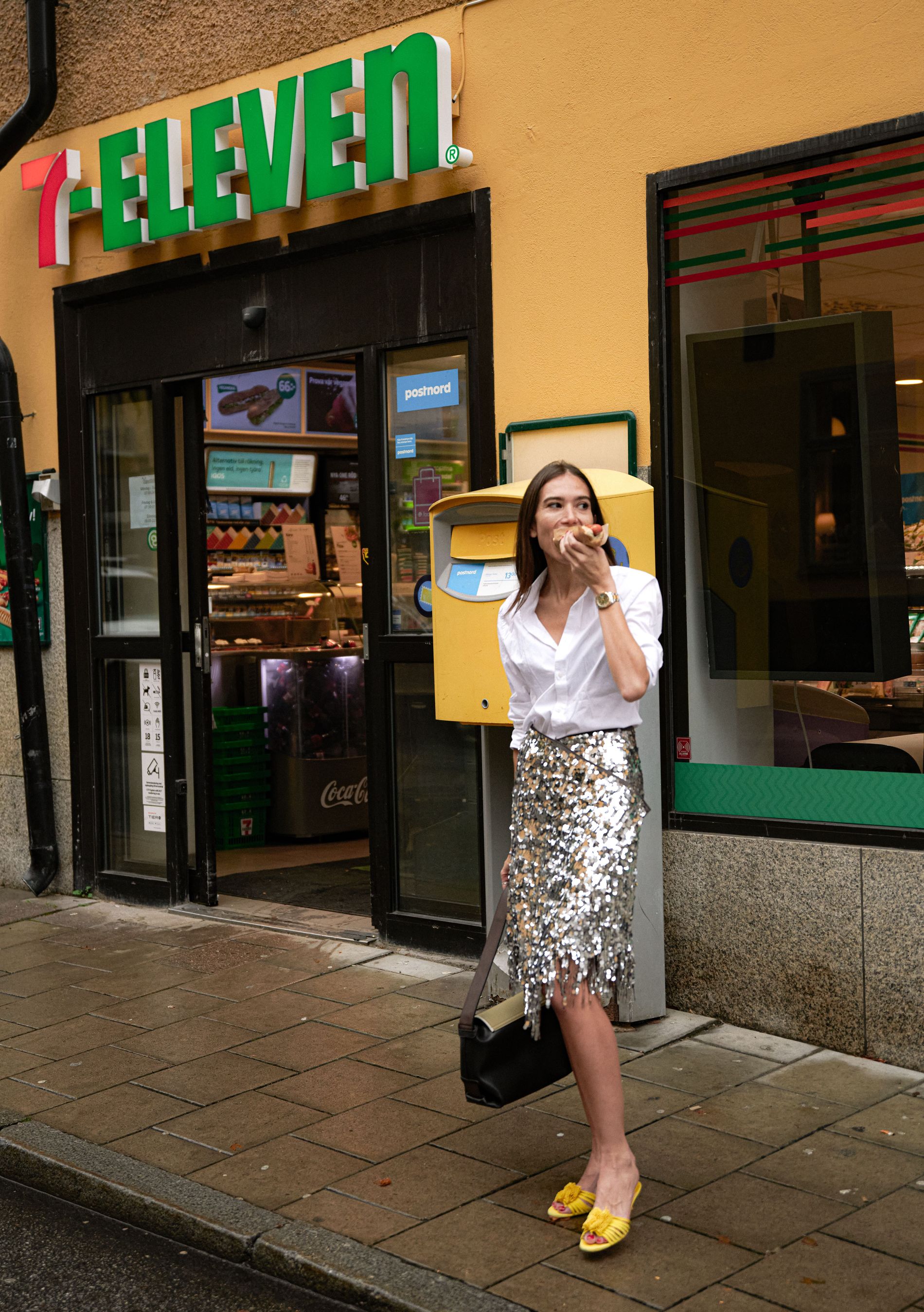 Photo: Carolina Diaz
I don't believe in the term 'casual Fridays,' even if my most important meeting that day is with a hotdog at 7-eleven. To get 'ready for the weekend' I decided to pair this white shirt I own, (which is actually also from H&M) with this silver skirt - bedecked with super-size sequins and asymmetric fringed hem - from an old H&M studio collection. The canary-yellow Christian Louboutin mules from my closet added the pop of colour the outfit needed.
So what did I learn?
The conclusion? After a week of wearing my own items, mixed with vintage H&M I started to look inwards, and found that with a little creativity it's of course possible to make the old new again. The challenge of mixing pieces you already own with vintage, and making your wardrobe work double-time is all part of the fun. I'm not an expert on sustainability, (if you want to hear from one I suggest checking out our very own Celine Aagaard) but if I can limit my consumption slightly then maybe I'll be doing some good... but the main lesson I learned was to keep a hold of your cherished garments, they can live on long past their seasonal sell by date - and be worn over and over again. (And that I can control my shopping habit - when I try.)