Pharrell's first men's show for Louis Vuitton on Paris's Pont Neuf was a star-studded affair, featuring a mesmerizing new collection.
Pharrell Williams closed off the famous Pont Neuf in Paris for his debut men's show for Louis Vuitton, which was attended by everyone from Beyoncé and Jay-Z (who gave a special performance with Williams post show) to Rihanna and A$AP Rocky and Zendaya. Below, see British Vogue fashion critic Anders Christian Madsen's five key takeaways from Louis Vuitton's spring/summer 2024 men's show.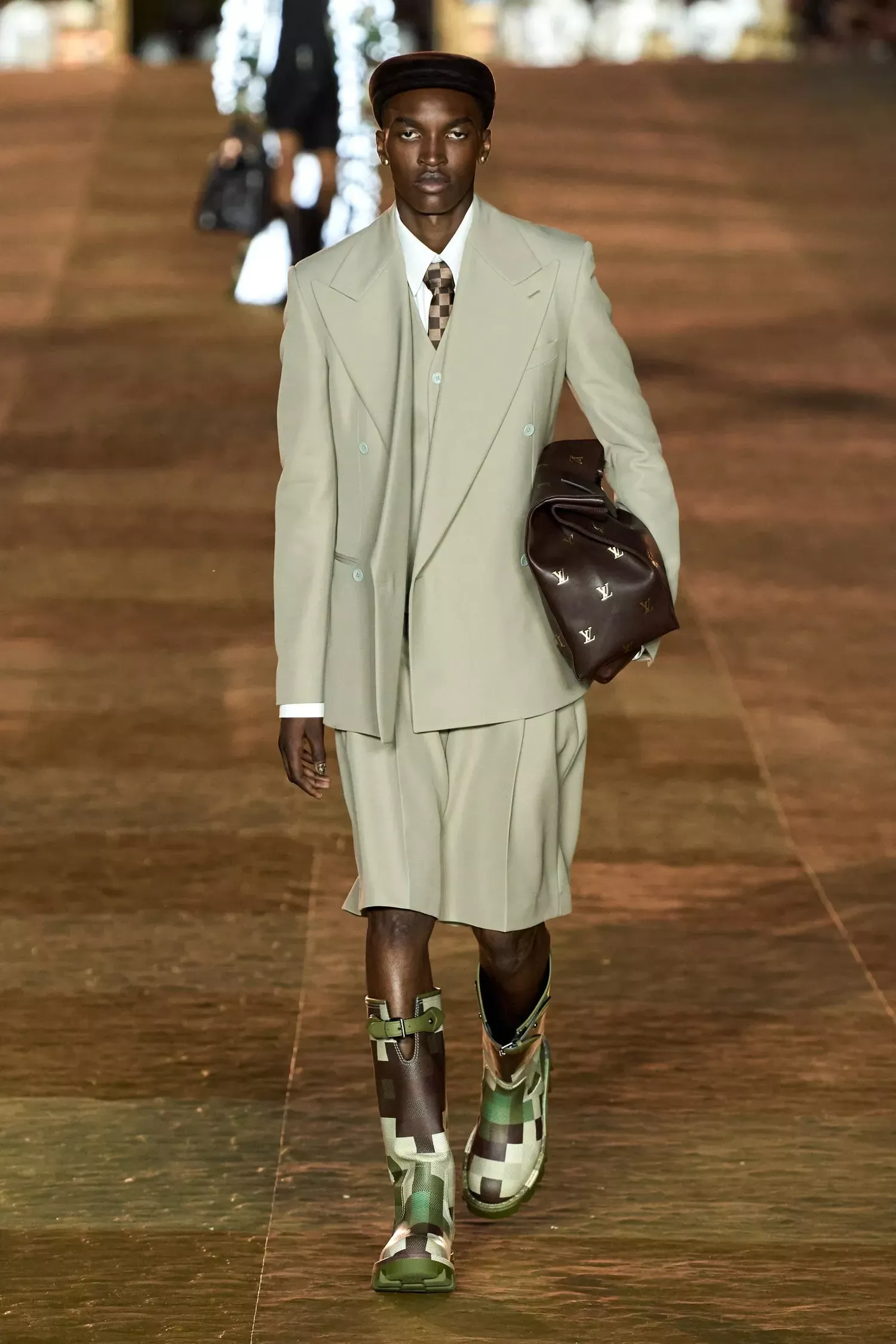 Photo: Daniele Oberrauch / Gorunway.com
It took place on one of Paris's busiest bridges
Can you imagine how difficult it is to close off the Pont Neuf? The location choice for Pharrell Williams's debut show for Louis Vuitton said it all: this was history in the making. "In moments like this, when you've been chosen to do something, the sun is shining on you. The quintessential question that I ask myself all the time, and ask people I care about, is, 'Hey, if the sun is shining on you, what would you do with the light?'" the designer reflected before the show. As an artist who's provided the life soundtrack for at least one generation, Williams's meeting with the biggest luxury brand in the world was loaded with significance. He demonstrated the moment in an epic production – on said bridge, in the centre of Paris – framed around a collection that represented the personal style and understanding of clothes, which earned him his star in the fashion galaxy in the first place. Everyone was there, from Beyoncé and Jay-Z (who performed with Williams after the show) to Rihanna and A$AP Rocky, Kim Kardashian, Naomi Campbell, Zendaya, Lenny Kravitz and Lewis Hamilton.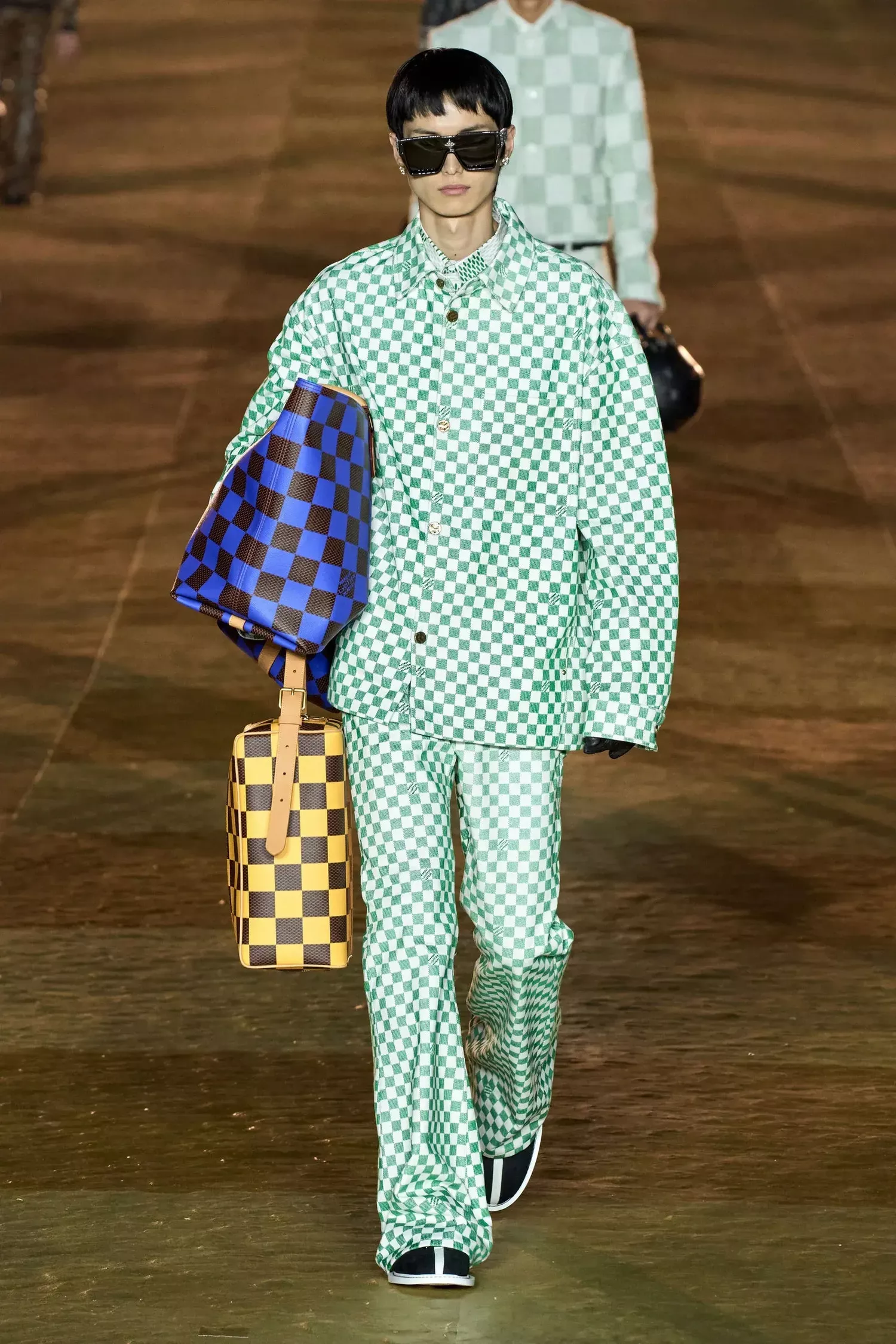 Photo: Daniele Oberrauch / Gorunway.com
It was all about the sun
Guests boarded bateaux mouches on the quay of the Musée d'Orsay – draped in Rihanna's Speedy bag campaign unveiled by the house days before the show – and sailed down the Seine to Pont Neuf covered in golden, sun-drenched Damier chequers. Key to the life philosophy of Williams, he sees the sun as a unifying force of light, energy and healing power. Its rays penetrated every element of his show, from the motif of the glass invitation to that runway and the glistening surface decoration that adorned his dandy-esque tailoring and retro-chic sportswear. For the digital audience live-streaming the show, it opened with the prelude Pupil King directed by Todd Tourso, featuring a conversation between the comedian Jerrod Carmichael and the artist Henry Taylor on the bank of the Seine. It dealt with ambition, opportunity and pro-action, themes central to the philosophical premise of the collection.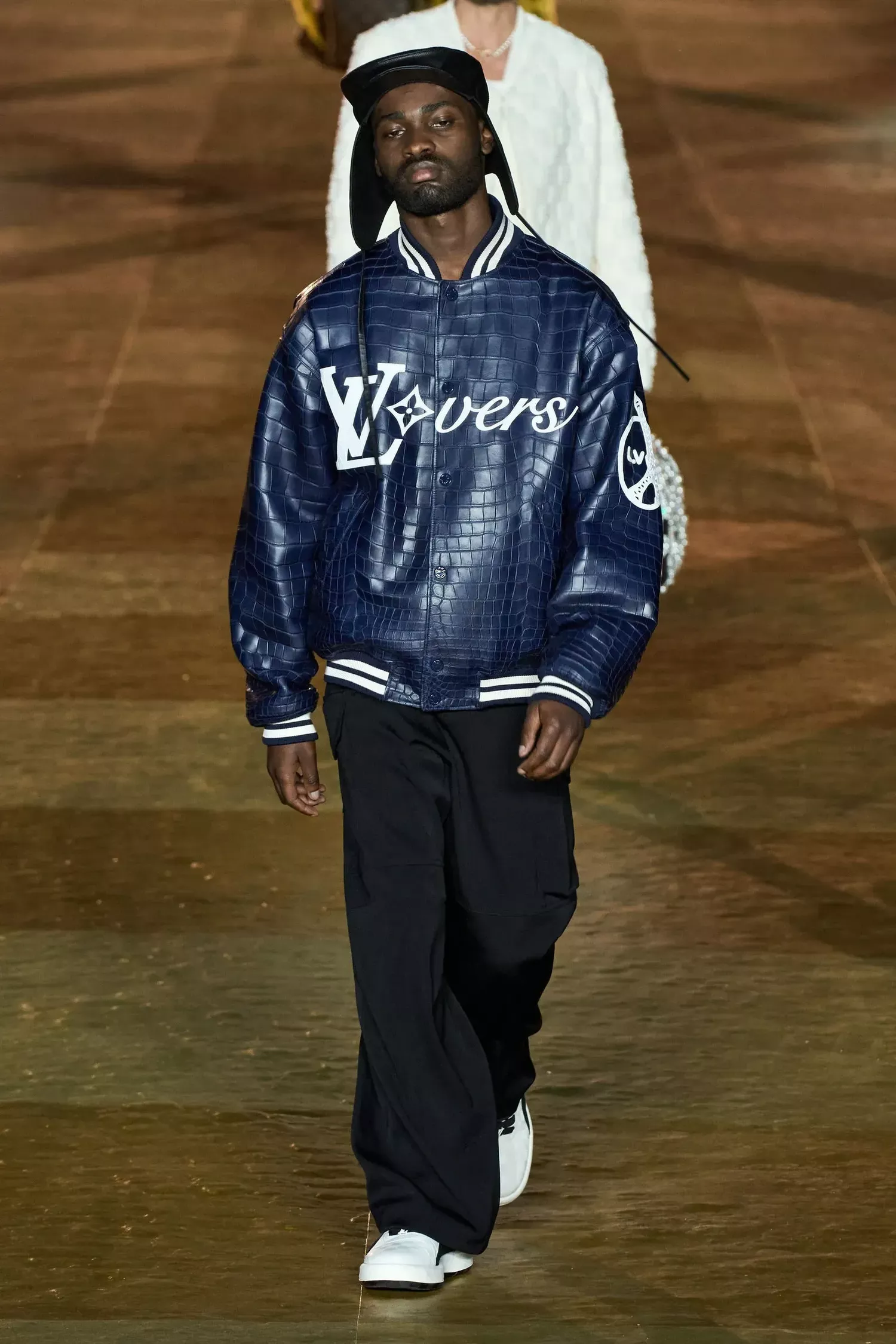 Photo: Daniele Oberrauch / Gorunway.com
It was loaded with cultural significance
"I can tell you that Virgil and me being here has to say to kids who look like us, 'Oh, I can do anything. I can be anything,'" Williams said, referring to his Louis Vuitton predecessor, the late Virgil Abloh. "When you come from a culture that has been purposefully blocked and set in disadvantaged situations, you can't imagine what's even possible. But there's this narrative that's changing. So many of us are being swept up from one place and landing in fertile soil in other places, and being treated and watered and sunned like all souls should be. I can say there is an impact in that way, which is changing. It's not enough but it's happening. I'm very honoured to be a part of that. When I say the sun is shining on me – and it's shining on all of us – it's listen, this is a French house but they went right back to America and found another Black man, and gave me the keys."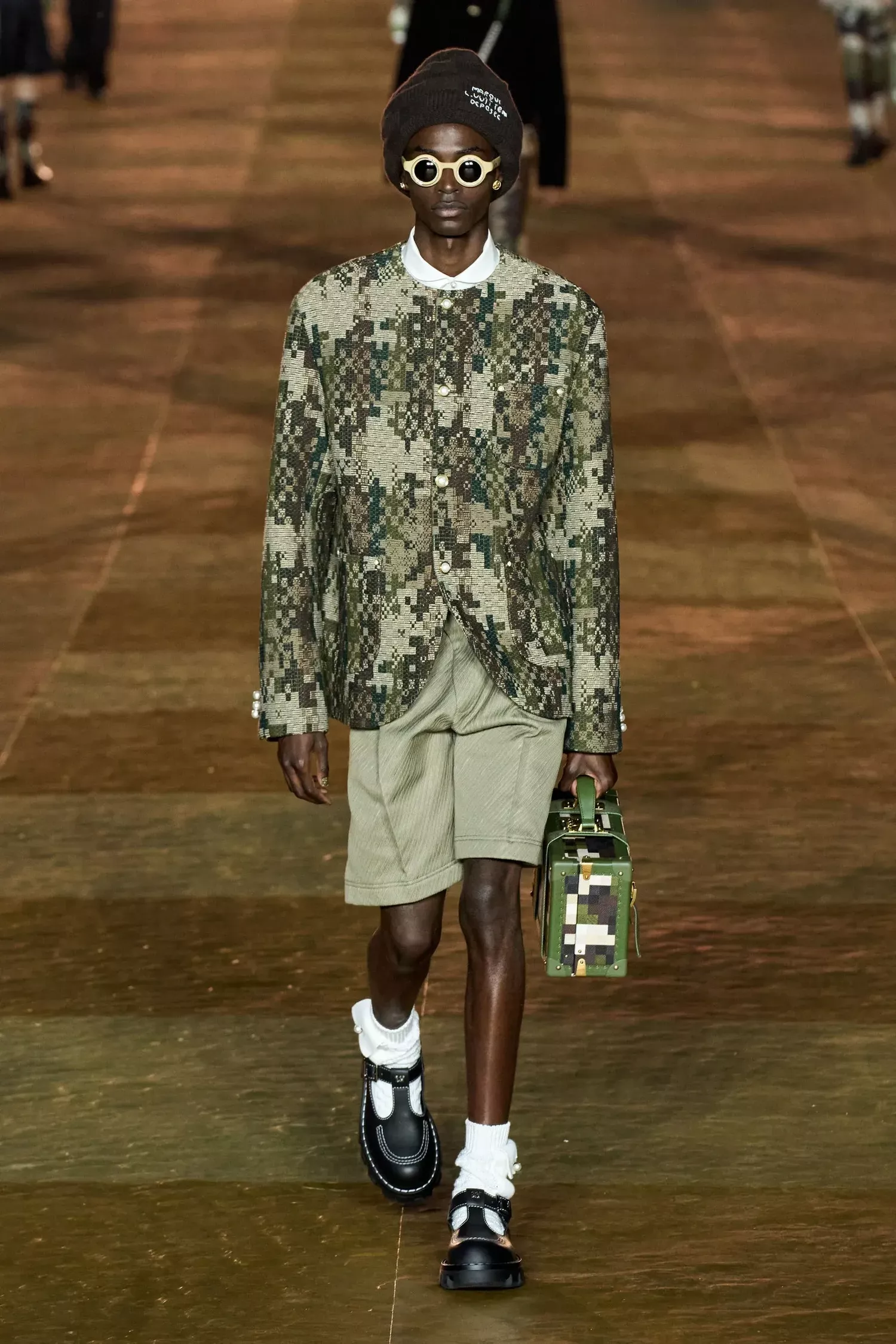 Photo: Daniele Oberrauch / Gorunway.com
It reimagined the iconography of Louis Vuitton
Abloh often said his tenure at Louis Vuitton was about changing an industry where there wasn't anyone he could mirror himself in. He often cited Williams as a role model: someone who had paved the way in music and fashion culture. Following in Abloh's LV-shaped footsteps, Williams's debut felt at ease. There was a calm resolve about the show – uplifted by the soundtrack he had produced with Voices of Fire, Clipse and Lang Lang, performed with a live choir and orchestra – which was also felt in the collection. Reflecting his own inimitable sense of style, from dandy tailoring to camouflage, bouclé jackets and comfy-centric constructions, Williams adapted the iconography of Louis Vuitton in new Damier chessboard patterns, a "Damoflage" splicing of Damier and camo, a pixelated Damier by ET Artist, and Canal Street-inspired takes on the LV monogram across a wardrobe that felt distinctly wearable (in a very extra way). "Down to Earth," as Williams's old mentor at Chanel, Karl Lagerfeld, once said of himself: "Just not this Earth."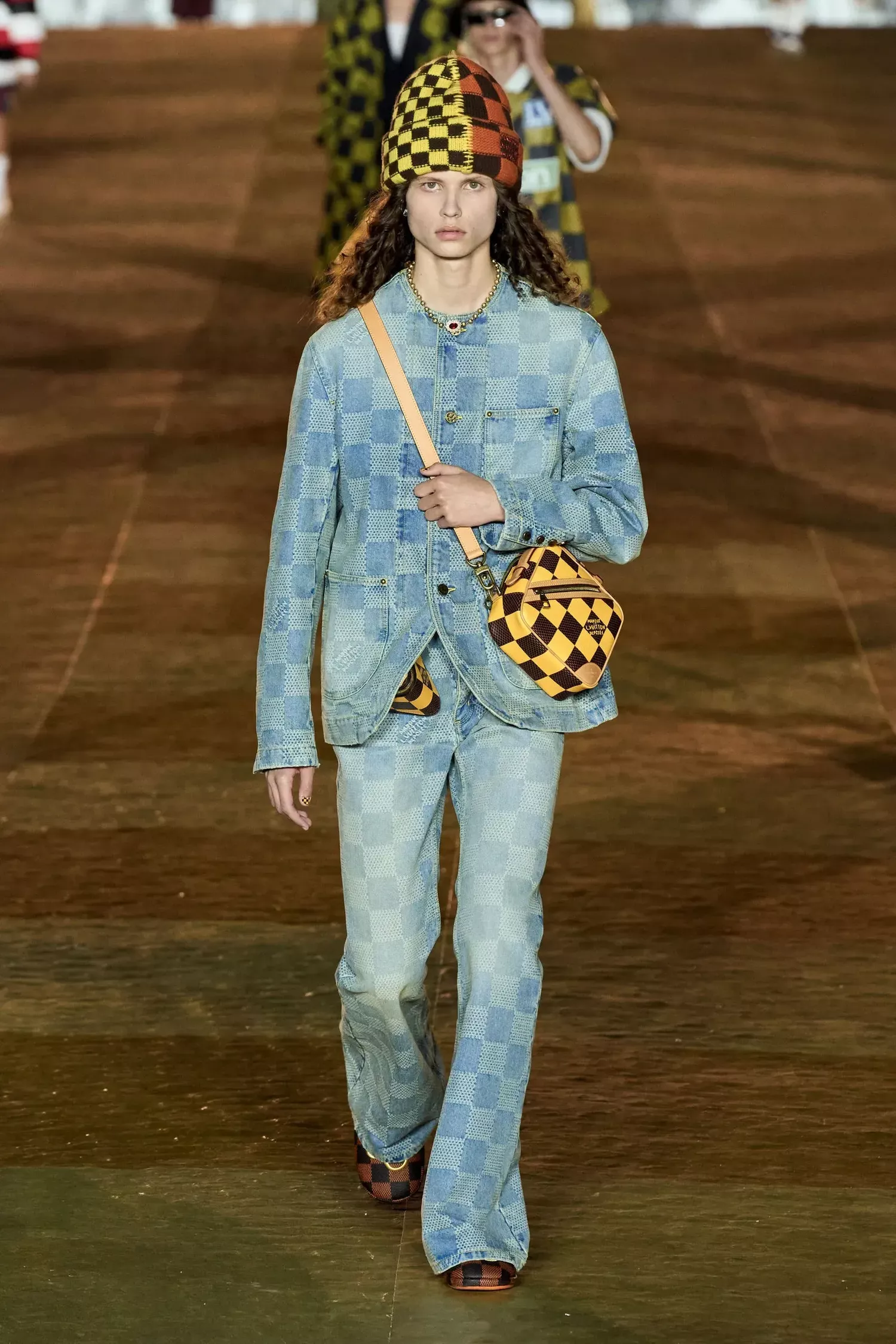 Photo: Daniele Oberrauch / Gorunway.com
It was packed with brilliant pieces
Taking in the show atop the Pont Neuf, with Louis Vuitton's adjacent headquarters towering in the background, you'd be forgiven for slipping into shopping mode. Amongst Williams's debut proposals were tracksuits outlined with pearls, Damier motifs adapted into the patterns of coats and jackets, and delectable denim pieces embroidered with micro motifs of faces created by the American artist Henry Taylor, who also starred in the show's prelude. In the accessories department, Williams delivered magnified furry Mickey Mouse gloves, different dimensions of trunks covered in shiny copper (presented on buggies driven by models), sunglasses crafted like camera lenses, and his first bag proposal for the house, as seen in the Rihanna campaign: a new interpretation of the classic Speedy bag reimagined in leather as opposed to canvas and rendered in the primary colours Williams said served as his natural starting point for the collection. The experience was emotive, emotional and an epic beginning to a new chapter at Louis Vuitton.