"If you want it, you can have it; if you need it, you can have it." The Virginia choir Voice of Fire was singing loud about the subject of its Pharrell Williams composed song: "Joy (Unspeakable)." But as the tempo rose and their white and off-white "Damouflage" robes shimmered in the light, and Williams came out in his top-to-toe green pixelated Damier duds, and we stood and whooped as he walked down the golden Damier covered cobbles of Paris's oldest bridge, well, what we specifically wanted and what we specifically needed was Joy in certain very particular (and probably Damier-covered) forms.
"We started small!" joked Louis Vuitton CEO Pietro Beccari straight after a show that was doubtless amongst the "biggest" Paris has ever seen by any metric. It was Beccari, fresh into the job, who appointed Williams to succeed the late Virgil Abloh. In his notes Williams dedicated the show to his predecessor: "This moment is dedicated to the giant before me. To our brother in spirit." And that was only fit and right.
Williams told us beforehand that this collection was all about LoVe. In order to spread that message, the show also became an awesome demonstration of power. Guests were ferried up the Seine in Bateaux Mouches as the sun went down then dropped under the Pont Neuf, which happens to run directly from the front door of the Louis Vuitton headquarters. As we climbed up onto the bridge it became apparent the company had taken it over entirely. Beyond the richly unctuous accordion classics ("La Mer," "La Vie En Rose") meant to convey the cheesy allure of Paris amorousness, you could hear the sirens and horns: the traffic was nuts.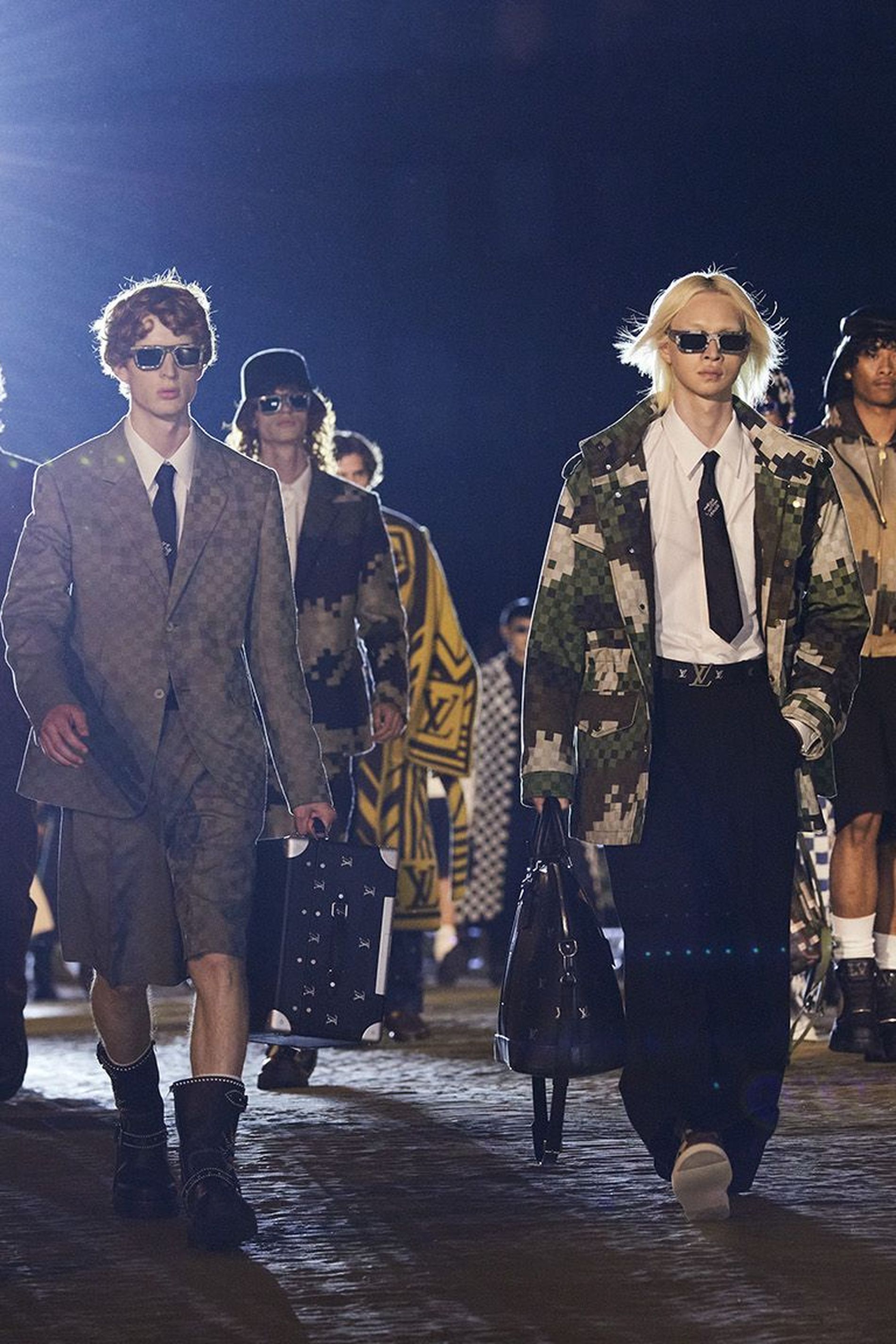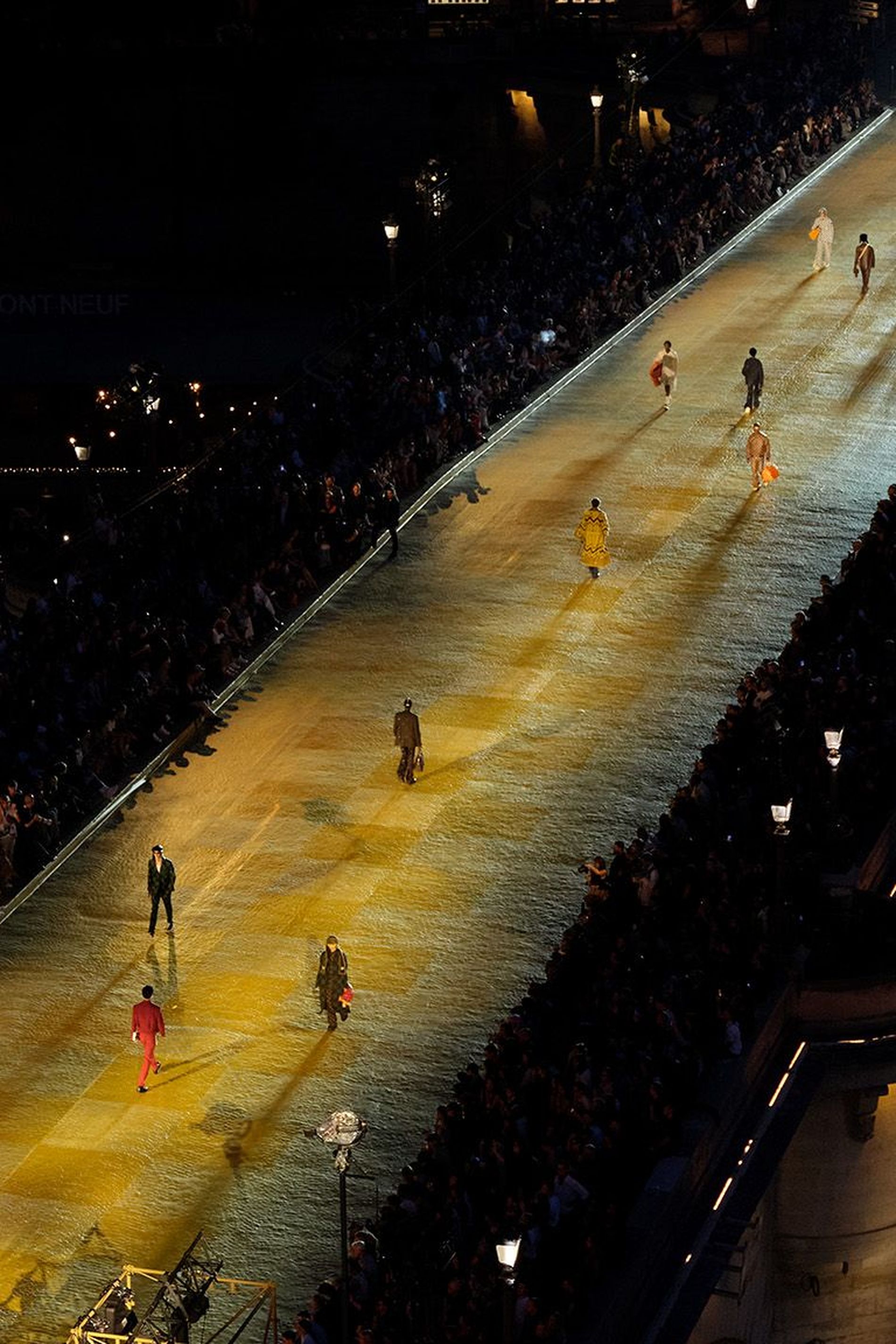 The guests you will have already seen on countless posts: also nuts. Beyond the celebrities it was telling how many other fashion designers were there (Stefano Pilati even walked), and how many former fashion partners from Williams's history of collaborative dabbling in this space previously. Nicolas Ghesquière was in attendance, of course. By excluding almost nobody (sworn corporate rivals apart) Williams and Louis Vuitton were building the broadest of churches from the off.
After a great deal of schmoozing—because when you take over the Pont Neuf as a runway you may as well get value for money—we settled in for the show as dusk petered out towards darkness. The spotlights beamed, the percussion boomed, and the first looks broke cover. These were heavy on that Damouflage in first accessories and then garments, including an almost (but not quite!) Chanel-style knit jacket, a great long netting-zhooshed duster coat, jacquard suiting, and a leather bomber. Every kid raised on Minecraft, and every older dude who sees camo as a go-to, is going to react to these pieces. Soon enough the blocky checkerboard pattern gave way to more organic shapes that looked vaguely like a reference to William's 2009 Keita Sugiura forest camo jacket (made with Moncler and launched with Sarah Andelman at Colette).
Suddenly a golf buggy with the word "Liberty" on its bumper came out, heaped high with the trunks that were Louis Vuitton's first defining product (in Damouflage). As the repetition of the "LV-overs" was a way of impressing Williams's Virginia origin story on the audience, this reiterated Vuitton's. After the buggy came more Damier, much more, but now not in camouflage form. Damier denim, trench coats, suiting, bikers, varsity jackets, shorts, more, more, in multiple colorways.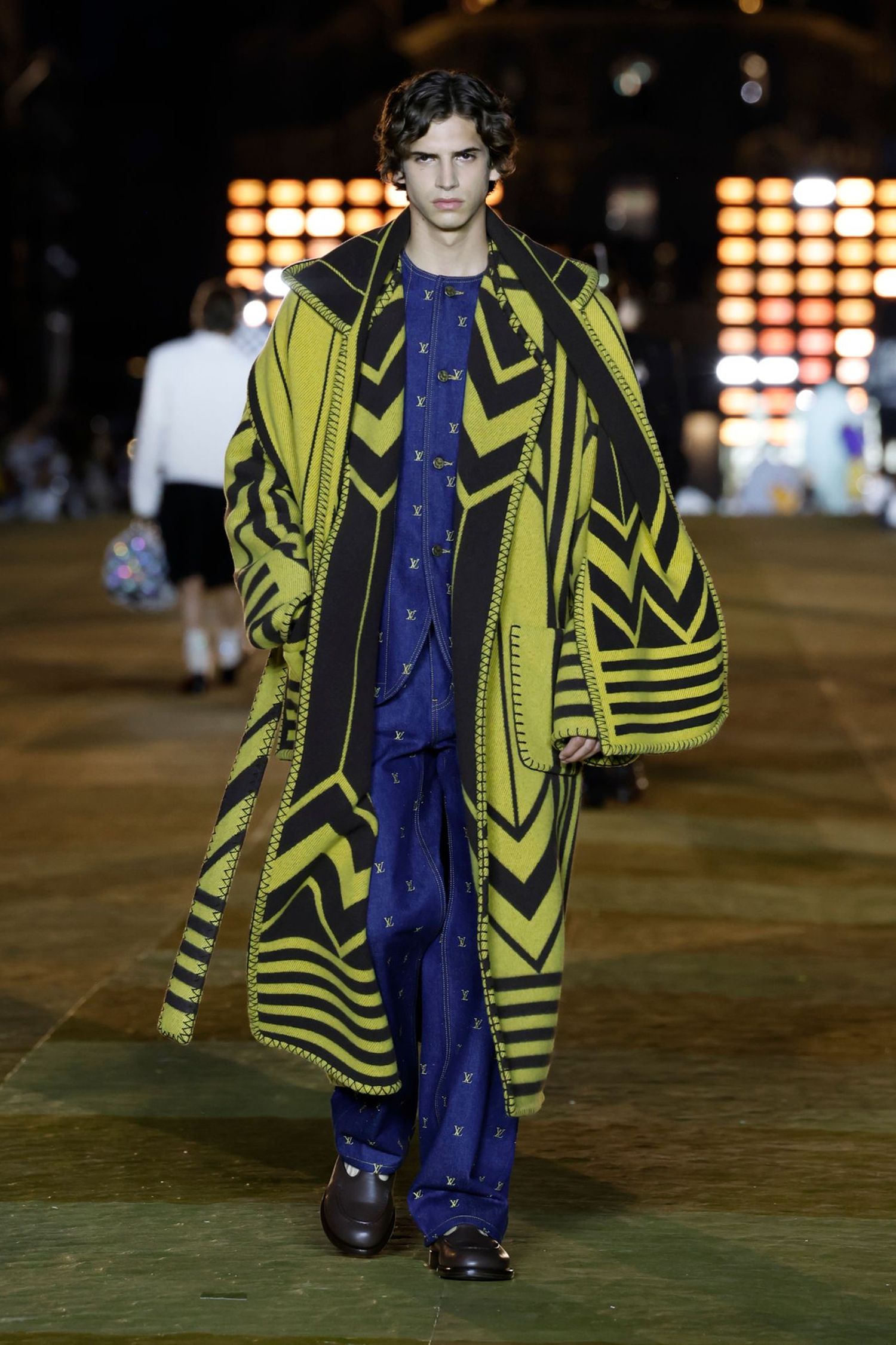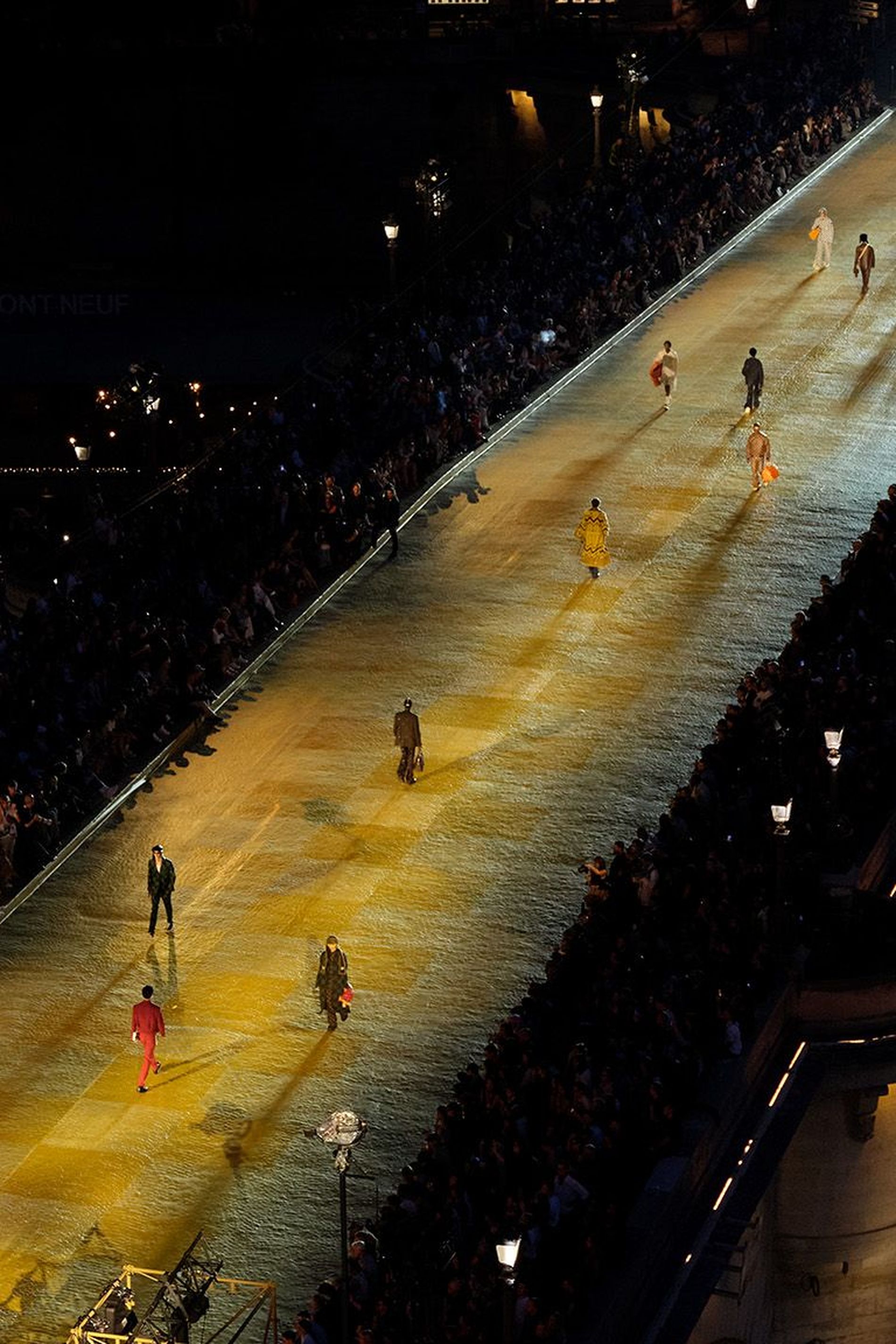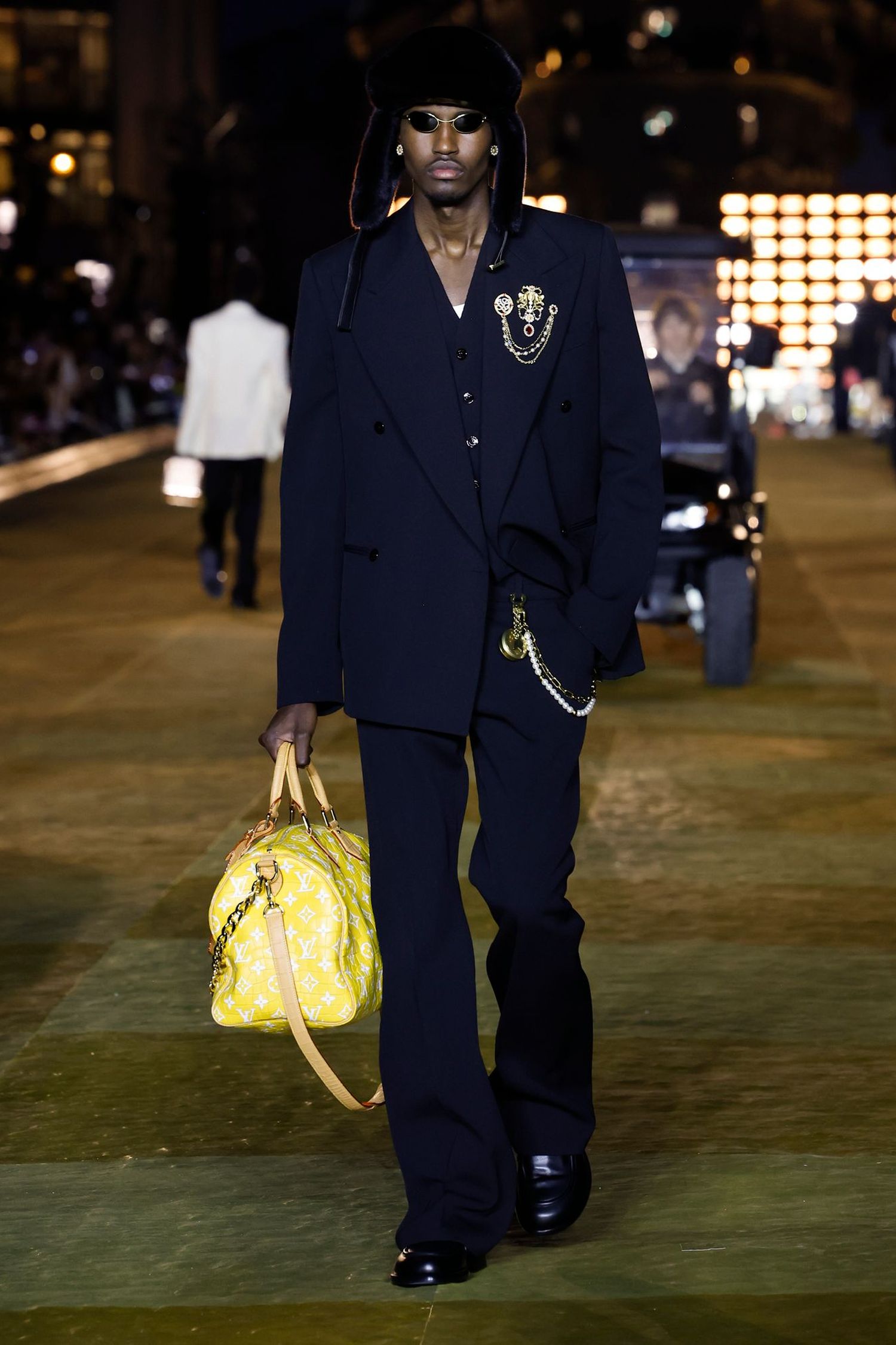 A denim trucker and jean with Epi leather relief was witty and wantable. Occasionally there seemed to be more easter eggs: Was look 52 a nod to Kim Jones's fall 2012 collection for the house? Maybe this was fanciful, but there seemed a touch of Nigo in the denim and the logo berets. Williams was sampling, with LoVe.
The most powerful love bombs of all were the accessories. Bags are what makes Vuitton's world rotate and this collection was spun with many, many eye-catching variations: zingily colored Keepalls and Almas and Neverfulls and Speedys, worn in clusters, heaped deliciously. If we want it we can have it, the choir sang. But was this really love, or something more cynical? Was it the case, as a Financial Times article this month sourly proposed, that Louis Vuitton "can put out almost any trinket and find a paying audience" outside of Europe, and that luxury goods such as these are "Europe's joke on the world"? Speaking earlier, Williams had said: "African Americans like ownership because we've had everything taken away from us. We were taken, and then we had our shit taken from us over and over again: so yeah, possession is a thing for us."
What Williams took possession of with total assurance tonight was a position that many thought, for many reasons, he was either too much or not enough for. They were wrong. He delivered joy unconfined.
Originally published on vogue.com