The musician-turned-designer is gearing up for the most anticipated show of the Spring/Summer 2024 menswear season. He joins the dots around his appointment, and hints at what's to come.
"It's gone quiet again!" Pharrell Williams needs noise. It's a few days before the Williams-designed debut menswear show for Louis Vuitton, taking place tomorrow night. We are holed up in the studio just off Pont Neuf, shooting some video for social, but every time the team starts filming, everyone else in the design studio falls silent. Williams isn't into that — it's too fake, too forced, and not very Pharrell.
Once the studio is buzzing more naturally again — quiet conversation flows around the percussion of keystrokes between Williams's own five-person design team on laptops at one table and members of the in-house team everywhere else — the man behind what is by far the most anticipated show of the Spring/Summer 2024 menswear season gets into his groove. He says to Vogue's camera: "This is not working. This is a dream. And, if I did have a job, then my only job is not to wake up."
Williams and his family have been living in Paris full-time, the odd trip apart, in order to focus on actualising that "dream". Fittingly for a collection and show that Williams says will revolve in part around the word Lovers — because that's what Virginia, his birthplace, is for — he began developing it this Valentine's Day: the same day Louis Vuitton formally announced his appointment as the first multi-season successor to the late Virgil Abloh. As he recounts in our conversation, it was Alexandre Arnault who made the call to relay LV CEO Pietro Beccari's decision to offer Williams the position.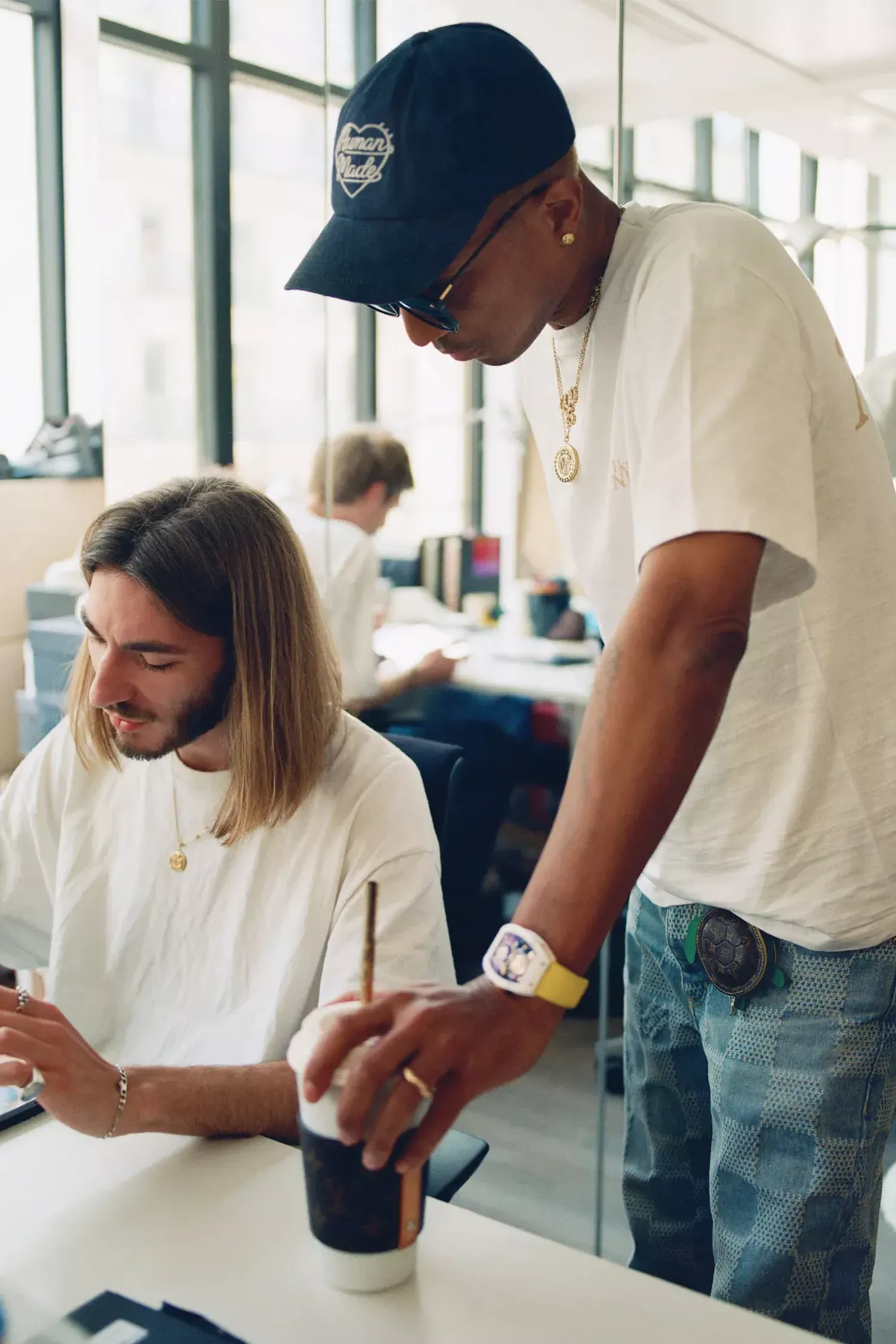 Pharrell Williams in the studio ahead of his Louis Vuitton Men's debut. Photo: Julia Marino
When news of his acceptance broke, there was some consternation among those who insisted the gig should have gone to an "established" designer, many of whom had been interviewed for the role during the slow-running recruitment process. Those commentators overlooked that even without the privilege of a formal fashion education, Williams — who, thanks to Marc Jacobs, first collaborated with Louis Vuitton on a line of sunglasses back in 2004 — has considerable pedigree in the business. Key points on his fashion resume include co-founding Billionaire Boys Club with Nigo in 2003, a long-running design relationship with Adidas, and a tranche of successful collaborations with luxury labels both from within LVMH (Tiffany, Moynat) and beyond it (Chanel, Moncler).
Williams has recounted in the past how much he learned from Karl Lagerfeld. He was also a friend of Abloh. As the list of collaborating partners — from Palm Angels's Francesco Ragazzi to Colette founder Sarah Andelman in the today-launched Joopiter "Just Phriends" auction — testifies, his network in the business runs wide. And he counts Nigo, who has been involved in the preparation of this collection, as his closest compadre in fashion.
To affirm that, today Williams is wearing an "I know Nigo" T-shirt by Human Made above a sample pair of flocked Damier-check washed jeans, slightly flared, from his new collection. This means that — the just-dropped new Rihanna campaign apart — those jeans are amongst the first the world has seen from his inaugural LV men's mainline collection. There are a few more such future grails scattered around the studio, including pieces made in a new take on the house Damier check. Named "Damouflage" and instantly recognisable from a broader context beyond the Vuitton codes, this will be one of Williams's pillar visual signifiers in his work for the house.
Downstairs, the LV foyer is as populated with female models as it is with males, apparently here for castings. Rumour is that this show will be, in terms of an in-person audience and possibly physical square footage too, the largest-ever at Louis Vuitton menswear. Like Abloh's epic first show, the plan is for it to be held outside.
Williams, of course, is primarily known as a producer and performer of music, and a hint he delivers during our conversation is later backed up by others: the show will be accompanied by new Williams-produced sounds, including "Joy (Unspeakable)", performed by the Virginia-based gospel choir Voices of Fire. "It's very, very emotional," he says of the soundtrack. He also mentions a track named "Chains & Whips", and another composition he has been working on for a decade entitled "Peace Be Still", featuring a piano section played by Lang Lang.
Williams settles on a sofa with his LV monogram coffee cup. The titanic statue of LV-collaborating artist Yayoi Kusama that's been installed in the street outside peers through the window behind him as he unpacks some of what he's been preparing these last few months — and joins a few of the dots around that appointment. Edited here and there, this is how the conversation went.
Vogue: Hello, Pharrell. So, what can you tell us about tomorrow's show?
It's immersive. And it's very inspired by the love and support of the people here that I've just been blessed to be able to experience over the past 30 years.
In the integration of the community, the integration of the air, and the integration of the scene: you know, where the show will be held, where the collection will be viewed for the first time… I mean, it really is immersive. Also, people use that word diversity all the time: it is diverse, because my world is diverse. People use that word inclusion, and it is inclusive. Because while this is menswear, you know, I make things for humans.
Vogue: I couldn't help but notice there seemed to be quite a few female models coming in and out of the building downstairs…
I make things for humans, yeah!
Photo: Julia Marino
Vogue: You've already mentioned being inspired by friends, has building this collection been a collaborative practice for you?
Yeah. My life is a collaboration. And my gift is to collaborate. Because while [this] is a place where I can contribute ideas and my vision, I'm here with people who are far more talented than me. They're masters, so I have a crash course in other methods, other processes, other points of view, and new opportunities. I pride myself on collaboration, and this is no different. All my guys here; Cactus Plant, Matthew Henson, my team here, all of the atelier, all of the 55 different departments here — they're all master artisans, everybody. The person who makes the buckle to the person working on the locks of the trunks, every detail has a master artisan behind it, and they never miss.
Vogue: OK, so if you're surrounded by this solar system of talents who are masters of their craft and vocation, what's your role in that? What do you deliver?
Vision. And sometimes it's to get into the weeds of it all, to enter the granular details. That's very important to me. One should be able to zoom in and zoom out of the vision. The collection and the show is all 4K. It is. So you can zoom into a thread or back all the way out and see the motif of how we are looking at things like Damier. But I'm already saying too much…
Vogue: What is the notion or sensation behind the collection?
Love. And convenience. For me, another word for convenience is luxury. It is about the convenience of design and the design of convenience.
Vogue: Now for some backstory. When we met last November, was this Louis Vuitton gig already in the air?
Vogue: So how did it happen?
Man, I just got a phone call, and it was like, would you do this?
So, you know, my brother Alexandre and I were talking about ways to work together. But I had never suspected I would be in this conversation. If anything, there was someone else that I had been championing the entire time — my brother Nigo. So when I got the call, I thought that was finally happening!
Vogue: Although he's doing great with Kenzo…
He's crushing it, absolutely crushing it. You asked me about what's in mind in this collection, and I mentioned love. Well, you're going to see that… And to get an appointment like this, well, you know that the sun is shining on you. But when the sun shines on you, what will you do with that light? For me, I just wanted to give back to the people who helped me get to this place. All of my Parisian friends have kept me so lifted for so many years. It's interesting; we went to the festival Something In The Water in Virginia. And, you know, Virginia is For Lovers is our mantra down there. And 'lovers'... Getting rid of everything and just looking at that word, I understood that it can be very powerful.
Vogue: But where there are lovers, there are sometimes also haters. After you got appointed, a lot of people were criticising the decision because you didn't go to fashion school…
First of all, of course, people are going to say that. I didn't go to Central Saint Martins. But, you know, I didn't go to Juilliard either to study music. And I've done alright. As Black people on this planet, we're used to that, telling us what you can or cannot do… But you can't tell the universe what's going to be written. You can work with it, co-conspire and co-create, but you can't tell the universe what's going to be. So, for me, this was like, 'y'all are surprised? Well, I'm surprised too!' But I'm going to show this to you better than I can explain it to you.
Vogue: You didn't pay for that course at a fashion school, but you were pretty close to Karl Lagerfeld, and you spoke a lot. Have you taken any learnings from him?
Of course. This is an orchestra of a different sort, and you're dealing with many different sections of that orchestra. And there's lots of topography in a collection, just like there is in a composition. And we just have to be super dialled into that zoom in and zoom out perspective. That's especially important for this first collection because I'm also establishing the key components. The codes. The specific details, from the rivets and the buttons and the zippers all the way to sizes, bag shapes…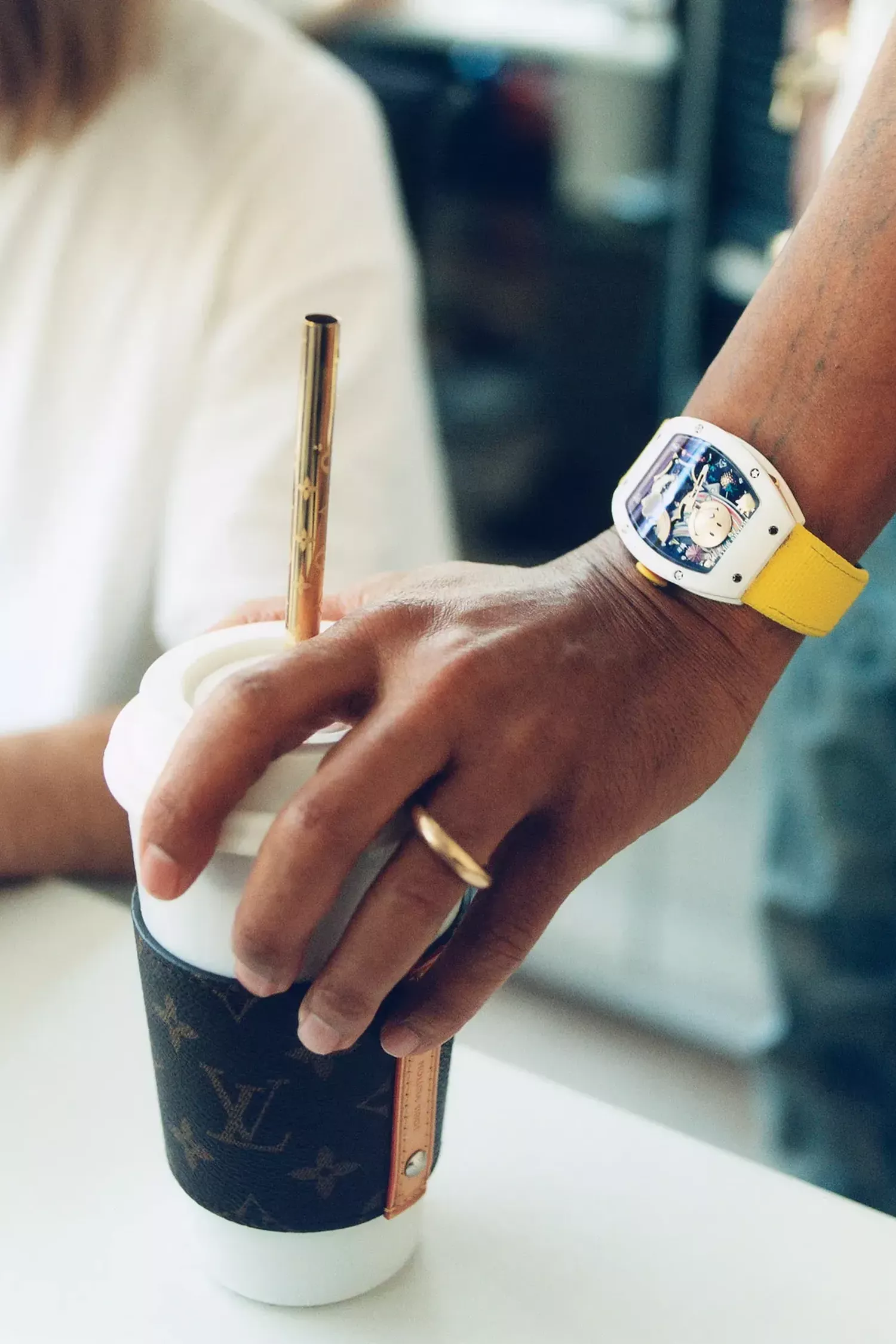 Photo: Julia Marino
Vogue: So, it's like the opening track of an album that will be referred to later on the recording? Although that's probably a clumsy metaphor.
No, it's a great metaphor. And there is absolutely a construct… There's an arc. One hundred per cent, there's an arc to this, there has to be. This first one is about educating. It's about where we are going.
Vogue: Before you came through these doors in February, what was your perception of Louis Vuitton?
It's always been in the highest regard. It was from that moment I met Marc Jacobs in 2003 and he asked me about my sunglasses at the 57th Street store and then asked me if I wanted to make some. I was like, "Whoa, that's amazing. But Nigo designed these, can we bring him as well?" That was the first time someone of my ilk was being invited to do more than just wear something or be photographed, but instead to really have the opportunity to create something. Marc really opened the door. And the Arnaults were all the way for it.
Vogue: You were just at Nicolas Ghesquière's LV womenswear show in Lago Maggiore. Have you been talking with your counterpart at the Vuitton womenswear studio?
Nicolas is a legend. And yes, we've kicked it here and there. Whatever time he has, I've always been grateful to have it. He knows this building better than everyone. And I'll soak up whatever tutelage I can. When I got this appointment, I came in as a pupil — a perpetual student. Essentially what you will get in my collections is my learnings: I'm sharing my learnings just like I always have in music. You know, this room right here is the studio, my beehive, full of stingers that don't miss. And beyond those mirrored doors at the end of the room is another section of my design studio — and that's where I'm designing music. We've recorded so much music, it's crazy.
Vogue: Is your music going to be the soundtrack?
It's going to be my work, yes… It's all emotional, and the music is very emotional… You know some things happen in your life that humble you so much that you are like: 'OK, I realise now I am not in control. I am not the 100 per cent author of my destiny. I know that I collaborate with fate, but I'm not running the show.' So, any way the wind blows — that's cool with me… I have immense gratitude for this moment, and I am electrified with excitement.
Pharrell with Alexandre Arnault, who made the call to relay LV CEO Pietro Beccari's decision to offer Williams the position. Photo: Cindy Ord/Getty Images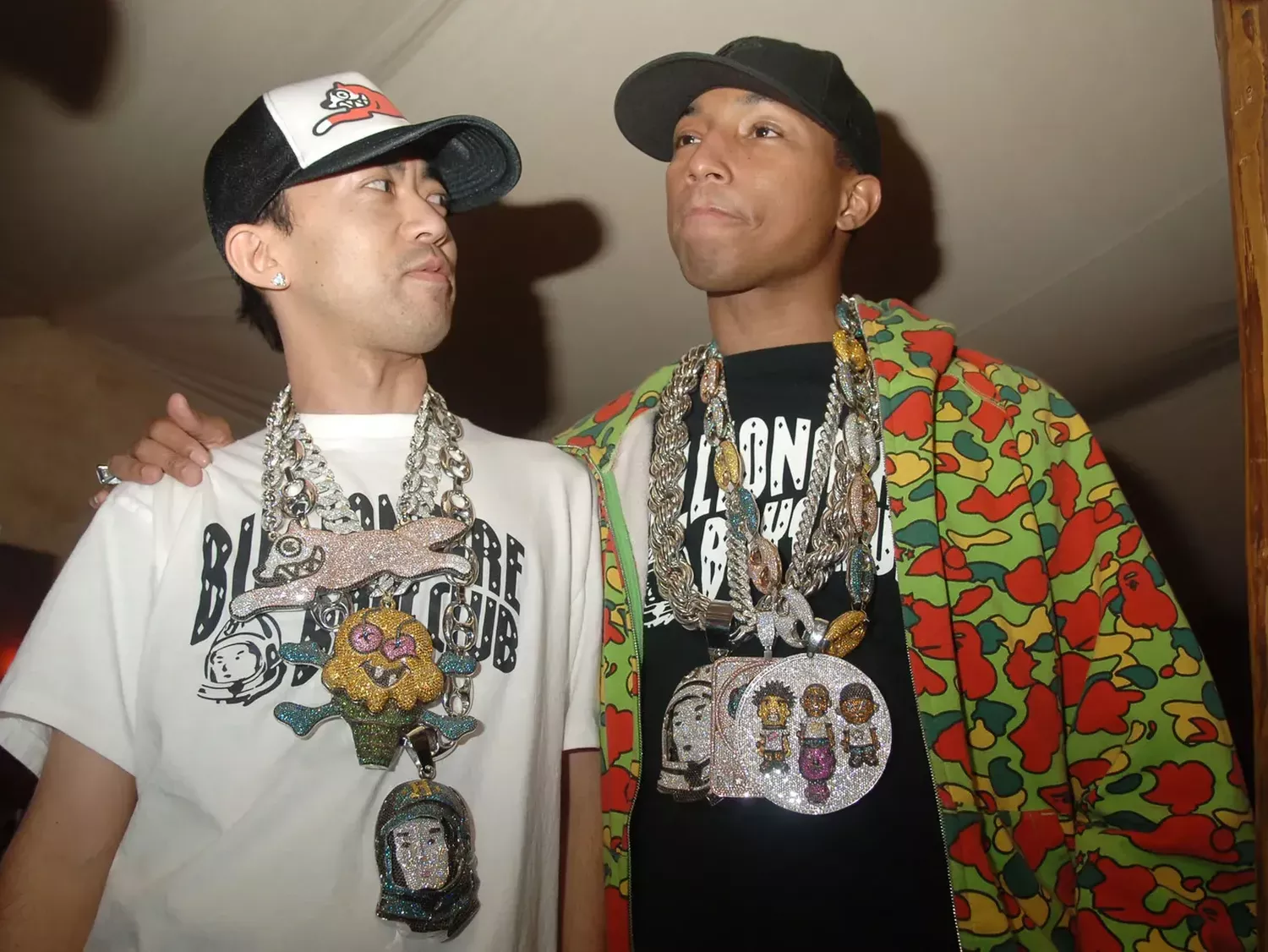 Williams with his closest collaborator Nigo in 2005, the year the duo co-founded Billionaire Boys Club. Photo: Jun Sato/WireImage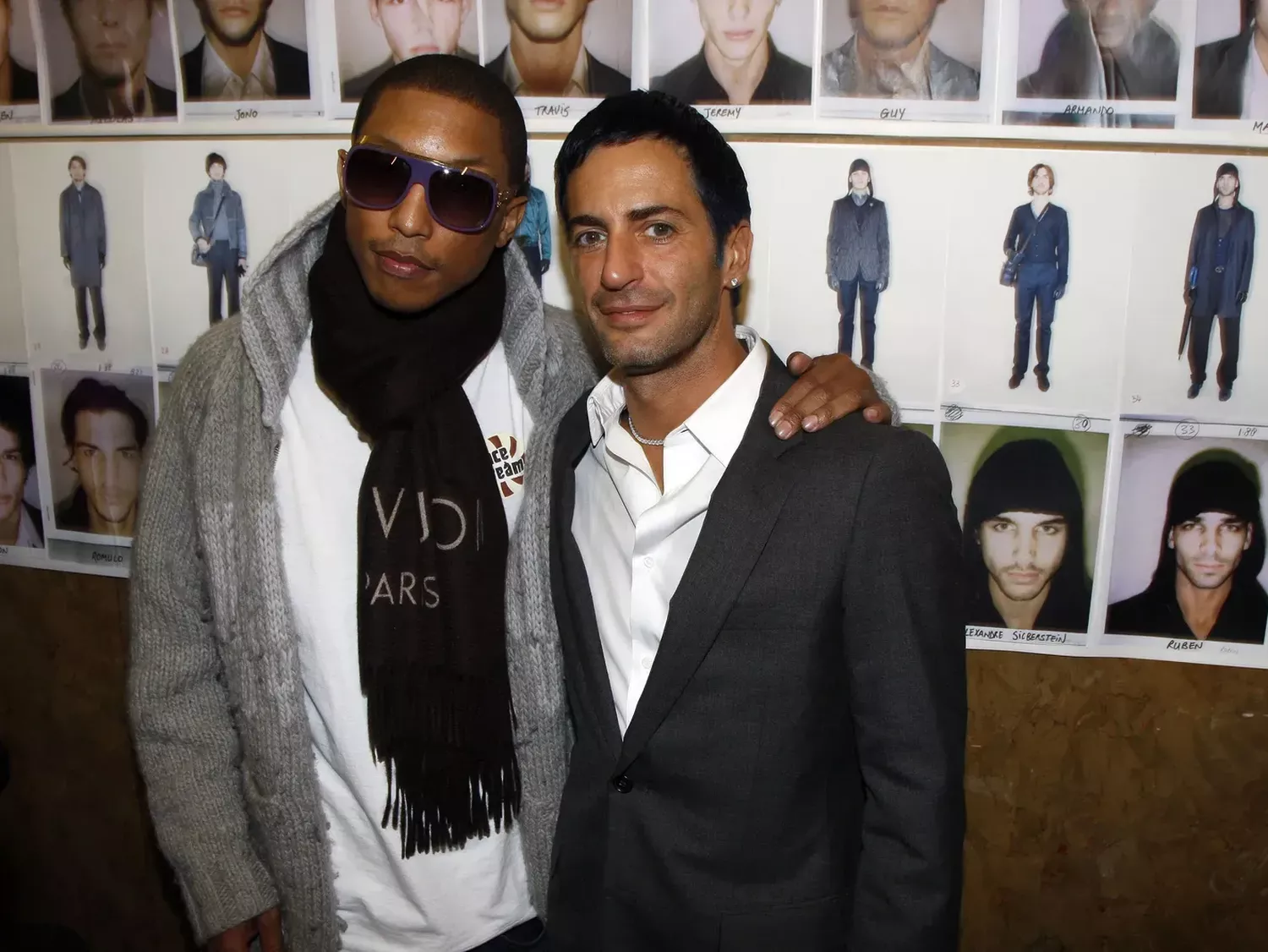 Williams first collaborated with Louis Vuitton back in 2004, thanks to Marc Jacobs. Pictured backstage at a Louis Vuitton men's show in 2008. Photo: Michel Dufour/WireImage
Originally published on Vogue Business