As 2021 reaches an end, we look at what New Year's resolutions the team at Vogue Scandinavia are making for the year ahead
Nearing the end of a year, we tend to start thinking about the year gone past in terms of what changed, what we achieved or what even generally happened during those past 12 months. A natural end of an era, we also begin to focus on the year to come, playing with the ideas of what we want from this new chapter.
A new year can act as a sort of a clean slate, and perhaps that's why setting New Year's resolutions has become a standard for many. Regardless of whether we end up actually putting these resolutions into action, establishing them is a nice way to set even a small goal for the year ahead. Below, the team at Vogue Scandinavia reveal their dreams for 2022.
Allyson Shiffman, print editor
"I like to keep my New Year's resolutions super practical and achievable, so that I don't inevitably disappoint myself. This year's resolution is to watch The Wire."
Natalie Salmon, digital editor
"My New Year's resolution is to learn a new language, I've downloaded Rosetta Stone on my iPhone to start learning Italian. Ciao e grazie 2021!"
Eliza Sörman Nilsson, deputy digital editor
"This year is the year I learn to ski - complete a blue run to be more specific. It seems ridiculous to live in the Nordics and still look like Bambi on a set of skis. I'm a mere 10-minute drive from a ski slope and we have now curated every piece of stylish skiwear one would need on Vogue Scandinavia - so there are no excuses. Wish me luck."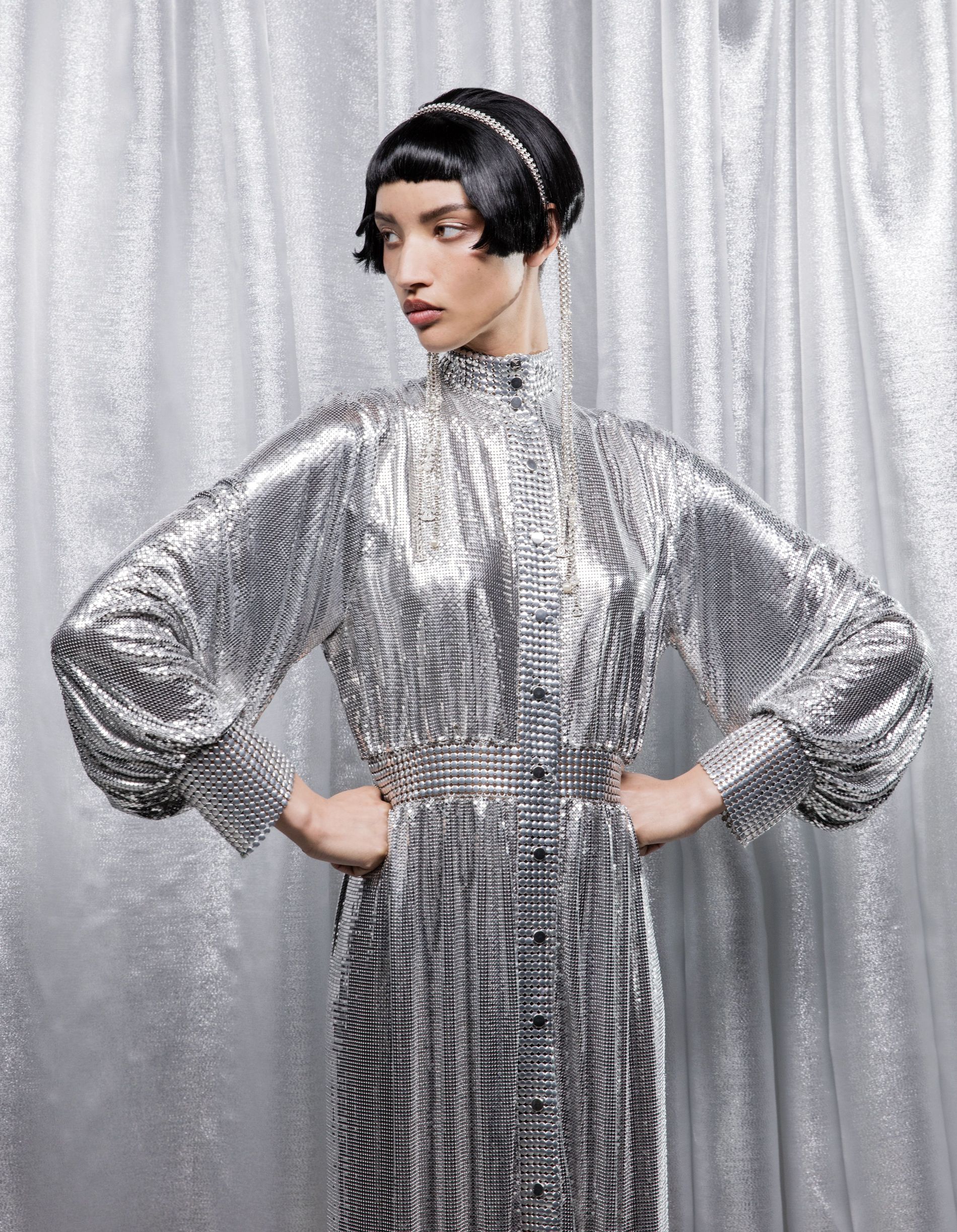 Handmade chainmail dress, €4,200. Paco Rabanne. Headband with diamanté fringing, €4,390. Chanel. Photo: Jackie Nickerson
Josefin Forsberg, expert editor
"Having grown tired of restrictions, this year I'm taking a new approach to my New Year's resolutions. Instead of berating myself for things I can't achieve (I'm shuddering at promising myself yet again to 'work out every day') I've decided to show myself some love. Often, we're our own worst critics and enemies, so it's easy to forget to celebrate our small achievements and not beat ourselves up when we don't get as much done as we'd like. Josefin, it's ok to spend a Sunday in bed if that is what you need."
Esteban G Villanueva, beauty editor
"My New Year's resolution is to stop caring so much about what other people might think or say. Don't get me wrong, I'm all about empathy and quite literally following the rules and this is not a sign that I will let loose and fall off the wagon or stop caring, but it is a statement that I will stop dictating decisions based on what others might think. As many people nowadays I tend to censor myself out of the fear of being judged, 'bullied', or made fun on — especially on social media. For one, I'm obsessed with stupid, relatable, everyday content on socials, I truly love consuming it and would love to make some, but I stop myself out of stress or anxiety of what might happen. I want to free myself from that. My life isn't perfect, why should my Instagram feed be? I've always wanted to be in a reality TV, might as well make my own in my Tik Tok channel."
Mona M. Ali, diversity and inclusion editor
"This year I'd like to protect my time more and spend it on things and people that I care about. Life can get so busy sometimes that I get caught up on things that don't matter and in 2022 I intend to change that."
Roeland Vanheesbeke, digital designer
"My last year's resolution was to go one year without sugar, however it's not the easiest resolution to make when living in a country where they sell kanelbulle in every corner. This year, I will extend it by another year, because it actually made me feel way more healthy, and took away the sugar cravings."
Sara Sorino, customer relations manager
"My New Year's resolution is to do more yoga. I have had times where I practiced yoga regularly, and then stopped for a while. This year, I want to step back onto the mat and get right back into balance."