The singer and actress wed in the Italian countryside in a four-day celebration
If The Voice and Dancing with the Stars fell in love and got married, the wedding just might resemble the real-life fairytale Tuscan nuptials of Danish musician Freja Kirk and Danish-American actress Sus Wilkins.
The couple began dating in 2013 after meeting on the TV show Danmarks Største Stemme, the Danish version of The Voice. Wilkins was a backup dancer and Kirk a contestant on the show, but admits her focus was less on the singing competition and more on the "beautiful girl with the big brown eyes". Kirk didn't win the gong, but she did get the girl.
Five years later, she proposed to Wilkins in the Caribbean with a Niels Monies bespoke ring."It looked like she was trying to breakdance down there in the sand, so I didn't really get it in the beginning," says Wilkins. "Then she opened the box and I remember the diamonds were shining like in a Disney movie – I just said OMG yes and after that, we went to a small beach cafe where my mum and brother had some champagne ready for us."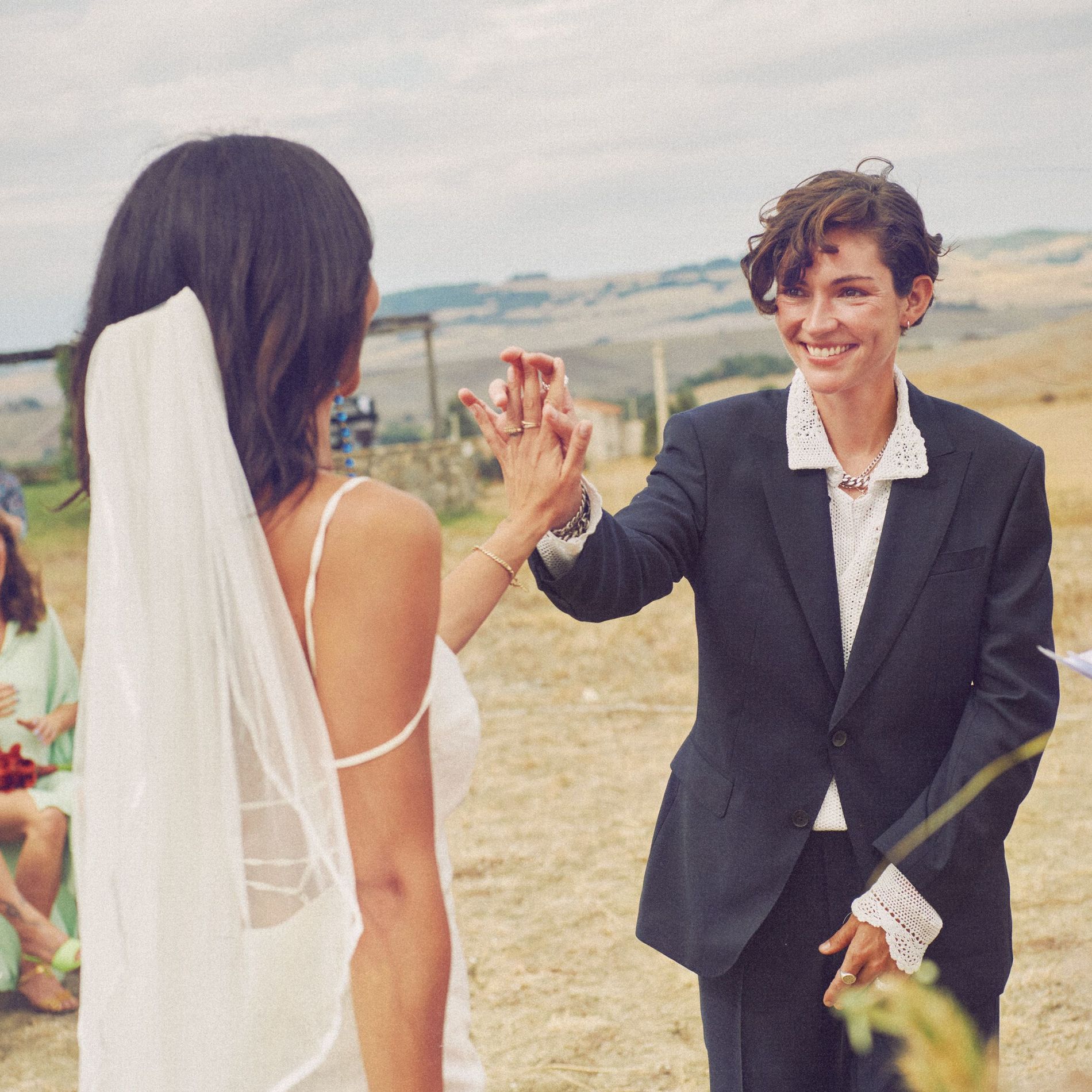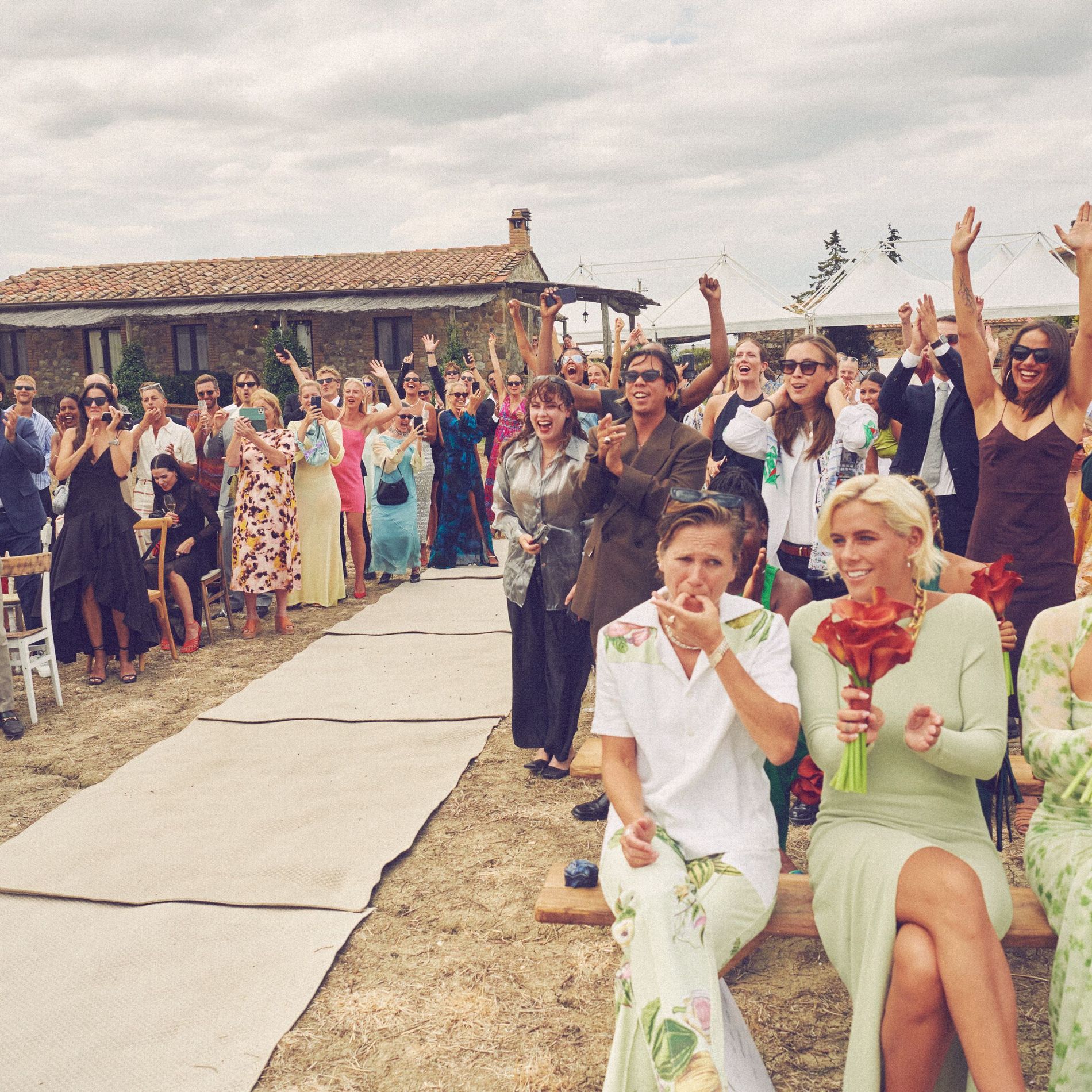 The couple were planning on a summer 2020 ceremony but due to the pandemic the wedding was postponed to September this year. Shortly after their engagement the couple decided early on that they wanted "a wedding for several days" somewhere in southern Europe, before settling on Italy.
"Right after the proposal, we just drove around [in Italy], ate pizza and pasta, and visited possible locations for the wedding," says Wilkins. "We went to Tuscany one day and drove down a long gravel road with cypresses on each side and ended up at a small boutique hotel that used to be a family farm in the middle of nowhere. The people there were so sweet, and the location was just wow. We suddenly had a moment of clarity and at that very moment, we knew that this was the location for our wedding." The couple opted for the scenic Locanda in Tuscany nestled in the heart of Castiglione d'Orcia for their nuptials.
And just like that, their Tuscan wedding prep began just as it should – sartorially. "Since we had three events over four days, we had to have lots of options," says Wilkins. The welcome party and rehearsal dinner was held at a cocktail bar overlooking a valley with the dress code: 'You're in Italy baby!'.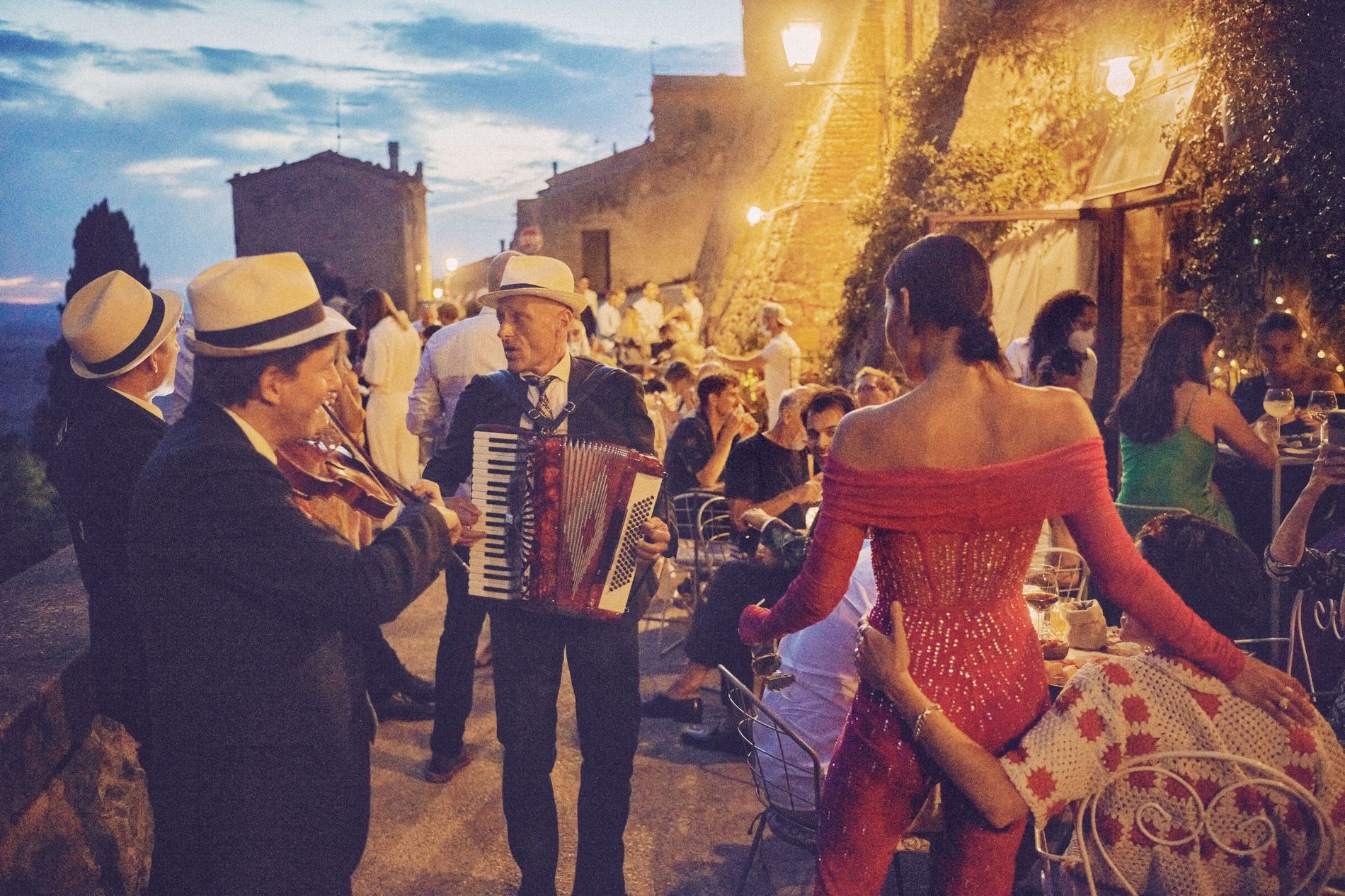 Wilkins asked the designers from Dancing with the Stars to create an outfit for her with a Met Gala feel. "Luckily they said yes, and together we designed an outfit that pretty much sums up my personality," she says. Kirk wore a Bode New York shirt and loafers with charms, and pants and a jacket from Danish brand Sunflower, finishing with sunglasses from Danish brand Flatlist.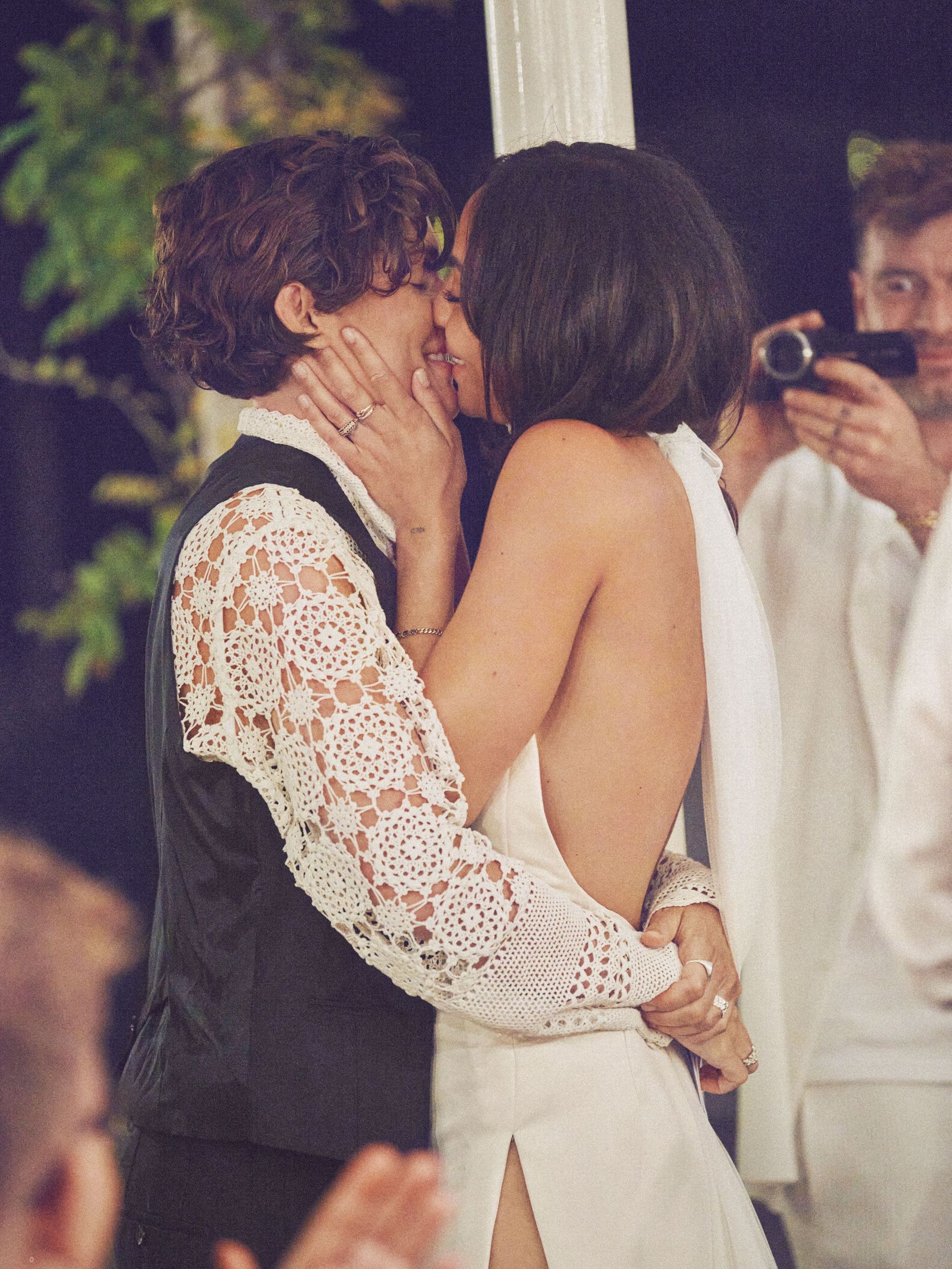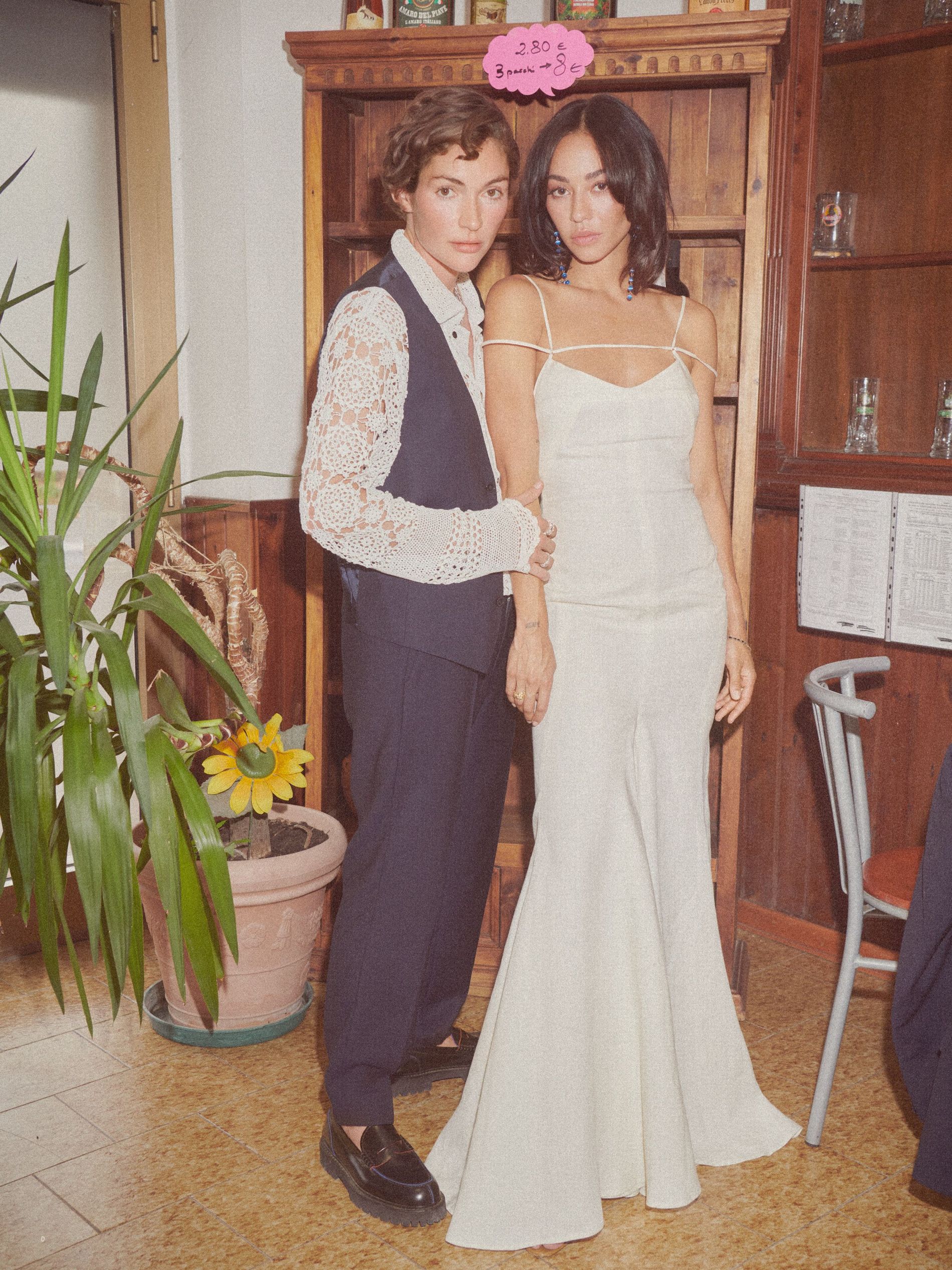 On the day of the ceremony, guests including singer Xander, model Regitze Christensen, actor and singer Alba August and TV and radio host Peter Falktoft were greeted with locally produced sparkling wine, lounge-soul music and of course, a postcard-perfect Tuscan landscape.
"I fell in love with our Saturday and Sunday location right away. It reminded me a bit of the Jacquemus show, out in the field a few years back, and I just love his design and energy so much, so I knew that I was going to wear some of his designs," says Wilkins. For the wedding day, Wilkins had two outfits: a Jacquemus dress, shoes from The Row and blue Fashash earrings; and a Søren Le Schmidt dress ("I wanted to feel like the coolest princess for that day"), styled with Jacquemus and long Fashash earrings.
Kirk opted for classic tailoring. "I knew from the beginning that I wanted to wear Babett for the wedding, so it was just a matter of it being the whole outfit or just a shirt," she says. She wore a Babett shirt paired with a classic tailored suit from Hugo Boss and jewellery from her favourite Danish jewellery designer, Hanrej.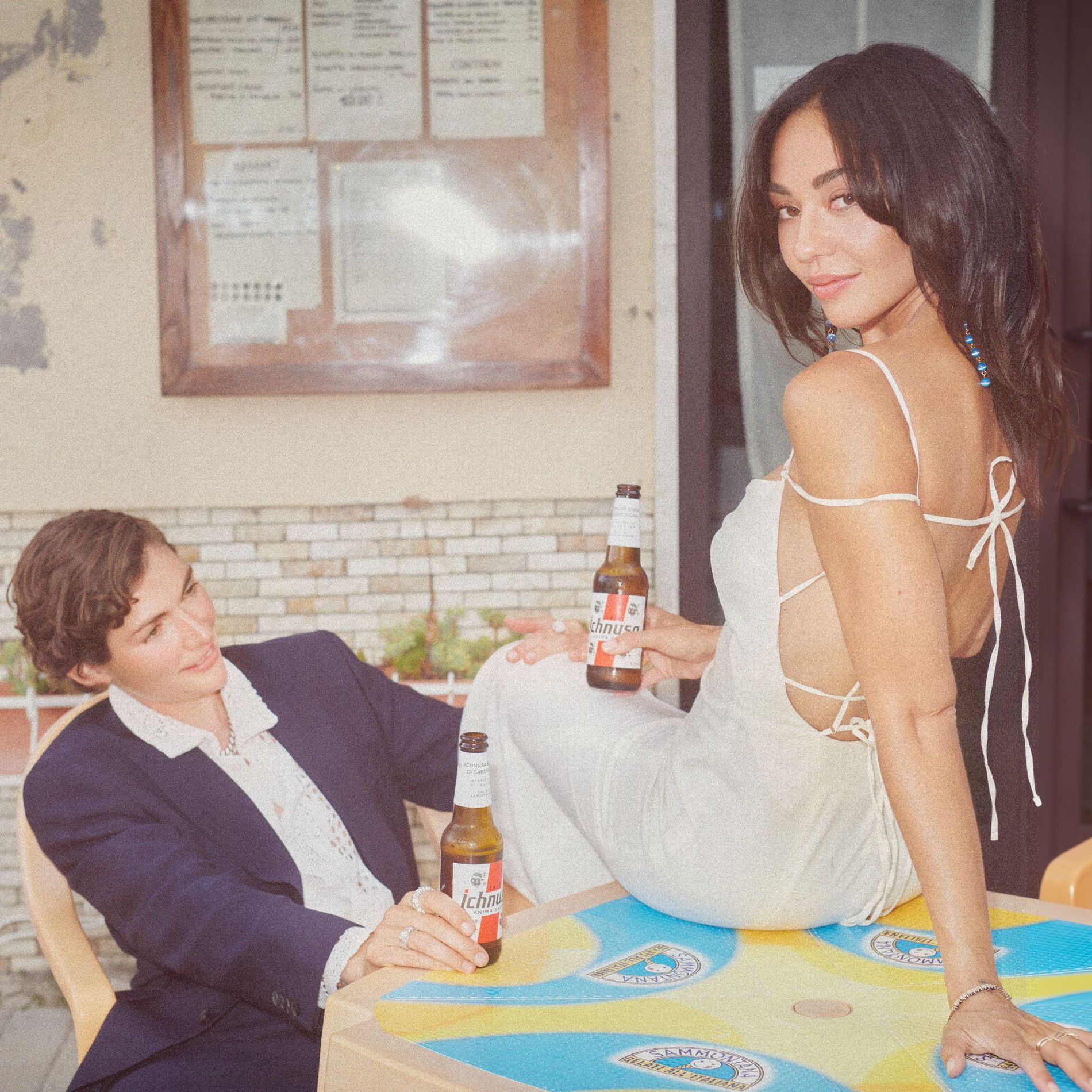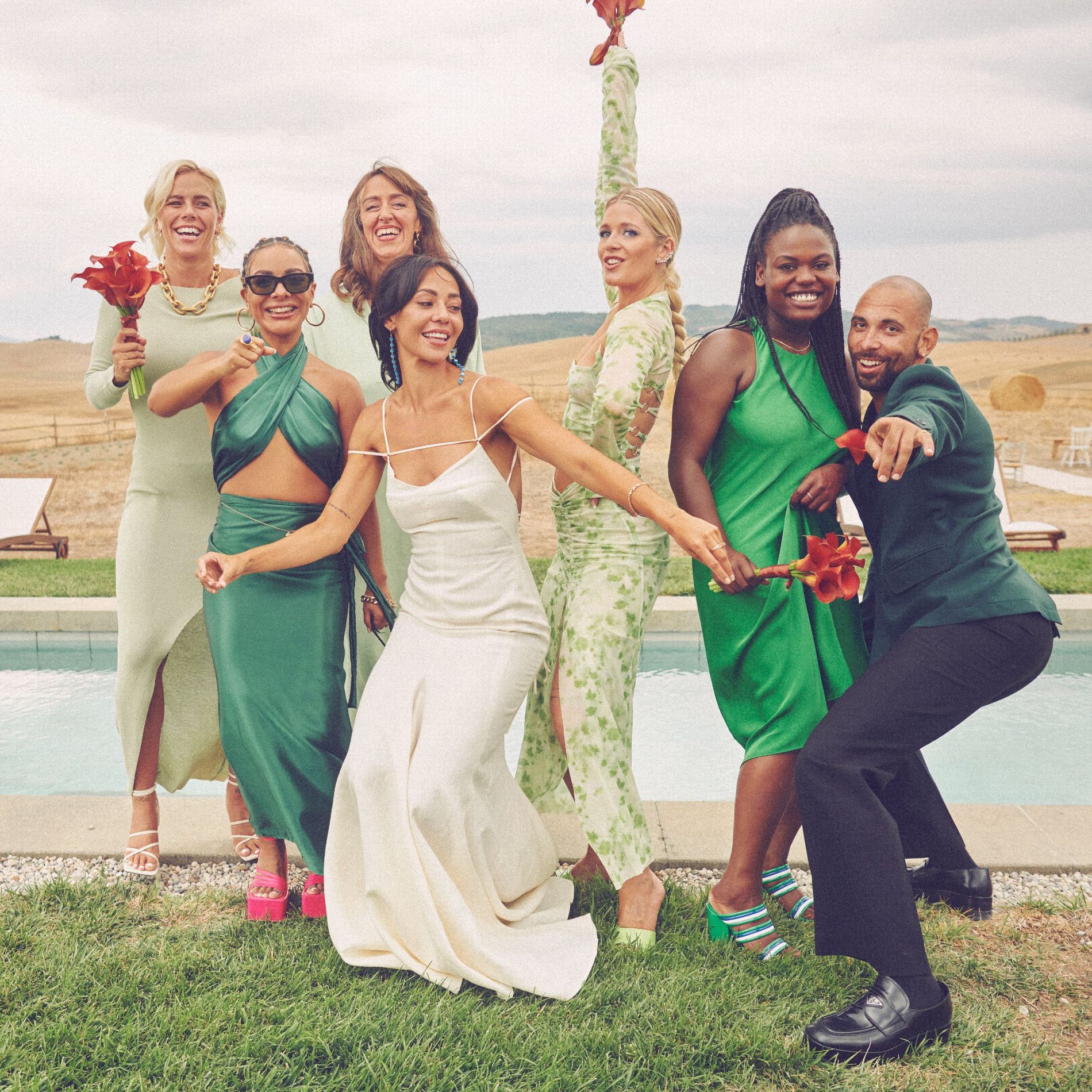 Wilkins walked down the aisle to Sade's 2000 hit By Your Side which was played by Jaleesa Johnson and Kirk's pianist, following her six bridesmaids who wore different hues of green, her favourite colour and the colour of the diamonds in the couple's wedding rings. "At the end of the ceremony we left as a married couple to the amazing song, You've Got the Love by Florence and the Machine," says Wilkins.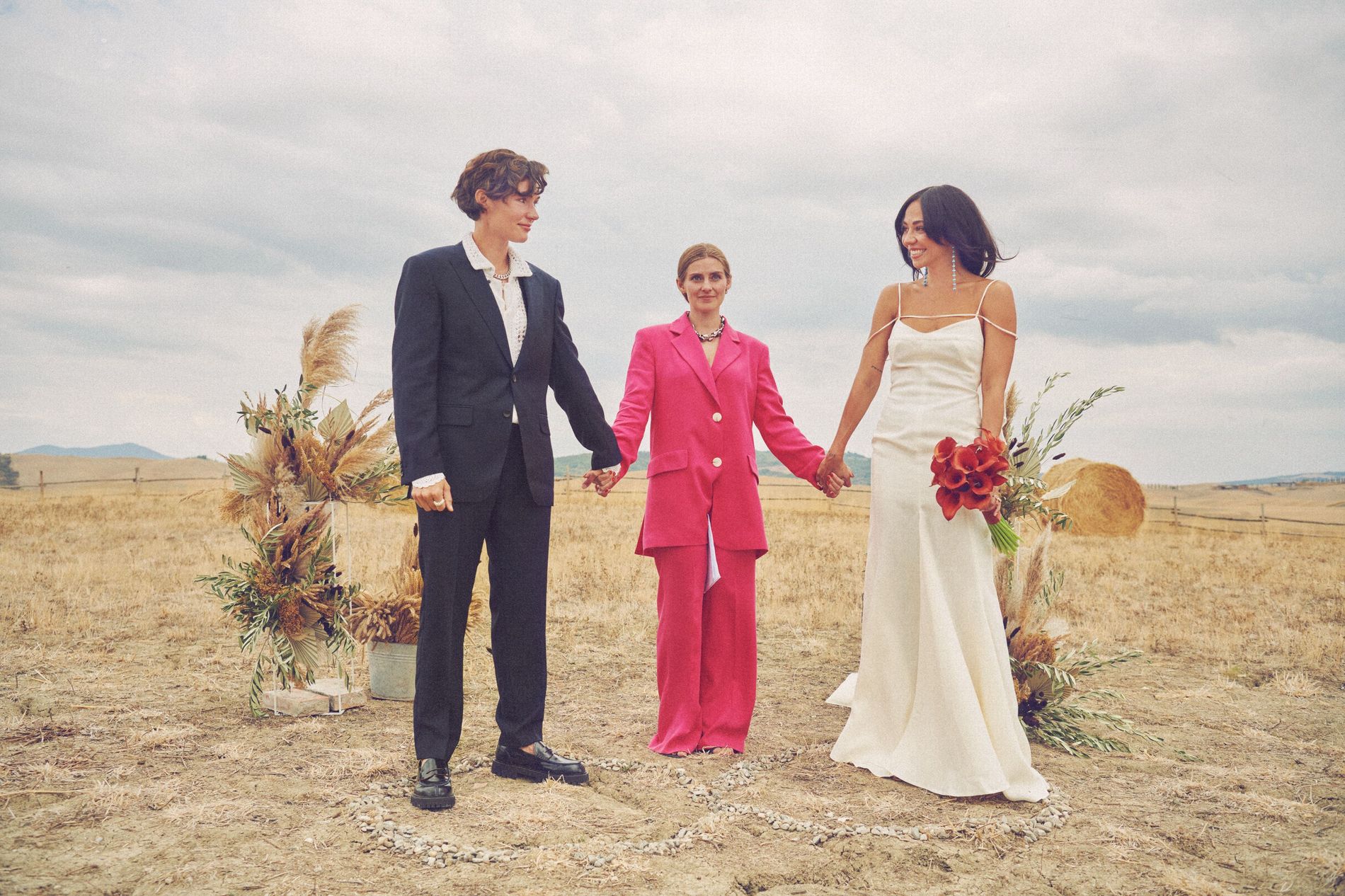 Guests were treated to a YSL makeup corner to touch-up their faces throughout the night, and as you'd expect at the wedding of a musician – lots of music and dancing – weary feet were alleviated with a pair of gifted Havaianas.
While the menu was all about local, in-season Italian ingredients (Louise Roe Gallery chef Jonathan Balsløw Sørensen took great joy in emptying market stands of peaches and tomatoes), the bar menu was a nod to the couple's drink of choice: piña coladas. A rum and cigar corner also provided the perfect pit stop for breaks in between dancing.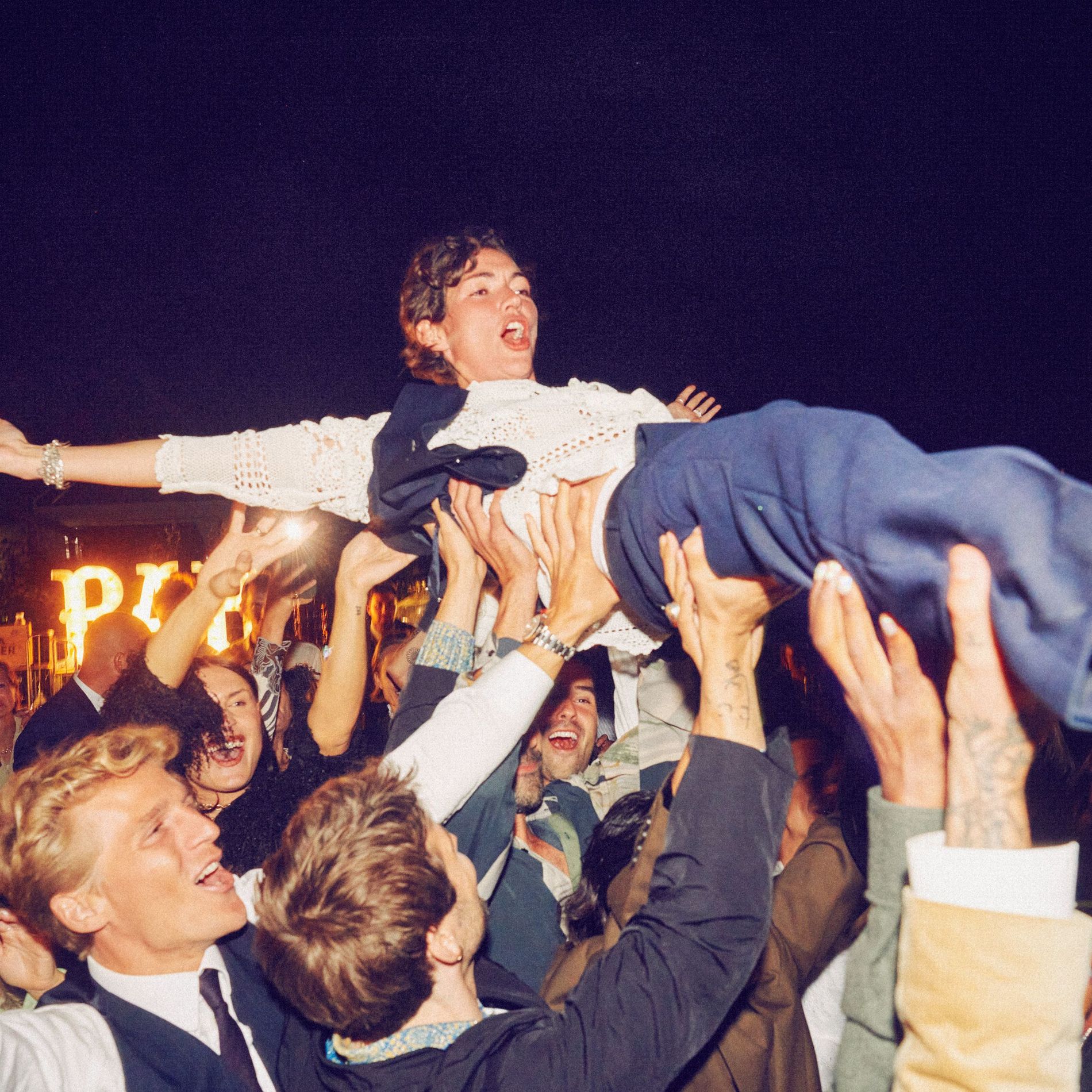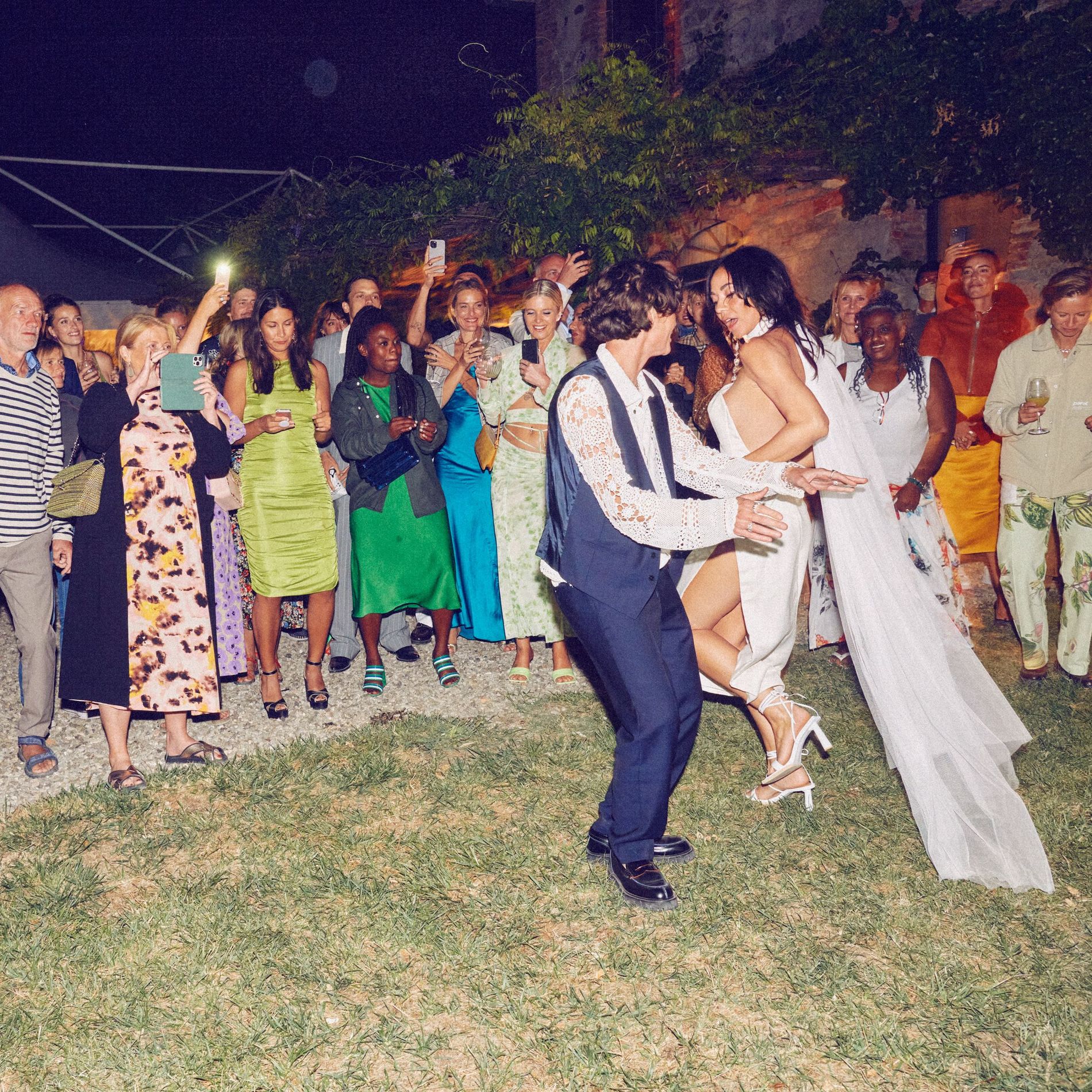 The Sunday pool party (themed 'I woke up like this') concluded the celebrations. Wilkins wore custom Babett, a white bikini, Jacquemus heels, and vintage Prada glasses to "play it cool," while Kirk knew she'd need "an outfit that was comfy and cool: I wore white shorts and a white polo from Han Kjobenhavn with leather sandals from Fendi and some classic Gucci glasses."
"People were so high on love from the day before and the atmosphere was ecstatic," she says. "It was nothing less than epic, and so far, the best week of our lives."
Freja Kirk has just announced her 2022 Danish tour. 'The Living Room' tour kicks off on March 31, 2022.
All the photos from Sus Wilkins and Freja Kirk's wedding:
Photographer: Bjarke Johansen