Our resident shoe expert opted for a Finnish midsummer ceremony to celebrate her micro-wedding
As you would expect from a Vogue staffer, Sandra and her husband Lasse met in typical sartorial fashion, during Paris Fashion Week. At the time, Lasse was working as the CMO of Finnish heritage brand Marimekko and Sandra was attending a presentation at Palais de Tokyo. "It was just an innocent working relationship at first, but as soon as we properly started chatting a few weeks after we met, I knew that I wanted to marry this man. We had an instant connection on our first date and the feeling was mutual, we've been together ever since."
The wedding took place, as initially planned, in Finland; but most of the other details changed with the outbreak of the pandemic. The original ceremony was meant to take place over three days and boast over 150 guests. It wasn't until about two months before the date that they decided to "pull the plug", as things were not looking promising. The original date was summer of 2020 but decided to postpone it a full year as they wanted to keep their midsummer wedding.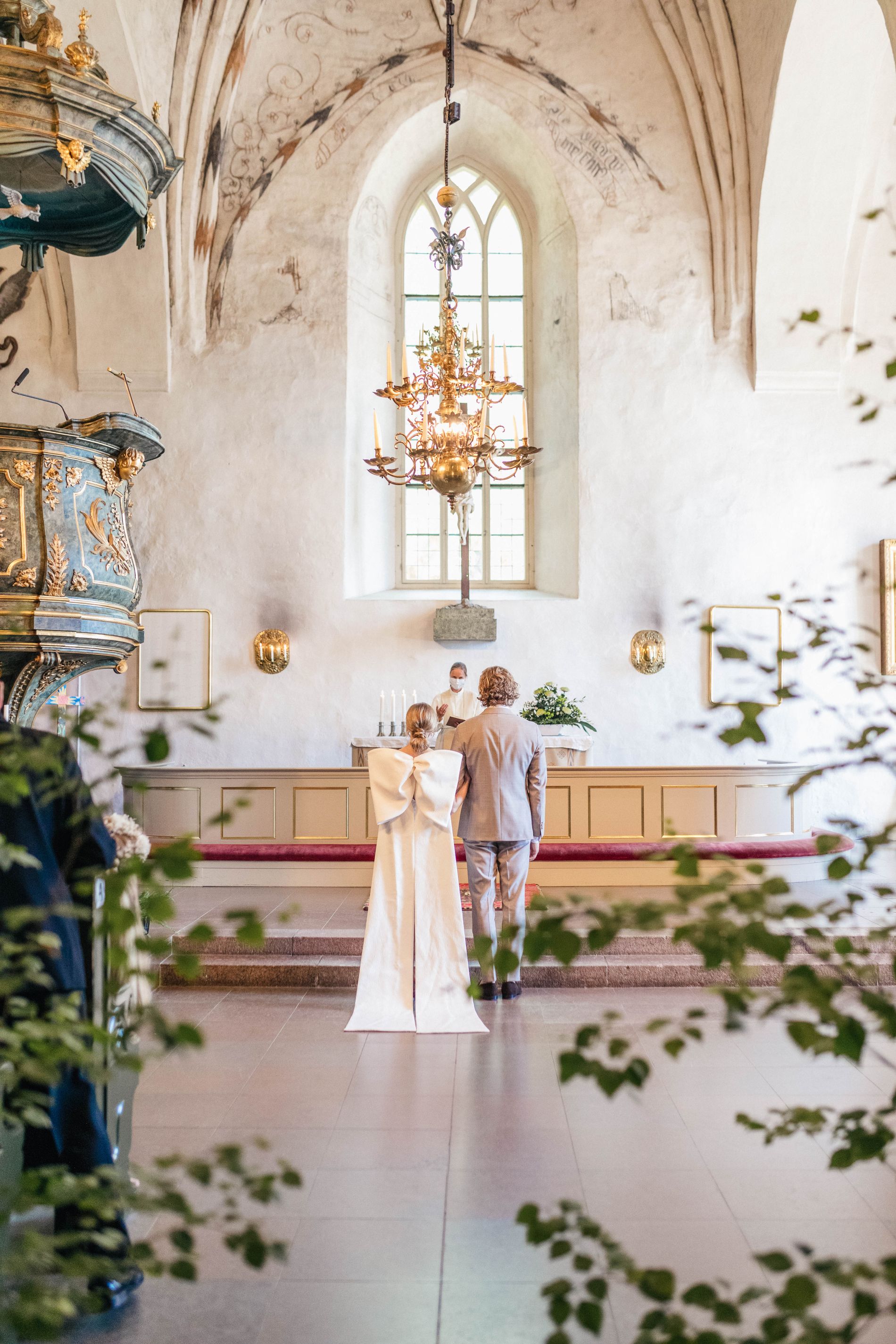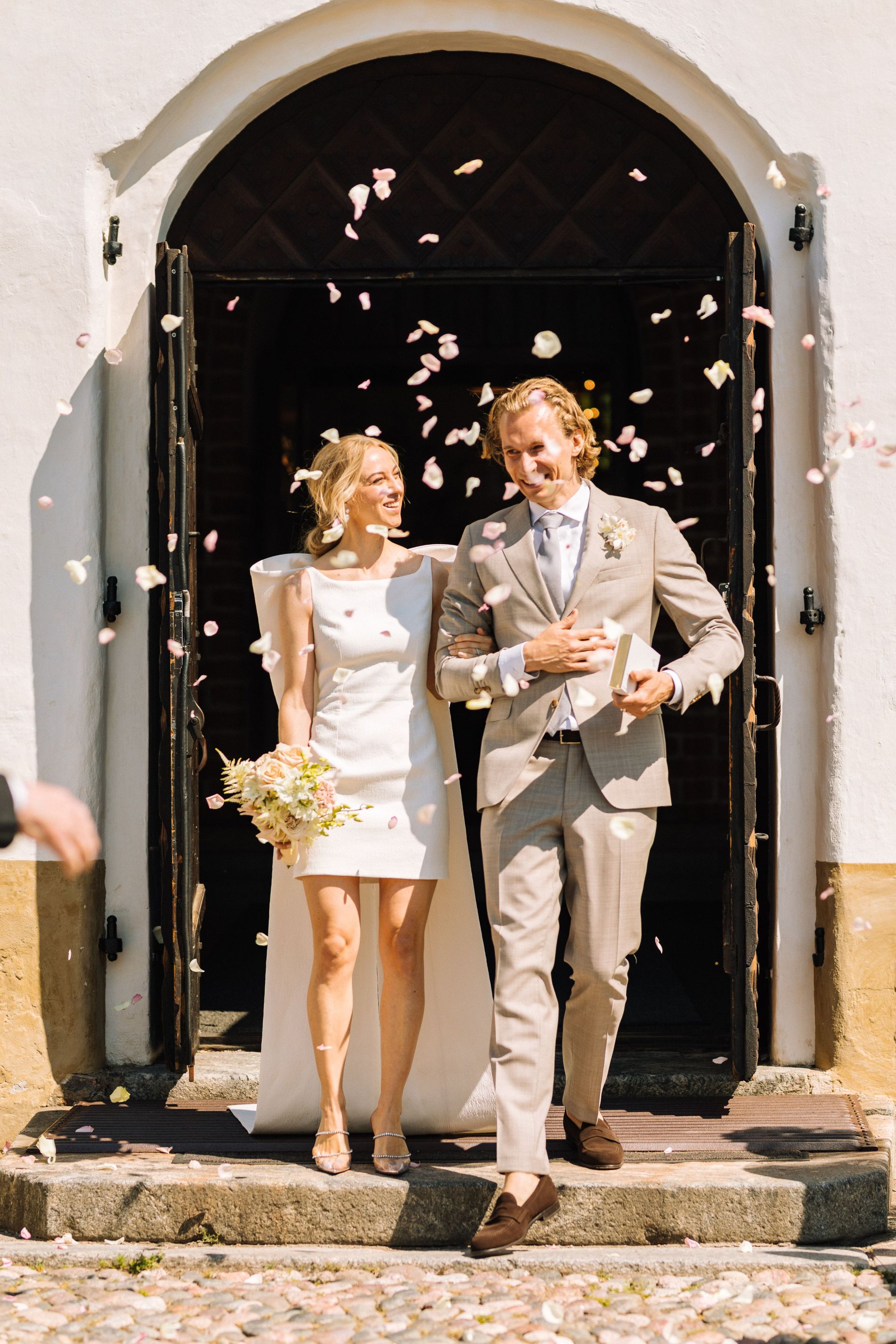 Sandra explains "I had four outfits prepared that never got used. When we decided to go ahead with the smaller party, I immediately knew I wanted to wear the Emilia Wickstead bow dress, which I originally had bought for our garden 'day after' brunch."
Although she used Finnish wedding planner Nord & Mae, Sandra took an active involvement in the wedding, which took place at her family's estate. Sandra hails from the Fazer Group family, who's confectionery (and trademark Karl Fazer chocolate bar) is a part of Finnish cultural heritage.
The ceremony was held at Porvoo's old cathedral, "It was important to us because it was also where we had my mothers funeral 4 years ago," explained Sandra, "Due to restrictions and because we wanted to keep it intimate, only our families and our dog Lily attended. It was short and sweet and very emotional as my father walked me down the aisle." Due to the memories attached to the church Sandra was nervous about the ceremony, but her fears subsided when she saw the groom, "When I finally saw Lasse at the altar I felt a happiness and ease that this moment was finally happening. We both cried happy tears."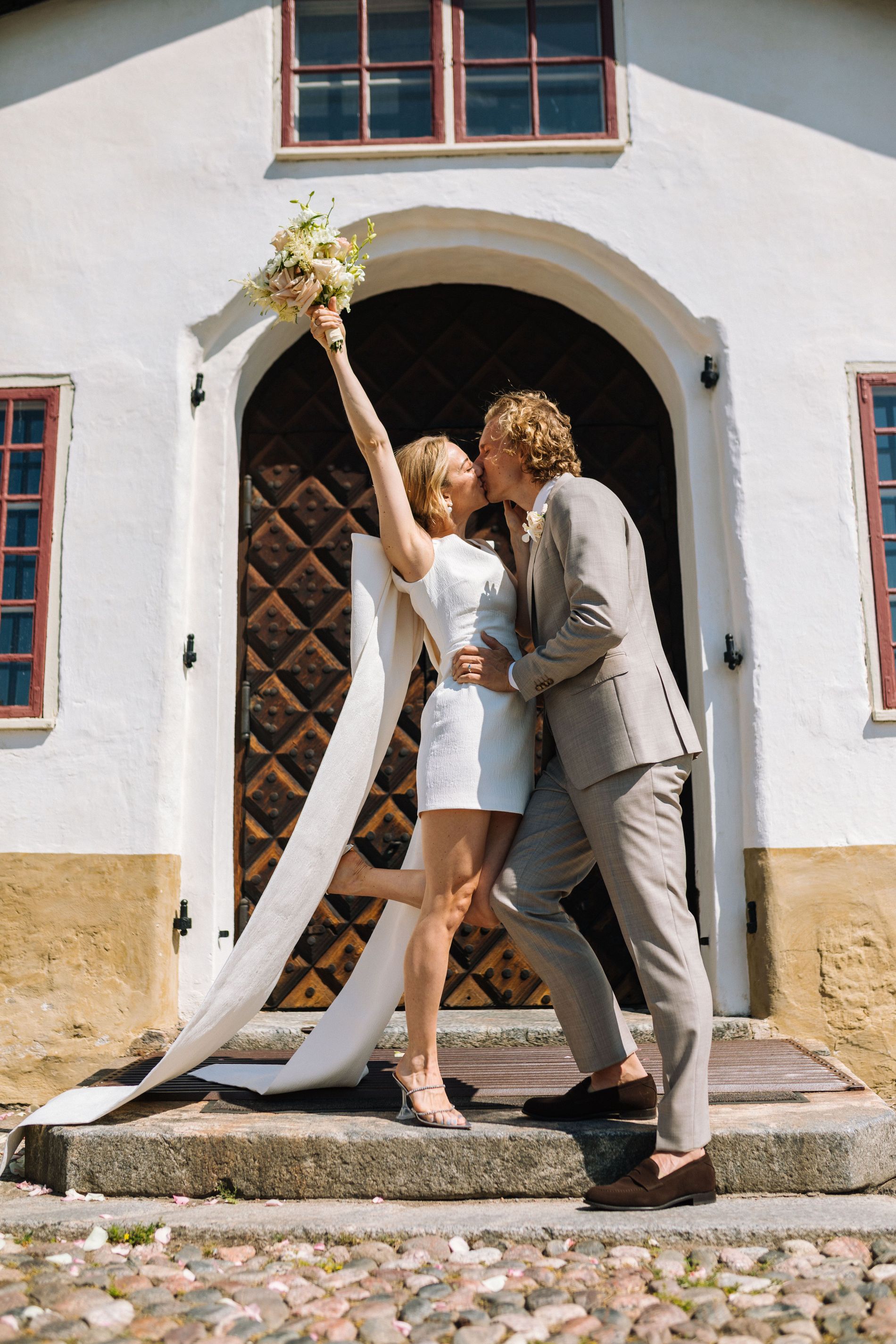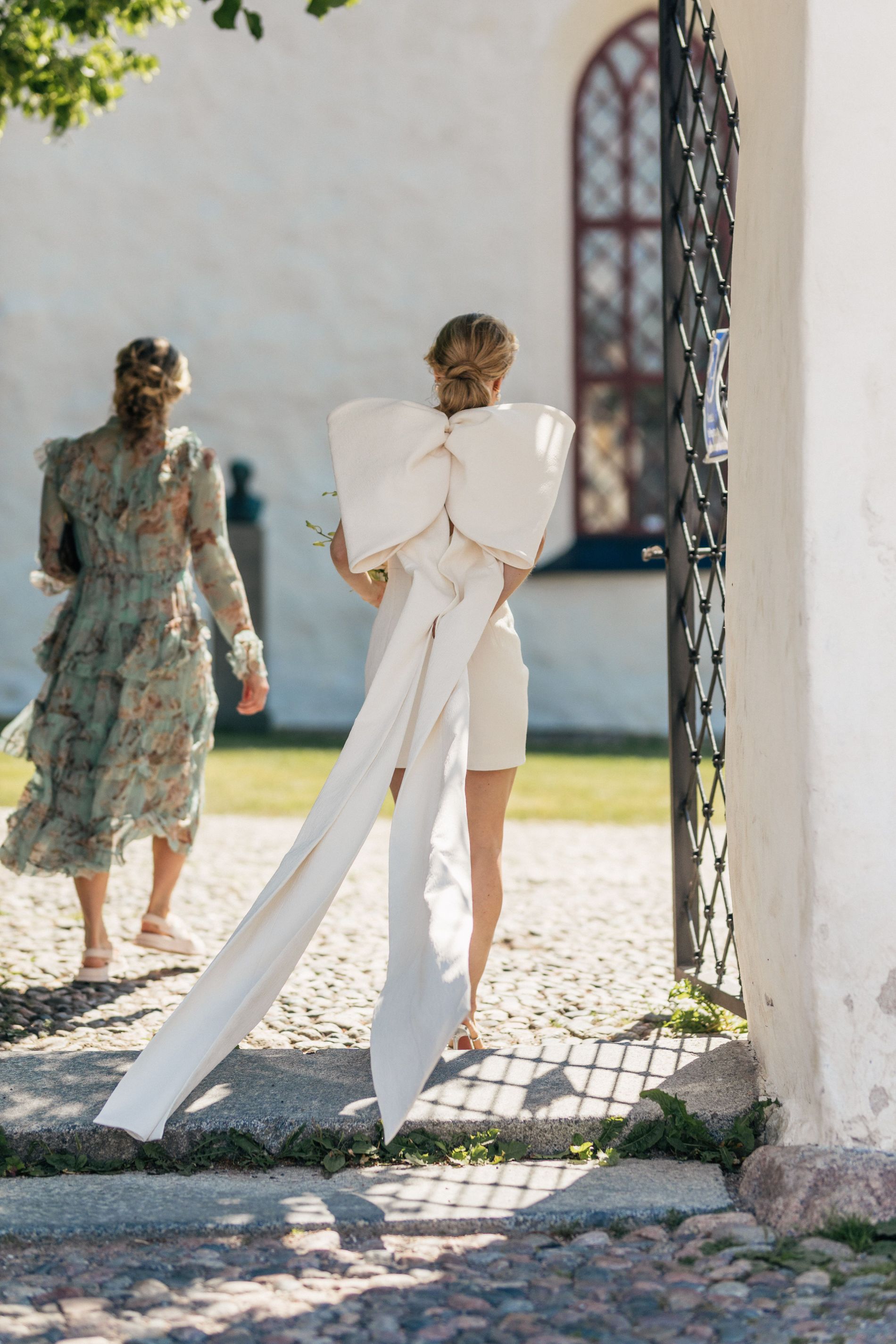 When it came to her choice of dress Sandra felt like it was perfect for a smaller wedding, "The dress felt perfectly 'modern bridal' with a train that looked stunning in the church. I bought it as a full length dress, but shortened for a mini, leaving the back long. This way it became unique as well. I wanted to wear a short dress to symbolise a 'micro-wedding'. From the excess fabric my designer friend - Mert Otsamo- made our dog Lily a matching bow."
if I have the chance to experience this same feeling of love again, I would not pass up on the opportunity
Sandra Hagelstam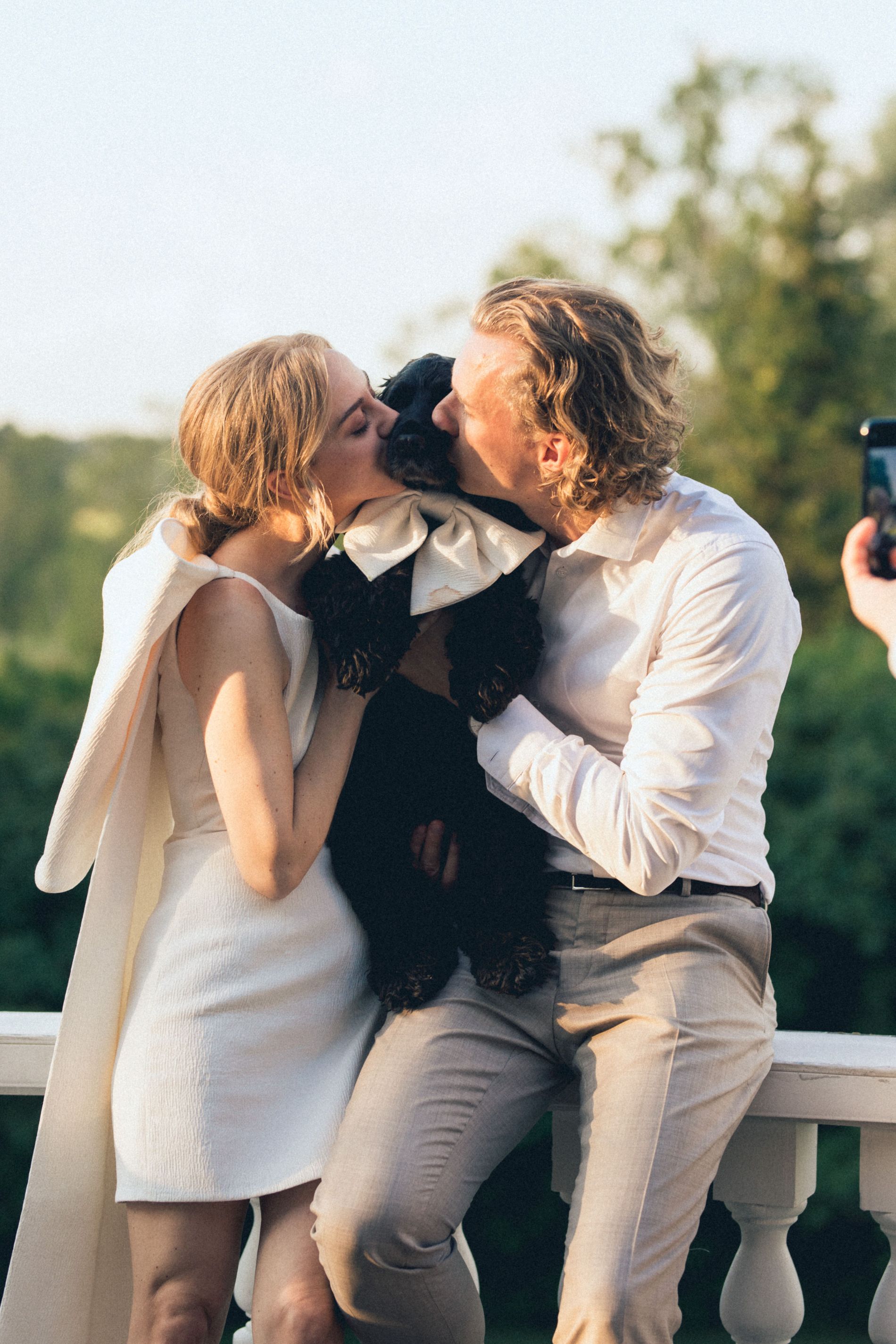 Sandra and Lasse's dog Lily wore a matching bow to the bride.
Naturally for Sandra, Vogue Scandinavia's resident shoe expert, the length of the dress perfectly showcased the heels. "My shoes were Amina Muaddi - I wanted something modern but something that would work on the grass and that I could dance in. They were perfect although I only made the final shoe choice as I walked out the door."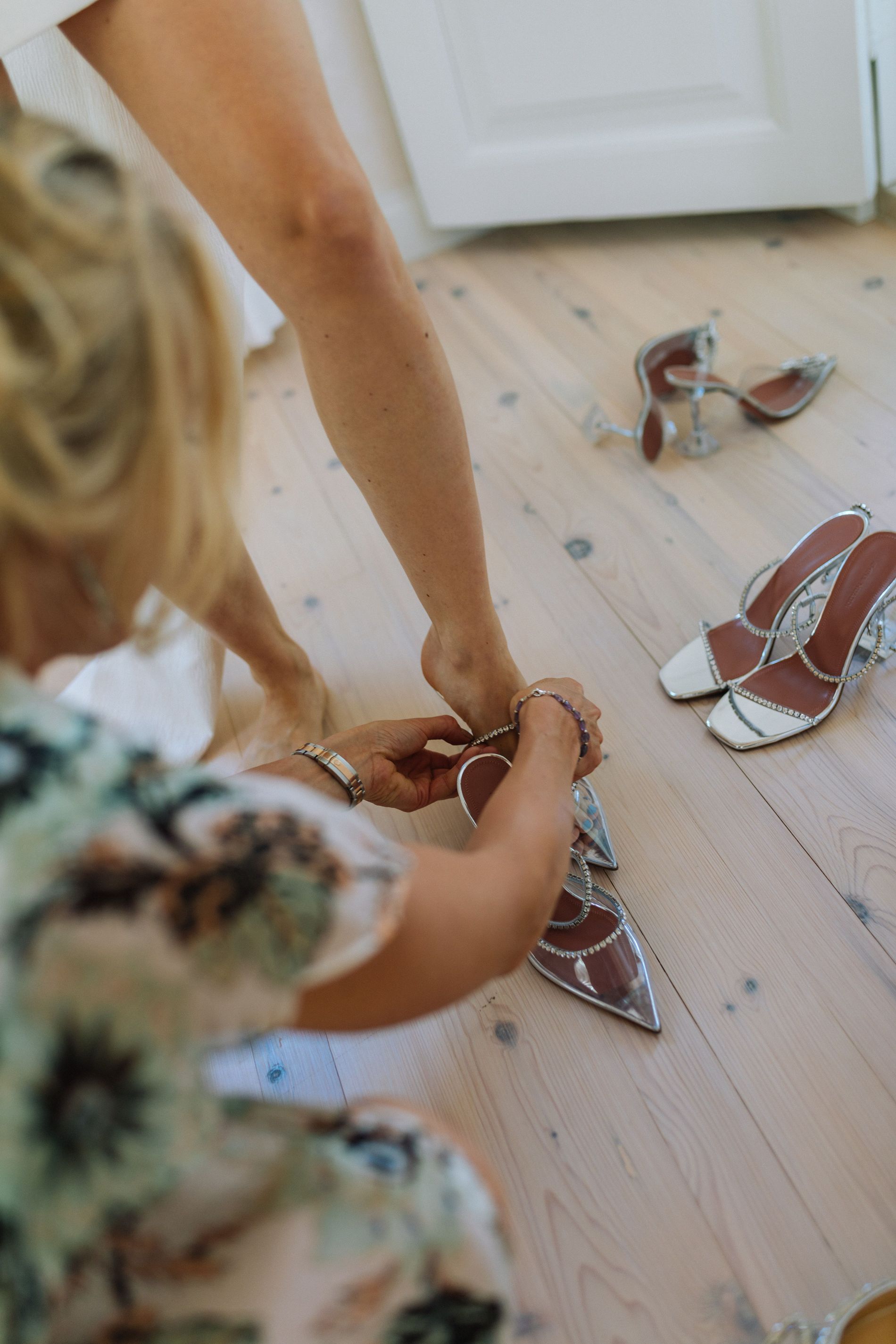 After the church service they drove her father's Jaguar 15 minutes to her family home where they were greeted by their friends in the garden. "We had some Champagne and were serenaded by our friend, opera singer Waltteri Torikka. Then we snuck away for some photos in the backyard, followed by the most amazing long dinner in our living room, that was beautifully decorated with flowers. The day was sunny and beautiful, we had all doors open and the space filled up with butterflies. It really felt almost surreal."
They bid adieu to many of the typical 'wedding traditions' and exchanged a creative version of their vows for the 25 friends and family members present. "Lasse finalised his vows with a surprise performance for me - singing and playing the guitar of our favourite song - Gold from the musical Once. We then cut the cake that was served with an open bar of our favourite drinks we had designed for the event."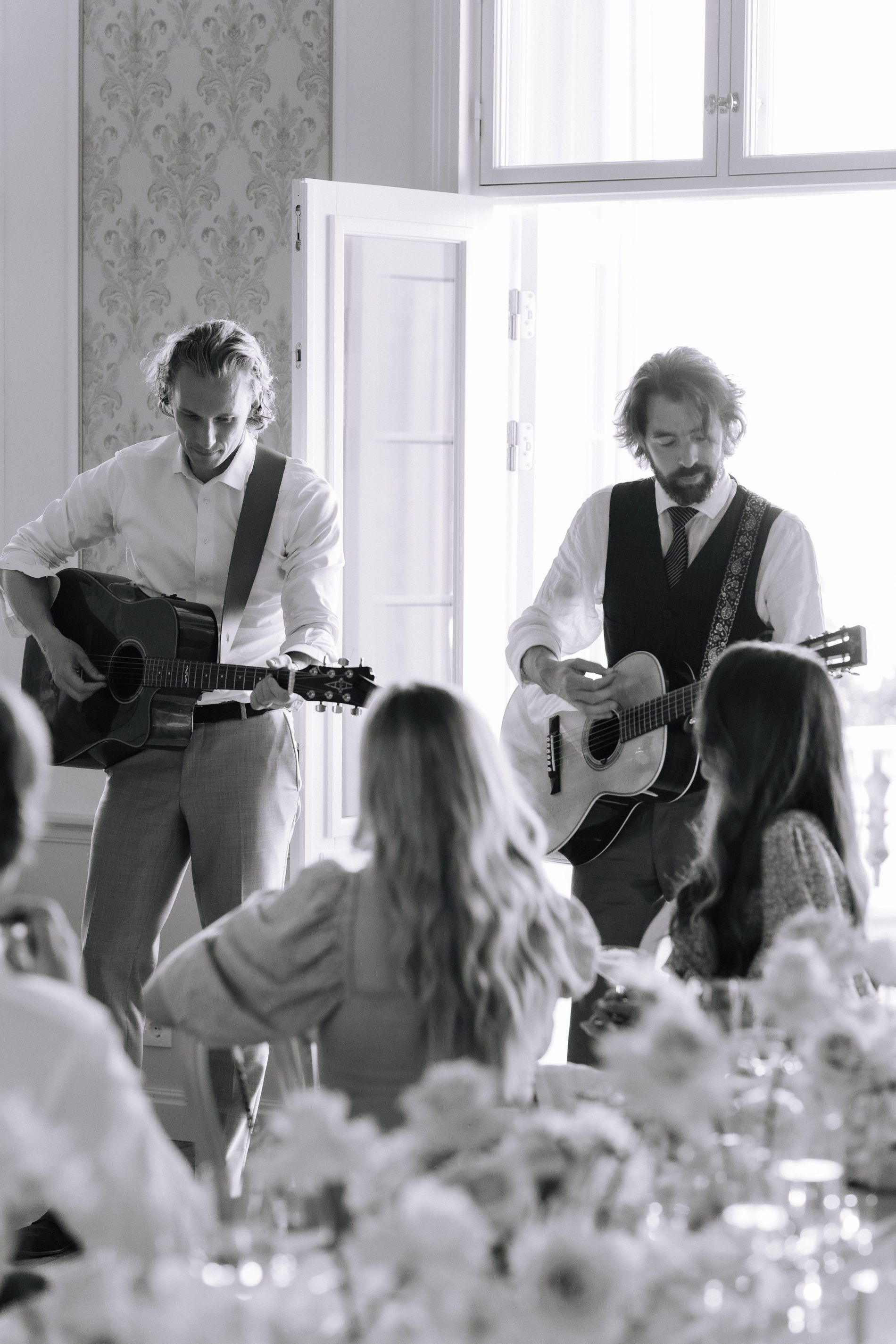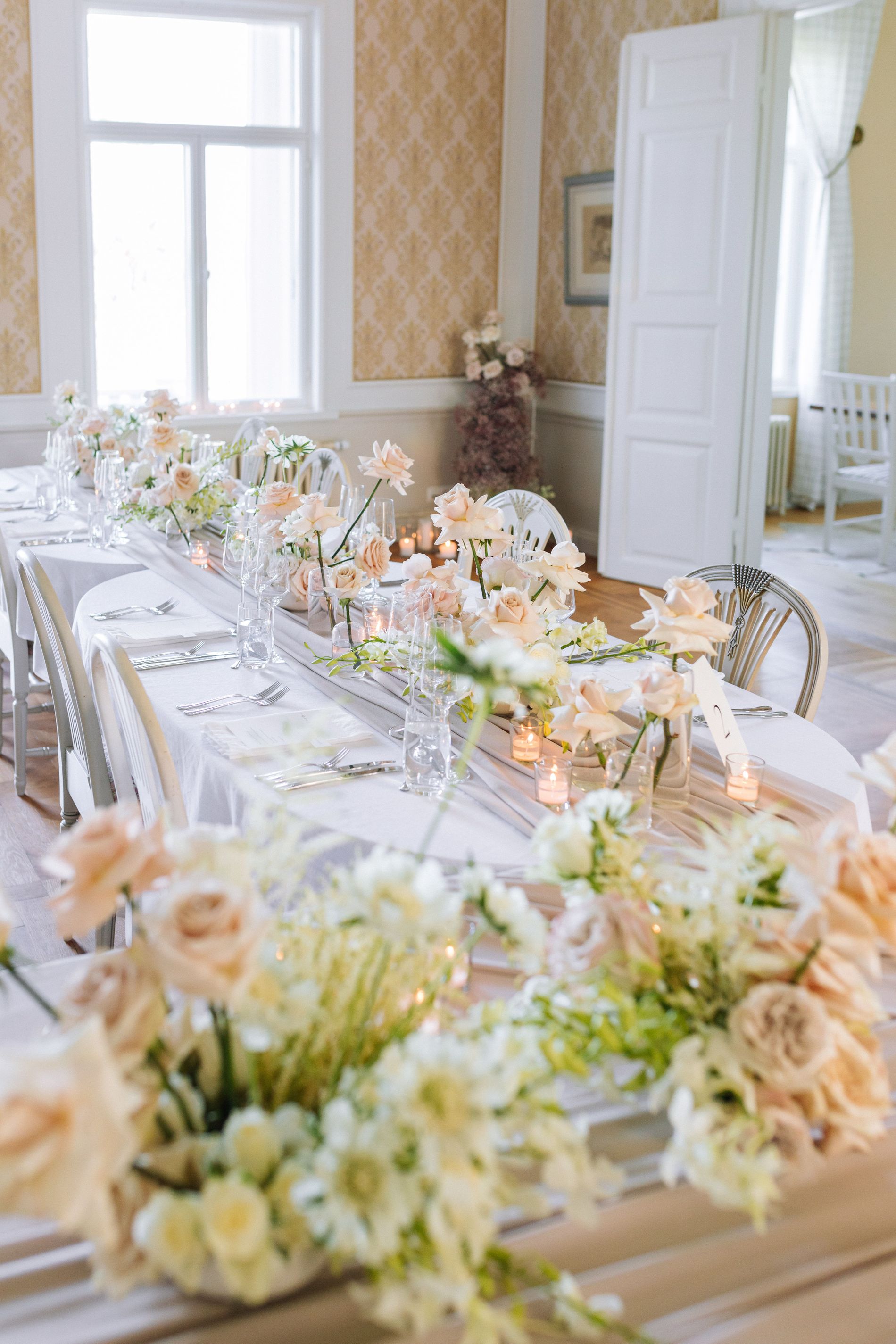 The couple plan to celebrate with a bigger group at a later date, but she is happy they went for a small ceremony, "In the beginning there was some sadness on my part because I felt we were making a lot of compromises for a day that I have been dreaming of my whole life" explained Sandra.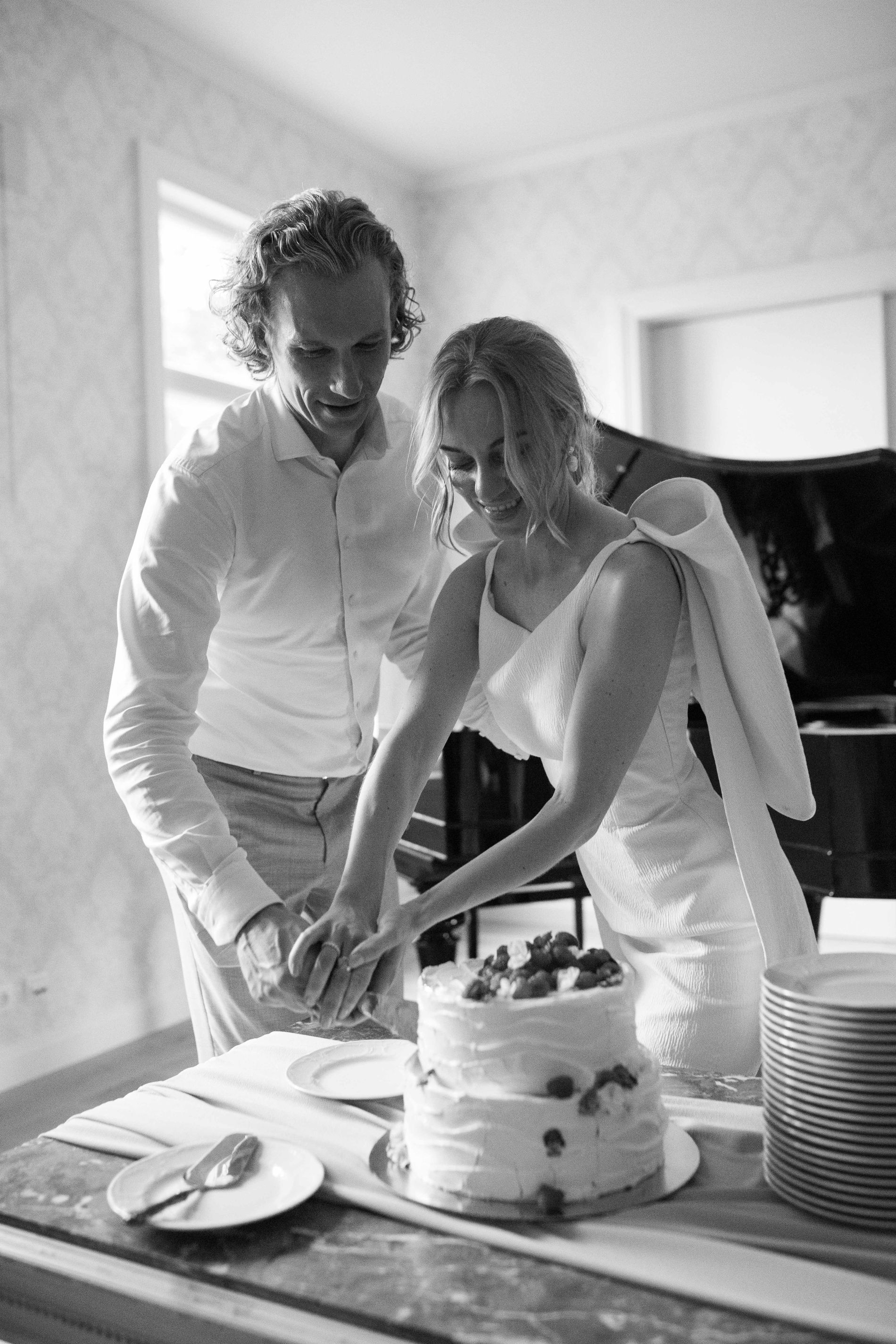 "But I am extremely happy that the uncertainty of wedding planning in this situation is over and we don't have to put our lives on hold anymore. It also feels that now that the 'official' part is done, we have all the opportunities in the world to organise another amazing wedding in the future - and that it can look exactly like we want. What I know for sure is that if I have the chance to experience this same feeling of love again, I would not pass up on the opportunity. On the big day me and my husband were in such a love bubble that despite the size of the party, we could only see each other."
All the photos from Sandra Hagelstam's micro-wedding:
1/24
Photo: Angelina Ilmast