"If I ever get married it'll be in a Cecilie Bahnsen dress," Nuria Val thought to herself when she first laid eyes on the Danish designer's pieces. Now, as she ties the knot to long-time partner Coke Bartrina, Vogue Scandinavia chats with the stylish multi-hyphenate, and Cecilie Bahnsen herself, about the notion of the modern bride
The modern bride is a concept that has presented many fresh and unconventional avenues for those choosing to tie the knot, 21st century style. From destination weddings, to shotgun elopements and themed occasions, there's a growing sense of freedom in the world of nuptials. Many brides shape-shift through far-from-traditional looks throughout the course of a celebration, and there's no restriction on where they're held: be it a favourite pizzeria, nightclub, or simply a beloved watering hold with a bar tab for nearest and dearest.
For photographer, creative, content producer and model Nuria Val, the upcoming wedding to her partner of 10 years, photographer Coke Bartrina, was not one to be formalised and overblown. Instead, the pair – who call Spain home – have chosen to bring friends, family and collaborators together and tie the know over lunch at their favourite restaurant. "We will be married at midday on a rooftop in Barcelona," Val says. Right after, we will go to celebrate a big lunch with family and friends. The celebration will take place at one of our favourite restaurants in the city called Fiskebar, which has been designed by one of our friends. It is inside of a sailing club, so we will be surrounded by the sea and then menu includes all the Mediterranean dishes we love. Barcelona is our city and the place that represents us the most so we thought it was the perfect spot to gather all our beloved people to accompany us on this day."
The casual nature of the planned celebrations perfectly summarise Val's own ethos when it comes to her own professional, personal and passion project endeavours. "I never imagined the idea of a very complicated wedding full of preparations," she tells me. "I love simple but beautiful things and I like to spend quality time with my family. So we thought that doing something that makes us happy would be the perfect event for our wedding."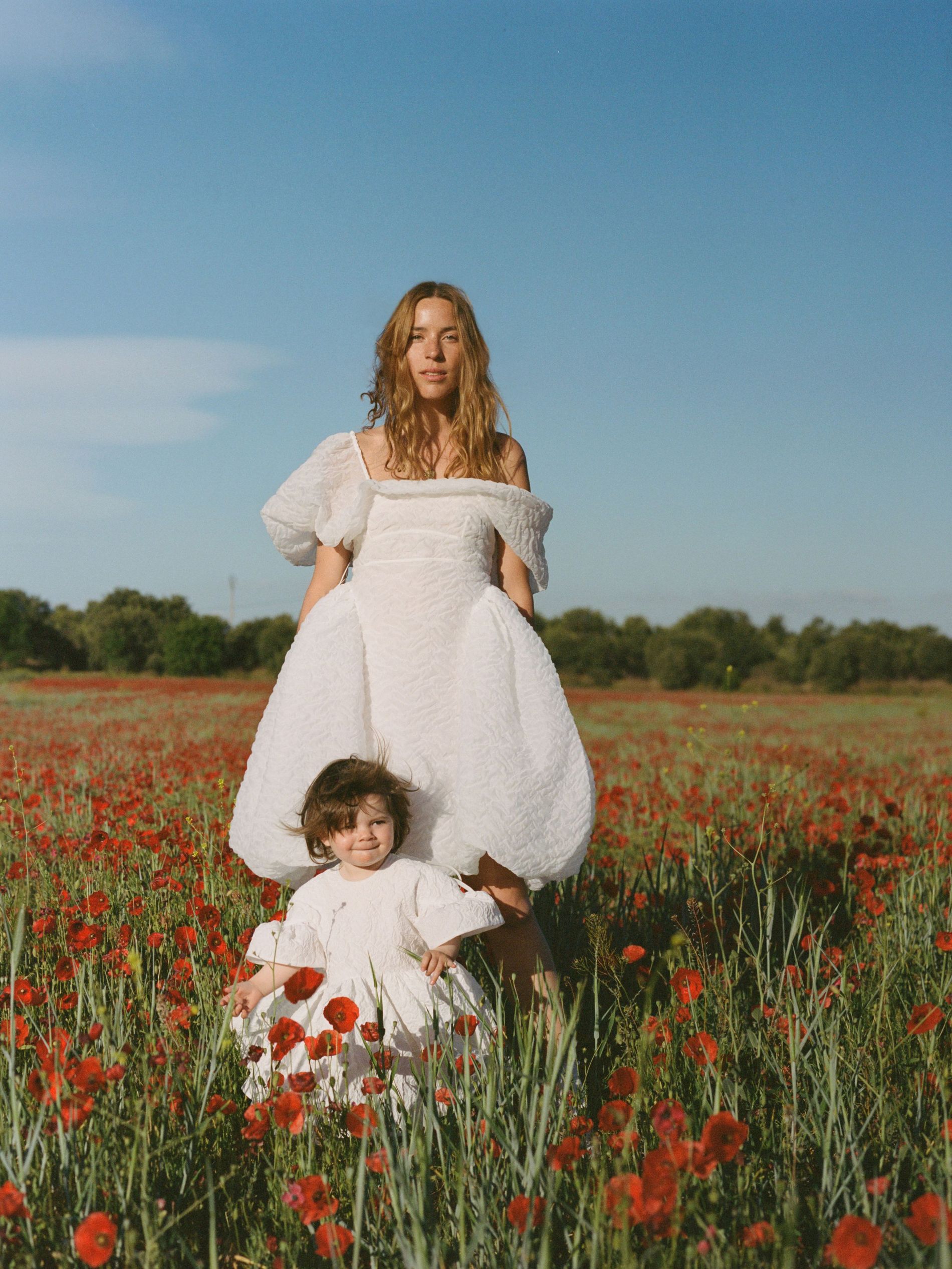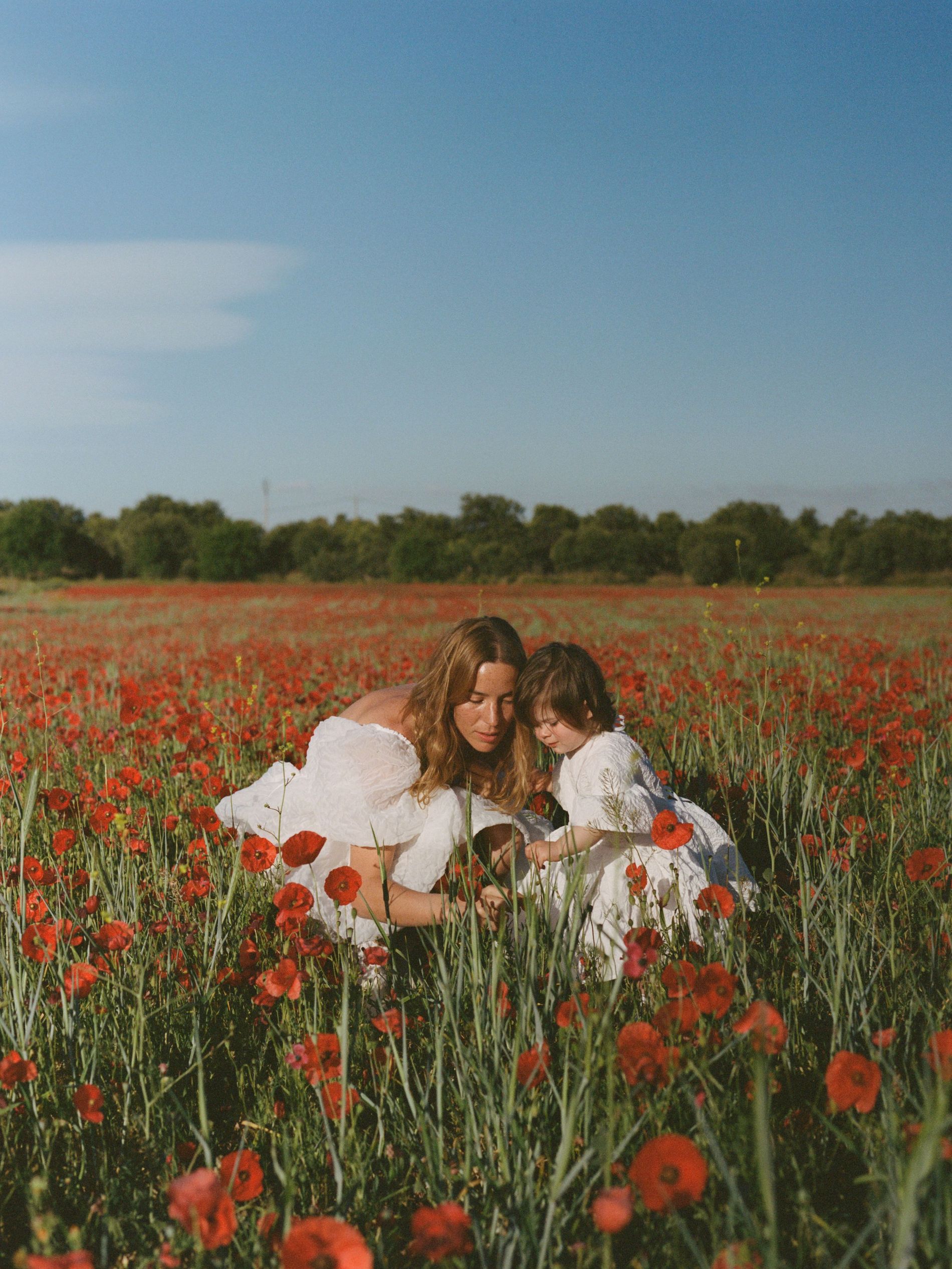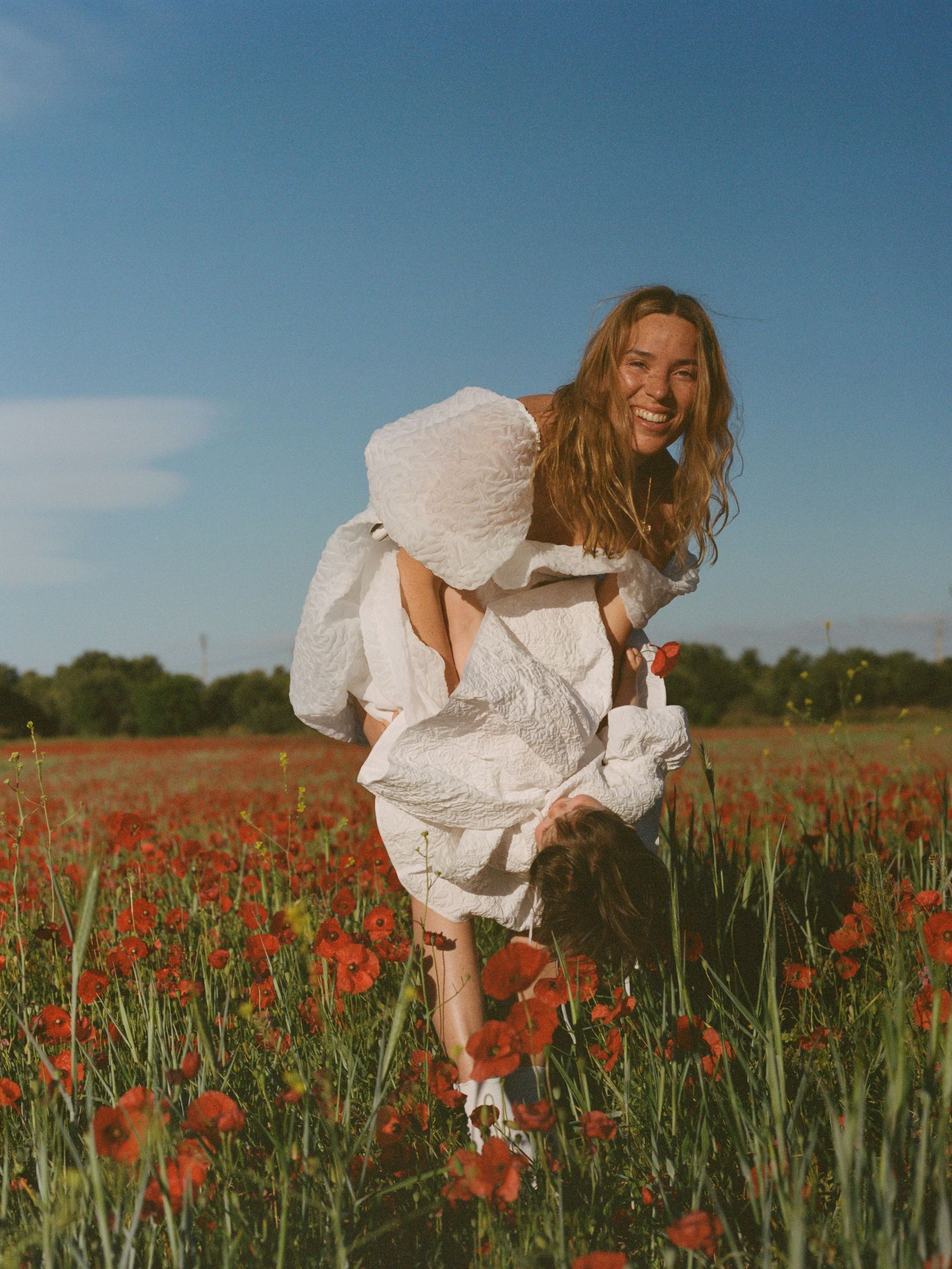 This 'joie de vivre' approach rings true in Val's Instagram feed, which has garnered almost over 280,000 followers, as she shares snapshots reflecting her and Bartrina's insatiable appetite for travel, exploring the most unexpected and naturally resplendent corners of the globe. The pair are inherent thrill-seekers, with Botswana, Mexico and Iceland just a clutch of the magnificent vistas she has and will experience in 2023. But now, the Val and Bartrina will spend more time in their beloved Spain as they establish a summer hideaway to cosy into on weekends, to enjoy winter's dusks and balmy summer nights – not to mention the joy of producing owl from their own olive farm that the couple bottle themselves.
As the co-founder of Rowse, the acclaimed plant-based skincare brand, Val knows the importance of celebrating the wonders of the world and its natural habitation. From climbing volcanos to venturing across black sand beaches, there is rare a corner in the world that has gone untouched by Val and her lens. But in the last two years, an entirely new frontier has opened itself for Nuria: that of motherhood. With Olivia, her daughter, bringing new meaning into her life, Val and Bartrina have brought their little girl with them on adventures across the globe - from Lanzarote to New York and road trips all over Spain.
After all these years and adventures together, what does getting married mean to her? "For me getting married means to celebrate. We want to celebrate love and all the beautiful things that happened to us during the last 10 yearswe've been together."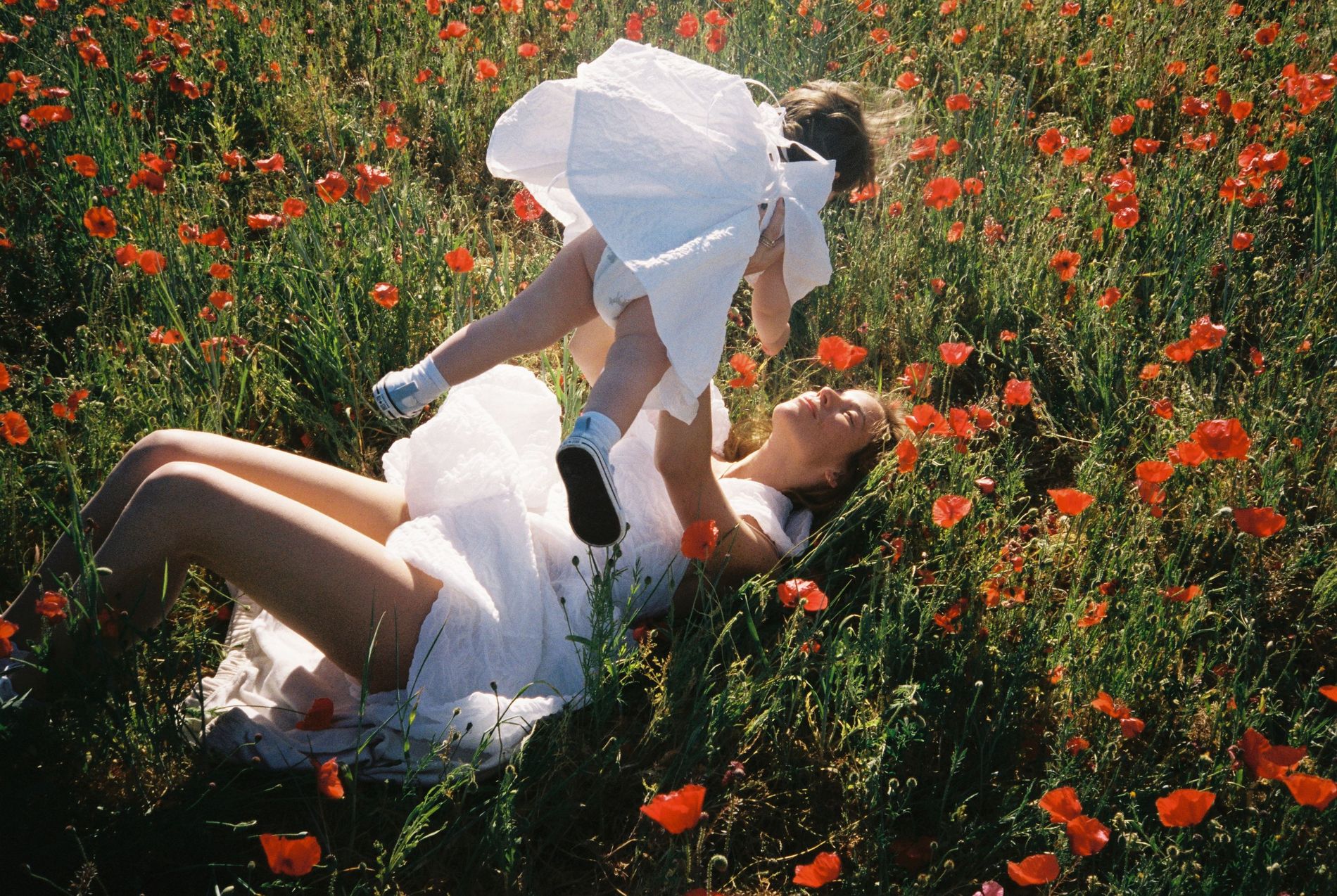 The wedding dress a bride chooses is both an opportunity to frost oneself in a plume of something special, or to don something with a great sense of significance and value. For her special day, Val has selected something that traversed both: the Cecilie Bahnsen Snow Dress: marking both the friendship that Val holds dear with the designer, and also the desire to dress in something that would have longevity to wear again and again long after the wedding day.
"I remember the first time I saw a Cecilie Bahnsen design and I said, 'If I ever get married, it'll be in a Cecilie Bahnsen dress.' This was around 2018, and then in 2019 I attended a Cecilie Bahnsen show for the first time. I fell in love with everything, and I have been following the brand ever since," Val recounts.
For Val, the dress as much as the feeling it resonates within her are core concerns when making the decision for this key moment. "I think the Cecilie Bahnsen dress conveys the idea of pure beauty," she muses. " I love the organic and natural shapes, the volume of its fabric combined with the elegance and sensuality that transmits."
Cecilie Bahnsen herself resonates with Val's sentiment of a wedding dress embodying a something greater than just the day. "A wedding dress is an expression of personal style and and opportunity for the bride to bring her unique perspective to an otherwise traditional day," Bahnsen says. "For me, clothing is so precious, and it can hold so much meaning. Beyond the wedding day, I see the wedding dress sort of like a cherished piece of art, an artefact of sorts, symbolising your marriage and your love."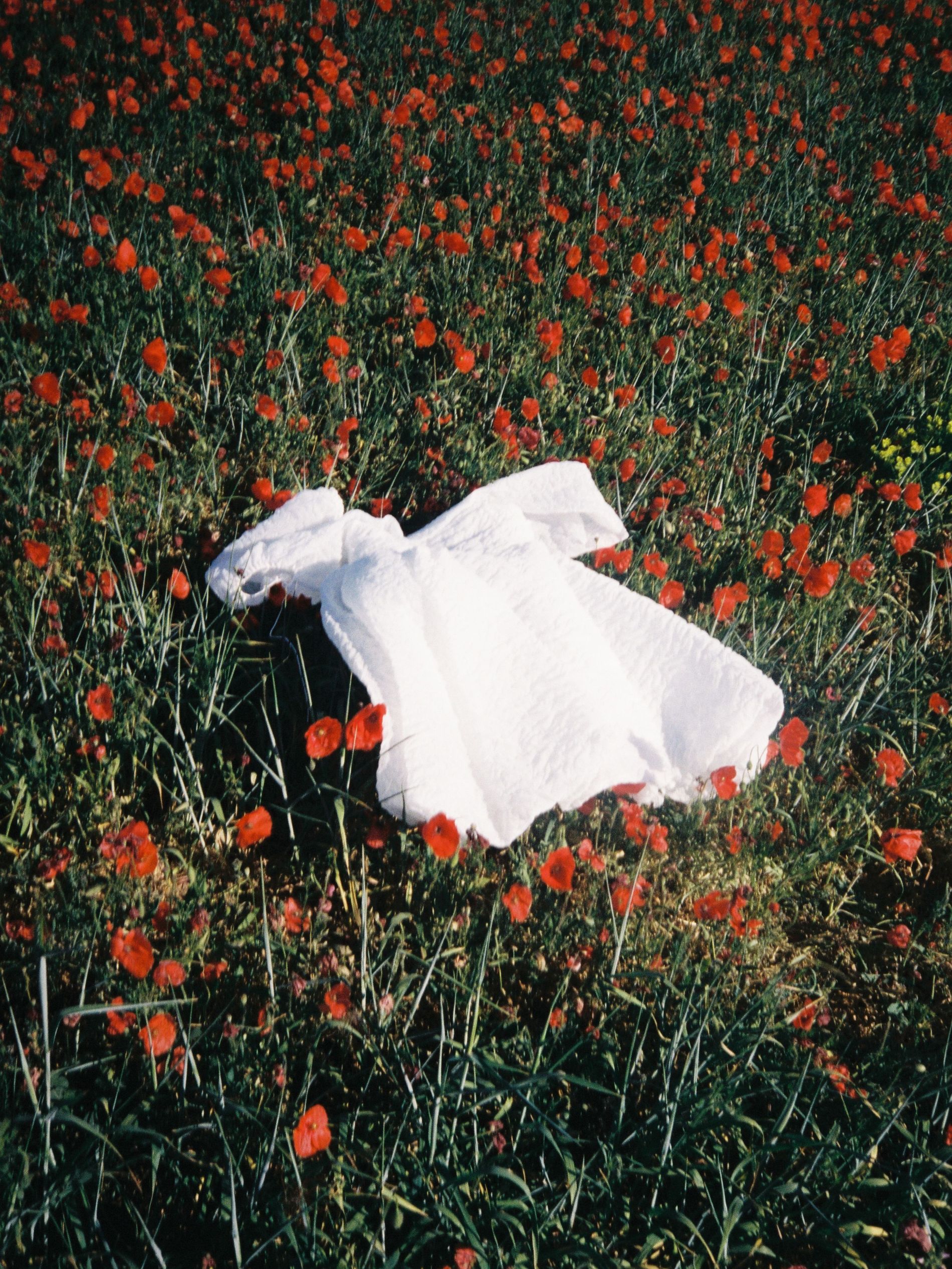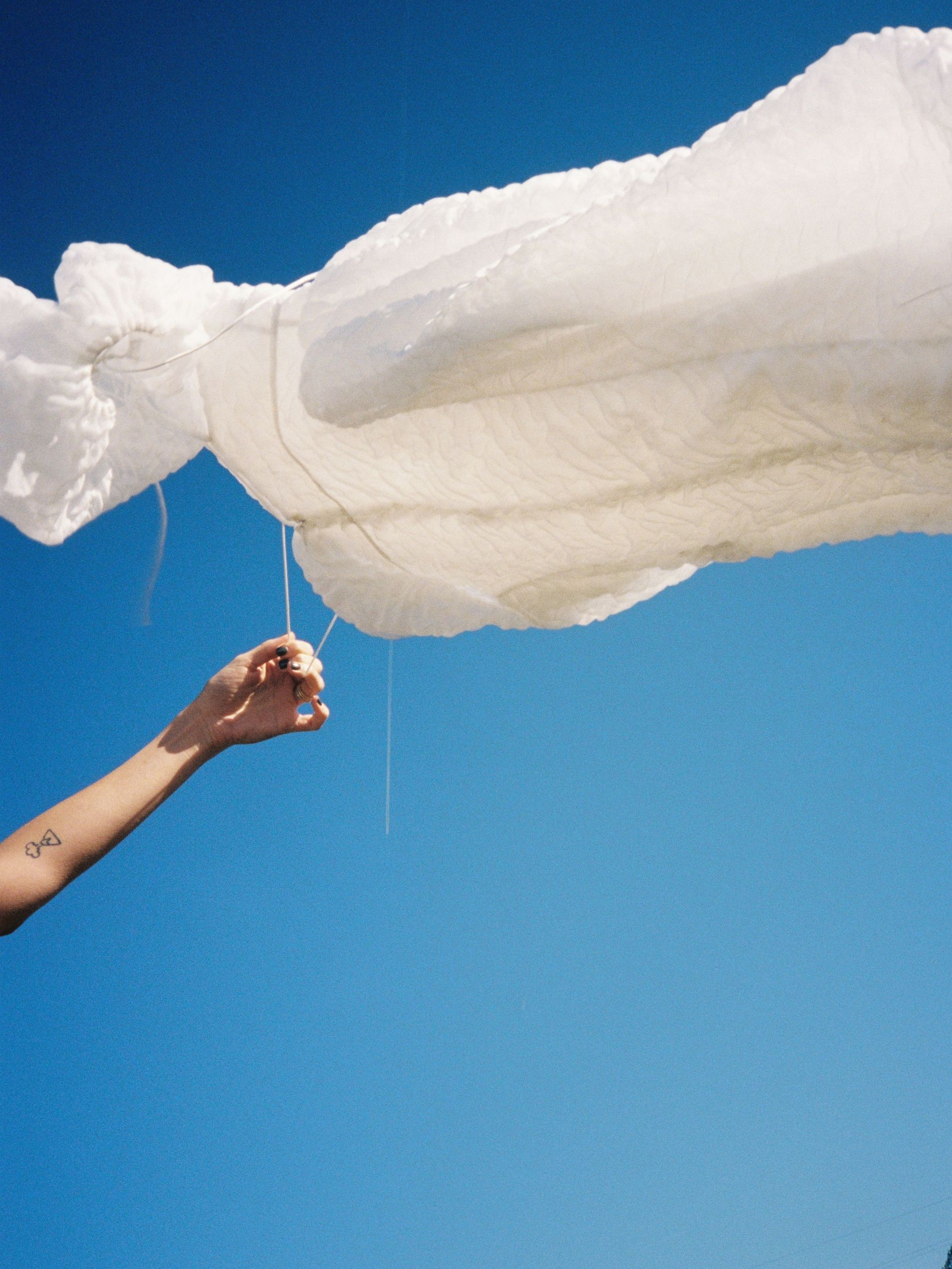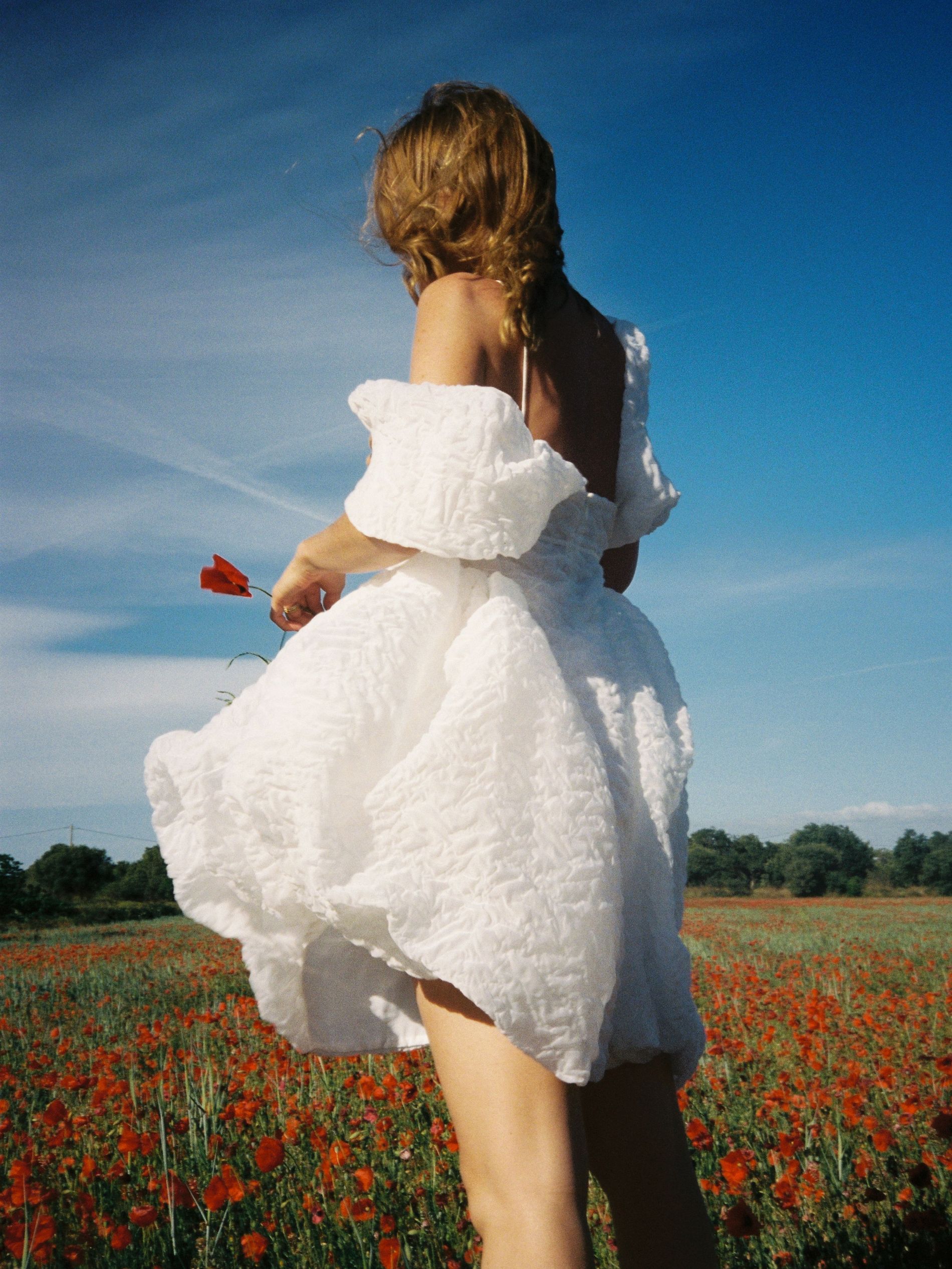 The embodiment of a modern bride, Val sees the day as a celebration of love and family, a moment as much for her and Bartrinda as it is for her daughter. Wearing the Cecilie Bahnsen Carlotta blouse, Olivia was as much part of the proceedings as her parents.
"Olivia is the most special bridesmaid," Val says. "One of the beautiful things about marriage after having a baby is being able to make her part of this special day. It's been really cool to have her around in the process of choosing the dress and bringing her to the dressmaker to make some adjustments in her Cecilie Bahnsen. Every time we went to try it, she kept staring at herself in the mirror in a very cute way. She will probably be bringing the rings during the ceremony."
Motherhood is a subject that resonates strongly with Bahnsen too: "Embarking on motherhood has brought a new perspective for me and has allowed me to find inspiration in new places," she agrees. "It has become an important part of who I am not only personally but also professionally, allowing me to explore new ideas of femininity and womanhood."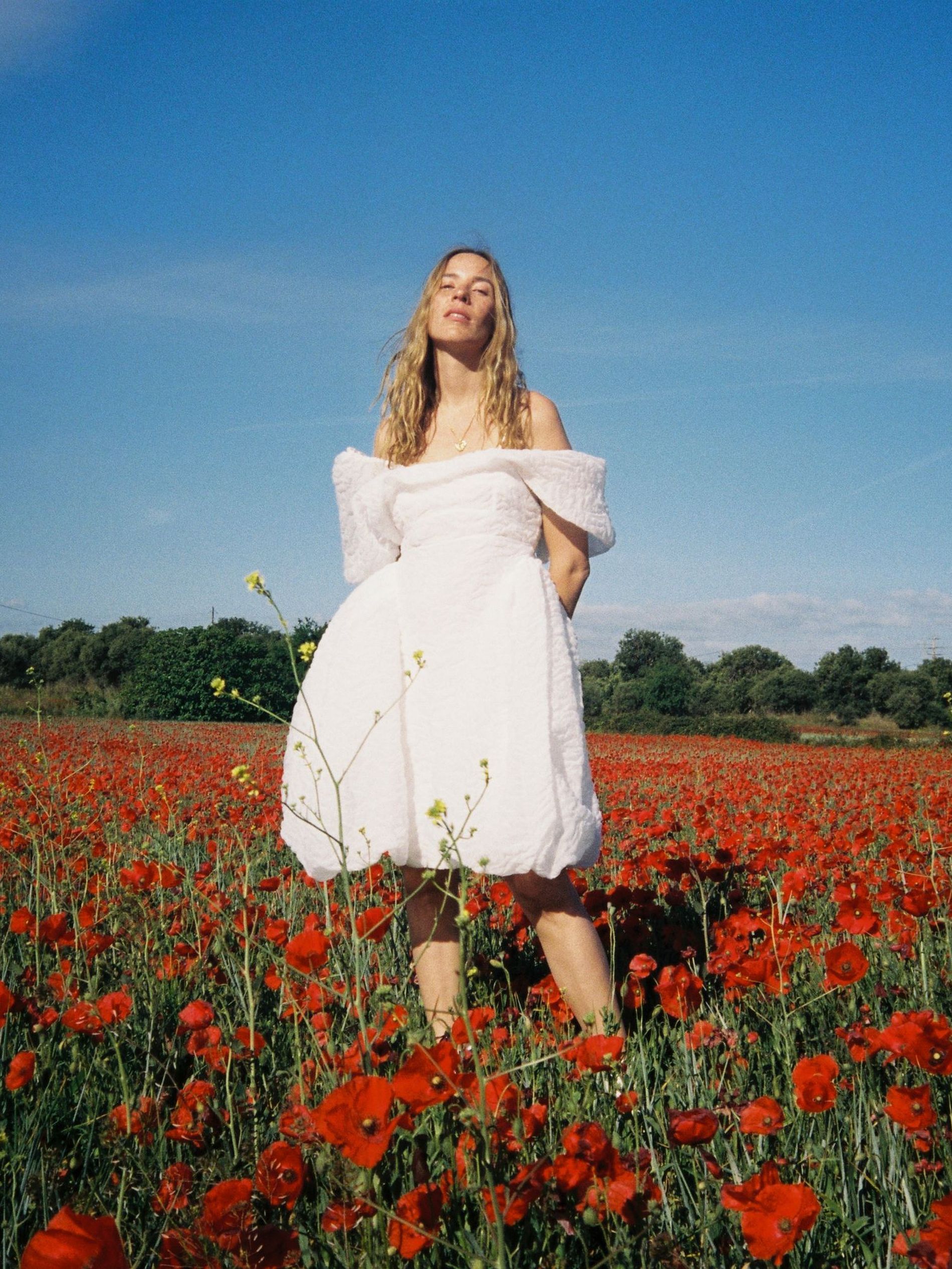 Photo: David Gomez Maestre
Capturing mother and daughter in a field blooming with flowers, photographer David Gomez Maestre looked to capture the fun-loving and creative spirit that exists between Val and Olivia – resulting in visuals that perfectly encapsulate what Bahnsen hopes people feel in her designs. "I hope our pieces exist as an opportunity to bring a feeling of playfulness and romanticism into the getting dressed - it doesn't need to be so serious," the designer says. "We design each and every piece in our Copenhagen atelier with the utmost love, so I also hope that when you put a Cecilie Bahnsen piece, you can really feel the care and the touch of hand that goes into creating each garment."
And much like Val's own personal style that digitally catapulted her to a global audience, an effortlessness and ease perfectly pervades in all that Bahnsen designs. Noting her own creative approach, "Cecilie Bahnsen dresses are unique for their incredible sense of romance juxtaposed with an ease that allows you to feel like the best version of yourself. This duality combined with our modern take on femininity speaks to a lot of women today," the designer says.
"Our dresses also resonate with the many brides looking for something less traditional and more effortless. Whether it be a complex interlace of pink bows or a cascading skirt with asymmetrical ruching, each piece allows you to tell your own story."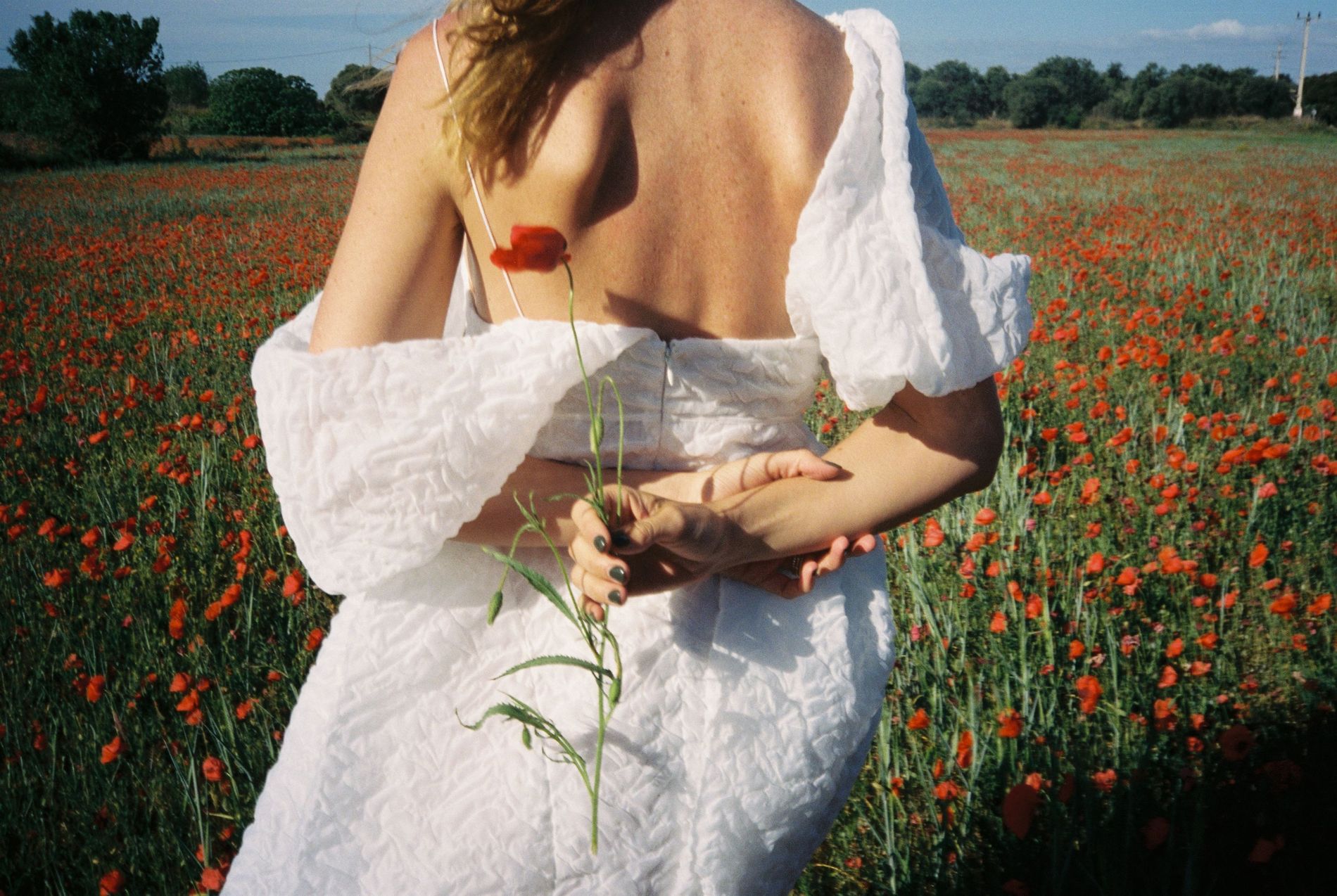 Does Val feel that she is part of a wave of modern women approaching the concept of marriage in a much different manner to how things were done before? "Definitely yes," she responds. "I feel we have been following a very traditional way to do things for ages and it is time to create and accept a new way of celebrating love. I've been dating Coke for 10 years, we first bought a house together, we had a baby and we are now getting married, so I'd say that this new wave of modern brides really presents me!"
Val accessorised her Cecilie Bahnsen ensemble with a slew of special totems, each significant of friendship, family and adventure. From her engagement ring gifted by Coke and custom emerald heart gifted when Olivia was born, both made by Nadia Shelbaya, to her emerald and pearl earrings from longtime collaborator Rosh Mahtani of Alighieri, Val also wore a very special ring from her grandmother: a keepsake that she couldn't be without. "My grandmother loved jewels the same as I do and I remember going to her house and trying on everything she had. Before she passed away she gave me this beautiful aquamarine ring that my grandpa made for her in 1968."