When supermodel Cindy Crawford appeared in the Omega "My Choice" campaign in 1995, she not only helped bring renewed success to the Swiss watch brand - she also started a family tradition
In the 1990s, the traditional Swiss watch industry was still recovering from the paralysing success of imported Japanese quartz watches. Even household name brands such as Omega were not immune from the trend. But Cindy Crawford turned that around.
The supermodel, together with then-Bond actor Pierce Brosnan, was drafted in to front the "My Choice" advertising campaign in 1995 - and it turned out to be a masterstroke. Conceived initially by senior industry figure and marketing wizard Jean-Claude Biver, the "My Choice" campaign was a whole new way to advertise Swiss watchmaking at a time when wristwatches were not all that sexy.
Not only did Crawford's appearance appeal to a new audience of fashion lovers, her endorsement also opened up a new way of advertising for the watch industry - one that decades later she and Omega continue to keep in the family through the hiring of Crawford's daughter, Kaia Gerber.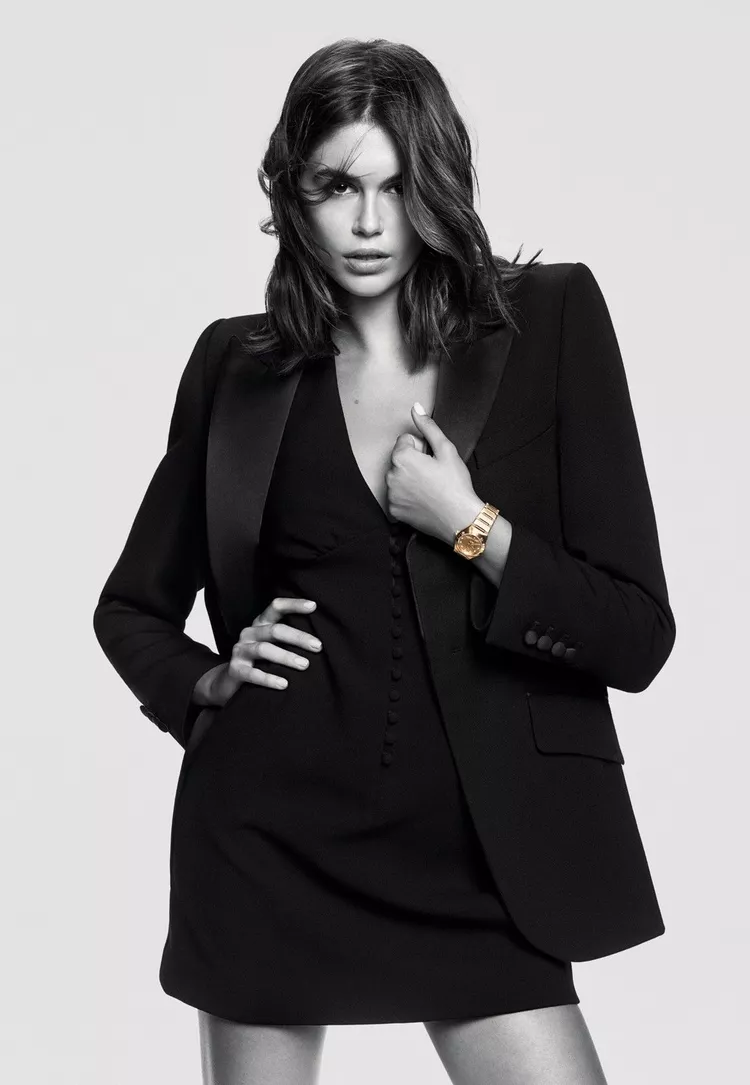 Kaia Gerber in Omega's latest Constellation campaign. Photo: Omega
In a world of paid faces and season booked campaign figures, most ambassadors disappear when their contracts expire. But not Crawford. She has now been the face of Omega for more than 25 years and is the brand's longest-serving ambassador. "I have been an Omega Ambassador longer than I have been married," she jokes, referring to her marriage to Rande Gerber, with whom she also has a son, Presley Gerber.
Crawford's daughter Kaia joined the Omega ranks in 2017, aged just 16 years old. Already a celebrated model on the international runway scene, Kaia Gerber brings the same beauty and high fashion flair as her mother did – and still does.
"I grew up with Omega, so it's essentially carrying on the family tradition," says Gerber. "Omega has such a rich watchmaking history and their designs are timeless. I am excited to be presenting this incredible watch to my own generation."
"It feels very meaningful to have both Kaia and Cindy as part of the Omega family," says the brand's President and CEO, Raynald Aeschlimann. "By connecting the two generations, we have a story that is truly authentic and personal to our brand. Cindy is an icon of Omega and a great friend. She's been with us for over 25 years, so naturally, Kaia has grown up with us too. She's now taking the 'My Choice' spirit forward. To see this special mom and daughter team working together and sharing their genuine love for our watches is really touching. It's a perfect example of the close relationship we like to develop with all our brand ambassadors."
With Gerber on board, Omega wants to communicate to "the next generation of watch fans," Aeschlimann adds, something that can be seen in the brand's recently launched campaign celebrating both the fifth iteration of the Constellation line and the fifth anniversary of Gerber's association with the storied Swiss watchmaker.
The spectacular campaign shot by photographer Craig McDean sees Gerber bringing new life to a design range that first emerged in 1982 and is notable for its distinctive "claws."
"Thanks to Kaia's effortless sense of style, unique talent and grounded personality, our latest Constellation campaign has already taken the world's most familiar timepiece into exciting new territory," reads an Omega press release on the campaign.
And with it, Omega not only celebrates the fifth generation of one of their classic collections, they also mark an essential relationship between mother and daughter – and the two working side-by-side with the famed Swiss watch brand.