Anderson's latest big screen creation is an ode to French cinema, literature and culture. So, does this mean that it'll be his most stylish picture yet?
All products featured on Vogue are independently selected by our editors. However, when you buy something through our retail links, we may earn an affiliate commission.
A Wes Anderson film is immediately recognisable. So much so that an Instagram account dedicated to his whimsical aesthetic, Accidentally Wes Anderson, was recently made into a book featuring a foreword by the director himself.
As a rule of thumb his cinematography is typically symmetrical, with retro touches and expressive colour palettes that tend to switch from jewel and candy tones to muted, earthy shades. And it's no secret that the director is meticulous when it comes to details, from the typography to the insignias, which he usually designs himself.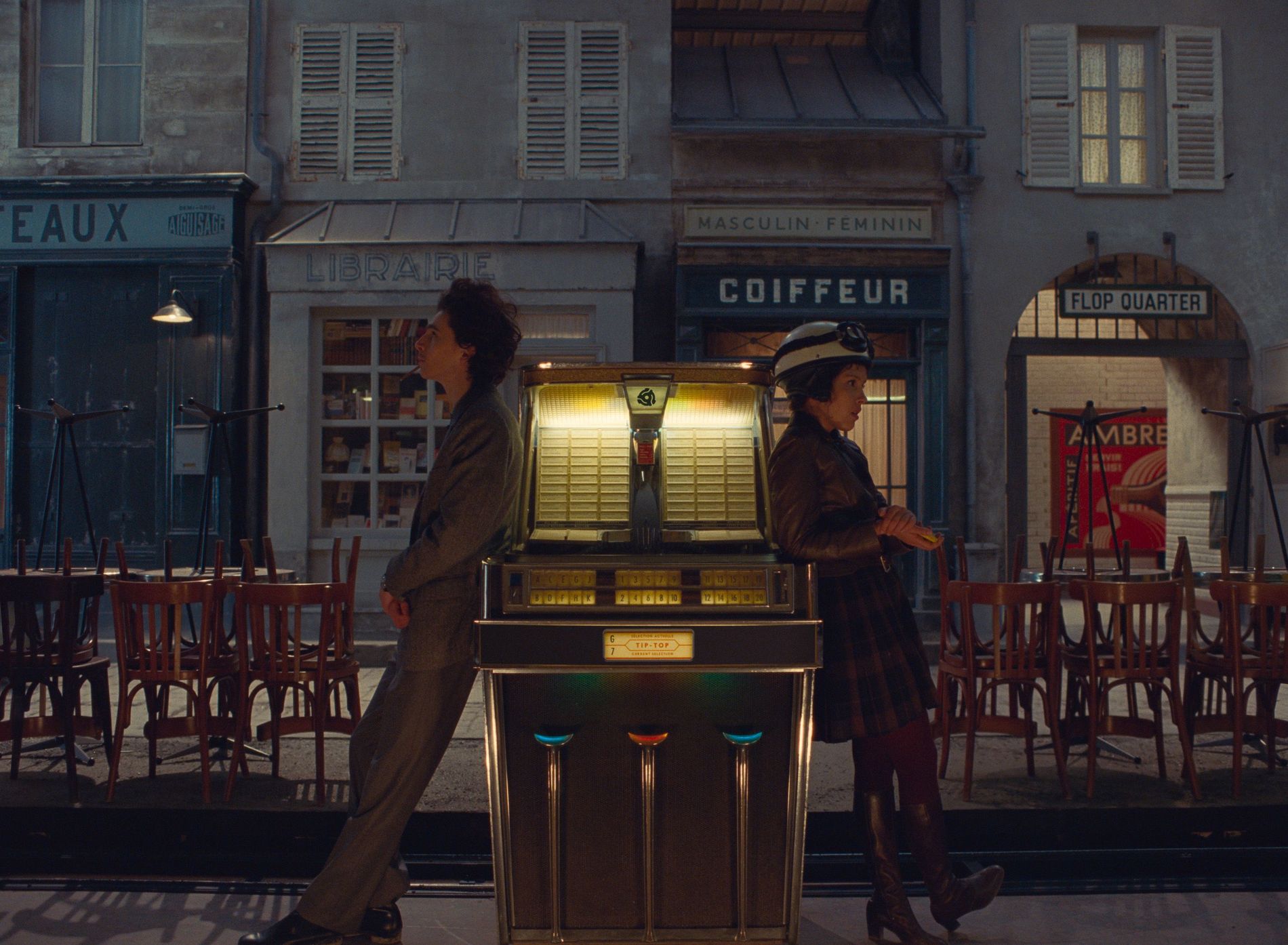 Timothee Chalamet and Frances McDormand star in The French Dispatch. Photo: The French Dispatch
Another charming characteristic of Anderson's films is the clothing, and many of the outfits now make for popular costumes, since they're both distinguishable and stylish. Certain pieces usually represent an aspect of a character – perhaps something in their past that they haven't let go of, for example, Margot and Richie Tenenbaum's tennis apparel in The Royal Tenenbaums, or the three brothers' cumbersome luggage in The Darjeeling Limited. Anderson has a close relationship with many revered fashion houses, including Prada, for which he created the short film Castello Cavalcanti, so he has the crème de la crème of clothing at his disposal. His own personal style is rather niche too – it's a well-known fact that he adores corduroy and Clark's Wallabees.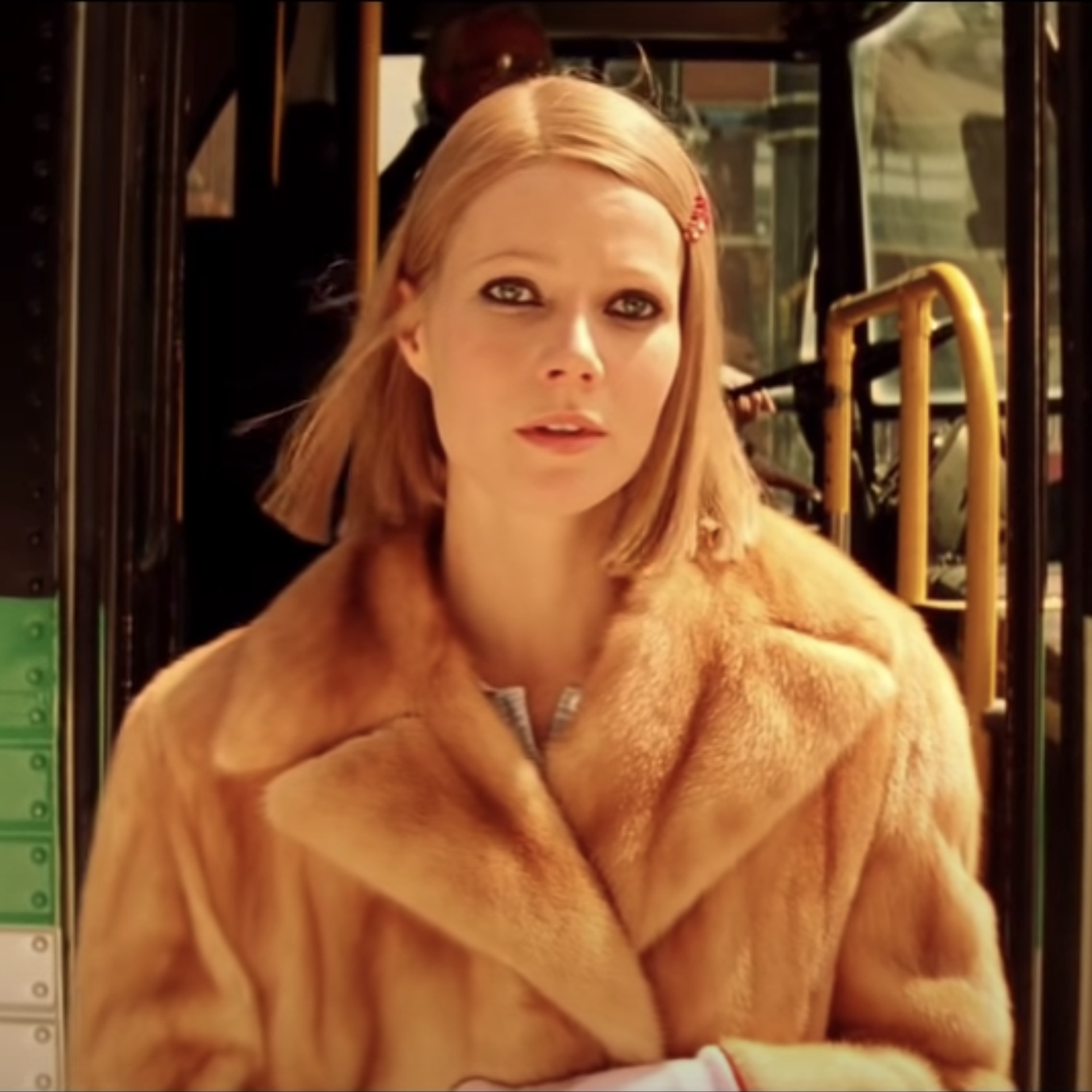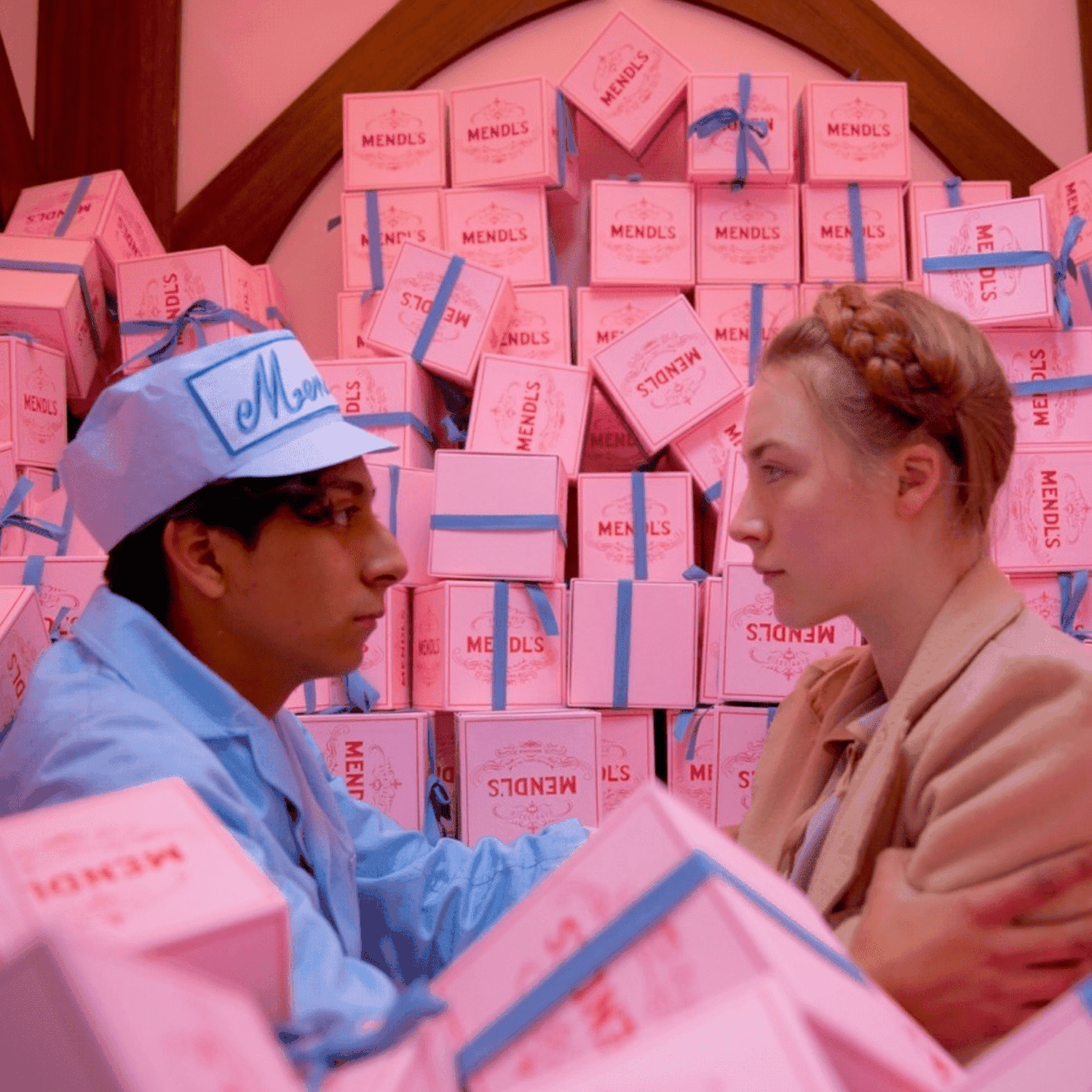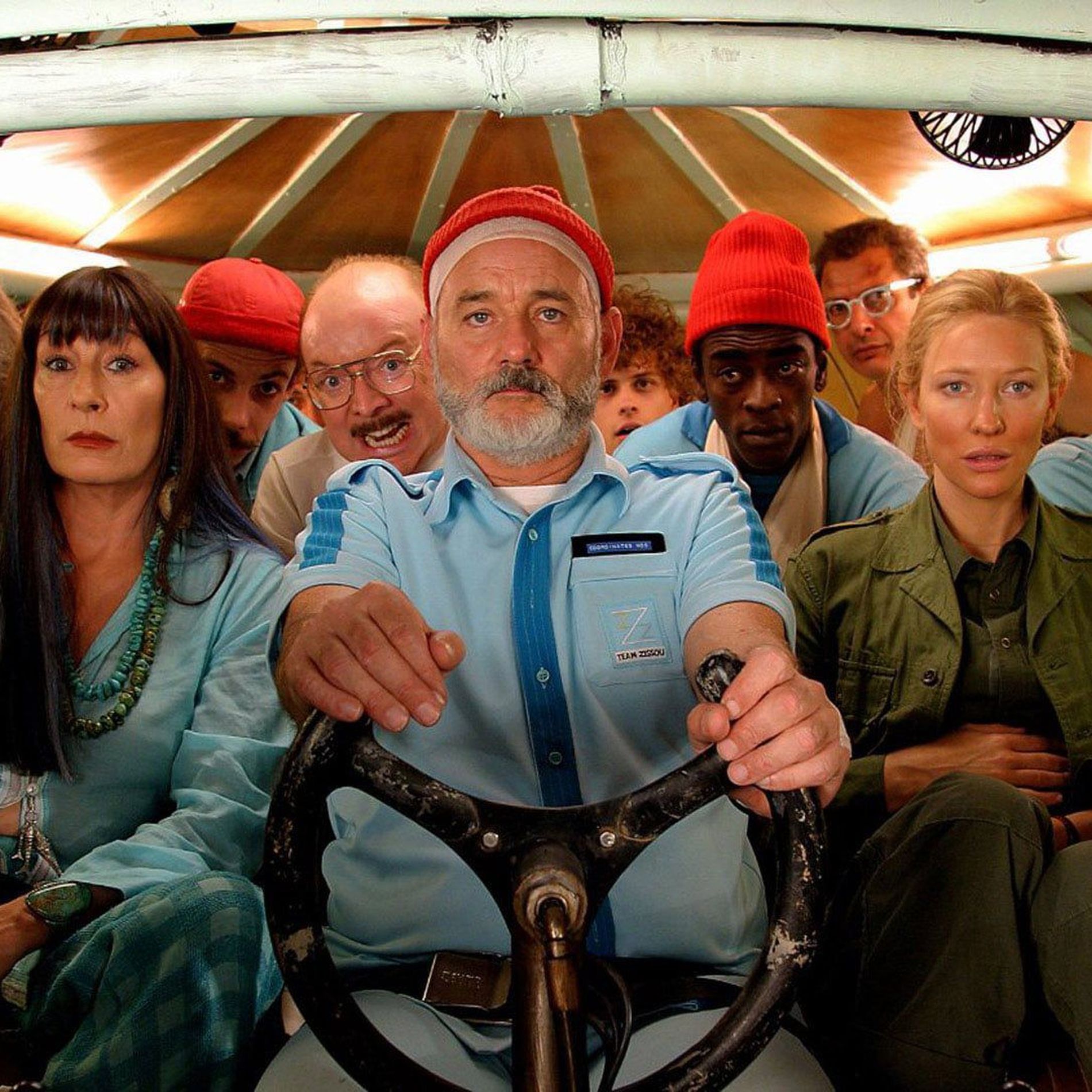 The director's forthcoming release looks set to feature even more much-loved quirkiness. It is set in the fictional French town of Ennui-sur-Blasé, in the offices of a publication based on The New Yorker. Oscar-winning costume designer Milena Canonera (The Grand Budapest Hotel, The Life Aquatic) is once again at the helm of the fashion department.
There are splashes of lemon, strawberry, mustard and lava orange; sharp tailoring; and one of the season's biggest trends — sweater vests. Anderson took inspiration from French cinema and included some black-and-white scenes, which meant that the textures of the clothing had to be considered just as much as the colours. In these scenes, we see pinstripes, waistcoats, polka dots and chunky wool blazers. Knitwear boasts a starring role in the film, and it wouldn't be an Anderson production without utilitarian touches, safari styles and a couple of jaunty hats. Oh, and Tilda Swinton in a dazzling gown.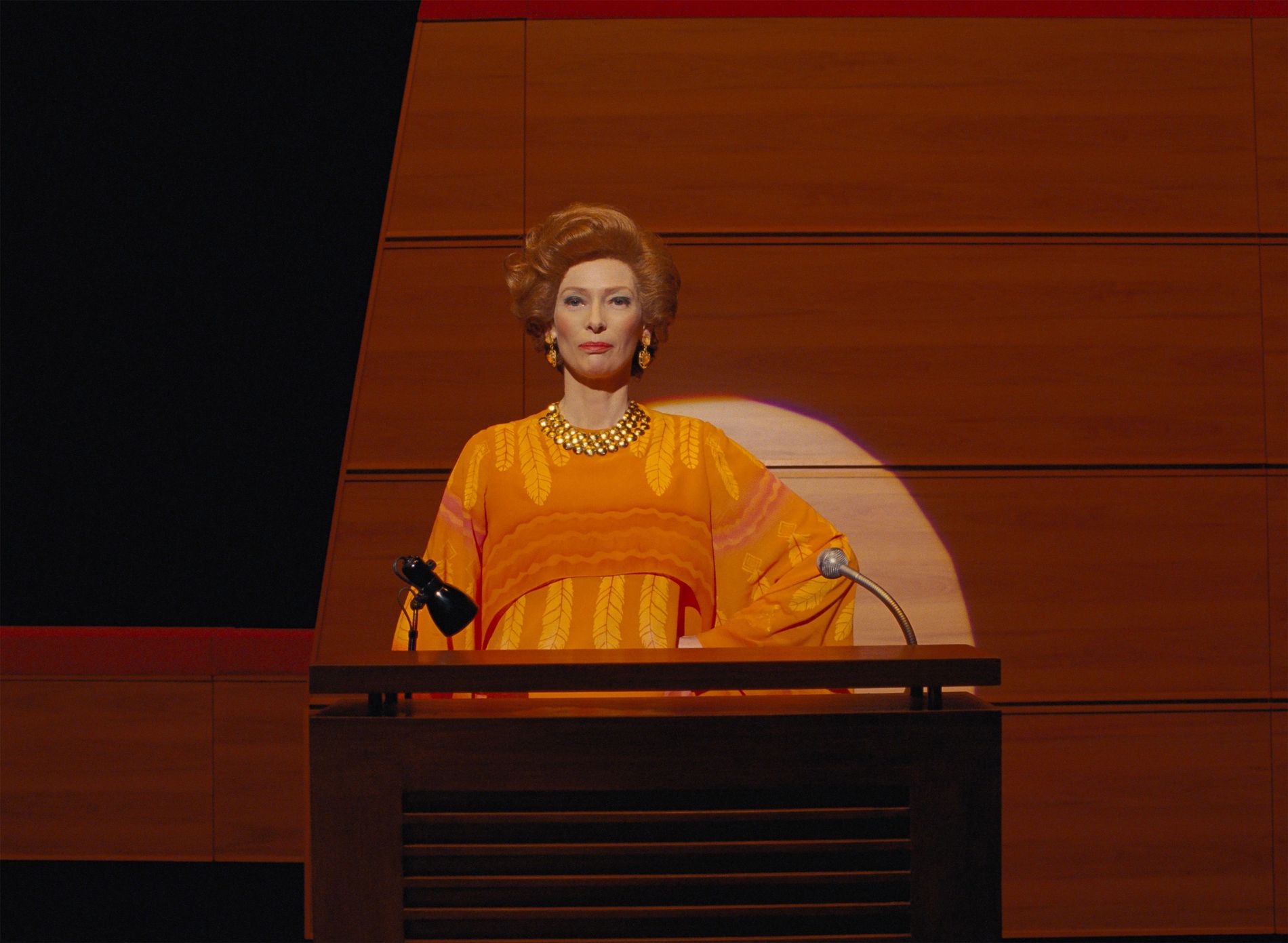 Tilda Swinton plays J.K.L Berensen in The French Dispatch. Photo: The French Dispatch
As we head into the midst of the autumn/winter season, and some of us return to office life too, what better time to channel The French Dispatch look? While we wouldn't recommend going head-to-toe Anderson in danger of looking more chaotic than offbeat chic, one bold piece can certainly elevate the everyday. A bright or pastel piece of tailoring needs no embellishment — a simple white shirt or tee will show it off brilliantly, meanwhile grey or black will pop with the addition of a neon yellow or mustard sweater vest. The beret is a classic for a reason, and can be a real statement when worn in a bold colour. The French Dispatch might inspire you to buy the style for any men in your life too, as Owen Wilson's character, Herbsaint Sazerac, looks particularly chiselled in his.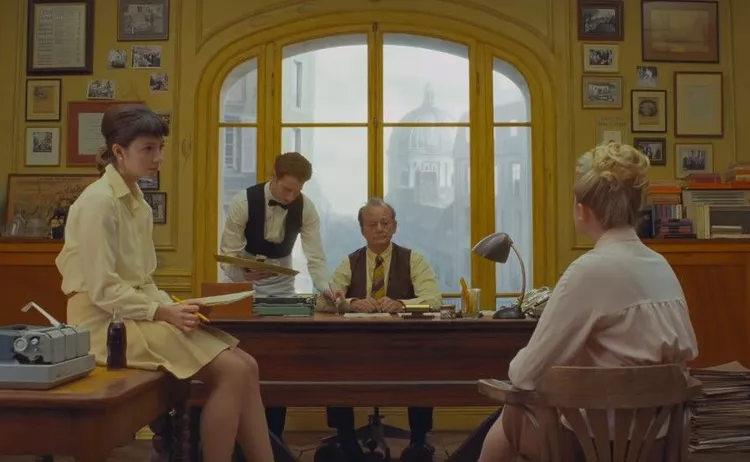 Photo: The French Dispatch
One of the most pleasing aspects of a Wes Anderson wardrobe is the care that goes into choosing each piece and the fun that can be had while doing so. The French Dispatch was filmed in the city of Angoulême in the south-west of France, which happens to be where Charentaise — traditional felt and wool slippers — are crafted. When Anderson discovered this, he decided to include them in the film. Look closely at what the prisoners in The French Dispatch all wear on their feet... Perhaps if we all add a dash of Wes Anderson to our wardrobe, the coming seasons might feel a little more warm and fuzzy.
---
Get the Wes Anderson look