Not just a university town, this Swedish city also boasts charming boutique hotels, impressive shops and five-star dining
Located about an hour from Stockholm, Uppsala has been a popular university town among students since the 15th century. It's home to a 16th century royal castle, as well as the iconic landmark of the twin-tower cathedral that dates back to the 13th century. The city definitely has many strings to its historically significant bow, and along with outstanding restaurants, the most charming boutique hotel, and several contemporary stores, 'soaking it all in' on a time budget can be tricky.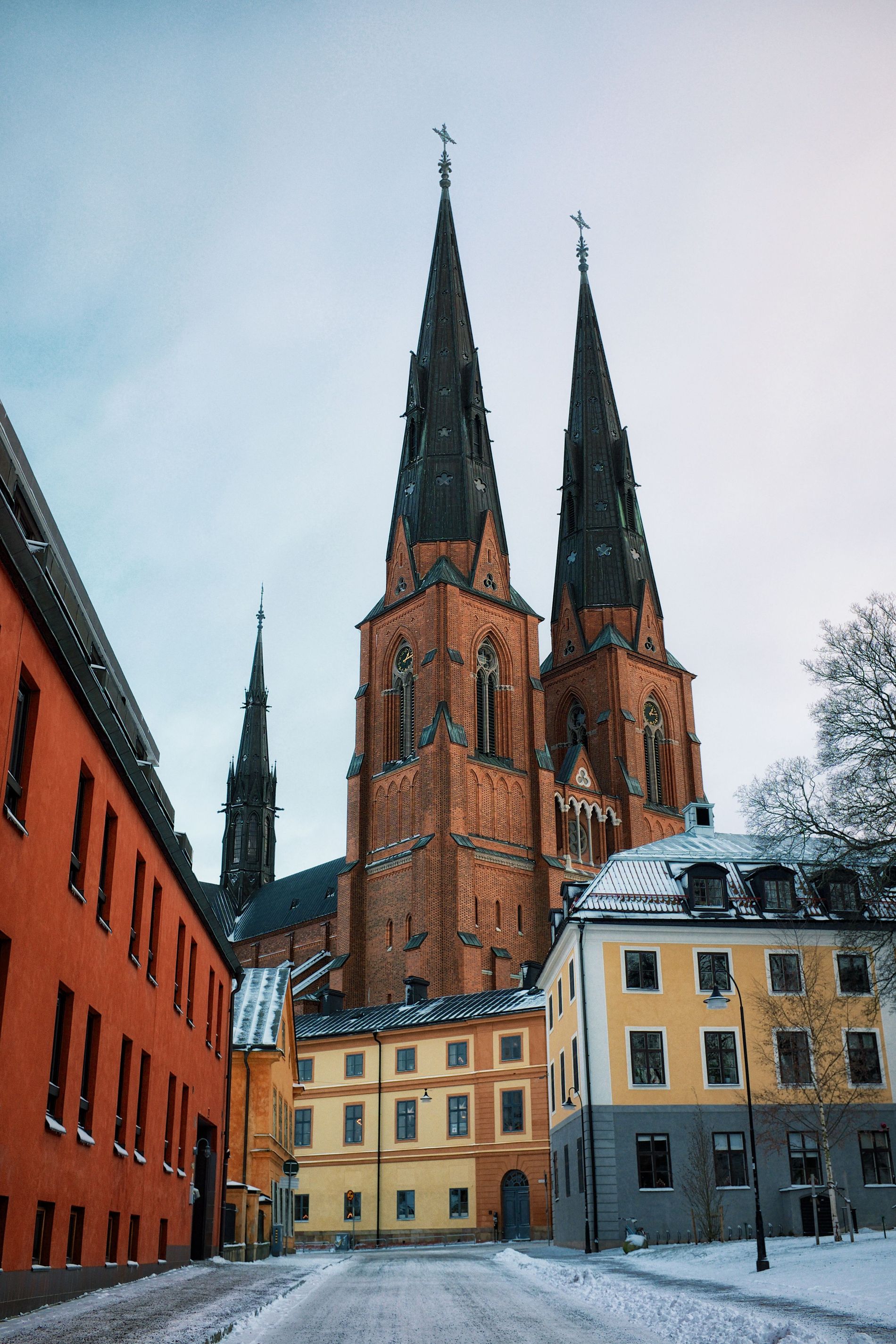 Photo: Getty
So, in order to squeeze in the best spots in one day, we have gathered our favourite gems to peruse on a 24-hour wanderlust in Uppsala:
First stop: a walk through history
Since you're bound to stumble upon sights of historical significance as soon as you arrive in the city, we suggest that you explore some first thing. The majestic cathedral shouldn't be missed, and if you're up for a walk, the Botanical Garden or the Uppsala Castle are two gorgeous spots to check out.
You can then continue the stroll along Fyrisån river and stop for a quick liquid munch at Arrenius & Company, known for their coffee. If you want freshly baked bread and a "fika", Leijon Stenugnsbageri will satisfy your carb fix.
Best places to shop in Uppsala
Once the energy is up again, we suggest to continue with some shopping. The stunning concept store Magnolia Design, along with Lördag Interiör and Vålamagasinet should not be missed if interior design is your thing. Treasures from both Scandinavian and international designers, such as Anine Bing, Acne, Ganni, Iro, and Isabel Marant grace the hangers at the quaint store Herta, and around the corner is Uppsala Saluhall. Gourmet foods can be found here and delicacies from smaller, premium retailers are on display on the shelves. Their brand new sister-store, Delikatessbutiken, is also a must, and you will find delights, such as chocolate truffles, the highest quality olive oils, unique spices, chips from Ibiza, French lemonade, and hand-picked porcelain and ceramics. "If the bigger grocery stores and chains have the products, we don't," states founder Niklas Thor.
Where to stay in Uppsala
It's time to drop the shopping bags at the hotel, and the one and only to check in at for the night is boutique Hotel Boet. Set in a charming street on the outskirts of the neighbourhood Luthagen (yet within talking distance to the city centre), this is the definition of a hidden gem. With only four rooms, a small kitchen, a living room with fireplace, and a tiny garden, this secluded hideaway is intimate, cozy and beyond picturesque. Each room has its own unique design where antique details are fused with contemporary and stylish furniture. "We want our guests to get that 'home-away-from-home' feel when they are here by providing a personal service and adding that touch of extra luxury, such as homemade and freshly baked buns in the morning," says owner Deetje Gezelius.
Where to eat and drink in Uppsala
Revered for its Kalix roe and fried potatoe snack (which is totally worth its reputation), Klostergatan 5 is where you want to make your dinner reservation (or jostle outside with the regulars for a table). The extensive menu full of delectable snacks, local cheeses, charcuteries, and main dishes will make it extremely hard to make your selections. However, speaking from experience, it is luckily enough possible for two semi-hungry people to share about 7-8 dishes, which makes the job easier. Please don't miss the "Majrova Carpaccio" and "Sotad Gös". If you're not ready yet for the night to end, head to Dryck & Mat or the local Italian Aaltos for a drink.
When it's time to hit the sheets, head back to the hotel for a good night's sleep, and most likely, you will go to bed with both a full stomach and a smile on your face, relishing a day of shopping, eating, and sightseeing.
Once you wake up in the morning, linger in your room and prepare yourself mentally for the outstanding breakfast ahead, which is definitely one of Boet's aces up its sleeve. The perfect ending after immersing yourself in this, short but sweet, Uppsala retreat.