Why this new exclusive villa in Ibiza is worth a visit for Scandinavian interior design lovers
Set in the northern region of the island, Fincadelica is without doubt the most exclusive villa that just launched on Ibiza. With everything you need for the ultimate all-inclusive vacation within reach – your own chef, saltwater pool, underground party cave, private beach, and a tipi for holistic treatments – this new sanctuary on Ibiza offers tranquillity, luxury, and privacy at the same time.
Another highlight that truly makes this villa so unique is its incredible interior. Local Ibicencan pieces and Italian fabrics are mixed with Scandinavian designers such as Gubi and Hans-Agne Jakobsson; thus, exciting and creative combinations that would have any design lover crown this villa the new Mecca for interior-dreams and inspiration on Ibiza.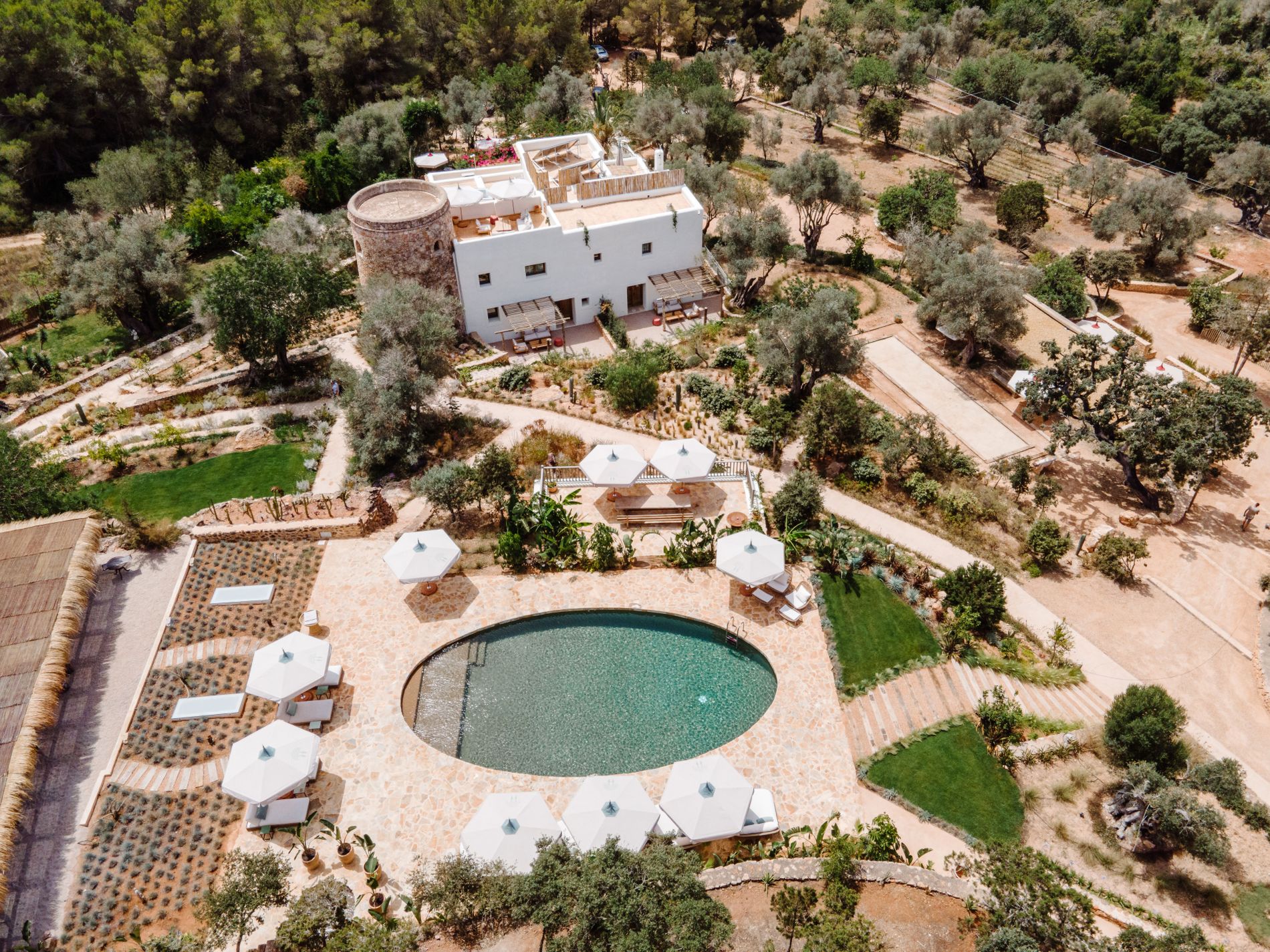 Photo: Ana Lui
The villa
After four years of renovation, this 300-year-old farmstead has become the most incredible estate with an authentic and bohemian style full of character, yet in total luxury. Cost per week starts at 55,000 euros (excluding vat), including a house manager and cleaners. A private chef as well as food and beverage staff are provided at an extra cost.
The team in the kitchen are able to prepare homemade farm-to-table Mediterranean food with ingredients coming directly from the villa's extensive greenhouse, dedicated to biodynamic farming. In homage to mother earth and the rustic land of the property, Fincadelica puts great emphasise on sustainability and holistic living. The back-to-nature feel is also highlighted and experienced in Fincadelica's spiritual influences; a Tipi for holistic ceremonies and healing sessions can be found on the estate, as well as an outdoor wellness area for yoga and spa treatments.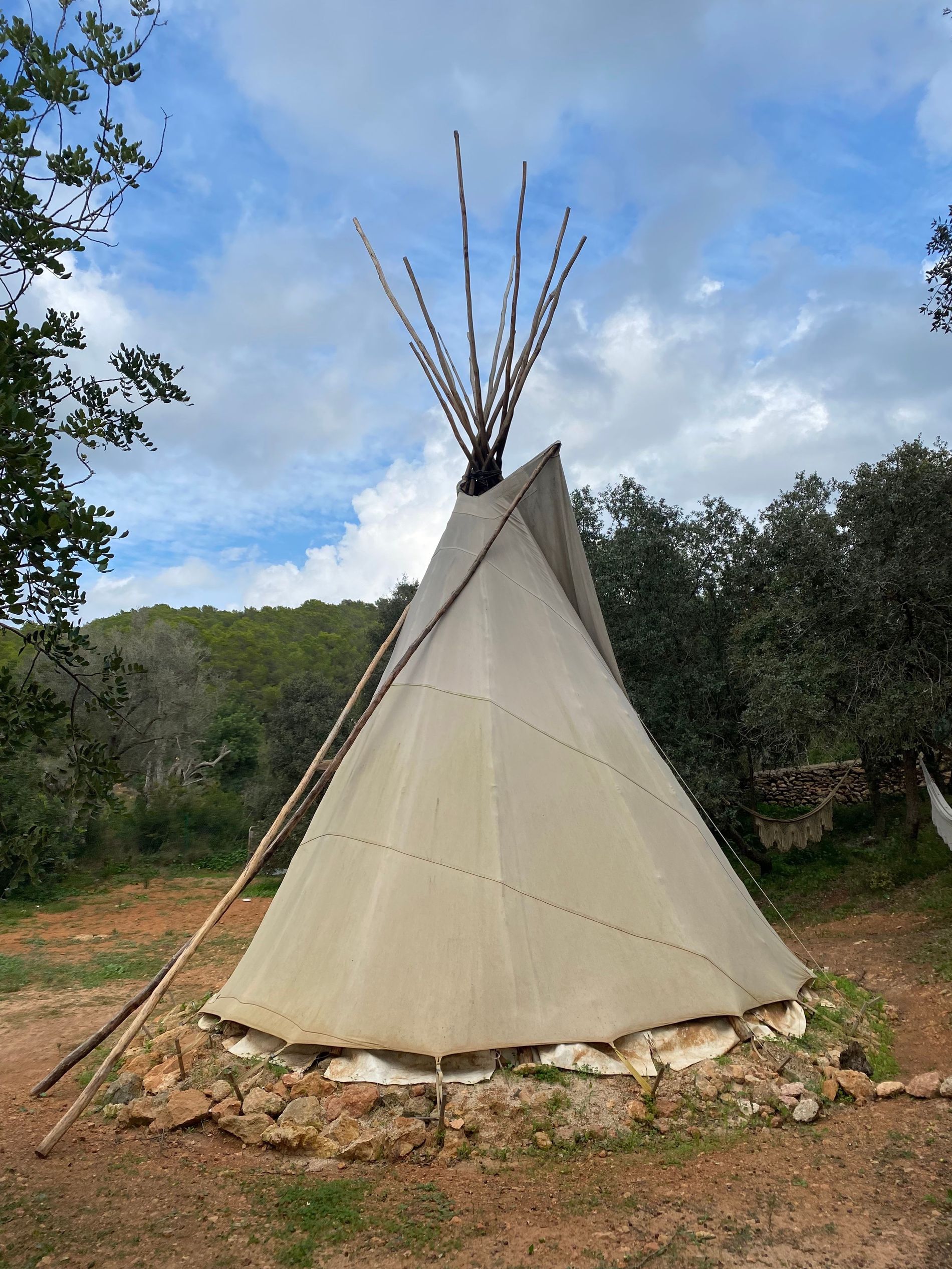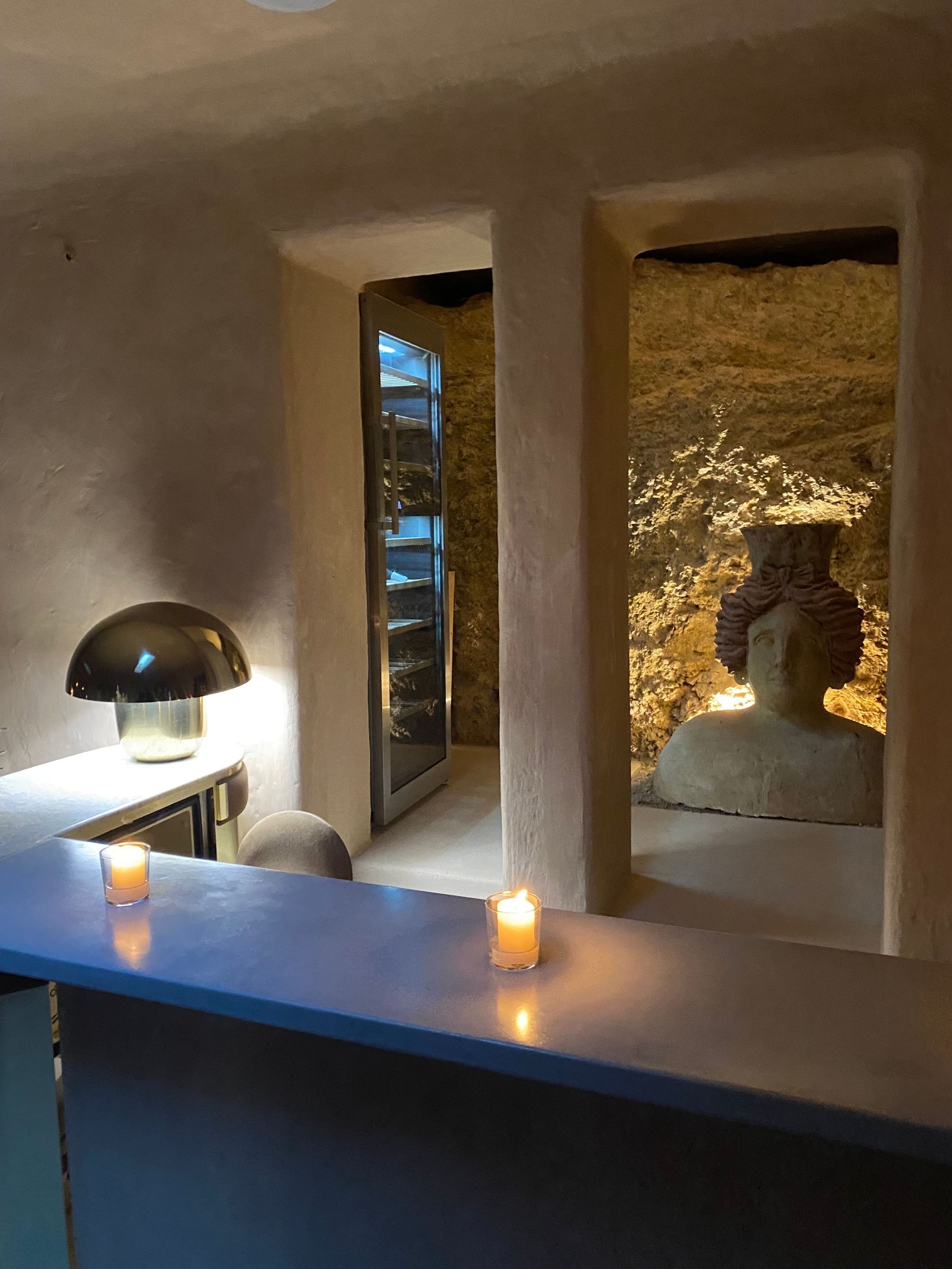 Refreshing dips can either be done in the 13 metres long saltwater pool, or by the private cove in the north by the beach Cala Xarraca, where you also find the villa's own boat if you want to explore the coast. When you're back home at the villa again in the evening, you can relish homemade pizza straight out of the stone pizza oven while deciding how you want to end the day; a rustic wooden door underneath the pool area opens up to an underground cave with a complete DJ equipment, sound system and bar, ideal for parties or movie nights.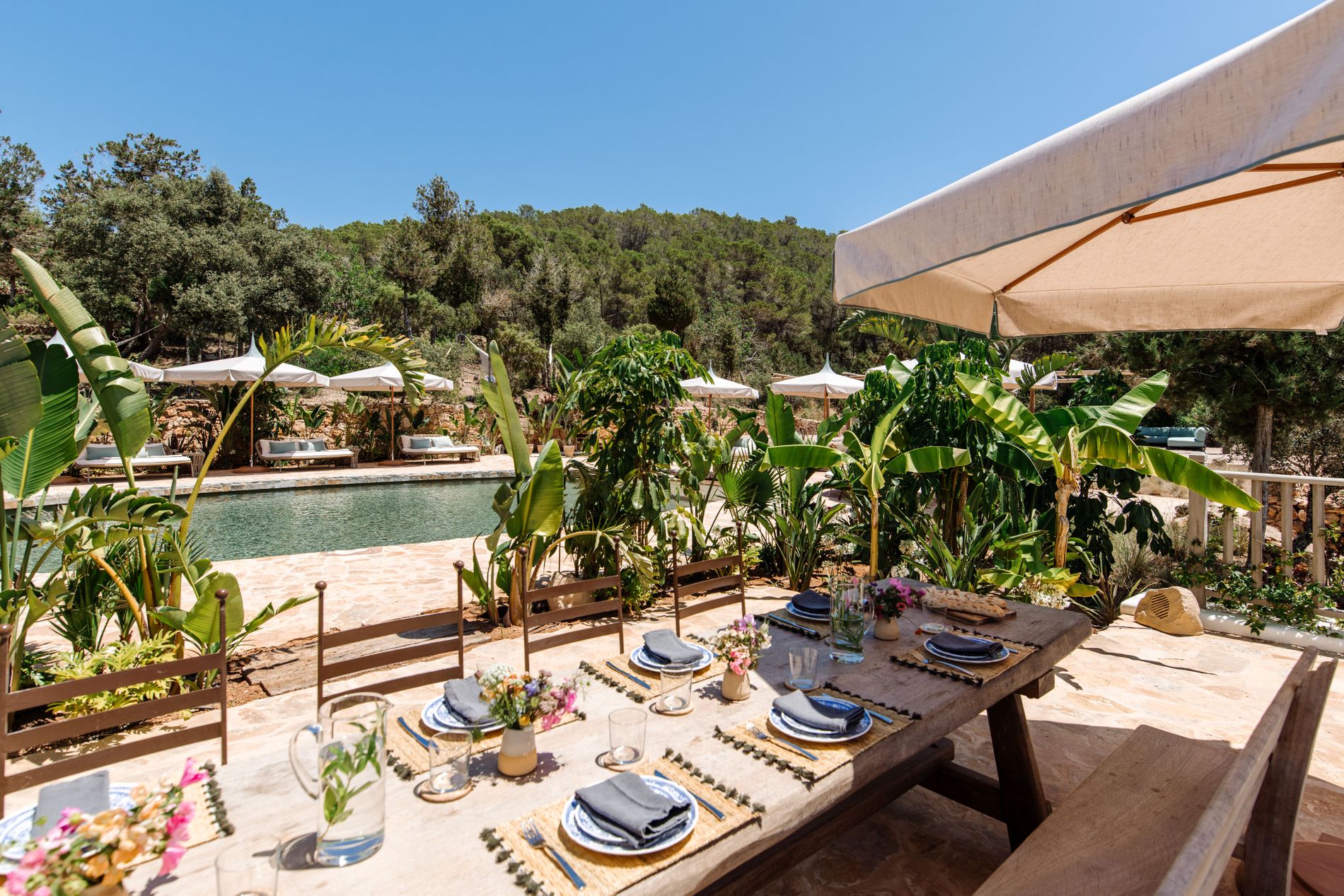 The Interior
The whole villa is designed by renowned Ibiza based Dutch Carmen Straatsma from Studio C and Ted Milano. Fincadelica sleeps 18 people, and each of the nine bedrooms has either an own terrace or balcony. Egyptian cottons, extravagant bedframes, large sunken bathtubs, are some other exclusive details that can be found in each room. Thanks to the distinct and curated interior in the rooms, you quickly feel like you're in somebody's home.
The overall theme is a warm with an earthy colour palette and 1970s vibes. Italian fabrics and carefully curated pieces are mixed with local Ibicencan artists, represented in handwoven art installations, modern ceramics, and traditional antiques. But what really elevates this sanctuary and adds that extra touch of sophisticated luxury in our opinion, is of course the influences of Scandinavian premium design.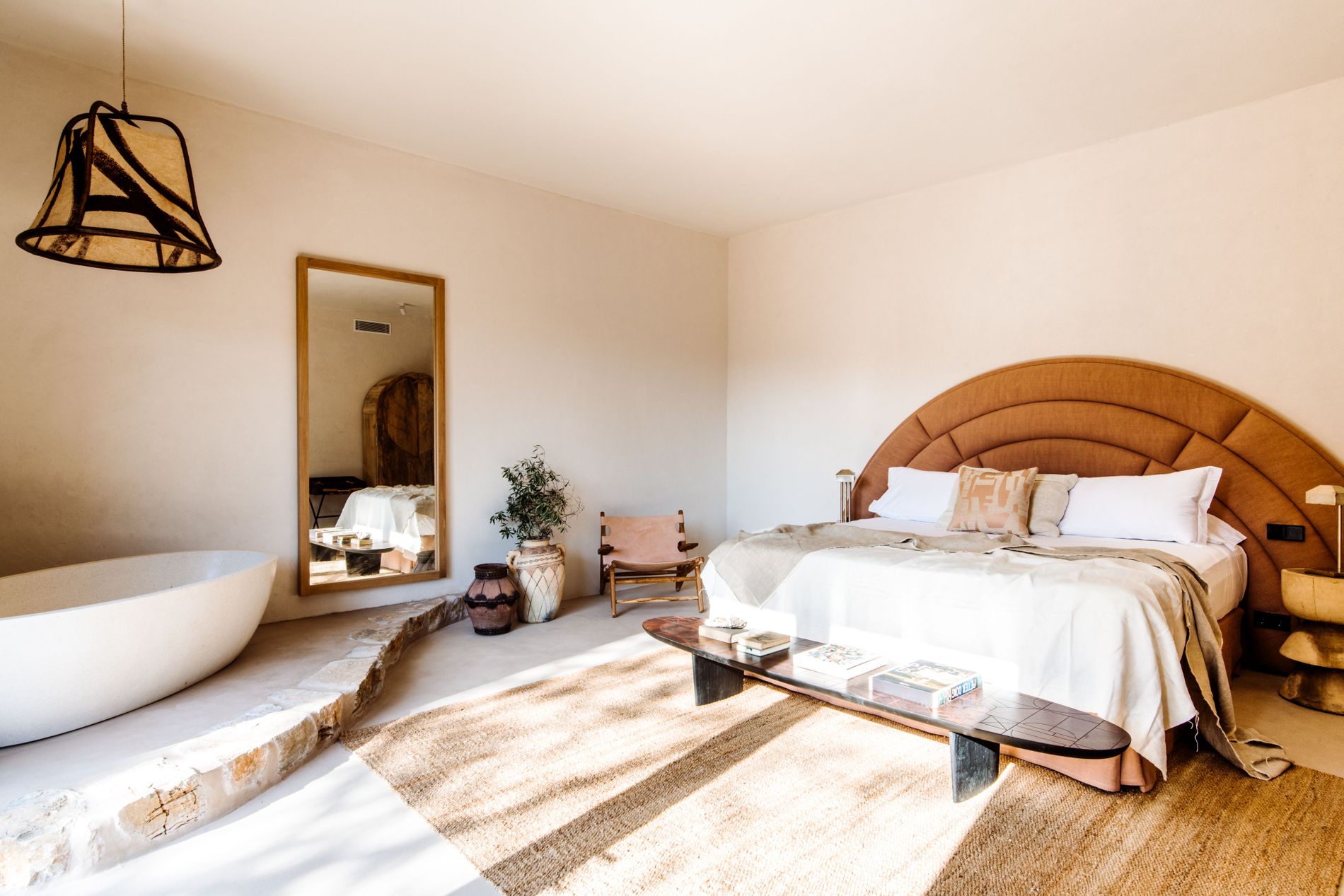 One of the nine bedrooms. Photo: Ana Lui
One of the most unique and astonishing lamps in the whole villa is a large blue lamp in the shape of a hat by Hans-Agne Jakobsson. The Swedish interior designer and architect started his career as assistant to Swedish Carl Malmsten and Finnish Werner West, and founded his own company, Hans-Agne Jakobsson AB Markaryd, in 1951. Today, his lamps are considered to be unique one-off collector's pieces and the designs are known for their hidden bulbs and streamlined ornamentation (which create a diffused and muted lightning).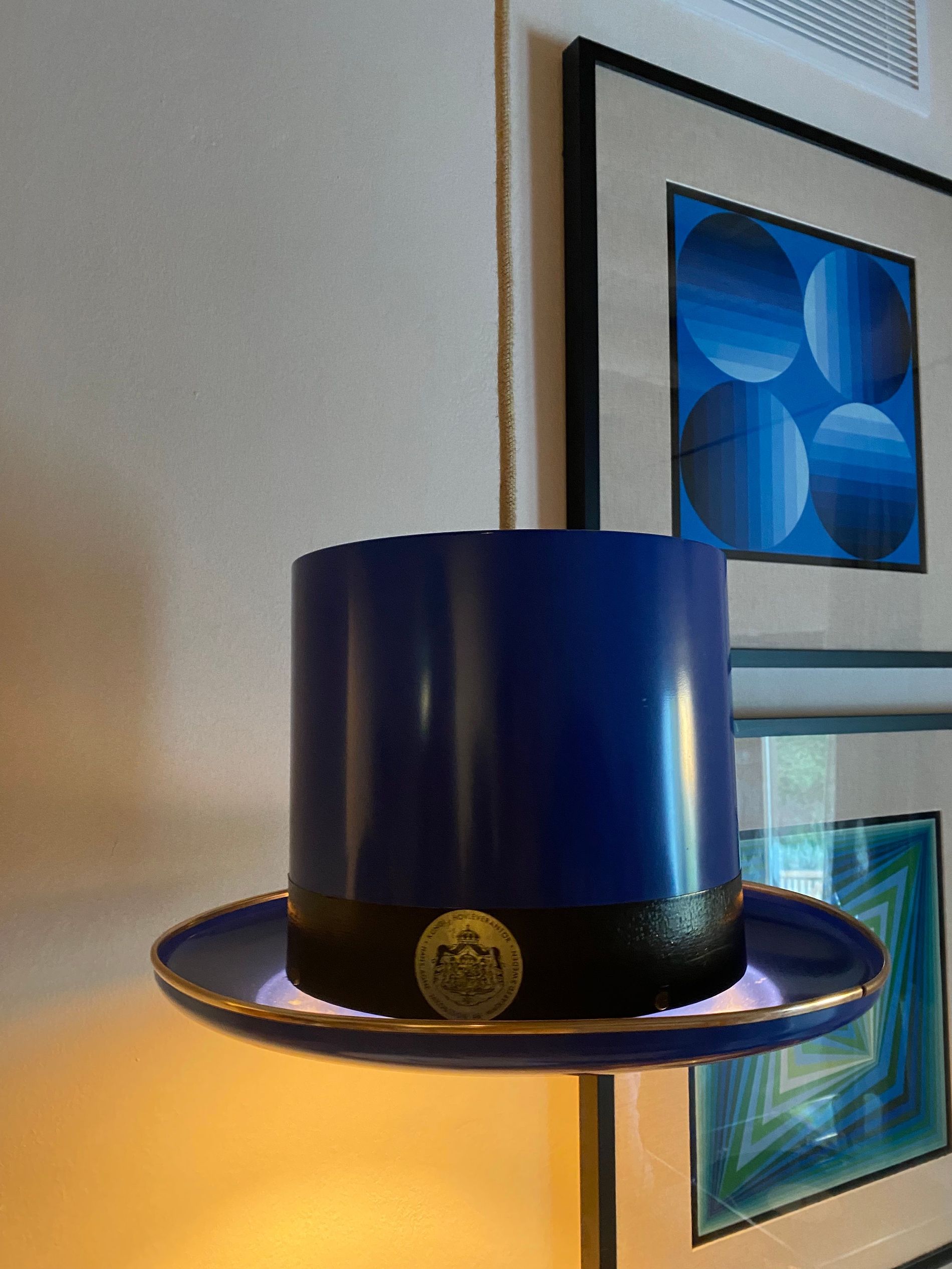 Hat lamp by Hans-Agne Jakobsson. Photo: Matilde Wergeland
Other iconic lamps from one of our favourite Danish brands, Gubi, hang on each side of a large blue bed in one of the bedrooms. The brass Multi-Lite Pendants has rotating shades that can transform the lamp into multiple combinations where the light can be directed upwards, downwards, or even radiate asymmetrically, adding that extra golden element and glow to this otherwise rustic room in navy and beige. Moreover, Gubi's 5321 Table Lamp, designed in 1938 by Finnish Paavo Tynell, and its characteristic brass shade formed as a shell, is the perfect detail on the rattan desk and chair in one of the other rooms.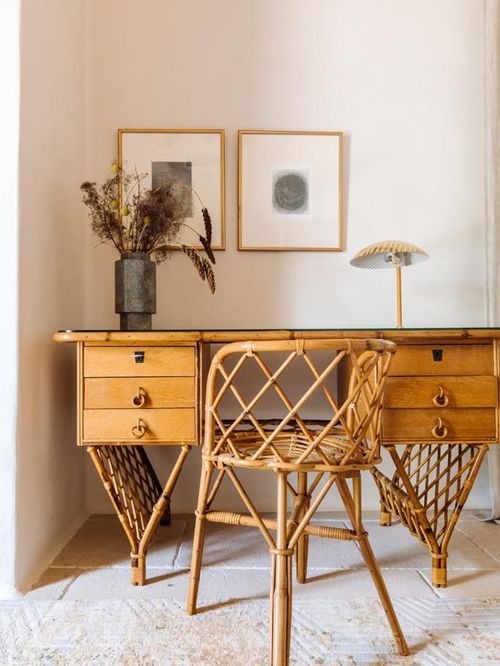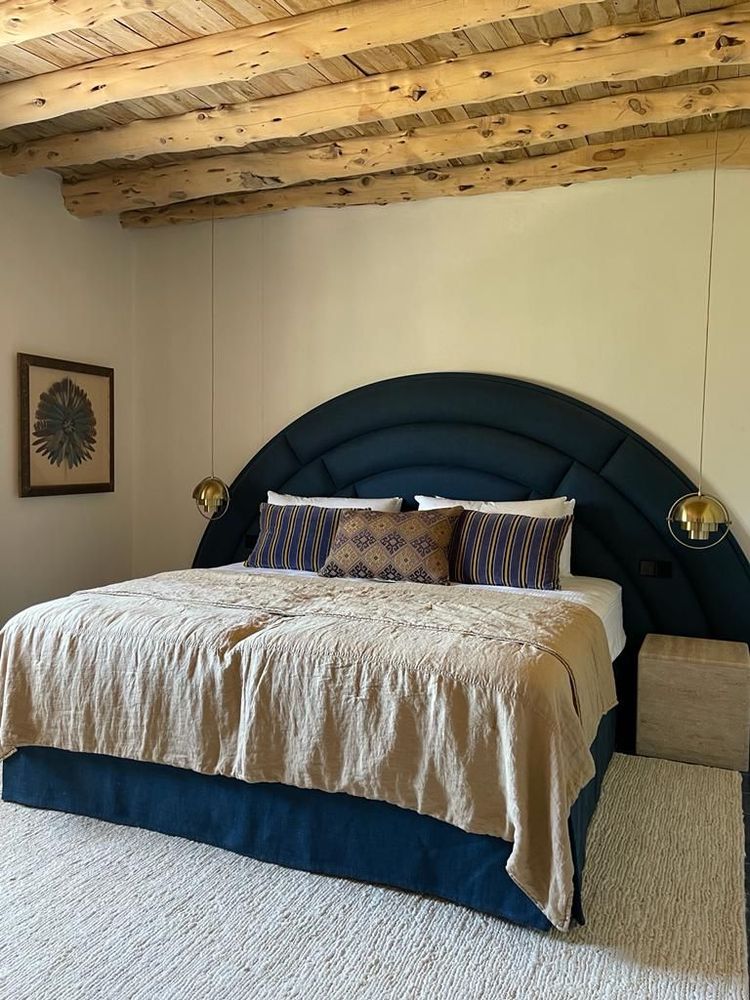 More iconic favourites from Gubi, such as their signature white Pacha Lounge Chairs, frame a rustic wooden table and antique mirror in one of the bedrooms. The vision behind this iconic chair was to create a sensation of "sitting on clouds", and they certainly add that soft and dreamy contrast and feel to the black and brown features in the room.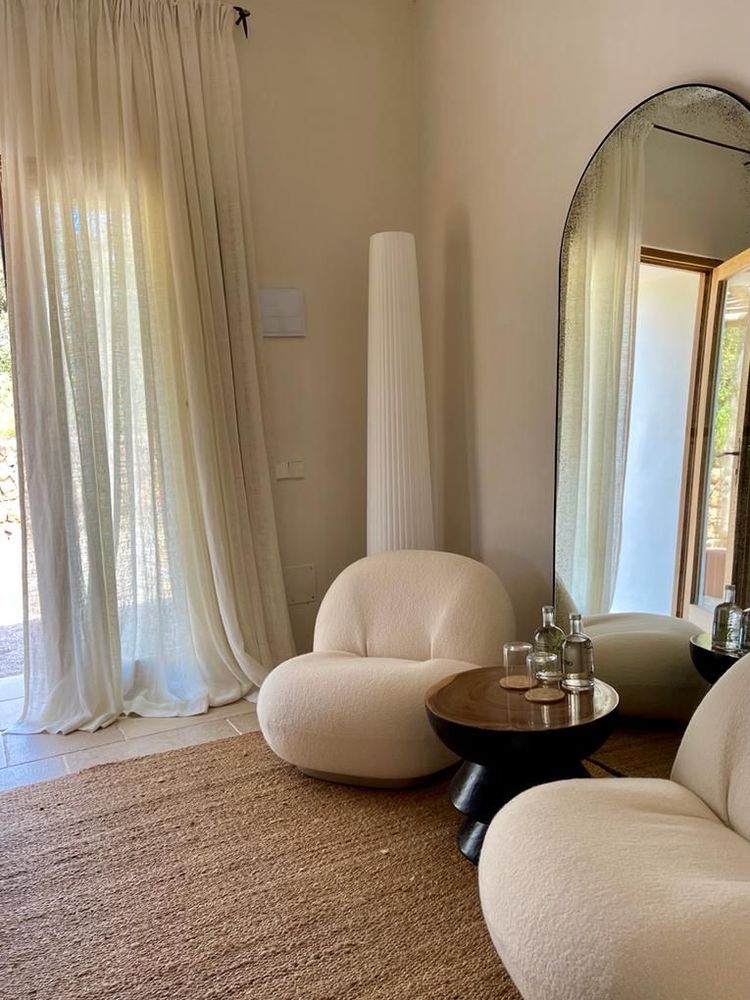 White Pacha chairs by Gubi. Photo: Fincadelica
In addition to a circular bed and private sun-soaked terrace, a Pacha Sofa from Gubi that has been divided into two chairs, can be found in the villa's tower suite. Paired with a rustic table, a large white couch, and a sheepskin rug, the dark emerald green seats really enhance the modern impression of the space, making it both contemporary and classy.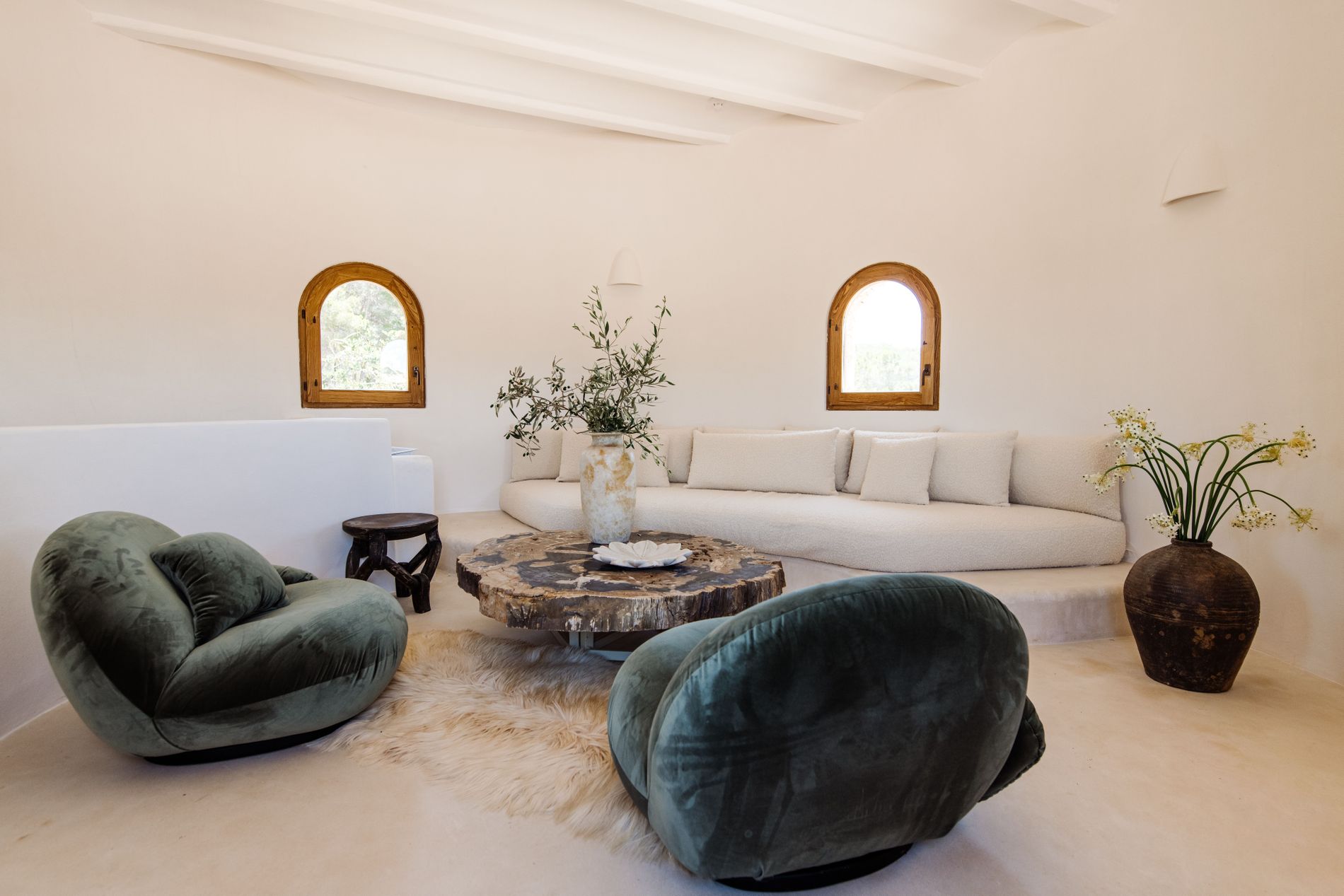 With everything that Fincadelica has to offer in terms of all its features and services, you will have more than enough to do and explore during your stay here, whether it is a few days or even weeks. And if exquisite and contemporary interior design with Scandinavian influences is an interest of yours, Fincadelica is definitely a place of pinch-me perfection, and you should make sure to book your stay before everyone else gets the memo.