Design partnership Campbell-Rey has teamed up with Swedish company Nordic Knots on a rug collection that's perfect for any design-conscious home
What makes a house feel properly like home? As with most things, it's all in the detail: the lighting, the colours, the furniture and – it goes without saying – the accessories. For those eager to incorporate a little flair into their homes, the latest collection from Swedish rug company Nordic Knots fits the bill perfectly. A collaboration with eponymous design partnership Campbell-Rey, founded by Duncan Campbell and Charlotte Rey, the designs are bright, cosy and just waiting to be added to your basket.
"Colour and texture are integral to our work, as is the dialogue that emerges when you mix styles and periods," says Edinburgh-born Campbell. "When Nordic Knots approached us, we felt that Scandinavian design often conjured up images of minimalism and neutral colour palettes. But if you look back through history, especially to Swedish design movements like Gustaviana or Swedish Grace, they were rich in decoration, colour, flora and fauna. This really resonated with us and became the starting off point for the designs."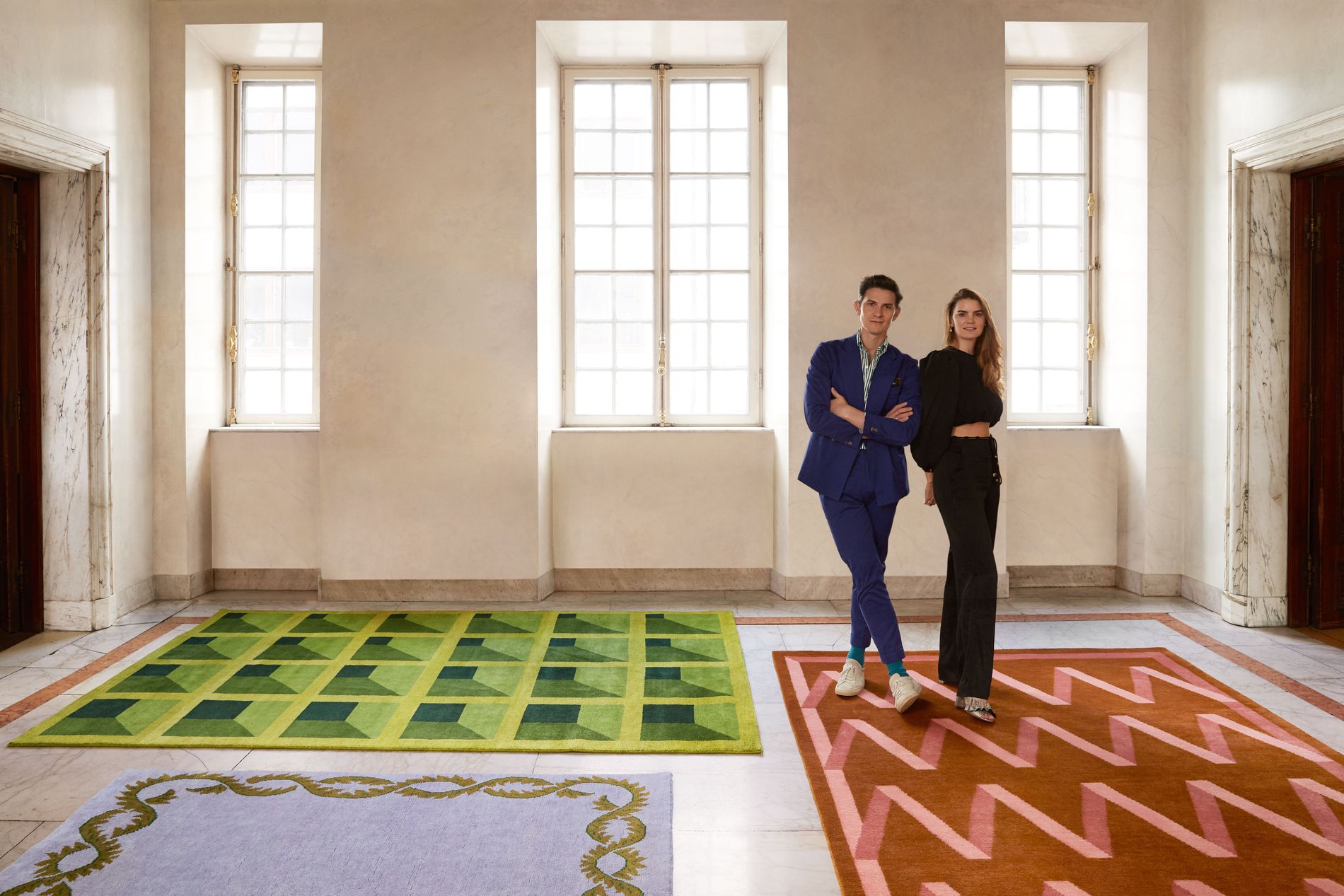 Duncan Campbell and Charlotte Rey with their designs for Nordic Knots. Photo: Nordic Knots x Campbell-Rey
Campbell-Rey's first rug collection consists of three distinct designs (Garden Maze, Folding Ribbon and Climbing Vine) in rich jewel tones which, like all Nordic Knots pieces, are handmade and knotted by skilled weavers in northern India, using wool from New Zealand. Campbell-Rey's signature use of colour has seen the design duo partner with brands including like Bulgari, Kitri, and Bentley, as well as launch an original range of homeware, stocked by MatchesFashion.
As for Nordic Knots, the company has been making a name for itself since 2016 with its high quality, minimalist designs. This is the latest in a series of collaborations for company, which has previously produced rugs designed by the Swedish architect Andreas Martin-Löf and the artist Carsten Beck Nielsen.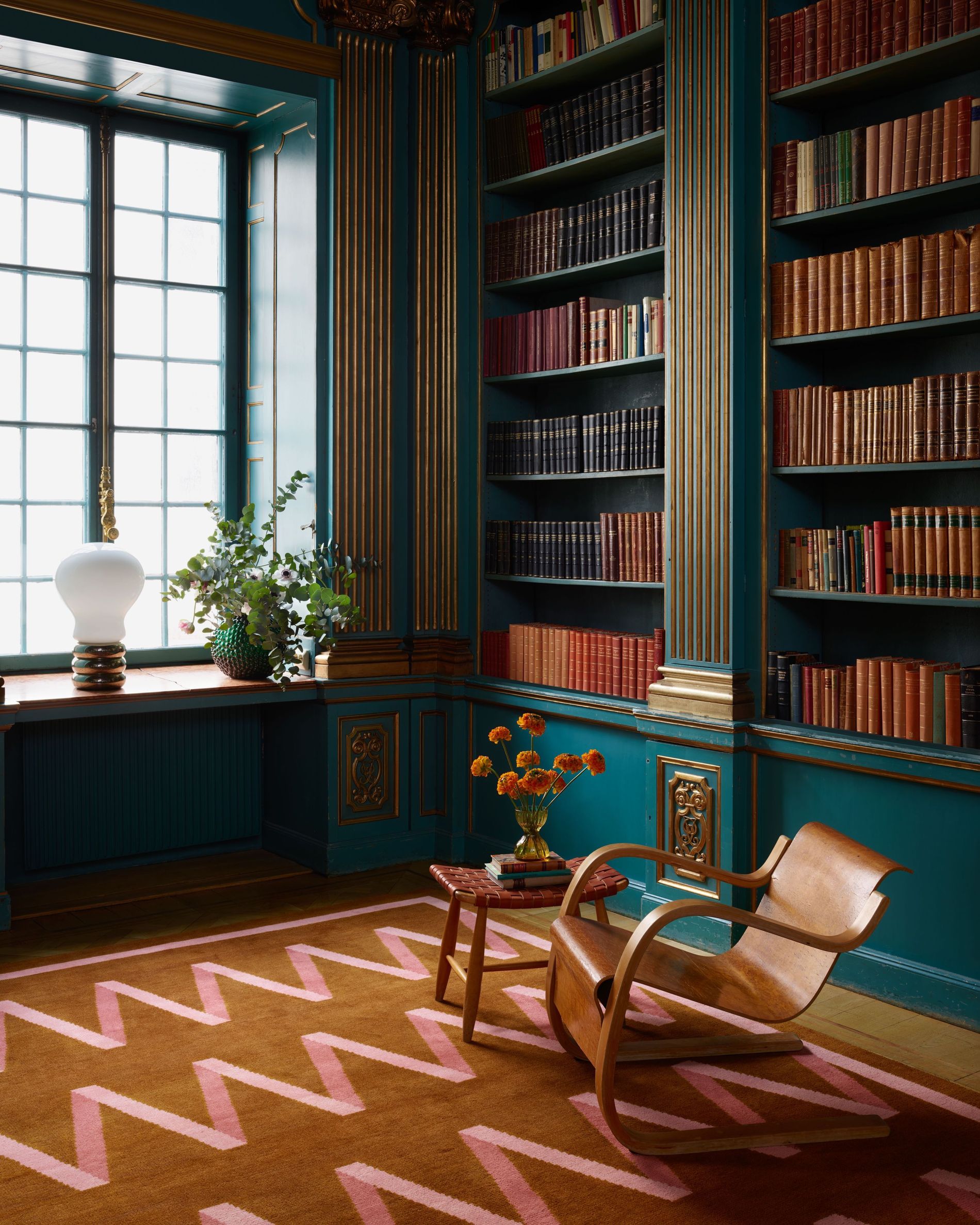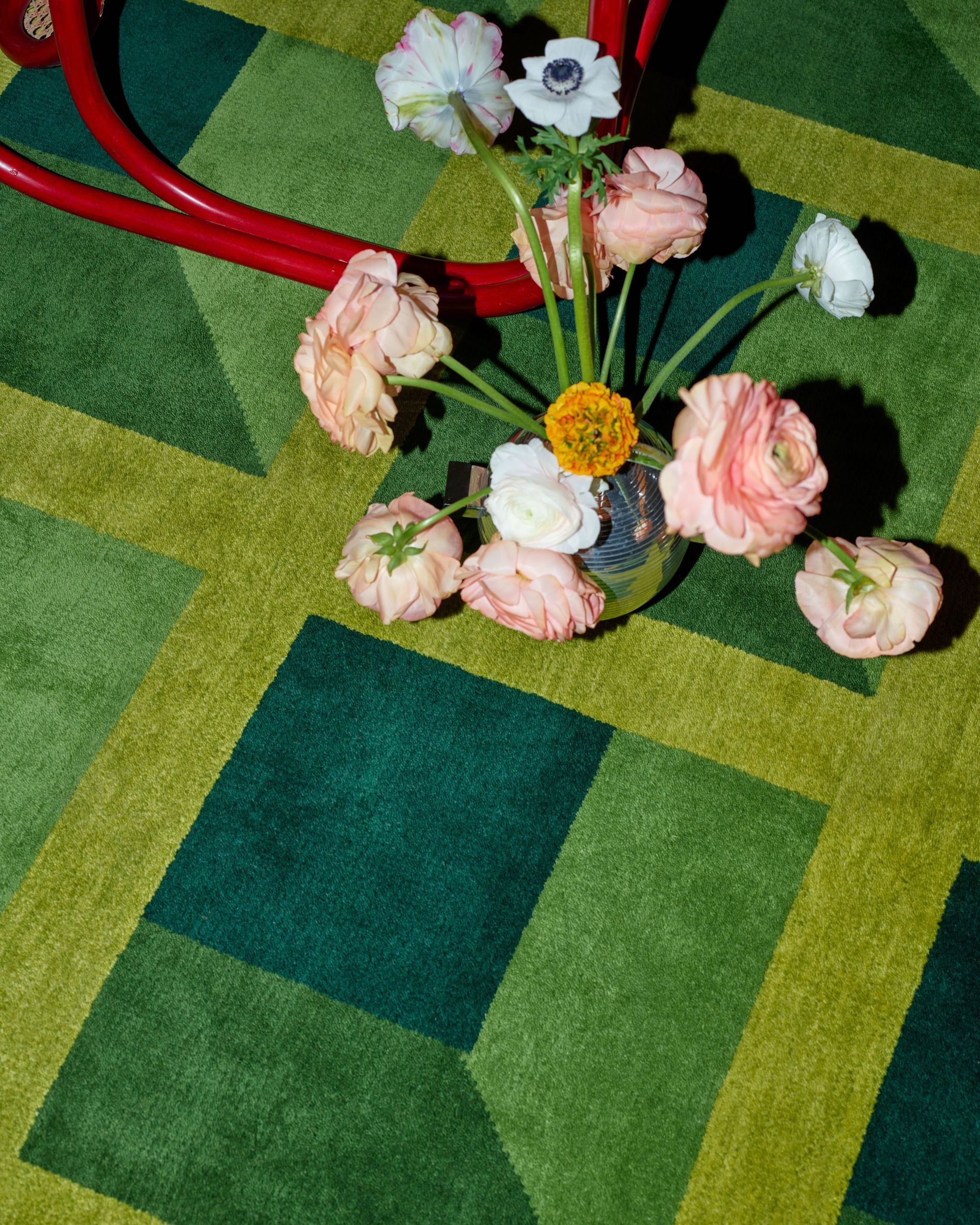 "Fabian Berglund and Liza Laserow, the founders of Nordic Knots, approached us about a year and a half ago, and we just loved the idea of the company and their energy from the get-go," says Rey, who herself hails from southern Sweden. "The inspiration behind our designs represents historical and architectural details in Swedish history, and the commitment to craftsmanship that is very much at the heart of Swedish design."
"Nordic Knots gave us so much creative freedom," adds Campbell. "It was a great meeting of their knowledge and craftsmanship and our designs. We are quite uncompromising when trying to realise a design, and they were very generous with allowing us to experiment."
Climbing Vine rug.
The collection was photographed in Stockholm at the 17th century Van Der Nootska Palace, a building rich in history and tradition. When the Swedish jeweller and art collector Jean Jahnsson bought the palace at the beginning of the 20th century, it became home to a remarkable collection of Swedish art, furniture, porcelain and silverware, as well as a library of over 100,000 volumes of mostly Swedish literature. Contemporary and twentieth century furniture was kindly lent for the shoot by Bukowskis, Jacksons Design, Modernity and Svenskt Tenn.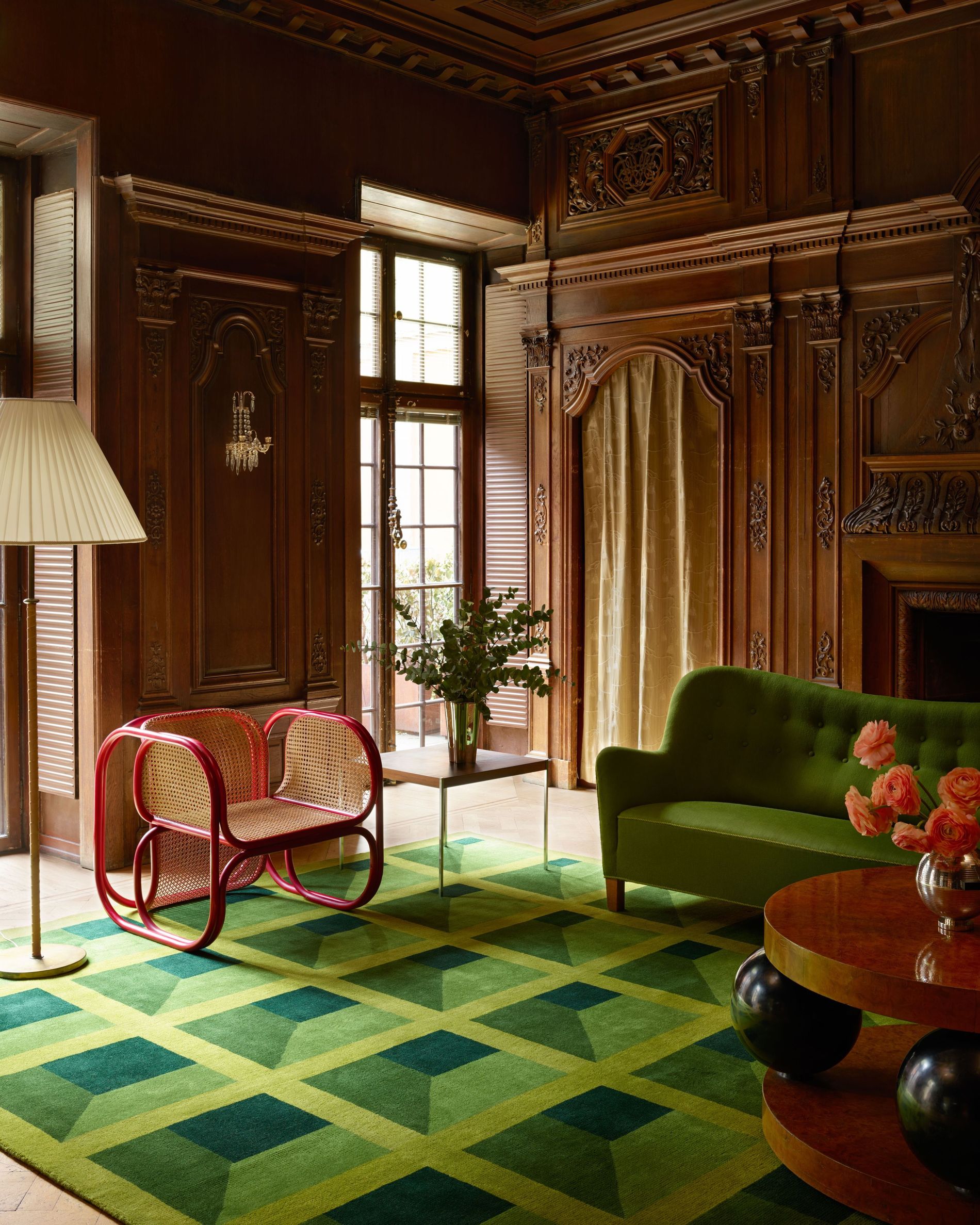 The collection was photographed in Stockholm at the 17th century Van Der Nootska Palace.
Even if your own home isn't quite as impressive, Campbell-Rey's designs will elevate and brighten any space. Campbell has the 'Garden Maze' design under his dining table, while Rey favours the 'Climbing Vine' rug. "I have one in my bedroom and it looks so lovely with the greenery outside the window especially in the spring when the wisteria blooms," she says. Then again, it's hard to imagine a room in which any of these pieces wouldn't be the ideal fit. Race you to the checkout…