If you're planning a romantic jaunt in the Finnish capital, these six settings are guaranteed to make a great first impression
The nervous excitement of a first date with someone you don't really know all that well can cause a few butterflies, and the frantic search for a perfect place might just add to it. Or perhaps, you're just a little tired of the typical candlelit dinner for two and are looking to spice up your dating game.
If your first date takes place in Helsinki, you're in luck. In addition to great dinner and drinks spots for those wishing to take the traditional route, the city boasts many other activities that will impress your companion. For the outdoorsy types, grab a picnic basket, fill it with your favourite treats and head to one of Helsinki's beautiful nature attractions. Or maybe a cosy night at the cinema is more your vibe, but you want to make it unique and intimate?
While you focus on getting yourself ready, let us help in finding the ultimate spot for your first date in the Finnish capital. Here's the must-try activities to ensure you make a fabulous first impression.
Upgrade your cinema game at Riviera
Keen to catch a flick but after more of an elevated experience? Located in Helsinki's trendy Kallio, Riviera is a movie theatre with a difference. Serving its own delicious menu and a wide selection of drinks, including wine and cocktails, Riviera offers movie buffs an intimate, upscale cinema experience. Fitting around 30 people, this cosy spot is just the place to snuggle in a dark corner and share some popcorn. Plus, its interiors boast warm tones, mood lighting and red satin sofas that will make you want to stay and hang out there long after the credits have rolled.
If watching the film didn't leave much time for conversation then head out to one of the buzzy, nearby bars and continue getting to know each other over a drink or some nibbles.
Harjukatu 2, 00500 Helsinki
Explore charming scenery at Suomenlinna
A sea fortress island that's also a Unesco World Heritage Site, Suomenlinna is the ideal first date destination if you're looking to spend the day outdoors in fresh air and exploring some of Finland's gorgeous landscape. Catch the ferry from Market Square and enjoy the scenic 15-minute journey across Helsinki's archipelago. Once there, stroll around the island where ancient walls, tunnels and lush parks create unique surrounds.
Guided tours around the fortress can be booked if you're keen to delve deep into Finland's history. However, as first dates are typically all about getting to know each other, a picnic on one of the island's extensive greeneries provides a beautiful and relaxed setting for becoming better acquainted. And if you've forgotten to buy food from the mainland, fret not, the island has many shops and restaurants, too, if you fancy a meal indoors.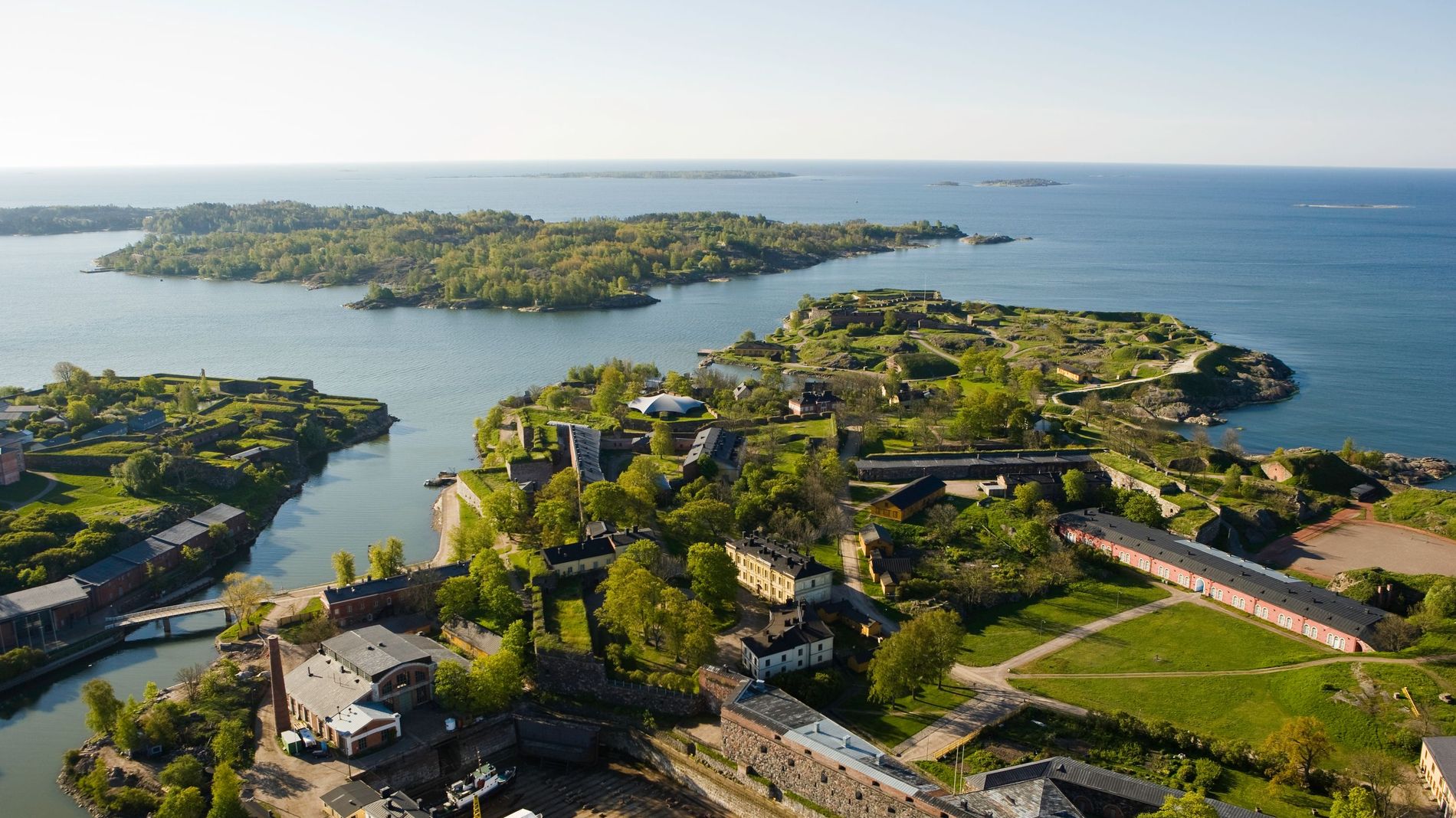 Enjoy a cosy coffee date at Café Regatta
A slice of the countryside in the heart of Helsinki, Café Regatta is amongst the most charming cafes in town, housed in a red wooden cottage perched on the Baltic Sea. The venue serves typical café treats such as sweet and savoury pastries, along with hot beverages, however, the café is perhaps best known for its heavenly, freshly-baked cinnamon rolls.
And because Café Regatta is such a popular spot, it provides a lively backdrop for a casual first date. As the café is open until 9pm, you can stop by for a late evening treat and watch as the sun slowly sets behind the sea and paints the sky in faint oranges, pinks and yellows. If your date is on a freezing winter day, bundle up, grab a hot chocolate and go for a stroll on the frozen sea.
Spend the most idyllic day at Seurasaari
Forget crowded restaurants and bars, all the ultimate first date destinations tend to be experienced in amongst nature – at least in Helsinki. Much like Stockholm, the Finnish capital has a vast archipelago of over 330 islands. If a ferry ride is not something you want to include in your date, venture out to an island you can go on foot, such as Seurasaari. Cross a beautiful wooden bridge, and you've transported yourself to stunning surroundings that will make you forget you're a stone's throw away from the bustling city centre.
Plus, at Seurasaari there are heaps of other activities to do, beyond just going for a peaceful stroll. Try the open-air museum, with its quaint wooden houses, which offers a glimpse into Finland's past.
Go green at Kaisaniemi Botanic Garden
Skip the dinner for two and surround yourself with lush, exotic nature instead and a stroll around Kaisaniemi Botanic Garden provides just the place. Consisting of extensive outdoor gardens, 10 glasshouses and a herbarium, the Botanic Garden has plenty to explore.
The gardens are in their prime during the summer months when the flowers and plants are in full bloom, bursting with colour and life. But if your date is in the winter, worry not – all the glasshouses are evergreen and open during the colder months too, and once it snows, the outdoor gardens turn into a real-life winter wonderland.

Gaze at contemporary art at Kiasma
Want to add a dollop of culture to your first date? Meet up at a museum. Helsinki boasts several exciting museums with exhibitions showcasing everything from classical to contemporary art. Our pick is Kiasma, where you'll find the most intriguing shows that will get you both thinking (and help to get the conversation going if the nerves kick in). Showcasing contemporary art and often spotlighting up-and-coming Scandi artists, Kiasma is the perfect place for a low-key first date.
And if you're really hitting it off, then head for a scenic walk through the lush path circling the nearby Töölönlahti Bay and stop by at the Winter Garden, located at the north end of the bay. There, you'll find hundreds of plants and cute little wooden houses – the perfect way to end the day of exploring.
Mannerheiminaukio 2, 00100 Helsinki