Are you embracing Veganuary? Here's how to incorporate an overhaul of your beauty practices
All products featured on Vogue are independently selected by our editors. However, when you buy something through our retail links, we may earn an affiliate commission.
There's never been a better time to switch your beauty routine to vegan. Projected to reach $21 billion by 2027, the global vegan cosmetics market is booming with Scandinavian brands such as Rudolph Care and L:A Bruket offering many vegan alternatives, while Colekt, Bad Norwegian, Verso and Lumene have left no stone unturned to reach 100 percent vegan.
While increased demand for animal-friendly products means more brands are getting on-board with plant-powered formulas (including plant milks), navigating the skincare aisle for vegan products remains a bewildering affair.
What is vegan skincare?
Before diving into the merits for your face, it's important to understand exactly what vegan skincare is. Much like following a vegan diet, its skincare counterpart involves foregoing all animal-derived ingredients in the formula. Put into practice, this means avoiding ingredients such as beeswax, collagen, lanolin, kerotin, carmine, gelatin, honey, and squalane.
But here's where the waters get muddy. A common mistake is to assume that natural skincare is also, by proxy, vegan. Likewise, 'cruelty-free' does not automatically mean a product is vegan. Its ingredients have simply not been tested on animals by a supplier, manufacturer, producer or any third-party. Some brands may be cruelty-free and natural without being vegan, and vice versa.
The rich world of botanicals can fulfil just about any need
Dr. Volker Steinkraus
Which leads us to the biggest problem with the vegan beauty market: regulation. There is no one official certifying agency. While PETA (People for the Ethical Treatment of Animals) labels products as vegan and cruelty-free in the US, in Europe it's a hazier affair so it's worth doing your research on brands and looking for the Vegan Trademark label.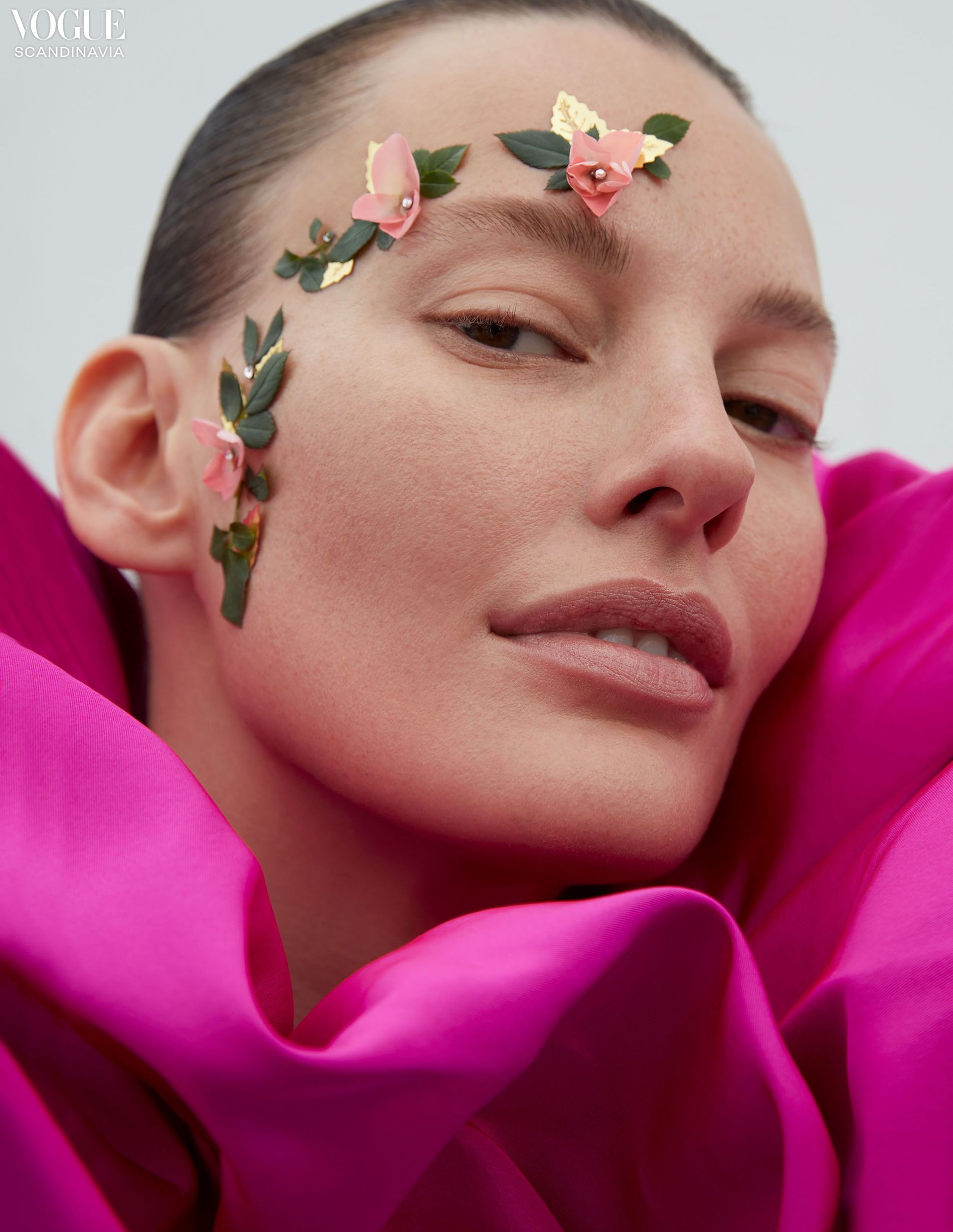 From Vogue Scandinavia's October - November 2022 issue. Wearing: Silk faille capelet dress, €3,723. Jason Wu. Photo: Greg Lotus
What skin types benefit most from using vegan skincare?
Without a doubt, the effort is worth it. As well as being good news for animals, vegan skincare is also better for all skin types, especially if you're someone who is acne-prone or suffers from sensitivity. Some popular animal ingredients can be heavier, oilier and clog pores (lanolin, for example, is the grease from sheep's wool).
What are the benefits of vegan skincare for skin?
"Apart from very few exceptions, there is no need to use ingredients of animal origin in general skincare because the rich world of botanicals can fulfil just about any need," says Dr. Volker Steinkraus, a German dermatologist whose eponymous vegan skincare line has just launched in Scandinavia.
"Ingredients of plant origin, if selected carefully are generally rich sources of antioxidants and can be used effectively mild and well-tolerated emulsions, be it oil-in-water (creams) or water-in-oil (ointments)," he continues. "Since the natural skin barrier consists of such an intimate hydro-lipid-emulsion, these formulas fulfil the skin's needs and can restore balance."
Take sea buckthorn oil, from berries that grow along Scandinavia's shorelines, which can be taken orally and applied to the skin. "Sea buckthorn is effective at regulating sebum production while its lipids sooth and moisturise skin," says Mette Skjærbæk, founder of Karmameju Bioactive Skincare, which is cruelty-free and includes several vegan products in its portfolio. "Add to this flavonoids, carotenoids and high concentrations of vitamins C and E, and sea buckthorn oil becomes a powerful antioxidant, too." What's not to love?
---
11 of the best vegan skincare products