It's packed with the vitamins and antioxidants that lacklustre skin craves – here's how sea buckthorn oil can help to revitalise yours
All products featured on Vogue are independently selected by our editors. However, when you buy something through our retail links, we may earn an affiliate commission.
There's no shortage of face oils promising next-level glow. But the golden oil from sea buckthorn berries that grow wild in Scandinavia have science-backed benefits whether applied topically or ingested. Its swarm of vitamins, minerals and antioxidants have earned sea buckthorn the reputation of a super fruit, lauded for lowering blood pressure and protecting against the DNA damaging effects of pollution and UV rays.
We asked Mette Skjærbæk, founder of Karmameju Bioactive Skincare, to break down the power of sea buckthorn oil for replenishing moisture, improving skin tone and revitalising city skin.
What is sea buckthorn oil?
Despite the name, sea buckthorn does not come from the sea. That said, you'll often find it growing along Scandinavia's shorelines. "The oil is actually extracted from the seeds, berries and leaves of the hardy Hippophae rhamnoides shrub, which grows throughout Europe and Asia," says Skjærbæk.
"I love bringing branches full of the vitamin C-loaded berries home from the beach in Denmark," she continues. "The berries and the extracted oil can be taken orally with numerous health benefits, and the oil can be applied to the skin." Those health benefits include reducing the risk of heart disease as its seeds and leaves are rich in phytosterols, which can block cholesterol from being absorbed in the body.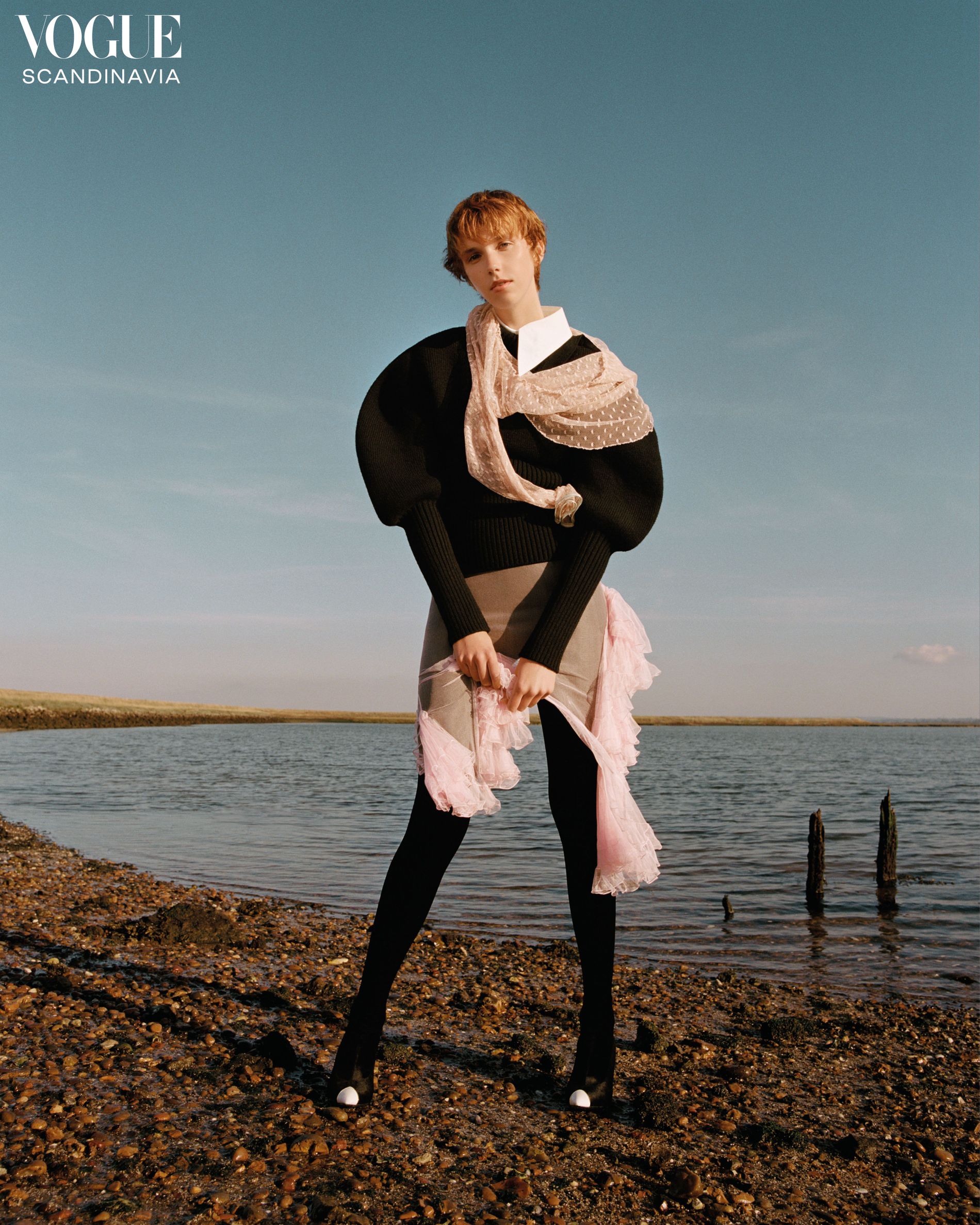 Cotton shirt, €465. Simone Rocha. Wool sweater, €1,250. Bottega Veneta. Vintage mesh skirt. Givenchy from The Arc. Velvet boots, €2,500. Saint Laurent byAnthony Vaccarello. Photo: Ben Toms
What are the benefits of sea buckthorn oil for the skin?
"The list of benefits for the skin is long, demonstrating the oil's antibacterial, anti fungal and wound healing activities," says Skjærbæk. "Sea buckthorn is also effective at regulating sebum production while its lipids sooth and moisturise skin prone to psoriasis and atopic dermatitis. Studies reveal that it contains about 190 bioactive compounds as well as omega-7, which is rare. Add to this flavonoids, carotenoids and vitamins, and sea buckthorn oil becomes a powerful antioxidant too."
In fact, sea buckthorn berries contain ten times more vitamin C than an orange, and are the third highest source of vitamin E in the plant world. "All of which is useful for those of us wanting to improve an uneven skin tone, reduce fine lines, delay cell ageing, improve skin elasticity, not to mention nourishing the skin," Skjærbæk notes.
What skin types benefit most from using products containing sea buckthorn oil?
"Sea buckthorn oil is considered safe with no potentially harmful effects and being a non-comedogenic oil, all skin types – from oily to dry – would benefit from incorporating it into their routine," says Skjærbæk, who adds that it is especially beneficial for "dermatologically challenged and sensitive skin."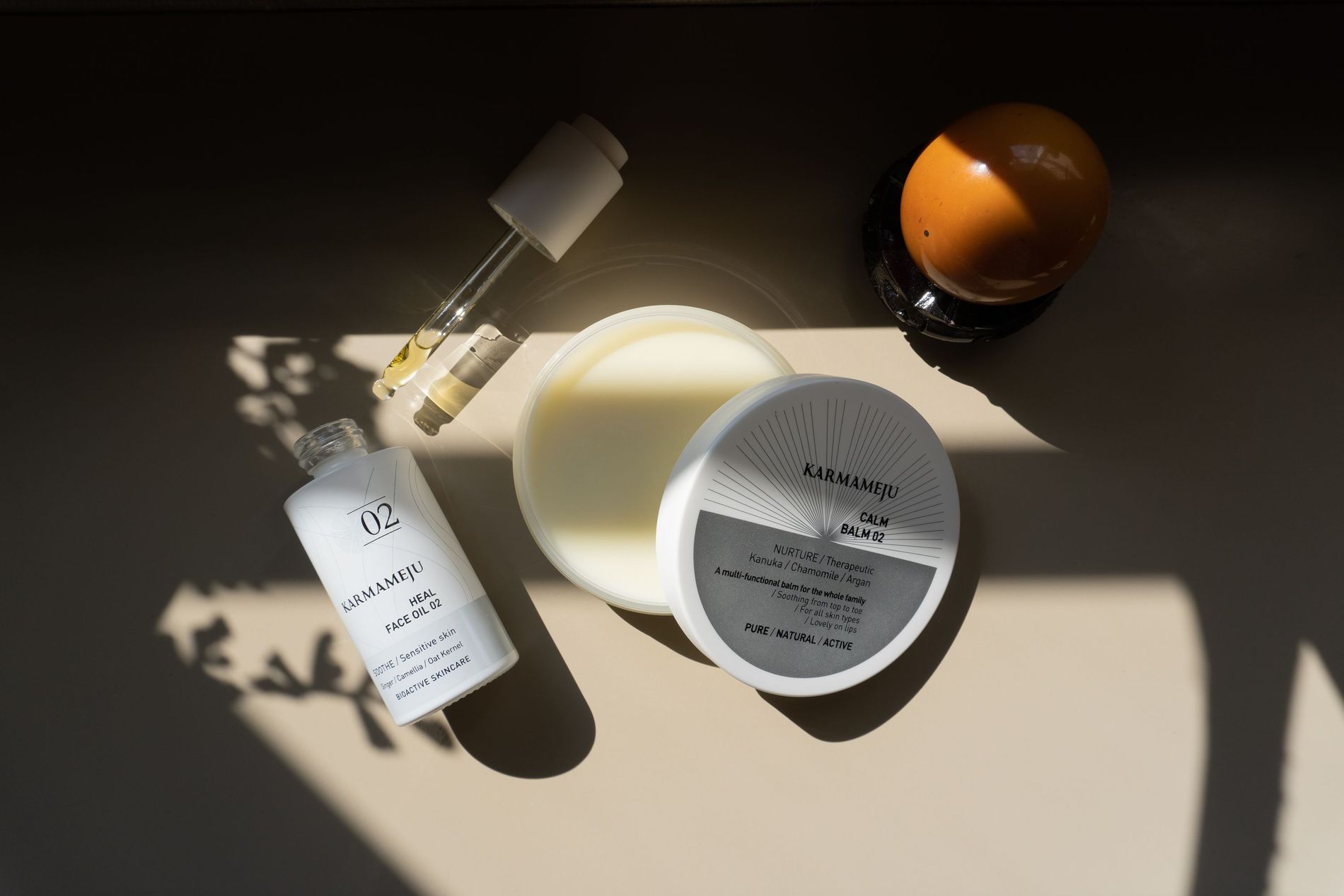 Courtesy of Karmameju.
What time of year do you need products with sea buckthorn oil most?
"I'm a fond believer in using plant oils all year around," advises Skjærbæk. "In winter, plant oils are the optimal protection against the harsh weather; in summer they are also great nourishment for the skin. Caring for your skin is like caring for your favourite leather boots: you need to clean, brush, massage and nourish it with oil to keep it in great condition. Always check in with your skin. Ask yourself, 'What does it need today?' as no two days are the same."
How should you use a product containing sea buckthorn oil?
"Karmameju has many products containing the golden oil, such as the HEAL face oil, CALM balm or MORE body scrub, to mention but a few," Skjærbæk explains. "You use these products in your skincare rituals daily or weekly to optimise skin health. A product like the HEAL face oil is ideal to use as the last layer in your skincare routine in winter to protect against frostbite and dehydration."
---
The best skincare with sea buckthorn oil