From frozen rivers to downtown rinks, here's where to get your skates on in Scandinavia this winter
Blessed with bays, lakes and inlets, there are numerous spectacular locations to be found across Scandinavia when it comes to ice skating – and that's before you even take into account the copious number of picturesque urban rinks that spring up in towns and cities across the region.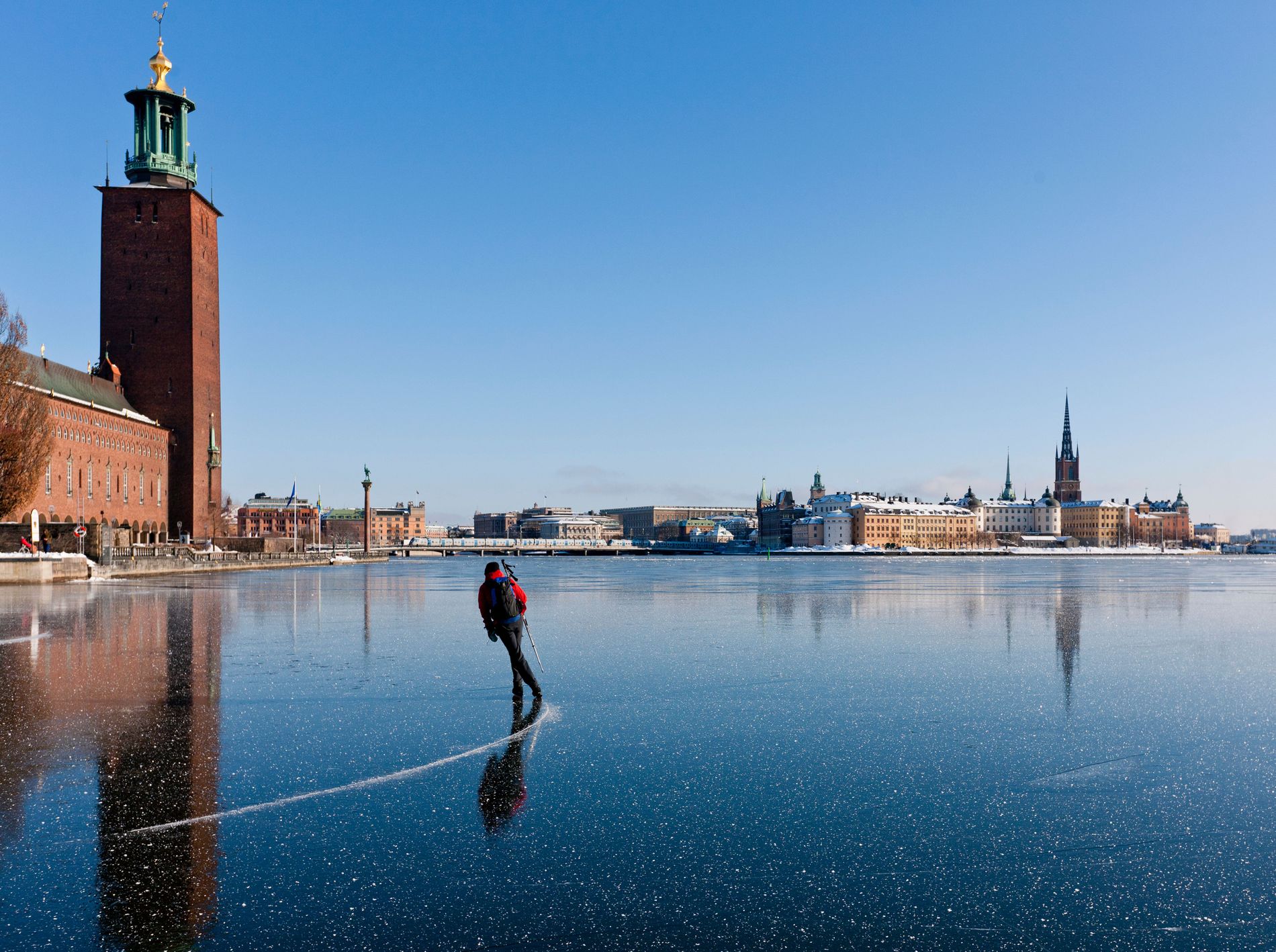 Photo: Getty
Whether you're working on perfecting your triple axel or just hoping to complete a circuit without falling over, we've gathered some of our favourite spots to go ice skating.
Iceland
Pond Tjörnin
Initially a lagoon and now a pond connected to the ocean via a river, Tjörnin is an iconic and defining landmark in Reykjavík with a panoramic view over the city. When it freezes in the winter It gets especially popular, and has been so for well over a century - the Reykjavík Ice Skating Association was founded here in 1892. The pond is very shallow and its deepest parts are just about 80cm, which makes it one of the safest places for a session, but as ever when skating in the wild, be sure to check that the ice is at least 10cm thick before you get on it.
Denmark
Frederiksberg Runddel
The entrance to Frederiksberg Garden is transformed into a beautiful ice rink every year, becoming a picturesque and extremely popular place to go ice skating in Copenhagen. It's free to visit and open from late November until the end of February. Rent a pair of skates by the rink or have your own sharpened before you hit the ice.
Finland
Lake Vesijärvi
During the colder months, the frozen surface of Lake Vesijärvi in Lathi, just north of Helsinki, is a wonderful place to go for an ice skating practice. Equipment can be rented in the harbour and there are plenty of options for both food and drinks in the area.
Lake Tohloppijärvi
Lake Tohloppijärvi in Tempare is a popular destination for ice skating, with fantastic skating available just 10 minutes from the city centre. The Tohloppi skating track is especially worth a visit if you're into tour skating; it is over 3km long and parts of it are lit by candle during one of the events that are organised on the track each year. Entrance is free and you'll find a cafe and rental shop nearby.
Lake Kallavesi
This natural ice rink hosts the Finland Ice Marathon every year, with the 8km long lap attracting hundreds of competing skaters from about 15 different countries. If you're an avid marathon runner but want to try a winter edition, don't forget to sign up for the next ice skating race on 26 February, 2022.
Sweden
Liseberg
This famous amusement park in Gothenburg goes through an extensive makeover each year when it transforms into Sweden's own winter wonderland and a Christmas market with charming stalls filled with home-made food and hand-made designs. Even if you identify with the Grinch at this time of year, you can't help but be swayed by the holiday spirit upon entering Liseberg between late November and the end of December. The ice skating rink, surrounded by thousands of beautiful lights and decorations, is open daily and visitors can enjoy shows on the ice for both children and adults, such as "After Ice" where the rink becomes a disco with lights and music.
Fjällnora
Tour skating, also called Nordic skating or long-distance skating, was born in Sweden, and there are few more iconic spots to try it out than the frozen lake in Fjällnora, in Uppsala and just north of Stockholm. The lake has a number of different tracks following the shoreline, with the longest being 11km. Numerous families use it as a winter escape from Stockholm, renting skates from one of the shops nearby and making a day of it, sometimes stopping for a picnic part way through the day.
Norway
Spikersuppa
This rink in the middle of Oslo is open between late November and March and allows for a cosy ice skating experience in the middle of the city. It's the perfect spot to head to if you get a sudden urge to practice your pirouettes, and when your exertion is over, you can take it easy by strolling and shopping around Karl Johans street right next door.