Today's cleansing bars are just as effective as their liquid counterparts, while the first ever skincare tablet is raising the bar for eco beauty
It seems that every week a new miracle ingredient launches claiming to guarantee hydration and good glow. So it's hardly surprising that countless tubes, pipettes, and pots of creams jostle for space on our bathroom shelves as we rush to keep up. The trouble is, all that packaging does add up. Statistics from Terracycle report that a staggering 120 billion units of packaging are produced every year by the beauty industry, much of which isn't recycled and ends up in our oceans.
But the tide could be about to change given that beauty products in bar and solid format are closing the loop on waste and becoming so sophisticated that even beauty snobs are purring with delight.
According to market research company The NPD Group, in the UK sales of skincare in bar, solid, and stick format are currently valued at £2.4 million. And the story is similar across Europe as the mindful beauty movement and its ethos of doing away with single-use plastic is gaining traction.
It not hard to see the appeal of cleansing bars. Soap has come a long way, with the new generation of solid cleansers and shampoos are often housed in just a sheath of recyclable cardboard; many also use little to no water and because the products are compact they generate low emissions when manufactured and transported.
Crucially, beauty bars have also shaken off their old-school reputation for leaving skin feeling stripped and hair coated in a sticky residue by not lathering well and being difficult to distribute through strands.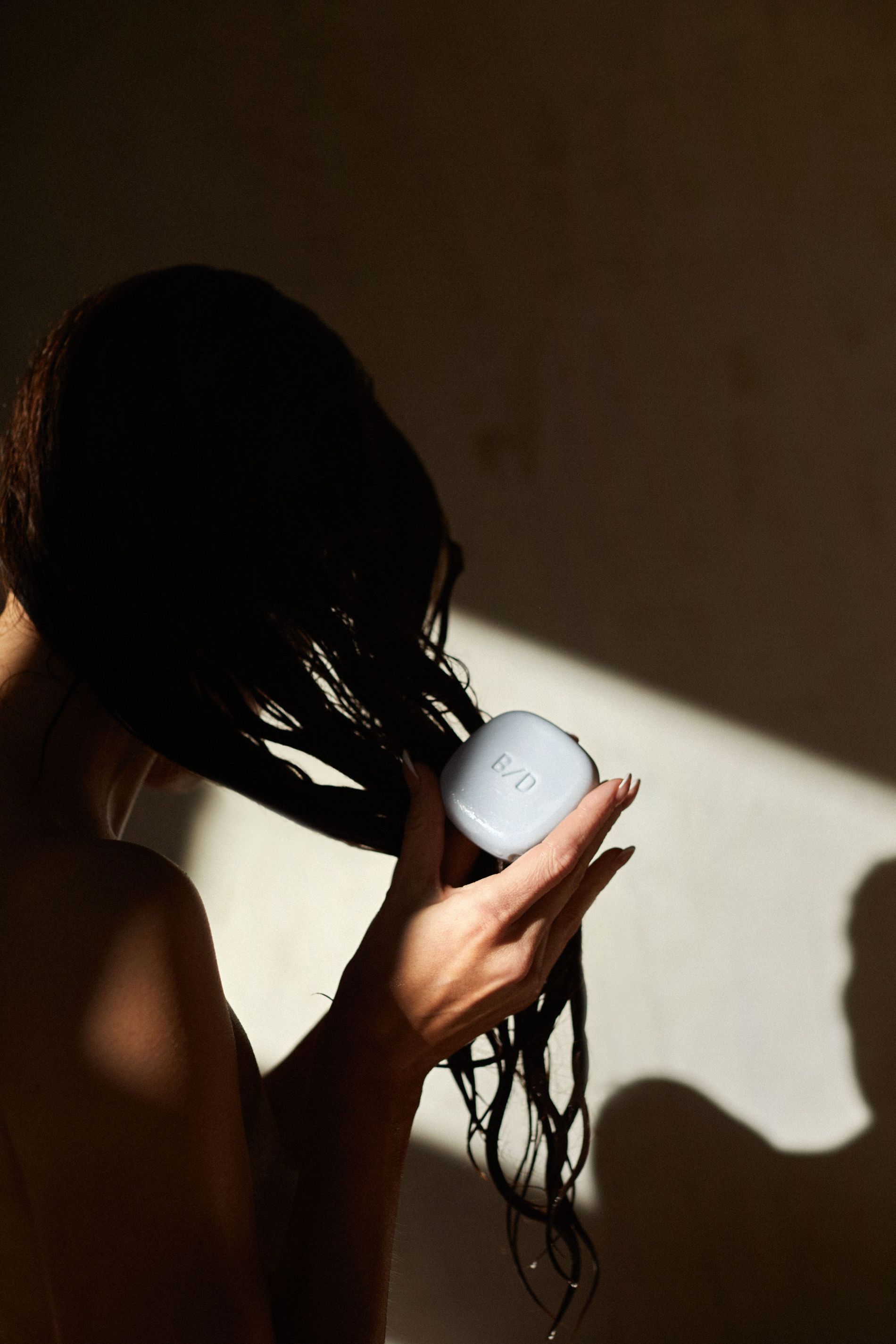 Beauty Disrupted.
That said, even Svante Holm, co-founder of Beauty Disrupted, a brand of solid bars designed in Stockholm and crafted in the South of France, readily admits that the first wave of these eco products lacked the quality we've come to expect from our beauty arsenal. "We spent months testing the bars on the market at that time and while we found a lot of really green products, we didn't find anything that felt premium," says Holm, who subsequently quit his tech career to embark on a two-year quest exploring the French Alps with local botanists.
Holm and his business partner Alban Mayne decided to co-found Beauty Disrupted as a cleaner alternative to the 80 billion plastic shampoo and conditioner bottles that end up in landfill or oceans each year. "When you buy a high-end liquid shampoo today, about 70 per cent of it is water (increasing to about 90 per cent for a conditioner) and it all comes in a thick, old fashioned plastic bottle that is close to impossible to recycle anywhere," he says. "That all feels very old fashioned to us. Instead of loading products with water, we load up on 100% organic scents from our perfumer friends in Grasse and package our solid bars in easily recyclable cardboard."
As well as using suppliers who work with some of the most luxurious brands in the world, Beauty Disrupted raised the bar by doing trials on its solid bars – first 194 people from across Europe and the US gave their consumer insights before the products were put through strict dermatological testing in a French laboratory. "It confirmed that our bars not only deliver great results, but they do so in the most caring and gentle ways," says Holm, who now supplies luxury hotels and spas across Europe.
Our favourite for parched post-holiday strands is the Beauty Disrupted Shampoo Bar Ocean Magic for Dry Hair as it delivers a generous dose of almond oil to hydrate straw-like ends while the smell of sea fennel, Calabrian bergamot and island flowers which whisk you back to the Med.
When you buy a high-end liquid shampoo today, about 70 per cent of it is water (increasing to about 90 per cent for a conditioner) and it all comes in a thick old fashioned plastic bottle that is close to impossible to recycle anywhere
Svante Holm, co-founder of Beauty Disrupted
Elsewhere, Gallinee's Cleansing Bar has addressed the issue of dry, uncomfortable skin head-on by formulating at pH5.8 to keep your skin's natural pH levels in balance. Not only that, but the brand has also created a solid cleanser that is brimming with prebiotics and lactic acid to nourish the skin's good bacteria while removing the bad.
Sbtrct's line of pastel-hued bars are like catnip for millennials and includes a Rejuvenating Night Balm, which is the first ever solid retinoid. With the consistency of a lip balm, the formula is charged with granactive retinoid, an active ingredient that delivers the same benefits of retinol but with significantly lower irritation. The inclusion of vitamin E also makes it gentler on the skin and prevents oxidisation from exposure to sun and air.
Water-soluble skincare is showing promise as the next frontier for beauty. Mono Skincare is the first beauty brand to create an organic skincare tablet that saves on water waste while flooding the skin with prebiotics to reduce redness and beta-glucan for moisture. Simply drop the Face Moisturizer tablet into the reusable bottle, fill with water from your tap at home and your new serum magically appears.
Also doing its part is Forgo, a small start-up in Stockholm that takes a 'refill, reuse, repeat' approach and has created the first powder-to-liquid hand wash. The plastic-free paper refills mean 85 per cent fewer emissions are created compared to a new bottle of liquid soap. Better still, the scent is distilled from leftover timber and citrus pulp for a truly circular product.
Perhaps Beauty Disrupted's Holm sums the movement up best when he says, "Every bar we offer has to exceed the pleasure and performance of the most premium liquid alternative while also being completely free of plastic and harsh ingredients." Amen to that.
---
Shop cleansing bars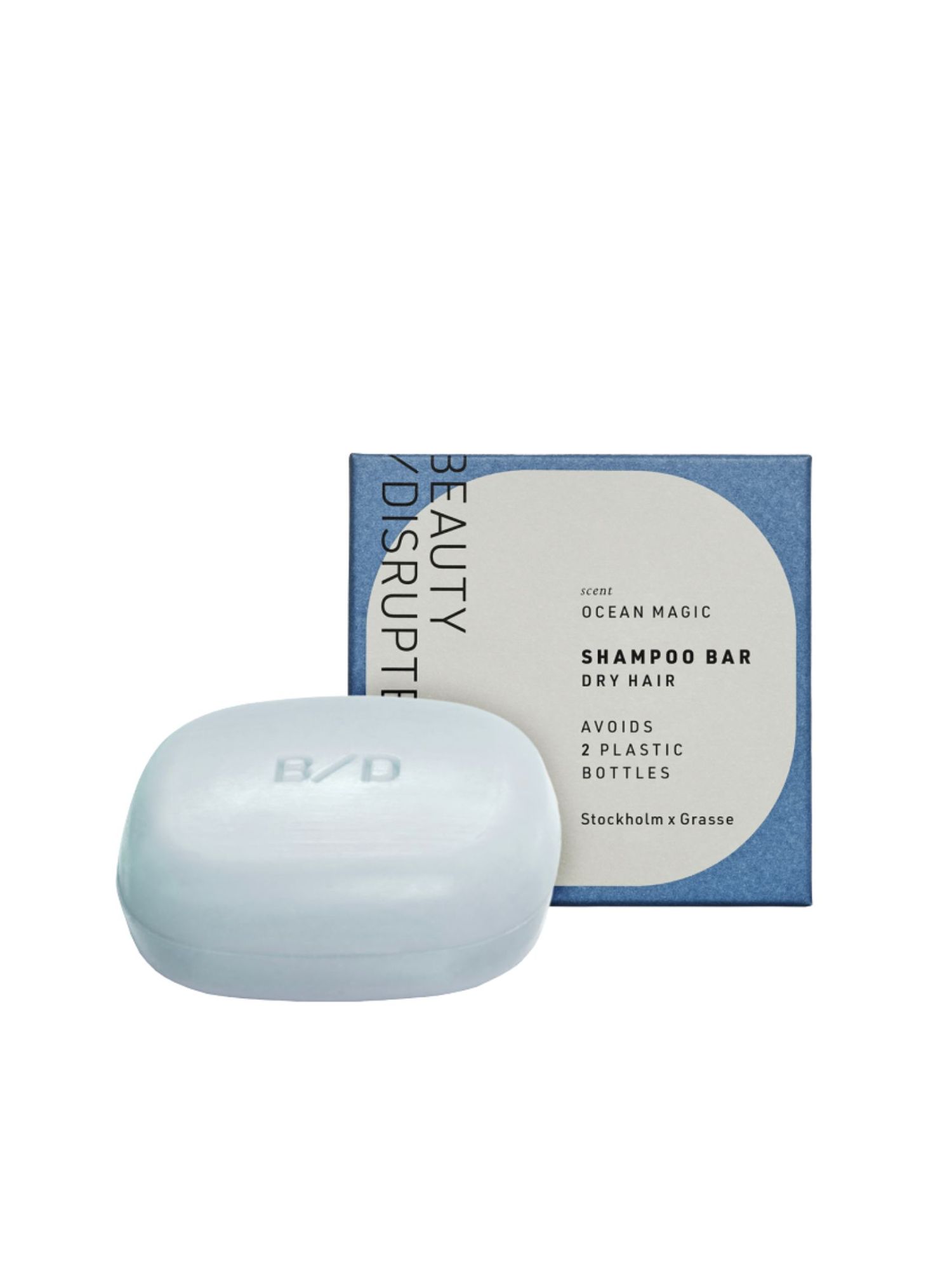 Ocean Magic Shampoo Bar
Beauty Disrupted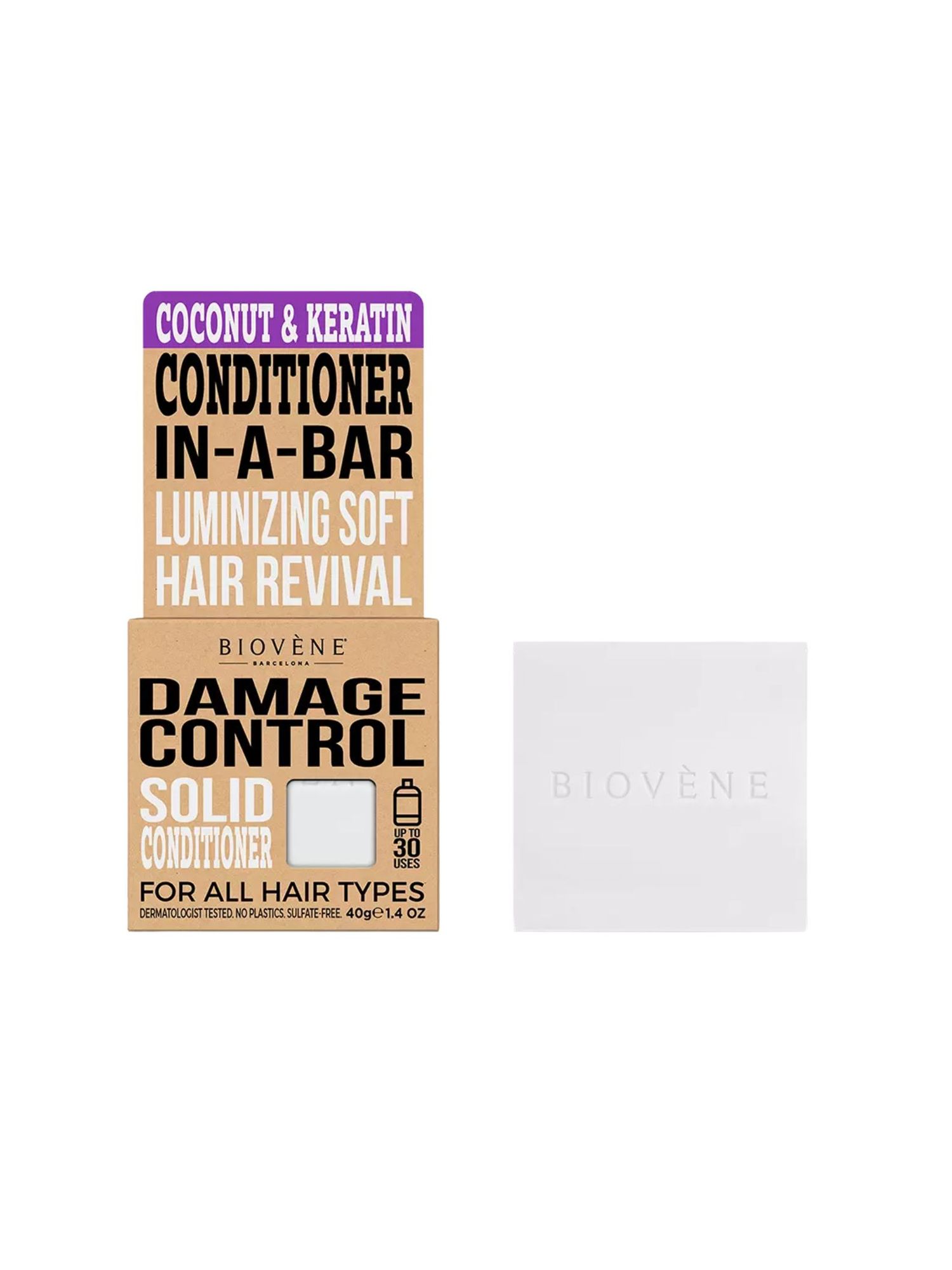 Damage Control Coconut & Keratin Solid Conditioner Bar
Biovène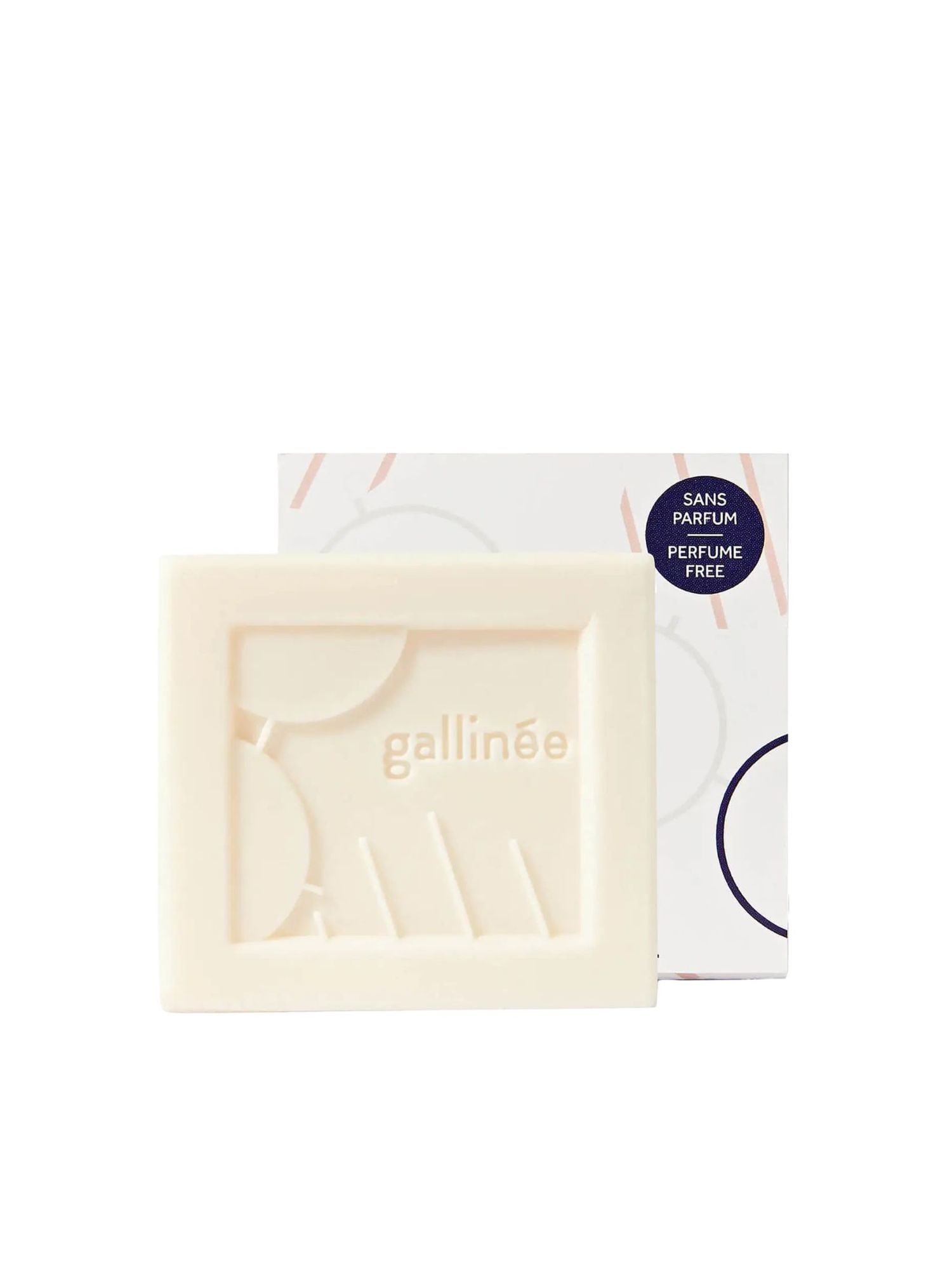 Prebiotic Perfume Free Cleansing Bar
Gallinée