Vogue Scandinavia talks to some of the most prominent pairs working in photography today about collaboration, arguments and finding focus with one another
In the act of image-making, photography studios can become battlefields. A vast white room turned into a land of contrasts, where cameras shoot, holding captive moments and characters in a frame. As Susan Sontag wrote, picture-taking "ignites the predatory instinct", making humans stealthy observers​​ capable of seeing people as they never see themselves.
Other things have been compared to warzones, like love in Pat Benatar's 1983 new wave song, an anthem for believers in which the singer declares her commitment to the abstract sentiment. Despite both territories – photography and love – being declared lethal, some decide to take a blind leap into the void and practice both simultaneously. Just as the invention and modernisation of cameras required collaborative efforts, photographers have combined affection and profession to defy the often solitary discipline of photography by forming collaborative duos.
Images conceived with a single camera but signed by two people can raise questions about dynamics – in photographer duos, who presses the shutter button? Here, some of photography's most influential pairs talk to Vogue Scandinavia about their dynamic for picture-making, authorship, and what it takes to maintain a harmonious work-love relationship.
Constance Hansen and Russell Peacock - "Guzman"
A look over the couple's body of work reveals a disrupting and rebellious energy contained in highly-stylised compositions and the best fashion. In the tension between glamour and discomfort, Constance 'Connie' Hansen and Russell Peacock distilled their vision together as Guzman in an era when fashion photography hailed excess and perfectionism. "They didn't care about anything but photography, and decided to create their own world," says Véronique Peres Domergue, Guzman's agent for more than 20 years and a close friend of the pair for even longer.
First finding fame through their shots for the music industry (their early work included Debbie Harry's Rockbird and Janet Jackson's Rhythm Nation 1814 album covers), the duo merged their knowledge of art and design and became two of the first photographers to work in a collaborative form. The 'Guzman' pseudonym came from a need for distinction: "We needed singularity, because, at the time, the idea of 'two photographers' was unheard of," say the duo. "Having one name that represented both of us did the trick."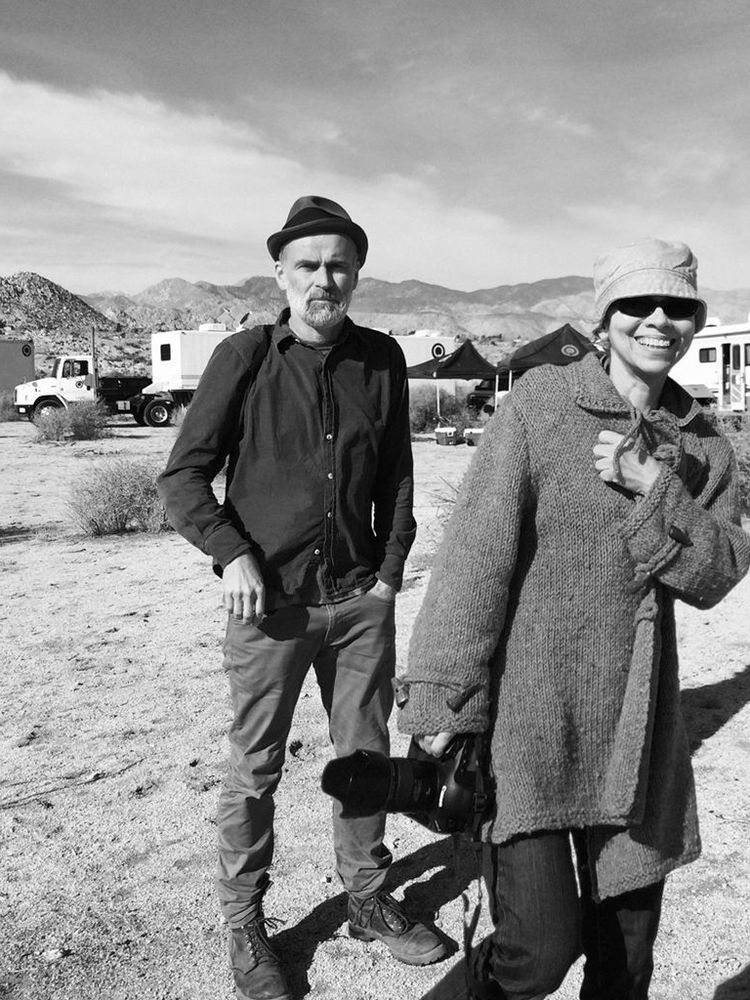 When Guzman started out, working as a duo in photography was "unheard of" they say. Photo: Courtesy of Veronique Peres Domergue
Guzman's work dynamic is based on a camera rotation which usually begins in Hansen's hands and finishes in Peacock's. The couple's images come to life with her knowledge of the technicalities of photography and his retouching skills. "The strength of their creativity comes from being soulmates; it lies in their complicity: her fashion knowledge and his ability to make their work recognisable through their signature style," says Peres Domergue.
Iris Alexandrov Klum and Mattias Alexandrov Klum - "Alexandrov Klum"
The path to successful collaboration for the Swedish duo behind Vogue Scandinavia's first cover began with confrontation. "We were in Hawaii, sitting in a car, making stops in a National Park, and I looked out of the window, and I told him: 'It's so beautiful here,' and he said: 'Beautiful? All this vegetation doesn't belong here, and it's invasive. It comes from different parts of the world,'" recounts Iris. Amid this clash of opinions, the pair found their synchronicity. "We intertwined through seeing the world individually, and then by deconstructing those ideas to form new ones together," continues Mattias. "Trying to be less me, and more us."
Vogue Scandinavia
Greta Thunberg - Issue 1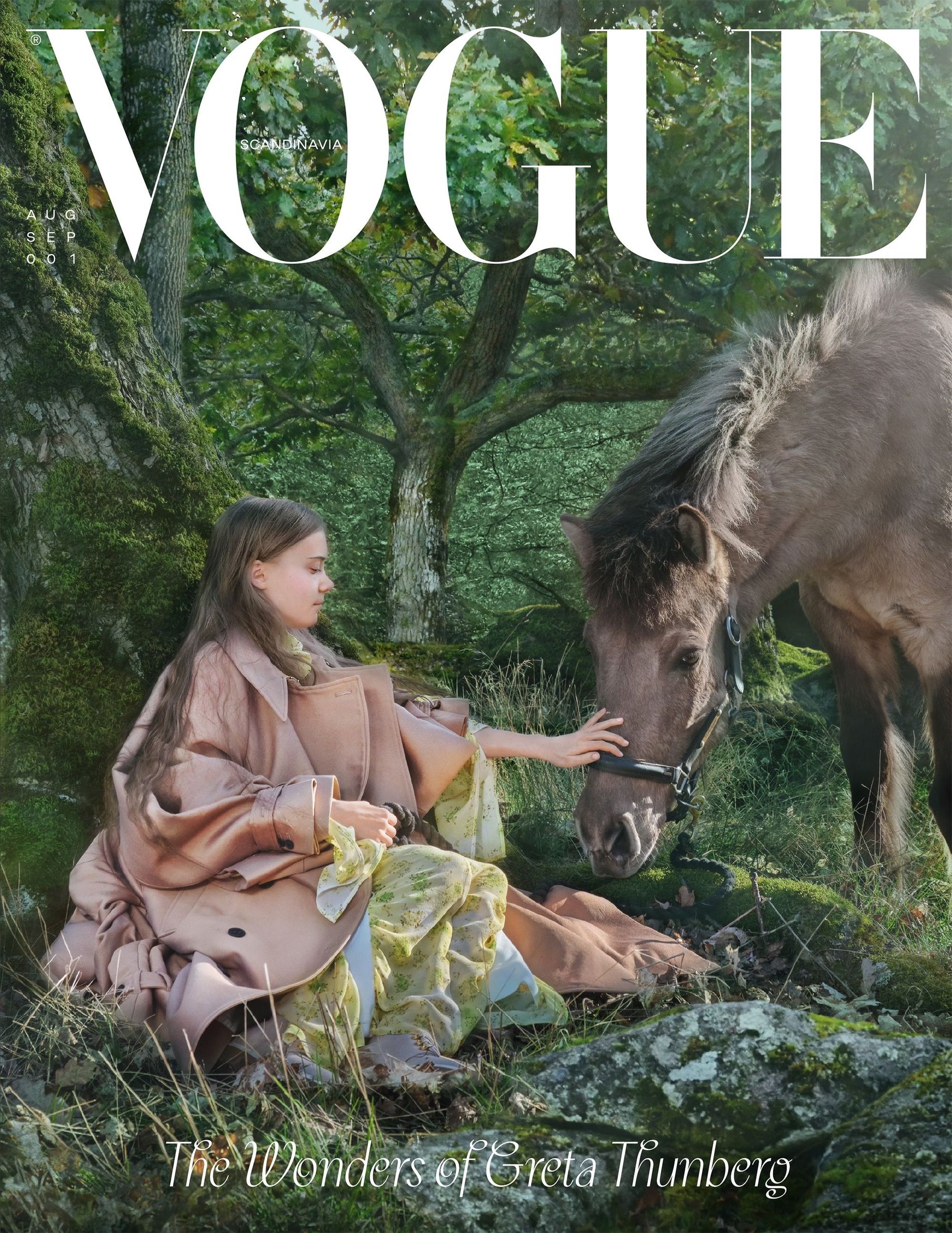 Love was essential to this story. The two had established successful careers individually before becoming a couple in 2016 – Mattias as a photographer for National Geographic and Iris as an installation artist and photographer – but the duo say that finding each other in the middle of a drought of inspiration gave their work new dimensions. On set, the couple's dynamic is also based on encounters and interactions. "We have a few cameras that we use with different angles. We usually take pictures, film, and also record sounds. All that is collected later as one body of work, so it's not like 'that photo is of Mattias', 'that photo of Iris,'" explains Iris. "We make a selection from all of the produced work, and then, when it comes to post-production, that's more my field." Mattias adds admiringly: "She's a computer wizard."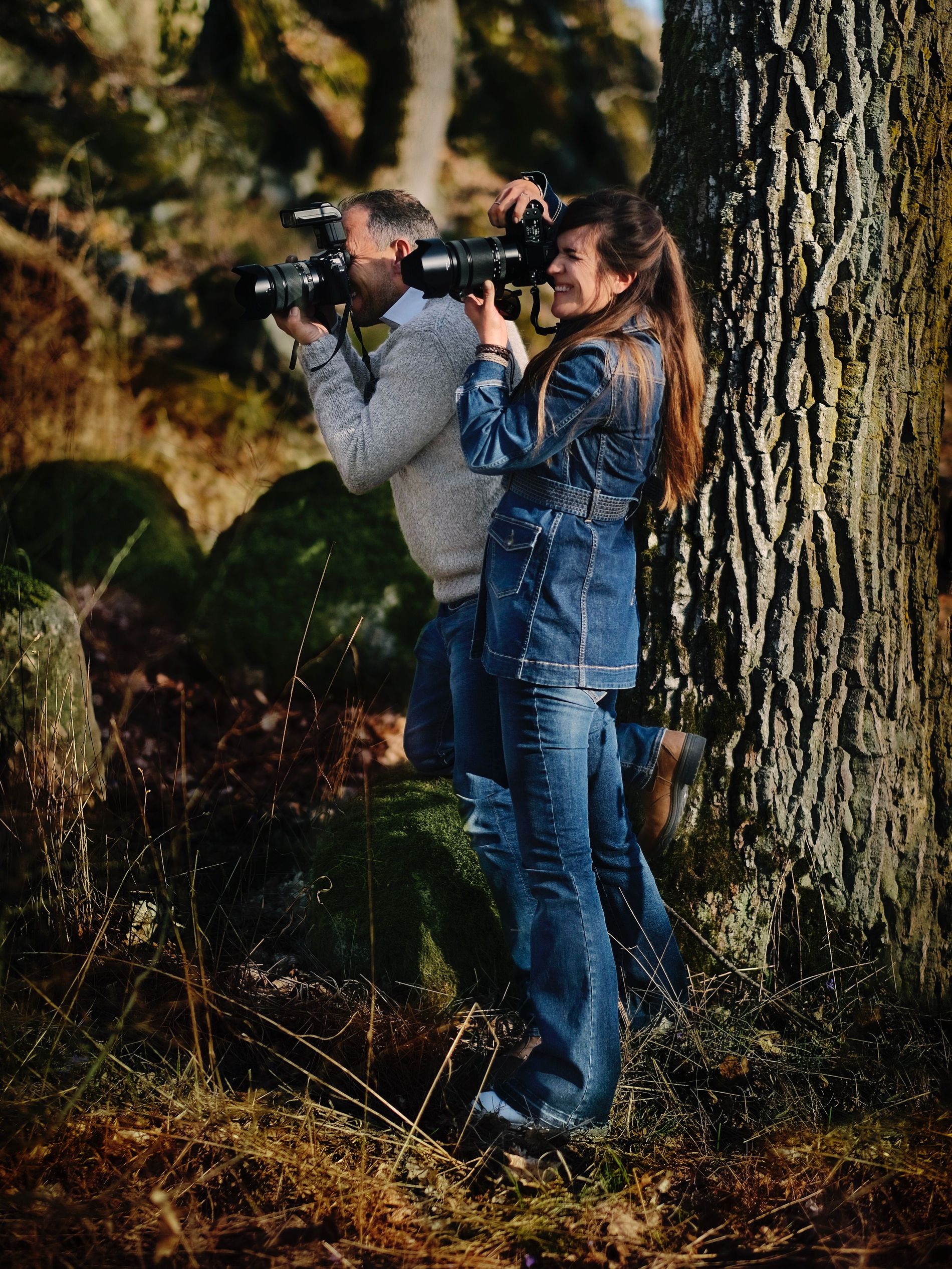 Photography power couple "Alexandrov Klum" shot Great Thunberg for Vogue Scandinavia's first ever cover. Photo: Ludvig Almås