Vogue Scandinavia commissioned the artist duo Alexandrov Klum to create our cover shoot and a unique work of art for Issue 1
Iris and Mattias Alexandrov Klum have a purpose. Through their artistry, they aspire to bring mankind and nature closer together. This specially commissioned art work for Vogue Scandinavia unifies the three components of nature, wildlife, and mankind through a multimedia experience of photography, audio-visuals, and text.
This commission started nearly a year ago, as the artist duo went to the south of Sweden to spend 10 days in November 2020 living in the forests of Småland.
Vogue Scandinavia
Alexandrov Klum Limited Edition Poster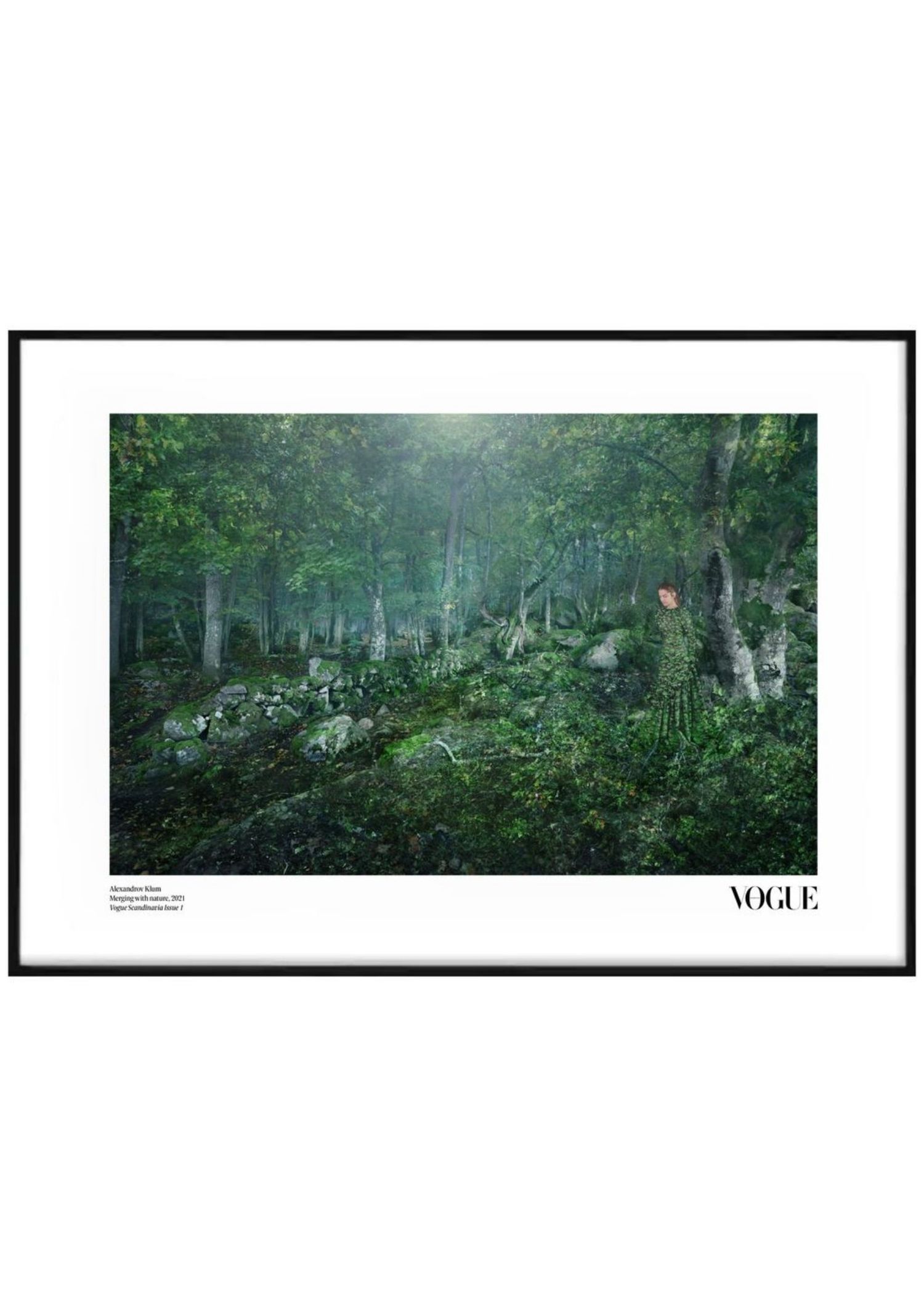 During this time they remained silent – watching, listening and feeling nature. From his previous experience as a nature photographer Mattias understands the necessity of patiently blending in and becoming part of nature to capture the wild animals that live there. Her work as an artist has allowed Iris to fully embody the meditative nature of becoming unified with our surroundings.
Together, the artist duo, who formed in 2016 – captured on camera, film and audio – the true essence of nature, which would become the core foundation of this art work.
After shooting the wildlife and the natural environment, Alexandrov Klum, then shot the fashion feature, combining influences from the landscape in the fashion selection. Gradually images are layered on top of each other to create a mythical, fairy tale feel.
With the natural environment and sustainability being part of the magazine's core values, it was important that the person chosen to represent humanity on the cover, was someone who fits these values. So who better than Sweden's own Greta Thunberg. Greta spent a day in the woods outside of Stockholm with Alexandrov Klum to create this issue's cover.
"This project is about opening the door to the sensation of becoming one with nature," says Iris Alexandrov Klum. "It's about changing mindsets, not through fear but through spirituality and understanding," she says.
Vogue Scandinavia
Greta Thunberg - Issue 1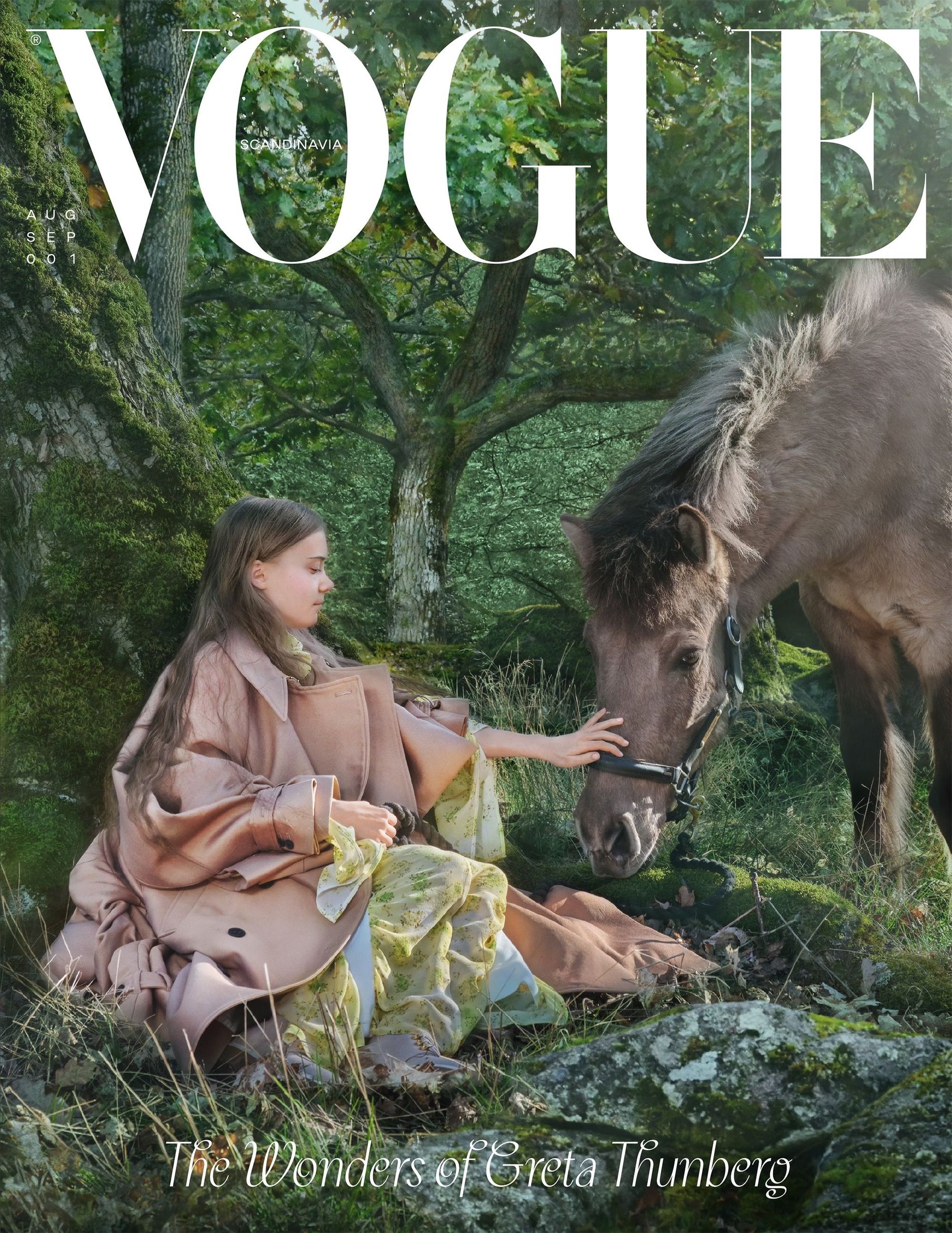 "When we look at the relationship between humans and nature, we see such a deep chasm between the modern human being and the living natural world," says Iris. "In this project we want to return to basics or rather, 'merge with nature'.
As part of the multimedia artwork, an instructional written piece is presented here. In a similar vein to the instructional pieces of iconic American artist Bruce Nauman or Yoko Ono's Grapefruit, a book that guides the reader to create performance art, this work allows readers to consider their role in the natural world and how to understand, respect and become one with nature.
See more of Alexandrov Klum's audio and visual artwork, and have the chance to buy a limited edition print of their work here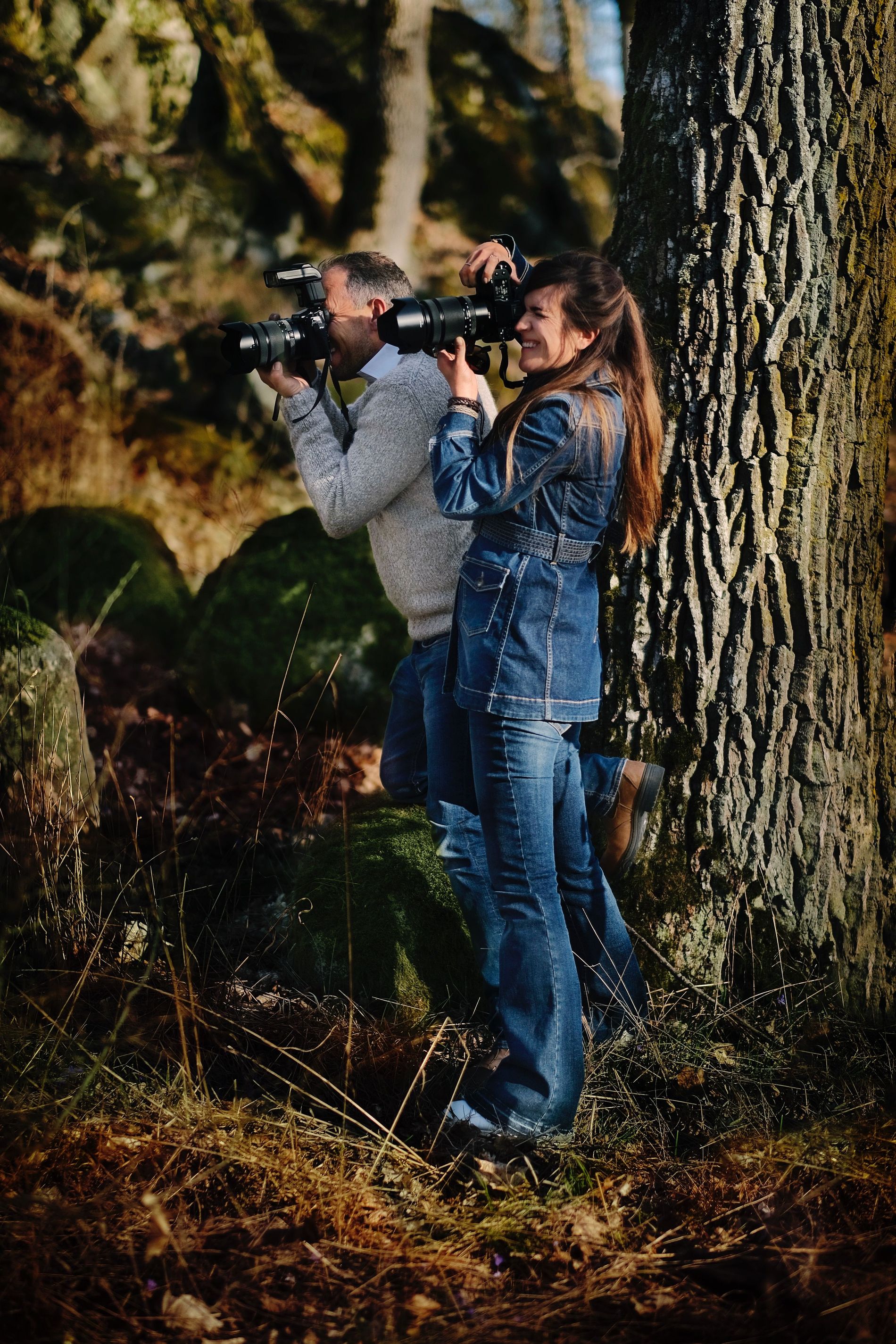 Photo: Ludvig Almås
Credits:
Photographer by: Alexandrov Klum
Videographer: Emir Eralp
Styling by: Konca Aykan
Hair: Amanda Lund
Makeup: Fredrik Stambro
Casting: Julia
Model: Merjem C
Photography Assistant: Ludvig Almås
Stylist Assistant: Juli Molnar, Josefine Forsberg, Greta Westman