Stockholm-based Verona Farrell, of Secondhandhuns fame, takes us on her "sanctimonious journey" of sticking to a second-hand wardrobe throughout fashion month, which proved more challenging than expected
Fashion weeks exist to celebrate the new – and while many are venturing to tackle the glaring issue of sustainability, with Copenhagen Fashion Week certainly leading the charge – it's also worth questioning whether its guests also have a role to play. More and more influencers and industry leaders are vocal allies of the cause, but that seems to go out the window during the one month when fashion dominates their world – and I can see why. The privilege of being dressed by brands and the temptation to over-indulge in PR freebies along the way are difficult perks for any fashion-lover to renounce.
This fashion month, I wanted to test my self-proclaimed commitment to second-hand and launch a soul-searching experiment: could I go 100% second-hand for fashion month? Here, I deep dive into some of my favourite looks from the four weeks and touch on both the times I triumphed – and the times I was temped by the dark side (spoiler alert, I was). Join me on an initially sanctimonious journey that turned out to be harder than I thought.
First look: Copenhagen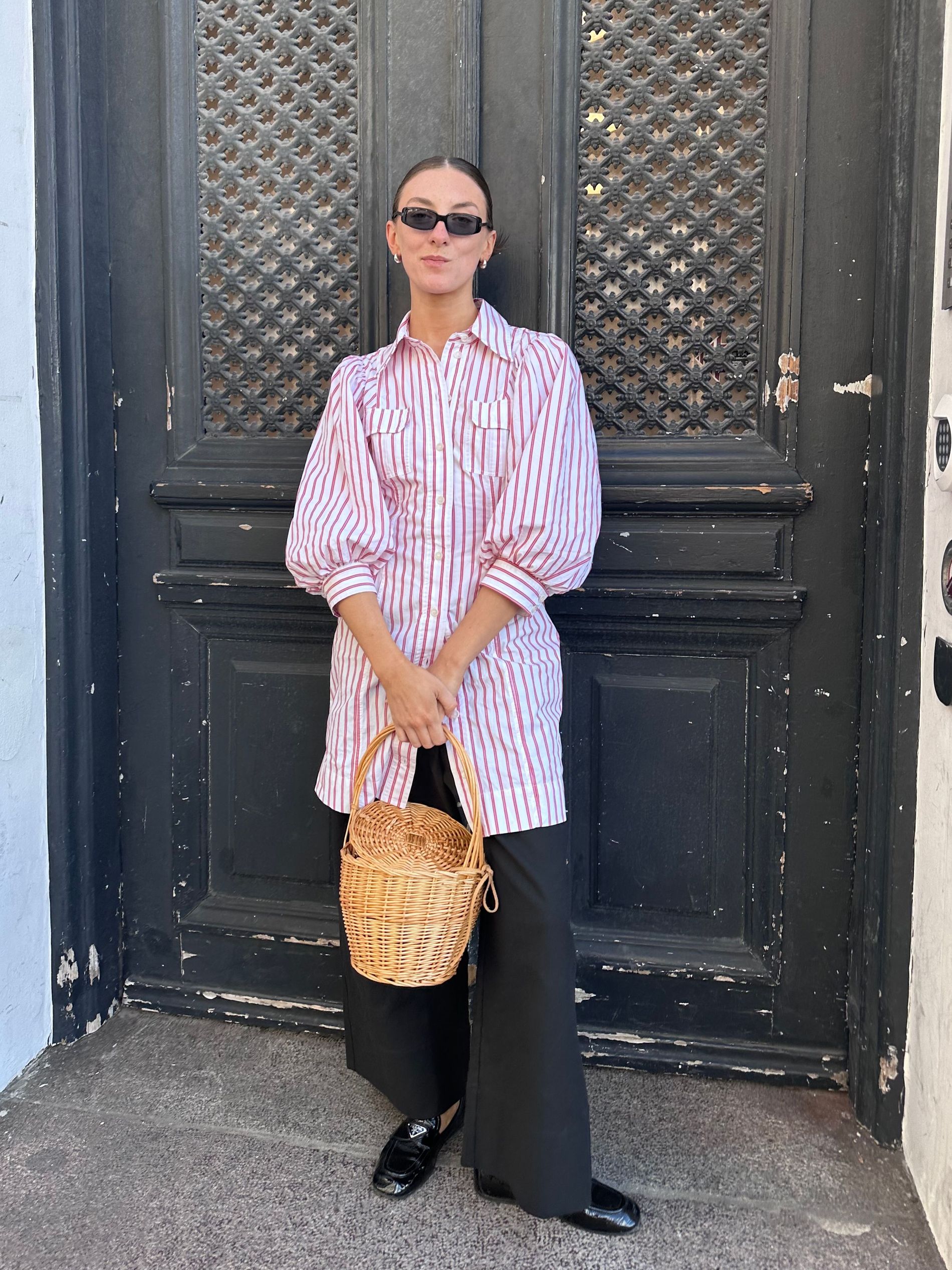 Photo: Emma Fridsell
Starting off strong, my first look serves as one of two admissions of my failure during this challenge, and it was Ganni that got me this time. When I was offered the opportunity to be dressed for the show, my second-hand ambitions were outweighed by my love for the brand so I suggested a creative solution; could I borrow something from their Repeat platform or from the pre-loved section in-store? Unfortunately it was a no-go, so I settled for a a combination of old and new, pairing a vintage Ganni dress with new season culottes.
I accessorised my guilt with Gucci glasses, Prada loafers and my trusty basket bag all sourced from Sellpy, my go-to online space for second-hand. Questionable behaviour in my sad attempt to be accepted as a Ganni girl.
Second look: New York City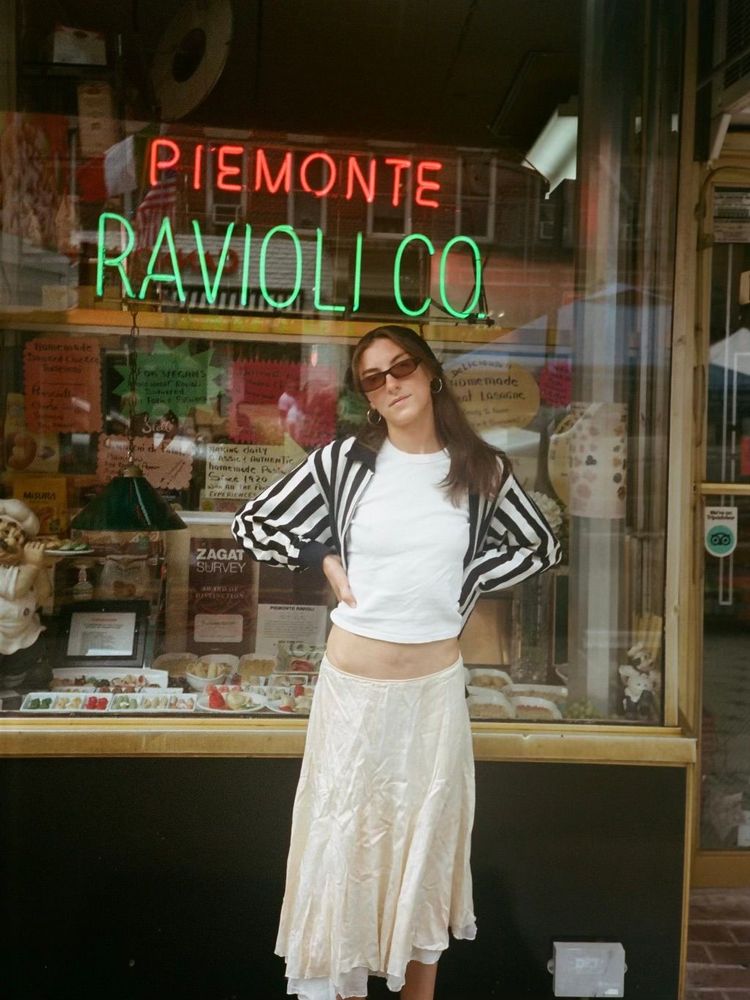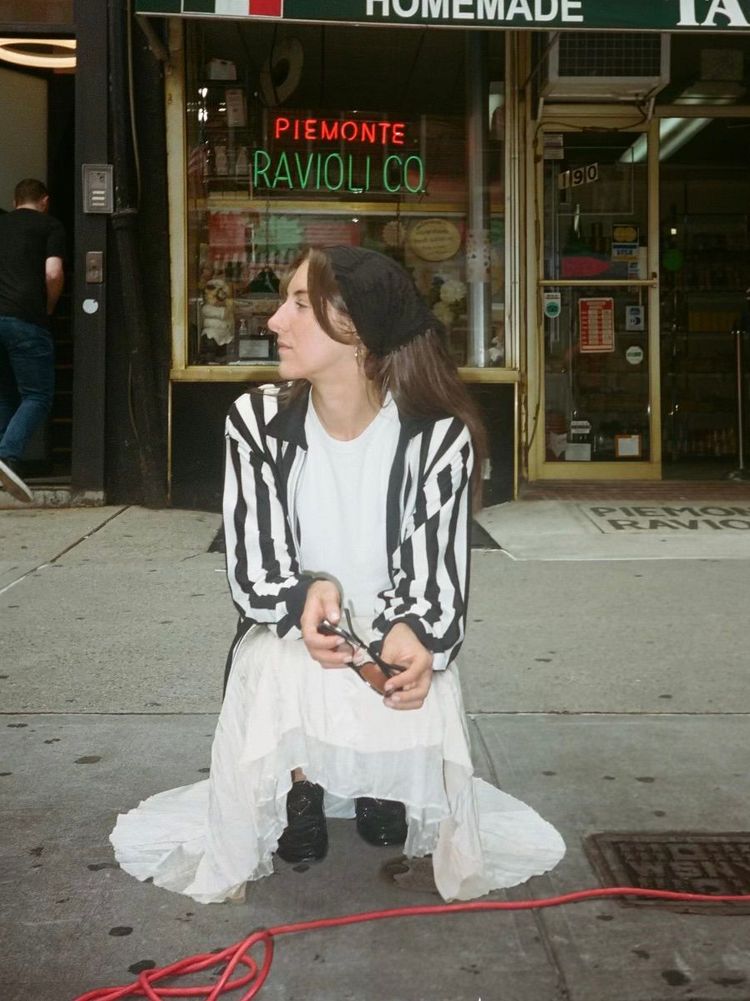 If one thing was diverting attention to sustainability this season it was the weather. New York answered Copenhagen's rainstorm with an unbearable heatwave, nevertheless the fashion week show-goers committed to their outfit plans with the diligence of an activist.
During an erratic bout of rain in 35 degree heat, I hauled myself from event to event in a dainty Vivienne Westwood skirt, borrowed from my New York bestie and secondhand connoisseur Philippa Parnevik. Hesitant to go full ballet-core, I paired it with a referee track top from The Quality Mending Co, a Soho-based vintage store focused on authentic American sportswear.
Third look: Milan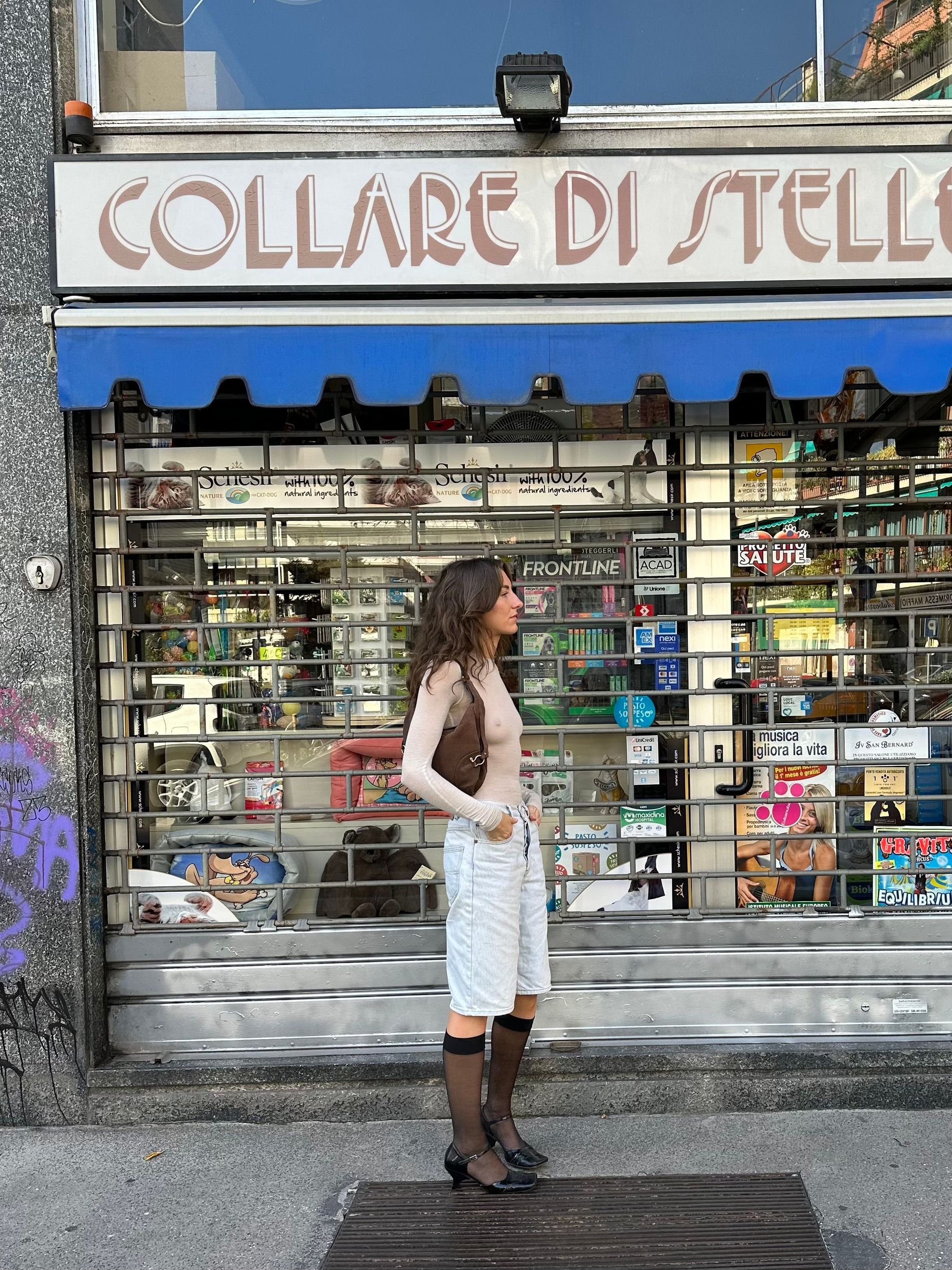 Photo: Bea Fernandez
And on the fourth day of Milan Fashion Week, I chose semi-nakedness. Hoodwinked by social media into thinking the sheer trend was ready to reach a point of social acceptance, it turned out the fashion capital's locals were not. One begins to question their outfit choices upon seeing mothers literally covering their children's eyes (this actually happened).
The top (that barely classifies as one) is my final admission of failure on my quest to wear 100% second-hand to fashion week. On my bi-annual basics trip to Weekday I spotted it and couldn't resist. But rest assured, I got my comeuppance, spending the day riddled with embarrassment as my excuse for a pair of tits made their unwelcome Italian debut.
Fourth look: Paris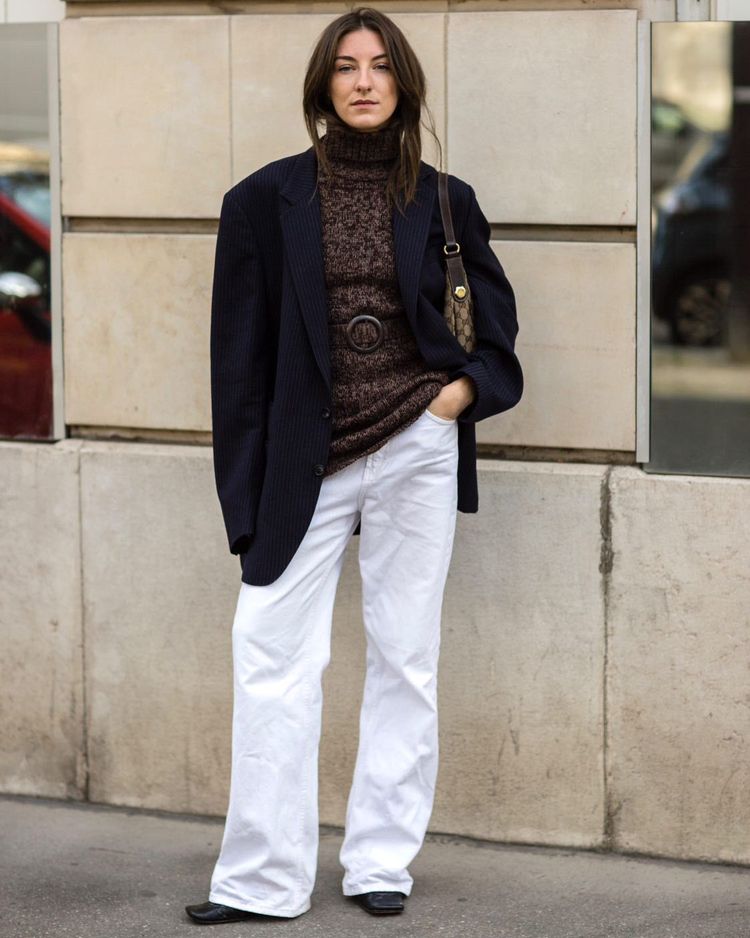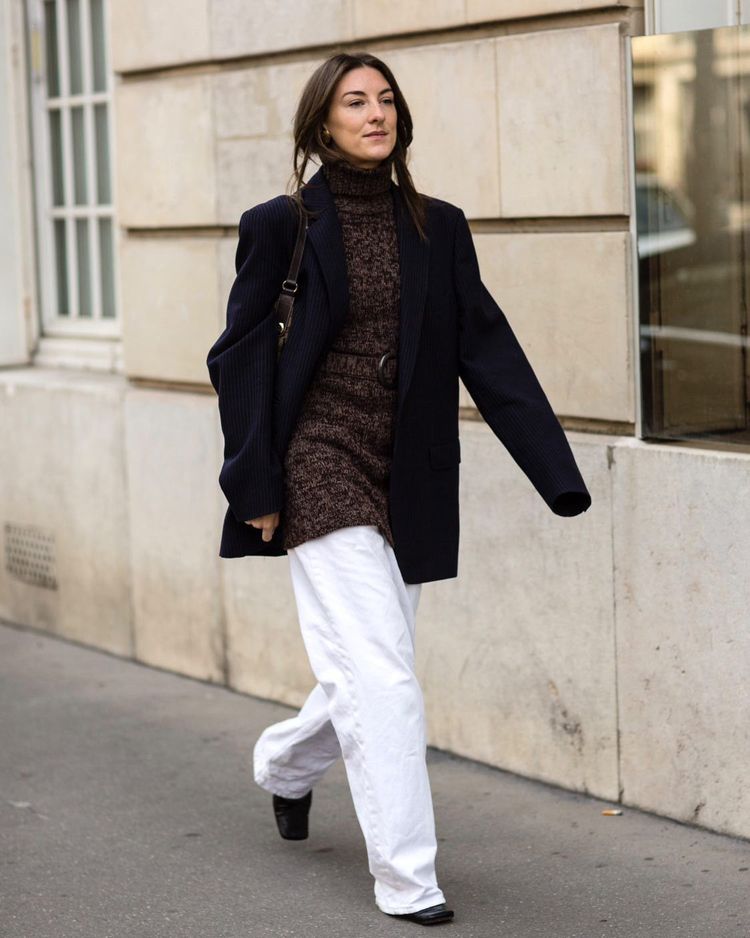 At the Hodakova show in Paris, it felt totally on-brand to be sporting second-hand. I spoke to the Swedish CEO and founder Ellen Larsson about her work with second-hand materials, where with refreshing realism she begged the question: "How can a world even exist if we're just producing, producing, producing? As people, we share stories, and to connect more to a piece, it has to have a good story. You will value it higher, you will invest in it and take care of it," she urged.
In line with Hodakova's play on the versatility of used belts, I wore my belted wool Y.F.K dress that I nabbed on Sellpy, with my everyday vintage Gucci Hobo from Irish pre-loved luxury seller Designer Exchange. The oversized blazer and square-toe pumps were found at my local Myrorna, a Swedish charity shop not to be underestimated!
Fifth look: Paris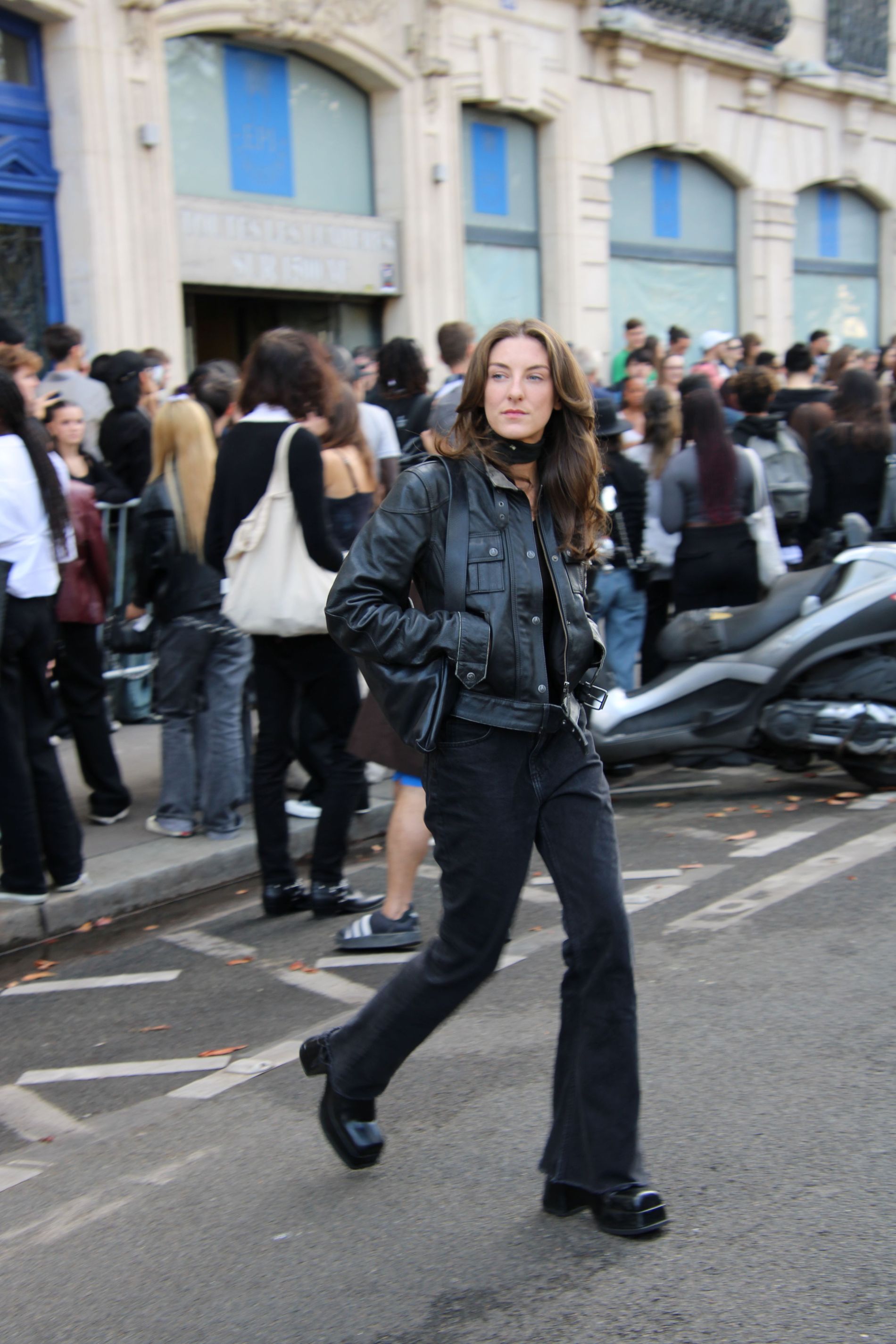 Photo: Alina Riebel
To shoot street style at Commes Des Garçons, I went full biker chick. Maybe it was all the chic Parisians and busy models frantically zooming from one show to another on their egg-white Vespas. So, without a Harley, or a license for that matter, I threw on my Humana-sourced Belstaff leather jacket along with a Jean Paul Gautier mesh shirt and reclaimed vintage jeans from Sellpy.
I paired it with the famous Vertigo boots from Eytys, which have been on a Sisterhood of the Traveling Pants journey within my friend group (along with the rest of our wardrobes which essentially operates on a 'what's mine is yours' basis). Somehow, I convinced the gang and their rightful owner that such a beautiful pair of shoes deserved to experience fashion month, costing me €100 of overweight luggage charges in the process.