The Danish city is full to the brim with second-hand treasures and who better to take us on a tour than city local, content creator Verona Farrell. Get ready to fill your bags...
Verona Farrell, also known as Secondhandhuns on social media, has become quite the phenomenon with her much-anticipated street style video capturing fashion on the streets of the Scandinavian capitals. But, beyond her cobble-stone adventures, she has a knack for pre-loved pieces (as her handle entails). "I came to love second-hand out of pure frugality," Farrell says, "as a student with a weekend job, even buying on the high street was pushing it." Farell soon discovered a second-hand goldmine, sourcing full looks for as low as 10 dollars. "It was a semi-lightbulb moment," she says, "I could find high-quality clothes I loved, that no one else had, for half nothing."
Her love affair with pre-loved first started when she bought her very first piece of second-hand clothing for a festival. "It was a raincoat with colour blocking and a bright yellow hood," she says. "While it was bought out of pure practicality, summer weather not being Ireland's strong suit, I developed a nostalgic attachment to it." After all, it was the piece that introduced Farrell to the world of vintage. "Unfortunately, my college roommate took a strong liking to it, and after some persuasion, it left my archive. But fortunately for the jacket, it went on to live another happy life."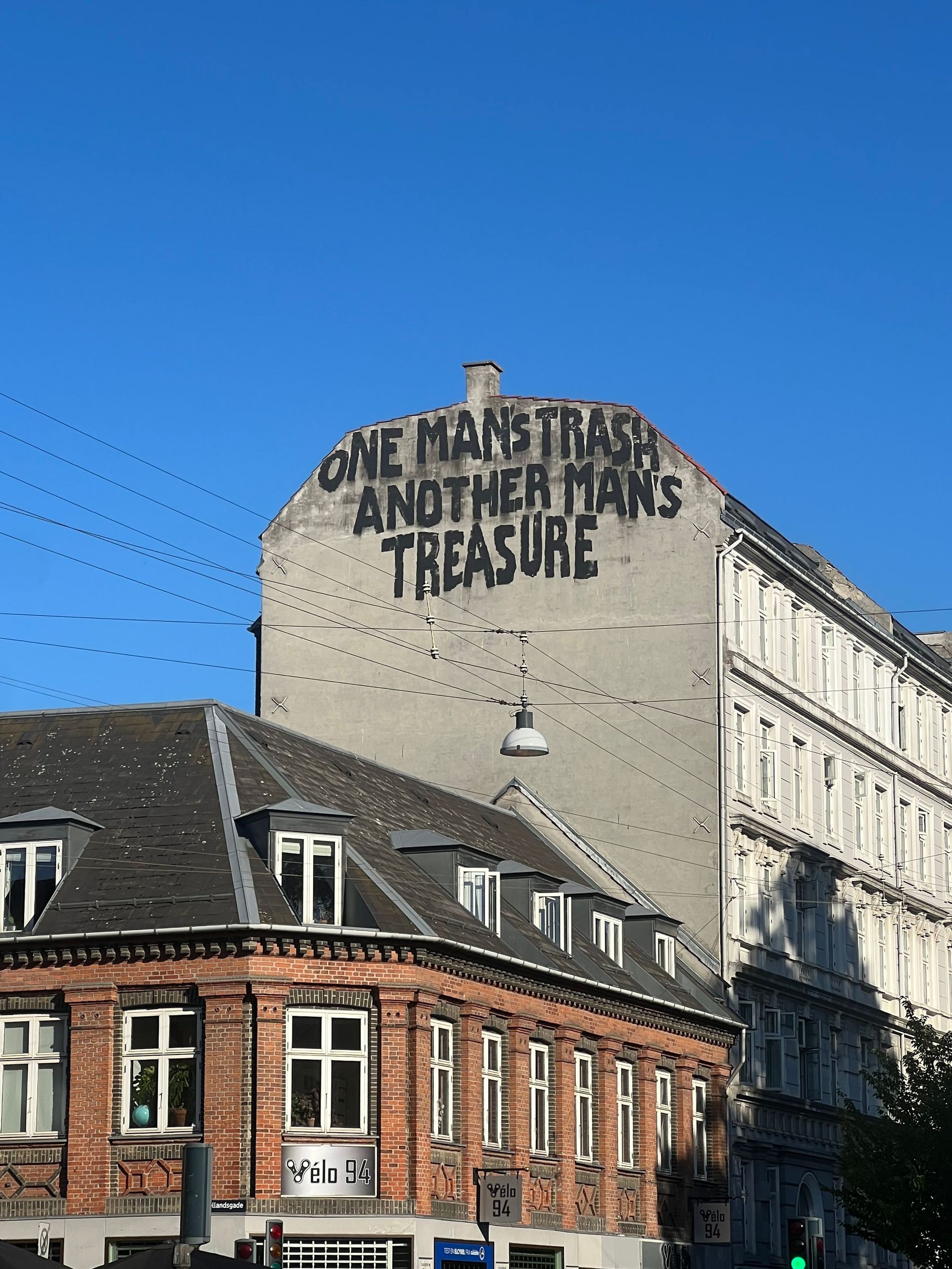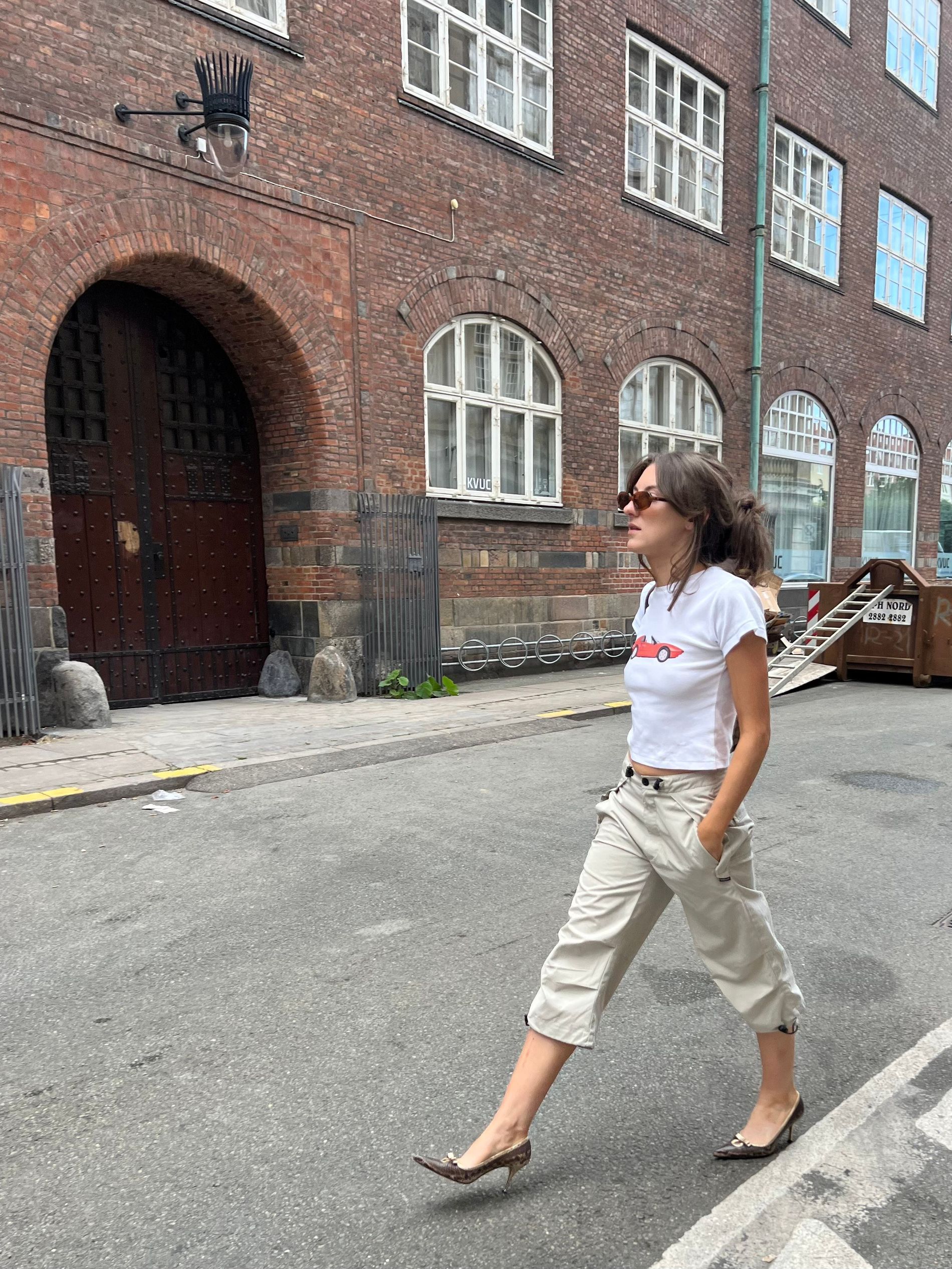 Like many of us, Farrell spent most of her 20s on an elusive hunt for the perfect pair of jeans. Well, more specifically, the perfect pair of Levi's 501. "For my 21st birthday, my sisters and I went to Budapest. They thought it was for the culture, but I knew it was for second-hand shopping." In fact, one of Farrell's favourite second-hand stores, Humana, is located in the city, with a monthly sale which often sees prices dropping as low as one euro. Lo and behold, hanging inconspicuously in the store: a pair of mid-wash, orange label, button-up 501s.
"Adrenaline set in when I realised I had just found the jeans of my dreams," she says. "I didn't need to try them on; I knew at first glance they were made for me." Described as her favourite ever find, Verona spent "two fabulous years in those jeans" before they were sadly stolen in a laundromat. "I put up posters around my block with a picture of the jeans as if I had lost my cat and spent the rest of my time suspicious of anyone in a similar pair."
As for finding those one-of-a-kind, keep-forever pieces, Verona's best tips are simple: when making second-hand purchases use the same purchasing logic you use when buying new items. "I learned the hard way to avoid buying something second-hand simply because it's cheap," she says. "Go into a thrift store with the same attitude you would at a regular sale. If you wouldn't buy it at full price, don't buy it!"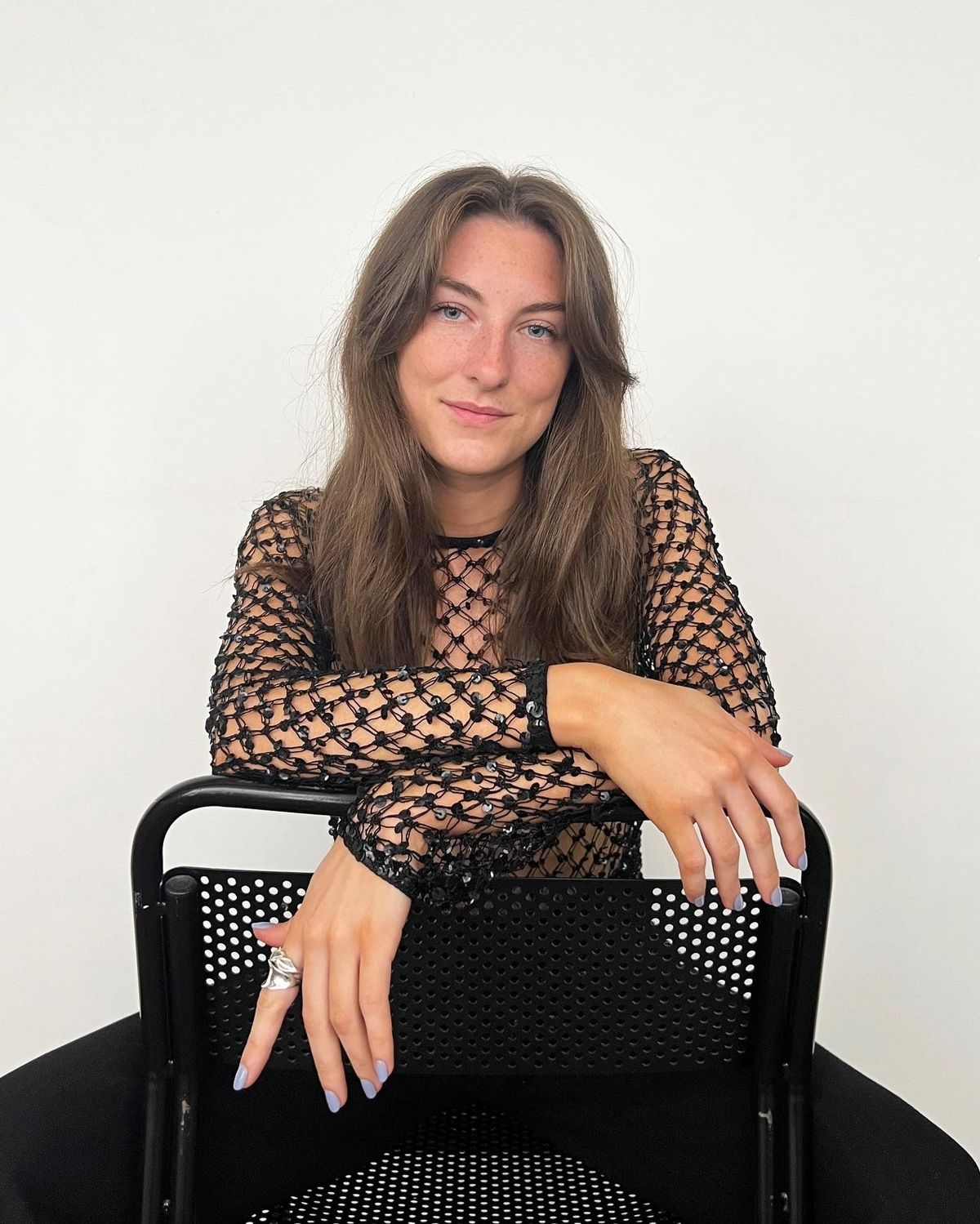 Verona Farrell, also known as Secondhandhun.
I learned the hard way to avoid buying something second-hand simply because it's cheap. Go into a thrift store with the same attitude you would at a regular sale. If you wouldn't buy it at full price, don't buy it!
Verona Farrell
Another thing to consider is that finding what you want second-hand demands more time than shopping new. And the thrill of the hunt is all part of the fun, too. "My best advice is to check out your local vintage stores regularly and to take the time to sift through everything in the store," she says. "It's all about being in the right store at the right time and really pulling your sleeves up to avoid missing any hidden treasures." And her final tip? Avoid busy city centres, instead opt for quieter areas with hard-to-find shops which will attract less shoppers. "The footfall is smaller, the environment is often calmer, and there are fewer secondhand-savvy shoppers to compete with," she says.
Originally from Ireland, Verona first moved to Sweden to study law at Lund. "I fell in love with the Nordics and never left," she says. However, when it came time to find work after graduation, Farrell couldn't fathom herself working in the field, so, instead, she took to fashion, moving to Copenhagen to pursue a new career. There, she quickly found the best spots for second-hand shopping. "Crush in Nørrebro and Prag in København K are great places to start," she says. "While the sheer amount of pieces can be a little overwhelming, these are the most well-known hot spots for second-hand. Today, Farrell is back in Stockholm working as a community manager for the new app Styles, founded by the H&M group, but she still views Copenhagen as a hard-to-beat second-hand haven.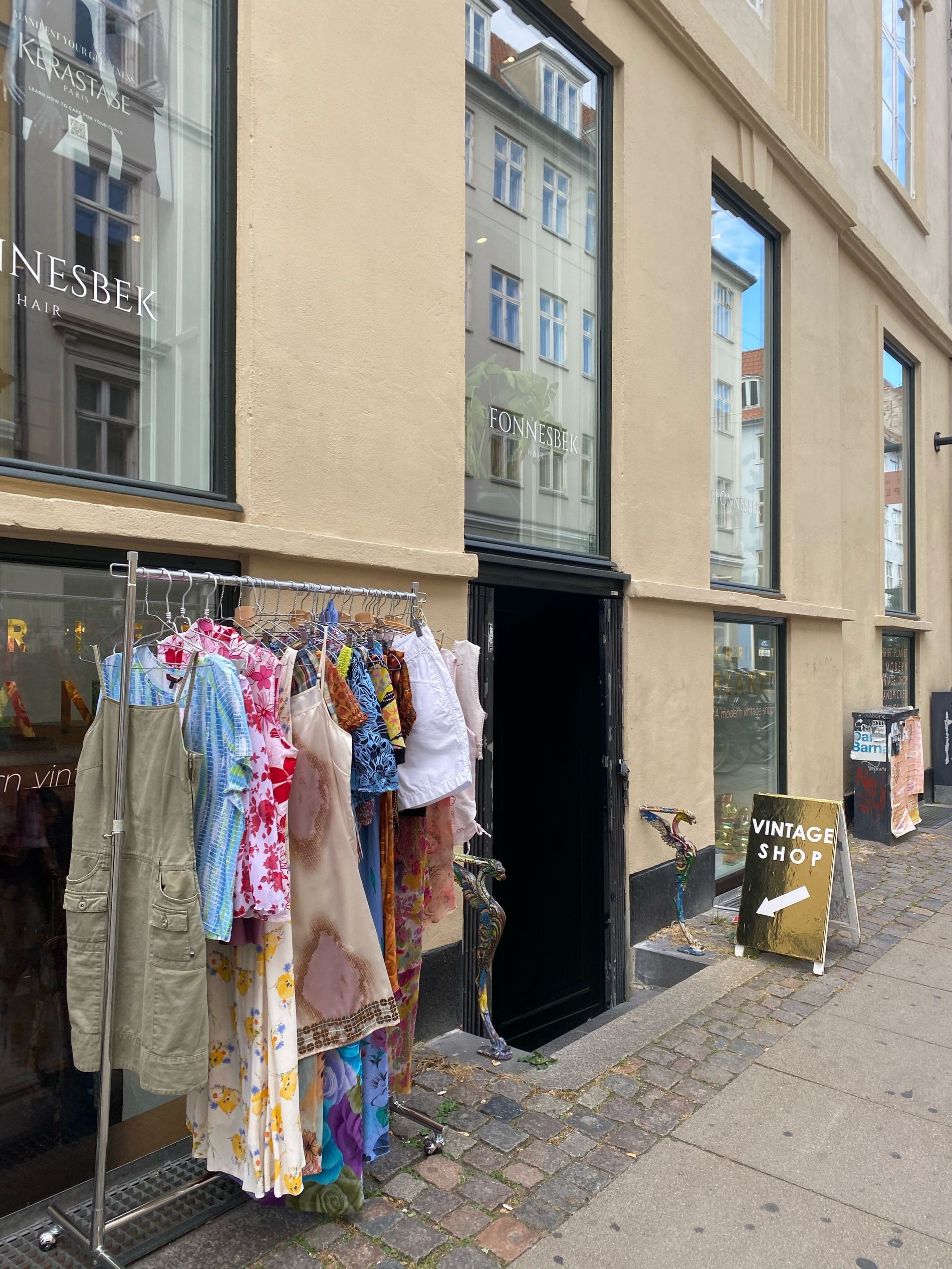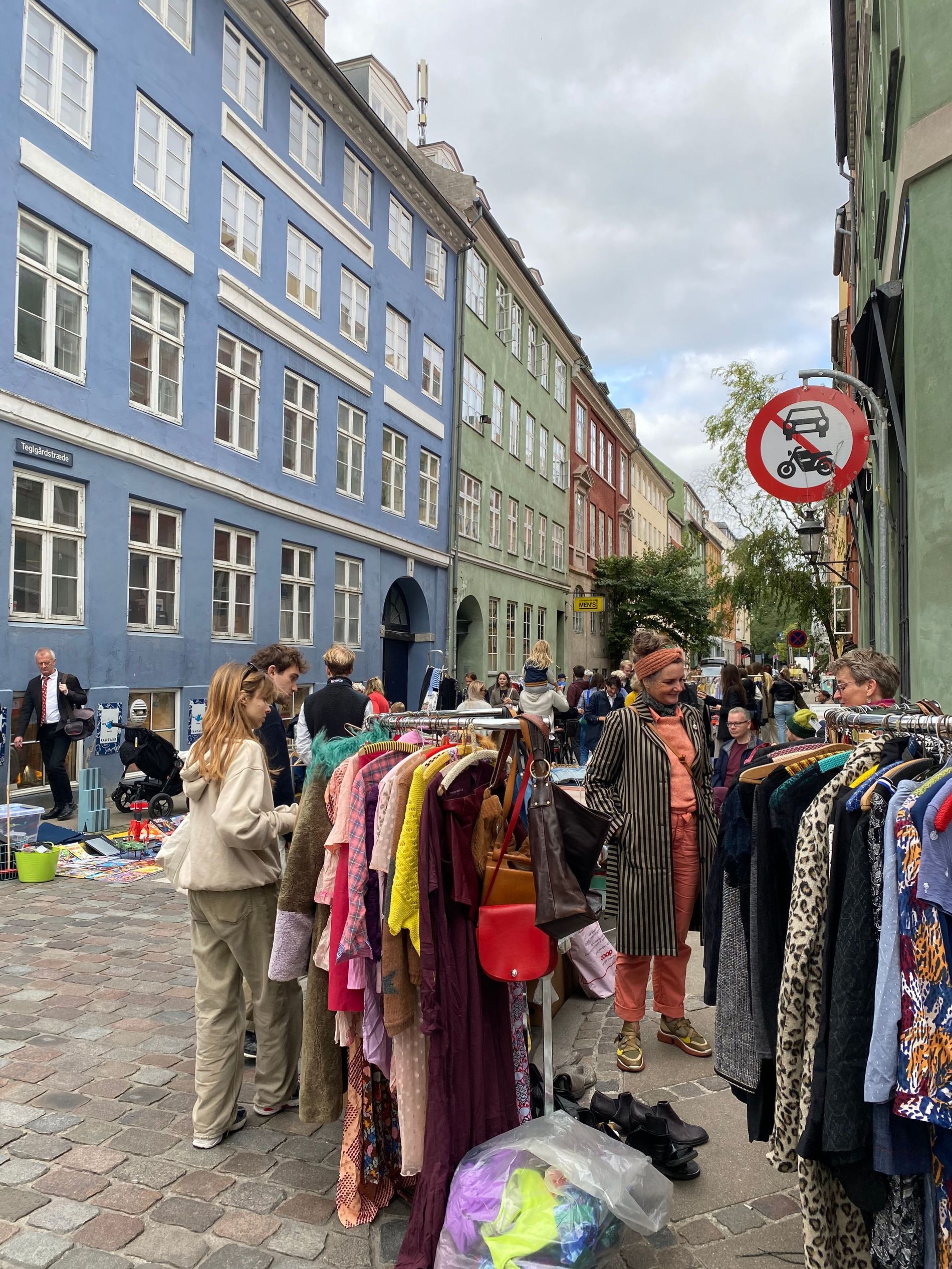 While vintage shops are great, the city's flea markets are what make Copenhagen the best city for thrifting, according to Farrell. "No middleman, just cool Copenhageners selling their old – but gold – pieces for nothing. If you're coming from outside the country, my top tip is to make sure to bring cash as the locals usually just accept Danish mobile pay." But if you're seeking a more curated experience, Farrell suggests trying out Time's Up Vintage in Kobenhavn K, or if interiors are more your calling, Lopgun Kobenhavn V is an easily missed little nook in the super fashionable area of Vesterbro, with its "super unusual lamps, chairs and small household trinkets."
Below, find Verona's favourite Copenhagen markets:
Vera's Market
"Vera's market is run by Vera's Vintage, a cosy secondhand store in the city. They organise their very own flea markets and invite the public to set up shop, both in Copenhagen and in Aarhus. Because it's fewer vintage pop-ups and more private people clearing out wardrobes, you can find some great bargains. For example, on my latest trip, I hauled my hungover head out of bed and picked up a pair of COS cargo trousers and a pair of Nike Pegasus runners for under 300 SEK."
Bispeengen 12 in Frederiksberg
The Green Market
"Happening every second Sunday, this one is harder to catch if you're only there for the weekend, but now I would go as far as to co-ordinate my visits around this market alone. You could easily make a day out of this one, between the outfit-spotting and the pieces. The last time I went, I picked up a perfect pair of classic black cowboy boots, a pair of New Balance and a bottle of my go-to perfume for around 200 SEK."
Saturday Loppemarked
"While this one is usually better for small furniture and knick-knacks, there is always a good few stands with clothes and last time I went, I managed to pick up two pairs of shoes for 100 SEK."
Every Saturday at Frederiksberg, Bredegade 2000