Piaget's latest exploration into high jewellery takes shape in the form of "Metaphoria", a shining 52-piece collection inspired by the unmatched metaphors of nature's transformations
Drawing on its signature style of experimentation, innovation and joy, Piaget's 'Metaphoria' builds on the brand's prolific creativity while capturing the essence of nature with its renowned savoir-faire.
Far from limiting itself to a purely figurative interpretation of nature, rarely seen at Piaget, the Maison has "selected the most emblematic elements of nature: the living energy of oceans, mountains and forests," explains the brand's creative director, Stéphanie Sivrière. "Our goal was to emphasise details that call to mind natural phenomena, such as the flow of a waterfall or the rays of the sun, while inspiring a particular emotion."
Sivière attributes the collection's innovative, unpredictable take on 21st-century high jewellery to the materials used, "from insect elytra to precious wood." Highlighting that these contrasting materials were intentionally chosen to play with form, fluidity and asymmetry, Sivière explains that the sublime gemstones incorporated were part of an "unquenchable pursuit of perfection."
Below, explore the key pieces and themes in Piaget's 'Metaphoria' collection:
Aquatic wonders
Dubbed by Piaget as an icon of the 'Metaphoria' collection, this Mineralis set feels reminiscent of fluid, natural waters from rushing rivers to crashing waves. The asymmetrical necklace is crafted from the gemstones of diamonds, sapphires, aquamarine and rock crystal. Featuring an eye-catching 13.25-carat cut aquamarine centre surrounded by trickling blue sapphires, this piece captures the awe-inspiring beauty of the natural aquatic world.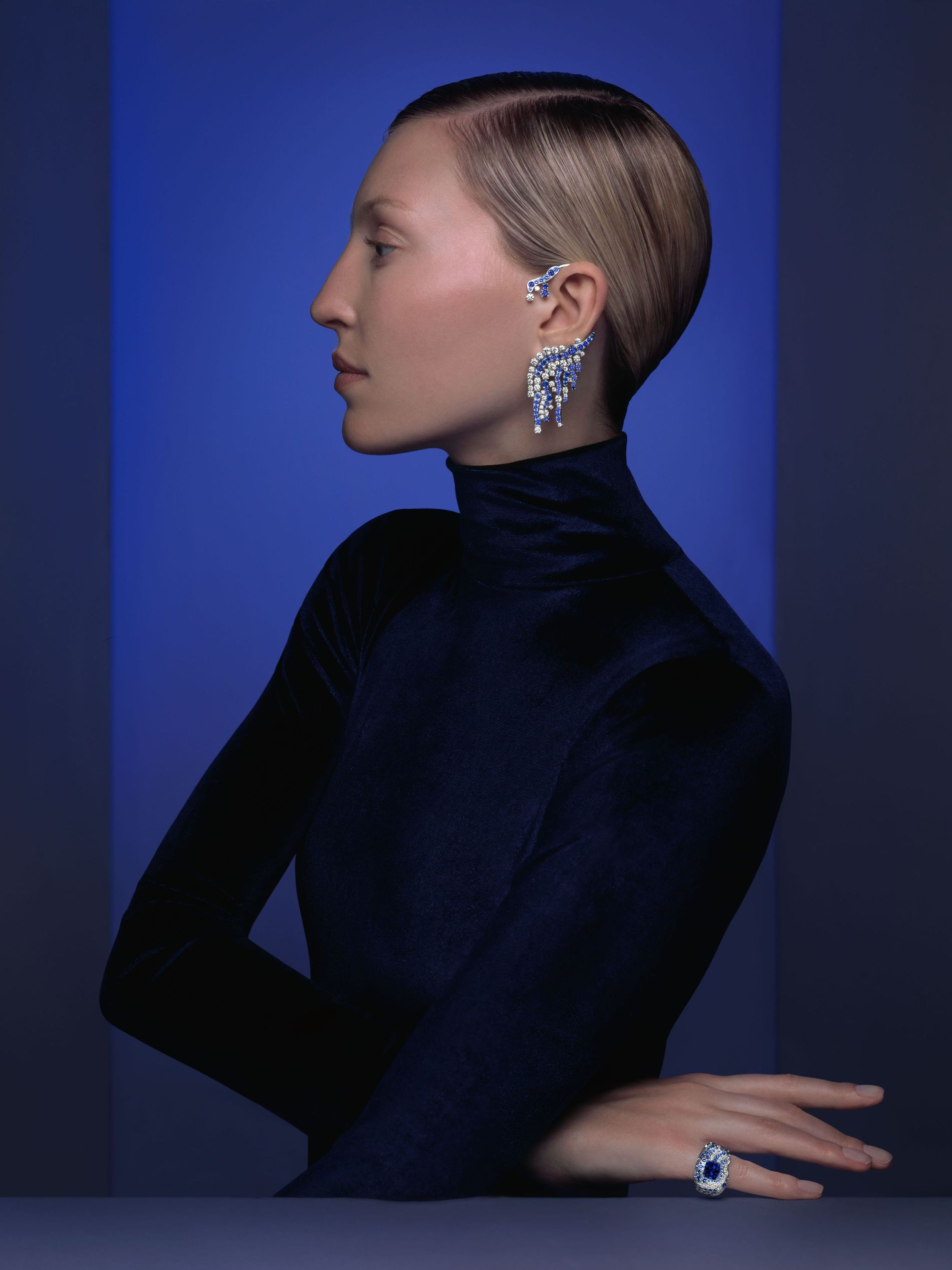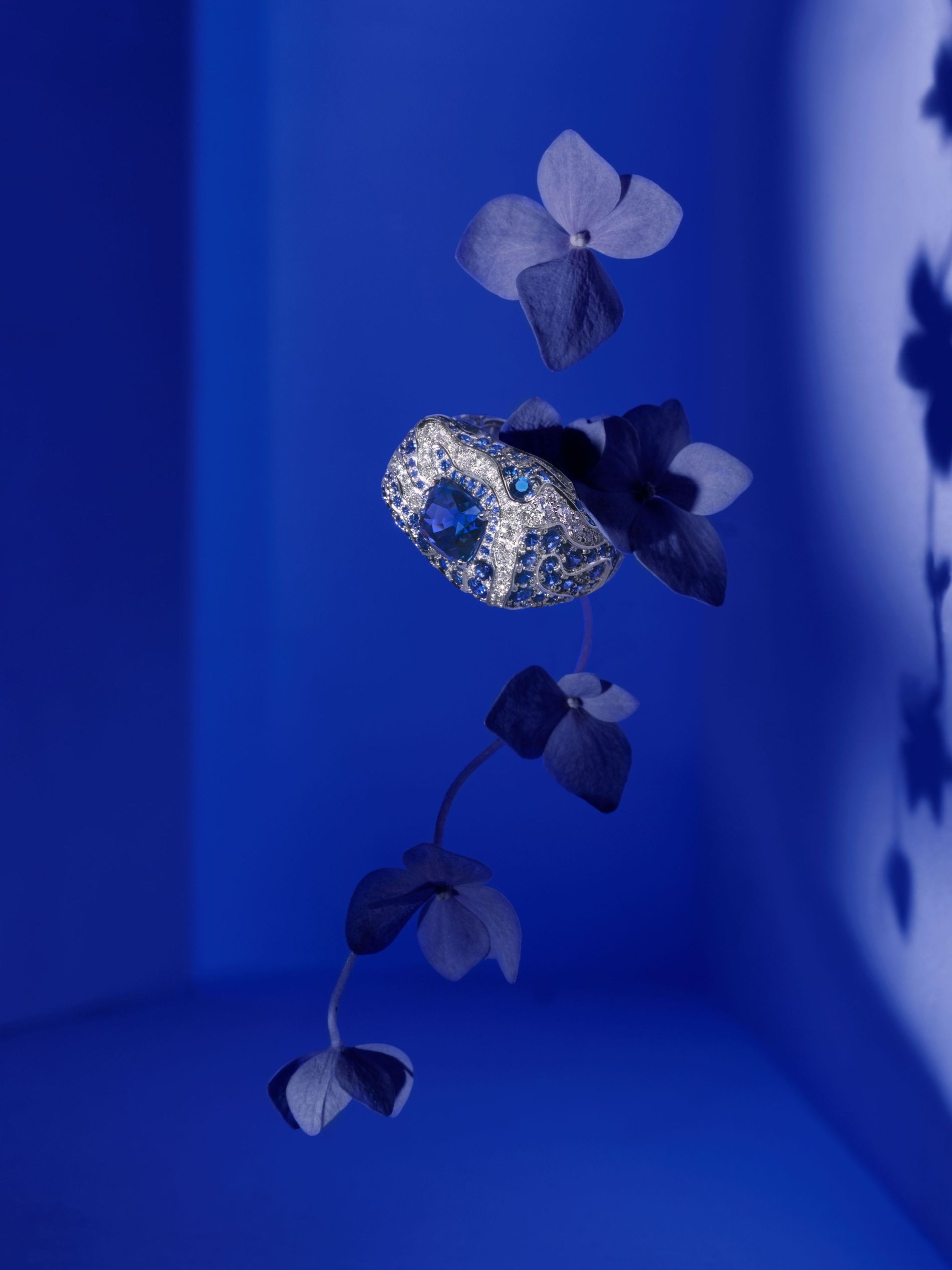 Frosty finishes
The Aqua set continues the aquatic theme permeating the collection – but in icicle form. The crisp jewels convey the pointy precision of ice formations and the effortless, perfect intricacy of snowflakes. The collar necklace pairs aquamarine with an unlikely partner of Akoya pearls and diamonds, showcasing cerulean pear-shaped aquamarine stones as droplets. All marrying together to signify the shapeshifting nature of the elements. Piaget also unveils its hidden "Adrviea" watch, a blue time-keeping ring. Featuring a shimmering diamond dial, blue sapphires and other shining stones, this oversized ring has both functional practicality and extraordinary design.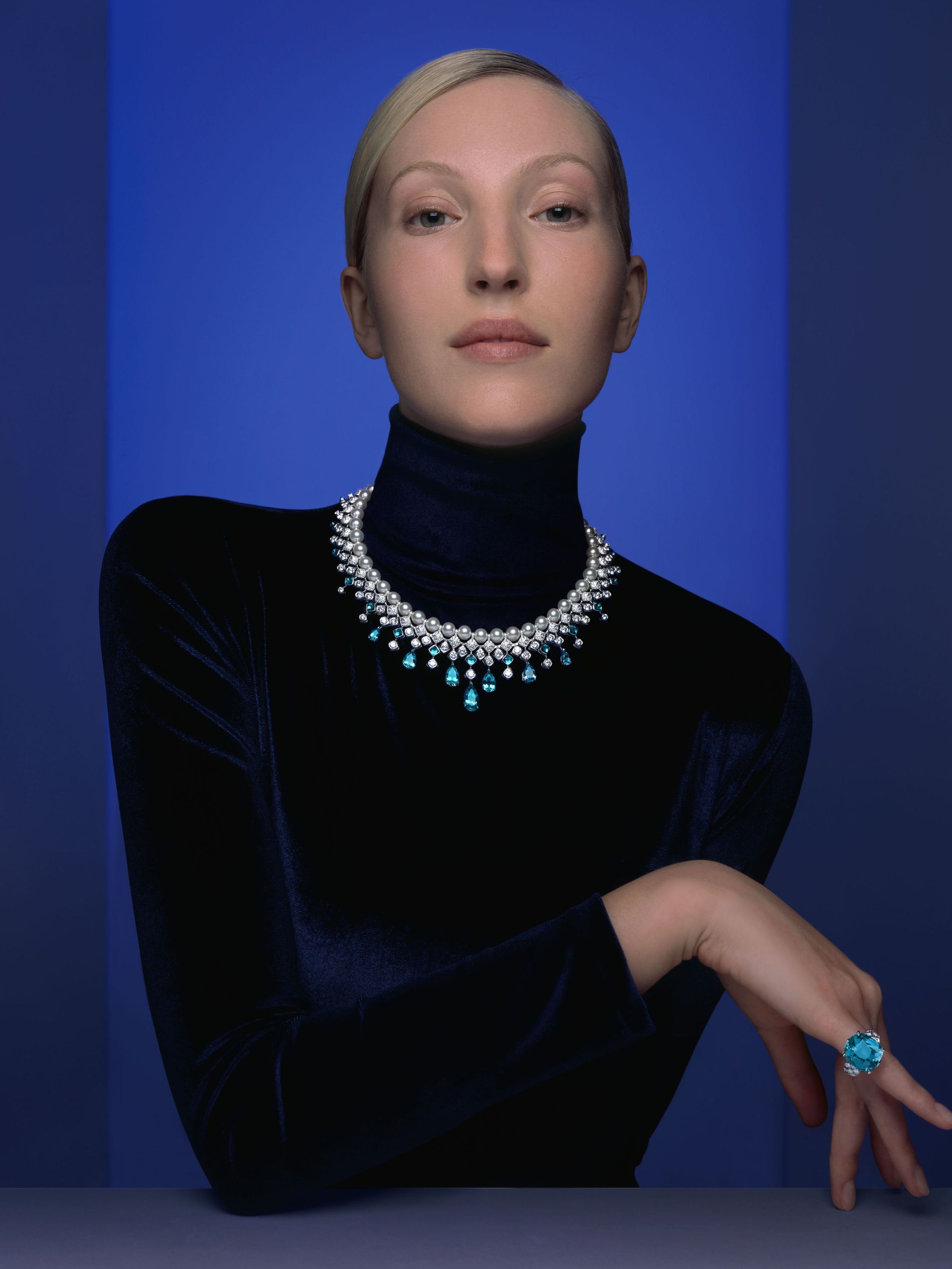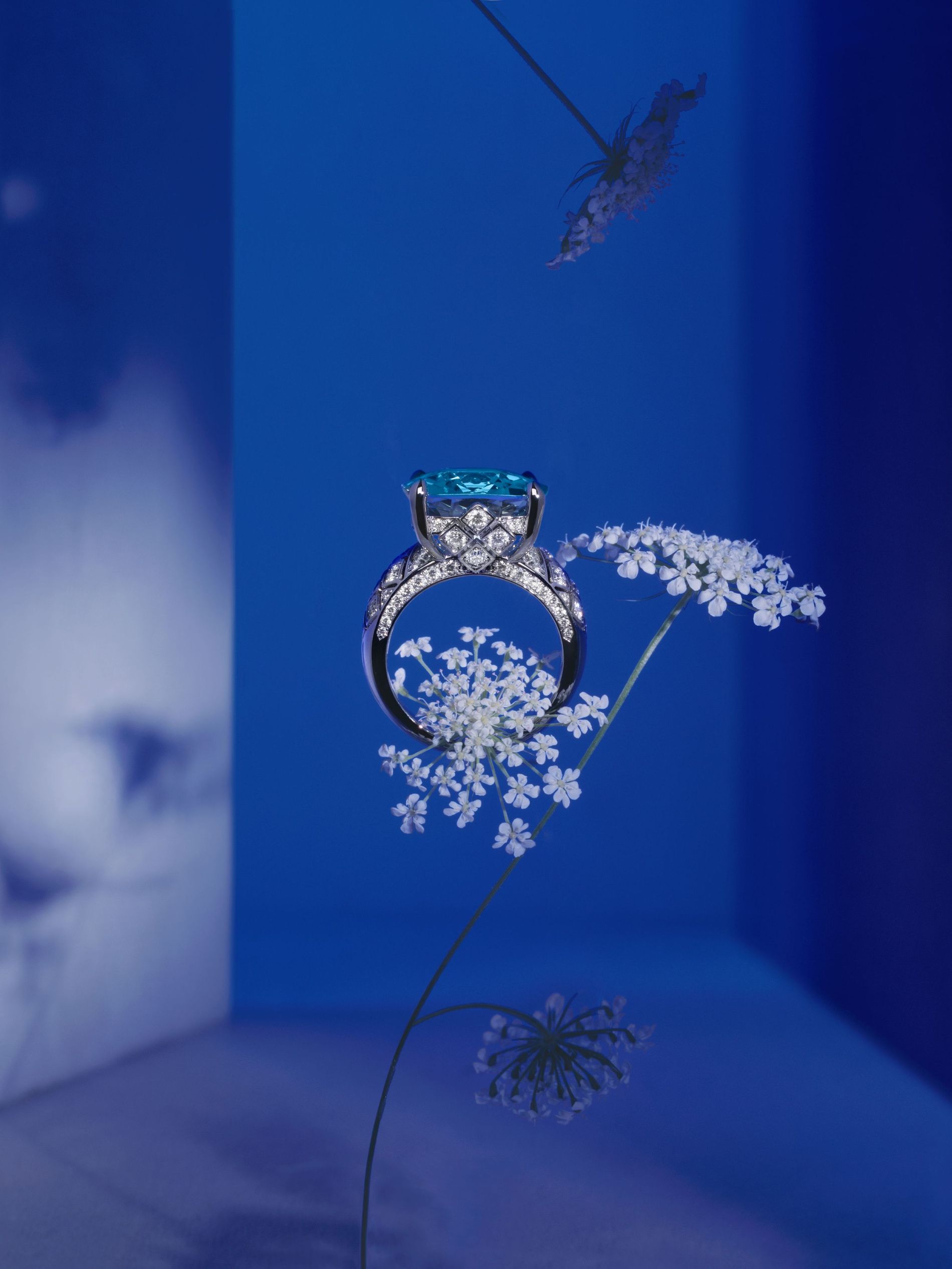 Gleaming mixed golds
Here, the 'Alata' piece, featuring gilded foliage, is inspired by the seasonal transitions of nature. The gold details represent summer greens turning into orange fallen leaves. However, in the elevated Piaget style, the leaves are rendered in gold, detailed by mother-of-pearl diamonds. The "ear cuff" is a standout golden piece embellished with 2.23-carat diamonds.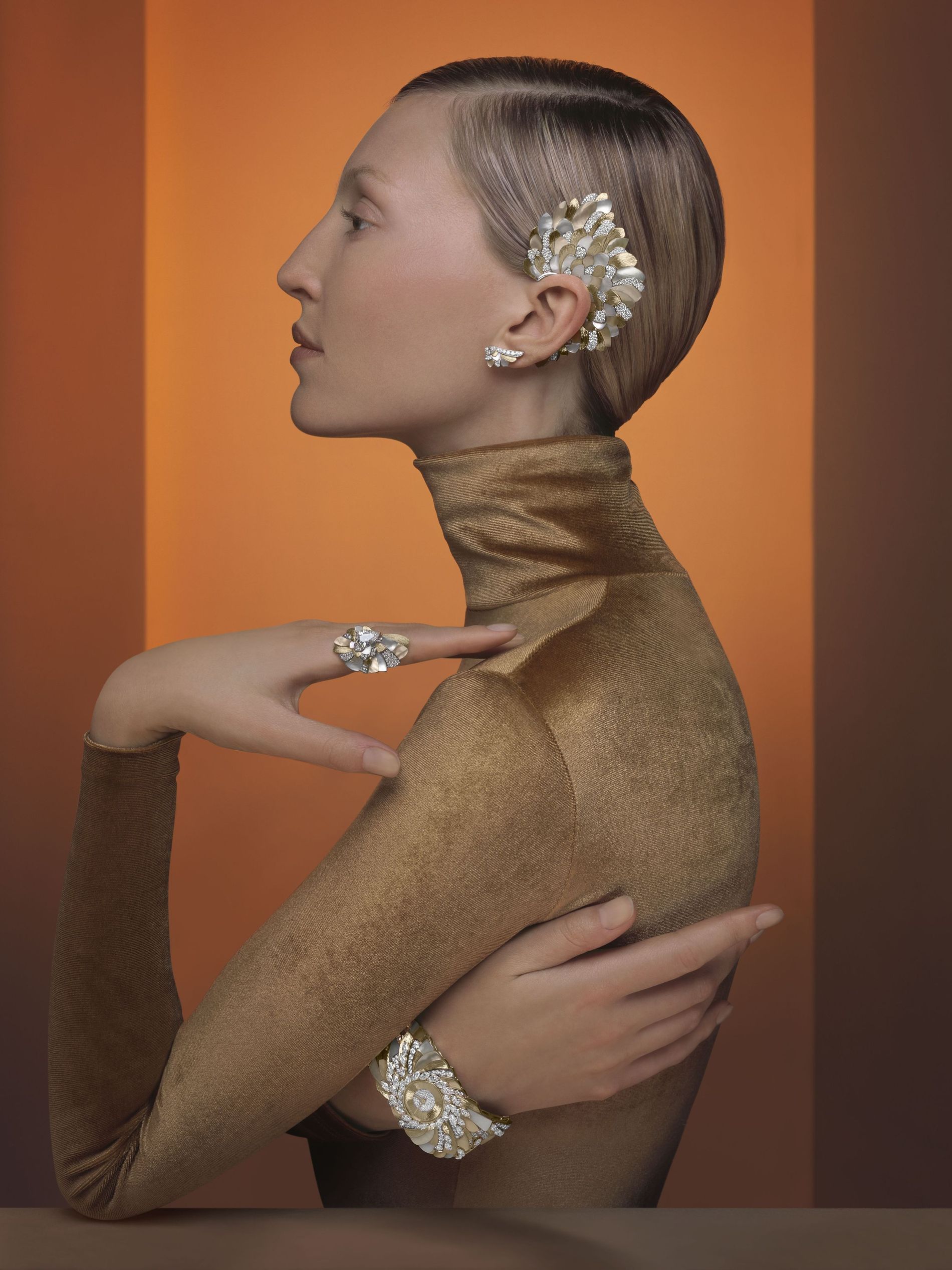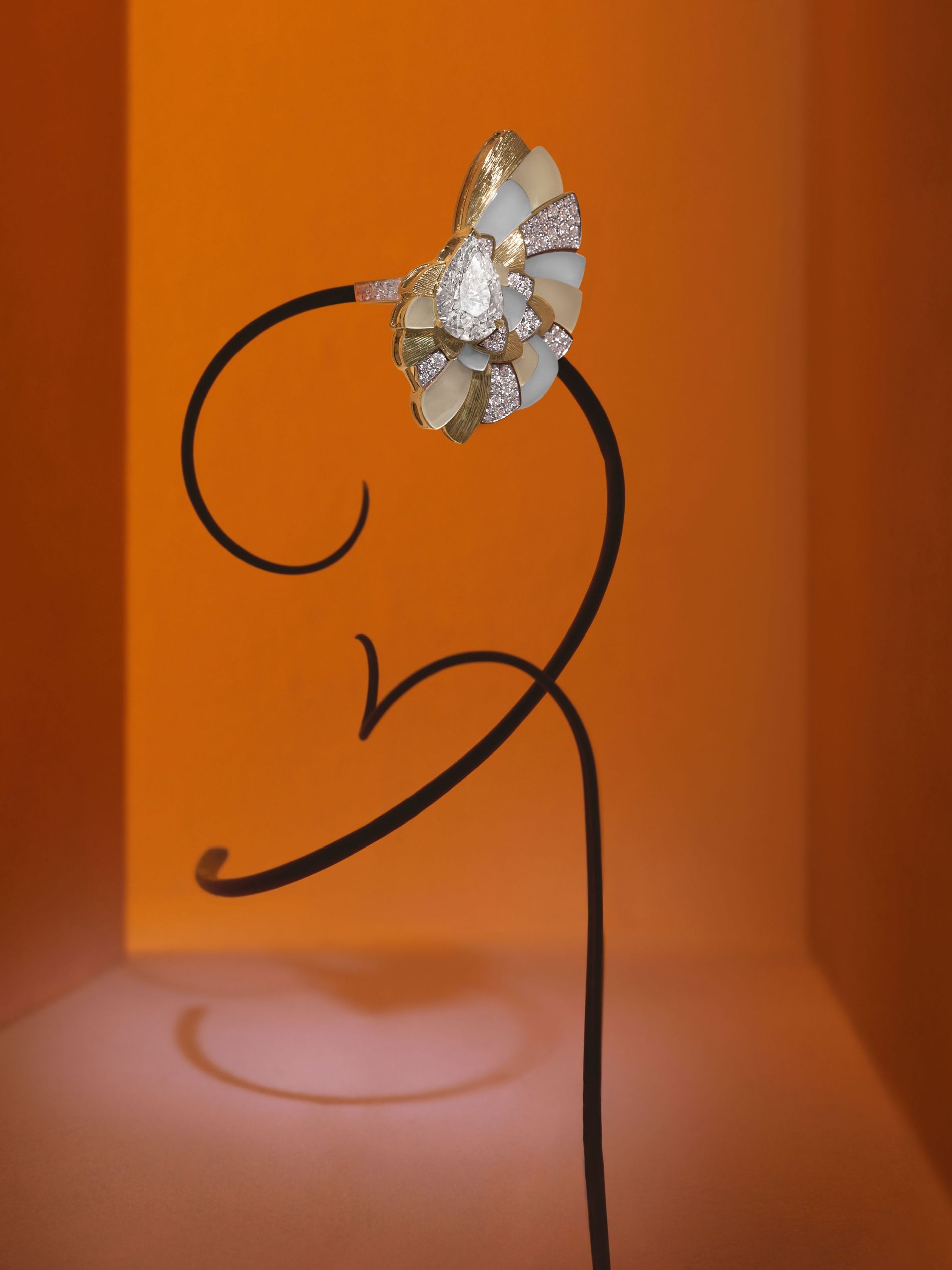 Elevated emeralds
Mirroring the interwoven movements of lustrous green branches, the 'Foliatura' pieces blend emerald-stylised leaves with intertwining diamonds on top of engraved gold. The watch and jewellery set carries 6.59 carats worth of Colombian emeralds, adding a rich depth of colour found within lush natural landscapes.