With its latest High Jewellery collection,'Le Voyage Recommencé, Cartier presents 80 never-before-seen pieces, inviting us to embark on an inspirational journey through the brand's unparalleled savoir-faire
Cartier embarks on a new journey with its latest High Jewellery collection, offering a fresh perspective on the French Maison's fundamentals and signatures. "This collection is a great opportunity to delve into the essential themes of the Cartier style," says Jacqueline Karachi, director of high jewellery creation at Cartier. "To explore them in greater depth, take a fresh look at them, nurtured by the spirit of time. Approaching them with a contemporary eye to go further."
With curiosity at their core, Cartier's craftsmen and designers approached the creative process for this collection with perpetual momentum. Meanwhile, their expert knowledge propelled them to explore new horizons and delve into the heart of Cartier's stylistic domains. Karachi describes it as "a journey back to the heart of Cartier creation, an uninterrupted story being told over time."
Below, explore the key pieces and themes in Cartier's Le Voyage Recommencé collection: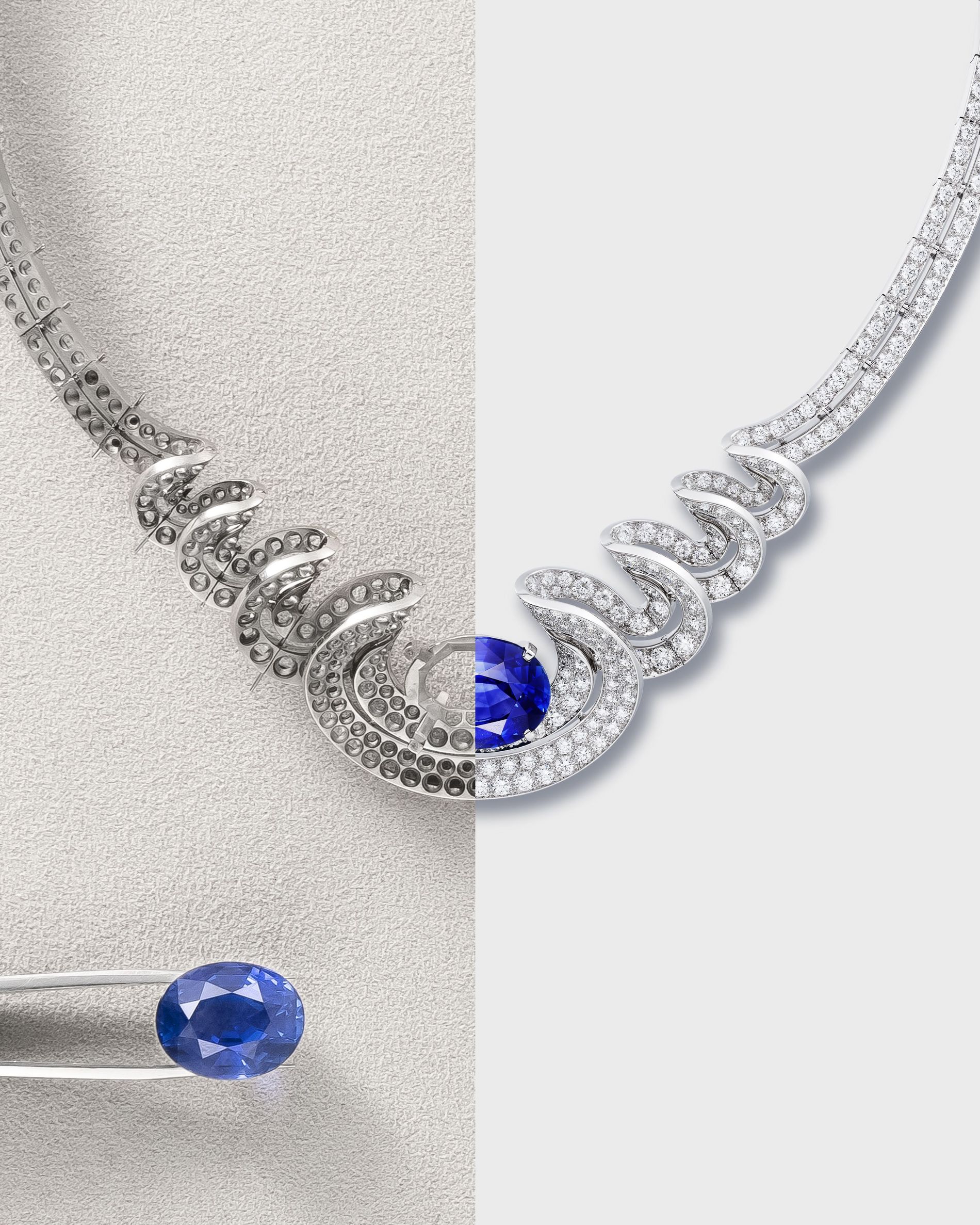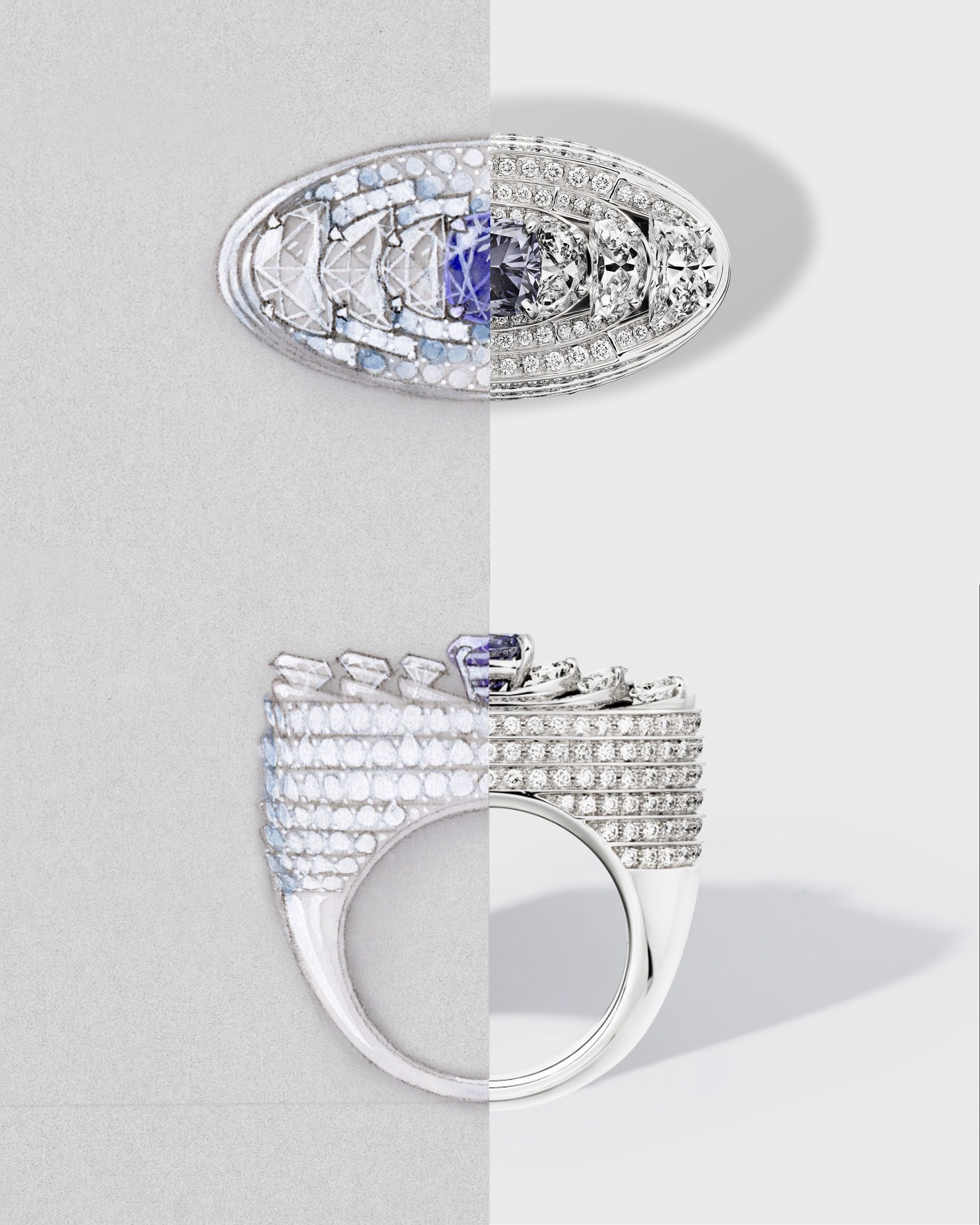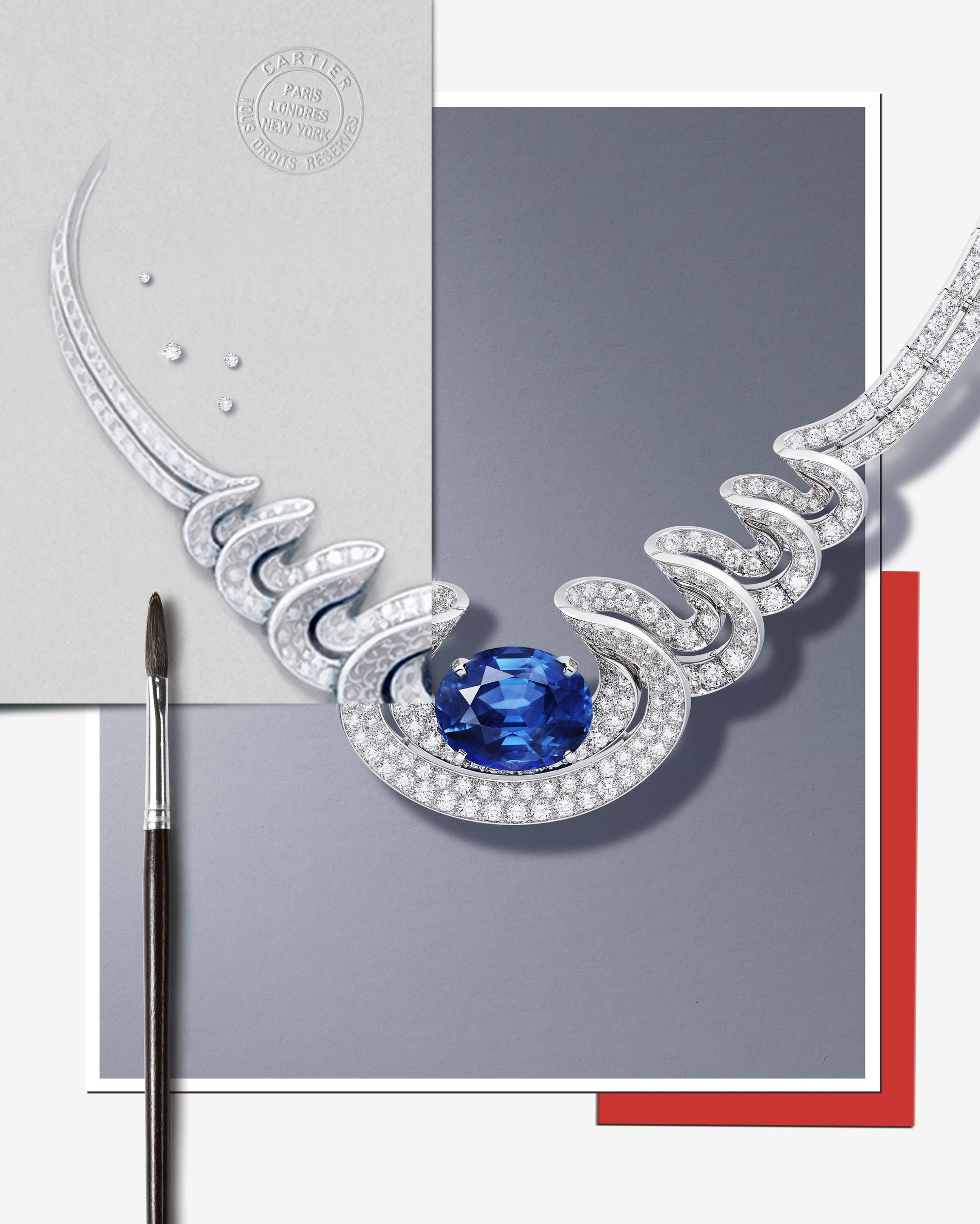 The purity of lines and structures of light
At Cartier, every creation revolves around the purity of lines, the balance of shapes and volumes, and the play of proportions to achieve the absolute harmony of each piece. The Sama necklace, with its swirling curves and counter-curves, for instance, showcases a mesmerising composition inspired by the whirling dervishes of Turkey and Persia. In the Ondule ring, on the other hand, Cartier demonstrates its reverence for precious stones. A remarkable rare grey-violet diamond takes centre stage, surrounded by half-moon stones assembled to resemble a vortex of light, crafted to spotlight the central stone.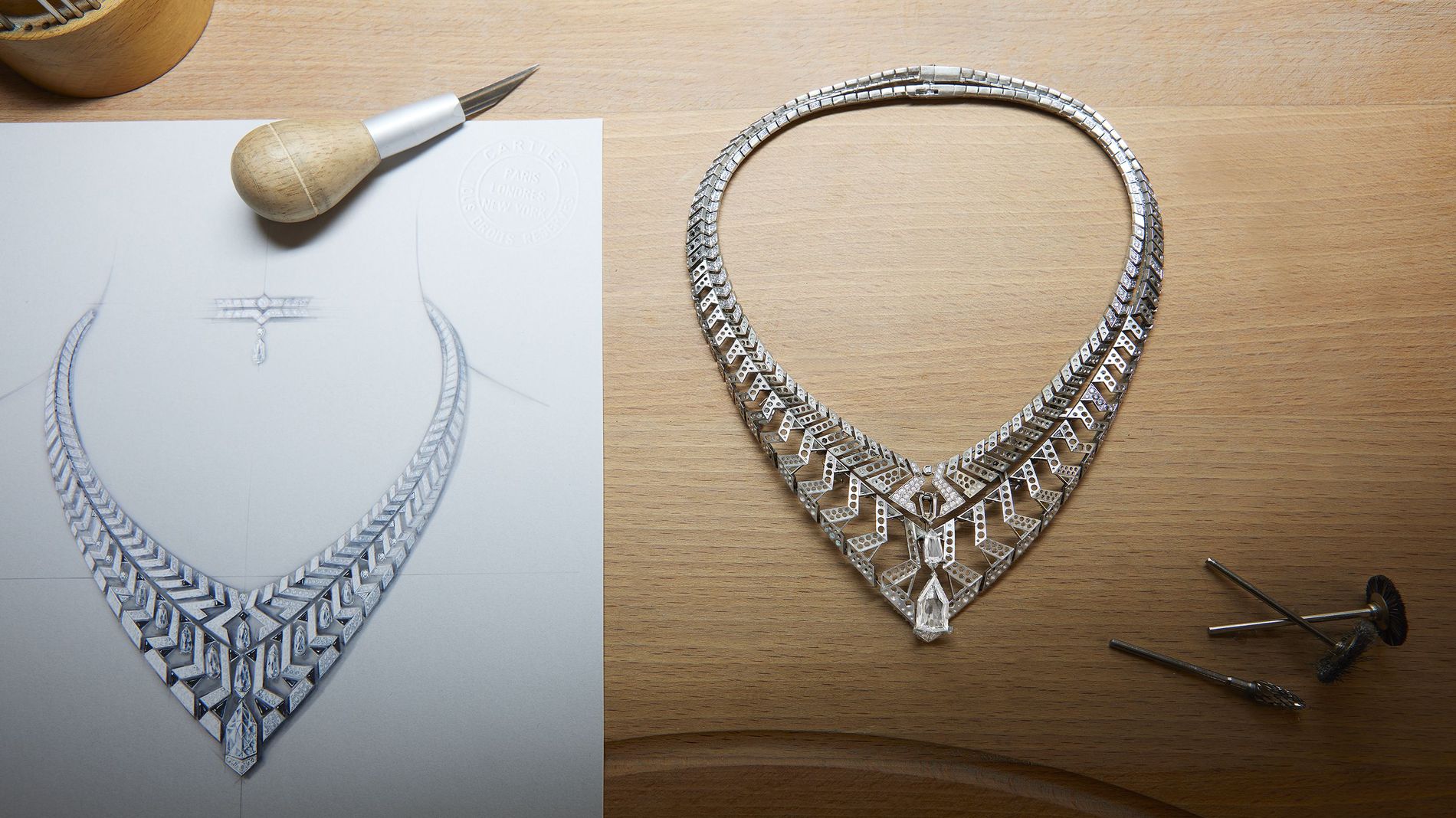 Precious Geometry and Contrast:
Geometry and contrast are essential elements that define the Cartier style. In the Calustra necklace, a complex structure composed of broken lines along a set of shield diamonds – onyx alternating with openwork and diamonds – creates a dynamic and ever-evolving contrast. This transformable piece is an ambitious technical achievement, seamlessly combining black and white elements, which have been a Cartier signature since the early 20th century.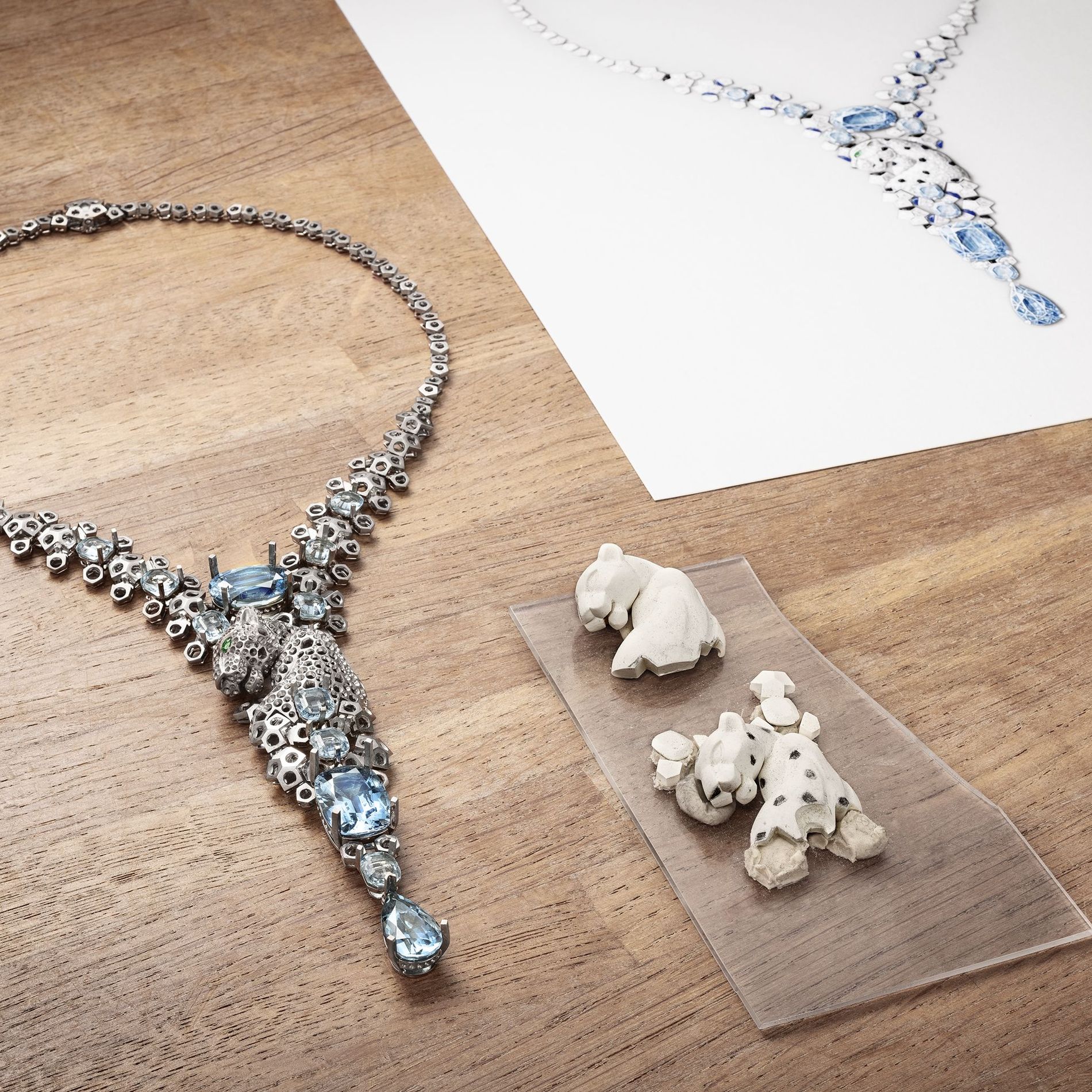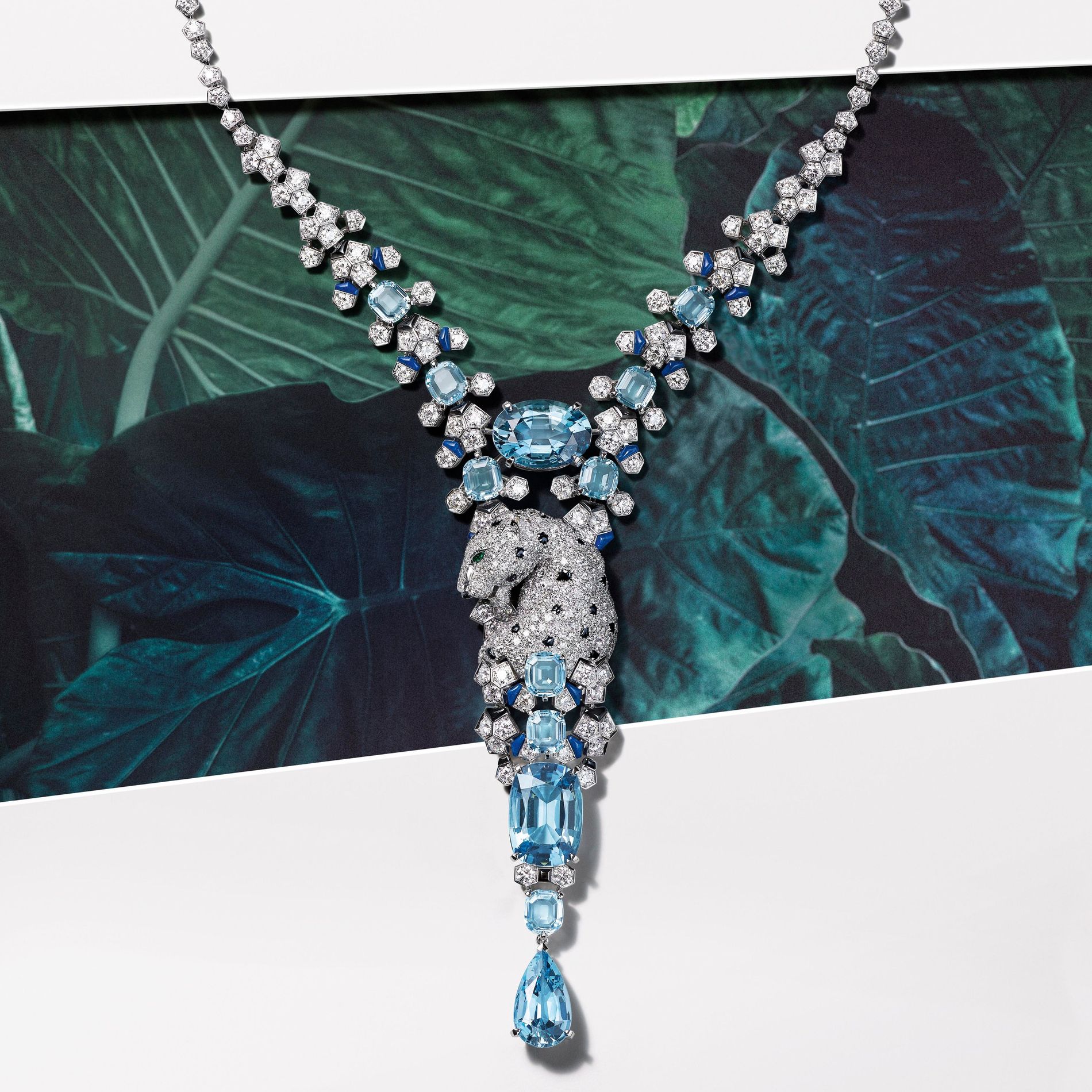 Nature through Cartier's lens
Cartier's representation of nature ranges from hyper-realism to stylisation and abstraction, capturing the creative tension between these facets. The Panthère Givrée necklace epitomises this interplay. The feline's head, realistically depicted with almond-shaped emerald eyes, combines with a pixelated coat composed of geometric shapes and onyx spots. A set of three powerful aquamarines adds a chromatic intensity to the composition, while the lapis lazuli touch accentuates the contrast.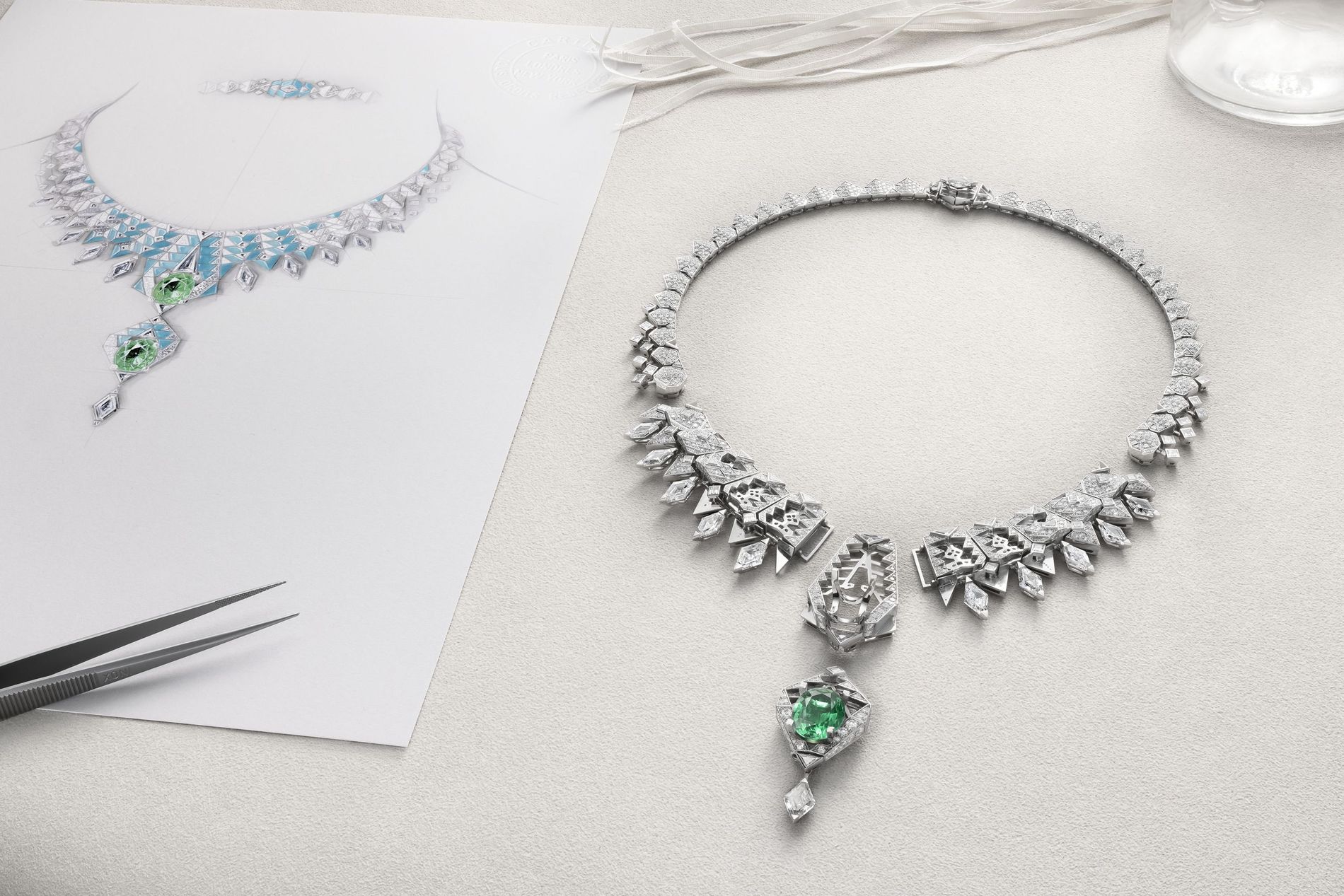 A Celebration of World Jewellery:
In 1903, Louis Cartier discovered the "Islamic arts" exhibition at the Musée des Arts Décoratifs in Paris. Geometric motifs, interplays of lines and arabesques became part of the Maison's repertoire, reflecting its taste for stylised forms and abstraction – the world and its diverse cultures are, as such, deeply rooted in the Maison's legacy. Take the Girih necklace, for instance. Refined and graphic, it harmonises emeralds from Zambia and lapidary-cut turquoises, creating an intense visual experience in homage to Islamic art and architecture.