'Tis the season for sparkle and glitz, so grab the glitter pot and add a little more shimmer into your festive look this year
All products featured on Vogue are independently selected by our editors. However, when you buy something through our retail links, we may earn an affiliate commission.
When it comes to party season, there is no makeup aesthetic more quintessential than glitter. Whether you opt for actual glitter chunks on the eyes and in your nail polish, or a hint of light-reflecting sheen on the high points of your face, there is no time of year quite like Christmas and New Year to channel a human disco ball.
Better still, there's no shortage of inspiration out there. We're particularly enamoured with celebrity makeup artist Patrick Ta's, Euphoria-esque glitter cut crease that he created for supermodel Gigi Hadid. A neutral peachy hue of eyeshadow, black eyeliner on the waterline of the upper lid and false lashes let the smattering of white, pink and burgundy gems do the talking, while a swipe of red lipstick pulls the look together.
Indeed glittery eyes are set to be a key makeup look for SS23, so you'll already be ahead of the curve for next season. At Tory Burch, models' eyes were dripping with chunky silver glitter while at Peter Do, glitter-covered eyebrows artfully bridged the gap between punk and princess.
Proof, if any were needed, that the glitter trend is here to stay.
There are just two caveats. For starters, always choose biodegradable glitter – something that is thankfully much less of a mission these days than a few years ago. Cambridge researchers have developed a sustainable, plastic-free glitter for use in the cosmetics industry – made from the cellulose found in the cell walls of plants, fruits, vegetables and wood pulp.
"Conventional pigments, like your everyday glitter, are not produced sustainably," says Professor Silvia Vignolini from Cambridge's Yusuf Hamied Department of Chemistry on the University's website. "They get into the soil, the ocean and contribute to an overall level of pollution. Consumers are starting to realise that while glitters are fun, they also have real environmental harms."
Meanwhile, Lush was one of the first to pioneer the use of synthetic fluorphlogopite (also known as synthetic mica), which despite being synthesised in a laboratory, is made from natural minerals and doesn't compromise on sparkle. Another benefit is that unlike natural mica, which has jagged edges, synthetic mica is smooth allowing you to play with bolder colours and more high-shine finishes.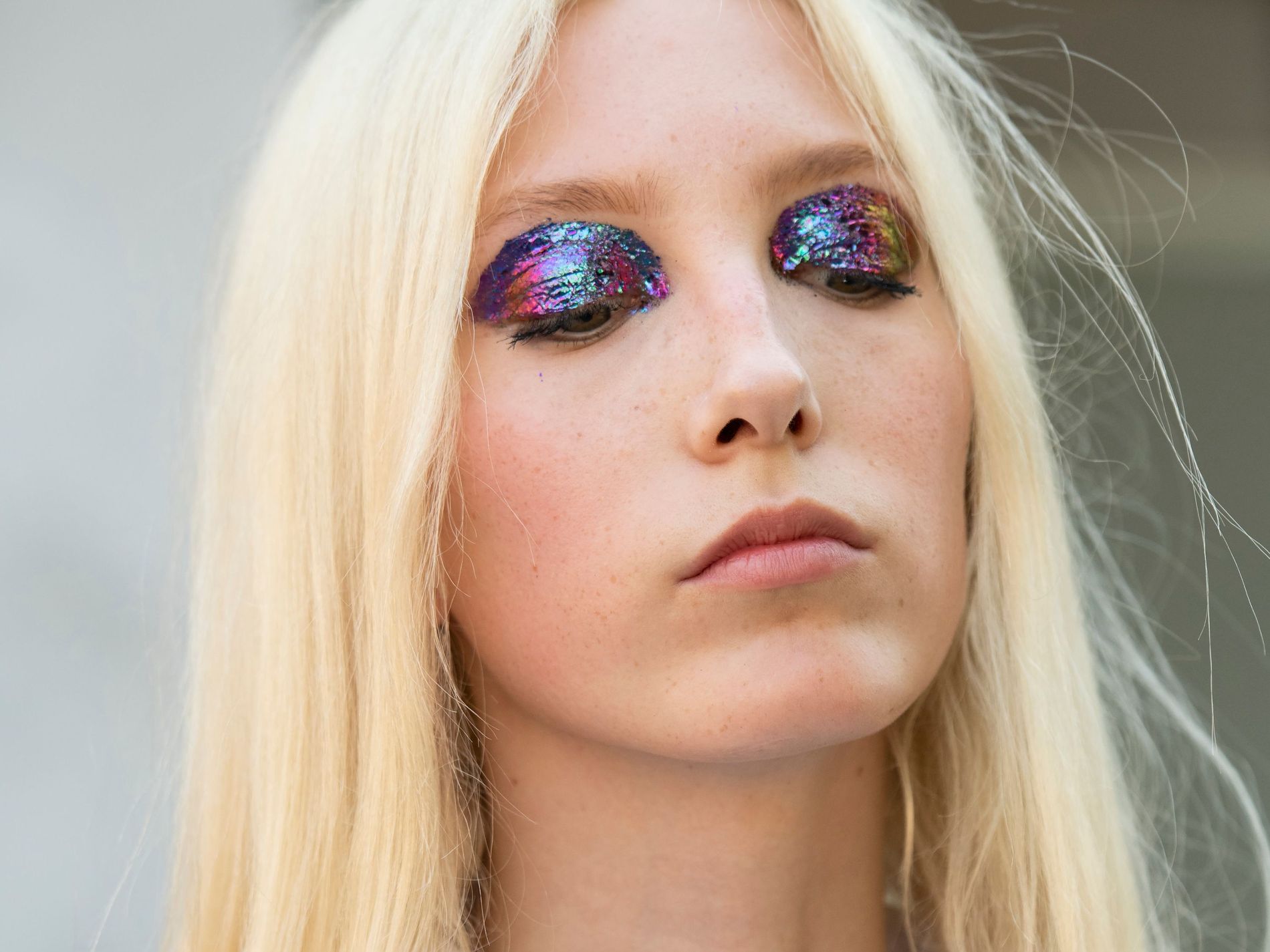 Getty.
The second caveat, is to always apply glitter to the eyes before the rest of your makeup. That way, "you can simply wipe it off your cheeks," says makeup artist Wendy Rowe, "but if your face is fully made up, the flecks can settle in your foundation."
There's also a fool-proof sequence to follow when creating a glitter eye. Makeup artist Isamaya Ffrench, when explaining how she created her infamous '60s glitter eye for Halpern's SS19's show, said at the time, that you should always draw your eyeliner on first, "apply gloss, then press on a double layer of glitter."
When in doubt, try one of the latest raft of glitter kohl and liquid eyeliners, which raise your game without taking you completely out of your comfort zone. The Urban Decay 24/7 Eye Pencil is a classic for a reason: its soft glide over the skin and high impact finish. Victoria Beckham's new Satin Kajal Jewel Liner comes in silver, khaki and gold to suit all eye colours. While Byredo's Les Icones Make Up Gift Set comes complete with mascara, lipstick, glittery Colour Stick and the iconic Eyeshadow 5 Colours, which delivers a foil-like finish.
For maximum impact, team a glitter eye with party nails. For Christmas, Chanel has launched Le Vernis Longer Nail Colour in 963 Super Luxe, which deposits a subtle golden shimmer to nail beds and looks equally impressive when worn alone or over the top of a metallic polish.
---
Best glitters for the party season