Red lipstick is a classic colour choice and elevates a look – that's perhaps why it's a favourite time after time. We asked makeup artists to reveal their secrets for finding the perfect hue, plus how to give it staying power
All products featured on Vogue are independently selected by our editors. However, when you buy something through our retail links, we may earn an affiliate commission.
There's something about a mouth decked out in red lipstick that transcends time and trends. A slash of crimson makes you feel like a more self-assured version of yourself and somehow makes the wearer appear larger than life. And whether you choose to lean on a matte, high-shine or satin finish; accessorise it with a little black dress or, simply, a pair of jeans, the transformative effect is the same.
Still, finding just the right shade of red remains a makeup white whale for some of us, but that doesn't mean you should skip it. "Everyone can wear red lipstick, you just have to find your perfect tone and texture," reassures Rachel Hardie, lead artist at NARS.
But before diving into shades, it's worth first considering the condition of your pout. Lipstick wears better on smooth, well-hydrated lips so if they're cracked or flaking, apply a lip scrub first. It's a trick makeup artist Zoe Taylor swears by when working with models on set, so much so that she created her own line of lip products. Front and centre is the Tinker Taylor Lip Scrub with sugar granules suspended in oil, which Taylor recommends you "rub in a circular motion over the lips for around 20 seconds, paying special attention to any dry areas."
Everyone can wear red lipstick, you just have to find your perfect tone and texture
Rachel Hardie, lead artist at NARS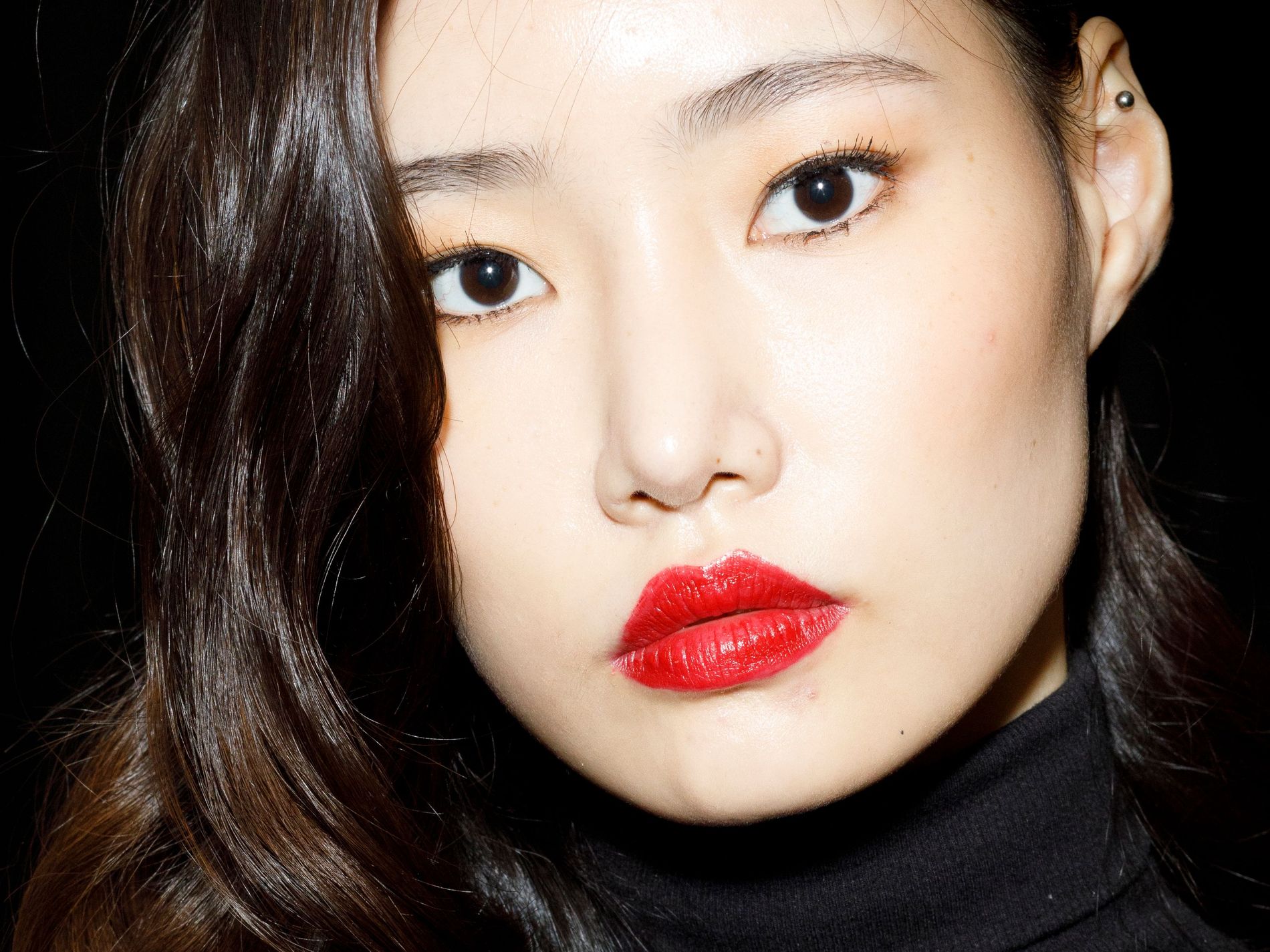 Getty.
Whether you overline, or stay within your natural lip line, a liner will prevent your lipstick from feathering. "If you want your lips to take centre stage, ensure your application is opaque, sharp and carefully applied," says Hardie. "Start by covering the entire lip with a light layer of your chosen shade. Then perfect the edges with a precise lipliner before applying a second fuller coat of lipstick."
Lip liner is also crucial for taking a red lip from desk to afterwork drinks. "Adding dimension to your lip always amplifies the look from day to night," adds Hardie. "Use a lipliner to really define the lip and then add a pop of lighter red colour to the middle to give the effect of a multi-dimensional lip."
To ensure that a red lip stays put all day, Hardie suggests gently placing one ply of tissue over the lip before dusting a light coat of translucent powder over the top prior to applying the second coat. "It sets your lip and ensures it looks beautifully velvety," she says.
As for the rest of your face, makeup artist Madeleine Spencer recommends keeping it pared-back and neutral. "I think the less obviously made up the rest of the face is, the more chic a red lip looks," explains Spencer. "That said, it's worth perfecting skin with a tinted moisturiser and concealer where needed and doing a little of what I call 'face architecture enhancement' i.e. adding a swipe of mascara and making sure brows are brushed up and filled in if needed.
"A dash of blush lifts the face when wearing red lipstick, and gives it more freshness," she continues, adding that MAC's iconic Matte Lipstick in Ruby Woo "is a really great cool-toned red lipstick, which suits a lot of people." Let's play...
---
Finding the perfect red lipstick