Colekt is the Swedish skincare brand that ticks multiple boxes: it's sustainable, vegan and gender fluid. Here founder and creative director, Ellen af Petersens, talks to us about the importance of balancing your pH in the morning and becoming your own beauty mixologist – whether to create a healthy glow or to layer your perfumes
All products featured on Vogue are independently selected by our editors. However, when you buy something through our retail links, we may earn an affiliate commission.
What does beauty mean to you?
Beauty for me means feeling in-balance and in-harmony. Harmony makes me feel both relaxed and fills me with energy, so I can pass on those good vibes to my nearest and dearest. I have to be creative and productive in my work, so balance is key. My background as a yoga and Ayurvedic instructor has really helped me to stick to a good daily routine and to focus on my health, which is extra important for me now, when I have busy days ahead.
Talk us through your morning beauty routine...
I'm an early bird – I don't need coffee to wake up. I start my day by reading the news, going through emails and looking on Instagram in bed. I brush my teeth and cleanse my tongue with an Ayurvedic scraper and then I'm ready for my morning drink: lukewarm water, half a squeezed lemon and unfiltered apple cider vinegar to stabilise my pH levels and detoxify. This creates harmony in the morning.
A healthy glow is a must for me so I regularly visit Jorunn at the skin clinic Looking Good in Stockholm to keep my skin free from impurities. To keep up the results in between appointments, I follow Colekt's 'Scandi Routine', starting with the Retake Face Cleanser, which contains refreshing witch hazel. Next I'll apply the Barbara Sturm Better B Niacinamide Serum and an SPF 50 sunscreen, which I wear every day all the year round.
Finally, I give my son his breakfast in bed – my darling Dachshund Nikki follows me around everywhere while I'm doing all of this! It's the perfect start to my day before taking him to school.
What is your biggest skin concern?
It's really important to me that my skin is moisturised at all times, especially as I spend a lot of time outdoors. So I always carry these hero Colekt products in my bag so that I can give my skin a boost throughout the day: Reclaim Face Mist, Reject Face Oil and the Reflect Eye Balm.
Which three products are always in your makeup bag and why have they earned a place there?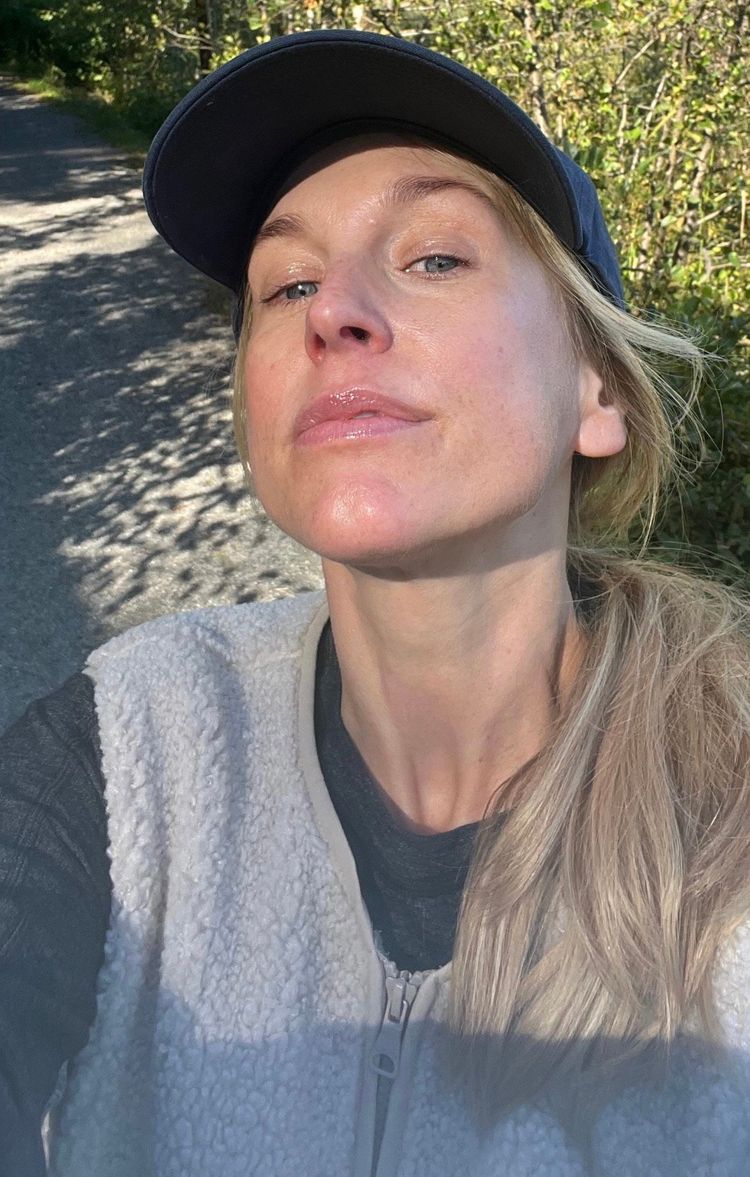 Courtesy of Ellen af Petersens.
How do you look after your hair?
I get my hair done at Haven in Stockholm as they avoid any harsh chemicals. My hair morning routine is very simple as I try to prevent heat damage. On a daily basis, I love Kérastase and use the Chroma Absolu line.
What is your favourite fragrance?
I switch between Colekt's Persona, which is a warm, romantic floral, and Diptyque Don Son, which is fresher, sometimes layering them to create a scent that is unique to me. I always bring a small bottle of Persona with me wherever I go.
What is the best beauty advice you've ever been given?
My mum taught me early on to be careful in the sun and to always wear a cap and sunglasses. She is a strong, confident woman, a natural beauty and my absolute role model in life. Thank you mummy - love you!
What was your greatest beauty discovery?
Mists! When working on the development of the Colekt face mists we selected the best active ingredients for pro-ageing with only innovative natural ingredients to boost and protect the skin. My skin doesn't only look healthy, it is healthy since using them. Another amazing product on the market is Augustinus Bader's The Rich Cream.
What beauty advice would you give your younger self?
Surround yourself with people who love you and appreciate you. Then you give love back without any effort or without feeling drained. When it comes to beauty, my advice would be not to buy those cheap beauty products laden with additives and chemicals.
Do you have a beauty or wellness secret?
Good quality bed linen should be a daily luxury for improving the quality of your sleep.
---
Ellen af Petersens' beauty shelfies