Perhaps the biggest breakthrough in face sunscreens is the advent of invisible, non-greasy formulas. Ahead Vogue Scandinavia's edit of the best for all skin types and tones
All products featured on Vogue are independently selected by our editors. However, when you buy something through our retail links, we may earn an affiliate commission.
If the reason you splurge on expensive serums is to avoid unwanted wrinkles, then you might want to rethink the one product dermatologists rate as the best anti-ageing product you can buy: face sunscreen.
The science stacks up. Only 20 per cent of the way we age is down to genetics – the rest is the result of environmental damage from the sun and pollution. "UV rays are the biggest contributing factor to premature skin ageing," says Dr Johanna Gillbro, skin scientist and author of The Scandinavian Skincare Bible. "A simple way to prove this is to look at the skin on the buttocks, which is the most covered up and protected area of the body. The skin here generally has fewer wrinkles and pigmentation spots compared to facial skin, which has been exposed to the sun." An SPF 30 or above is also clinically proven to reduce the adverse effects of sunlight on your skin's DNA, which can lead to skin cancer.
Another consideration is whether to use a mineral or chemical (or synthetic) sunscreen. Although both work differently, they are equally effective; it's simply a matter of preference. Synthetic sunscreens convert UV rays into heat in order to 'deactivate' them (this sounds scary but you don't actually feel a thing). Mineral sunscreens, also known as 'physical sunscreens', sit on the skin's surface and deflect the sun's harmful rays. By definition, minerals such as zinc are gentler for sensitive and acne-prone skin but can leave a chalky cast on darker skin tones. Also worth noting: You need to wait 20 minutes for a synthetic sunscreen to absorb fully but, according to dermatologist Dr Stefanie Williams, "an added bonus of mineral sunscreen is that you can go out straight after applying it.'
Here's our edit of the best facial sunscreens to apply when the mercury rises.
Woods Copenhagen
Facial Sunscreen SPF30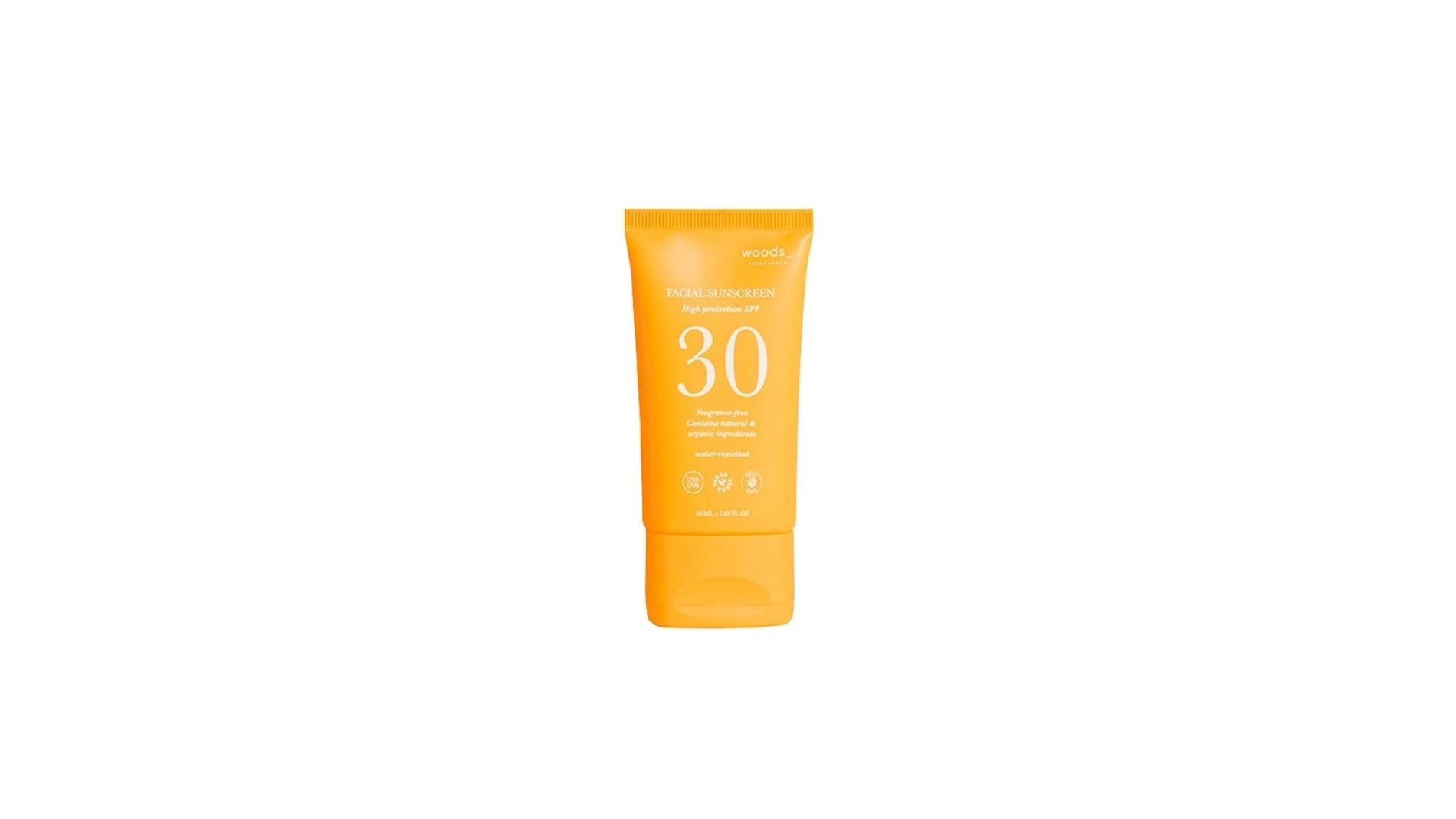 Reef-friendly sunscreen came to our attention a few years ago when research revealed that 'sunscreen pollution' from ingredients including oxybenzone and octinoxate was posing a serious threat to coral reefs and aquatic life. Woods Copenhagen has taken these findings on board, ensuring that its first foray into sunscreen contains only reef-safe sun filters and a backing chorus of powerful antioxidants to protect against UVA and UVB rays.
Supergoop!
Unseen Sunscreen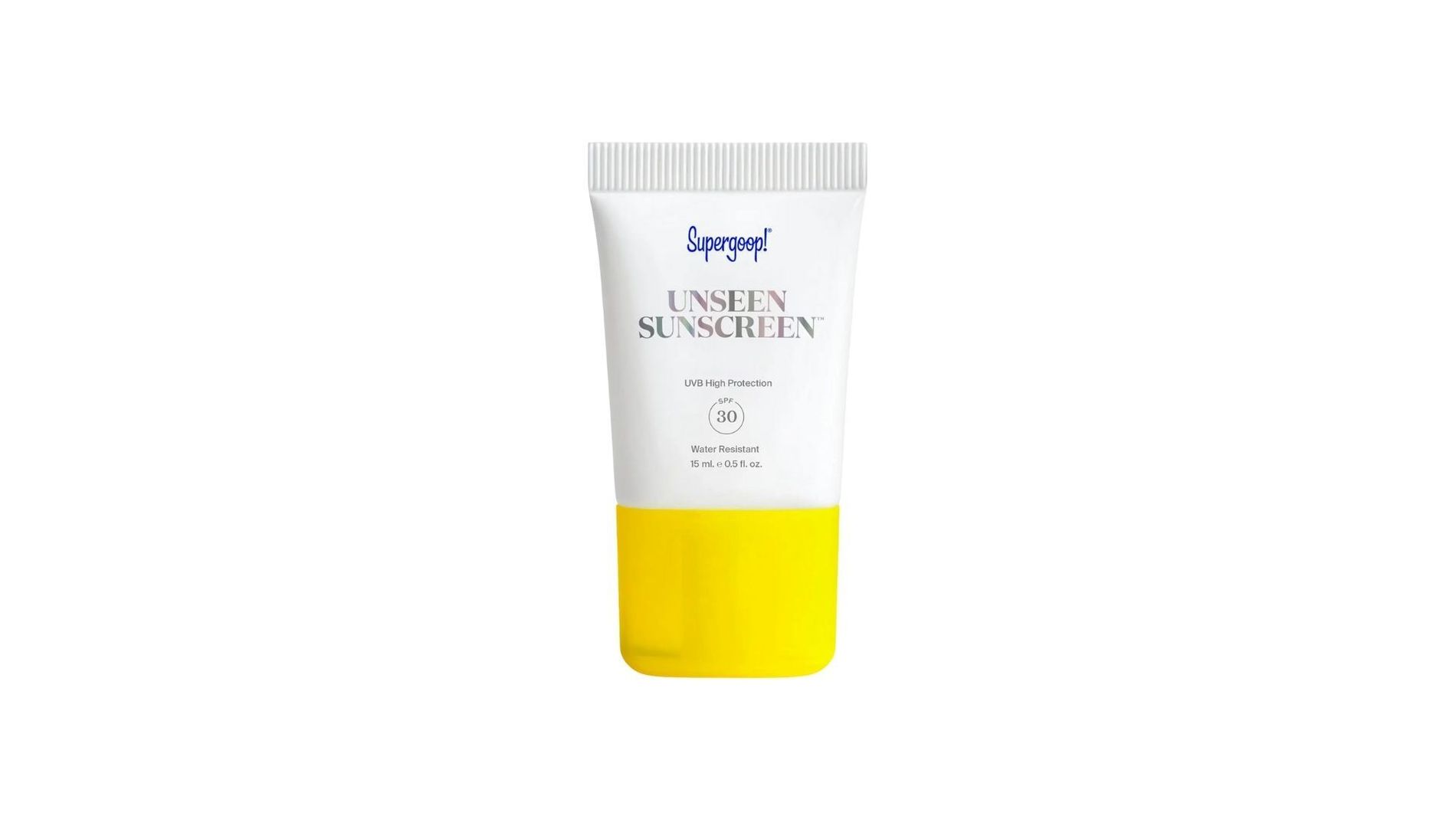 Weightless, scentless and utterly undetectable – exactly what you want from a face sunscreen, especially if your skin is acne-prone or on the oily side. Its slightly waxy formula also doubles up as a fantastic primer.
Kiehl's
Ultra Light Daily UV Defence Aqua Gel SPF50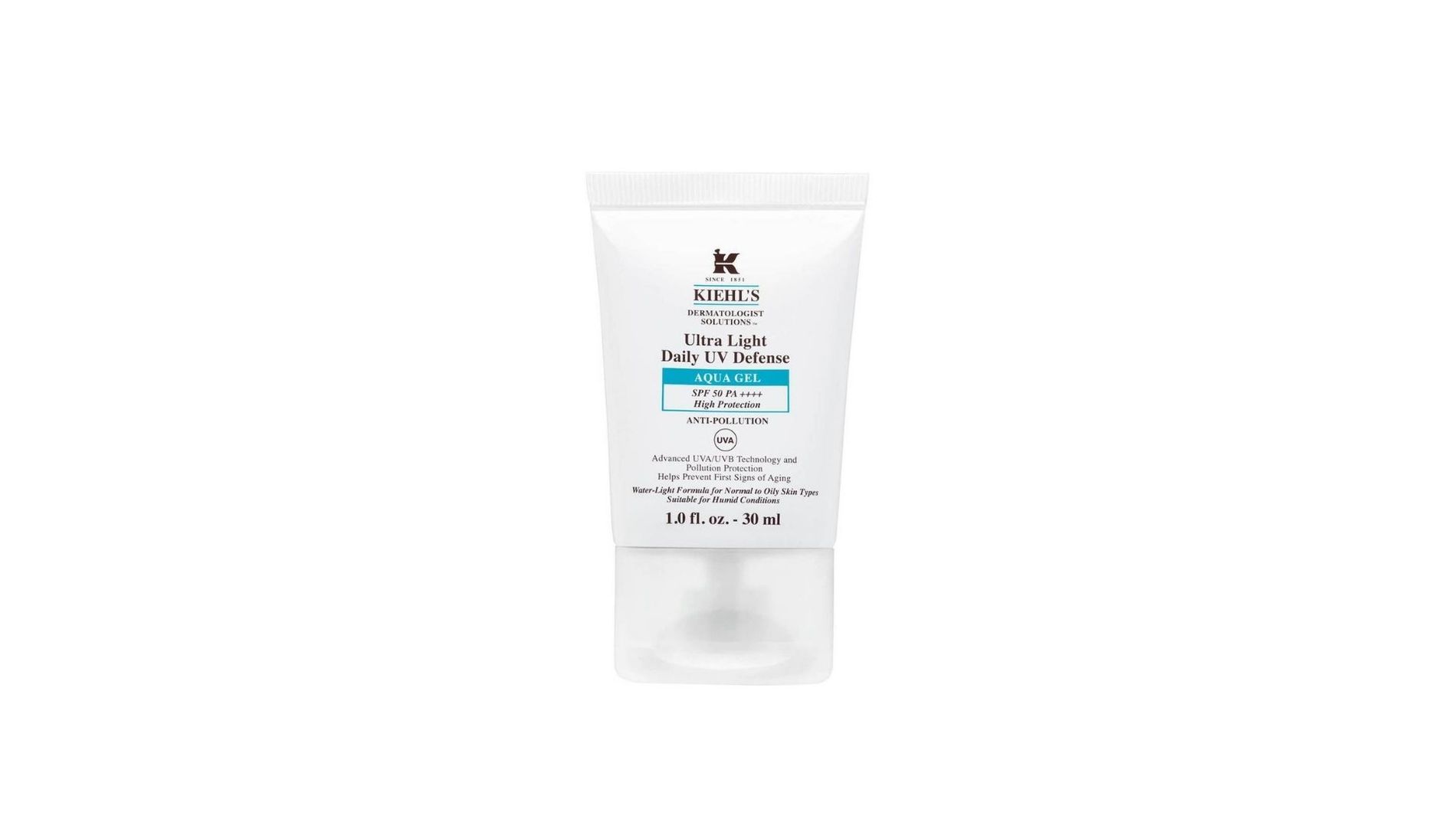 City dwellers meet your perfect sunscreen. As well as broad-spectrum protection, the gel-like formula contains antioxidant vitamin E and forms a shine-free barrier to prevent pollution from entering pores.
Ren Clean Skincare
Clean Screen Mineral SPF30 Mattifying Broad Spectrum Face Sunscreen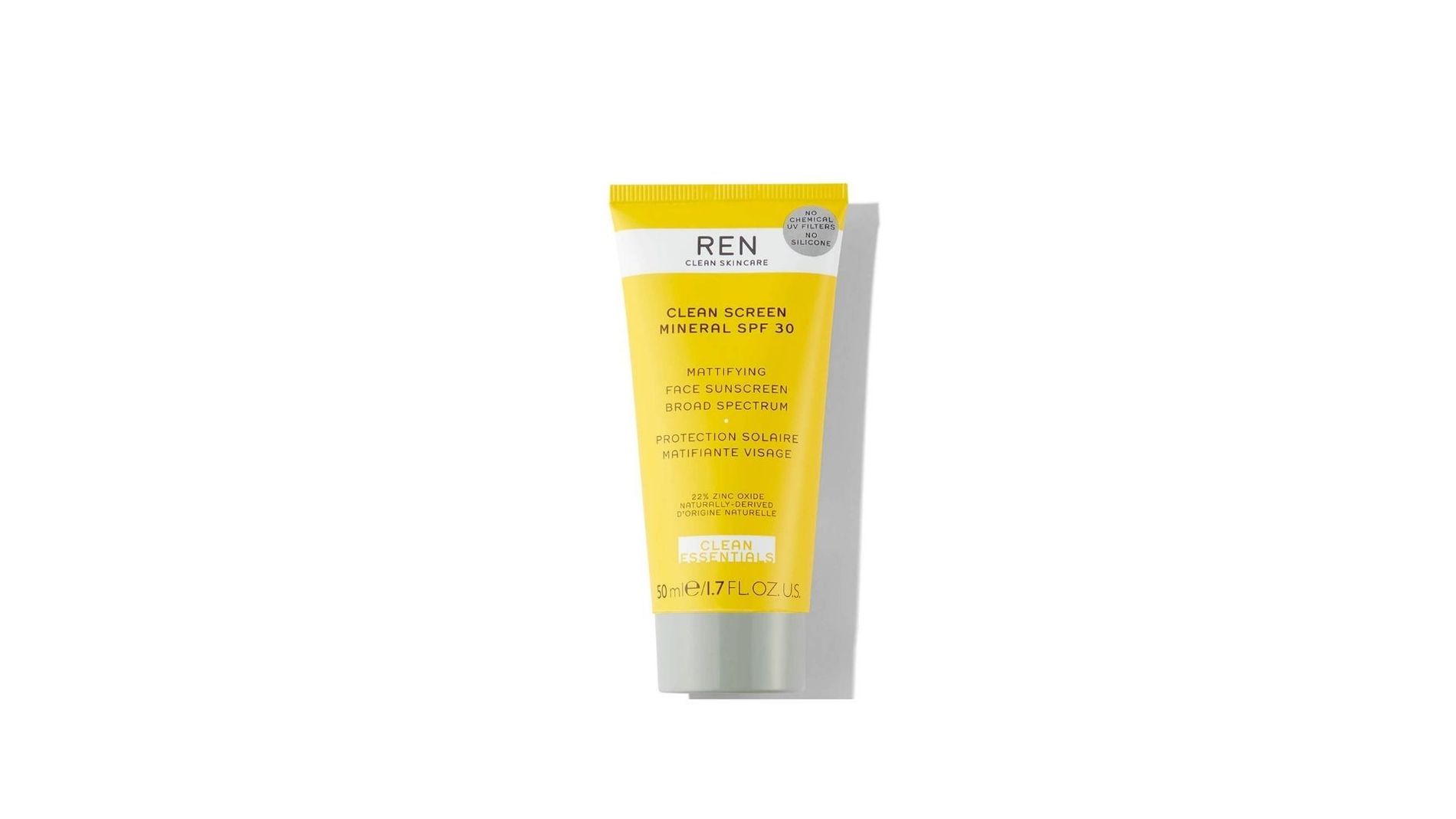 Traditionally, mineral sunscreens have been guilty of leaving behind a chalky, sweaty finish. Not only is this formula the perfect match for darker skin tones but it plays nicely with oily skin thanks to a rice starch extract that creates a pleasing matte finish. Oh and this being REN, the packaging is fully recyclable.
Karmameju
Face Sunscreen SPF 30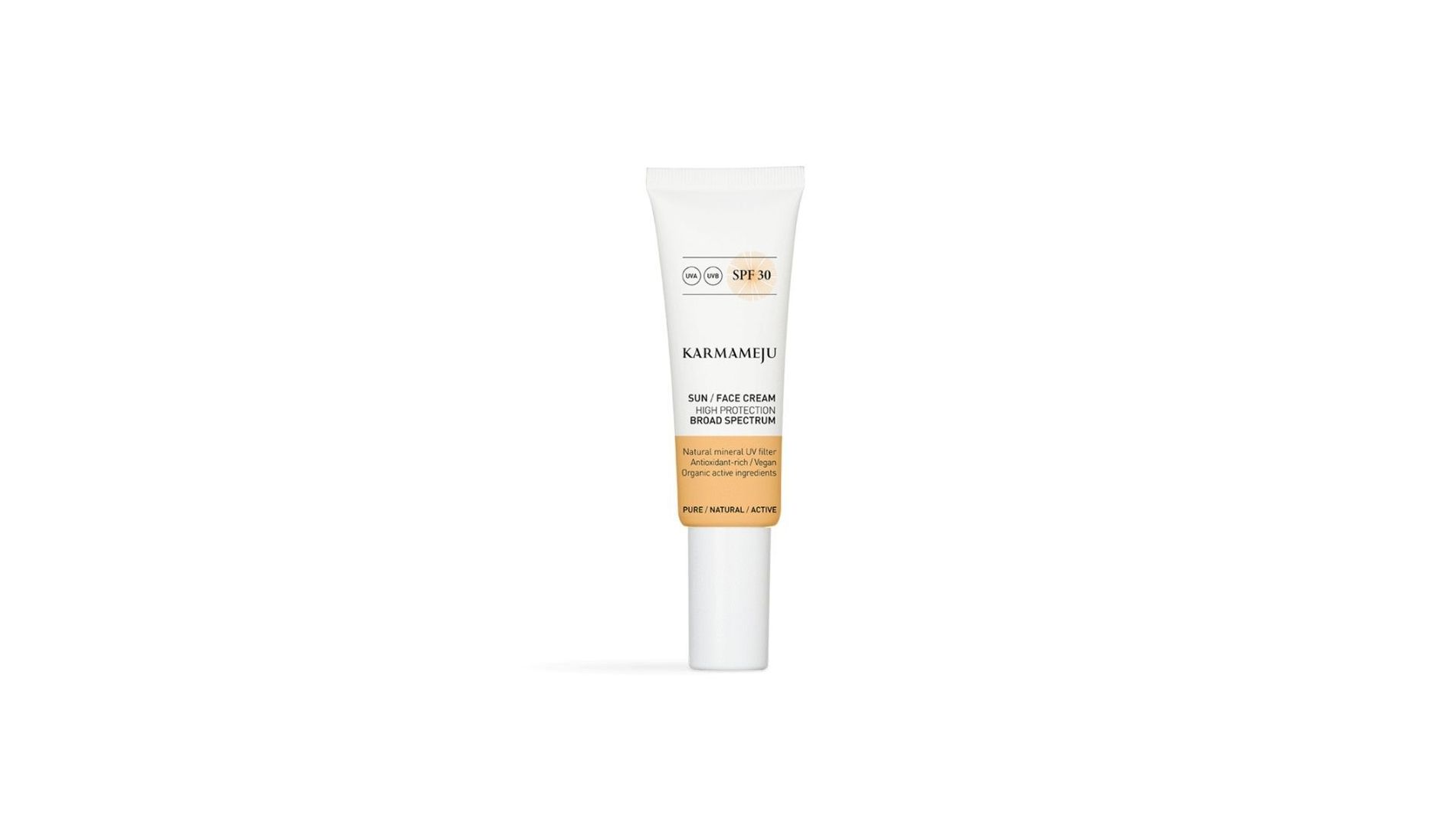 This is another solid mineral option and will have organic beauty lovers purring with delight over the high number of sustainably harvested ingredients such as aloe vera, shea butter and lavender. In addition, the broad spectrum UV filters are coral-friendly and the formula even contains moth bean extract, which is clinically proven to increase cell renewal and stimulate collagen production for fewer wrinkles.
Drunk Elephant
Umbra Tinte Physical Daily Defence SPF30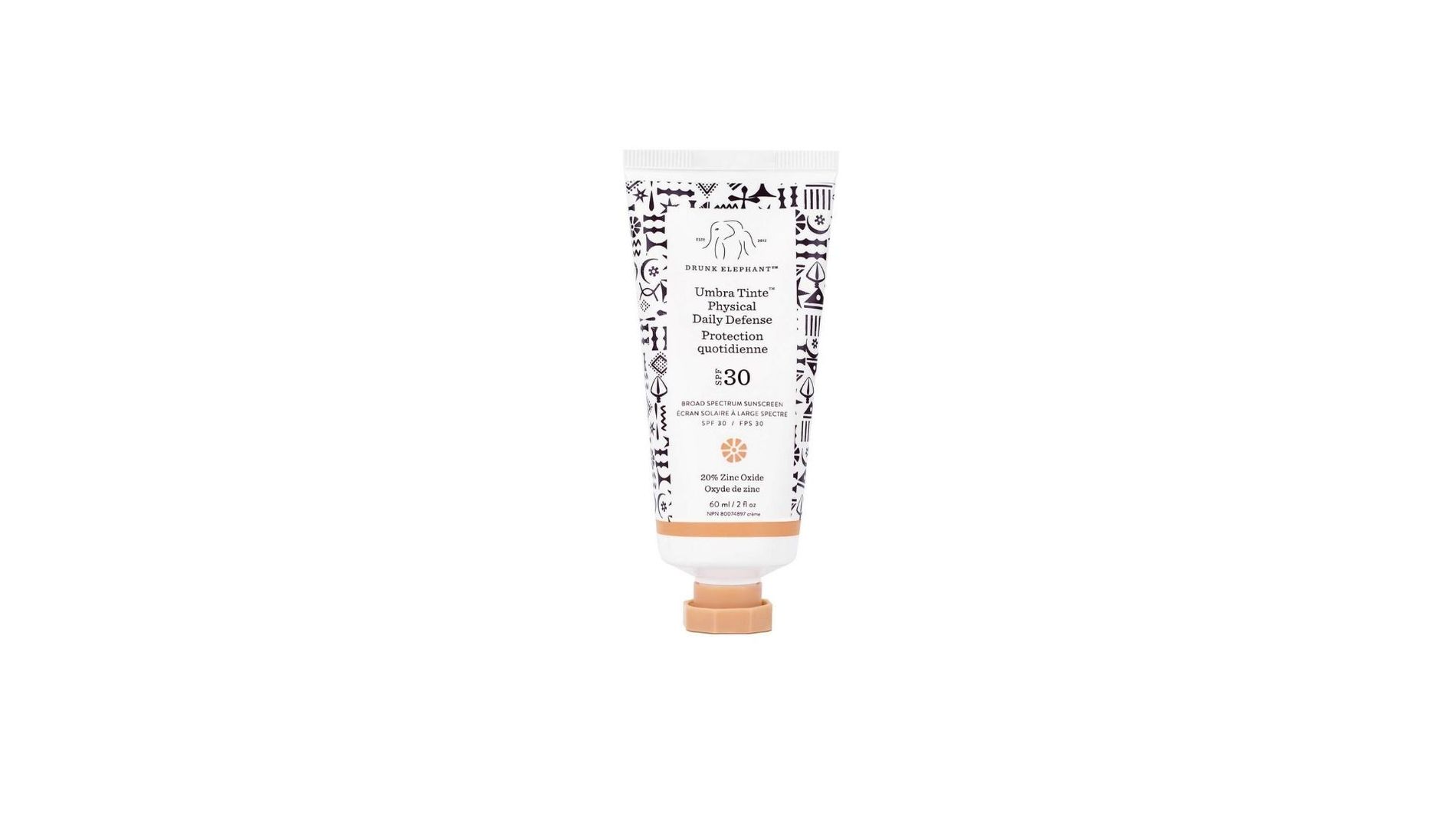 This sunscreen's tint makes it ideal for everyday use as you can skip foundation and religiously reapply it every two hours for maximum protection. Also noteworthy is the lack of alcohol, silicone and fragrance so there's no danger of adding to sensitive skin's woes in summer with redness, itchiness and flaky patches.
La Roche-Posay
Anthelios UVMune 400 invisible fluid SPF 50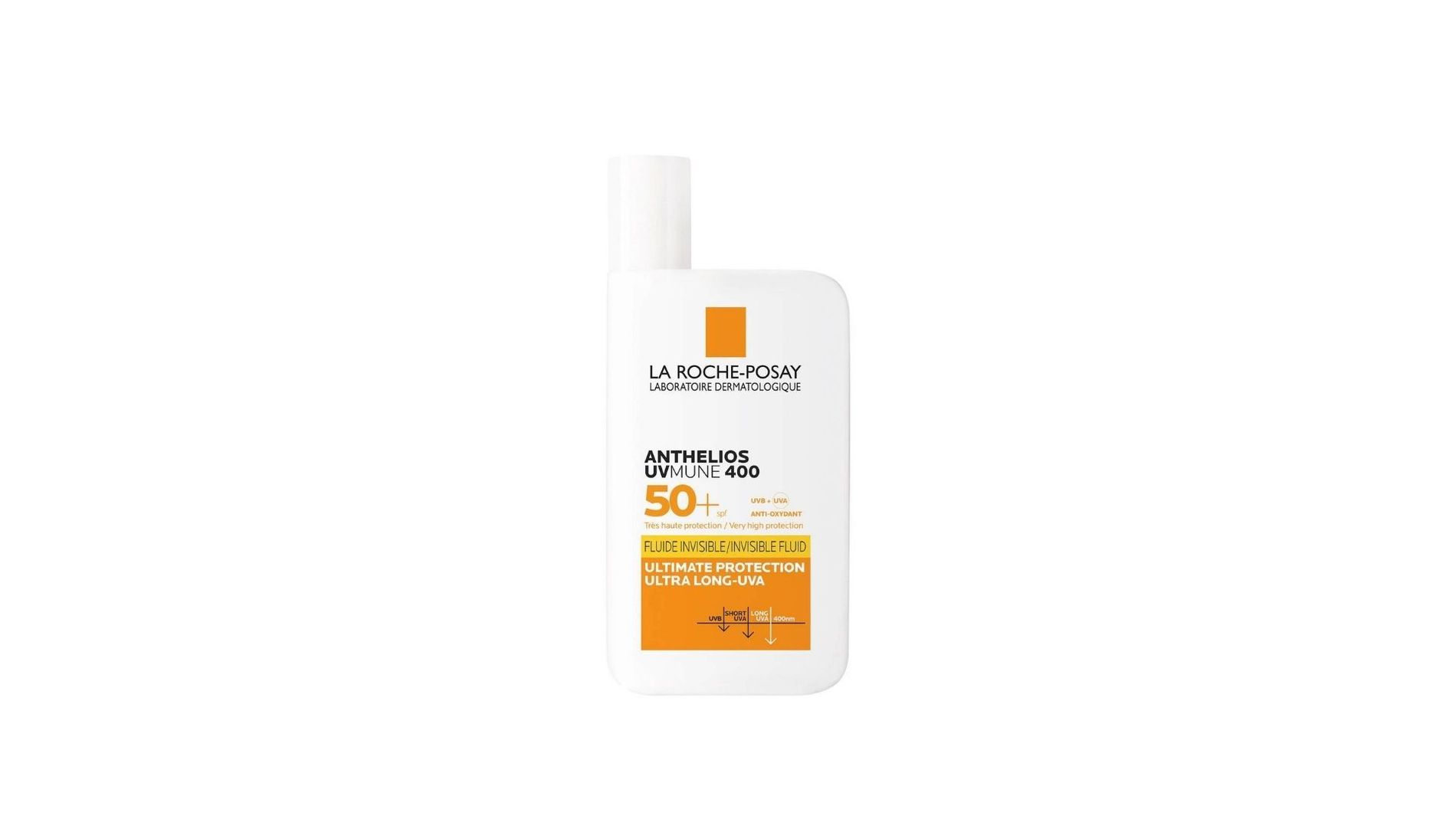 Beauty editors, who are probably the most avid facial sunscreen users on the planet, adore this sunscreen for two reasons. First, it's non-oily yet dewy finish. Second, the fact that it contains a brand new, cutty-edge filter (called Mexoryl 400, which has been 10 years in the making and has 25 patents) designed to protect skin from the most harmful long UVA rays, which penetrate deep into the skin where they damage collagen and cause pigmentation.
ACO
Sun Face Cream SPF50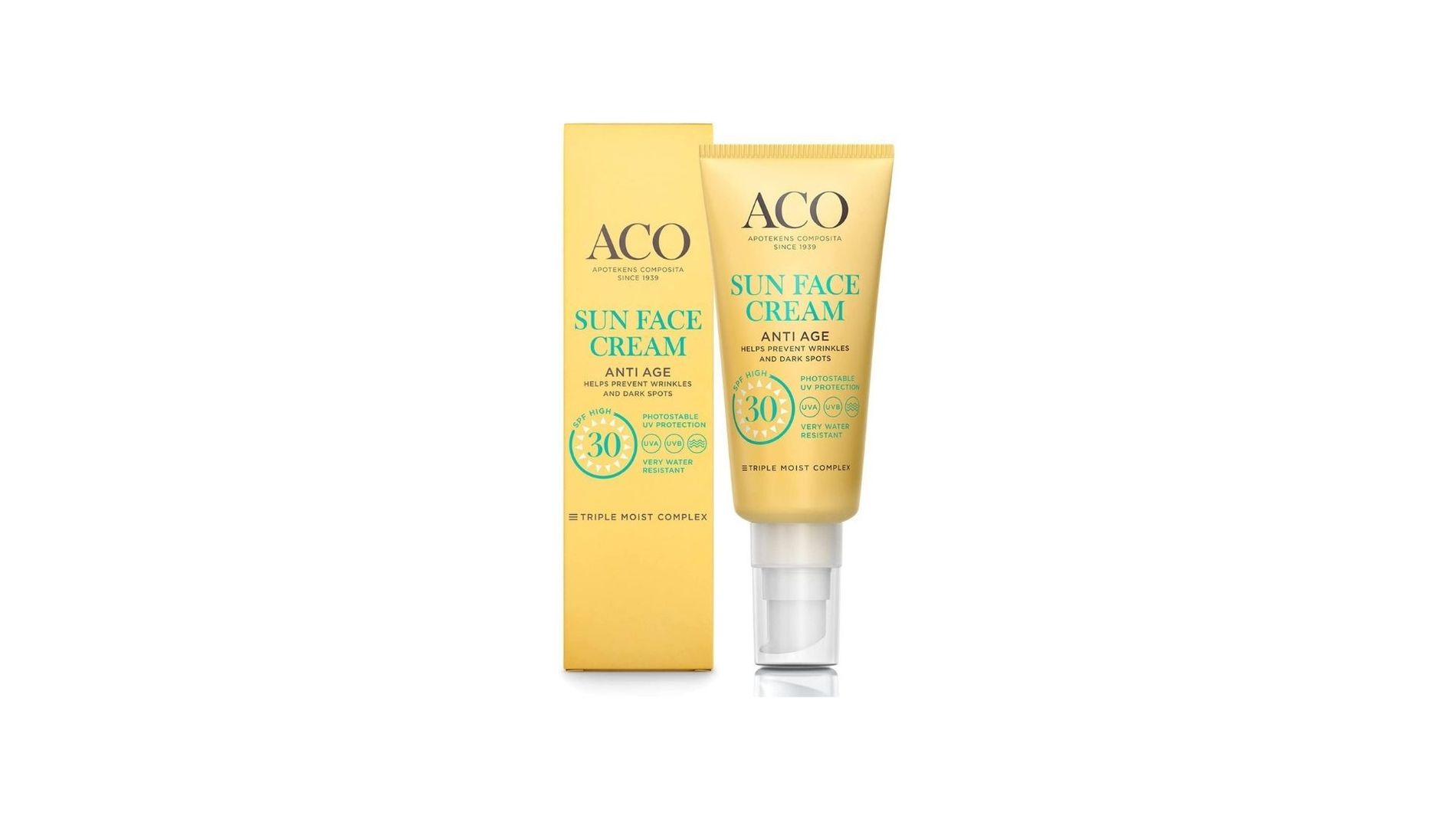 ACO's Swedish medical roots are most evident in its non-abbreviated name Apotekens Composita, meaning 'the pharmacy's mixture'. A household name for many, this broad-spectrum facial sunscreen hydrates without feeling sticky and, given it's perfume-free, is made with sensitive skin in mind.
Thank You Farmer
Sun Project Water Sun Cream SPF50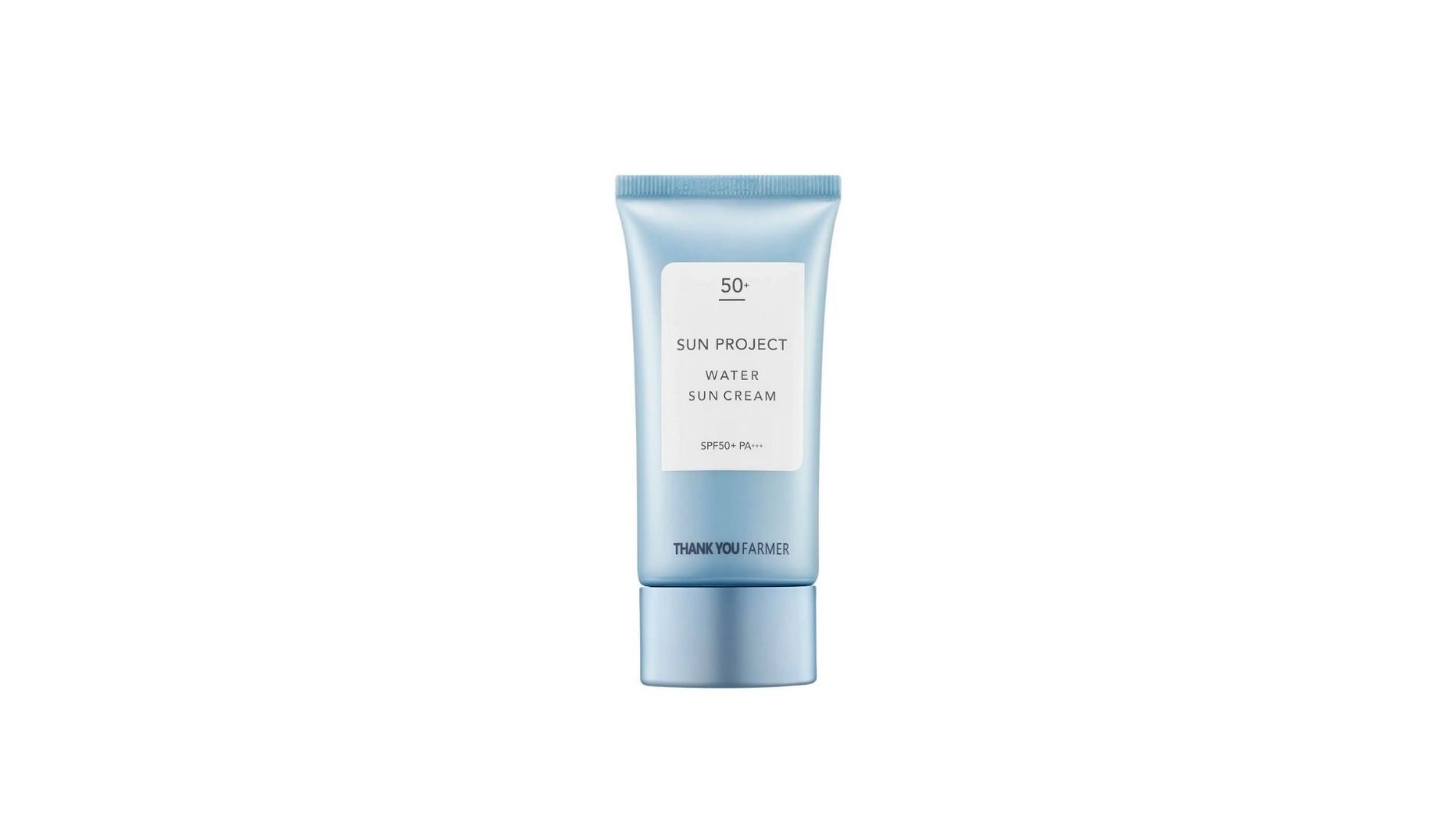 This cultish moisturiser-meets-sunscreen hailing from South Korea is just about as featherlight a sunscreen as you're ever likely to find. Its watery, sink-in-fast formula is the result of copious amounts of hydrating hyaluronic acid so you can quench thirsty skin while deflecting UV rays. Skin looks as if bathed in soft highlighter while the addition of mistletoe extract helps to stimulate cell renewal and repair - exactly the strategy you need when minimising damage from everyday sun exposure.
Evy Technology
Daily UV Face Mousse SPF30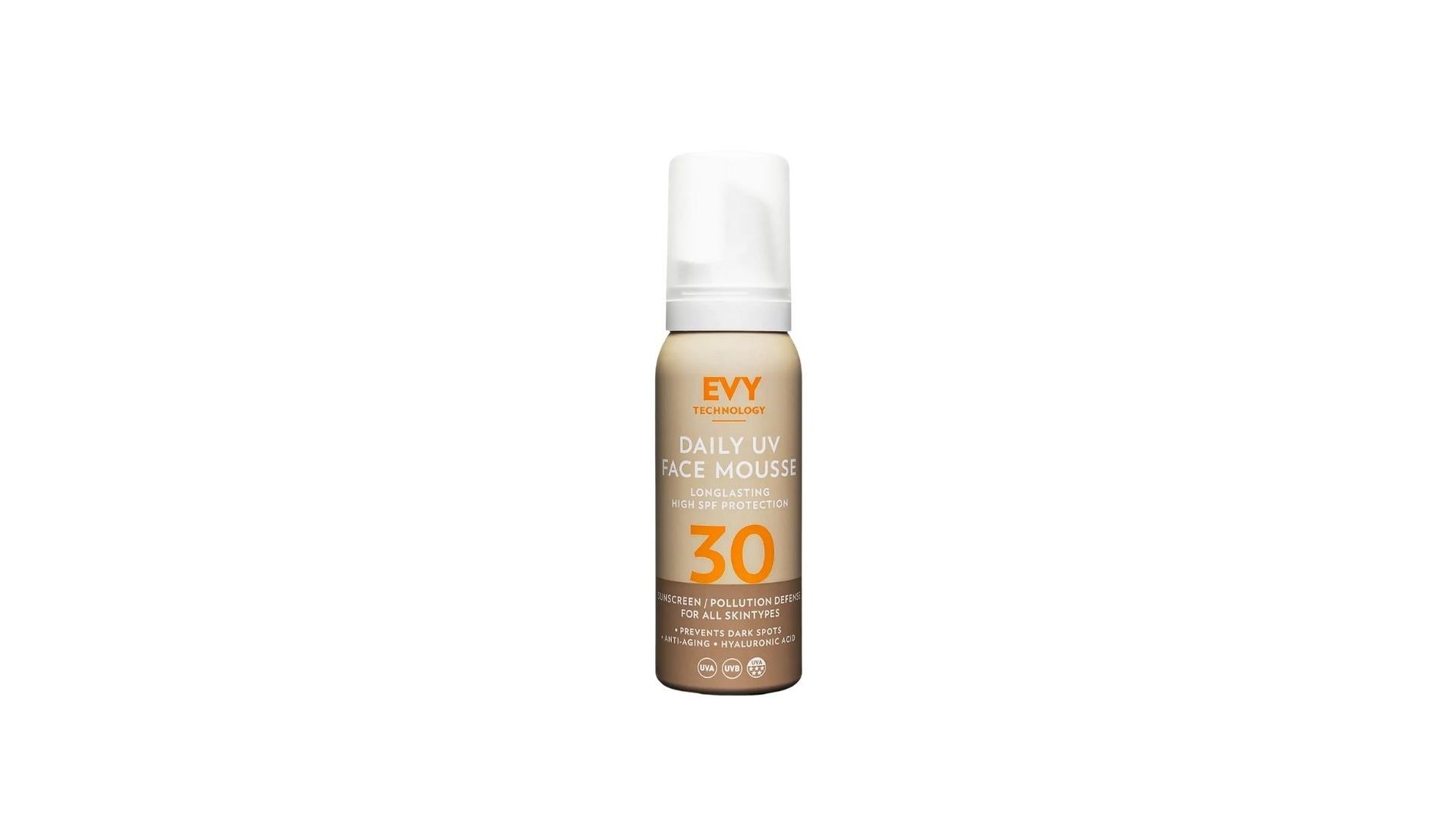 Founded in Sweden in the late 1990s using technology from Iceland, this vegan suncare brand is Scandinavian through and through. The unusual mousse texture is easy to apply and dries to a matte finish, meaning it sits pretty under foundation. Special technology means it also creates the type of protective barrier that mimics your skin's natural defences, as well as flooding skin with sepicalm, which reduces the look of hyperpigmentation and vitamin C. So you'll still tan - just safely and with an even skin tone.