On opening night of a mushroom-themed exhibit at the Nobel Prize Museum, we meet with designer Daniel Del Core and artist David Åberg to break down each spore on their Björk-worn mushroom dress and mask
Mushrooms are having a moment. Mushroom coffee, microdosing (only where it's legal, of course), The Last of Us' mushroom monsters – this unassuming fungus is spreading through the culture, well, like a fungus. Now, a new exhibition at the Nobel Prize Museum dubbed 'Fungi – In Art and Science' explores the influence of mushrooms on visual art, music, design and fashion.
At the heart of the exhibition is an extraordinary mushroom gown realised in meticulous detail by Daniel Del Core, whose eponymous brand, Del Core, oft draws inspiration from floral, fauna and fungi. The dress is joined by a 3D-printed mushroom face mask made in collaboration with Swedish artist David Åberg. The look was worn by none other than Björk in a promotional image for her mushroom-inspired album, Fossora.

"The dress is inspired by mushrooms that glow during the night," says Del Core, who when we meet is wearing a mushroom-covered graphic T-shirt from his own collection. This is reflected both in the slime green palette and the fabric itself, which is threaded with lurex and transparent nylon to give the garment an ethereal glow when it catches the light.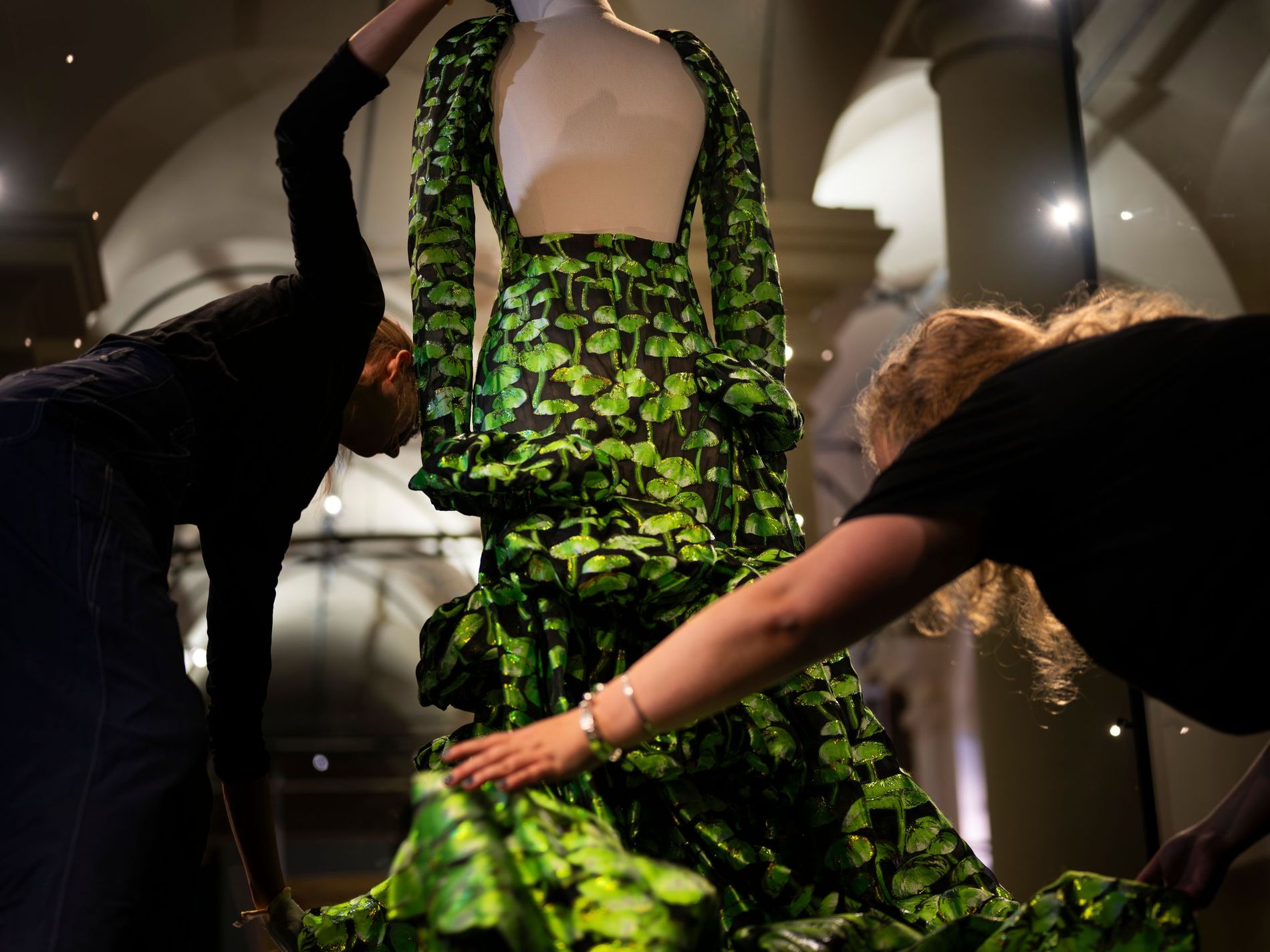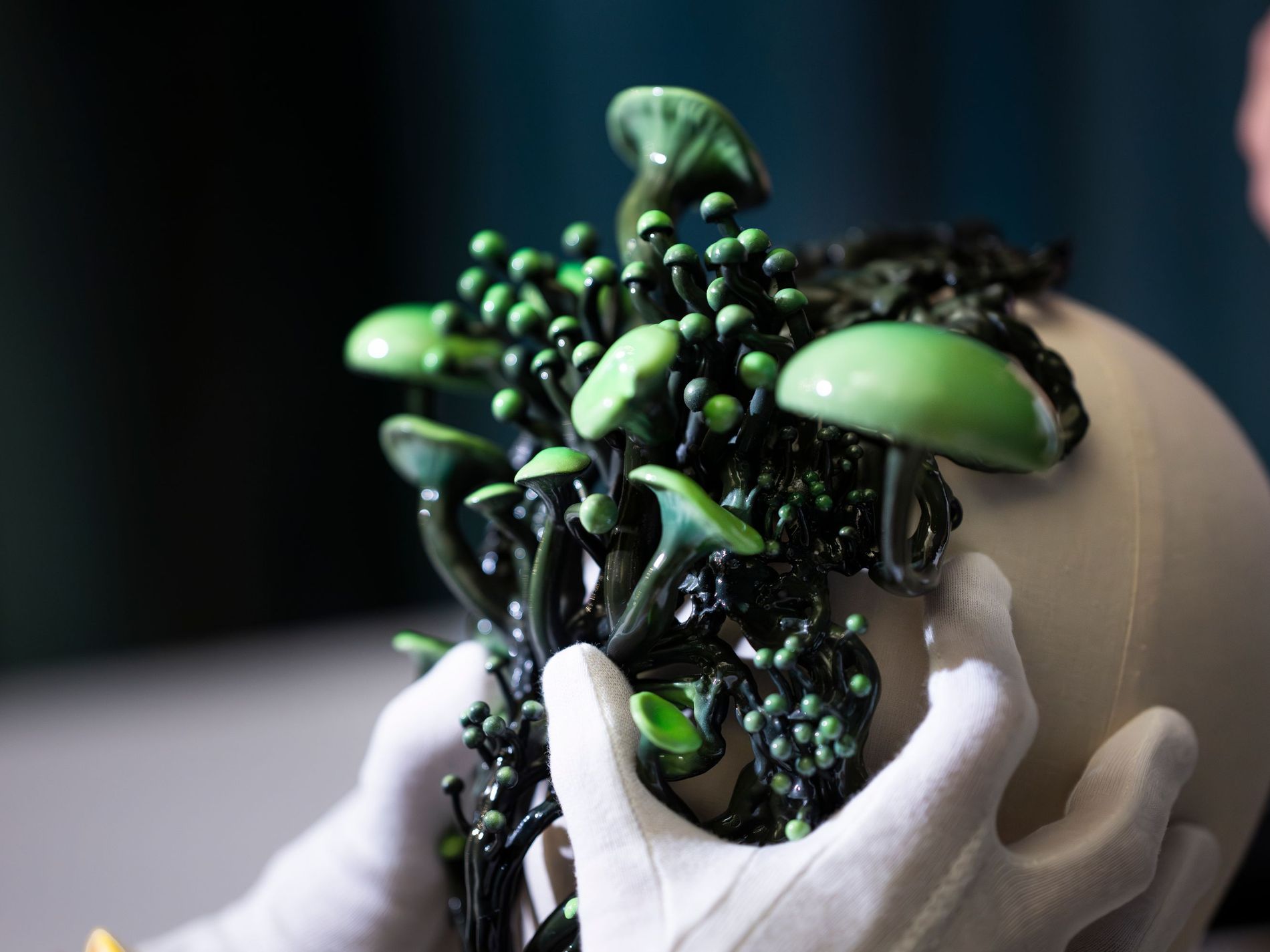 Del Core, who oft camps out in far flung locales to gain inspiration, has been into mushrooms since before they were cool. "When it comes to nature, I'm very into things that are a little less obvious," he says, noting that when it comes to mushrooms the attitude is generally: 'If I don't eat it, I don't want anything to do with it.' "There's a whole world of mushrooms underneath that connect certain things. I've spent a bit of time in the Amazon jungle and the mushrooms are connecting the plants, and the whole jungle is talking because of the roots – the mushroom creates a certain type of underground world. That was really inspiring to me." He's seen the glowing mushrooms himself – a tricky endeavour given they only glow during a "specific period of time" when the mushroom cap opens up. "It's not as easy as you may think – that you just walk and you find them there," he says.
When it came time to create the mushroom mask, Del Core reached out to Åberg via Instagram. "I saw his work and I was very into it," says Del Core, who at the time was hard at work on his debut collection. "I saw this dress you had made, for 'The Gate'," adds Åberg, referring to a custom dress the designer had made for Björk while working at Gucci under Alessandro Michele. Though they exchanged many messages and phone calls, working through several prototypes before they got the mask just right (Del Core even wore an early iteration of the mask to a costume party), the creative duo meet for the first time on opening night at the museum.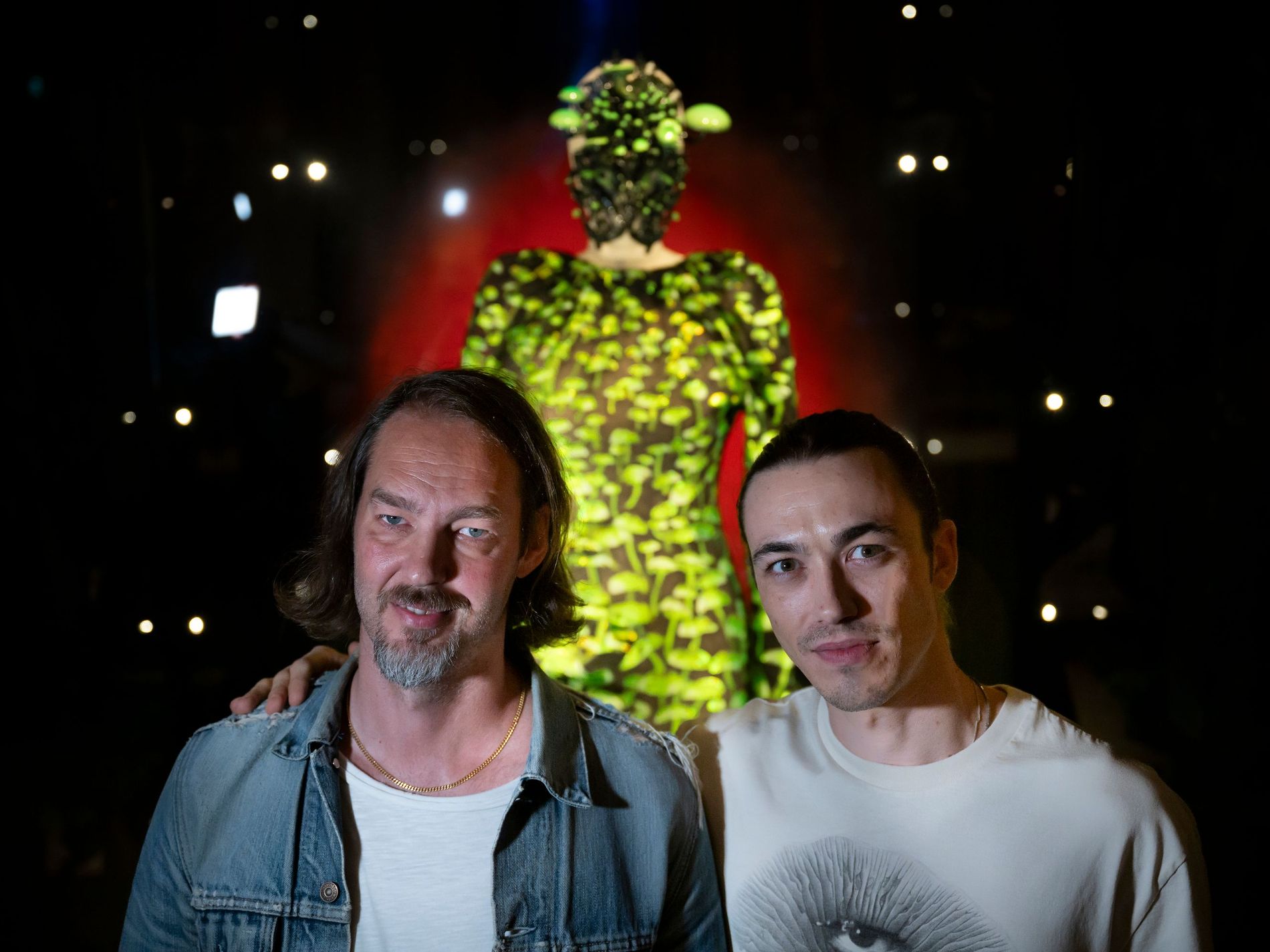 David Åberg and Daniel Del Core .
While Del Core had met Björk a handful of times during his tenure at Gucci, it was sheer coincidence that his mushroom-inspired debut Del Core collection coincided with Björk's preoccupation with mushrooms. "Working with her is really inspiring generally," says Del Core. "The conversation that you have with certain artists or people inspire you to do things in a different way." Åberg, meanwhile, was "super surprised" to see his mask worn by Björk – an image he first encountered on Instagram. "Since I saw the 'All Is Full of Love' video directed by Chris Cunningham I've been a fan – I'm inspired by her aesthetic," says Åberg. "Seeing something I've created show up on Björk is amazing."
It's a pleasure to see Del Core's work up close in a museum setting, nestled among the mushroom sculptures of Carsten Höller and a mushroom leather coat by Balenciaga. Here, his technical prowess is on full display, including the fact that the gown is entirely seam-free. "A lot of things now are happening on social media, on Instagram. A picture can be modified, it can be altered," says Del Core. "When you see the garment in front of you, you can see the making of it, you understand that there's study behind it." It's the sort of look that really grows on you.