The Icelandic star is always guaranteed to deliver an eye-catching fashion moment on and off the stage. And as Björk celebrates her 56th trip around the sun, Vogue Scandinavia charts her most memorable looks thus far
Icelandic virtuoso Björk is well known not just for her constantly creative music and captivating on-screen presence, but also for an eclectic, avant-garde style that's not restricted to her extraordinary on-stage ensembles. As with her music, Björk conveys messages and tells stories through clothes, often pushing the sartorial status quo. Throughout her career, the artist has worked with acclaimed designers such as Alexander McQueen, Iris Van Herpen and Rei Kawakubo, cementing her status as a definitive style icon.
As Björk celebrates her 56th birthday, Vogue Scandinavia honours the artist with a look back at her best sartorial hits - on and off the stage.
Cannes Film Festival, 2000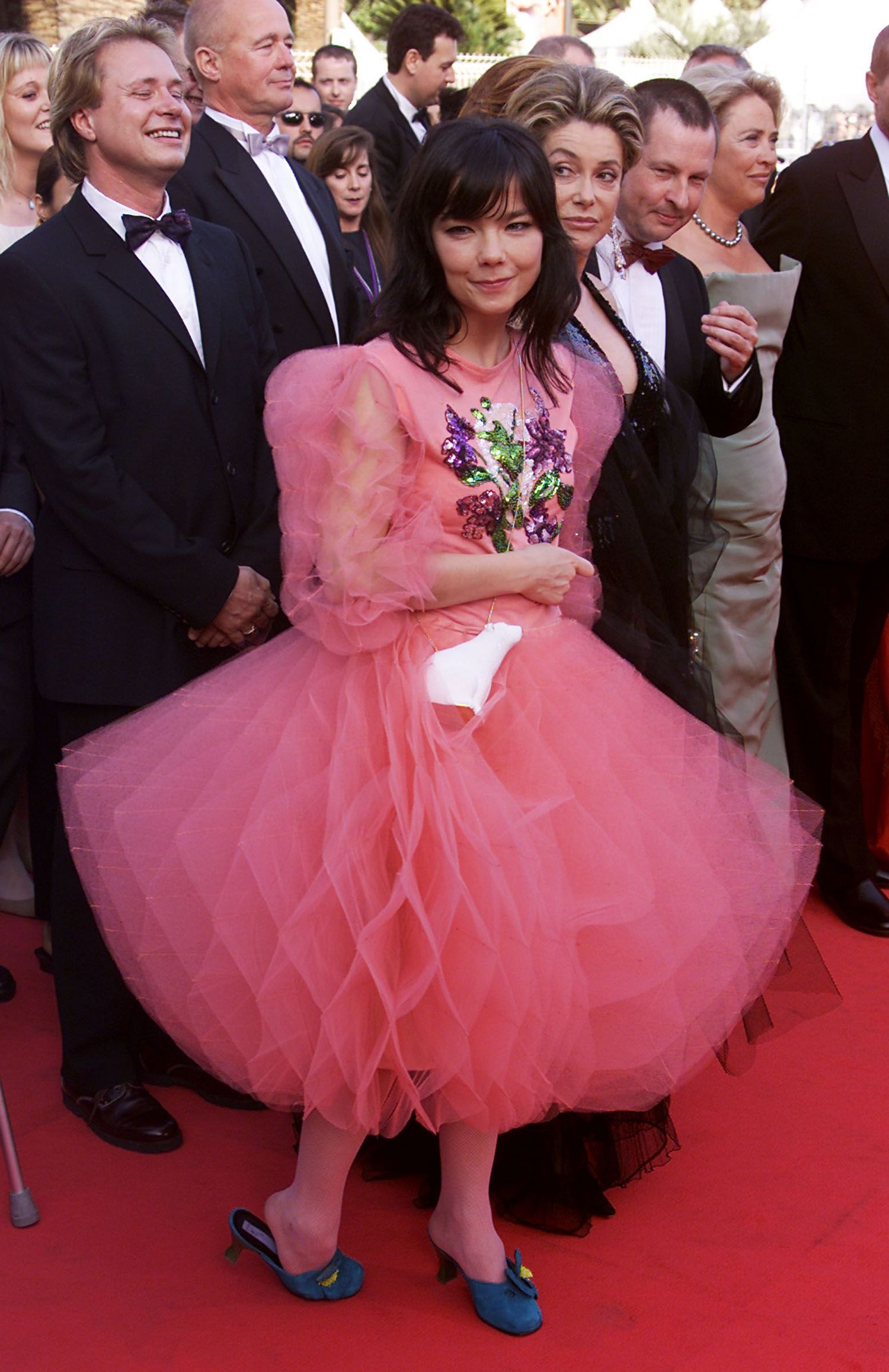 Photo: Getty
In 2000, Björk rocked up to the premiere of Dancer in the Dark at the 53rd Cannes Film Festival, donning a voluminous, salmon-hued tulle dress paired with teal kitten heels. What made the occasion all the more special was that the film – in which Björk was cast in a leading role – took home the prestigious Palme d'Or prize, while the musician herself won the best actress prize.
Golden Globe Awards, 2001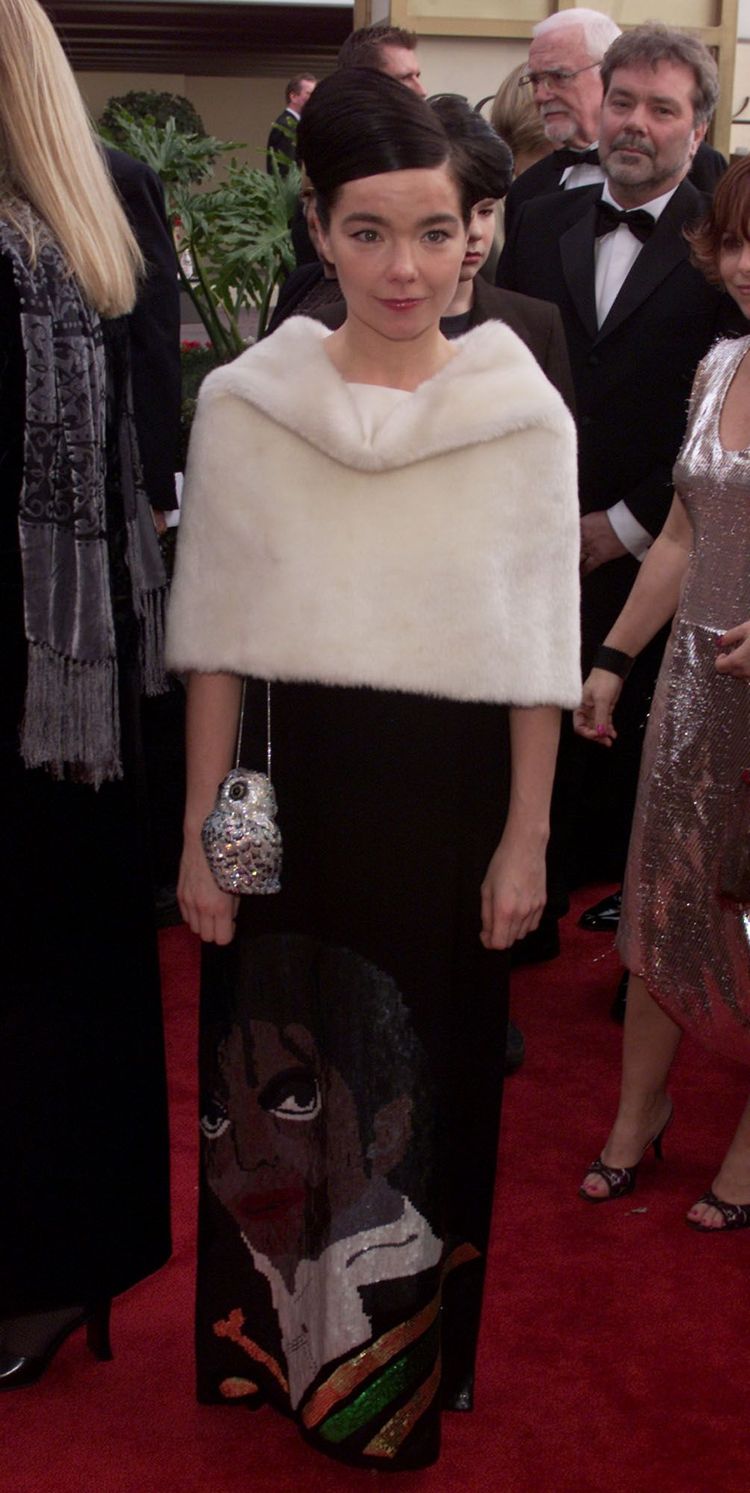 Photo: Getty
Björk's ensemble for the 2001 Golden Globe Awards may have been among the simplest we've seen on the artist; however, it paid homage to another extremely influential musician, Michael Jackson. For the occasion, Björk opted for a fur top and a black sequin skirt, complete with fuchsia heels and an owl-shaped, crystal-embellished clutch.
Academy Awards, 2001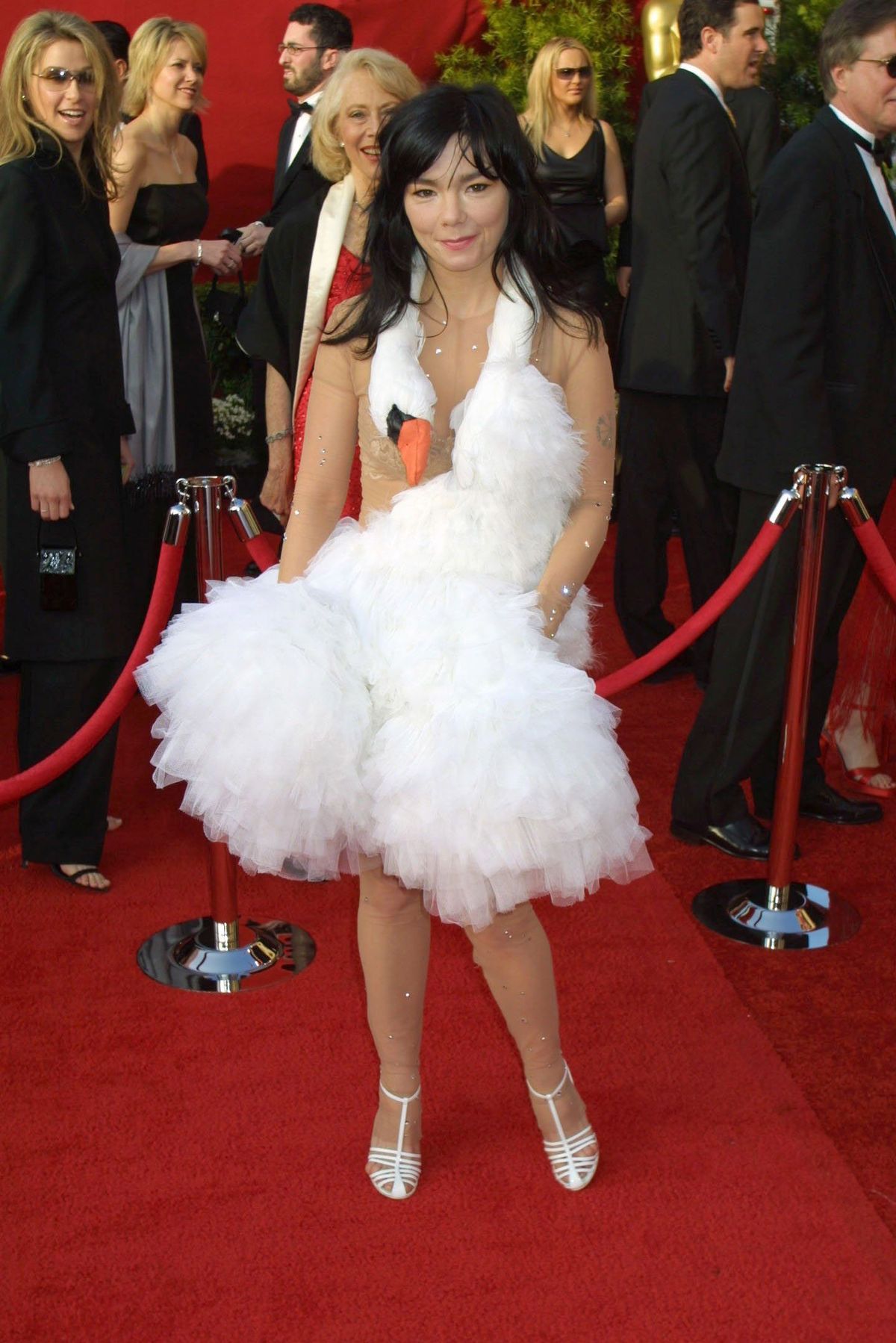 Photo: Getty
Who could forget the legendary swan dress Björk wore to the 73rd Academy Awards? Designed by Macedonian Marjan Pejoski, Björk's eccentric ensemble made waves and continues to land her on all lists documenting the most iconic Oscars looks. The giant swan draped around the singer's neck was crafted from white tulle and completed with a sculpted head. The famed dress is from Pejoski's autumn/winter 2001 collection inspired by carousel animals.
Venice Film Festival, 2005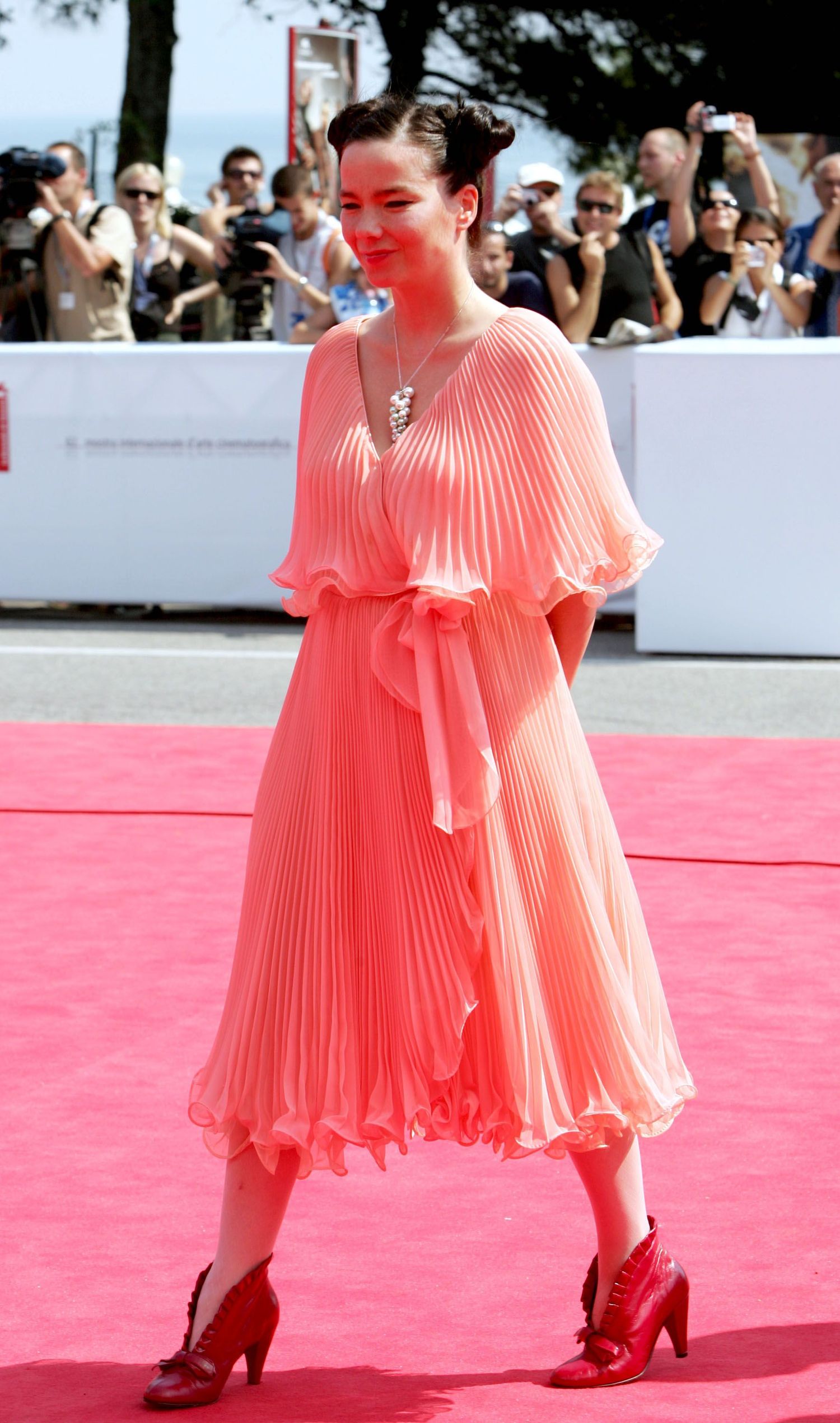 Photo: Getty
At the 2005 Venice Film Festival, Björk appeared pretty in pink again, sporting a flowing, peach-toned pleated dress paired with red patent heels. Proving that she can do both eclectic and understated, Björk's fresh look to the premiere of Drawing Restraint 9 remains one of our favourites out of her red carpet get-ups.
Bonnaroo Music & Arts Festival, 2013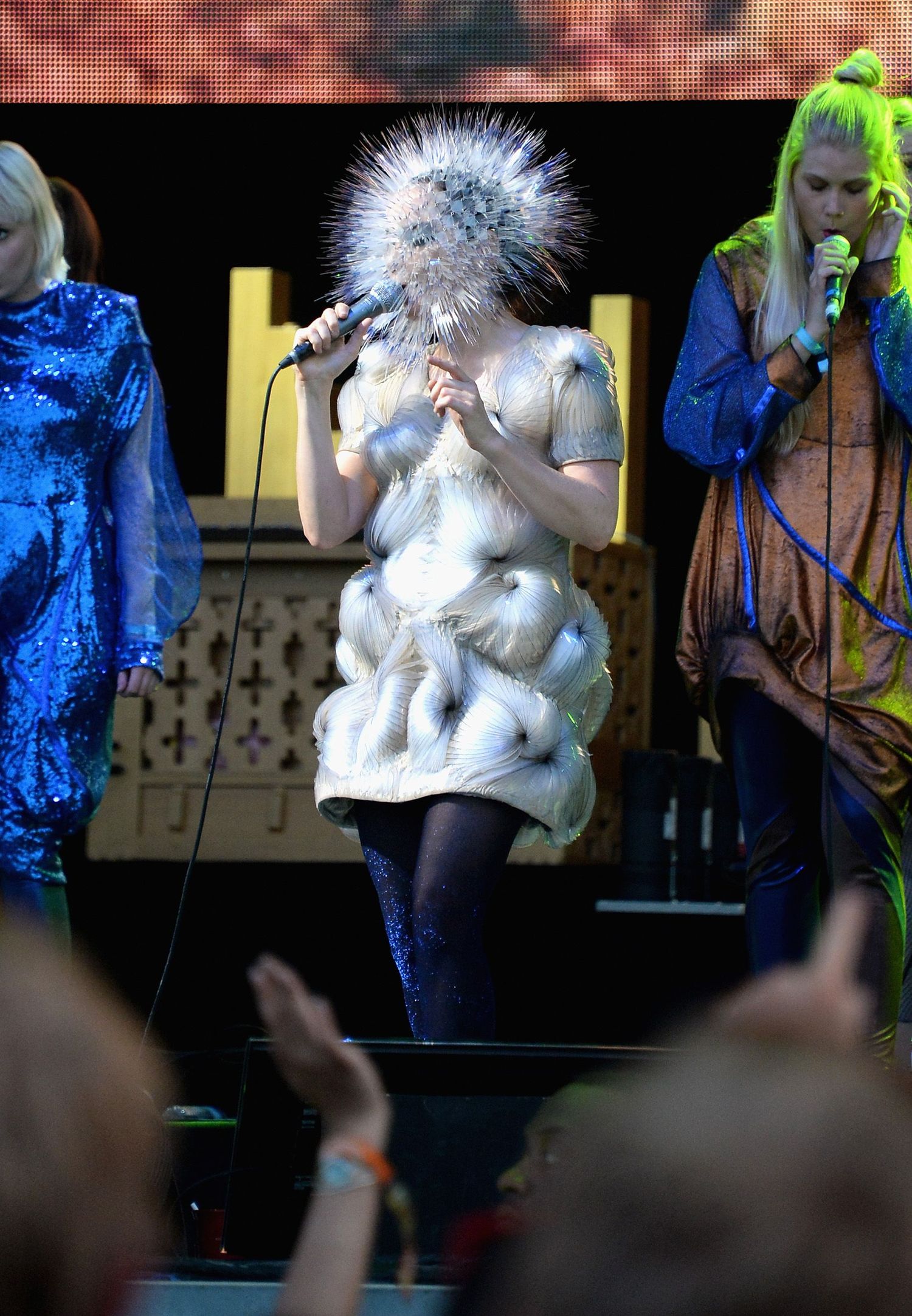 Photo: Getty
Björk's on-stage ensembles wouldn't be complete without her striking headpieces, and the look she wore at the Bonnaroo Music & Arts Festival in Tennessee in 2013 is no different. The spiky, silver mask made by accessory designer Maiko Takeda perfectly crowns Björk's outfit featuring an otherworldly dress by Iris Van Herpen. The artist often opts for Van Herpen's designs, a perfect match for Björk's powerful and fantastical performances.
Cornucopia tour in Glasgow, 2019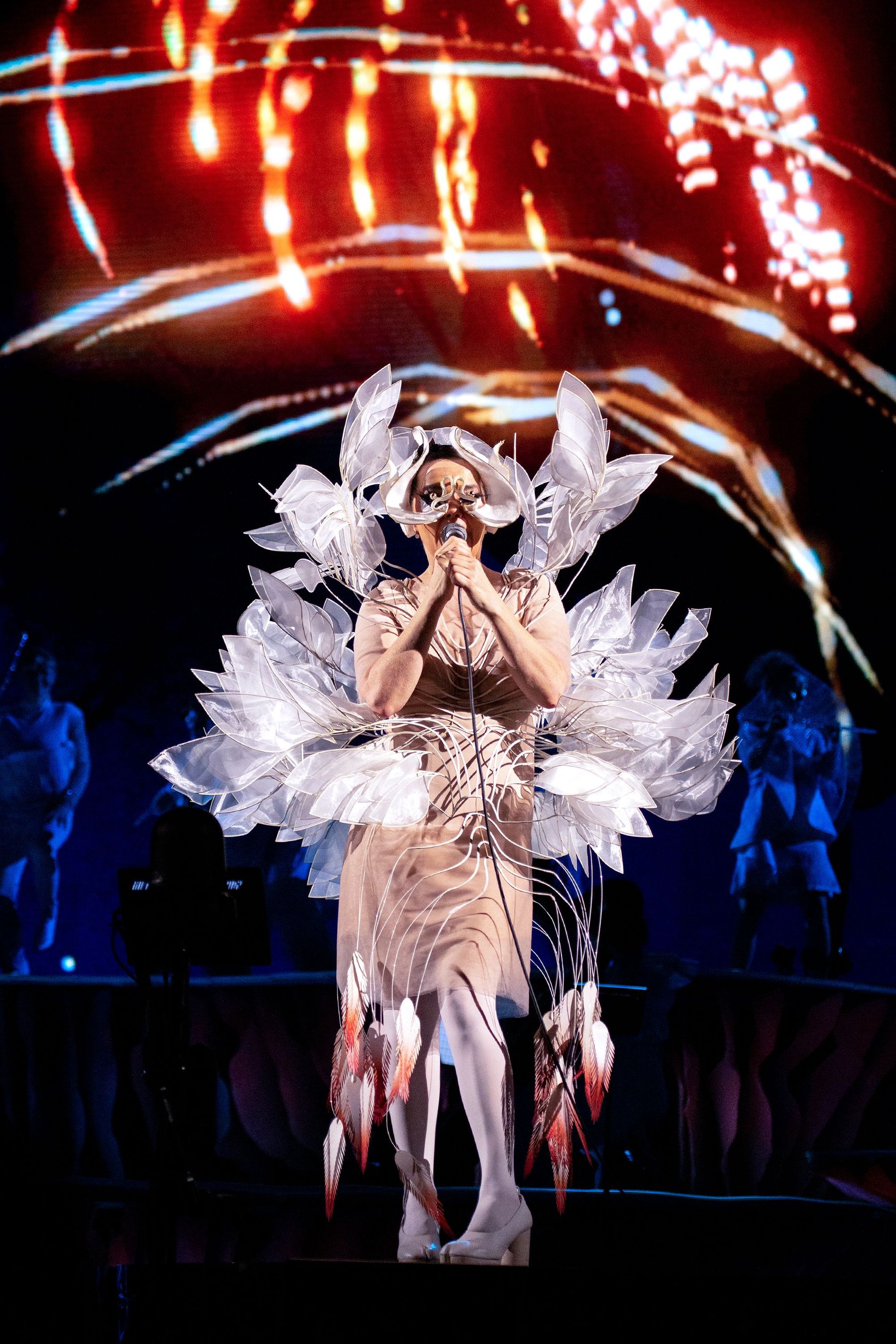 Photo: Getty
During her Cornucopia tour in Glasgow in 2019, Björk wowed again in Iris Van Herpen. The custom-made dress transformed the artist into a utopian other-worldly figure with its bursting, blossoming leaves and delicate feathers. The look was inspired by Björk's ideology behind the magical Cornucopia shows, which took their cues from a post-apocalyptic sci-fi world where plants, humans and animals merge. A true show-stopper, Björk even claimed that the dress made her sing better.
Orkestral tour in Reykjavik, 2021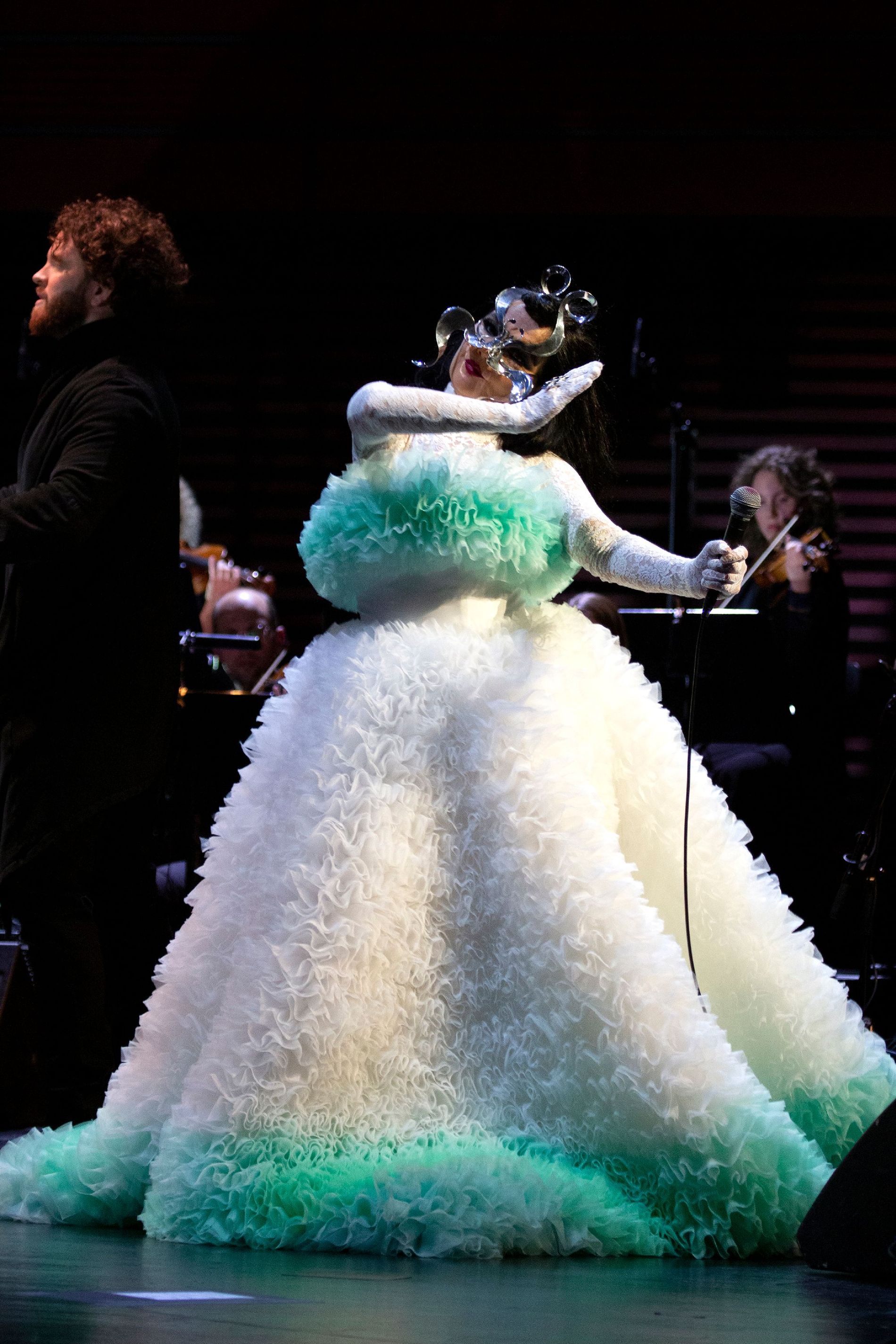 Photo: Getty
As she began touring again after the pandemic-induced lockdowns, Björk emerged with new avant-garde looks that still fit her dream-like universe. Amongst them is Japanese designer Tomo Koizumi's ethereal dress, which the artist wore to her Orkestral show in Reykjavik in 2021. The custom, cloud-like creation crafted from recycled polyester organza draws inspiration from Koizumi's Japanese heritage, fitting perfectly with Björk's fascination with the country's culture. The silver headpiece, handcrafted by accessory designer James Merry, adds the final, magical touch to this look.
Orkestral tour in Reykjavik, 2021
Björk's arsenal of new get-ups to mark her return to the world stage included the cobalt Balenciaga gown from the brand's spring/summer 2020 collection – a look that earned its spot as our current favourite from her on-stage ensembles. The artist donned the velvet hooped gown for her Orkestral show in Reykjavik in 2021, accompanied by a coterie of designs from other renowned brands such as Marine Serre, Iris Van Herpen and Tomo Koizumi. A celestial headpiece by James Merry on her head made the look all the more regal.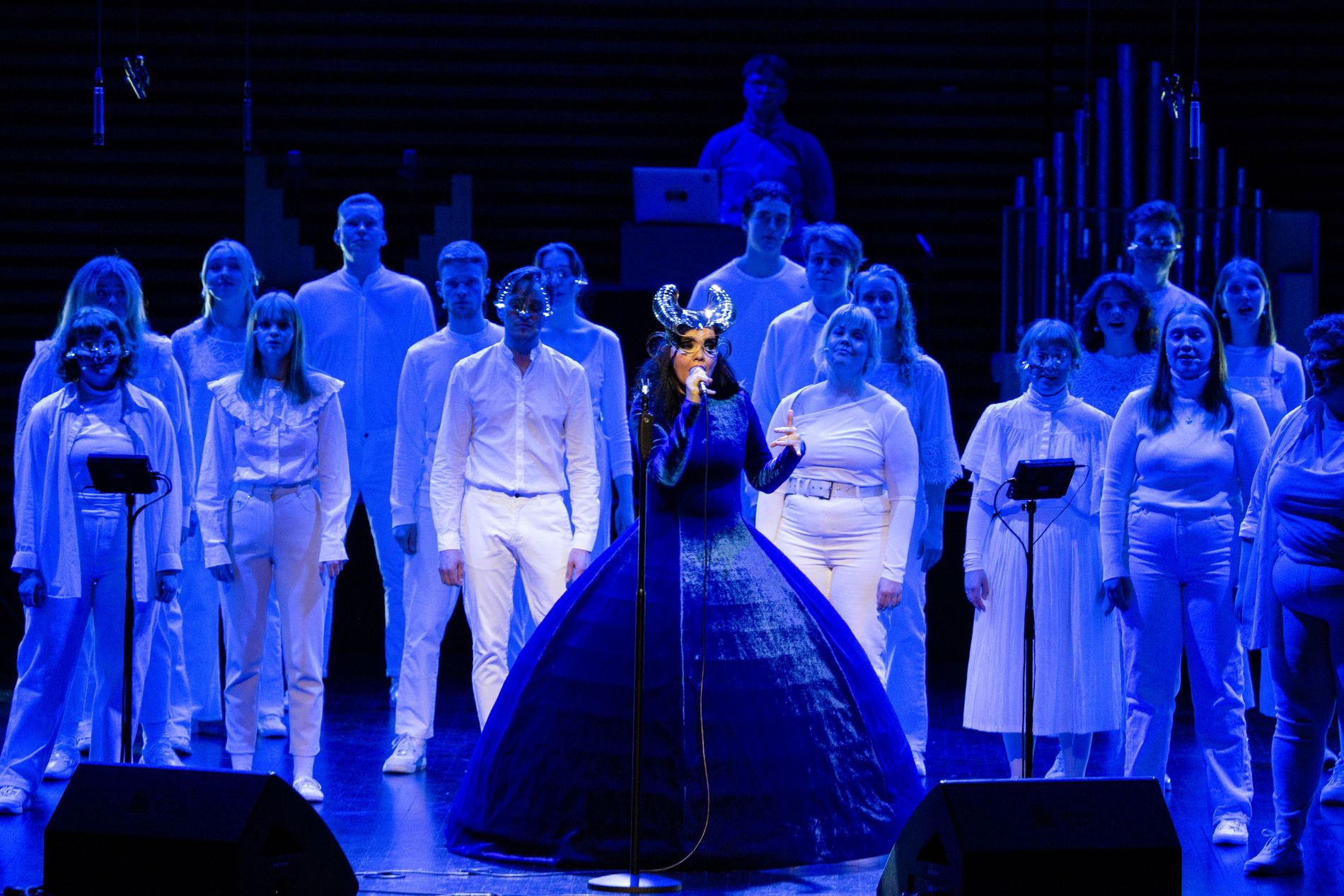 The Northman premiere in Reykjavik, 2022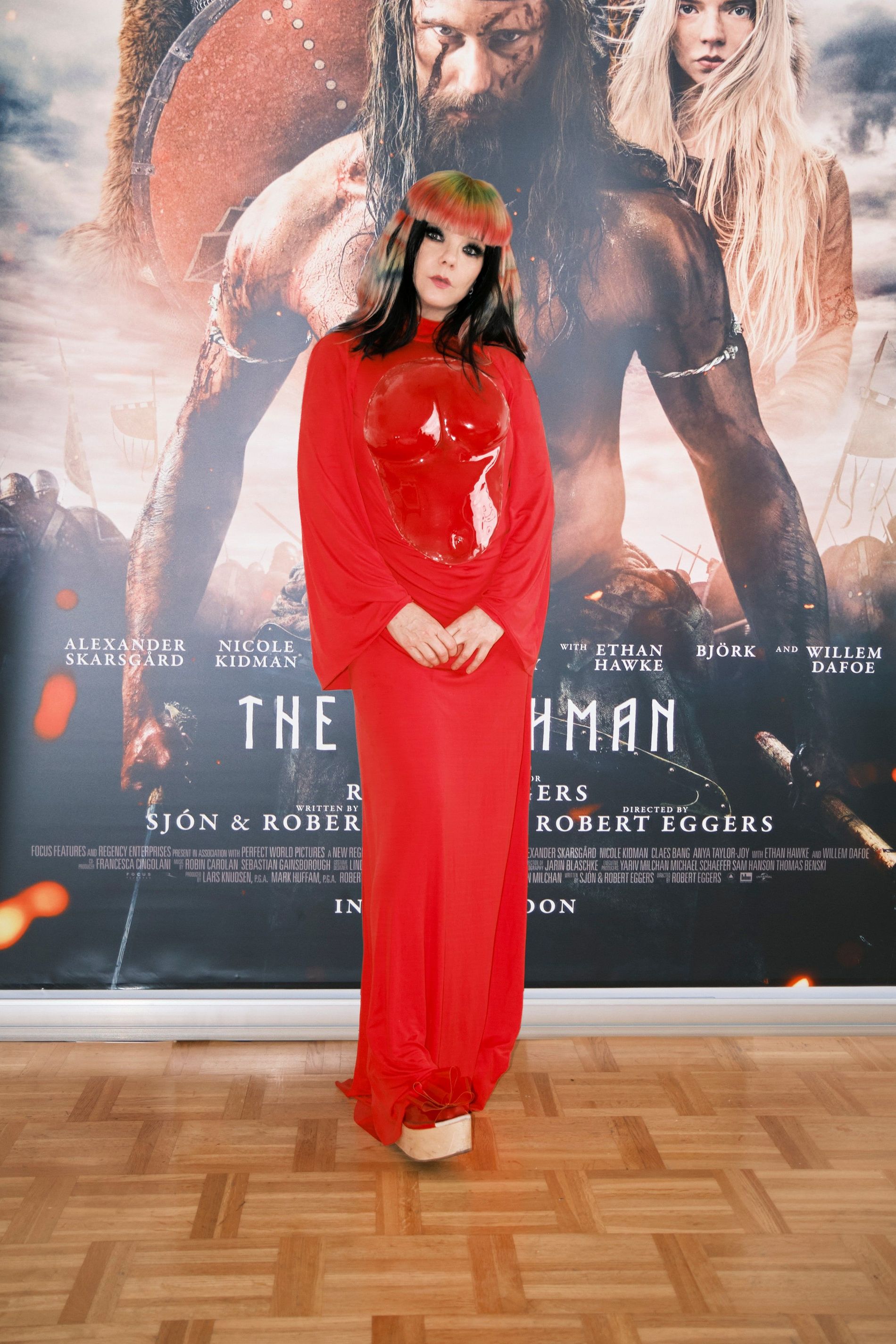 Photo: Courtesy of Huxley
After a 10-year break from the red carpet, Björk was back. Attending the Icelandic premiere of Robert Eggers' Viking epic The Northman (where the artist makes an appearance) earlier this year, Björk stole the limelight with the red-hot Loewe dress by Jonathan Anderson. Plucked from the brand's Renaissance-inspired spring/summer 2022 collection, the dress, featuring batwing sleeves and a sculpturesque breastplate, was the perfect ensemble in which to make her red carpet return.