Discovered by a model scout age 15, Caroline Winberg has graced the cover of Vogue and featured in advertising campaigns for Versace, Armani and Valentino before walking the runway at the Victoria's Secret Fashion Show for seven years in a row. Here, Sweden's best-known supermodel talks to us about layering multiple serums to cheat ageing, learning to love her white eyebrows and why she swears by eyelash curlers
All products featured on Vogue are independently selected by our editors. However, when you buy something through our retail links, we may earn an affiliate commission.
What does beauty mean to you?
Beauty for me is being happy and relaxed. I think people always look their best with a smile on their face.
Talk us though your morning beauty routine...
I'm usually pretty stressed out in the mornings. I have to drag my son out of bed and get him ready for school. If I'm in Sweden, and have the day off, I normally prioritise coffee in the morning. But my facialist recently gave me a new skincare routine that I try to follow.
What is your biggest skin concern?
I get very dry skin when I travel. I also get a red face very easily when it's cold outside and flaky patches. For this reason I try to use Weleda Skin Food in the winter and plenty of SKII face masks.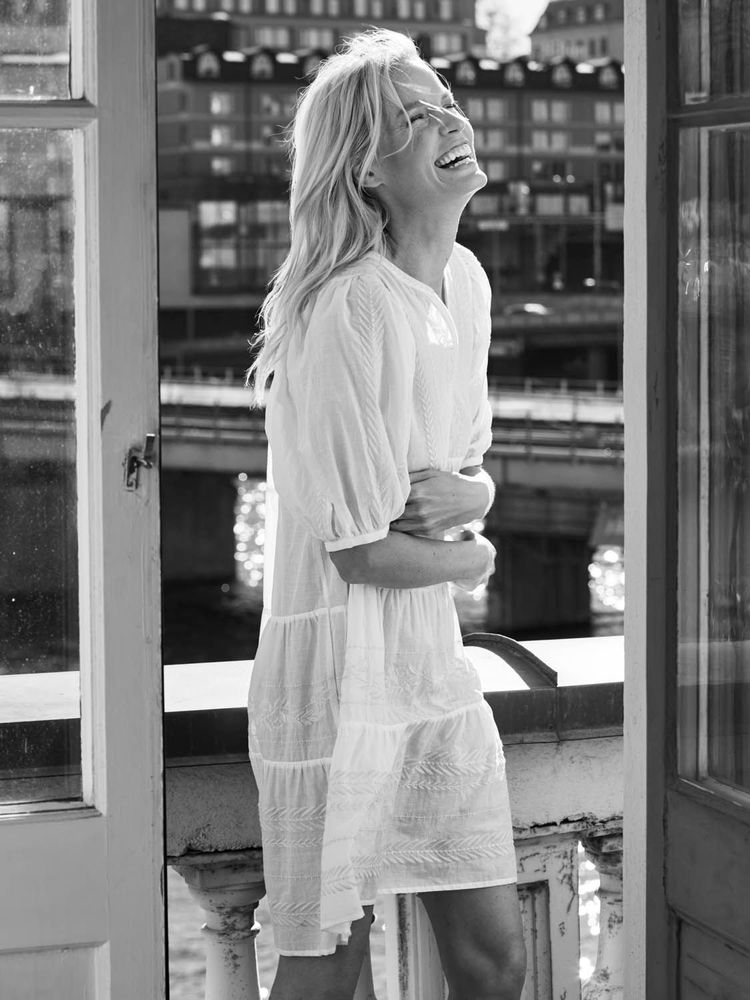 Photographer: Martin Pettersson.
Which three products are always in your makeup bag and why have they earned a place there?
I always have an eyelash curler. I try to dye my lashes twice a month because they are very white. I don't like to use makeup during the day so a quick curl makes me look more awake. RMS Beauty "Un" Cover-Up Concealer is very light and takes away redness around the nose and dark circles without looking too thick. I recently received the Rose Inc Cream Cheek & Lip Colour, which I have been putting on to add a bit of freshness to my skin.
How do you look after your hair?
Unfortunately, I have not been blessed with beautiful hair so I use Kerastase shampoos and conditioners to nourish it. The only other product I use is Klorane Gentle Dry Shampoo to add some texture. Rimon at Antonio Axu, is an expert in natural colouring and always gives me the perfect blonde highlight without the whole hair looking bleached and dull.
What is your favourite fragrance?
I have two all-time favourite fragrances that I alternate: Le Labo Santal 33 and Diptyque Philosykos. They remind me of the good times I had out and about town living in London and New York.
What is the best beauty advice you've ever been given?
I think the best piece of advice is to use whatever works with your face rather than following makeup trends.
What was your greatest beauty discovery?
I love facials. I started going to the Qvi Si Haute Couture de la Beauté salon two years ago where my go-to treatments are the Dermapen [a fractional micro-needling treatment that helps tighten, lift and rejuvenate the skin] and PRX [a revitalising peel-like treatment that is gentle on the skin]. I think as long as your skin looks great you can rock any look.
What beauty advice would you give your younger self?
I have light eyebrows and I used to freak out if anyone saw me without them filled in when I was a teenager. Then a makeup artist told me how beautiful they are naturally so now I always keep them that way. Also less is more – I'm not into the duck lip trend that has exploded on social media.
Do you have a beauty or wellness secret?
I've been doing a lot of yoga recently, which keeps me calm and happy. I also like an infrared sauna at Heat by Sophie Lie, especially when I'm feeling tired or bloated as it always makes me feel and look better afterwards.
---
How to get Caroline's look