This party season, we lean into sumptuous suiting - here are the best velvet suits and how to style them
All products featured on Vogue are independently selected by our editors. However, when you buy something through our retail links, we may earn an affiliate commission.
The resurgence of nineties fashion in the past few years has seen a comeback of some of our favourites such as the slinky slip dress, the kitten heel and the baguette, to name a few. Even though dubbed as the fabric of the nineties, velvet seems to emerge on the catwalks each autumn/winter season regardless of which era is enjoying the sartorial spotlight. The popularity of the lavish fabric is hardly surprising though, as velvet can elevate just about any garment.
Back in the day, velvet was only accessible to royals and the ultra-wealthy – so its little wonder that donning a garment made of the soft and plush fabric still evokes a feeling of wearing something luxurious. Luckily today however, velvet is far more affordable and a definite must-have in our winter wardrobes, especially now that the party season has commenced.
If you're not the party dress type but you're still looking for something elevated, a sumptuous velvet suit fits the bill perfectly. A touch more glam than your regular suit and a timeless choice, the velvet suit is ideal for any celebration you'll have this winter. You'll achieve a sleek yet sharp look, and with the right styling this nostalgia piece will work not only on the dancefloor, but also at the office.
Smooth, marbled and crushed – below we've gathered some of our favourite velvet suits to invest in now and tips on how to style them.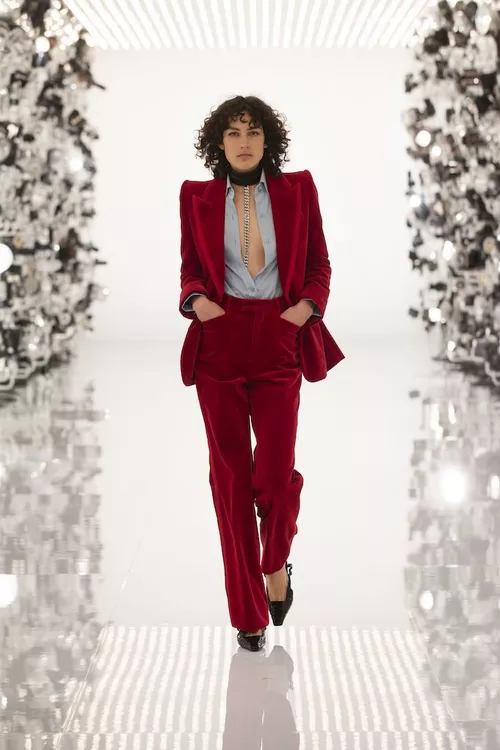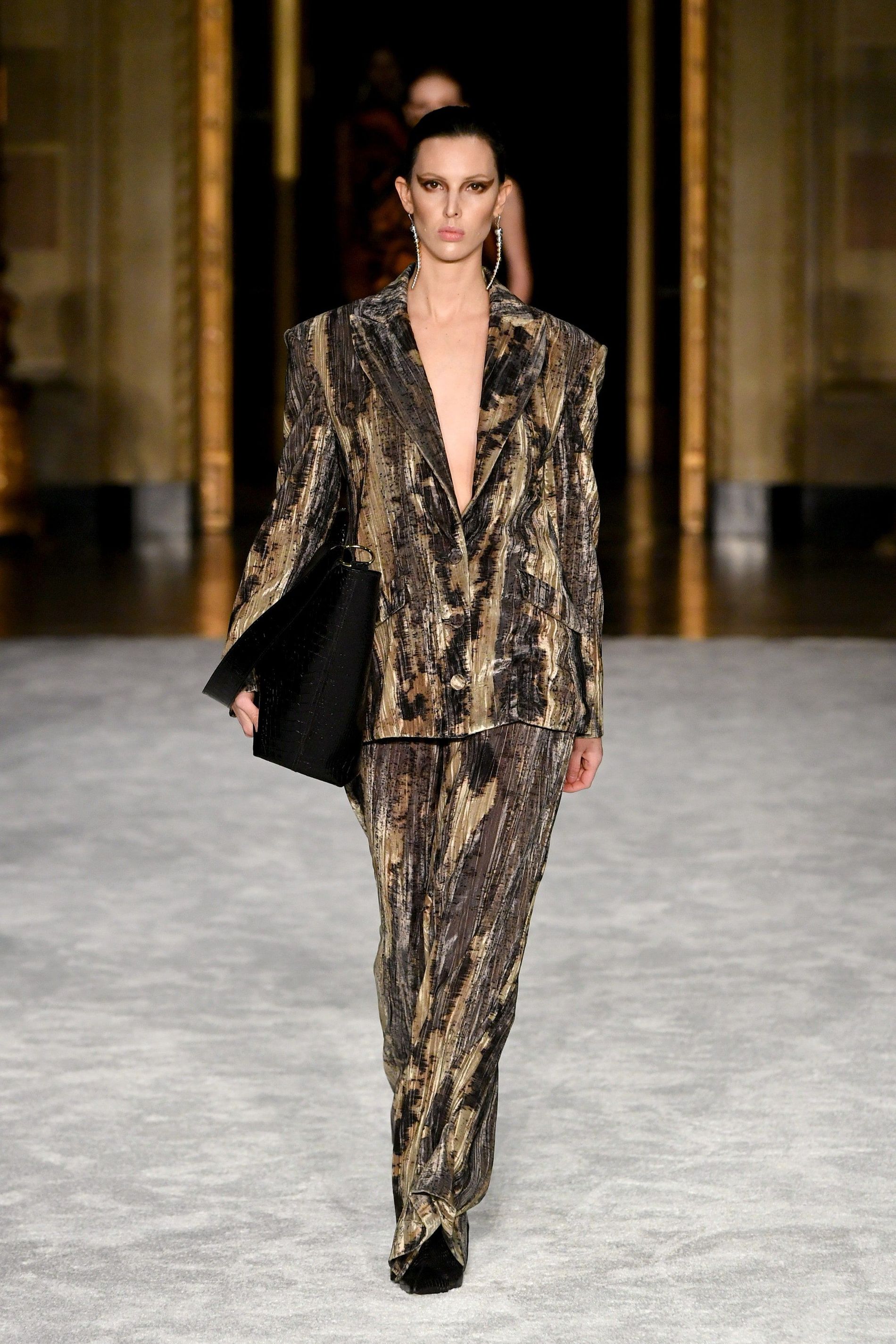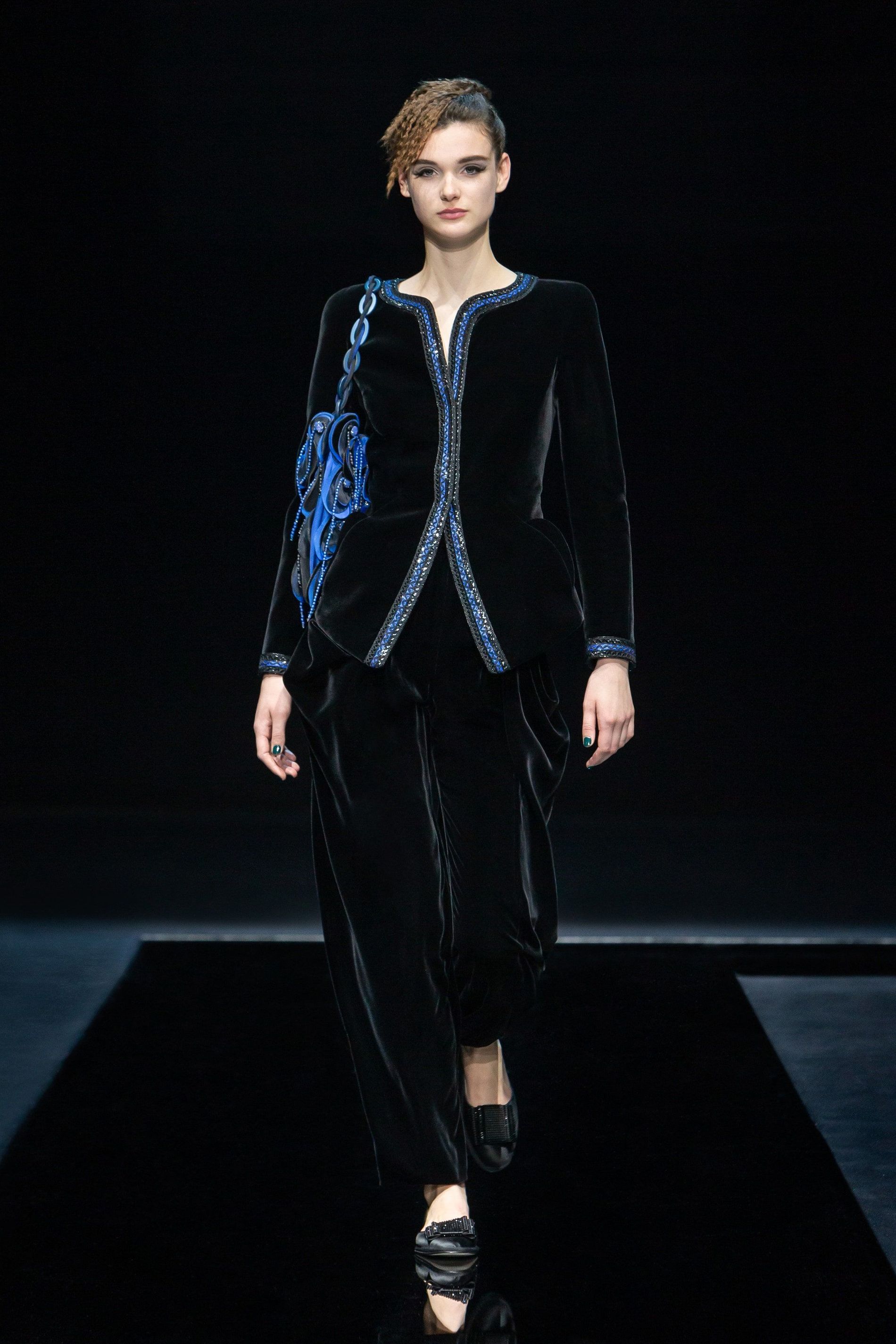 A vibrant-coloured velvet suit is a great statement piece to be worn at this winter's events. At Gucci's autumn/winter 2021 show, we saw iterations of the velvet suit ranging in different colours from emerald green and chartreuse to midnight blue. The colour that caught our eye arrived in ruby red, a reboot of the iconic red velvet suit designed by Tom Ford for Gucci autumn 1996 (and worn by Gwyneth Paltrow on the same year to the MTV Video Music Awards). Paltrow recently wore the autumn/winter 2021 replica by Alessandro Michele to Gucci's 100th anniversary, and styled it exactly the same way as she did in 1996 – with a pale blue oxford shirt.
There's a myriad of different types of velvet available, and at Christian Siriano's autumn/winter 2021 show we spotted a marbled velvet suit in stunning honey highlighted brown. The slouchy fit and the boxy blazer create an effortlessly cool look that works the best when worn with a delicate bralette underneath. Finish off the look with gold jewellery and black accessories and you'll be ready for the night.
A black velvet suit is a definite classic and a piece that easily transforms from the office to the party. At Giorgio Armani's autumn/winter 2021 show, garments made of black velvet were sported en masse – our favourite look was the beautifully fitted jacket embellished with sky blue and black sequins combined with straight fit trousers. To add some zest into the outfit, wear the black velvet suit with bold, vibrant-coloured accessories.