Fluid, light and breezy are features often connected with high summer, but let's make this feeling last 365 days. It's time to make the slip dress an all season's staple
All products featured on Vogue are independently selected by our editors. However, when you buy something through our retail links, we may earn an affiliate commission.
With a nonchalant beauty and remarkable chameleonic features, the slip dress has become an established authority, garnering respect from sought-after fashion insiders and designers alike. Originally perceived as a bedroom item, the 90s saw the slip dress find a new groove and identity by being reinterpreted as a slinky summer date-night must-have. Nowadays it's a timeless, sleek piece that has the clever knack of being dressed up or down. Think Carrie Bradshaw in her famous scene with Mr. Big while quoting Barbra Streisand as Katie Morosky in The Way You Were. Or Ariana Grande, pretty much every time she steps out.
As the weather turns, many of us are in a limbo between the easiness of summer and coziness of autumn: enter the infamous slip dress which, with clever styling, can be worn 365 days of the year.
But how to distinguish a summer dress from an autumn one? The good news? You don't have to. You will be wearing the very same dress you once wore to welcome spring and to celebrate your first outing after lockdown during the peak of the summer. The pivotal difference will be how you clash hard and soft fabrics, making it unmistakably and skillfully fall ready. From including heavy-weight staples like cardigans, statement outerwear and soft knits to boxy blazers and weather-appropriate vests, you can be sure to witness the birth of the perfect seasonal look.
With a keen ability to take you from late sunsets to early winter dinners, this is the ultimate thrown-on piece that also offers a much-appreciated extra layer of warmth. Below are six slip dress, and tricks to wearing them, that will definitely end your styling rut in time for autumn.
---
Slip dresses to transition to autumn
How to style a slip dress for autumn
Pair with a biker jacket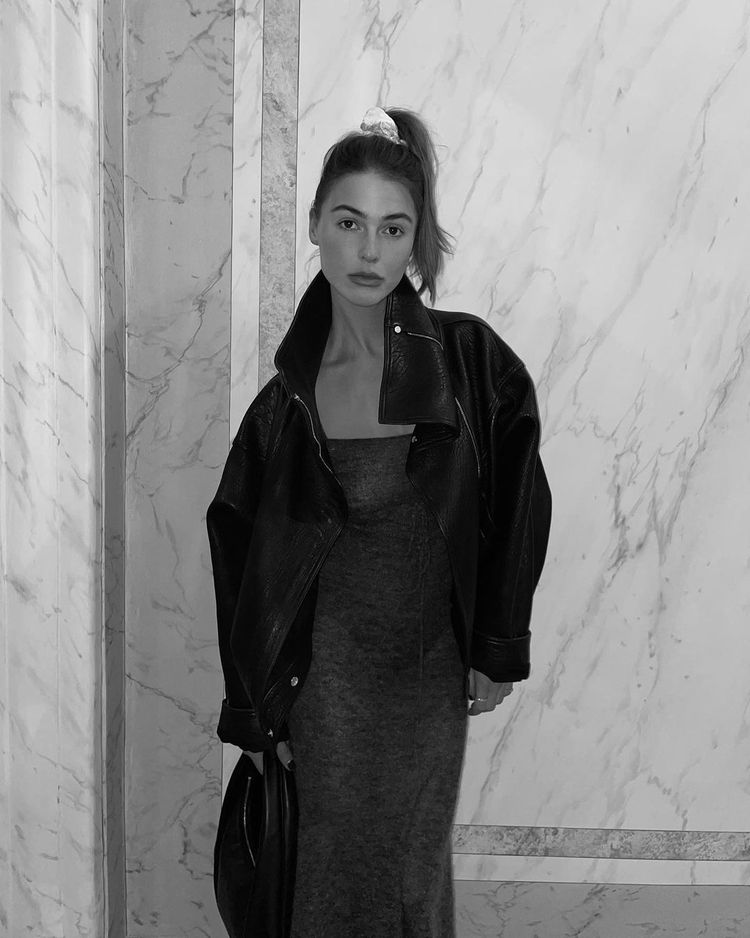 Photo: Sophia Roe (@sophiaroe)
A biker jacket adds the grunge edge everybody is loving by speaking to a complementary roughness. Choose a boxy and structured style to better achieve a simple and yet show-stopper vibe. Think Mannei and its statement Amra jacket.
Add a floor-skimming trench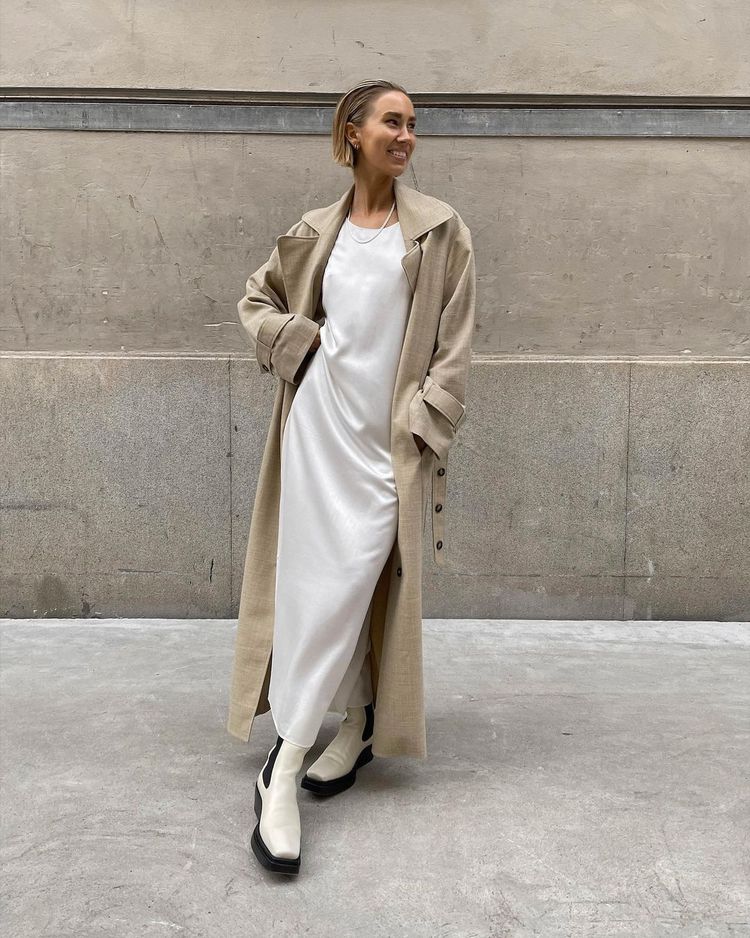 Photo: Lisa Olsson (@lisa.olsson)
Nothing will speak stronger to a fall aesthetics than including a full-length trench in your go-to visuals. Don't be afraid to go up one or two sizes in order to achieve a relaxed yet still sharp fit. Think By Malene Birger and its Maribella trenchcoat.
Embrace the knit top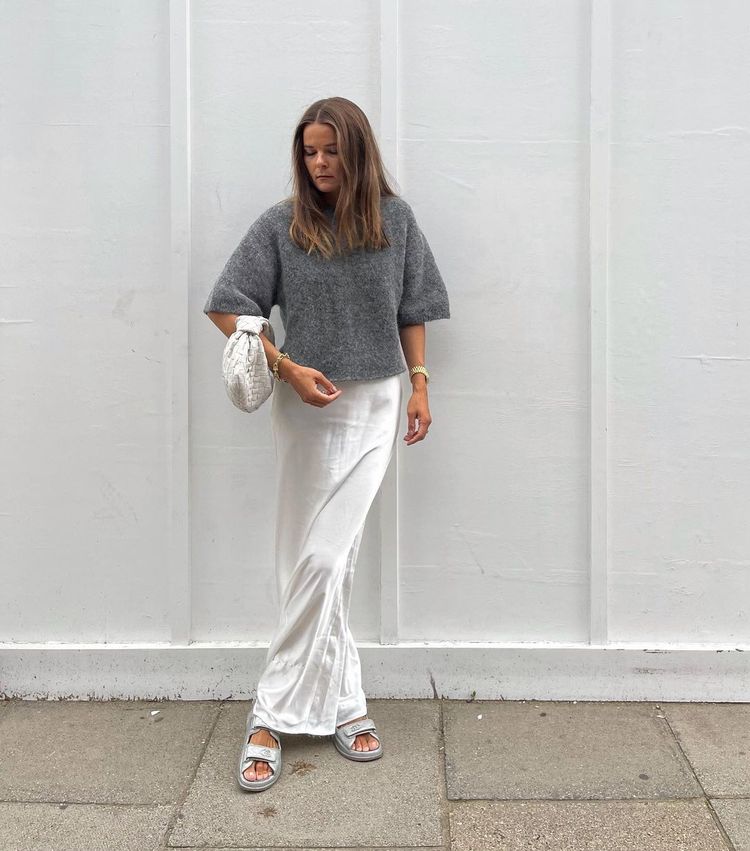 Photo: Rikke Krefting (@rikkekrefting)
The first days of fall can be blessed by joyful beach-y weather (fingers crossed) so we better be prepared to transform our look on the go. Choose a structured knit shirt and just play with it as an upper layer that will only add depth, helping you weather the season in style. Think Bite Studios and it's cashmere t-shirt.
Invest in a boxy blazer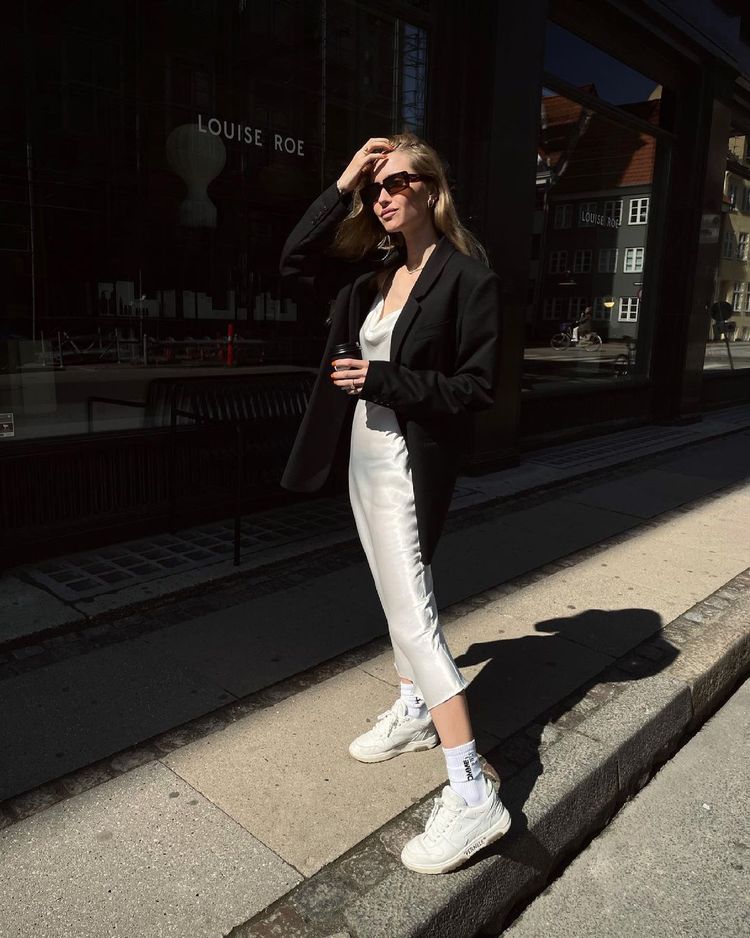 Photo: Pernille Teisbaek (@pernilleteisbaek)
A blazer is always a good decision. The undeniable staple upon which every outfit should be built, it's important to find your fighters. We have our eye on Anine Bing's Lou blazer as a knock-out contender this season.
Throw over the top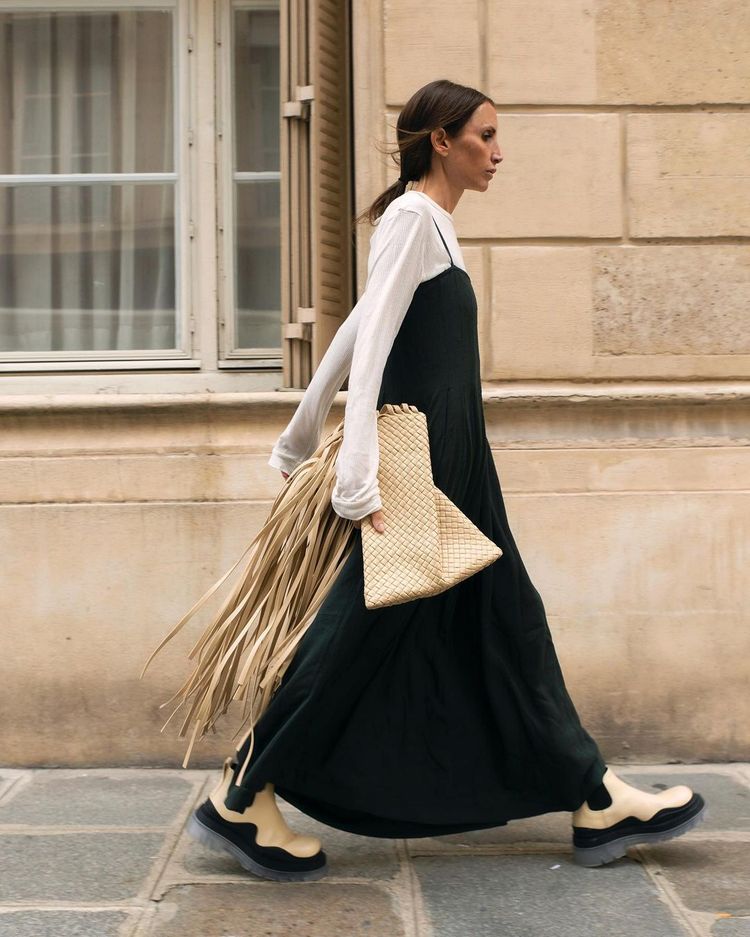 Photo: Loulou de Saison (@louloudesaison)
A simple but effective styling trick - layer with a skivvy, thin turtleneck or long-sleeve tee. Think Filippa K and its Natalia sweater as a thin and sleek basis to go under the dress and act as second-skin layer.
Layer with a vest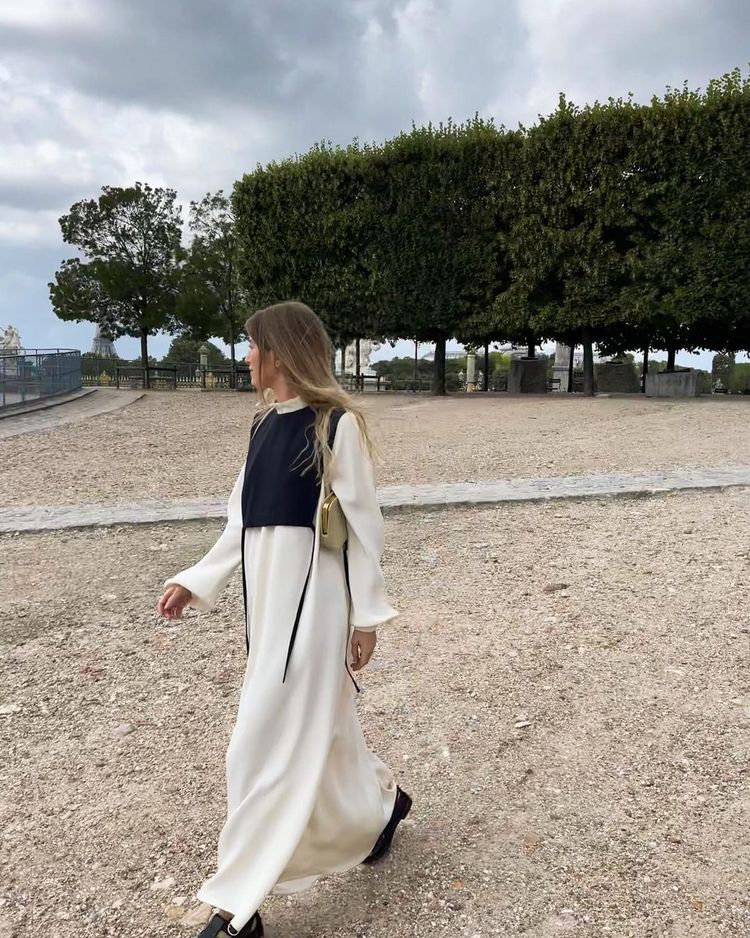 Photo: Florence Cools (@florence.cools)
The vest has seen an outpouring of acclaim during the last two seasons. The true core of this now-essential transitional piece is often connected to knit, but do yourself a favour and explore all options. Think Ganni and its backless crop top.