These Swedish wineries promise tastings — and trips — to remember
Sweden may not be the first country that comes to mind when you think of fine wines, but an increasing number of charming wineries have been popping up across the Nordic nation in recent years. Here are 10 of the best wineries to check out
Arild Vineyard
Being one of Sweden's largest wineries, Arild still manages to preserve both cosiness and conviviality.
The main farmhouse that forms the focus point of the property is one of the oldest in the area, dating back to the 18th century. It helped owners Annette and Jonas Ivarsson fall in love with the site during a family holiday here in the 1990s. The pair of entrepreneurs bought the property soon afterwards, embarking on an extensive renovation project before planting the first vines in 2006. By 2010, they had established their own winery.
Today, the vineyard offers a solid wine selection with everything from dry, white, and sparkling to sweet – all locally produced of course. Arild also prides itself on its restaurant, where dishes such as rooster in wine and baked cauliflower make use of locally-sourced ingredients.
In addition, there is a hotel with small but well-planned rooms and during the summer months they offer an area for glamping with pre-erected tents in the middle of the vineyard.
Skepparps Vineyard
It's easy to get the feeling that you're in Provence when visiting Skepparp in Österlen. The rolling green slopes are home to one of the most aesthetically stunning vineyards in Sweden.
When current owner Bengt Åkesson's grandfather first took on this site he used it for an orchard and the farm continues to grow apples today, allowing them to add a bottled yeast cider to the drinks options. The vines, meanwhile, consist of Solaris, Rondo and Cabernet Cortis grape varieties, which Skepparp use to produce award-winning wines such as the fresh and fruity Grand Prix Sparkling Brut 2019 and the lightly sweet berry-driven Skepparps Grand Prix Rosé, Halvtorr 2019.
The vineyard offers special packages for weddings and other celebrations as well as hosting regular wine tastings and large-scale public events such as their summer beverage festivals (for both their wines and their cider).
Ästad Vineyard
Wine nerd or not, a stay at Ästad will guarantee you a memorable experience. Located in the stunning Åkulla beech forest nature reserves, this beautiful secluded spot offers organic wines and a nature-inspired "spa of the senses". Oh, and there's also their Michelin starred restaurant, ÄNG.
A short drive from Varberg, until relatively recently the farm at Ästad was focused on producing organic milk. In 2011, the first vines were planted, with the main winery opened three years later. But what Ästad may lack in winemaking history, it more than makes up for in quality, with a focus on producing outstanding sparkling wine, which can be experienced via its range of tasting tours and packages.
You can extend the terroir experience with a visit to the Sinnenas Spa on site, which takes inspiration and ingredients from the surrounding vineyards and farmland to present a variety of indoor and outdoor sauna and spa treatments. There's a similar focus on local ingredients at ÄNG, where many of the dishes use vegetables grown right on the doorstep and animals from the farm next door.
And if all that sounds like a lot to get through, a collection of stylishly-designed rooms and suites (including some with their own private saunas) enable you to really make a trip out of a visit here.
Kullabergs Vineyard
An ambitious vineyard venture which is at the forefront when it comes to high quality wines, Kullabergs wines are award winning and highly coveted, regularly picking up medals from some of the biggest international wine competitions there are.
The vineyard takes its name from the nearby Kullaberg mountain and sits on the eponymous cape that juts out into the Kattegat in southwest Sweden. They credit this marine climate with a mix of sunshine hours, temperature and precipitation that they say makes for "nice mature and aromatic fruit with a fresh acidity."
Using sustainable agricultural methods, Kullabergs produces white, sparkling, rosé and red wines and a dry apple cider, all of which you can taste at their dedicated wine bar Skänken, which is open daily throughout the summer months and serves drinking accompaniments such as a very tasty cheese platter. Wine tours also run throughout the year.
And if you can't make it to the site itself, Kullabergs bottles are available online via Systembolaget (the government-run liquor store in Sweden) and stockists in Norway and Japan, as well being served at a number of fine dining restaurants across Sweden.
Thora Vineyard
The origin tale behind this relatively new vineyard is a true love story. The founders Heather and Johan Öberg met in California, were engaged at a romantic vineyard in Santa Barbara and shortly thereafter got married. In 2014, they moved to Sweden and discovered Thora, a traditional farm on the Bjäre Peninsula in northwest Skåne where they set about realising their dream of founding their own vineyard.
In 2016 they undertook a renovation of the site, which included the building of a small winery, and by 2019 they had planted 13,000 Pinot Noir, Solaris, Pinot Gris, Ortega, and Siegrebe vines. Today, it's a business in full bloom producing "Swedish premium wines with a local focus and global ambitions."
Professing to "believe in that bond between community and curiosity" and inquisitive drinkers are welcomed with guided tours and wine tastings.
Lottenlund Estate
A stone's throw from the beautiful castle at Sofiero in Helsingborg and surrounded by white fences, horse paddocks, apple trees, honeybees and a splendid culinary garden, the magnificent Lottenlund Estate is a hugely impressive development.
The seed for the idea behind the Estate's winery was planted during a trip to Tuscany. Standing on a balcony looking over vines as far as the eye could see in central Italy, Tina Berthelsen and her partner decided to create their own Tuscan-style winery back home in Sweden — a plan that has now fully come to fruition.
They planted their first vines in 2016 on a traditional farm plot that had lain fallow for the previous decade. Today, they grow some 30.000 vines of Solaris, Muscaris, Cabernet Cortis, Monarch, Souvignier Gris and Donau-Riesling - all of which are tended to and harvested by hand, with no chemical pesticides used.
Visitors can enjoy wine and spirit tasting sessions at Lottenlund, which include tours and optional food.
Särtshöga Vineyard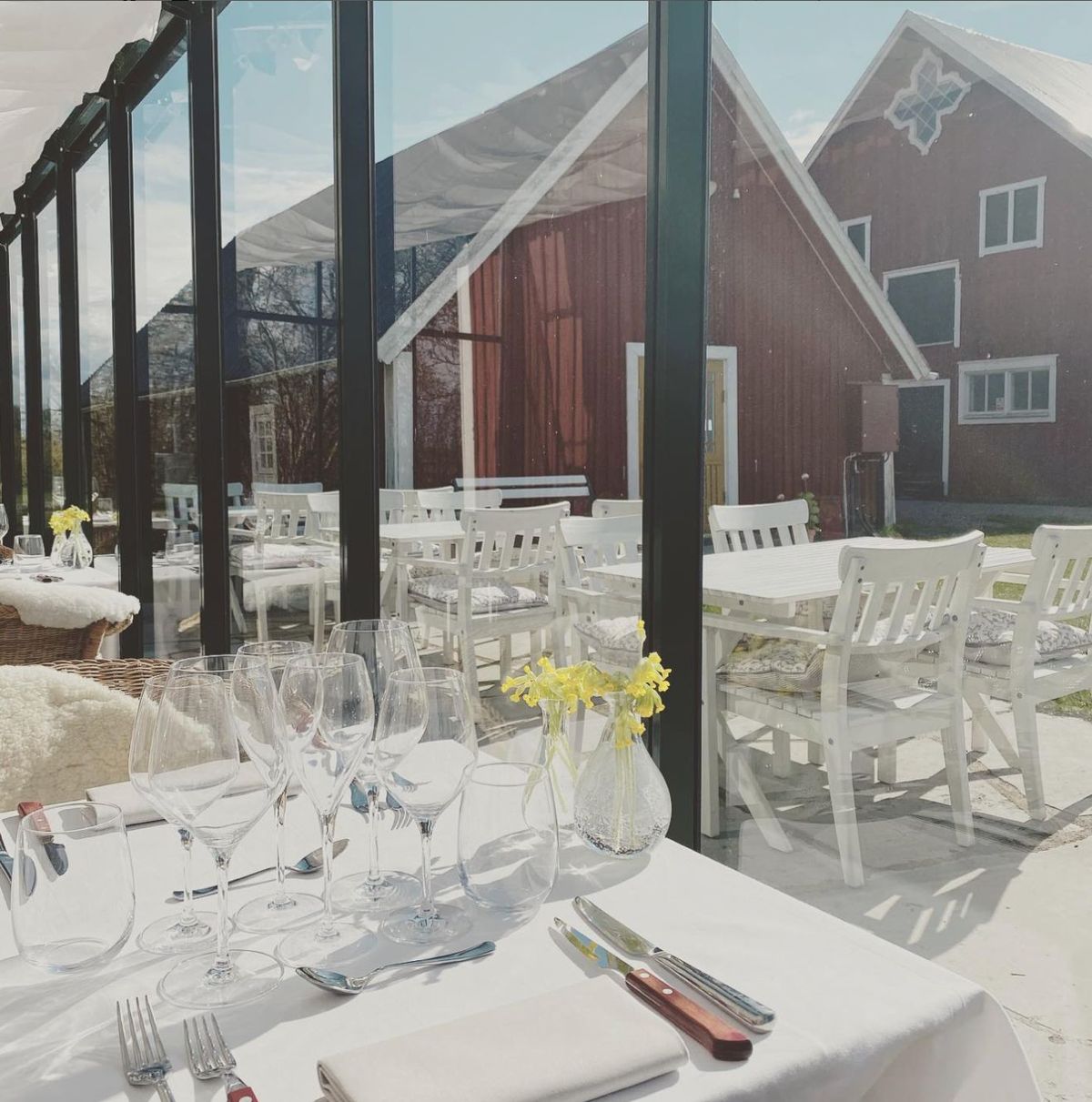 Photo: @sartshogavingard
Beside the forested granite mountain Omberg on the eastern shore of Lake Vättern you'll find one of the world's most northerly vineyards, the small and carefully built Särtshöga Vineyard.
The first vines were planted here in 2013 and by the time Särtshöga celebrates its tenth anniversary the winery should be at full capacity, producing 8,000 bottles a year. The focus is on sparkling grape wines, which are produced in accordance with the famous Champagne method and are fermented in a mix of steel tanks and old French oak barrels. They also produce an 'Apple Ice Wine' cider.
Wine tastings and tours are available at various periods between spring and autumn, while the site also offers comfy overnight rooms with careful interior design and a farm restaurant serving wood fired pizzas so that you can really make a trip of it.
Wannborga Vineyard
Set among charming little cottages in the countryside of Öland, off the southeastern coast of Sweden, Wannborga Vineyard is one of country's oldest vineyards and one of its first commercial wineries.
Originally an old dairy farm, Wannborga became a vineyard in the early 2000s and has steadily grown to host around 3,800 vines today. The vineyard produces both red and white wines, as well as its own gin and whiskey, all of which can be sampled via their guided tours and tastings, which run throughout the summer months.
The idyllic site is home to two traditional-style farmhouses as well as a couple of studio apartments which are available as holiday accommodation and they also have bicycles for rent, allowing you to get out and explore the surrounding area, including the nearby beaches.
A small restaurant, open only in summer, also provides a menu of broadly Asian fare, with accompanying drinks sourced right from the winery and distillery on site.
Stora Boråkra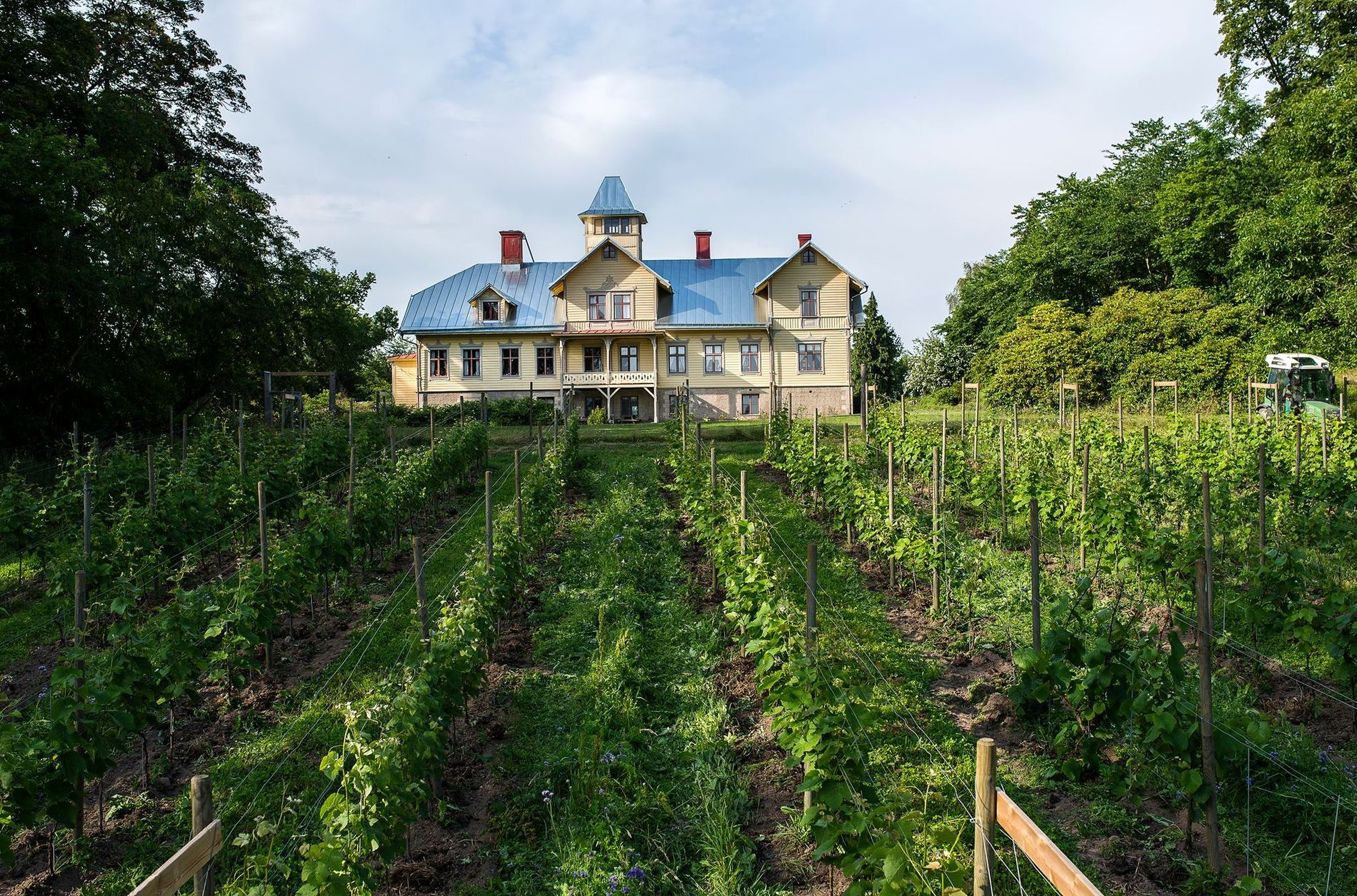 Photo: @vingardenstoraborakra / Facebook
This magnificent property from the 1880s, dating back to Blekinge's Danish era, makes Stora Boråkra an ultimate excursion destination.
Staffan and Lil Ottosson planted their first few vines here in 2009 and today have around 4,000 plants on the grow, most of them producing Solaris grapes.
Regular wine tastings and wine dinners are available (including during the winter) and the vineyard has become known for its collaborative harvest festival in the autumn, where guests are given breakfast and a crash course in how to harvest before being sent out into the vineyard to collect ripened grapes. A hearty lunch is then served before more grape picking in the afternoon ahead of a party and, of course, a celebratory few glasses of wine.
Langmyre Winery
Located on Sweden's largest island, Gotland, Langmyre was established by a young Swedish-Italian couple in 2018, and had its first harvest in 2020. It's a certified organic winery with a down-to-earth focus and where 'transparency, passion and craftsmanship' are three of the business' key watchwords.
Langmyre uses grapes developed by innovative Italian vine nursery Vivai Rauscedo that blend traditional varieties with wild ones, with the idea being that this makes them more resistant to disease and more adaptable to the Nordic climate. They use them to produce three white and two red wines, and claim that their terroir has characteristics that make it resemble Chablis and Champagne.
You can put that claim to the test on one of Langmyre's winemaking tours, which run throughout the year and are available in Swedish, Italian and English.