The Swedish songstress hit the red carpet in a Scandinavian icon
When it comes to fashion hits, the style set are always keen to see what singer Zara Larsson will do next —and even she is surprised by her latest choice.
"I went for the suit," says the pop star of her Fashion Awards 2021 look. "It just felt really classy and elegant. I tried it on and felt comfortable and I felt like it isn't something I really have done a lot of."
Hitting the Royal Albert Hall where the awards take place in H&M's Innovation collection from head to toe, the Swedish-born singer wore white tailoring with a matching waistcoat. On her feet black pumps, while a gemstone choker graced her neck.
Speaking of this sartorial detour exclusively with Vogue Scandinavian, Larsson explains it was the effortless elegance that attracted her to the suit. "I have done a lot of sequins. I have done a lot of performance outfits. Even though I haven't pulled off a lot of suits in my life, I just felt so sexy and effortlessly chic in it."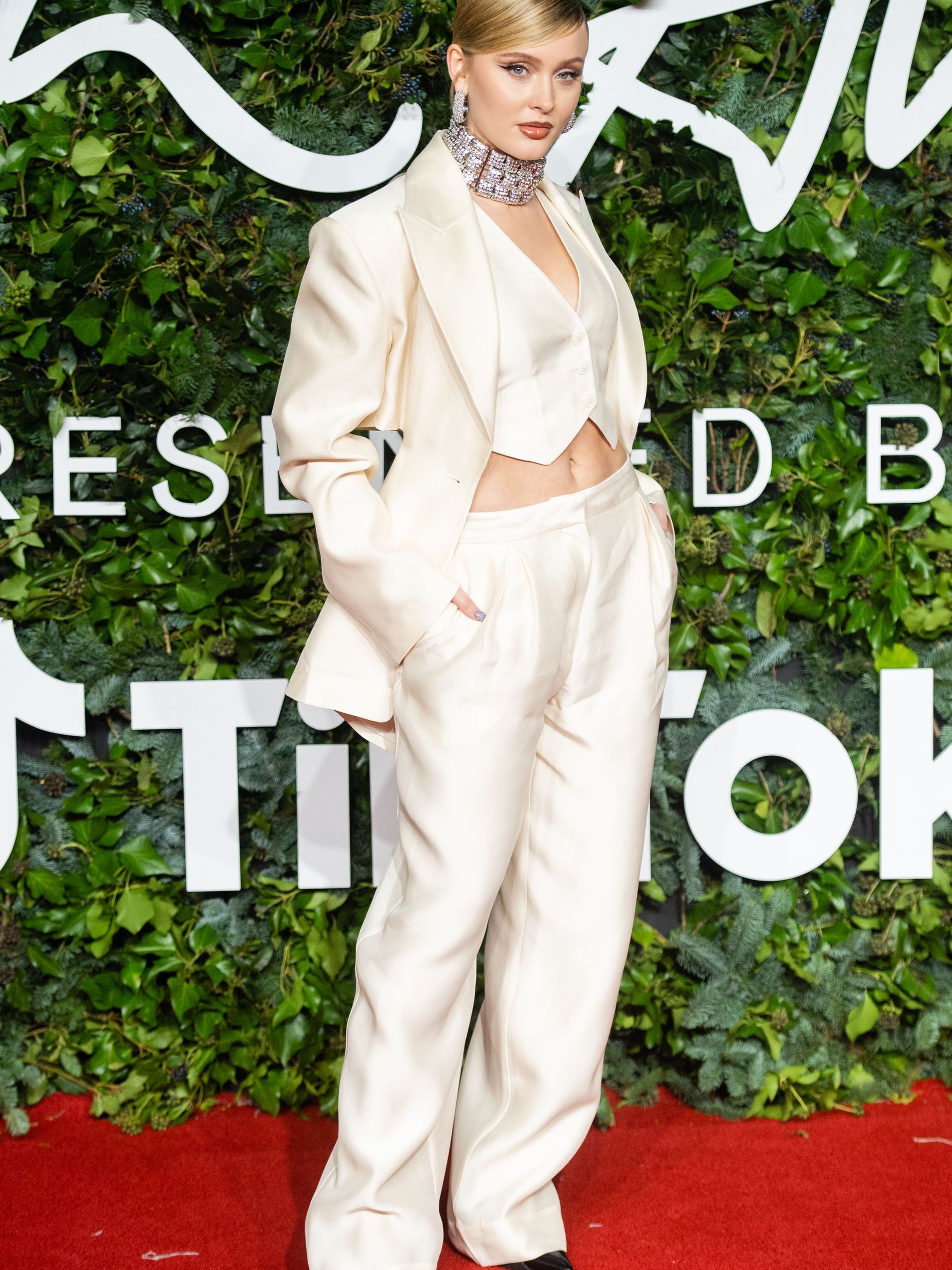 Photo: Getty
"I wish I could walk around in my performance outfit a lot," Larsson continues. "I love colour. I love sparkle. And that's why [this look] is so different. You know, for some people, [this suit] might be partying and pushing it. But for me, I'm pushing it by not having a very colourful hey-look-at-me dress."
But don't for a second think that Larsson has lost her trademark sense of sartorial adventure. The looks still had touches of the unconventional, with cut out sides on the blazer and ties around the ankles of the trousers. The white palette also meant that Larsson could have fun with makeup. "You can also be a little crazy with the makeup and hair if you want. Because if you're going to go full out on the sequins in a can look a bit costume-y."
The full outfit, choker and pumps included, are all part of H&M's new collection, Innovation Circular Design Story, which celebrates two themes; sustainability and joy, making it the perfect pick for the upcoming party season —and for Larsson whose modus operandi is glamour dressing.
"I just love to be glamorous. I really, really do. It's either all or nothing for me, it's either sweat pants at home or dressing up with a full face of makeup and doing my hair. Putting in extensions. Putting the highest heels on."
Heels are something the starlet especially loves. Some of her favourite memories are of walking around the house in her grandmother's heels. "My grandma has the tiniest feet. So when I was really, really young, I used to be able to just put a little paper in them and walk around."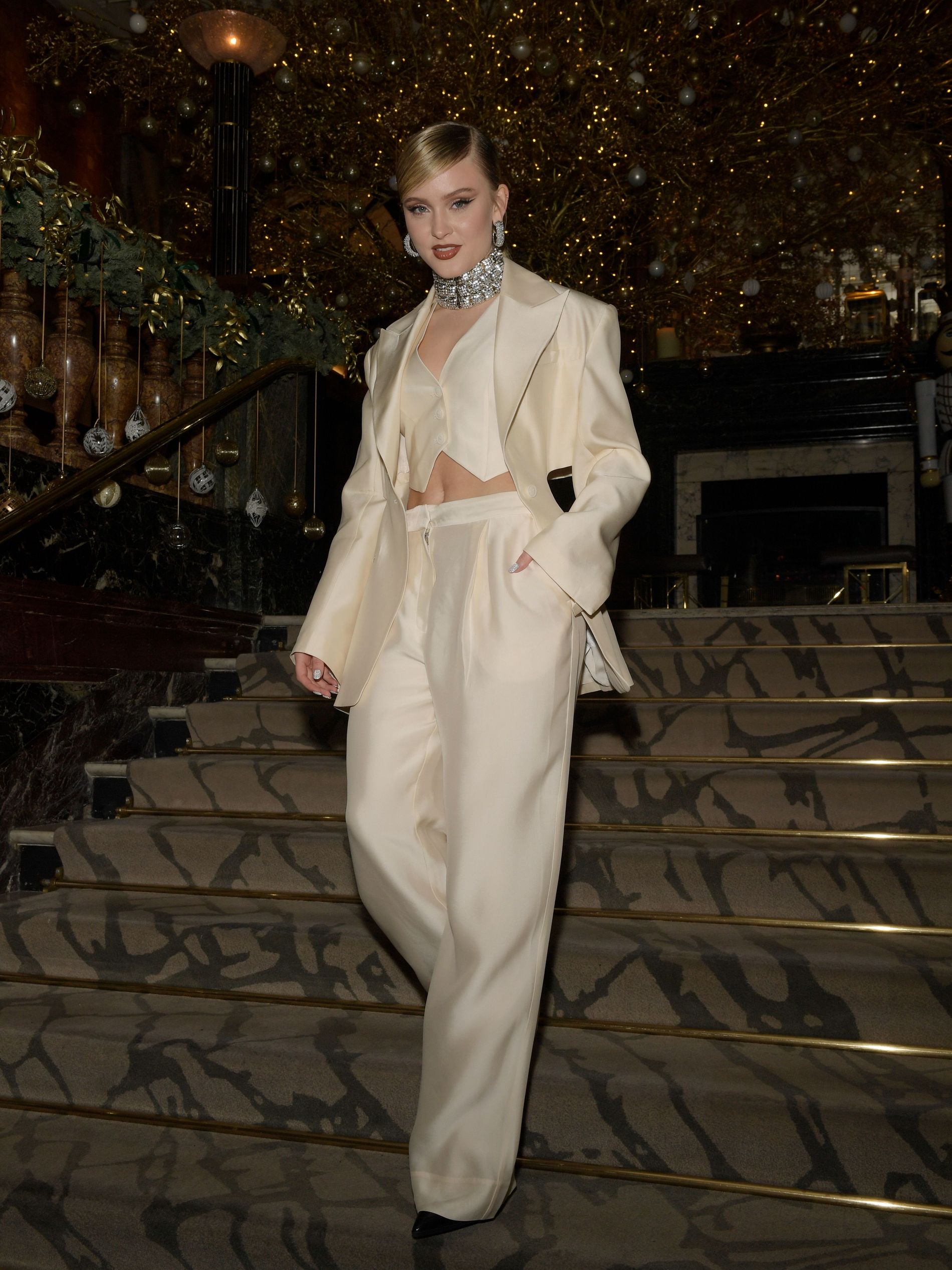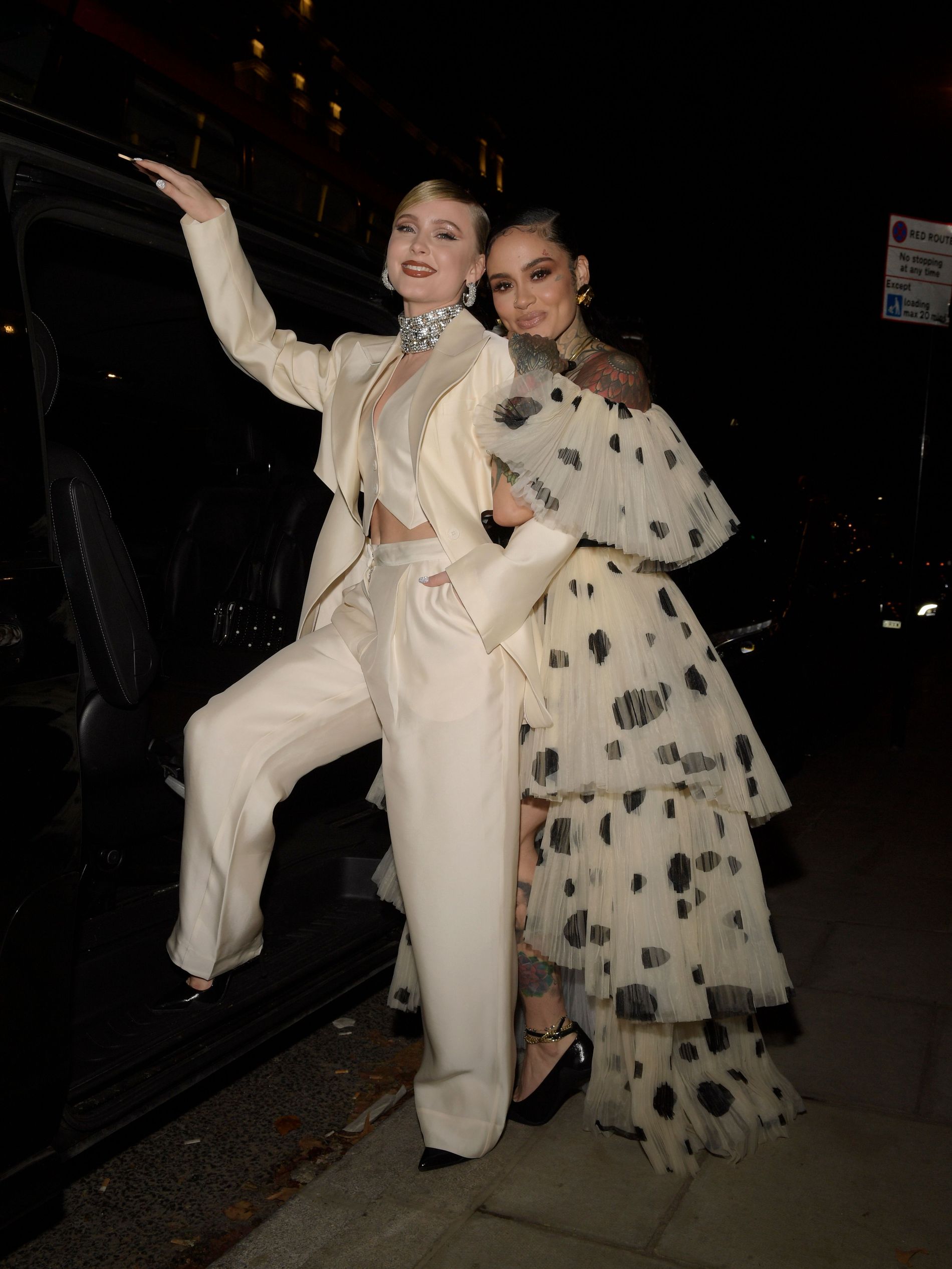 Available to shop from December 9, all the pieces worn by the singer are designed using a tool called 'the circulator' which allows the H&M design team to consider all stages of the garment creation process - from expected lifetime to materials and design strategies.
It's this conscious designing that attracted Larsson to the piece. When it comes to sustainability, she tries to buy pre-loved clothing and enjoys supporting brands that tread lightly. "Hopefully in 10 years,[sustainability] will not be a [token] thing. It will just be obvious. It will be obvious for every brand and every brand will be doing it."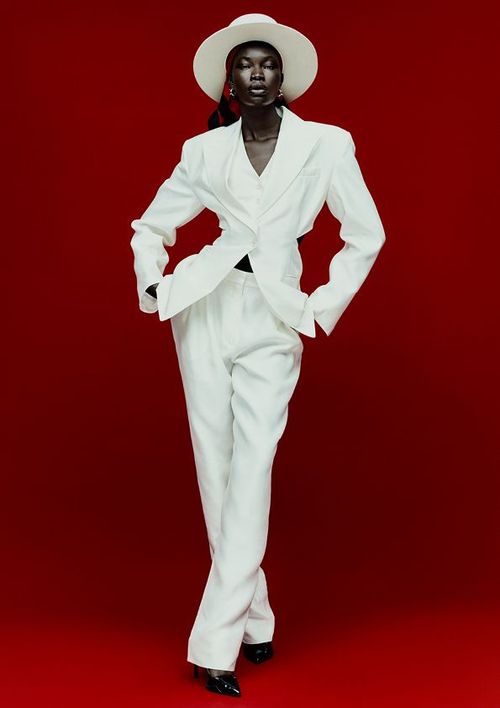 The suit is available to shop December 9. Photo: H&M
With the new H&M collection is made for glamour, the party season is very much on Larsson's mind. "So this year we're [her grandma, parents and sister]are going to a Spanish island and we're just going eat good food, hang under a palm tree. Have a good time."
So while it won't be a white Christmas, Larsson explains it'll be a white sandy beach Christmas, "where the suit will look incredible" she adds.