"As for the message behind it, it's probably going to be like 'I'm unapologetically myself'. And that's about it," the Young Royals star says of the debut fragrance drop
Dressed in a chai-colored Calvin Klein set, a Cartier band on one finger, and a jewelleed Maria Nilsdotter ear cuff on one ear, Omar Rudberg has a dewy just-out-of-the-shower freshness about him that complements his mood, which is buoyant. How could it not be? The 25-year-old musician-turned-TV star is on top of the world, and now he's launching OMR Beauty. Its first release is a unisex fragrance.
Born in Venezuela, Omar Gonzalez moved to Sweden with his mother Wilnur (whose name he has tattooed on his left shoulder) at six, and later took his stepfather's last name as his own. By the time he was 14 he had landed a spot in the Swedish boy band FO&O (aka Fooo & The Fooo Conspiracy), which opened for Justin Bieber and One Direction when they played in the country. Rudberg went solo in 2018 and has racked up more than half-a-million monthly listeners on Spotify, with his 2022 single 'Mi Casa Su Casa' topping the hit list.
Landing a role on Young Royals, the coming of age drama that debuted on Netflix in 2021, took him to the next level, including getting signed by Next Models. On this eminently bingeable show, Rudberg plays Simon Eriksson, a working class day student at a tony private boarding school, Hillerska, attended by Prince Wilhelm of Sweden (Edvin Ryding) with whom he has a thing. Fans have dubbed the fictional couple "Wilmon."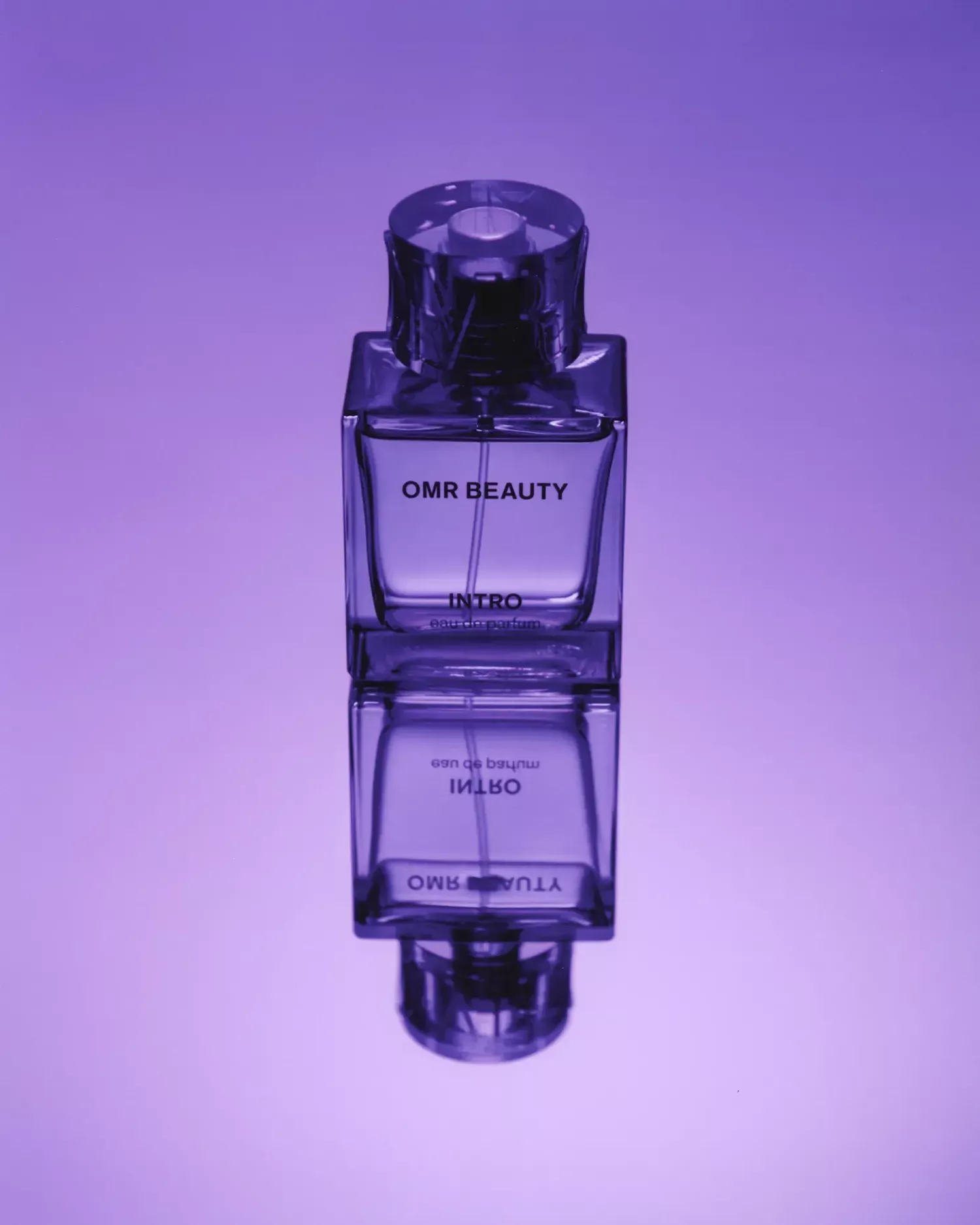 Intro by OMR Beauty. Photo: Courtesy of OMR Beauty
In real life, Rudberg carries his confidence in his attractiveness with regal nonchalance. Having grown up in public, he's totally confident in his own skin and able to absorb and adjust to different situations with ease. It seems fitting then that he should launch what seems destined to become an empire – OMR Beauty – with a fragrance.
Presented in a square purple bottle with a round top engraved OMR – as Simon, Rudberg wore a purple hoodie in Young Royals – Intro's scent is sweet and bright. It has the candy effervescence of a cocktail you might be sipping while eyeing someone, as Rudberg sings in 'Mi Casa', "over on the dance floor." That's not to say it's not suitable for the day. Just as Rudberg resists being labeled, Intro isn't something that can be pinned down; it's elusive, but real. Like fame, like Omar himself.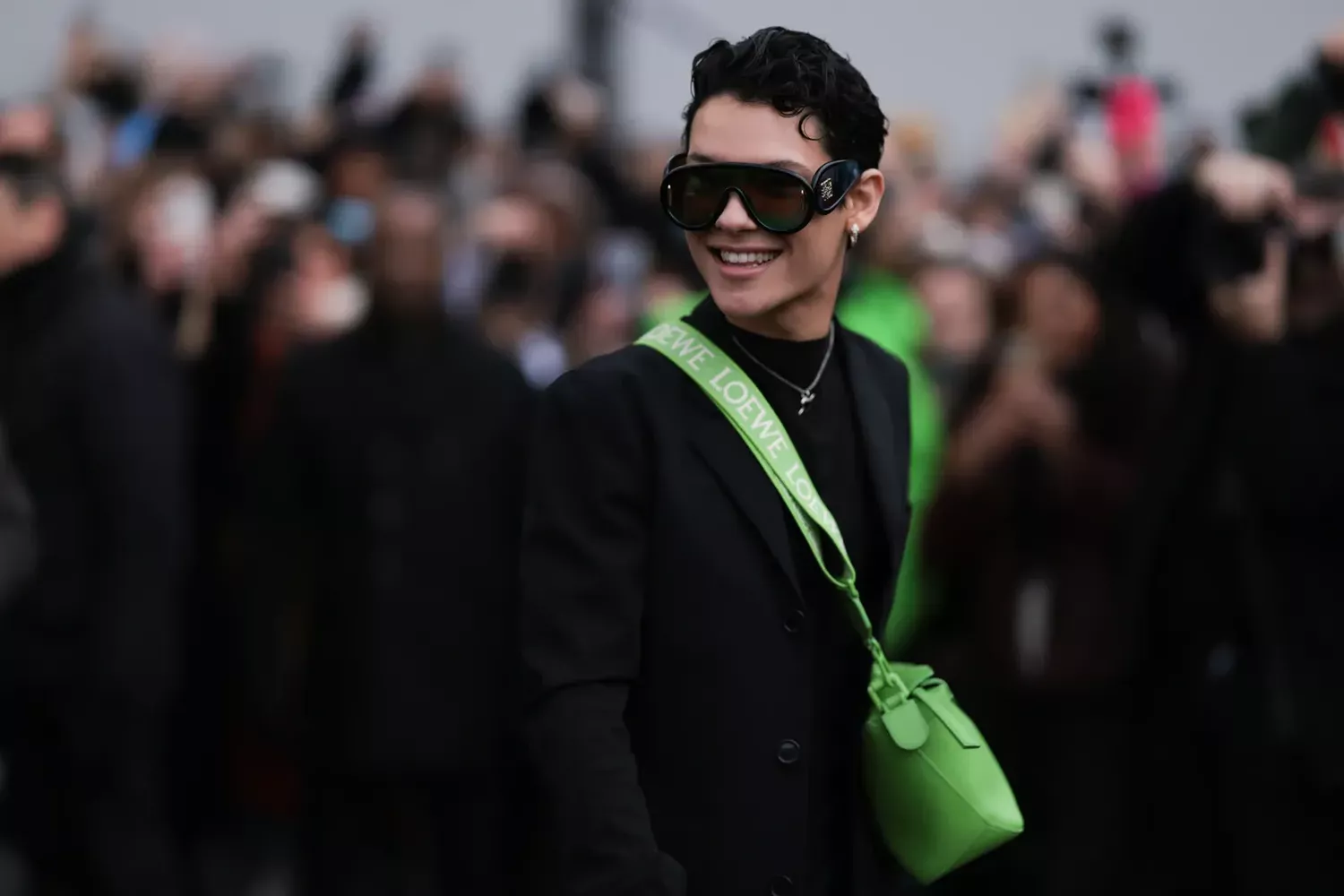 At Loewe, AW2023 menswear. Photo: Jeremy Moeller/Getty Images
Here are the highlights of our conversation.
Have you always been creative?
I've always known since I was a little kid that beauty is something interesting, and that's because I always saw my mom doing her hair and makeup, putting on fragrance. When my mom was ready to leave the house, she always smelled so good and she looked just stunning. That has always been a huge part of my life with my mother – always. My mother is beauty.
Since I was a little kid, I've always been interested in that. Now that I'm grown up, I think I've told my mom that there were a few times where I was home alone and I ran into her bathroom and I just took everything out and tried a bunch of products and put them all over my face. I could never do it for more than five minutes, I was so scared of people seeing me or judging me, even though I knew that my parents wouldn't say anything.
I've always wanted to be creative with beauty, and when I started in the music industry with this Swedish boy band that I was part of, we started to work with clothes and doing photoshoots and videos. Every single time I was going to do my makeup I was living my best life because I loved it so much. It's just so relaxing and everything about it is just so nice.
What's happening with Young Royals?
The last season is coming in 2024. It's going to be very shocking, very dramatic. I'm just going to say what I usually say: Bring tissues.
And music-wise?
Just as we've gotten [connected] with Next Model, we want to do the same thing with music, obviously, because we want to go international. I have so many new songs, and hopefully an album's going to come out next year. And this week, we're going to drop tickets for my first show ever. My own show, which will be February 17, 2024.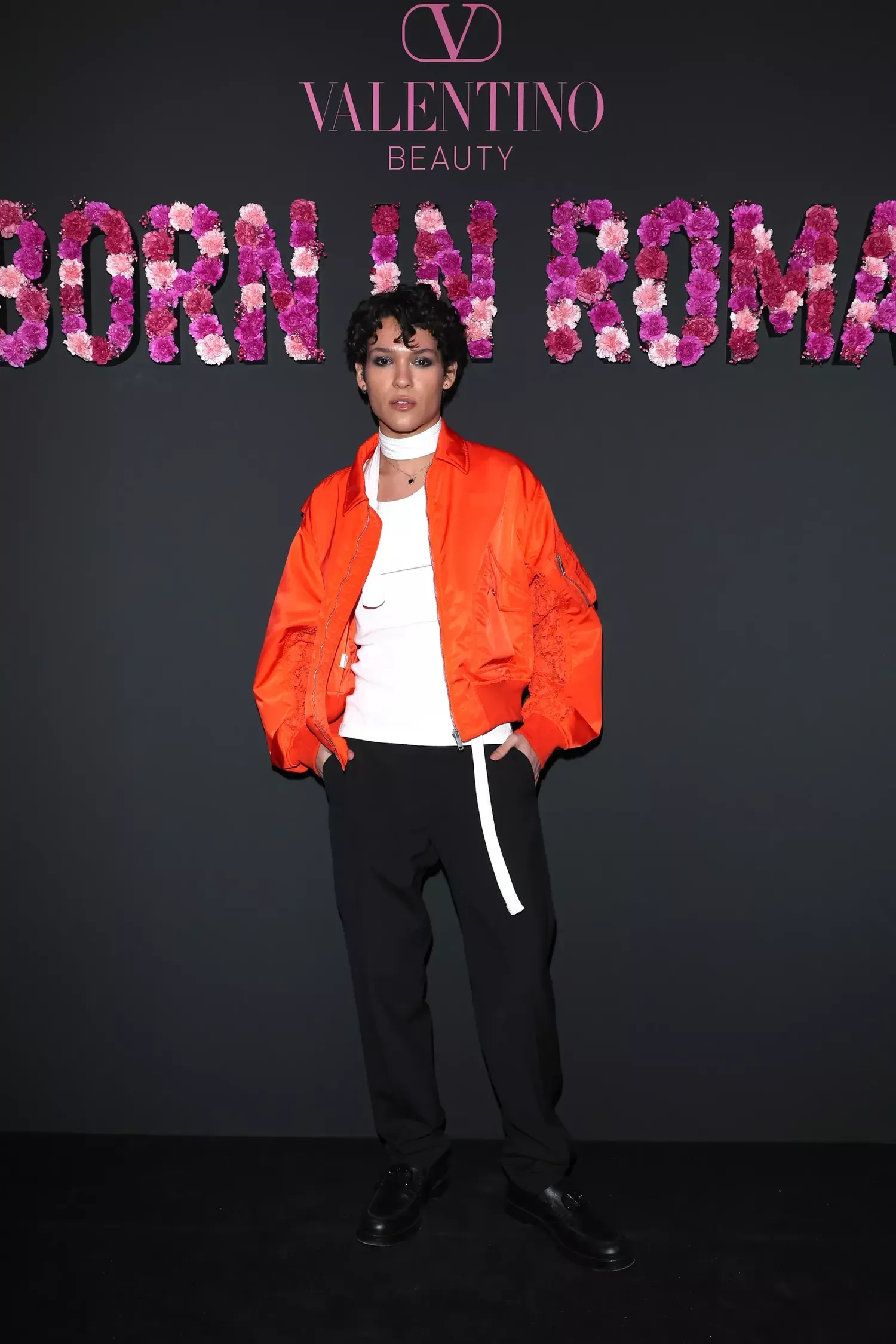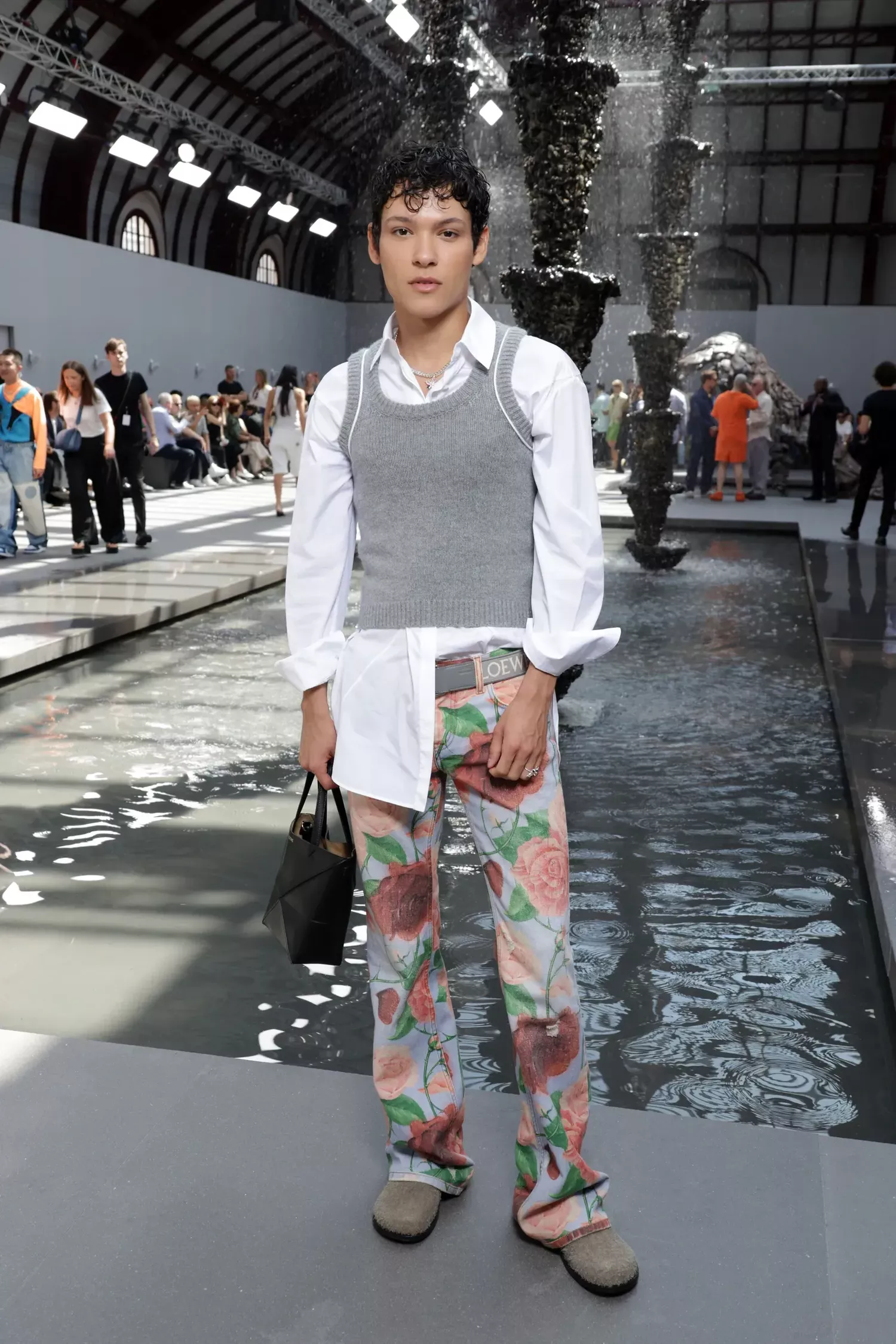 Can we talk a little bit about your relationship to fashion?
I've always just wanted to look really nice when I do stuff, when I perform, even if I'm just going to go to the office. How can you have a great day if you don't feel good from the start? That's very important to me. And I'm not dressed like this every single day. [What I wear] really depends on my mood. That's my biggest relationship with fashion: It is my mood 100% every single day.
I've always been interested in clothing. It's been the same thing, the same journey with beauty as with clothes since I was 14 and I started in the music industry and I started performing. I've been afraid to explore when it comes to clothing, because I'm a guy and the world is how it is. I didn't want to be judged, I didn't want to be bullied. I was basically a Swedish pop star when I was in school, and every single human at the school knew about me, knew about the group, knew about the songs, and I could never be alone at school because the football guys were going to say something and all of that. I was afraid to walk around in school by myself with crazy outfits on. I've also been in my mom's closet and looking at her stuff; her purses and her shoes and the glitter and the jewelry and all of that. And I'm just like,'Oh my God, I want to wear all of this!' Even though today my style is not going to be dresses or super extravaganza in that way, but still…the fabrics, the materials, the glitter, all of that just yelled my name because it looks so nice.
What would be in your dream closet?
Jewellery. Jewellery. Jewellery. I love jewellery.
What are you wearing right now?
This ring is the only piece that I have from Cartier and I wear it every single day. I'm married to Cartier now. People are like, are you married? Yes, to Cartier. My ear cuff is actually from a Swedish brand called Maria Nilsdottir. I would love to do collaborations, I would love to work with Cartier. That would just be a dream come true, but right now, I'm very happy with what I'm doing. I feel like I know a lot about beauty because I'm super interested in it and I think it's a very good start, especially with the fragrance. I want to keep doing fragrances because it's a nice product.
What beauty products do you like to use?
Mostly Fenty Beauty. I'm a huge, huge, huge fan of Rihanna, and I have been since I was 13. Obviously, I also love a lot of other artists as well, but she's always the main, she comes back all the time, she never leaves. And I'm a huge fan of her brand.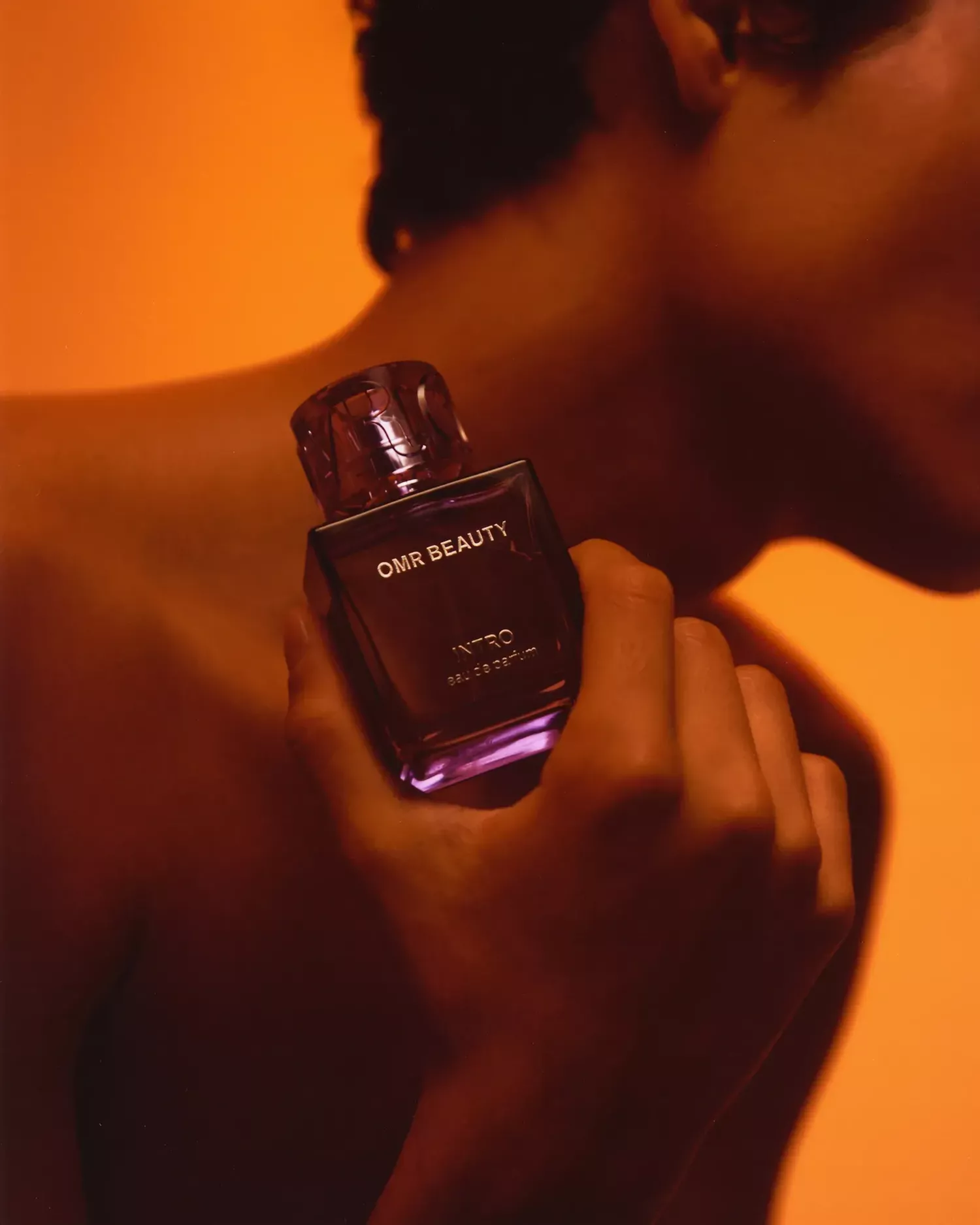 Intro by OMR Beaut.
How did OMR Beauty come to be?
I'm with TEN Music Group who have broken out artists like Zara Larsson and Icona Pop. The boss at the music company, Ola Håkansson, is a Swedish pop legend, and he's one of my closest friends, and he's family to me as well. I've been under his wings since I started, basically. We started releasing some covers, [and noticing that] people were excited, and I was just like, 'Yo, I want to do something.' [And then the opportunity to do beauty] just came up. Ola said, 'We know some people and they're investors and they work with cosmetics.' And I was like, 'Sorry, what did you say? Why haven't you told me that before? I was like, you know how much I love beauty.
I told him, 'Don't wait! Call him right now. Call them today.' He did that, and then a week later I was at their office and they were like, 'Okay: What do you? Who are you? What do you want to do? Tell us all about it.' I was like, "I love skincare! I love makeup! I love fragrances!' We talked for two hours and we clicked and they seemed excited. It is also something different for them because I think that they haven't done anything with artists or actors. They loved the idea of starting with a fragrance; we all felt like that was a cool start, to try something very new.
Did you work with a nose?
No, no, the only nose is mine. But I've been testing it on everybody at the office, on all of the A&Rs and management and PR teams—everybody. I've been like, ''Yo, what do you think? Smell? What do you think? Smell, smell, smell—to everybody—because something that is very important to me was to find a smell that everybody felt like they could use.
It was very important to me to listen to what everybody said. I wanted everybody to try it on and tell me honestly if they could wear it, if they could not wear it, what they thought about it…all of that. Obviously it was very mixed. Fragrance is very hard, it's very personal. That's why I'm not super scared either, because it is different for everyone. I cannot guarantee that everybody will die for this fragrance because everybody thinks differently, obviously.
What fragrances have you been wearing?
Loewe, Valentino. One of my favourites is in my luggage, you're going to laugh now, do you know what fragrance I've been obsessed with lately? Fenty, They actually sent me this one, and I died because [they monogrammed it] O. R.
With your many talents, and your background, it seems that many people can find ways to see themself in you. Do you feel like you need, or want to, represent?
I'm a kid from Venezuela who moved to Sweden. I have a Latin American mother and family; I have a lot of culture. I'm not the typical guy, obviously. I do feel that I want to represent many things, but I'm doing it with just being myself. I feel like that's enough. I cannot do more than just be myself and not really have limits and show who I am and show where I'm from, and then that will represent, and people will see that I'm doing stuff or that I'm showing something or whatever. But that is very important to me.
OMR Beauty comes 100% from me. And all my values are the brand's values, and now it's just literally the beginning. It's impossible to represent everything in one fragrance. I have so many things to say. I have so many things to show, and I think that we will do it in the future as we keep going, we're going to develop and keep on showing what our values are.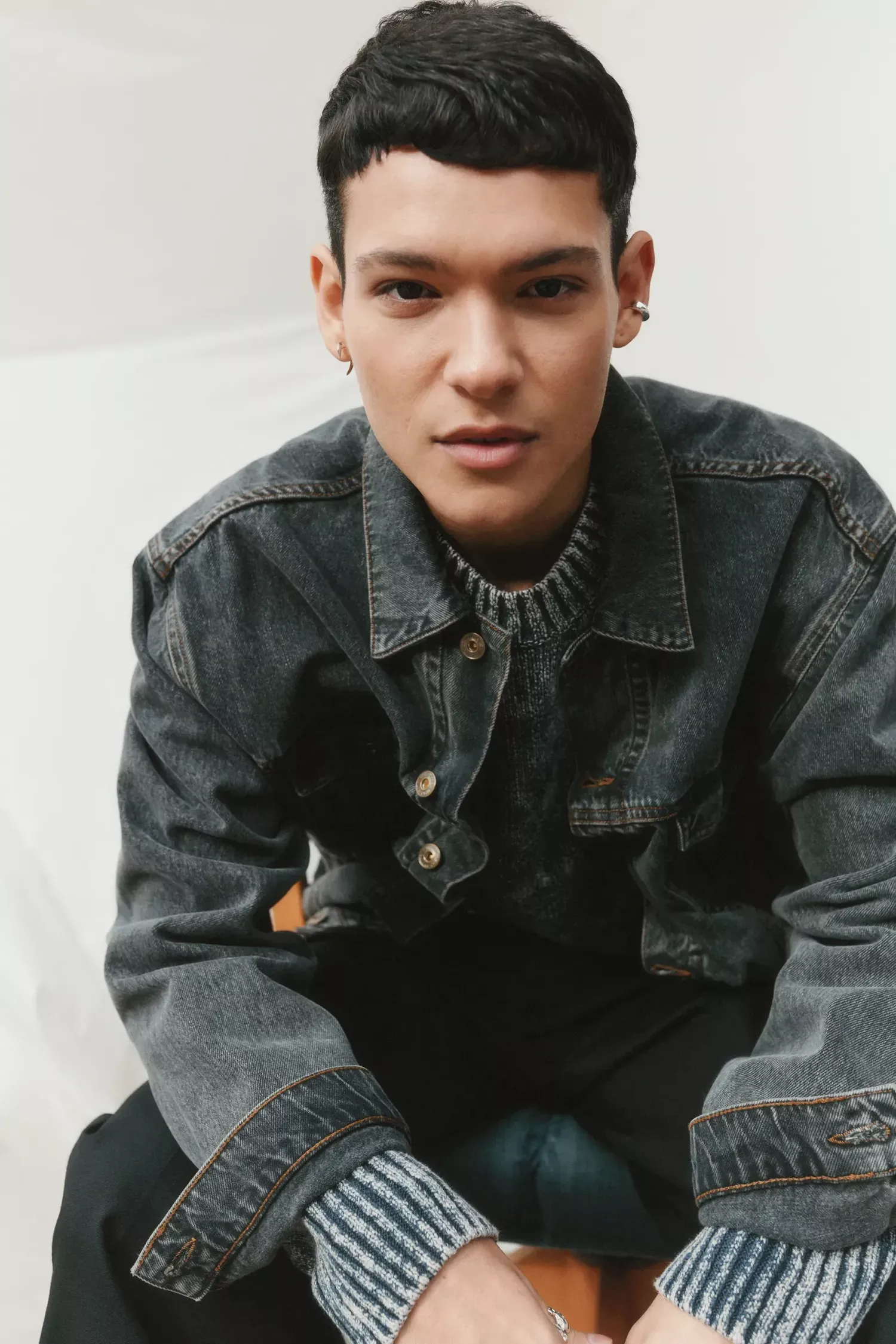 Omar Rudberg.
What are those values?
So me/OMR definitely want everybody to feel included. That is not unique, obviously, all brands today want to be inclusive. That is the standard today, you have to be inclusive. But even though it's getting better, I feel like there's a gap in the beauty industry, especially when you are a boy. I'm a guy and I've felt at times underrepresented because I haven't seen somebody like me using makeup or being the face for something. It's getting better, but I still feel like there are a lot of stereotypes as well. I feel like there's a line of what type of guy does beauty stuff. I don't want to say what type of guy that is because that makes it all even more stereotypical.
I want to break the stereotypes; we want to be inclusive when it comes to shades and differences and to represent [many types of] people. We don't even have to talk about it because that comes from within. I have my mother and she's Latina with big, dark, curly hair, and she's tanned; and I'm Venezuelan, and I'm tanned – my whole family is – and I have a lot of mixed friends. My whole life has been very mixed. For me, it's obvious that we have to be inclusive and have different people. Something that is very deep in me is that I want everybody – especially guys – to feel like, 'Maybe I can try this without being ashamed or being scared.'
Does the color purple you've chosen for the bottle have any symbolism?
I feel like purple is a color that speaks for what I feel like inside. It's a mix, it is in between everything, and that's why I chose it.
And how will your fragrance be marketed?
It's just going to be like, this is unisex. You're going to see me wear it. You're going to see girls wear it. I'm doing photos and we've done a lot of new content to social media and to push the release of everything with really beautiful girls. As for the message behind it, it's probably going to be like I'm unapologetically myself. And that's about it.