It might have already claimed the Palme d'Or, but now the biting class satire has not only cleaned up at the Guldbagge Awards, but also got itself nominated for three Oscars. From sunny Cannes, Vogue Scandinavia meets Woody Harrelson, Harris Dickinson and the award-winning director Ruben Östlund to hear the behind-the-scenes secrets of the buzzy film
Swedish director Ruben Östlund and the cast of his Palme d'Or-winning film Triangle of Sadness are standing at the end of the pier at La Plage de Martinez in Cannes, clad in the hotel's bathrobes. Woody Harrelson suggests that they all jump in the water, or rather, fall, one-by-one, domino fashion.
They line up in a row and negotiate the formation before plunging in – first Östlund, then Harrelson, then British actor Harris Dickinson. The film's other star, South African model-turned-actress Charlbi Dean, looks on from the dock. She's keen to join in the fun but had been instructed not to wet her hair. Our photographer, Östlund's wife Sina Östlund, doesn't quite capture all of the fellas in frame, but when we look down to the sea below they are grinning broadly anyway. Dean cheers them on from above.
It is the calm before the storm. An idyllic morning at the beach – save for the paparazzi capturing the scene with their long lenses from the Croisette – with a cast and director who seem to have fallen in love with one another. Later that same evening they will walk the iconic Cannes red carpet for the film's premiere, which will be met with a raucous eight-minute ovation. But for now they're just enjoying each other's company. The Östlund's infant son sits nearby in the shade, being minded by a friend.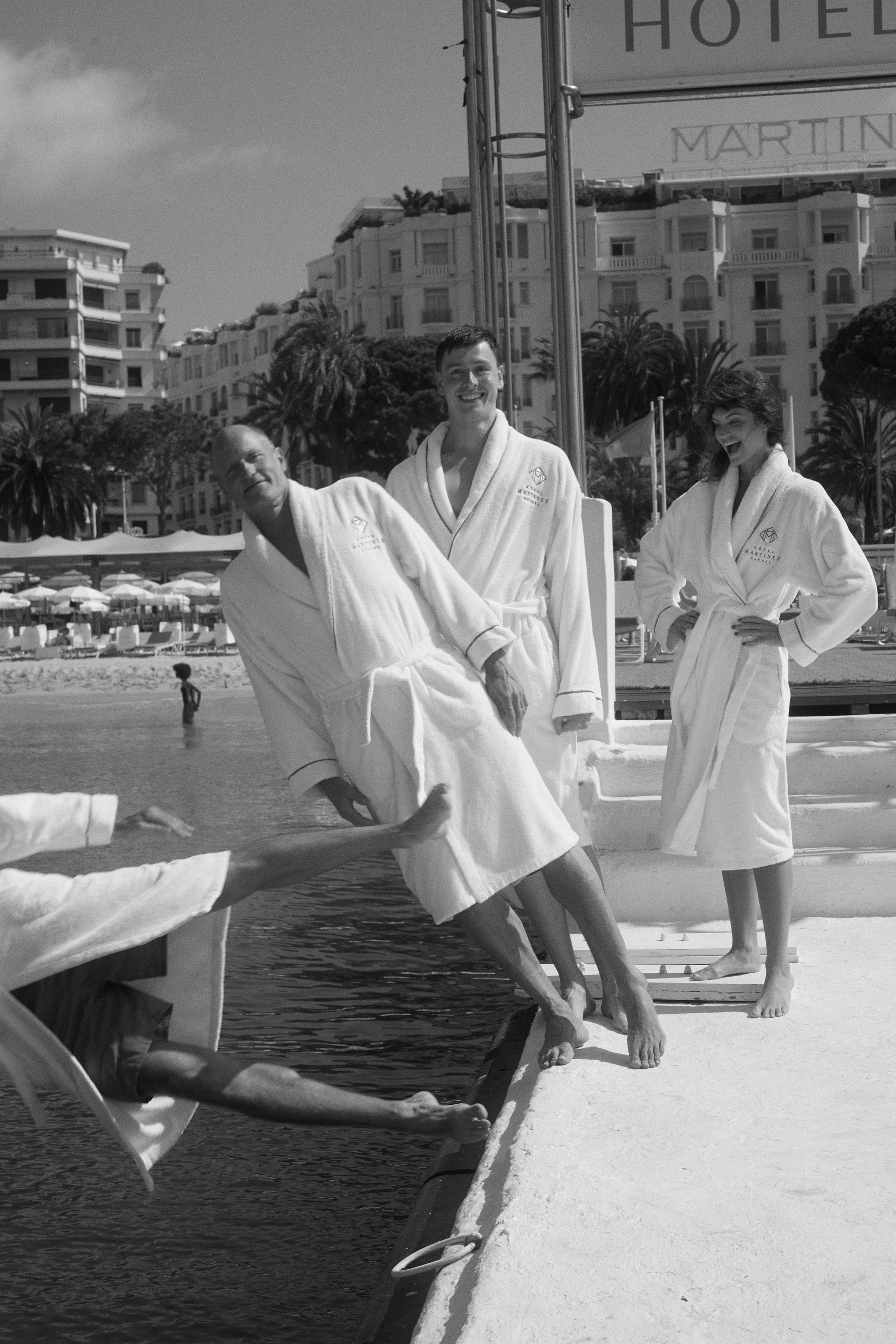 Photo: Sina Östlund
The anticipated follow up to Östlund's Palme d'Or winner The Square, Triangle of Sadness is a wry social commentary that explores themes of toxic masculinity and class differences. It also instantly solidifies itself in the pantheon of great fashion industry satires. Dickinson and Dean play a model couple who find themselves on a boat populated by the rich and wacky. The drunk Marxist captain (Harrelson) spots an opportunity to torture his extravagant guests over a long dinner and chaos ensues.
"I definitely have an insider's view to it," Dean says of the film's depiction of the fashion industry. We're all sitting at a table up at the beach club's restaurant, her castmates and director in fresh robes. "It is accurate to a T. When I watched that opening scene in Paris, doing the catwalk and everything, I was like, 'How the hell did you actually know that?'" Östlund gleaned his insider-y details – the dehumanising nature of cattle call castings, the importance of getting a front-row seat – from long conversations with his fashion photographer wife. He even populates scenes with real editors, stylists and designers from Sweden. "I have a sickening feeling, like, 'Oh, now everyone is going to know what [the fashion industry] is like," says Dean.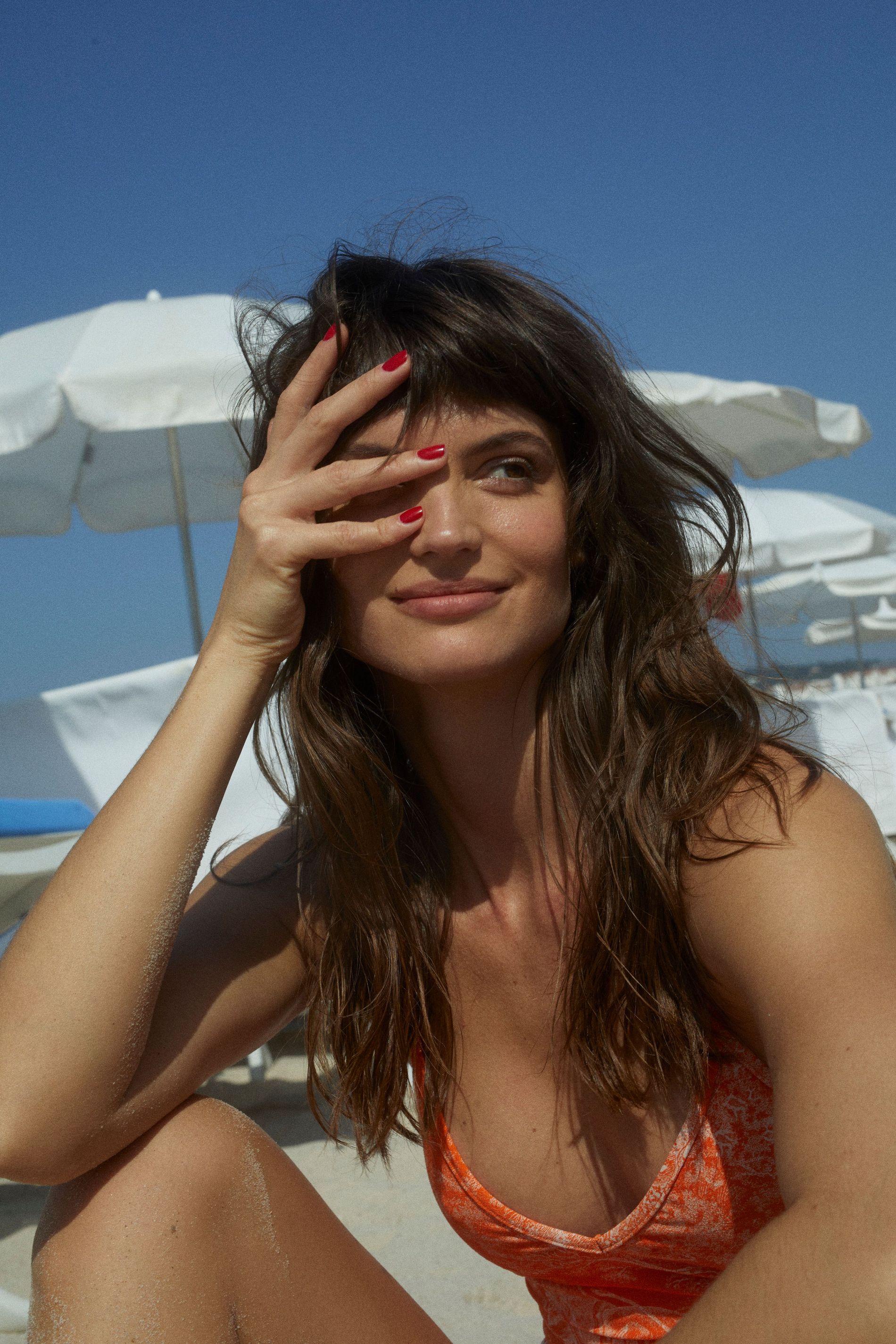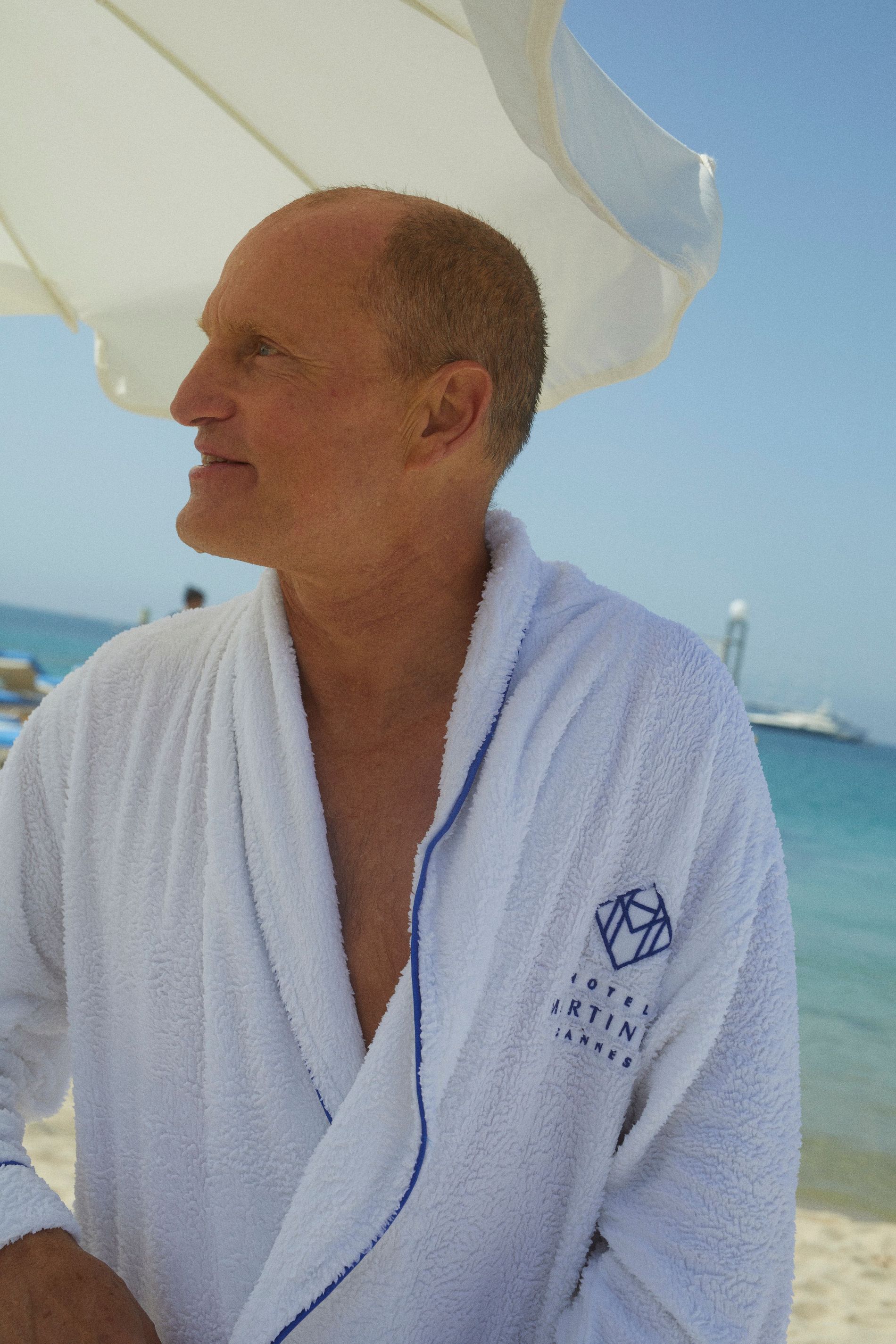 The second act of the film takes place on a yacht, not unlike the ones parked within our sightline. Dubbed the Christina O, the vessel was once owned by Aristotle Onassis and Jackie Kennedy. "It's a really historical environment, because of the history with Churchill, Onassis, Kennedy, Marilyn Monroe – all of the celebrities from the '60s and '70s, really the elite of the Western world were there," says Östlund. "And it's a beautiful boat."
"There was a chair that was made out of walrus penis, which was very interesting," notes Dean. "Whale penis," clarifies Dickinson. "There was a stool in the downstairs bar made entirely of whale penis… Or whale skin? I don't know, maybe you've added the penis bit."
At the film's centre is a vomit-filled dining scene sure to be a takeaway conversation piece and headline-maker. I ask what the vomit was made of. "It was apple sauce," says Dickinson. "Chunky bits," says Harrelson. "It was chunkier in the beginning, then it was just, like, water," says Östlund, ever the stickler for details.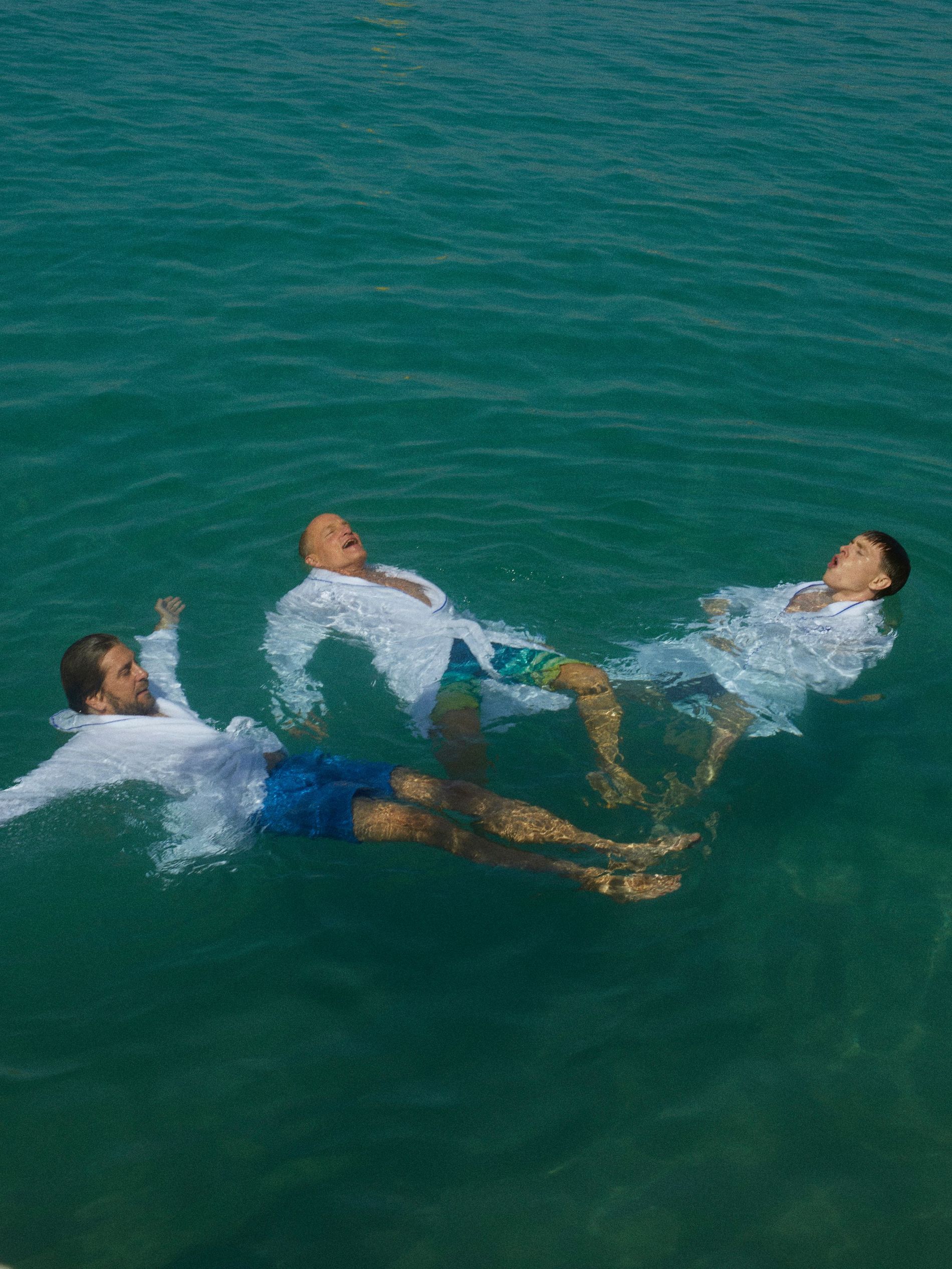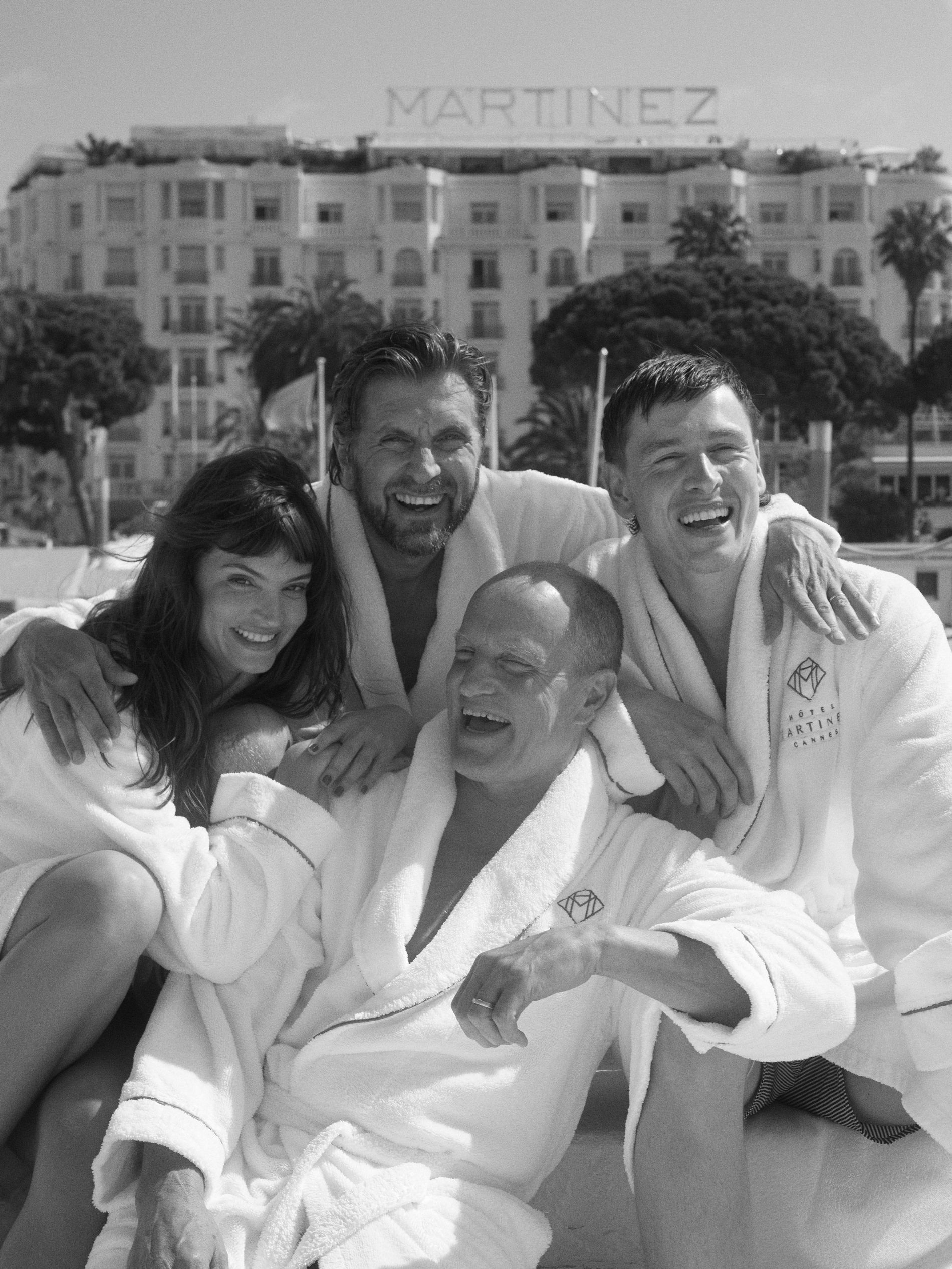 As the liquor-soaked captain, Harrelson characteristically makes a big splash, seemingly having a ball while doing so. I compliment his ability to portray drunk and ask what he draws upon for the performance. "My imagination," he says, grinning. "You know, an actor's imagination is the most important tool."
Östlund agrees that his portrayal of inebriation was spectacular. "It was really impressive, the first day you were coming out of your cabin. You were doing these small things and it was like, 'He is really looking drunk,'" he says to Harrelson, before turning to Dean. "You were also very good, Charlbi, when you were drunk." She responds from the end of the table with a demure, "Thank you."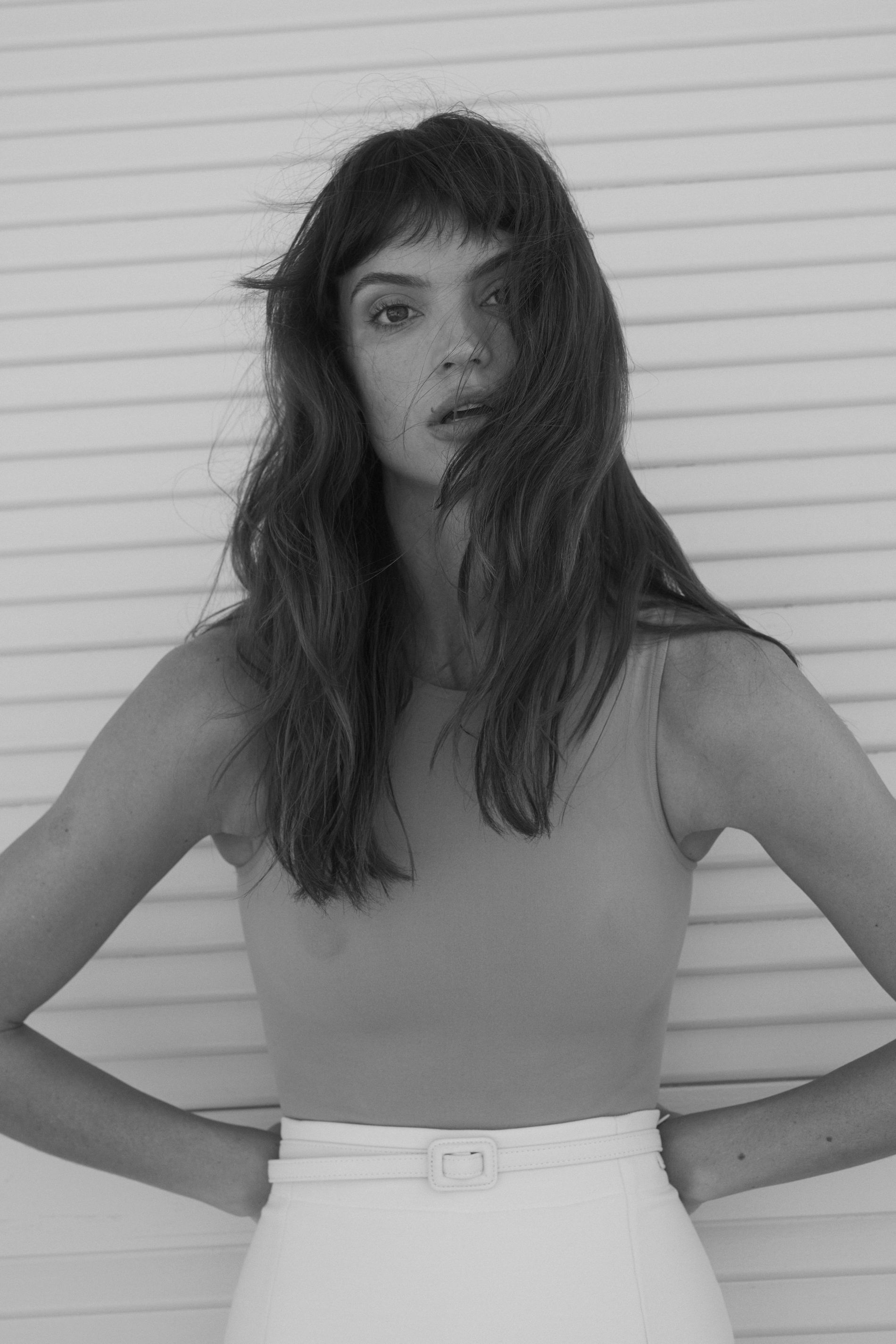 Photo: Sina Östlund
Not one to live within the traditional confines of the interviewer-interviewee relationship, Harrelson asks what I thought of "the scene with the check." Dickinson and Dean's characters are dining out at a fancy restaurant and when the bill comes, the former is miffed that he's expected to pay, despite the fact that his girlfriend makes more money than him. I explain that in Sweden, that would never happen because we always split the bill on a date. "I showed it to a couple of friends and one friend said to me, 'Excuse me, if he's together with that woman, of course you have to pay. It's stupid,'" says Östlund. I ask if anyone at the table has experienced a particularly awkward bill arriving scenario. "It's always awkward, isn't it," says Dickinson. "It will be awkward at the end of this conversation," says Harrelson.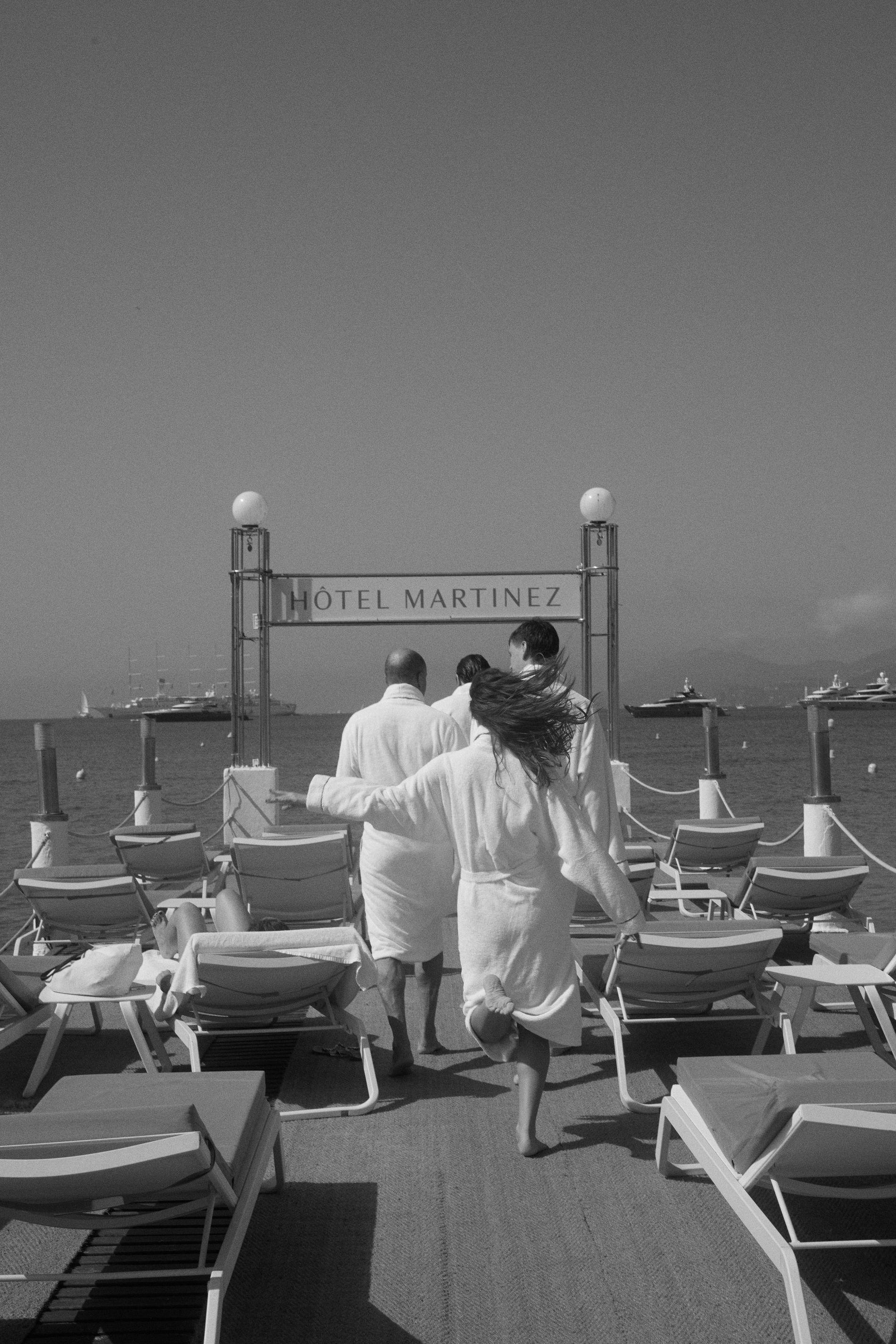 Photo: Sina Östlund
So what's on the agenda tonight? "Maybe go to bed early," says Harrelson, chuckling. "Maybe have a long, nice sleep, wake up fresh tomorrow, and go back home," agrees Östlund. Now everyone is laughing. It's been over a year since the film wrapped, and these folks have earned a celebration.
As for the film's chances of celebrating a Palme d'Or win, Östlund and his cast are quietly confident. "I tend to try to put these things out of my mind because you never know how they're going to turn out, you know?" says Harrelson. "But you do have a lot of hope, because it's Ruben. And when I saw it, I was absolutely blown away. I honestly think it's a masterpiece."
And with that, they head back down to the pier and hop into the ocean, leaving me with the bill.
Photography by: Sina Östlund
Talent: Ruben Östlund, Charlbi Dean, Woody Harrelson and Harris Dickinson
Dean's hair by: Peter Lux
Dean's makeup by: Yasuko Shapiro
Dean's styling by: Emma Jade Morrison
Dickinson's groomer: Liz Taw
Dickinson's styling by: Ben Schofield
Ruben Östlund's groomer: Alan Leal
Styling note: Dean and Dickinson are wearing all Dior. Östlund and Harrelson wearing their own. Robes are courtesy of Hôtel Martinez.
With special thanks to La Plage du Martinez