Ditch the flats and invest in these soon-to-be cult sky-high boots
As we're finally in the midst of the much-anticipated boots weather, this season hits a little different. There is a long-awaited sense of a new start and, after a number of designers re-issuing their accessories (how many Chanel 'dad' sandals have you seen on your Instagram feed over the past year?) we're all ready for something new.
This winter, get ready for the return of the platform: a style that symbolises rebellious freedom more than any other shoe. Enter Prada's AW21 iteration – a futuristic platform (or flatform) sock boot that comes in a myriad of graphic prints, black and white as well as jacquard printed blues, purples and reds. The boot also comes in latex-esq leather, again ranging from baby blue to burgundy, to a 1960s-style white and sleek black. If you really want to push the boat out and leave the sweatpants era behind, they also come in a sparkly, sequinned knee-high version.
---
The new Prada boots to covet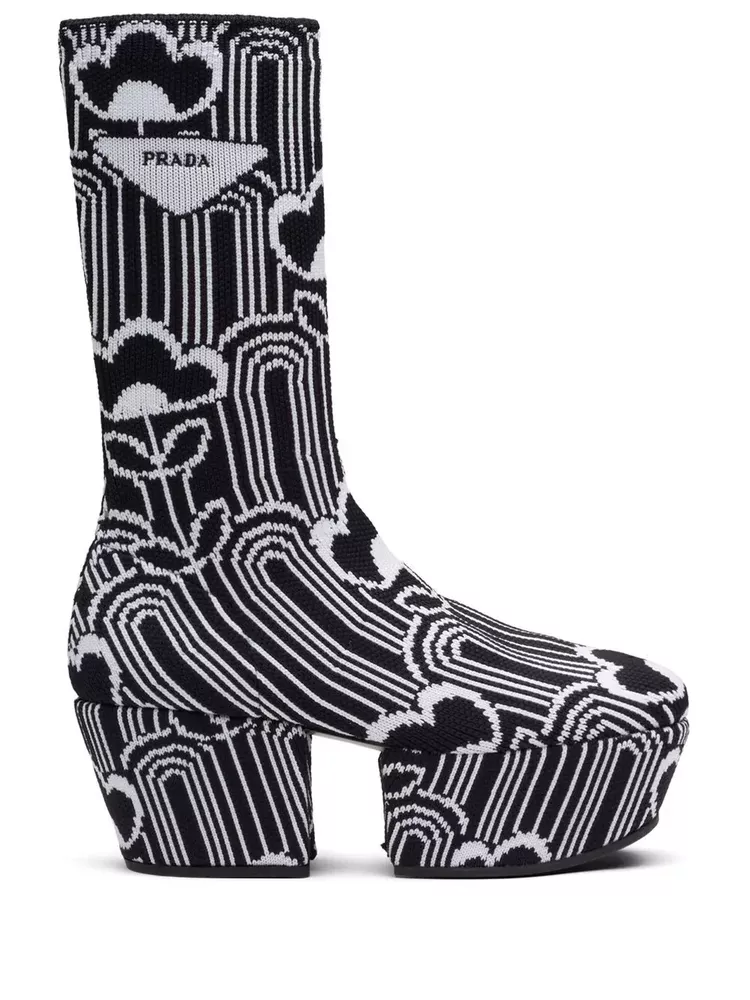 Floral Jacquard Knit Platform Booties
Prada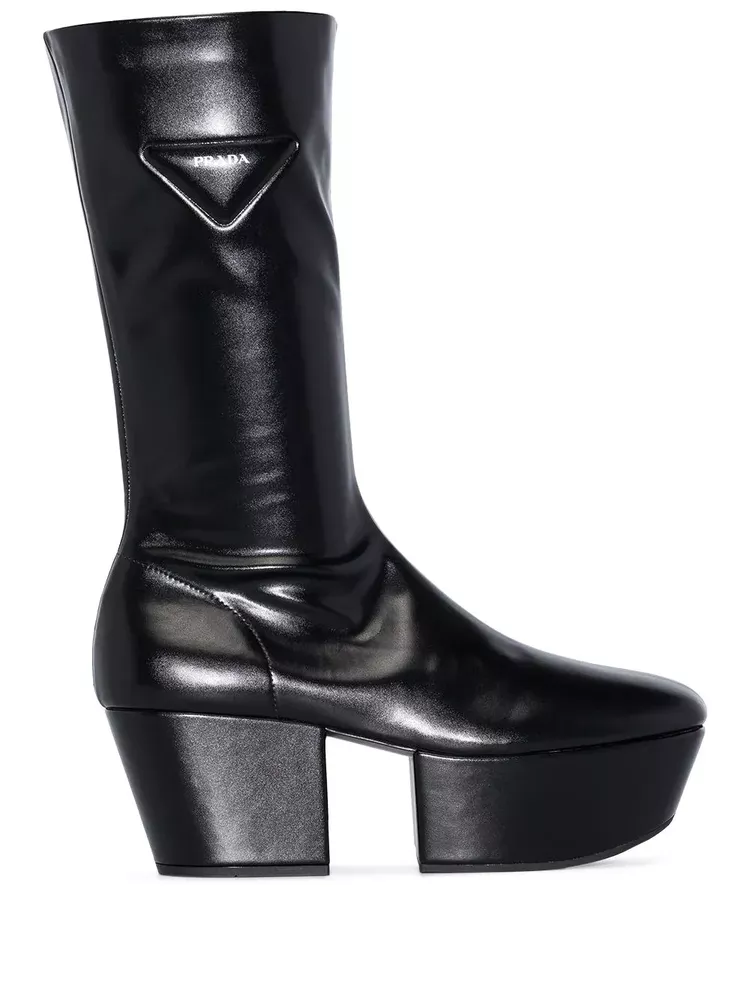 Stretch Napa Platform Booties
Prada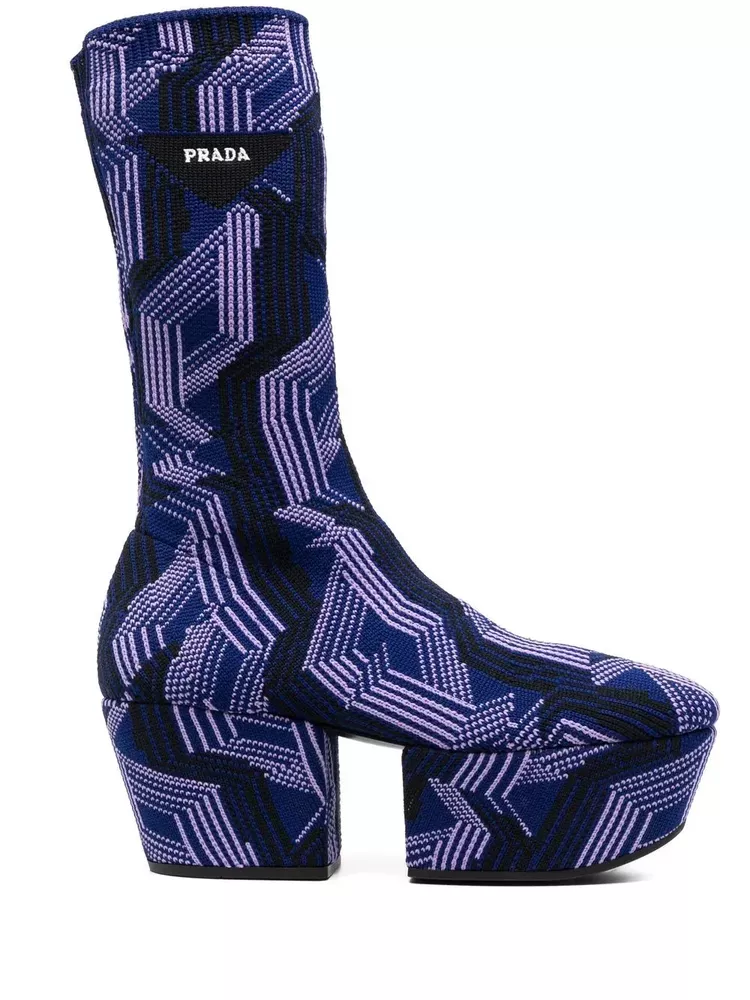 Jacquard Knit Platform Booties
Prada
Given the way they represent all things fun and free, we expect to see these triangle logoed numbers popping up everywhere. More than anything, they mark the start of a new era of dressing up. Towering platforms have a confidence-boosting effect; one which we all could use for this new normal. So without further ado, we suggest you shop the style rather sooner than later.
Prada has been a dominant player in the footwear field for quite some time now. Everyone remembers the chunky Monolith boots that are still a best seller, and the chunky, triangle logoed loafers became one of internet's most sought-after styles. The phenomenon took even Prada's in-house team by surprise, as the shoe was never seen on the runway. Nevertheless, the style went viral during lockdown for its minimalistic wearability.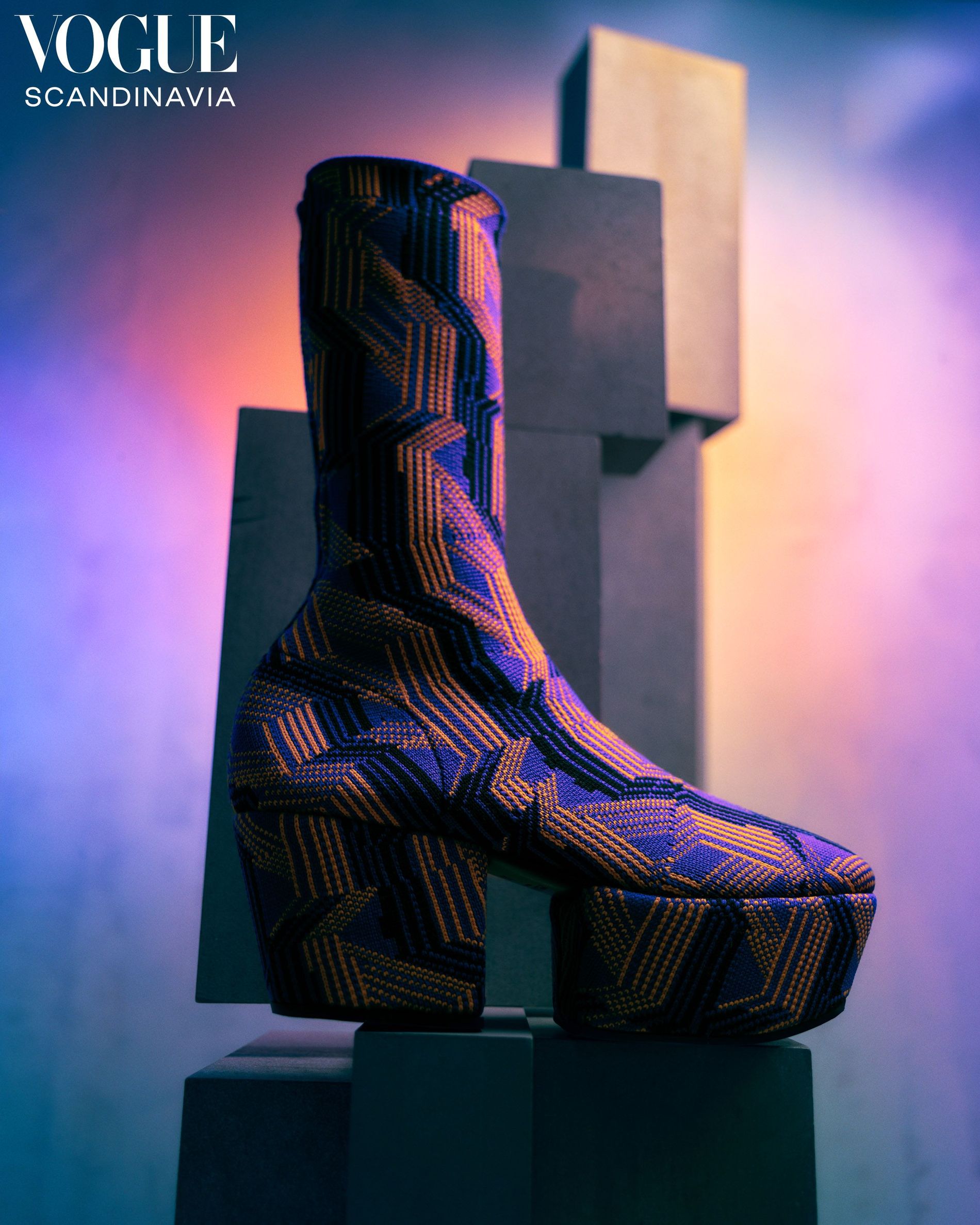 As seen in our October-November issue, knitted jacquard platforms, €1,250, Prada. Photo: Leandro Farini
Prada might have a head start, but that isn't enough for savvy shoppers these days, who've spent a year rethinking their consumption habits. Shoe-wise, the crowd is pretty divided. There are those who have developed a taste for new-found comfort (think the furry home slippers that are now a runway staple, and the newly relaxed dress codes that see sneakers allowed in even the most prestigious members' clubs). They certainly won't be in a rush to cram their toes into another Bottega Veneta stiletto sandal, no matter how many limited-edition rhinestone upgrades there are.
Then, there are the heel-lovers who vow to never again let leggings pass as trousers and wonder whether all those pastel sweater sets will hold their value on resale sites (spoiler: they won't). These Amina Muaddi fans are ready to get back to dressing up as soon as there's the slightest indication of a party to go to.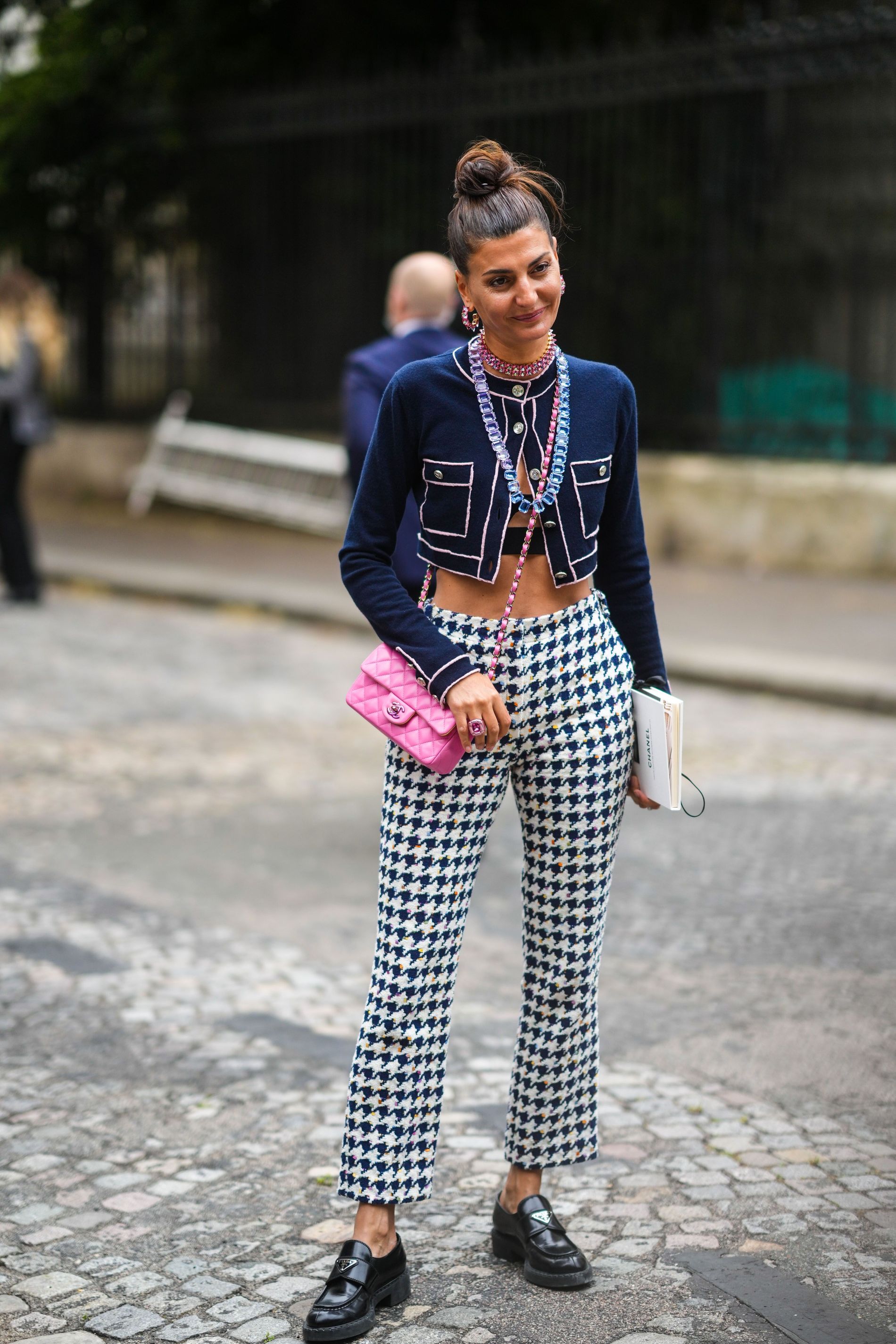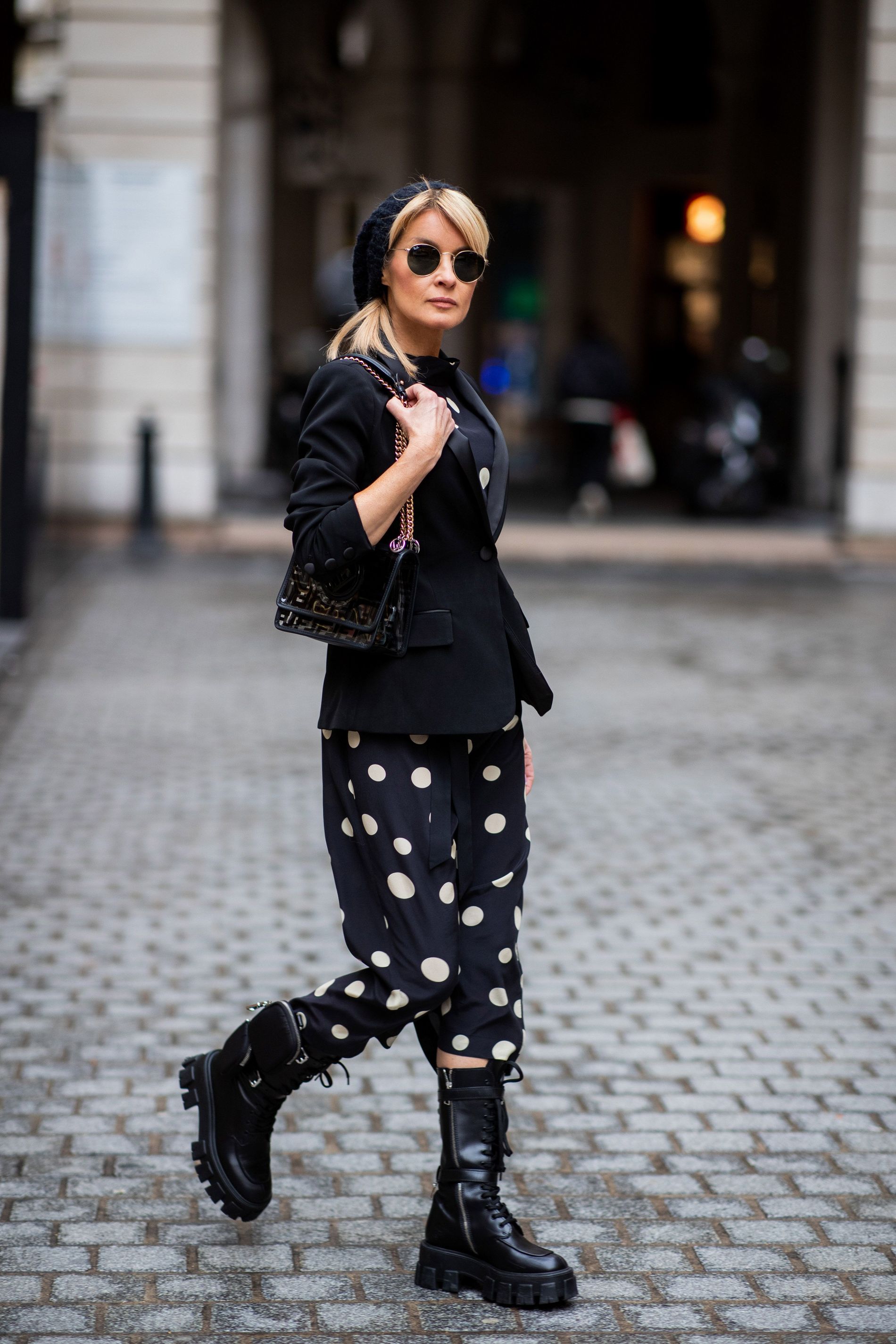 While I identify with the latter, Prada's new platform boots are there to please both types. These will bring comfort and, dare I say it, convenience for the colder season ahead, while remaining a pretty damn fun and unique pair to add to your collection. If you choose the soft, knitted iterations, you'll even be saved from bruises and blisters. If there's anything I learnt from collecting Balenciaga's knife boots (the ones that look like socks) in every colour, it's that they're a rare combination of cosy and flattering.
My money is on Prada banking another It shoe that will follow us season after season, because a comfortable, statement, runway-ready boot is a given winner. So I'll have whatever Miuccia is having – matching, second-skin thermals and all.