It's semla season - that time of year when the only bun on a Swede's mind is the delectable semla bun. Learn how this particular bun became so popular and share some of the best places to find one in Stockholm
Few countries in the world take their coffee breaks as seriously as Sweden. The country's relationship with the exotic brew is not without controversy, however: in 1794, for instance, Baron Reuterholm decided to ban coffee. Today, however, the popular drink is very much a part of everyday life and a key factor in one of Sweden's most established - and untranslatable - rituals: "fika". Essentially meaning to take a break to chat with friends or colleagues over a hot drink (usually coffee) and an accompanying treat, fika is a uniquely Swedish social phenomenon that rests on the pillars of caffeine and baked goods.
While common characters in the fika rotation include staples such as kanelbullar (cinnamon buns) and kardemummabullar (cardamom buns), special times of the year call for special buns. At Christmas, for example, the Lussekatt - an S-shaped wheat bun with raisins that gets its golden tones from the infusion of saffron - has its moment in the fika sun. And with the Easter holiday approaching, now is the time for the fika table to be rounded out with a bun that has its roots in Lenten sacrifice: the semla.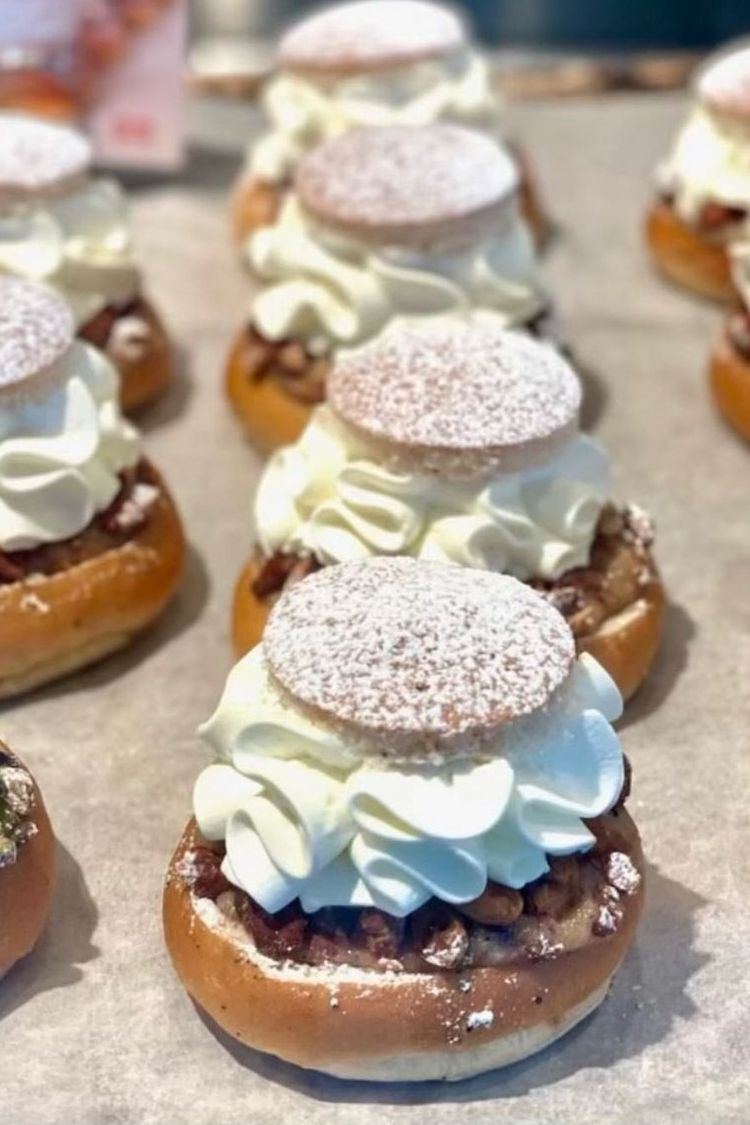 Photo: @brodochsalt
The semla started out in the 1600s as a bun soaked in a bowl of hot milk (known as hetvägg) which was to be eaten on Shrove Tuesday. Also known as Fat Tuesday or Mardi Gras, this day of feasting in the Christian calendar is seen as the last chance for indulgence before 40 days of fasting begin. From these humble beginnings, the semla has evolved to become the decadent bundle of goodness that we know today.
So what exactly is a semla?
Essentially, it's a small, wheat flour bun that has been flavoured with ground cardamom. Its top is cut off so that a filling of almond paste and whipped cream can be piped in, after which the bun's hat is put back in place and dusted with powdered sugar.
Semlor (plural) are also appropriately called fettisdagsbullar - literally fat Tuesday buns, with varieties existing in Norway and Denmark (fastelavnsboller), in Swedish-speaking parts of Finland (fastlagsbullar), and in Iceland, a variation is known as a bolla. But it is in Sweden that semla appreciation reaches the greatest of heights: to meet anticipated demand, bakeries have started making the buns long before Shrove Tuesday, which this year falls on 21 February. And one can understand the reason for the impatience - rich, indulgent and luxurious, semlor are the perfect antidote to the stark, Scandinavian winter darkness.
But don't be fooled by the semla's seemingly sweet constitution. This small bun packs a powerful punch, as shown by the cautionary tale of Swedish King Adolf Fredrik. Legend has it that in 1771, after an already rich meal, he ate 14 of these delicacies and washed them down with champagne, causing him to meet an early, digestion-related death.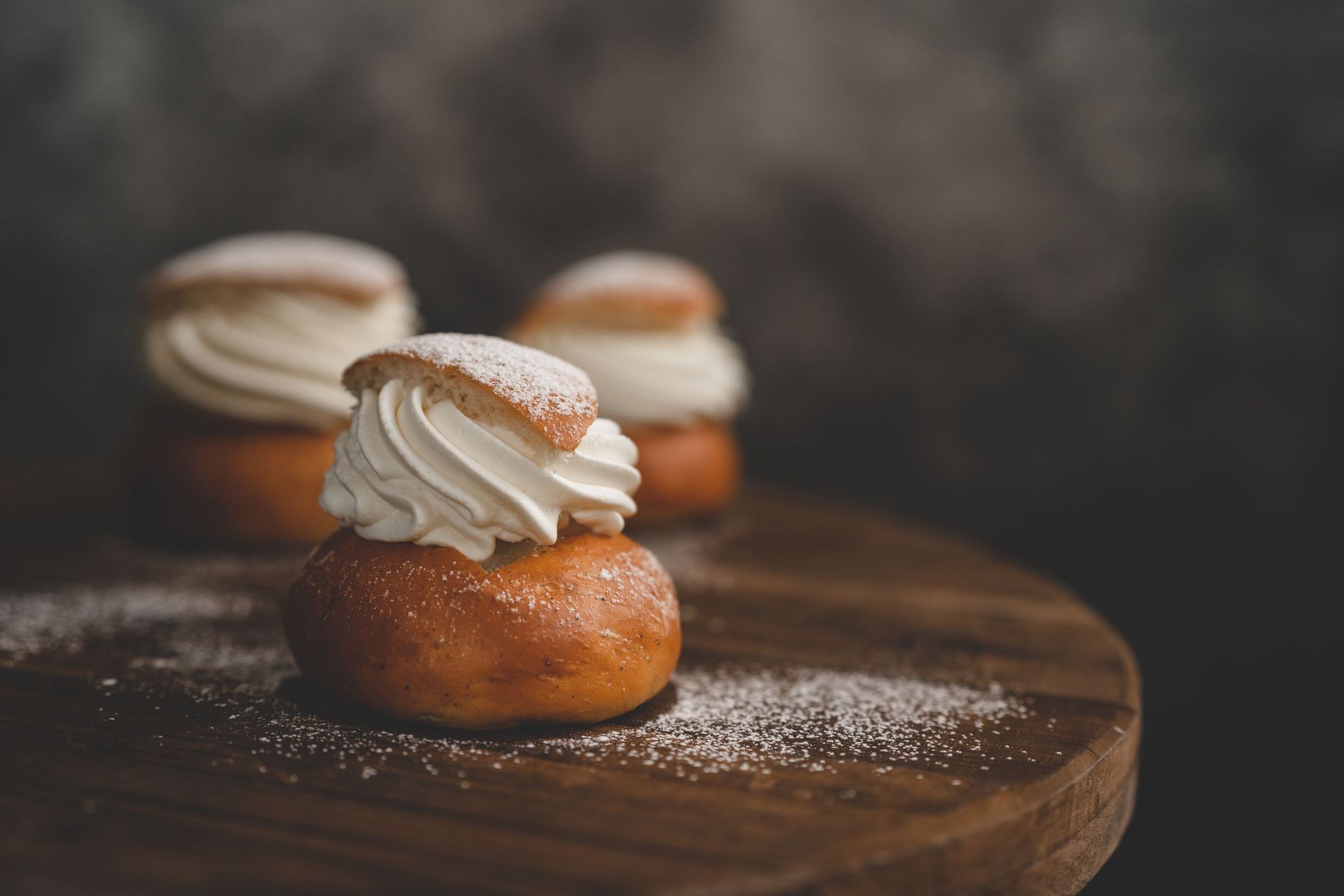 The best places to find semlor in Stockholm
Thankfully, a single semla is enough for most, and we have rounded up some of the best places to find semlor in Stockholm - both in classic form, and in stylish interpretations that push both the culinary and creative boundaries of this fika favourite.
Clemedt Dunér
The cream of the crop of semla buns can be found at Clemedt Dunér - a tiny, hole-in-the wall bakery located on the cusp of Gärdet and Östermalm in the city's north. The founders behind the name - Charlotte Clemedtson and Le Cordon Bleu-trained patissière Alexandra Dunér - met in London before opening their boutique bakery a little over a year ago. The small, all-female team, rounded out by lead baker Cynthia Harris, has become the culinary equivalent of a couture atelier, with its range of exquisitely crafted buns and breads garnering increasing amounts of attention.
In addition to their usual assortment of buns, Clemedt Dunér have created a stir on the semla scene with their unique creation: the Kemla. So called as it is a combination of a kanelbulle (cinnamon bun) and a semla, the intricate package consists of a buttery cinnamon bun on which homemade almond paste is sprinkled with roasted, chopped almonds before being topped with the fluffiest cream. A pinch of sea salt added to the mix helps to create a perfect balance of flavours that will have you empathising with a certain king's inability to stop at just one.
Lillebrors Bageri
Lillebrors bakery in Vasastan has developed a loyal customer base since it opened in 2016, and has consistently made the "Best Of" lists each year for its semlas alone. The artisanal bakery - so named as the baker behind the success, Stefan Berg, is himself a lillebror (little brother) to a baker - prides itself on using sustainable ingredients of the highest quality.
If you prefer your semla with a bit of roughage, Lillebrors' semla will not disappoint, as a generous dose of whole pieces of almonds is sprinkled between the bun's softer layers: an addition which practically categorises this bun as a health food. In addition to Lillebrors' award-winning traditional varieties, an innovative offer comes in the form of a Meringue Semla, a welcome alternative for anyone wanting to try a semla that is free of both gluten and laktos.
Rörstrandsgatan 10, Vasastan
Tössebageriet
While this bakery has been open for over a 100 years at the same Stockholm location, it was Tössebageriet that made waves in 2015, when it took Sweden by storm with its innovative "Semla Wrap". Thanks to its dough being flattened into a wrappable form, the semla was reborn into an exciting shift from the norm - and one that was also easier to eat without the fillings spilling out.
Trusted makers of traditional semlor for generations, Tösses, as it is known, is not afraid to push the envelope each year, having added the Wiener Semla (a multilayered, flaky semla in the viennoiserie tradition), the Eclair Semla (a choux pastry base) and the self-explanatorily flavoured Licorice Semla to its repertoire. With a selection to delight both traditionalists and modern gastronomes alike, Tösses has something for everyone.
Mr Cake
Mr Cake is a bakery that has been received with open arms in both Stockholm and Gothenburg, thanks to its astounding array of all things cake-related and its offer of US-inspired creations such as Red Velvet Croissants and its take on those American cream-cheese-frosting glazed treats, Cinnabuns.
In addition to standard classic semlas, Mr Cake himself - the popular and multi-talented pastry chef, author and TV host Roy Fares - has developed the Cronut Semla: a fried croissant/semla hybrid that will make even dessert-disinterested types weak at the knees. He has also semla-fied the breakfast staple of American fluffy pancakes served in his cafés by marrying them with typical semla ingredients.
And beyond this already extravagant offering, Mr Cake serves a Vegan Semla - a 100 per cent plant-based semla, consisting of a margarine-free wheat bun, caramelised almond filling and an oat-based vanilla chantilly cream.
Various locations across Stockholm and Gothenburg
Bröd och Salt
The bakery - whose own line of cookies stocked in supermarkets is appropriately named Swedish Fika - doesn't hold back from trying something new. This year, their semla du jour is the Pistachio Semla, developed in collaboration with Kasper Kleihs, who holds the title of Swedish Pastry Chef of the Year 2021 and is the Head Pastry Chef of the Swedish Culinary Team.
The Pistachio Semla's filling is a cream made of ground pistachios and chocolate, which is topped with chopped pistachio nuts and whipped fresh cream. With multiple locations around Stockholm that have both classic semlas and this year's unique sort, you are (luckily) bound to stumble upon one of these irresistible concoctions without much effort.
Various locations around Stockholm
Cafe Pascal
Café Pascal near Odenplan and its sister site Café & Bageri Pascal on Södermalm are, fittingly, the offspring of three siblings from Linköping - Hosep, Arman and Jannet Seropian. The focus of their part café, part bakery/part roastery venues lies on using the best ingredients, as witnessed in the popularity of their sourdough breads and the queues for their hand-brewed coffees.
And when it comes to semlor, the standard is no different. With quality semlor on offer at both locations, anyone wanting a classic semla or even a Cremla - a croissant and semla mix - will not be let down. But most importantly, they have also devised a Coffee Semla, made with espresso, thereby creating what is perhaps the ultimate fika-worthy semla concoction.
Norrtullsgatan 4, Odenplan