In honour of Halloween, we round up the best celebrity costumes to come out of the weekend – from the inventive to the sexy and legitimately terrifying...
If there's anything we know celebrities love, it's Halloween. The spooky season acts as the perfect chance for celebrities to go all out. While our own costumes tend to lean toward the more DIY (pair of devil horns and a fork, anyone?), the celeb set seem to spare little time or money creating the most incredible costumes, before taking part in elaborate photoshoots and posting them online for all to see. From Kendall Jenner's corpse bride to Harry Styles' Dorothy, we round up the best celebrity costumes of Halloween 2021...
Elsa Hosk
Supermodel Elsa Hosk and her daughter Tuulikki dressed up as fairies as a tribute to the little one's name. "Tuulikki is the name of a Finnish forest fairy," Hosk explained in her caption. Despite admitting it was a last-minute effort, we think they did an amazing job. Too cute.
Kendall Jenner
Kendall Jenner's iconic Pamela Anderson and forest nymph Halloween costumes hold permanent places in our minds, but this year's corpse bride look – complete with deathly blue face paint and lacy bridal lingerie – is up there with some of her best. Nailed it, Kendall.
Frida Aasen
Norwegian fashion model Frida Aasen took inspo from the Wild Wild West for a saucy cowgirl look for a night out with her girlfriends, including model Chantal Monaghan.
Harry Styles
Harry Styles stepped on stage dressed as Dorothy from The Wizard of Oz at his 'Harryween' concert in New York, complete with a checked blue dress, glittery red shoes and big false eyelashes. Harry, never change.
Reese Witherspoon
From one iconic actress to another, Reese Witherspoon honoured Tippi Hedren – who played Melanie Daniels in Alfred Hitchcock's The Birds – with her Halloween look inspired by the 1963 film. "This costume is inspired by the great @tippihedrenofficial!," she wrote on Instagram. "Her performance in Hitchcocks's 'The Birds' is phenomenal. If you haven't seen the film, it's a great spooky movie to watch this weekend!"
Ariana Grande
Ariana Grande was unrecognisable as 'Miss Creature', her fictional Halloween sea monster character. With prosthetics by MUA Julie Hassett, Grande transformed into a half-fish, half-monster from the depths of the 'Black Lagoon'. Husband Dalton Gomez even made a cameo as 'Handsome Scuba Man' for their 50s horror movie poster-inspired shoot.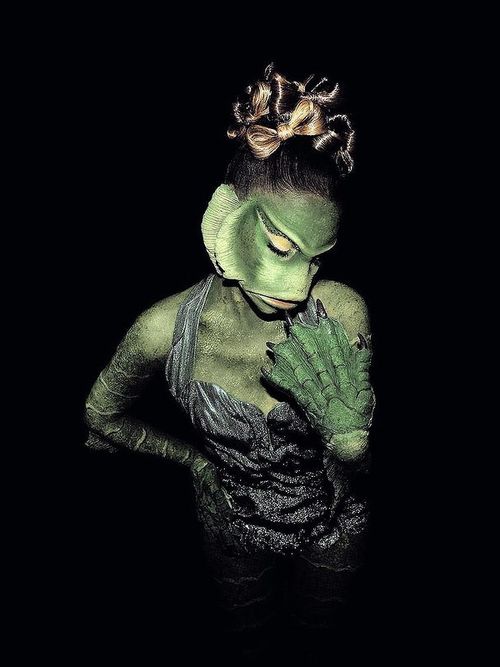 Photo: Instagram/@arianagrande
Malin Åkerman
Swedish-American actress Malin Åkerman dressed up as one of the Ghost Busters as she headed out for some trick or treating fun with her husband Jack Donnelly, who dressed as Jack Shellington, and her son Sebastian, who donned a Cartoon Cat outfit.
Josephine Skriver
Danish supermodel Josephine Skriver went classic as a creepy clown, and created a TikTok video showing off her epic transformation.
Lizzo
Lizzo, is that you? The 33-year-old singer tapped into her obsession with Grogu aka Baby Yoda from The Mandalorian in a costume that pulled out all the stops.
Pernille Rosenkilde
Danish influencer Pernille Rosenkilde proved that sometimes the simplest costumes can be the most effective, dressing up as a pink demon for a Halloween night out.
Megan Thee Stallion
One of the best costumes to come out of Halloween 2021 surely to be Megan Thee Stallion's Pinhead costume. The 'Savage' singer donned full white body paint, head-to-toe bondage and a whole load of pins to depict the Hellraiser character.
Nina Agdal
Though ambiguous, we're loving Danish fashion model Nina Agdal's pink-haired punk girl Halloween look. When quizzed on what she was meant to be, the Dane responded: "Didn't grow up with halloween so gotta cut me some slack here." Fair enough!
Chloe Bailey
This one gets top point for originality. American singer Chloe Bailey dressed up as the seductress fish Lola from 2004's Shark Tale, voiced by Angelina Jolie. Random, but we're into it.
Hailey Bieber
Hailey Bieber created not one, not two but four Britney Spears looks for Halloween this year, paying tribute to the singing icon. "The first concert I ever went to was the queen @britneyspears and I've been shook ever since," she gushed on Instagram. A for effort, Hailey.