From metallic reindeer leather to eye-catching crochet and Dune-inspired hoods – these are the five bubbling, up-and-coming designer brands from Norway that you need to know about
Gobmi
"For us, everything we present is personal," say sisters and co-founders Live Moen Johannesse and Hanna Moen Reinsnes. The two sisters founded Gobmi – meaning 'ghost' in Sámi – to tell the story of their people: an "ancient, unique and awesome people at the edge of the world" as the duo describes. Their personal (surprisingly common) story is woven into the tapestry of the Sami: "We grew up in the middle of Sápmi, close to Sámi culture. But as many others, we didn't discover our Sami heritage until we were almost adults," the sisters explain. "A few years ago our beloved grandfather got old and sick and suddenly spoke Sámi." This was the beginning of a journey where the sisters set out to reclaim their culture and identity. "Gobmi is a part of this journey," they say.
Every piece from Gobmi has its "own little Sami story to it". The brand's embroidered t-shirts, sweatshirts and caps are already sell-out staples on the home front. "With our latest collection, the Bearaš [family] collection, we wanted to tell the story of the almost forgotten ládjogaphir," the duo explains. The ládjogaphir is a Sami women's horn hat worn by Sami women until the end of the 19th century that, during the assimilation of the Sami, was banished. "It was said that the devil lived inside the horn of the hat," the designers explain. Today the ládjogaphir is revived by Sami women who proudly wear it again, and the collection its horn hat embroidery is "a celebration" of the duo's "foremother's hat of pride".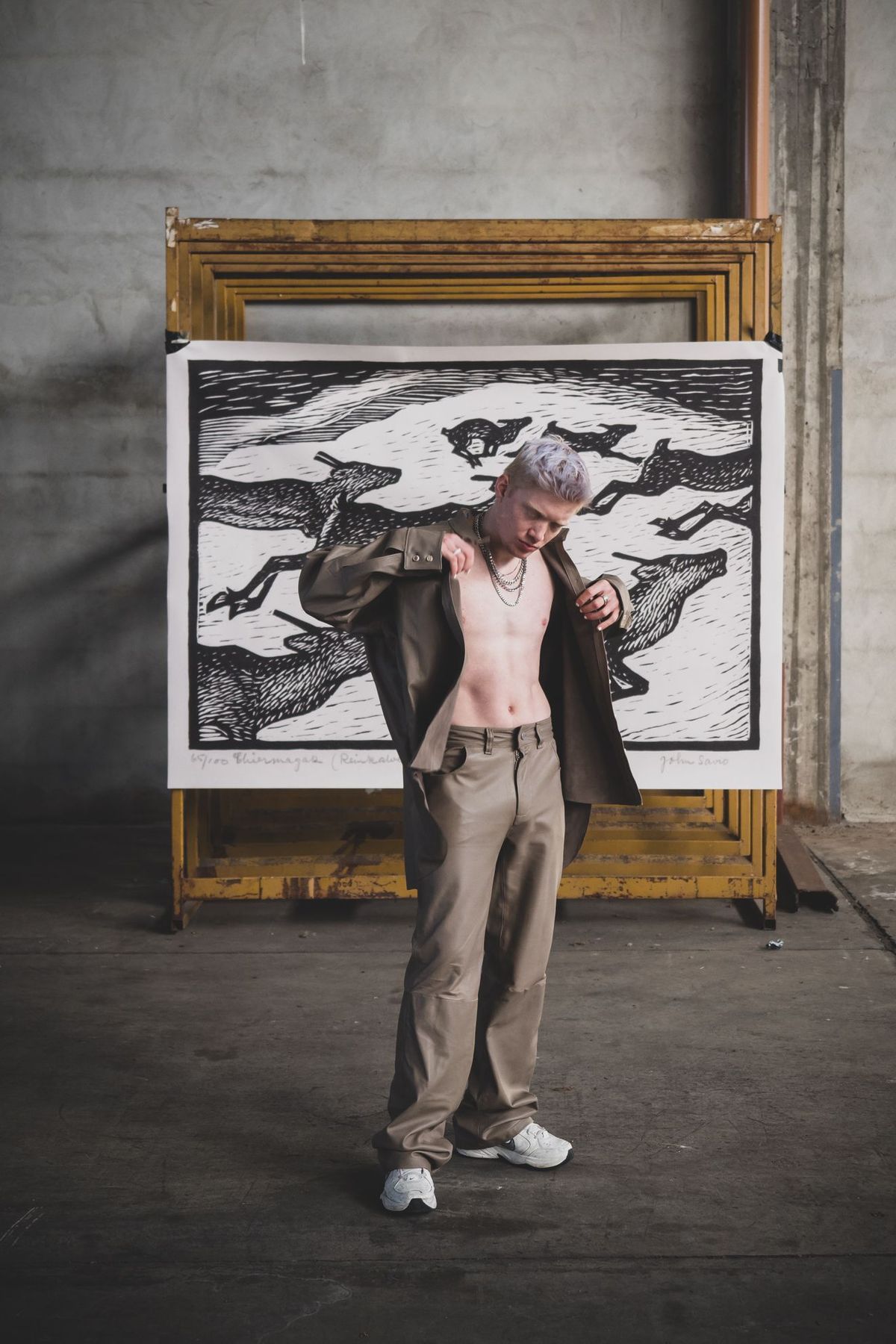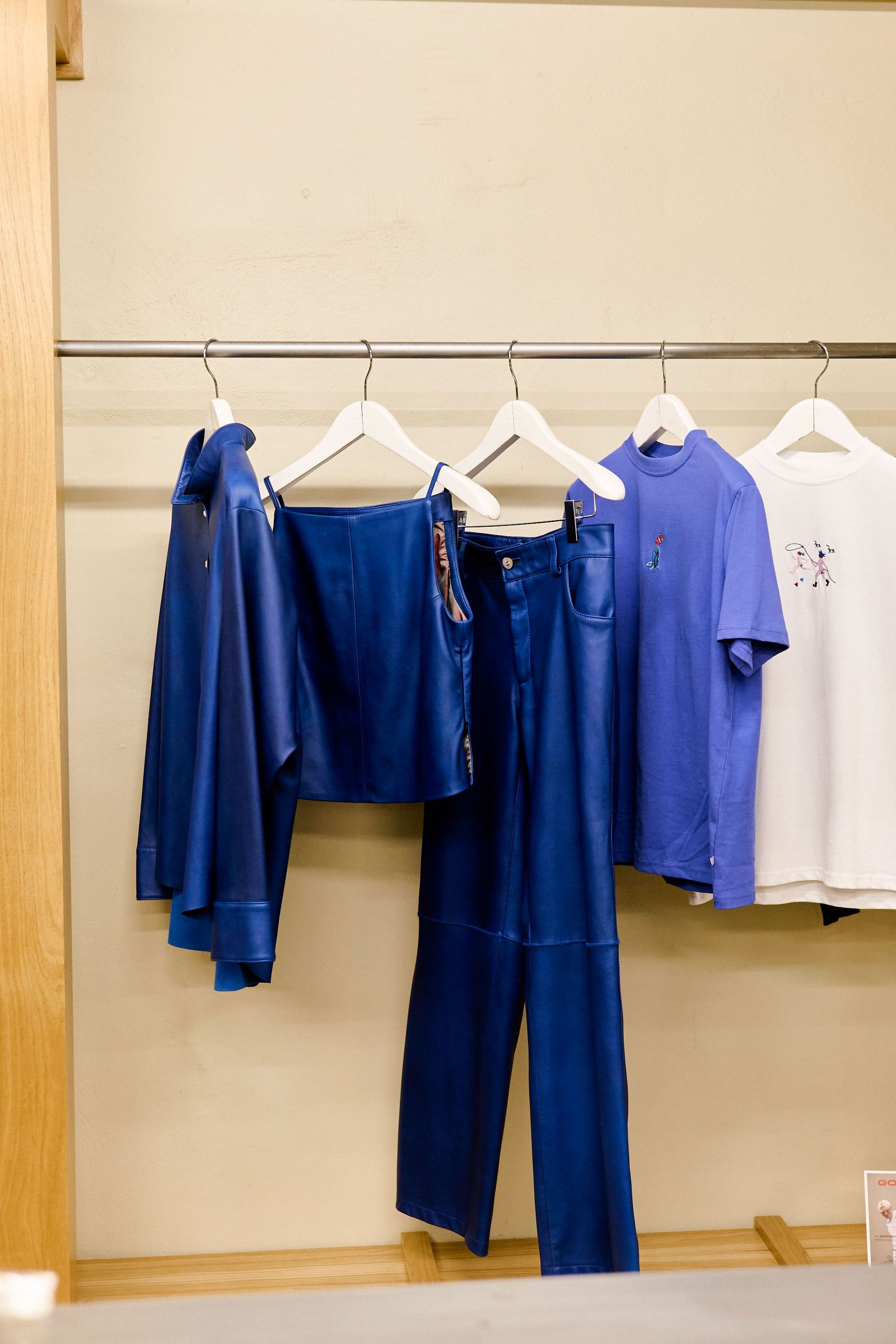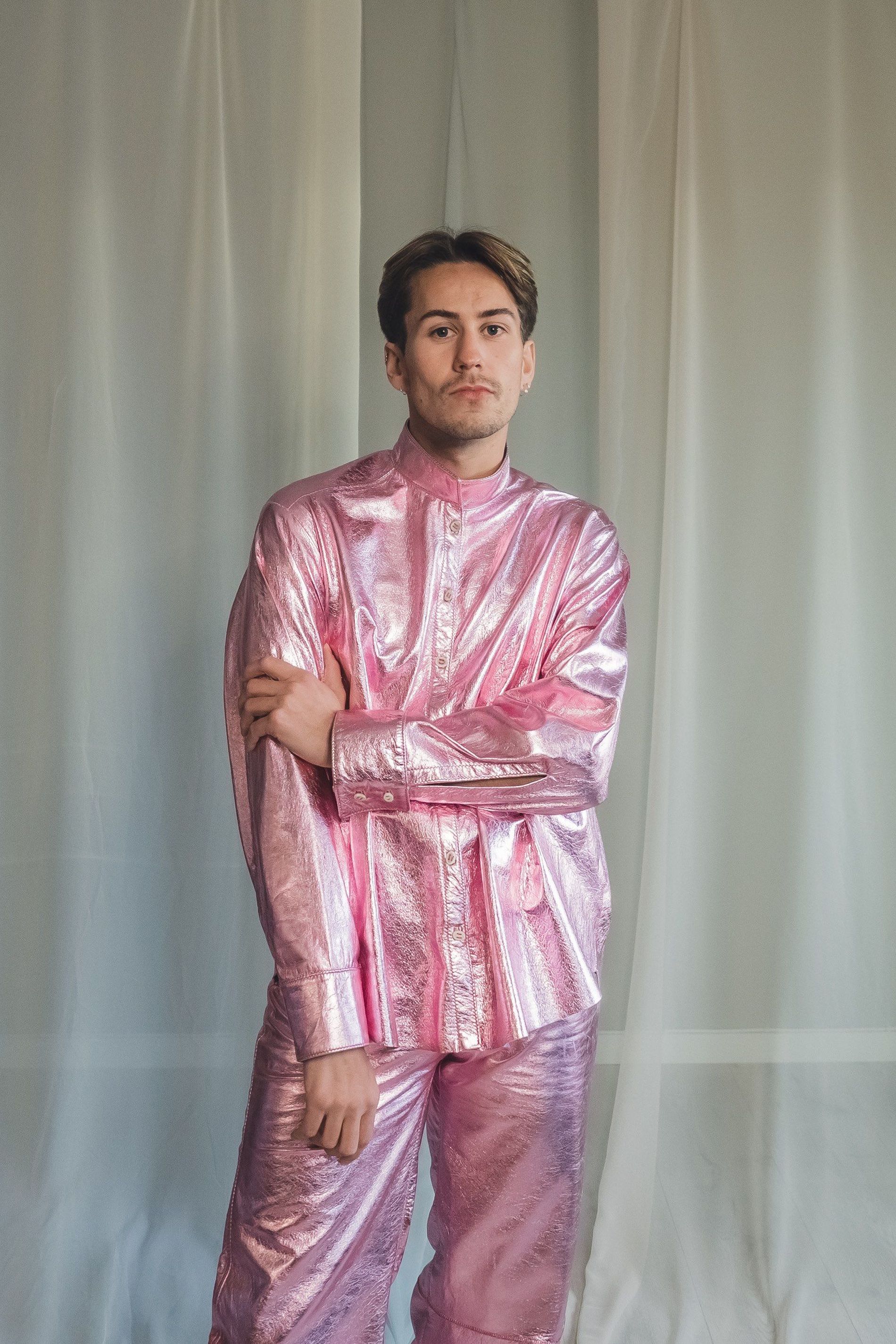 While the loungewear makes up the core of Gombi's collection, it was the modern reindeer leather sets with reindeer antler buttons that caught guests' eyes during Oslo Runway. Available in both neutral shades as well as pink metallics and cobalt blues, the limited edition pieces are buttery to the touch. "Reindeer herding is a well-known Sámi cultural tradition for most people, and we wanted to highlight that aspect in Gobmi," the sisters explain. "It's a sustainable industry involving wild animals that roam and graze freely in Sápmi´s open landscapes. Nothing from the animal goes to waste, and the leather we use is a byproduct of the meat production."
For the first time since Gobmi launched in 2021, the brand stepped onto an official fashion week schedule, taking part in the F5 show room for budding designers during Oslo Runway. "It feels really cool! We are so happy to be a part of Oslo Runway," the sisters told me ahead of the event. "Being recognised like this is amazing for our brand, but we see it as something bigger than just us," the duo explains, pinpoint that it's the first time, at least in Norway, that Sámi design has received this kind of recognition. "We really feel like we are representing the entirety of Sápmi - and we hope we will make the region proud," they conclude. "The unique community of the Sámi deserves to have their stories shared and celebrated."
Eigenbrötler
Deconstructing antique materials, Eigenbrötler's anti-trend approach to the industry sees founder Ishara Jayathilake Haugerud explore traditional craftsmanship through one-of-a-kind upcycled pieces. The German name Eigenbrötler translates to "loner" or a "highly introverted person": a fitting name, considering that each garment produced is solely unique in its characteristicds. Emphasising the importance of local production, Eigenbrötler offers a "solution-based" response to "extreme consumerism and negative environmental impact," according to Haugerud.
Favouring structured silhouettes drawing on vintage references, Haugerud's work is instilled with a deep respect for historical and cultural values in every hand-crafted piece. Vintage Norwegian wool blankets, leftover yarn from local shops, upcycled leather, and handmade lace are transformed into clothing outside of trends – creating a closet that is hard to pin down, unrelated to any specific era, modern or otherwise. Crafted from surplus materials, the aesthetic attributes of each piece vary, with slight shifts in the colour, wear, or mending. "It is not a default, but a feature we embrace as artistic quality," Haugerud says.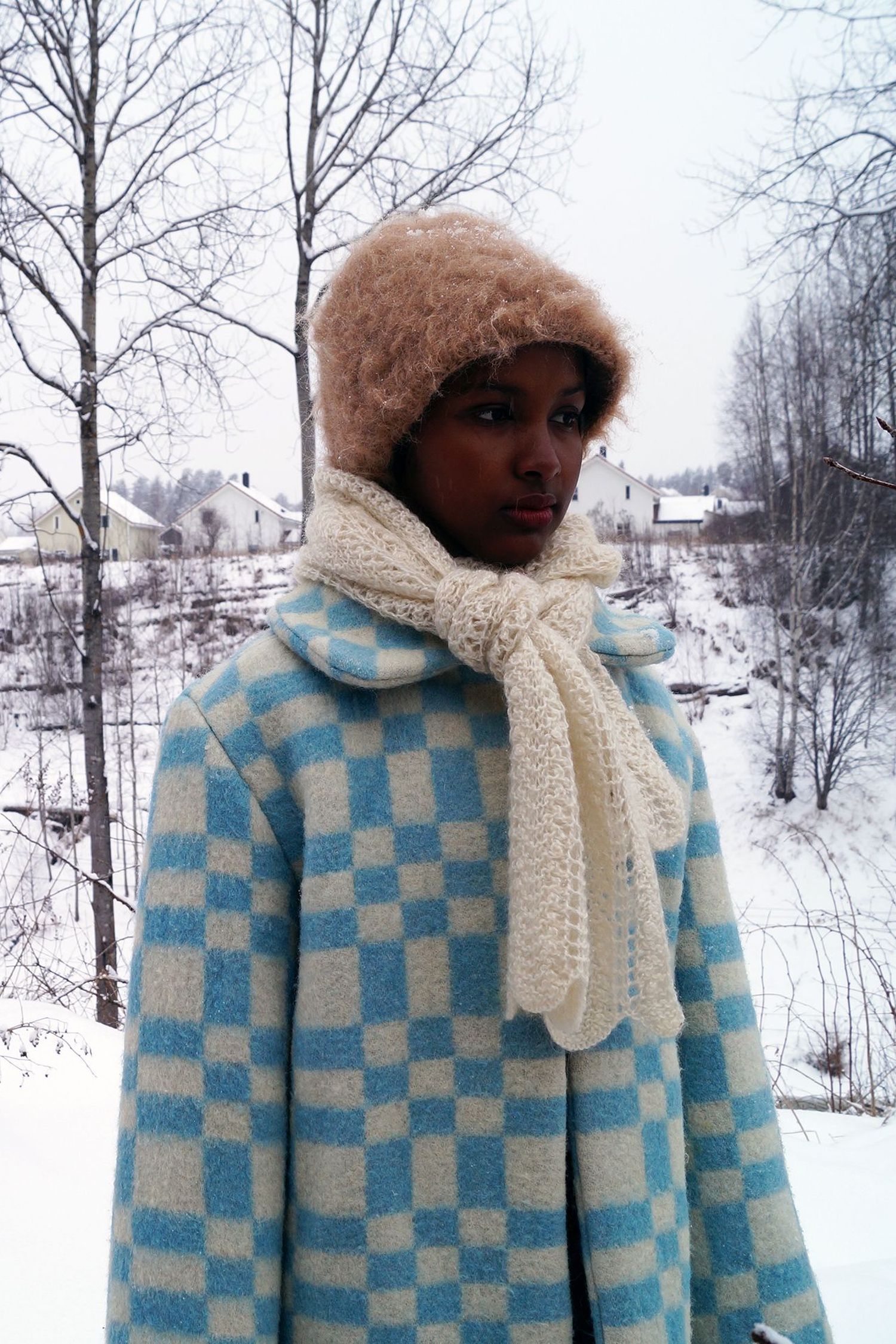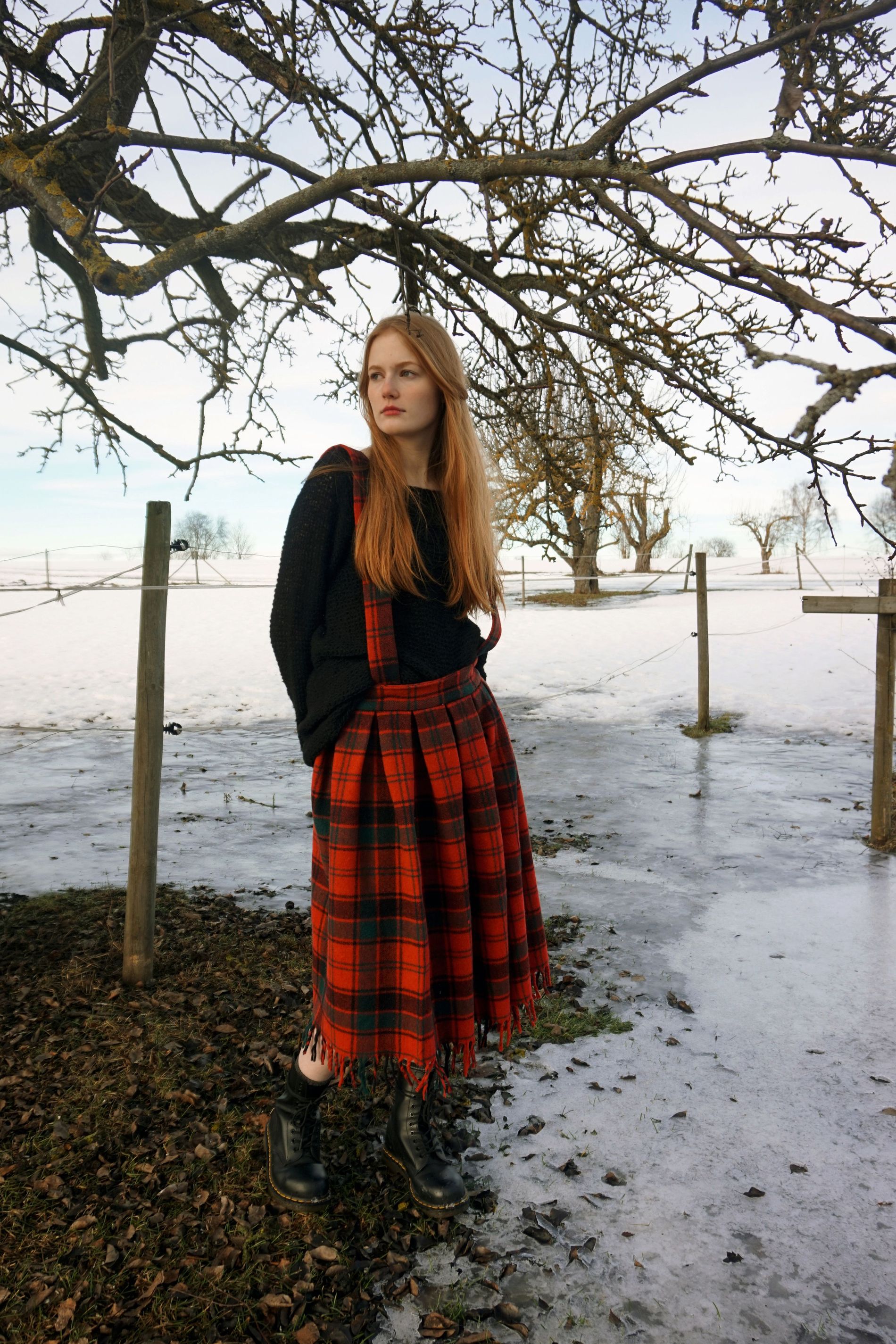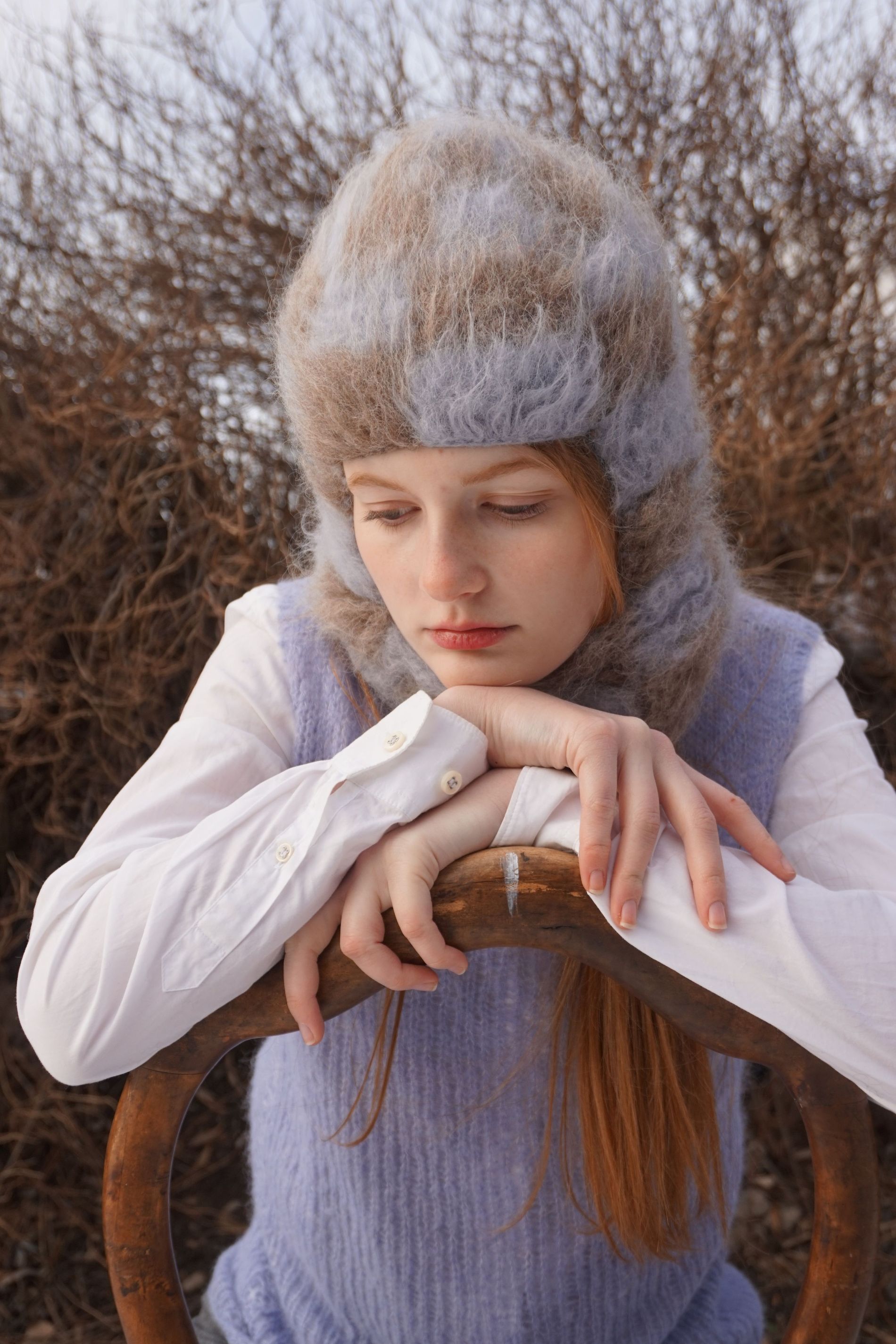 As for the colour palette of the upcoming season, browns, beige, grey, and sky blue lay the foundation for the collection – as if Haugerud dipped her brush in the paint pot that is the Nordic winter – offset with a bold red tartan. "Usually, we build narratives and make the best out of what we have in hand," says Haugerud. "In our case, it's the fabrication that dictates the silhouette. We typically work with basic shapes and then develop those into final patterns which complement each fabric."
Over 95 per cent of Eigenbrötler's production is carried out locally in Norway, the base of which is Haugerud's studio in Hønefoss, an hour's drive from Oslo. Sustainability is a "simple natural aspect" of the brand and one of the reasons behind Eigenbrötler being invited to show during Oslo Runway. "Being acknowledged by Oslo Runway is really awesome and a huge step forward," says Hugerud. "It definitely allows us to sit on more of a local-global conversation. Learning about the other brands and their backgrounds is also very interesting."
Margaret Abeshu
Showing during Oslo Runway, this was the first collection from multidisciplinary artist Margaret Abeshu after her MA graduation collection from KHIO (Hypoalgesia in 2022). "As I am navigating the present time, looking within my previous work while trying to envision what my future work holds, I was reminded of this documentary sci-fi film called The Last Angel of History by John Akomfrah 1996," Abeshu said ahead of the show.
Abeshu briefly describes how the mockumentary explores the origin, impact and meaning of Afro-futurism and techno music for the black diaspora. "My work and approach are heavily connected to Afro-diaspora perspectives, experiences and expressions through theory, aesthetics, and mediums such as music from the present, past, and future," she says.. "My intension is to interpret my point of view and imagination directly or indirectly through clothes, fashion mood and scenarios as visually I can create together with my team."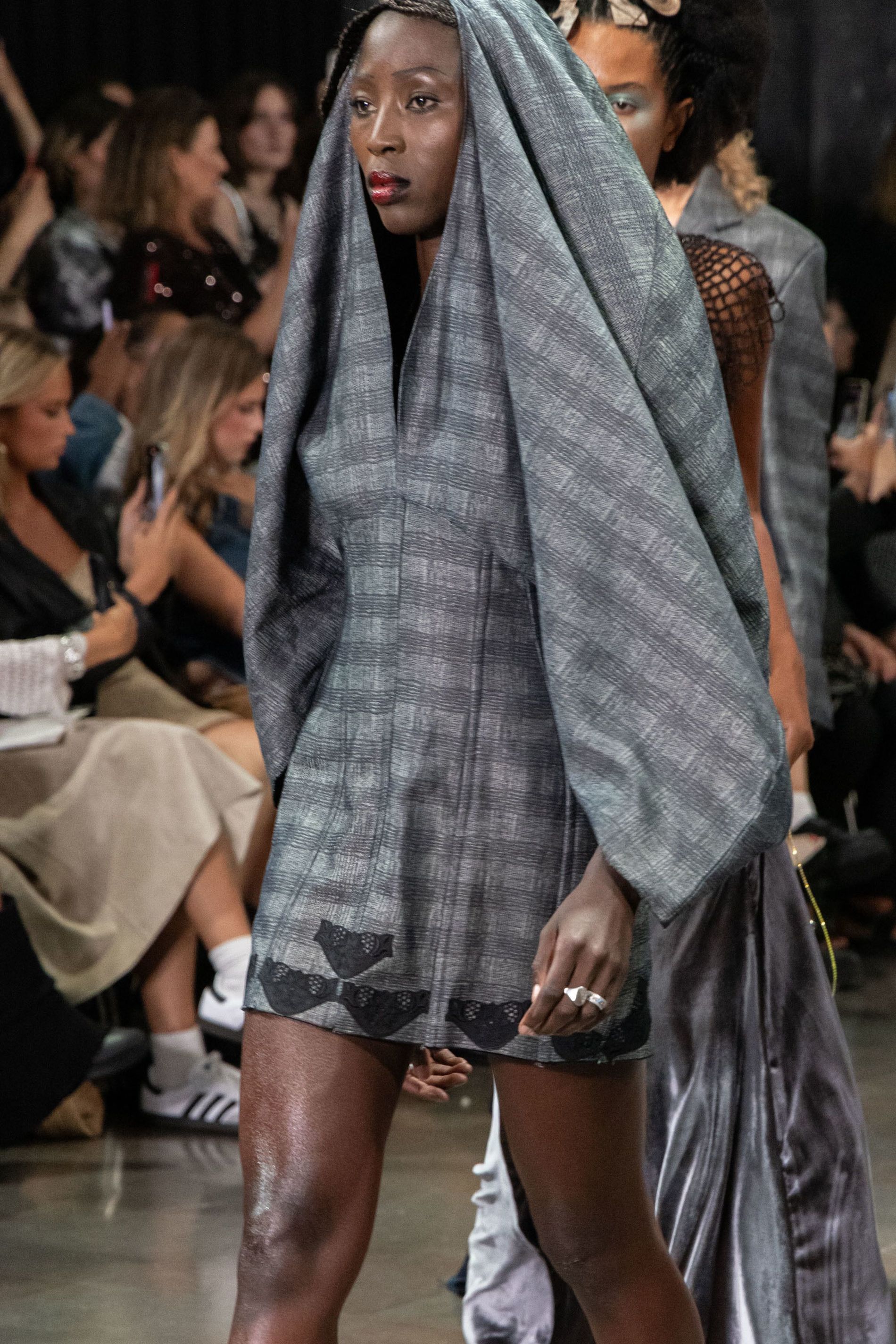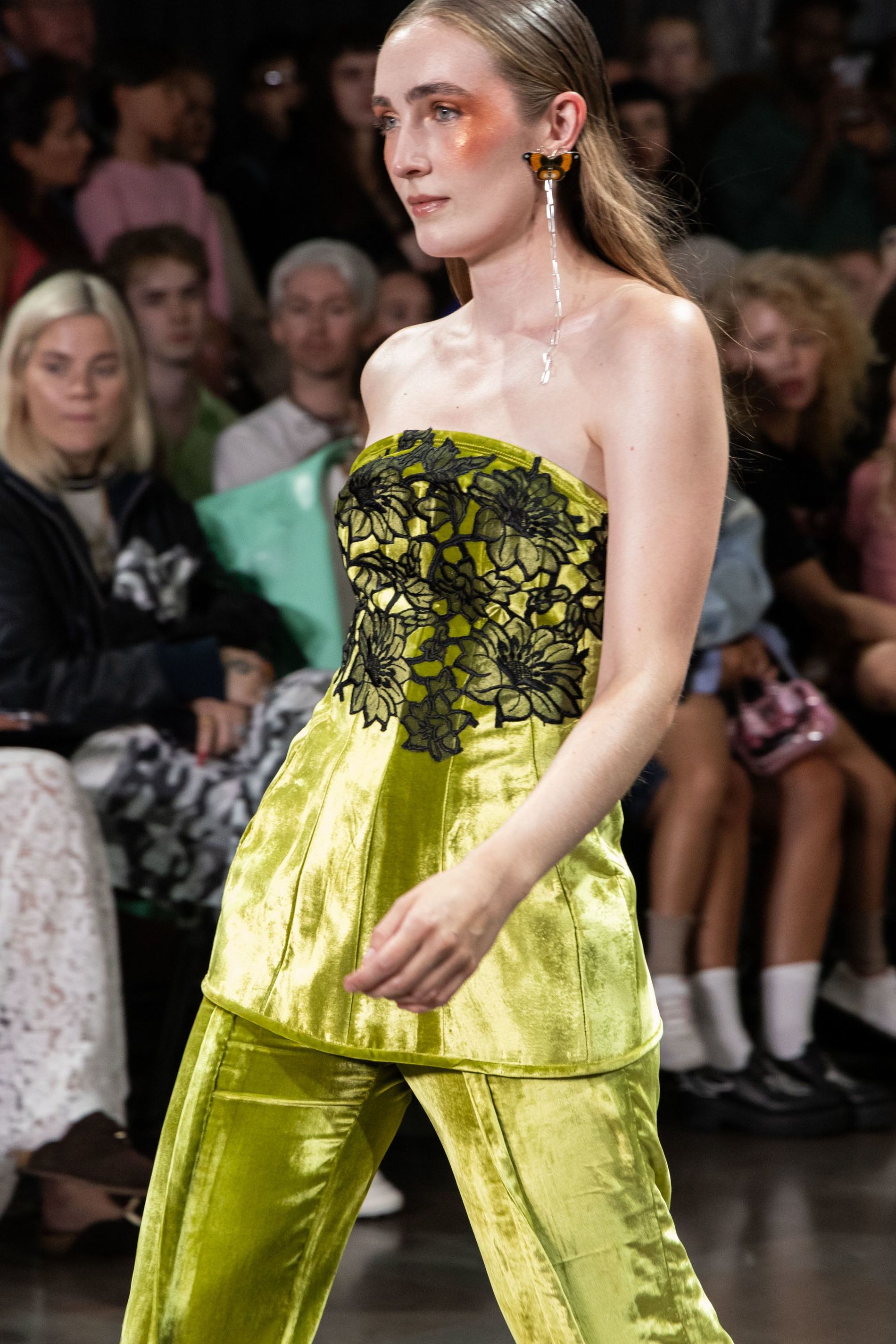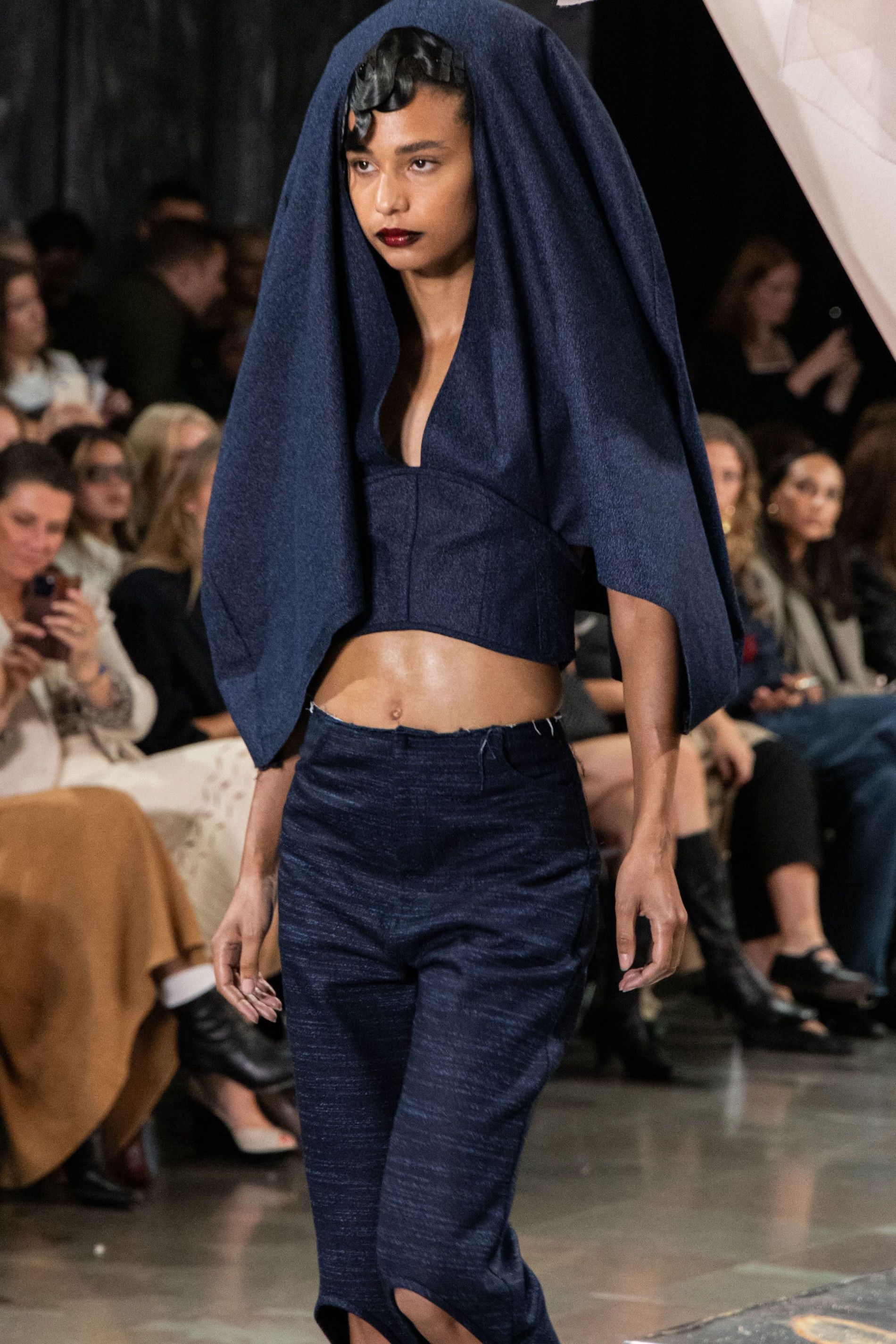 As such, the theme and message in Abeshu's work is about questioning everything we think we know, "especially this thing called history," Abeshu adds. "How is it constructed, who writes it, who archives it, who is the narrator, who has the accessibility, how do we interpret, and how do we understand? I think it's crucial to raise more questions than answers through creativity to communicate, reach and connect more." The new collection was created from deadstock fabrics spanning denim and silk, hand dyed and draped for effect. "For this new collection, I have also used a smocking pleats technique which is new to me but a very old technique," Abeshu muses.
The silhouettes are heavily inspired by the "re-appropriation of Northern Africans and Middle Eastern attires in many Western sci-fi films," according to Abeshu. "The silhouettes are something I want to further develop with a team to match my imagination because I sometimes feel limited by my skills and accessibilities as an independent designer here in Oslo." For Abeshu, participating in the Oslo Runway Next show segment is a significant accomplishment. "I see this as a new big step to learn as much as possible from the challenges, trials, and errors through the process." For Abeshu, it is vital to have consistency in your work, especially as a new and emerging designer. "To get that legitimacy, you must take the opportunities that come your way and do your best," she says.
Tarinii
Known for its statement beaded necklaces, this season saw Tarinii Martinsen's eponymous brand launch ready-to-wear for the first time – presented as part of the Oslo Runway Next fashion show. "I started researching for this collection by digging through many albums of family pictures from the late 7'0s and onwards," says Martinsen. It was a time when Martinsen's parents were active "participants in a socio-spiritual organisation stemming from India," she says. "The photos I looked at were full of earth tones and corduroy, something I've brought into this collection," says Martinsen. "I worked a lot with creating movement in the fabrics, which comes from seeing Indian men and women draped in long, orange fabrics."
The collection's name is Whalebone, a reference to Martinsen's Icelandic roots. "I've thought a lot about my own childhood and how these mixed influences shaped where I draw inspiration from and how I think and view the world around me," the designer says. "I don't like to be too literal, and I play on the way the mind alters memories and distorts them within how I work. I like to work freely, put the image research away, and see what happens."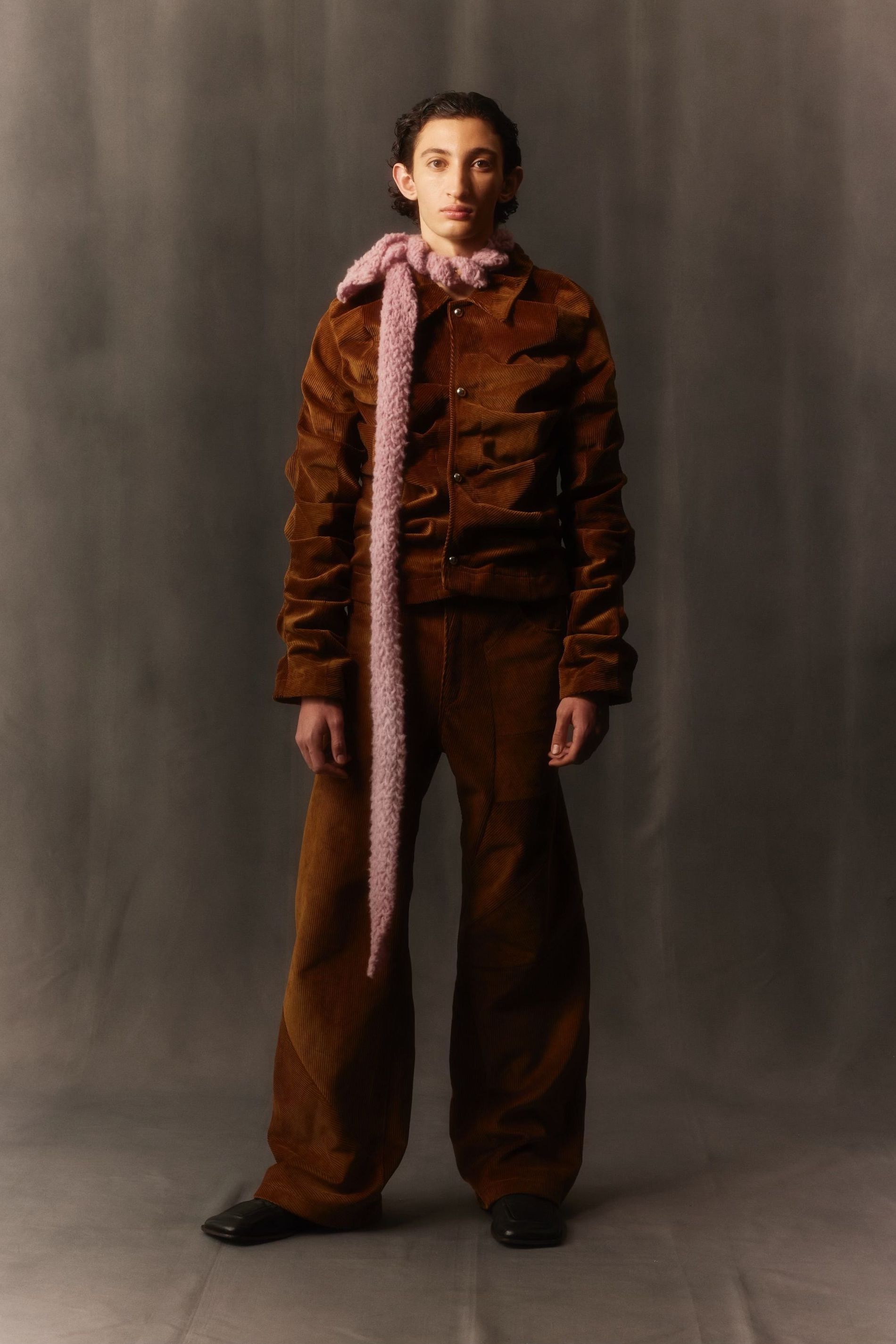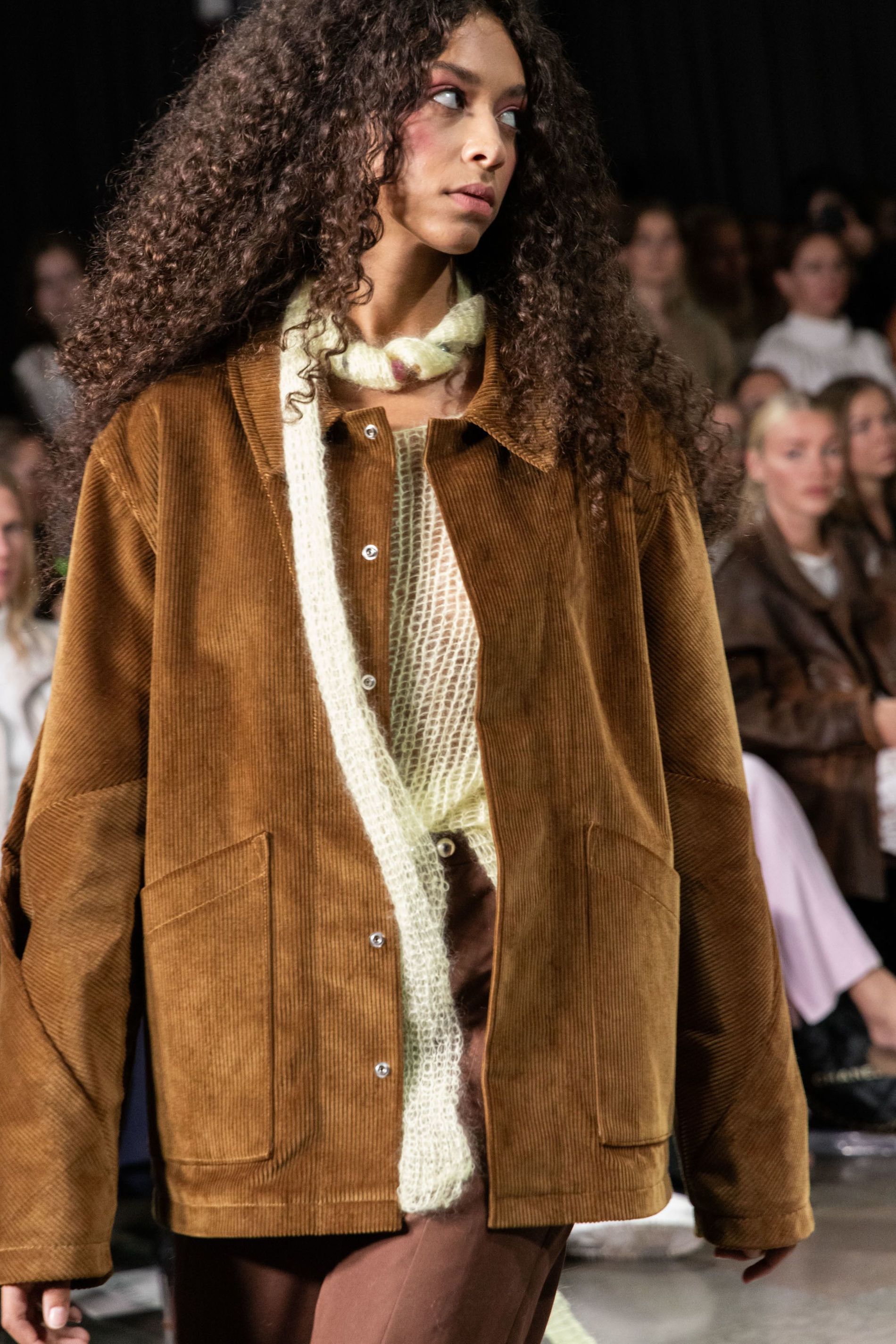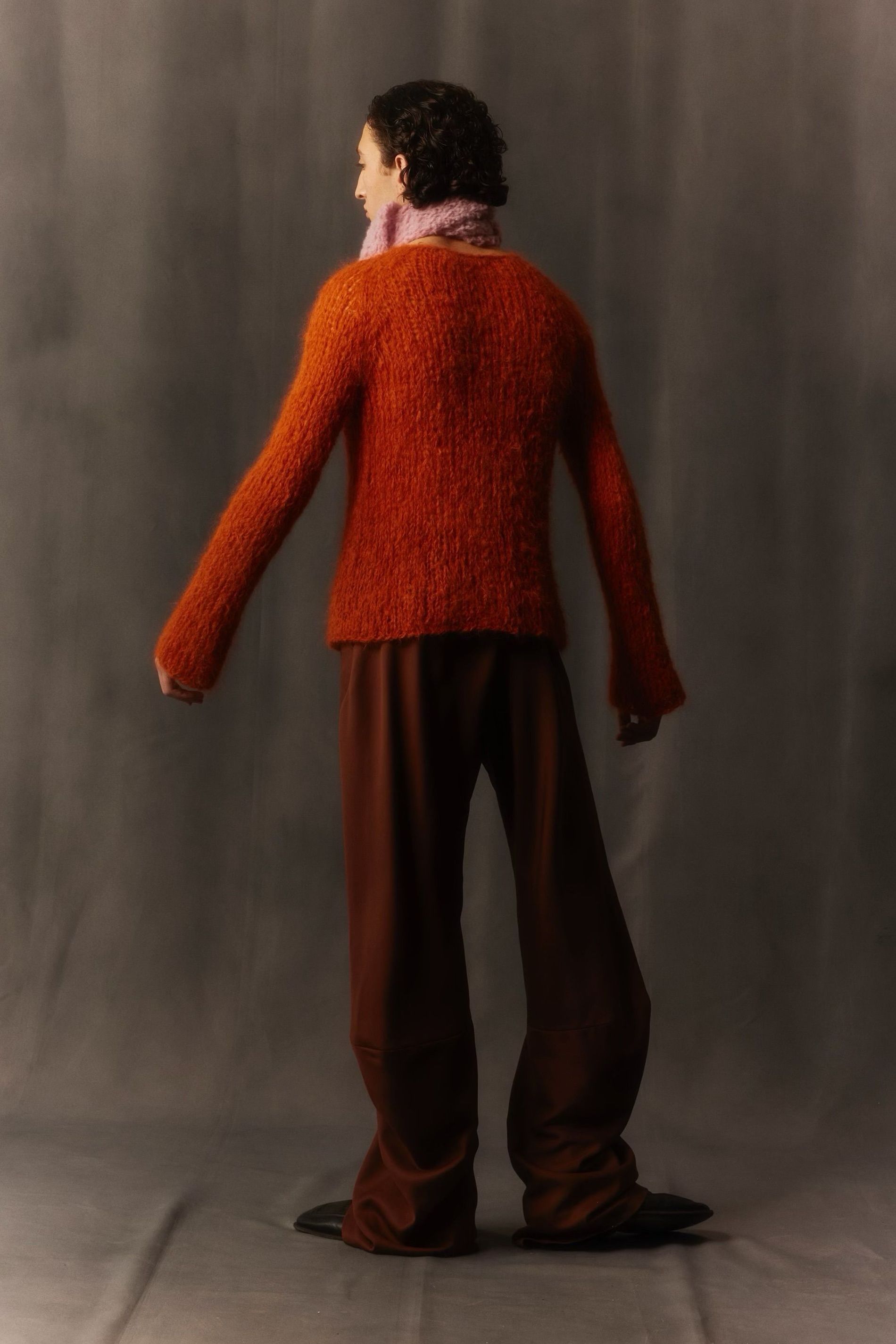 The designer prefers natural materials, mainly organic cotton, with a mix of deadstock denim and Tencel. The designer explains that the knitted and crochet pieces are from "Alpaca, Mohair, Merino and Linen" and pin points how lucky she was to work with fabric producer Kvadrat (who has previously collaborated with Raf Simons). "I was given a beautiful wool fabric woven in Norway," she says, adding that "every piece is sewn in-house on vintage machines", and the knit and crochet are done by hand.
Finally, Martinsen wants to "make a push for local production and made-to-order sales." "I think the most important thing we do for sustainability in fashion is to produce less," she says. "That way of working can also accommodate different types of bodies, and it allows people to buy garments that fit them better." According to the designer, Norway has been missing a space for emerging talent, and she is "really happy to be a part of the first round" of Oslo Runway Next. "It has taught me a lot about the process of creating a fashion show and has given me a platform to show my work that has been financially accessible and feels supportive," she says, concluding: "I hope to see Oslo Runway Next nurture talent for many seasons to come."
2 Much Pressure
Kine Ulvestad of 2 Much Pressure likes to create "different worlds and atmospheres" with sculptures, clothes and photos. Exploring her creativity through the craftmanship of crochet, she explains how the "most important thing" for her is to "be allowed to crochet". "I grew up feeling that I should get a 'normal' job and that a creative path is almost impossible to follow," Ulvestad said ahead of the Oslo Runway Next fashion show. "I understand now that it is certainly not impossible. It is demanding, but as I see it now, there is no other alternative."
Ulvestad's work is about "the craft," as she refers to it. "The process, shapes, and colours." "The process of crocheting or knitting a textile or garment is a time-consuming activity that requires focus and presence," she says. "For me, crocheting is the perfect activity as it is therapeutic and gives a feeling of mastery. Moreover, it does not require many resources, only a crochet hook and a ball of yarn."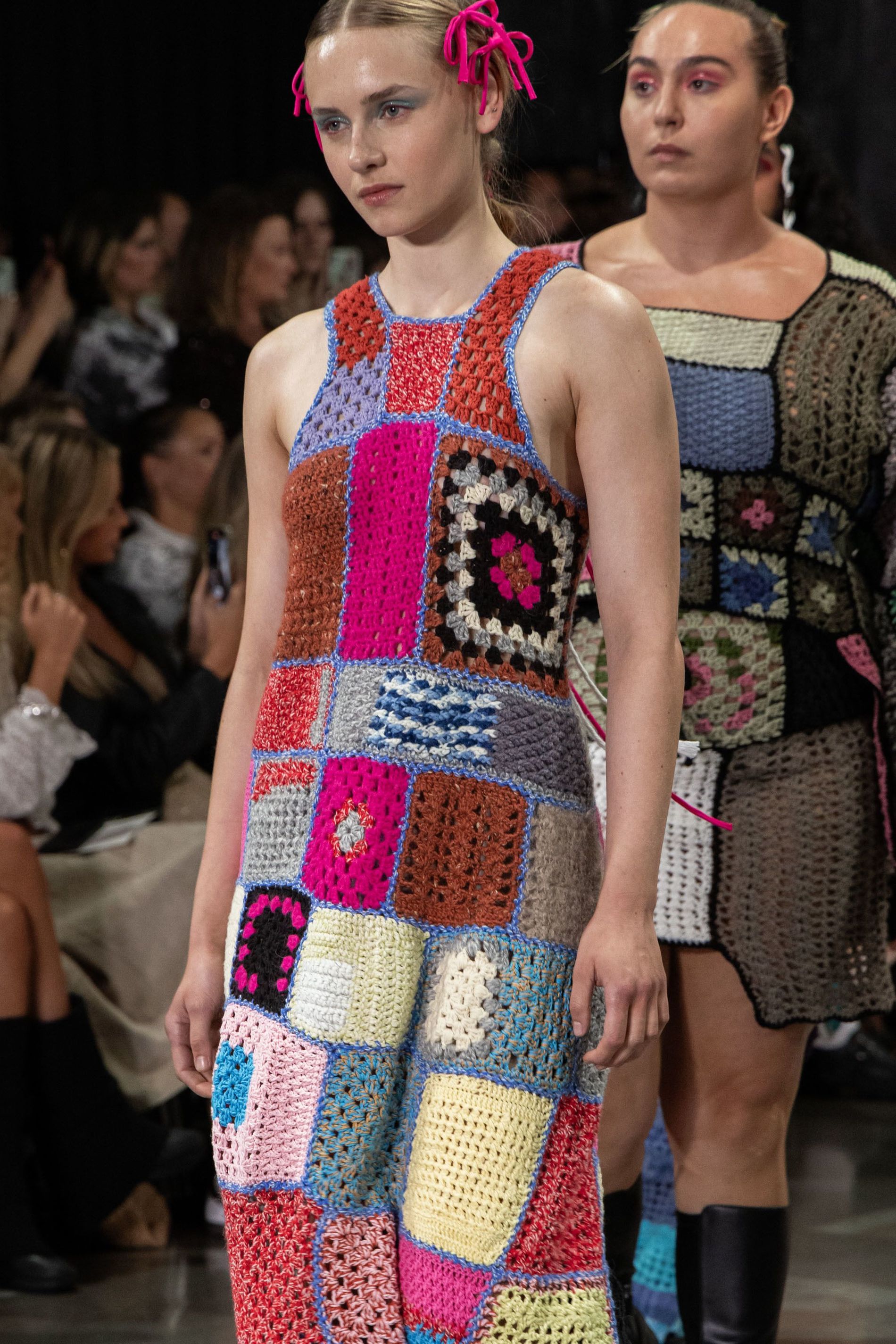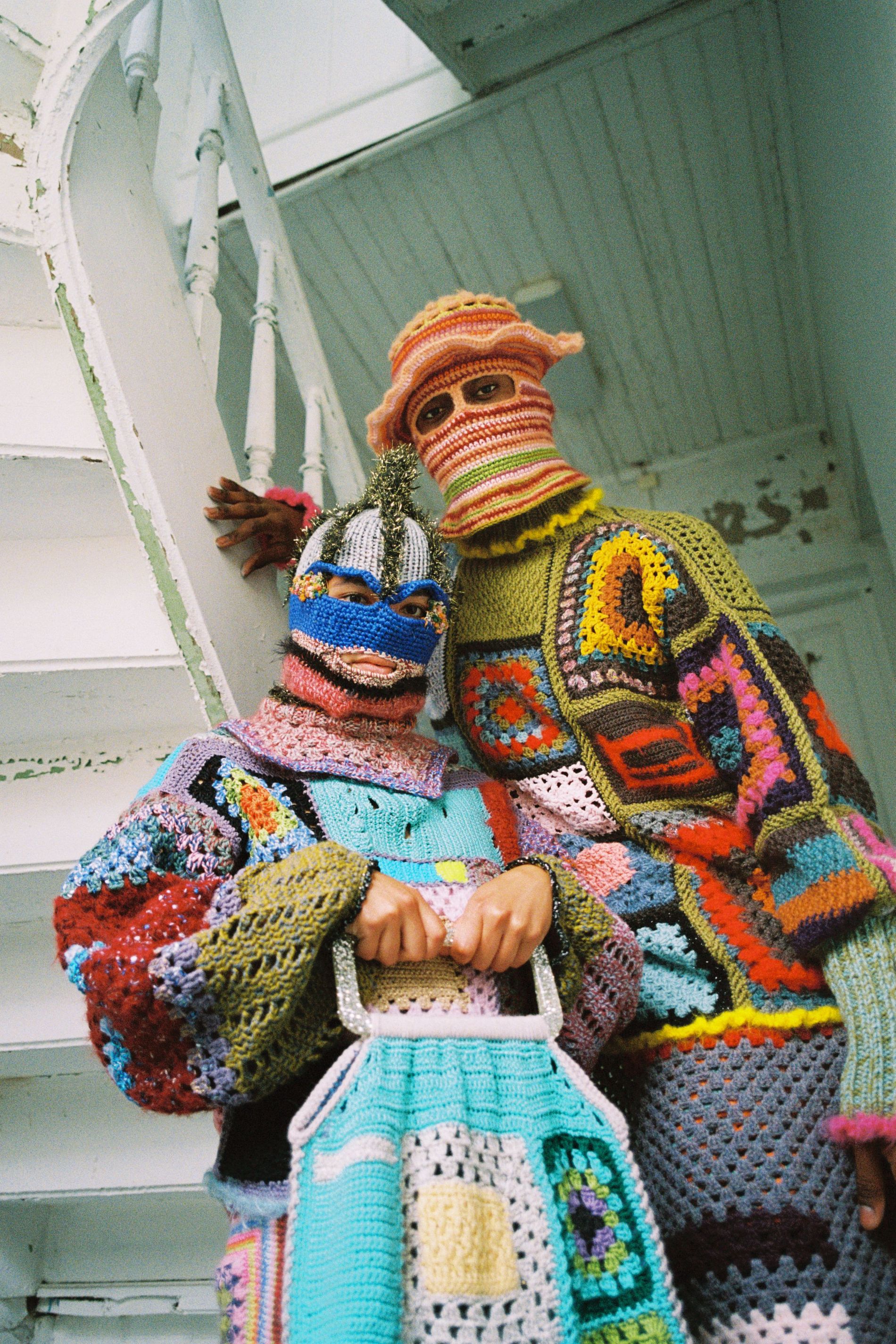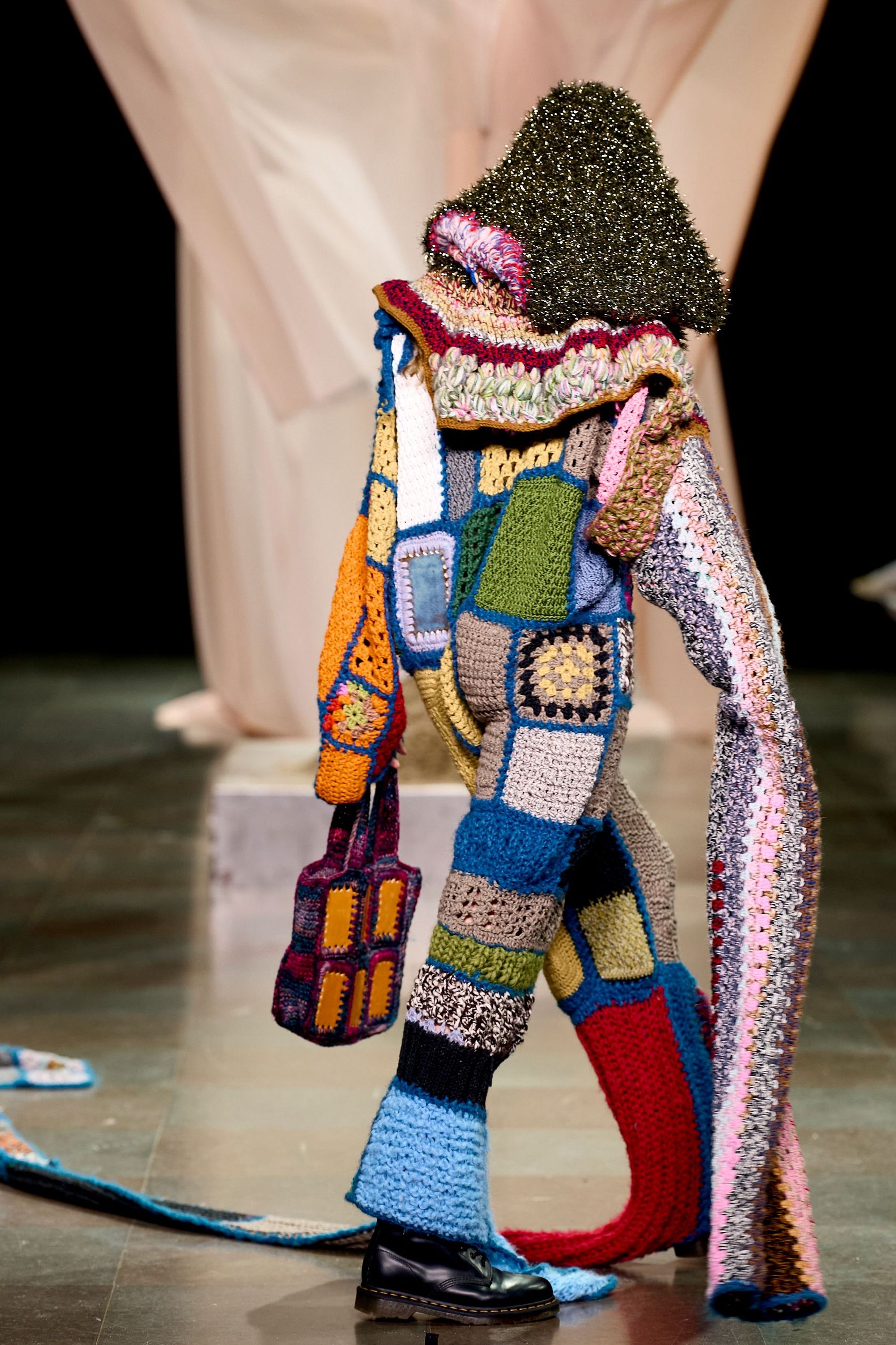 The vast majority of Ulvestad's garments are made from leftover yarn. For the show, however, the designer stepped outside of her comfort zone to create three outfits made out of woven paper. "In recent years, I have been knitting more as crocheting is quite heavy on the hands," pinpointing her preference for traditional techniques such as "granny squares." "Many of the garments are made of squares in various sizes, which are then crocheted together," she explains. "I use everything from acrylic to untreated and pure wool." As long as it is surplus, she will use almost any material on hand.
For Ulvestad, showing at Oslo Runway cast her creations in a new light, allowing her to "show the clothes physically, on people." A reality she has "fantasised about" for a long time. "In the past, I have shown the garments almost exclusively through photo documentation, so it's really fun to finally be able to show them properly, especially in a setting like Oslo Runway," she says. "It's big. "Even so, it has been a challenging process, and the learning curve has been "steep." "I've also learned a lot about how to do things in the fashion world and how much it takes to set up a show like Oslo Runway," she says. "It involves a whole bunch of people and requires an insane amount of advance work."