Rains brings the Nordic experience to Pitti Uomo in Florence with a 3D-printed installation, delivering a "natural element within a retail environment"
At the centre of Pitti Uomo in Florence lies a little slice of Scandinavia by way of an installation by Danish brand Rains. Characterised by stacks of 3D-printed sculptures that simultaneously evoke the concrete of an urban environment and an organic rock formation, the installation reflects the direction the brand has been taking over the past several seasons. "Rains is built upon combining this urban environment with this outdoor explanation," says Rains co-founder Daniel Brix Hesselager.
Centre stage within the installation are bags and luggage – a natural progression for a brand that has long since been viewed as a "travel accessory". "The lightweight rain jackets we started out were quit obvious for travelling," Hesselager notes. Over time, the brand introduced fanny packs and backpacks, slowly becoming a staple for travel. "It made sense for us to do a capsule collection, which focuses on the functionalities of travelling," he says. Crafted from the brand's signature waterproof fabric, the new capsule includes sleek weekenders and rucksacks and, for the very first time, a function-forward trolly bag.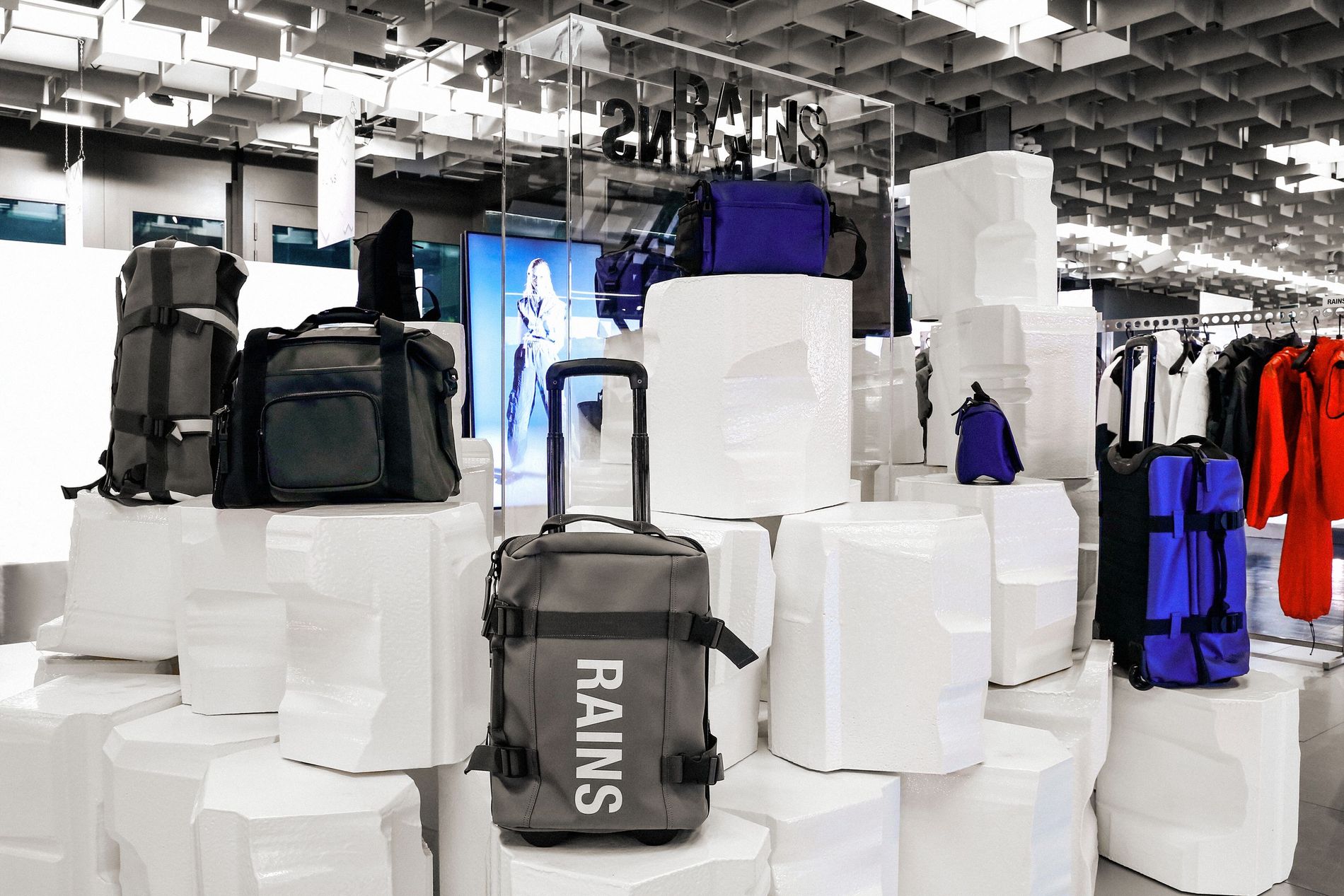 The rock-like installation is becoming somewhat of a signature for the brand. "We make small modules of the shapes," Hesselager says. "Then we 3D scan them and create them with big printers." They've popped up at Lafayette in New York, as well as the brand's own flagship in Copenhagen. "They become a natural element within a retail environment," he says.
The installation serves as a reminder that though Rains has become a fashion brand, showing in Paris and warn with panache by the likes of Justin Bieber, it has not forgotten its function-forward roots. It's a sentiment that will be echoed at the brand's forthcoming show during Paris mens. "We've become a bit crazy, entering the fashion scene," Hesselager admits. "This show will reflect the foundation of this rubber rainwear brand. It will be a very interesting, innovative look at how you can dress a raincoat."