Mikko Puttonen's one-kneed proposal may have been met with an "Are you joking?" but there was no doubt in anyone's mind that these two were destined to tie the knot in the most stylish and heartfelt way. Here, Mikko and his now-husband Lucas Ruska Martin share all the special details from their idyllic, fairytale nuptials in Mallorca
Finnish photographer and influencer Mikko Puttonen and his partner, art director and photographer Lucas Ruska Martin are truly an international couple. The six-year journey of their relationship spans countless pins across the globe, but it all started in London. "As cliche as it might sound, it was love at the first sight for us. Our first date lasted for an entire week," the pair say. Despite Lucas being based in Berlin, the two were quickly inseparable, making frequent trips between the two capitals in the early days of their courtship.
It was in Spain, during a work trip around that time, that Mikko made a call to his sister declaring that he hoped that he and Lucas would officially become boyfriends. They soon did, with Lucas also stepping into the role of Mikko's manager – forming an understated power couple in the fashion world. Jump forward a few years, and the pin lands in Greece, where the marriage proposal took place during a vacation.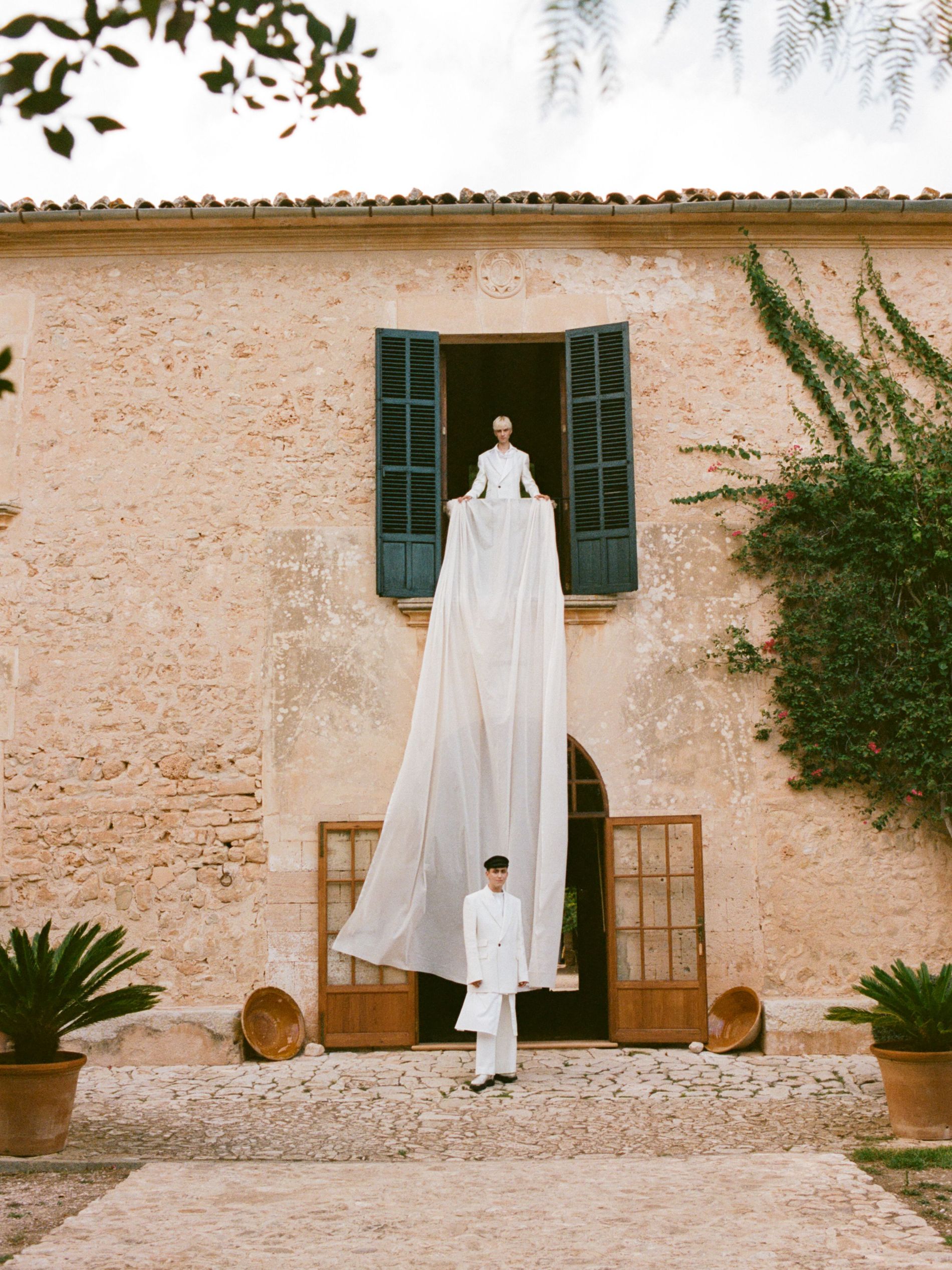 Photo: Claudia Maurino
"We were staying in a small house by a mountain and went for a hike on the day that I had planned to ask the big question. On top of the mountain, I eventually kneeled down to ask the question, and what did Lucas say?" "'Are you joking?'" Lucas chimes in, laughing, "as I was so shocked at first. I thought it might be a joke, but once I saw a little tear I realised what was happening, and of course, said 'I do'." Mikko knew that they would want to choose their rings together, so instead, made a ring for Lucas out of flowers. "We dried it and still have it to remind us of the special moment," he says.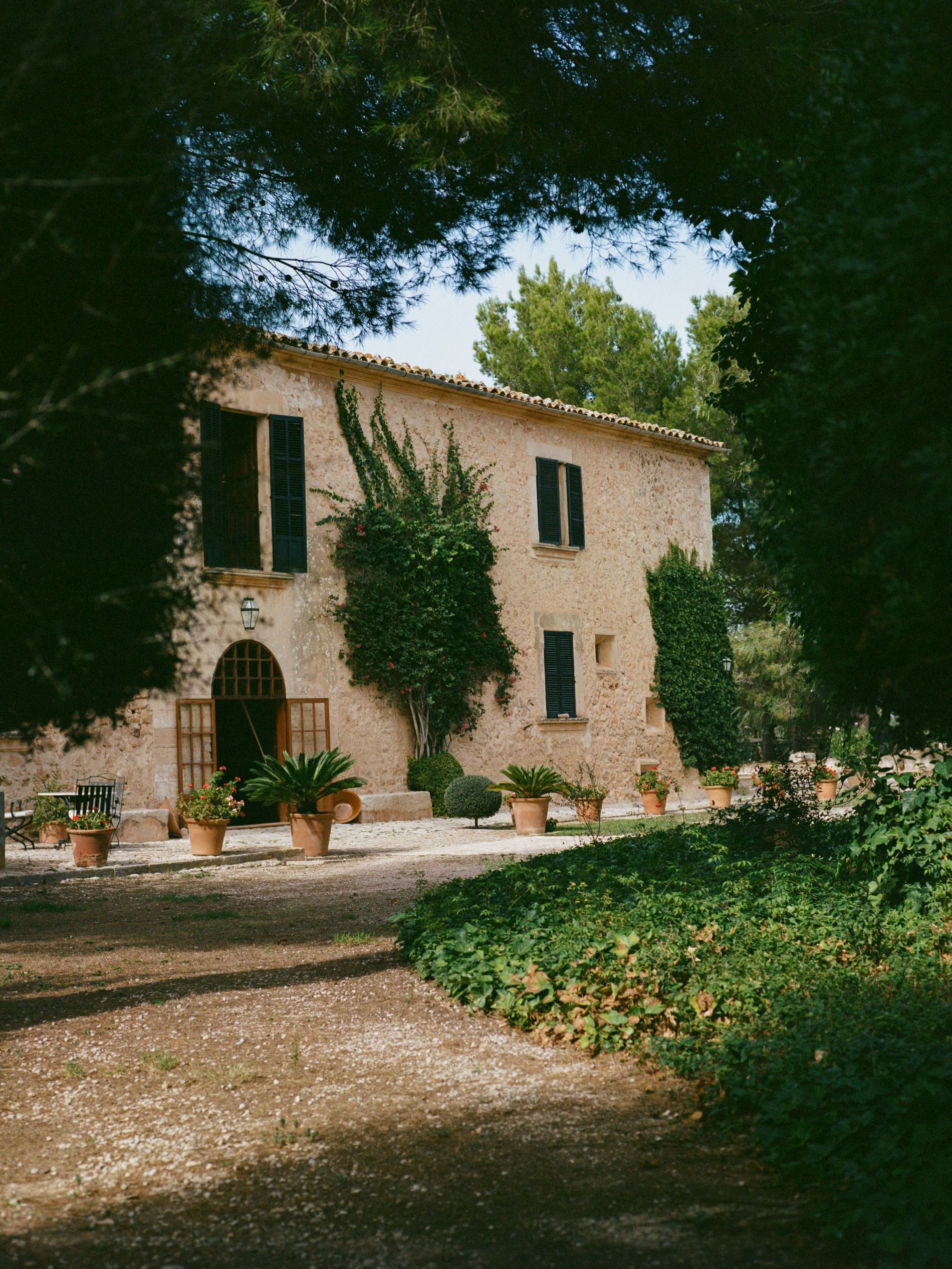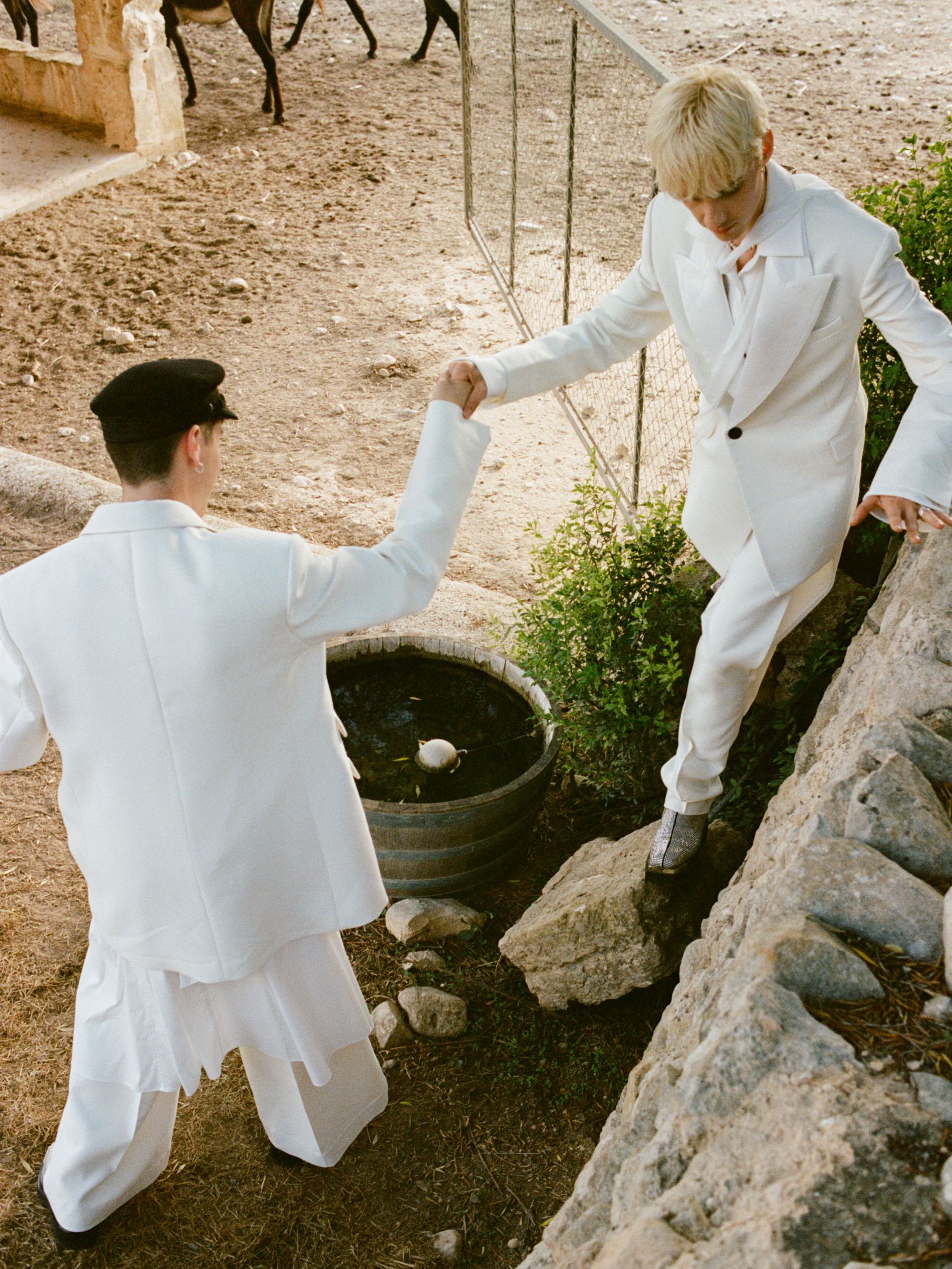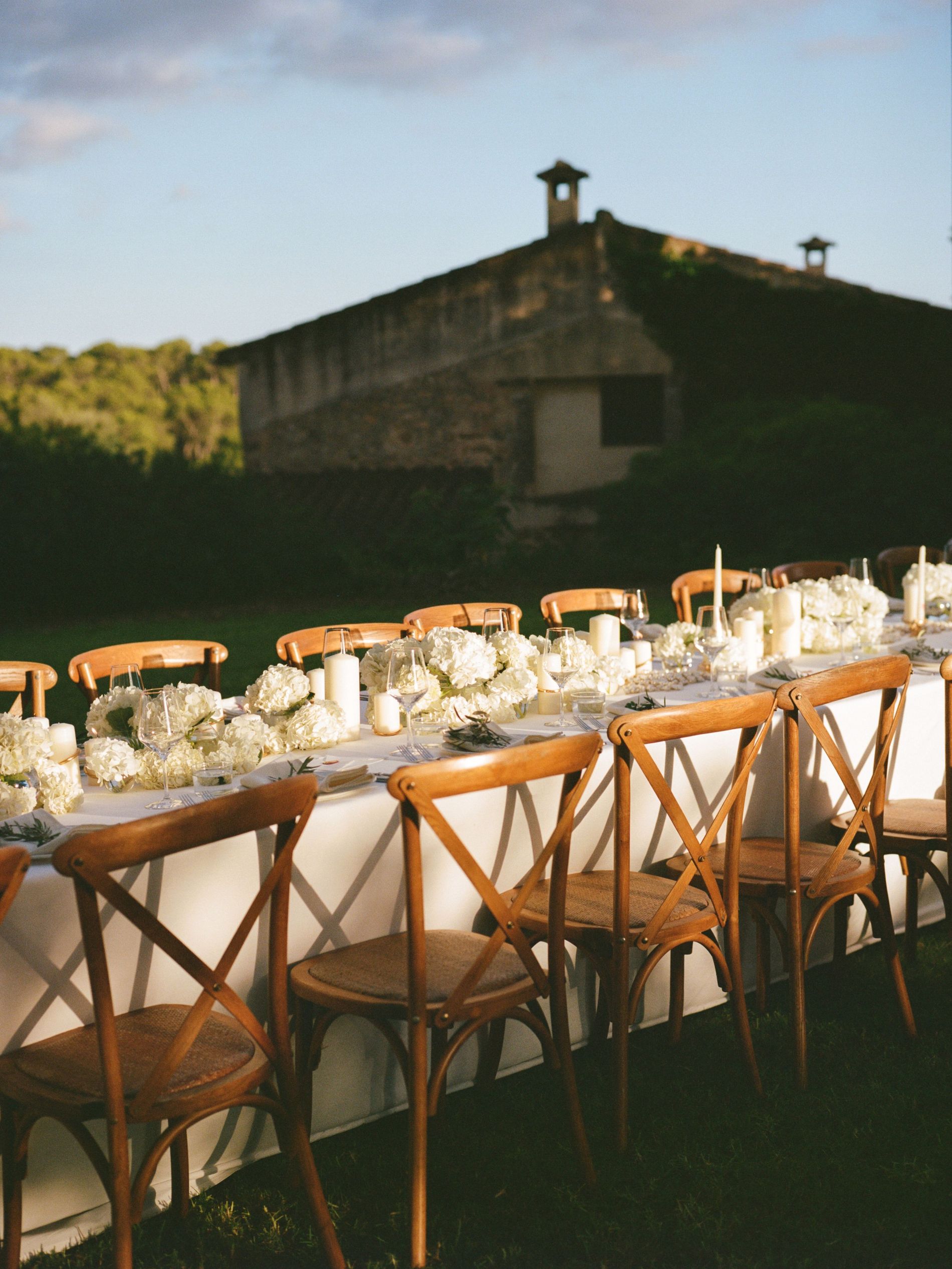 As cliche as it might sound, it was love at the first sight for us.
Mikko Puttonen
"We love Peter Do's elevated and poetic tailoring and how wearing their clothes makes us feel," Mikko says.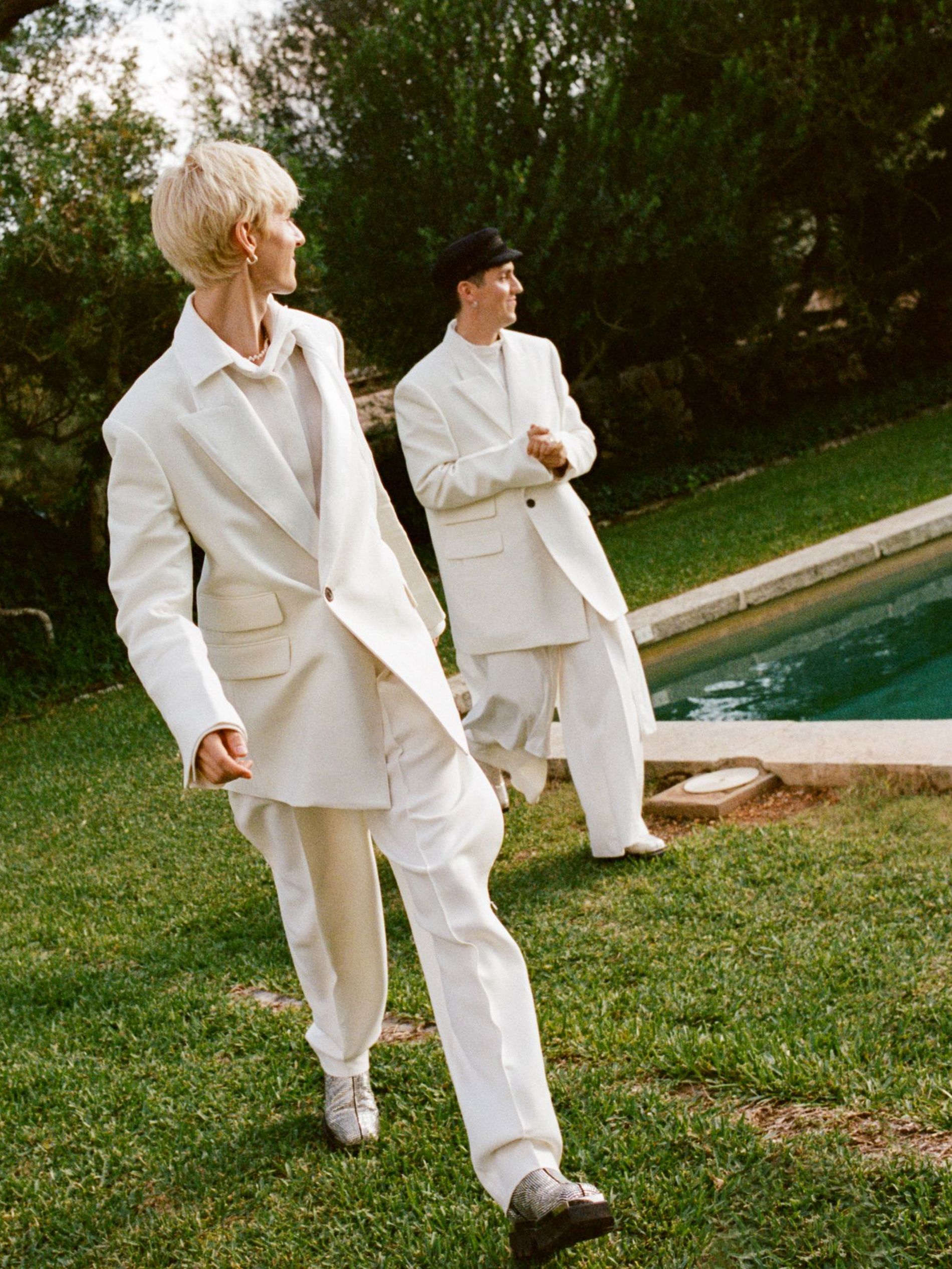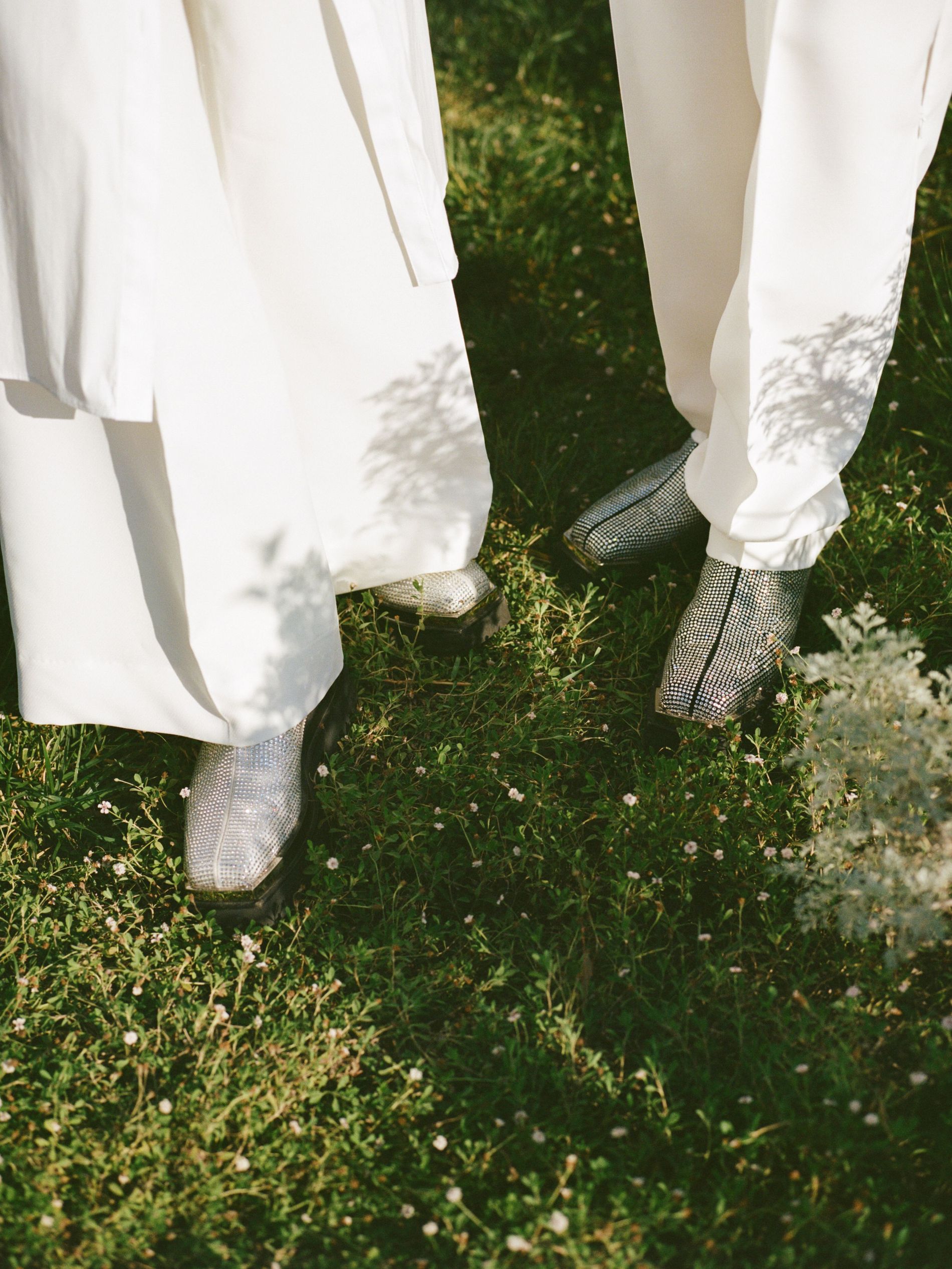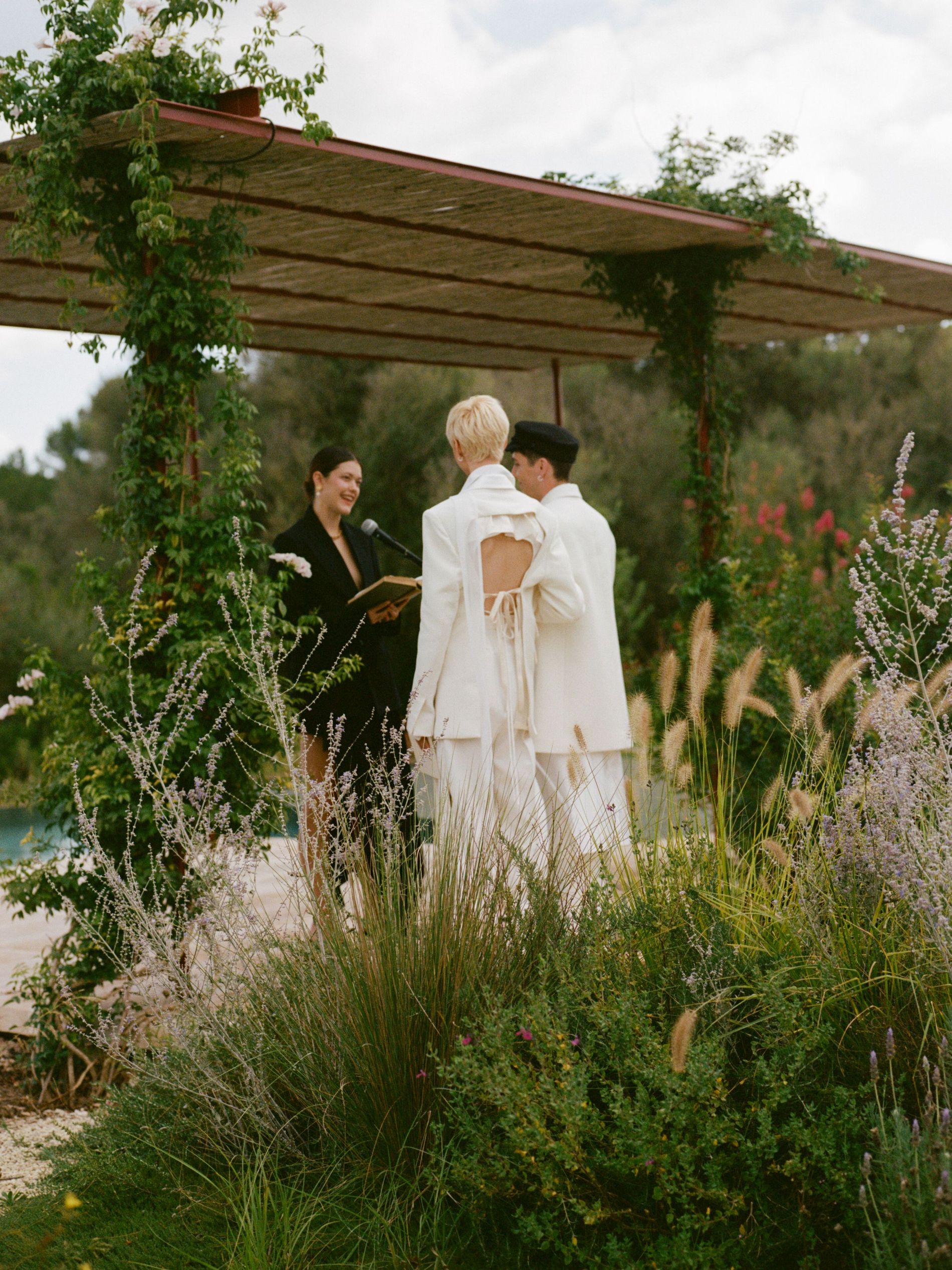 For their engagement and wedding bands, again there was no hesitation in deciding which brand they would turn to, with the couple knowing it had to be Alighieri. "We have both always admired their storytelling and intelligent approach, in addition to the beautiful jewellery," they comment.
"Creating unique bespoke engagement rings with creative director and founder Rosh Mahtani was the perfect choice for us and a beginning of a beautiful journey together. Creating our dream wedding together with the brand was a dream come true!"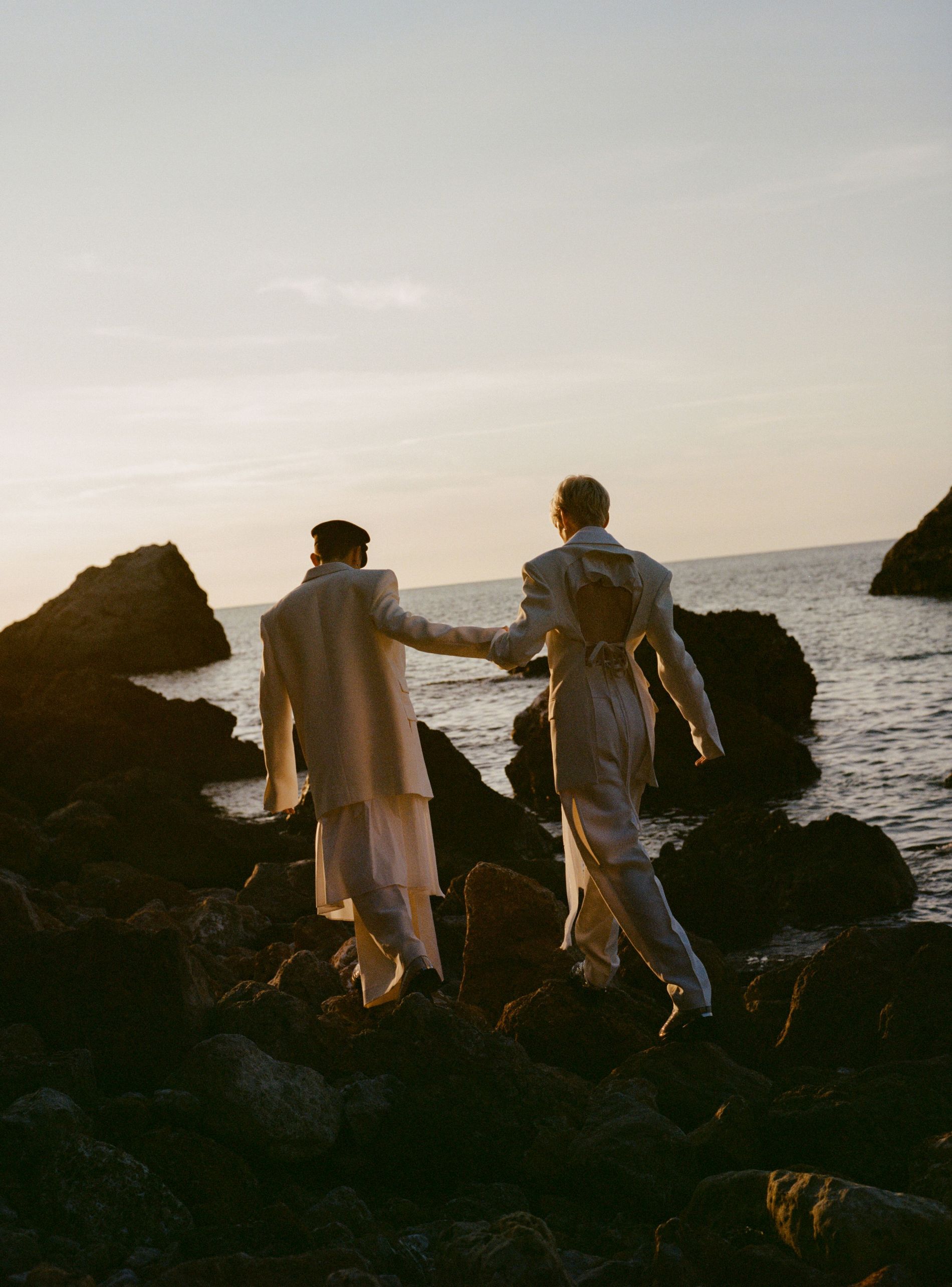 Photo: Claudia Maurino
The venue choice took a little more deliberation, with the couple considering Mikko's home country of Finland, before the general consensus – their families' included – leaning towards Lucas' second home country of Spain. "As we all know, the weather in the Nordics can be quite unpredictable and for me it was important to have most of the wedding outdoors," Mikko reflects. "We chose the beautiful island of Mallorca as my family and I have spent many summers there during my childhood. We rented a finca for the weekend as we wanted to be surrounded by nature. They even had donkeys and chickens!" Lucas adds.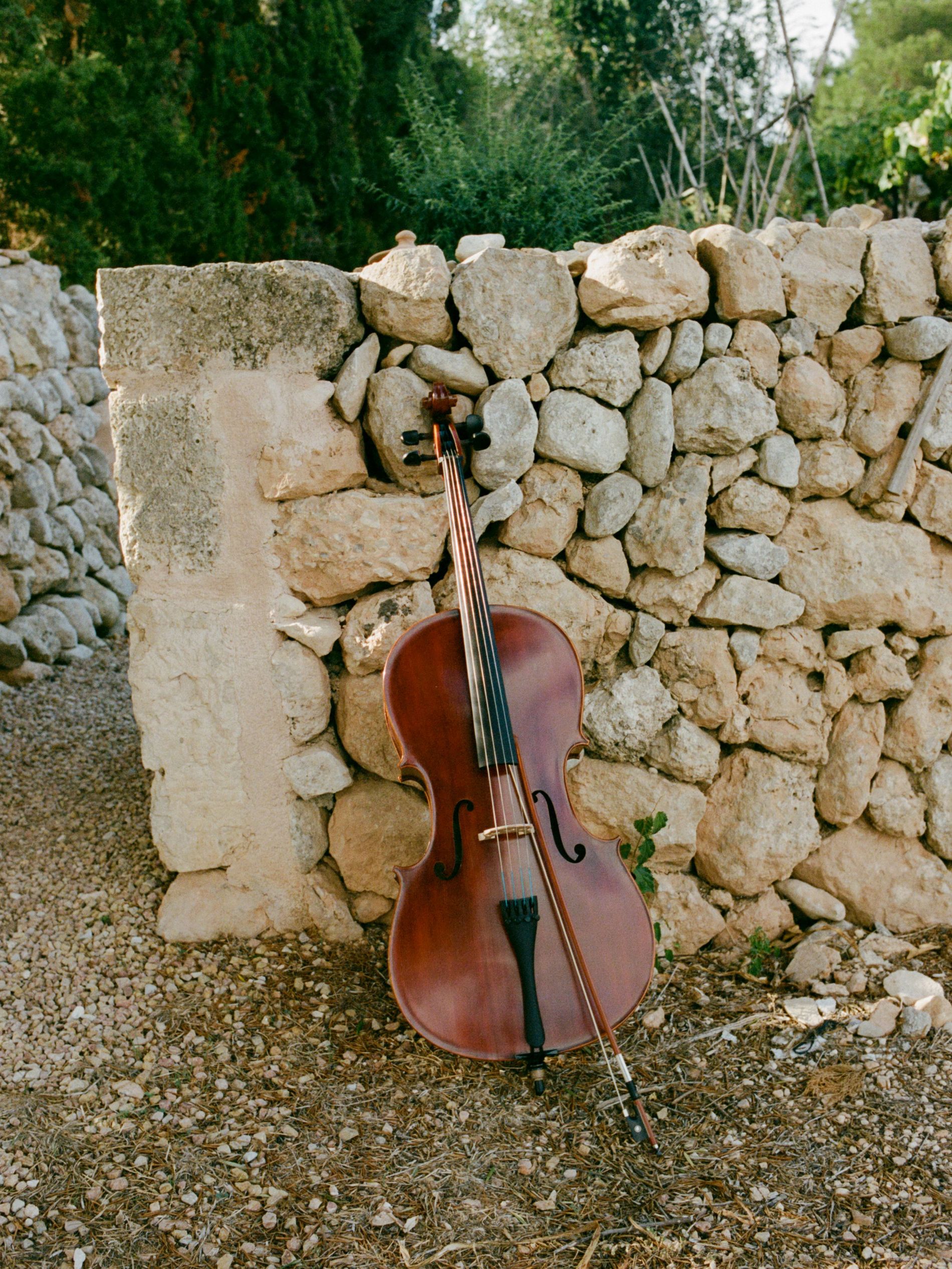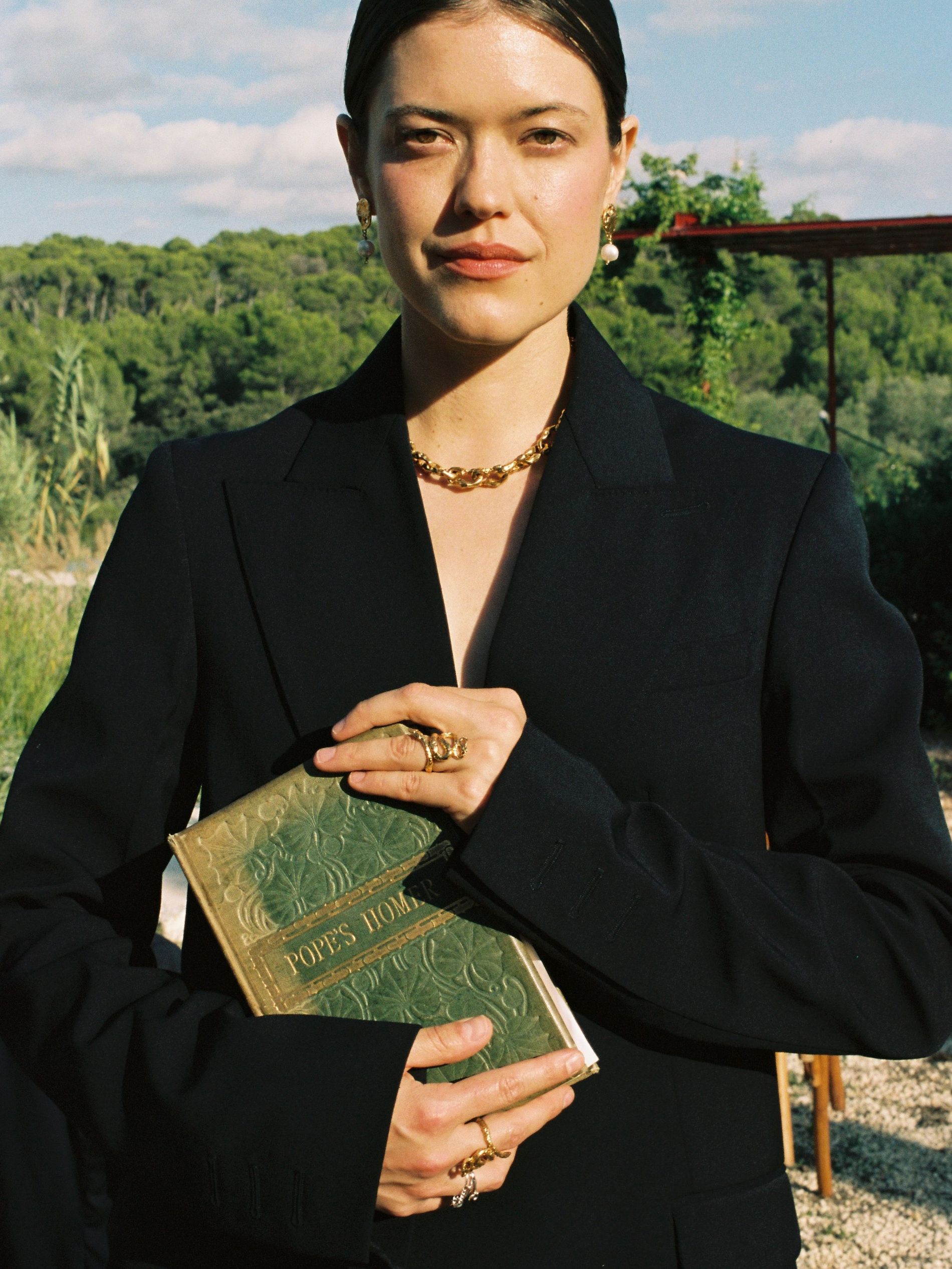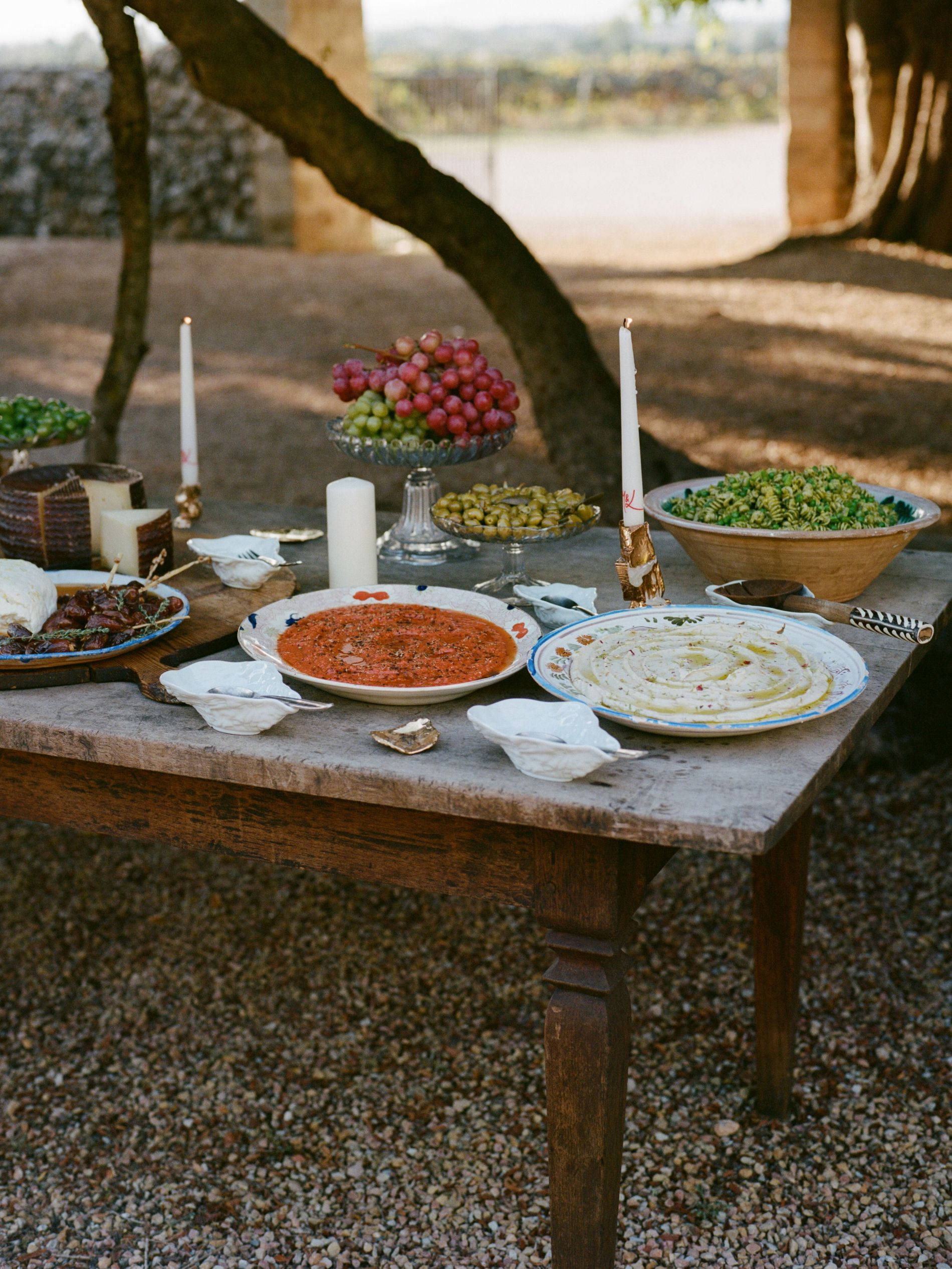 Spanning three days to allow their guests – just an intimate group of 50 – to get to know each other properly, they describe the most heartwarming element as "having both of our grandmothers celebrating with us and also meeting each other for the first time." On the wedding day itself, both Mikko and Lucas recall being too busy to be nervous. "When we were getting our makeup done, I was working on the seating plan for the dinner and Lucas was still finishing his vows, very fashion week style."
When we were getting our makeup done, I was working on the seating plan for the dinner and Lucas was still finishing his vows, very fashion week style.
Mikko Puttonen
Beyond the rings, Alighieri was also largely responsible for all of the discerning details that guests were treated to throughout the celebrations. "Their core team came to Mallorca and the set up was beyond any of our expectations," they say. The outdoor dinner setting, surrounded by towering pine trees, was decorated with handmade pearl tapestry, golden Alighieri homeware pieces, infinite candles and white hortensia florals (before being laden with vegan dishes by Richard McCormick, the mastermind behind Helsinki's cult restaurants Yes Yes Yes, Lulu's and Holiday, using local ingredients). Pearl and gold keepsakes were placed on the napkins, all of which were stitched with a custom M&L logo – also found painted on the taper candles. "Each detail was impeccable."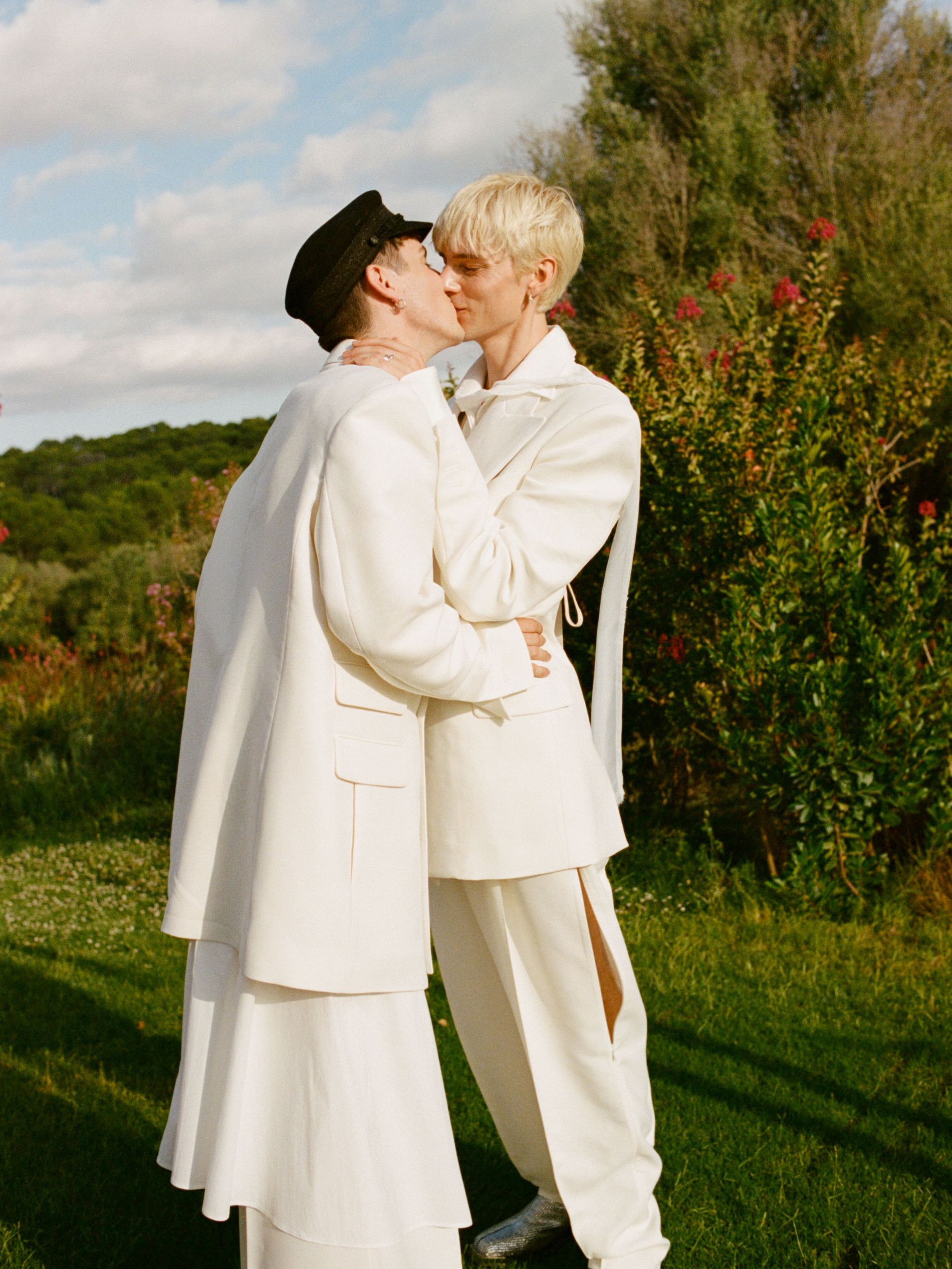 Photo: Claudia Maurino
The couple's friend Lusah performed the cello both during the ceremony and throughout the wedding dinner. "It was so special that she started with her own song 'Usually' for us. Even hearing her rehearsing made me cry," Mikko recounts. But as the night went on, the very tasteful cello ambience gave way to a more 'lively' soundtrack. "I am still sorry for our guests when it comes to the party playlists," Mikko jokes. "It was a mix of sass '90s hits, old Finnish 'hummppa' music and occasional Disney hits," he says.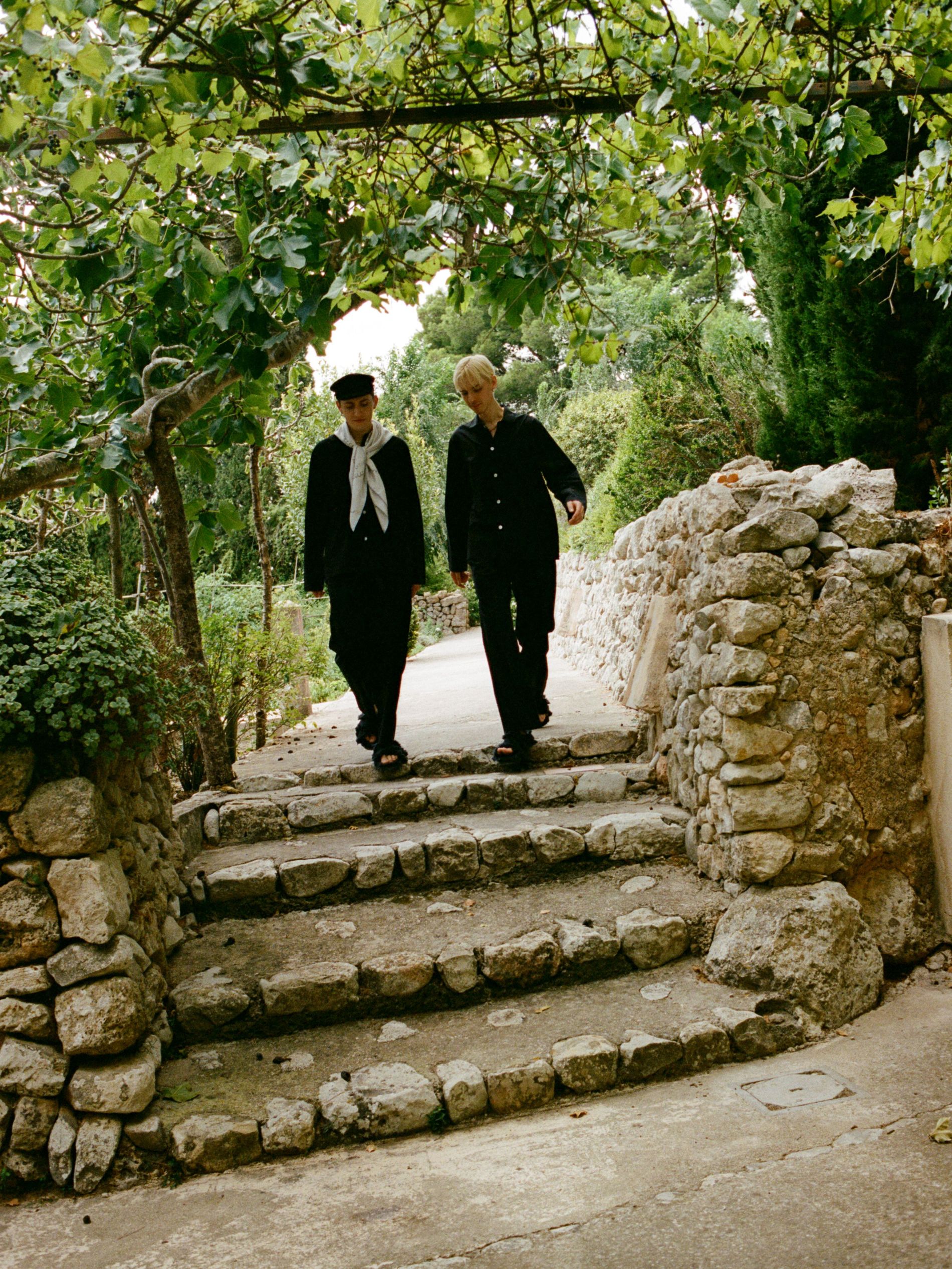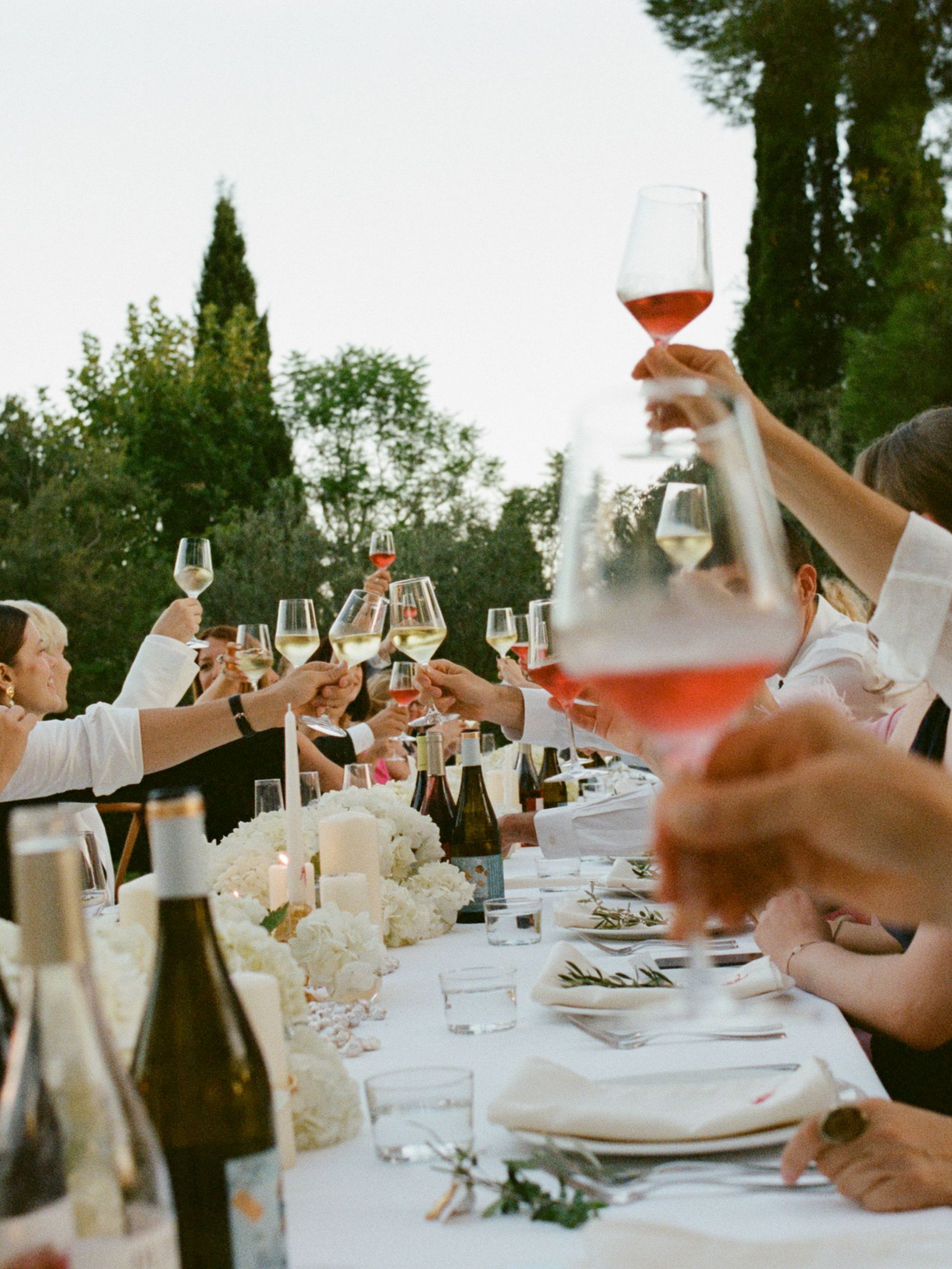 Etta James' timeless tune 'At Last' was their choice for the first dance, which was intended to be slow and romantic, but their impromptu moves "reminded us more of Mambo Number 5," they laugh. "Towards the end of the song, we switched to 'Hittiputki' by Leidit Lavalla which is our favourite Finnish song. This is how the party started."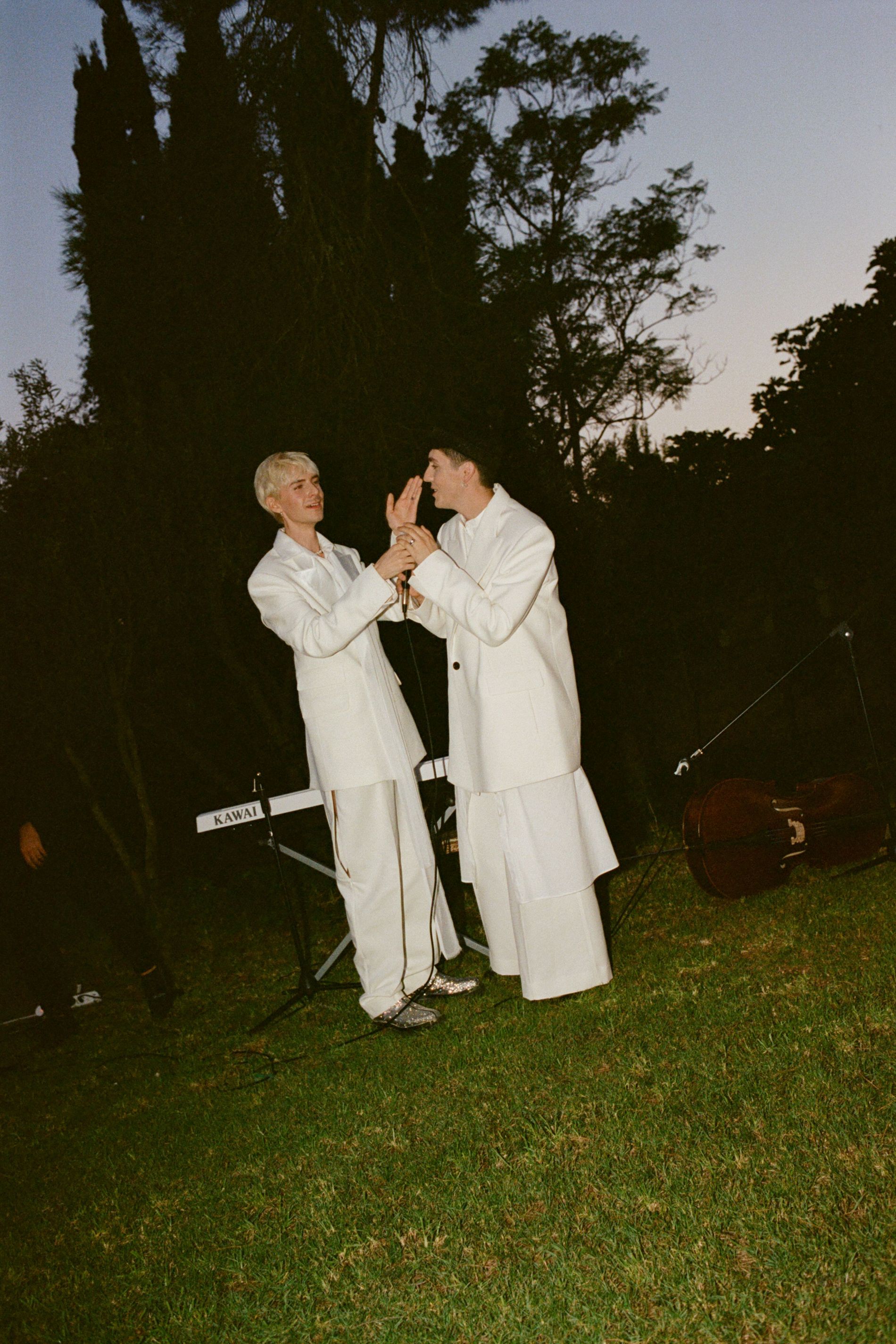 Photo: Claudia Maurino
Like any true Scandinavian nuptials, speeches were a highlight. "We were crying, laughing and crying again," the couple say. "Each speech really touched us. Maybe the most surprising was Lucas' mother's Finnish karaoke-inspired Spanish song that she performed. That was iconic!"
The duo, who are both attuned to the frenetic pace of the fashion world, say their careers prepared them for pulling off the three-day celebrations. "Lucas and I work in fashion and productions which tends to be stressful from time to time," Mikko says, "so I think we were ready for this. From wrong linens and cutlery to missing cables, Mikko says "not everything went as planned." "But we managed and made it perfect together. I wouldn't change anything."
Mikko Puttonen & Lucas Ruska Martin
Wearing Alighieri jewellery and custom Peter Do
Photos: Claudia Maurino and Claire O'Keefe
Makeup and hair: Antonia Deffenu
Mikko and Lucas extend a special thanks to: Our families; Anna, Anni, Christa, Moana and Sanni – Wedding Ladies; Harleen, Jess, Lois and Rosh at Alighieri, Joana – Tinons Floral Designer and Richard McCormick & team.