Offset attends Cardi B's birthday in a Ganni cardigan
All products featured on Vogue are independently selected by our editors. However, when you buy something through our retail links, we may earn an affiliate commission.
Given that Ganni is an industry leader when it comes to sustainable practices, "offset" is a word frequently associated with the beloved Danish brand. Last night, however, the association took a whole new meaning when the one and only Offset attended wife Cardi B's birthday bash in a Ganni cardigan.
The smiley–adorned "cardi," currently available for purchase, is made from 50 per cent recycled wool, granting it the "responsible" designation on the Ganni website. A source at Ganni confirmed that it was not specifically sent to the rapper by the Danish brand, which would infer that it was purchased by Offset himself (or, perhaps more likely, someone in his camp). It is a low-key departure from the flashier luxury looks favoured by the rapper – Prada, Gucci, Balmain etc.
It's also worth noting that the piece is technically women's – a subtle adoption of the gender fluid approach to fashion in all its forms. With its oversized construction and punky assembly, the cardigan is a certified major flex. This is not the first time Offset has dipped his toe in the Ganni pool – he wore a psychedelic sweater vest from the Danish brand earlier this year.
To add additional gravitas to this major fashion moment, Offset posted the look on Instagram, adding a Cardi-centric caption stating, "Great mother hard working hustler you never settle you're funny and encouraging Thank god for you."
Meanwhile, Cardi sported a leopard-print bra-top and fishnets for her soiree, which was dancehall-themed. Guests included Lizzo, Winnie Harlow and Teyana Taylor, all in appropriately extra looks. For the occasion photographer Kevin Wong was on hand to snap photos of the famous attendees as they danced the night away.
Offset's Ganni moment was a quiet nod to the positive vibes and playful attitude of the party without distracting from Cardi's big moment. Frankly, we love to see it.
Ganni
Smiley Cardigan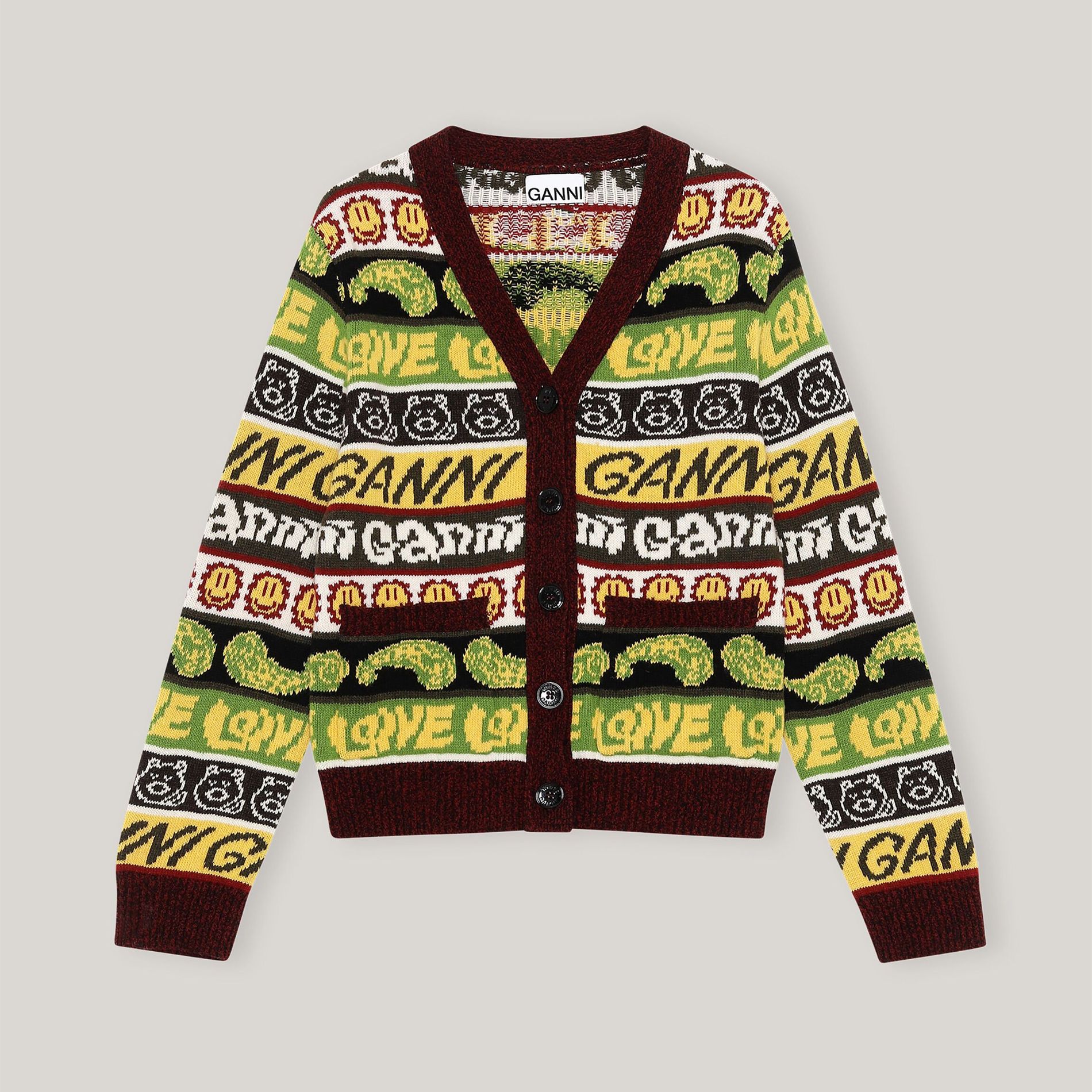 Meanwhile, an endorsement from a major American rapper is just the latest feather in Ganni's ever–expanding cap. Offset's Ganni moment – at a star-studded event – could indicate a whole new era for the Danish brand, in which its inclusive playfulness grants it an unexpected street cred. This unprecedented fashion moment could open the doors for more male A-list hip hop artists in Scandinavian womenswear. We'd love to see A$AP Rocky in glittery trousers by Saks Potts or Frank Ocean in a delicate A. Roege Hove knit.
But most importantly, we must pose the question: is Offset now a Ganni Girl?
---
Offset's Ganni Wardrobe