When it comes to quelling dry, stinging winter skin, look no further than this buzzy skincare trend
All products featured on Vogue are independently selected by our editors. However, when you buy something through our retail links, we may earn an affiliate commission.
Winter is officially upon us. If the unrelenting chill has coincided with dry skin settling in, you may want to lean on the 'moisture sandwich' technique to dust off dehydration.
Referring to strategically stacked layers of hydrating skincare, TikTok users advocate smoothing on your lightest textured products first (think a fine, hydrating face mist, for example) before blanketing skin in heavier products, starting with serums and then a moisturiser.
There's a sound scientific argument for dampening your skin before applying serums. Mainly because water may enhance the absorption of ingredients. Hyaluronic acid, in particular, relies on a hydrated surface to be most effective. The molecule can hold up to 1,000 times its weight in water, but there needs to be moisture available in the first place. Otherwise your hyaluronic acid serum will suck water out of the deeper layers of skin to compensate, ultimately leaving your face feeling more moisture-starved.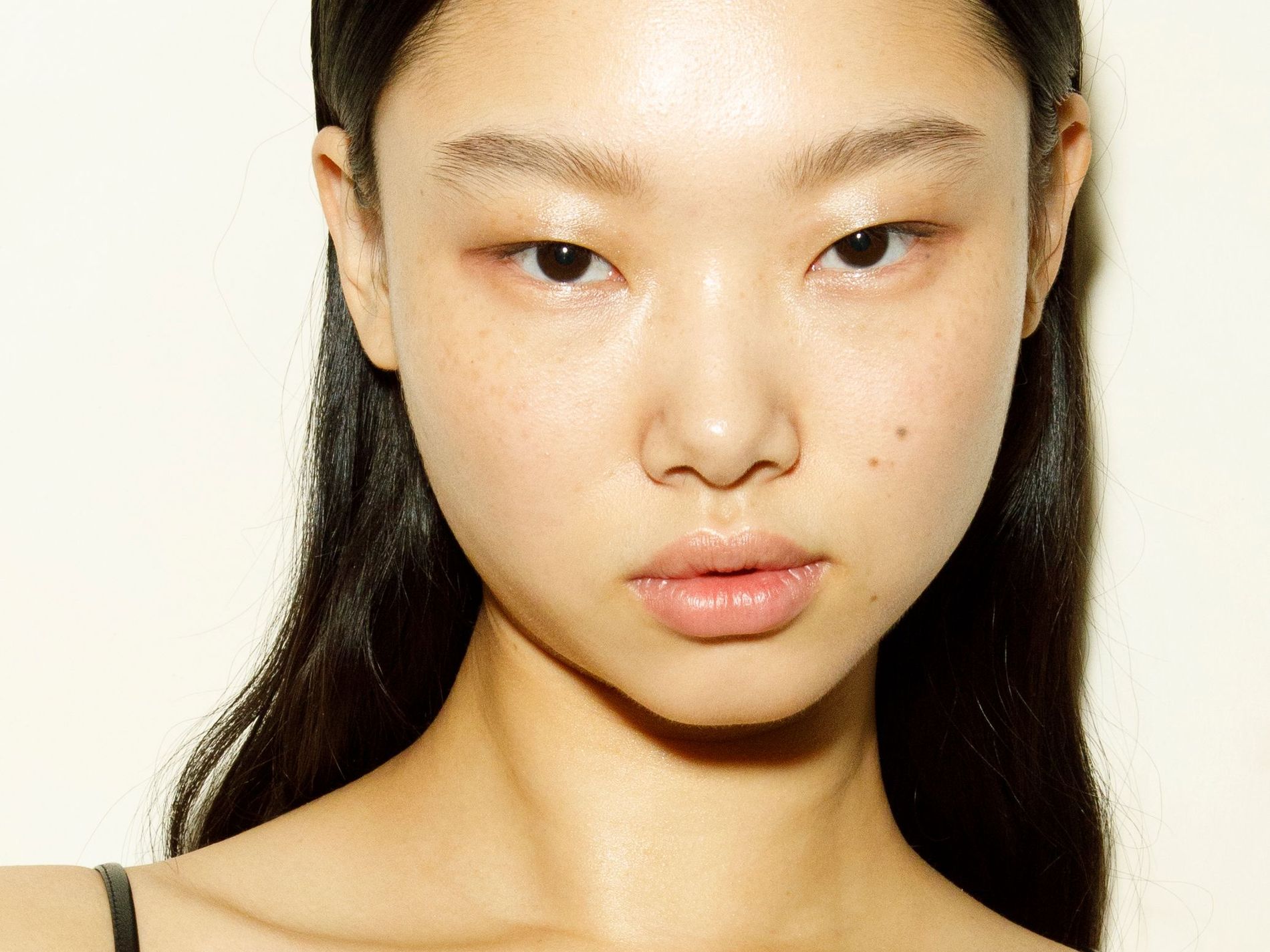 Getty.
Likewise, professionals recommend using products made up of smaller molecules first when building a skincare routine. "A good rule of thumb is to always apply products in order of consistency – from thin to thick, as it makes it easier for the skin to absorb," advises Clarissa Skoglund, product manager at Estelle & Thild.
In other words, serums should always be placed on the skin before moisturisers, then wait 30 seconds between each product layer to prevent pilling.
Always apply products in order of consistency – from thin to thick, as it makes it easier for the skin to absorb
Clarissa Skoglund, from Estelle & Thild
There are various iterations of this viral moisture sandwich technique but all usually involve three steps. The first is to either leave the skin semi-wet post cleanse or to use a face mist. The next involves various serum layering on still-damp skin, starting with a glug of niacinamide, followed by a water-loving ingredient such as hyaluronic acid or glycerin. You can fine-tune as needed, adding a spritz of face mist between serums if you choose. Finally, blanket your face in a heavy moisturiser to reduce the evaporation of water.
So is the moisture sandwich suitable for all? The answer is yes – with a caveat. The beauty of niacinamide is that it actually enhances the performance of other skincare actives, including hyaluronic acid. It also means that the first two steps of moisture sandwiching work for oily and sensitive skin types.
"Niacinamide not only helps to control excess oil on the skin and visibly reduce the look of enlarged pores, but it also helps to smooth the appearance of fine lines and wrinkles, improves uneven skin tone, restores radiance, strengthens the natural skin barrier and renews the skin's surface, reducing the effects of environmental damage," explains aesthetic doctor and skincare formulator, Dr Barbara Sturm. "In addition, vitamin B3 also prevents moisture loss as it helps to support the natural production of skin-strengthening ceramides."
But if you are acne-prone, avoid too-thick occlusive moisturisers. Oily, dehydrated skin is characterised by reduced water in the uppermost layers of skin, so it makes sense to "swap out richer oil-based creams for gel moisturisers," says Martin Lyne, founder of Woods Copenhagen, "as these are water based and won't leave a heavy, sticky residue on the skin."
---
Product picks to moisture sandwich with