Finnish heritage brand Marimekko's creative director Rebekka Bay gives Vogue Scandinavia a personalised tour of the brand's newly unveiled flagship format
Marimekko's creative director Rebekka Bay has been quoted, throughout her illustrious career, as saying she finds "ideas more intriguing than fashion". So what's the idea behind the brand's redesigned flagship store in the heart of Stockholm that swings open its doors again today?
"It's an open invitation: come in, make it yours, take ownership of the space. I can't control how anyone feels, but I would like them to feel welcome like there are no barriers or obstacles," Bay answers, as we stand in the entrance of the newly unveiled store, set within the handsome heritage architecture of Norrmalmstorg with towering arched windows.
The now-unveiled renovation, designed with modularity and flexibility at front of mind, is the second of its specific kind to be implemented – following the debut of the format for Marimekko's New York flagship late last year (with learnings and improvements noted from the inaugural site and now brought to Stockholm).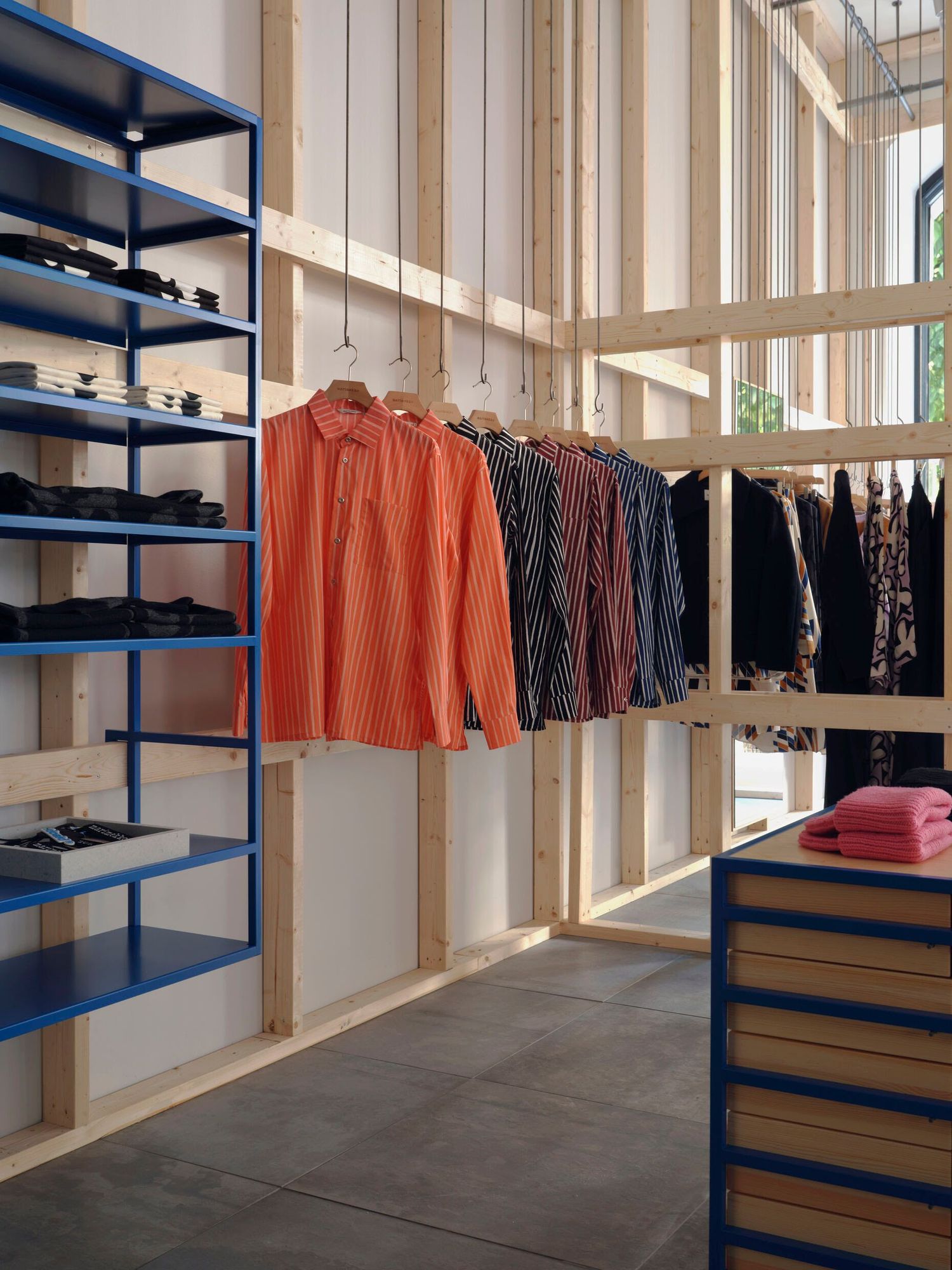 From the outset, the store space feels intuitive. "You shouldn't need a little sign that says 'walk this way' or 'look at this'. You should feel it," Bay says. Clever details achieve this, such as a snake-like, undulating table (topped with a surface by Kvadrat Really made from recycled Marimekko tote bags) that leads like a pathway from the entrance and locally-sourced pine wood gridwork that creates a sense of structure and divisions across the store, without hindering the sense of openness.
The features are ridden with Marimekko's heritage, with a lot of reference in the space tying back to the architecture of the brand's original printing factory in Helsinki, "where everything was out in the open, nothing was hidden," Bay describes. The nods to the factory include the store's corrugated aluminium walls, industrial colour accents and factory-like lighting. A downward spiralling fire engine-red staircase is reminiscent of the same structure in the print mills, while products sit nestled on top of and within drawers of a trolley like those which factory employees would cart around. "The inventory literally lives on the shop floor," Bay adds.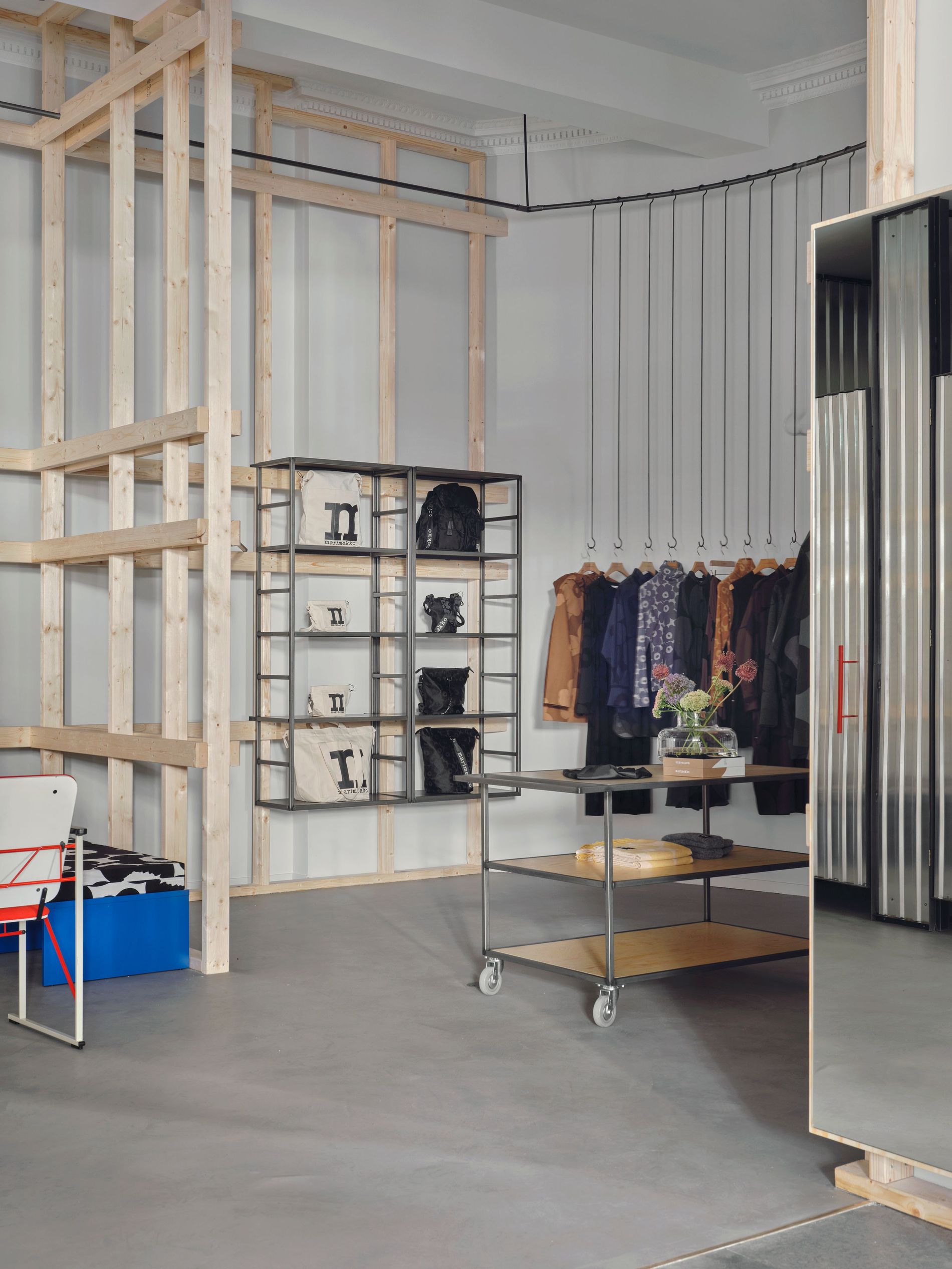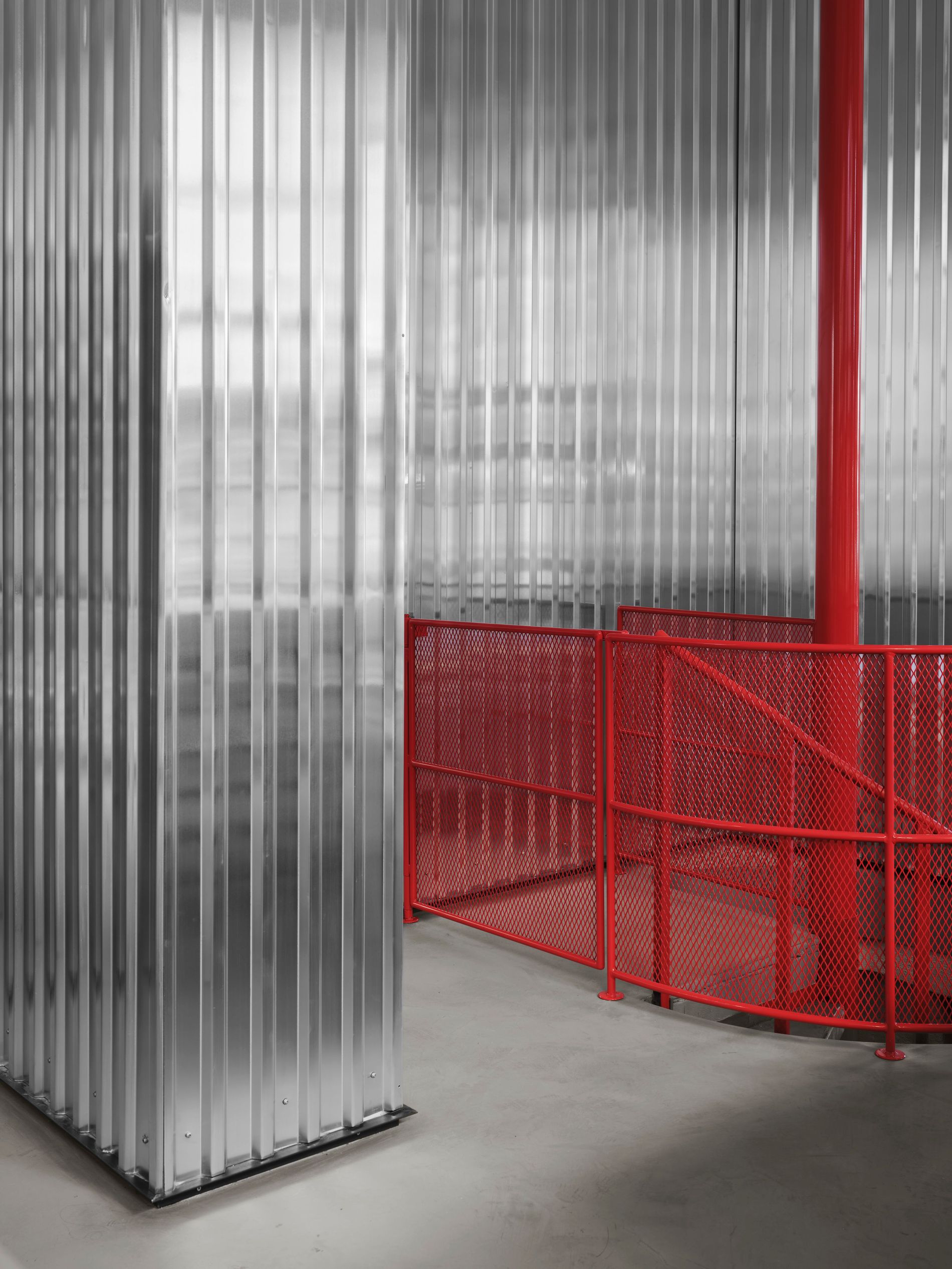 We move from the display of current season ready-to-wear, past the line-up of classic foundational Marimekko pieces, through to a kitchen-like setting. "If you come around this way, it becomes like a home, which I'm also excited about," Bay says as we step through. Then, we close the loop of the store, passing a showcase of homewares, a "candy store" of the brand's saccharine-hued bags, and stacked bolts of iconic Marimekko printed textiles - ready to be unfolded, measured and cut at a dedicated table nearby. "It's the first time we have really focused on creating much more focal points for our products," Bay remarks as we walk through.
"We're very pragmatic. We're a very rational, industrial brand in many ways," says Bay. "I love that the store concept feels functional and pragmatic and utilitarian, but the product is full of joy and colour and print." That joy will come to life through the store's modular ability to act as a creative hub for Marimekko's community, lending itself to in-store activations such as vintage pop-ups, takeback services, workshops and local micro collaboration events – a summer terrace and pop-up café inclusive.
"We need to be able to convert the space to fit the experience." The redesigned flagship's shapeshifting abilities to accommodate its community were proven at the store's soft launch last night, as key industry players and friends of Marimekko filled the space to toast its opening: the sale registers becoming DJ decks, the far corners of the store a destination for custom cocktails.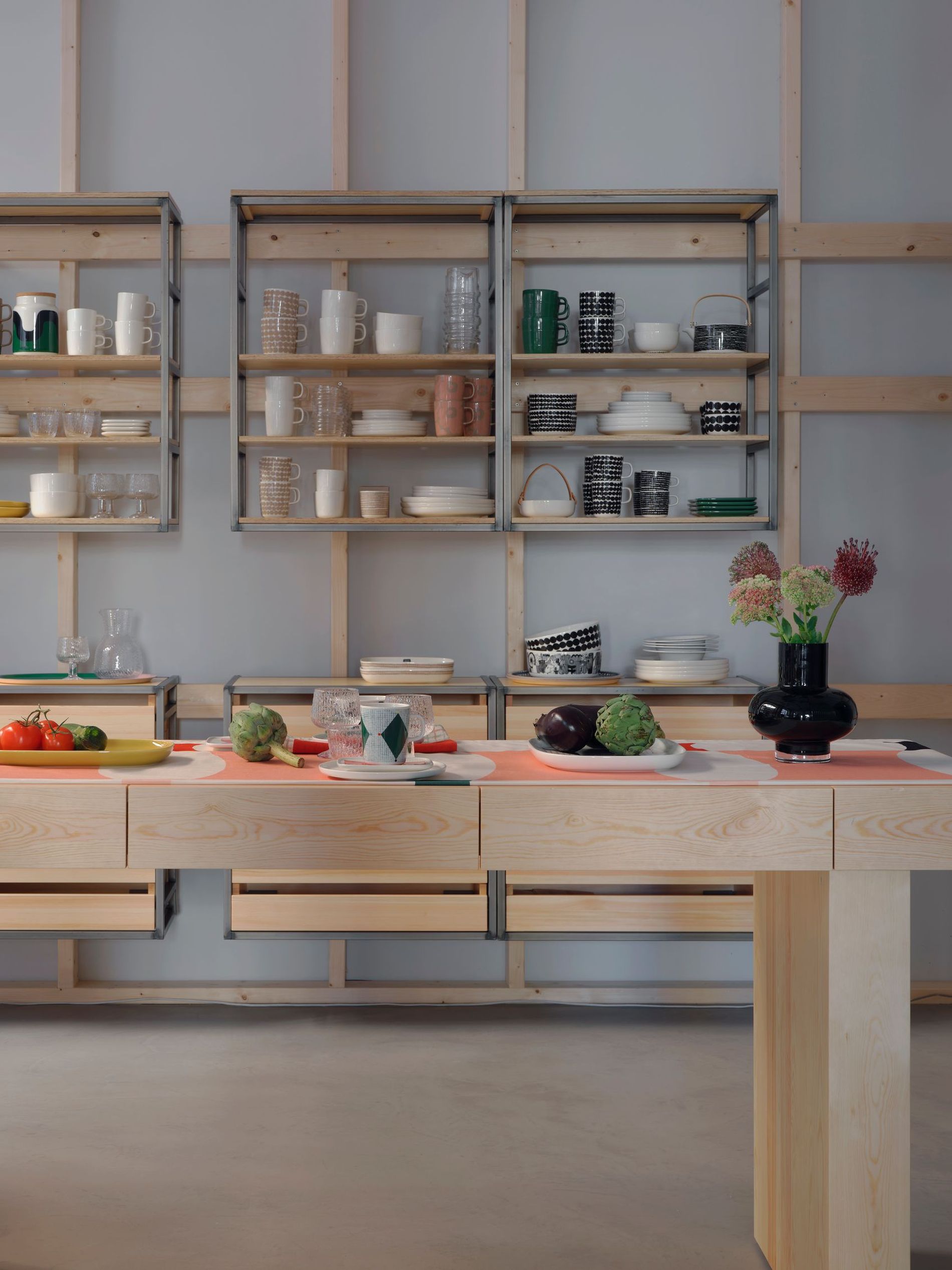 2023 marks the 25th year that Marimekko's flagship has taken pride of place at its Norrmalmstorg. With the brand also celebrating 60 years of its 'Unikko' print in 2024 – as recognised throughout the spring/summer '24 collection shown recently at Copenhagen Fashion Week, Bay is enjoying being at the helm during the brand's milestones. "It's an amazing opportunity to celebrate our legacy. And I think Marimekko is, in itself, a celebration. A celebration of print and colour."