Ahead of the spring/summer '24 runway, Marimekko's creative director Rebekka Bay chats exclusively to Vogue Scandinavia about the Finnish brand's physical CPHFW debut, the 60th anniversary of the 'Unikko' print, and the collection's mood of "hyper joy and optimism"
It's an hour before Marimekko's Copenhagen Fashion Week debut at Designmuseum Denmark and the courtyard is positively rammed. Young people, old people, girlfriends with their patient boyfriends, teenagers with their patient parents. Some are clad head-to-toe in the Finnish brand's signature prints. They stand in the rain and wind, securing their space to take in the season's only open-to-the-public presentation. Eventually the courtyard reaches capacity. The latecomers clamour to find a spot by the window to catch a glimpse of the action.
In a quiet boardroom away from the commotion, Marimekko creative director Rebekka Bay is unusually calm. "Just before the show starts I get super duper nervous, but right now I'm not," she says. "This sounds so silly, but when I see the lineup, I always get a little bit emotional."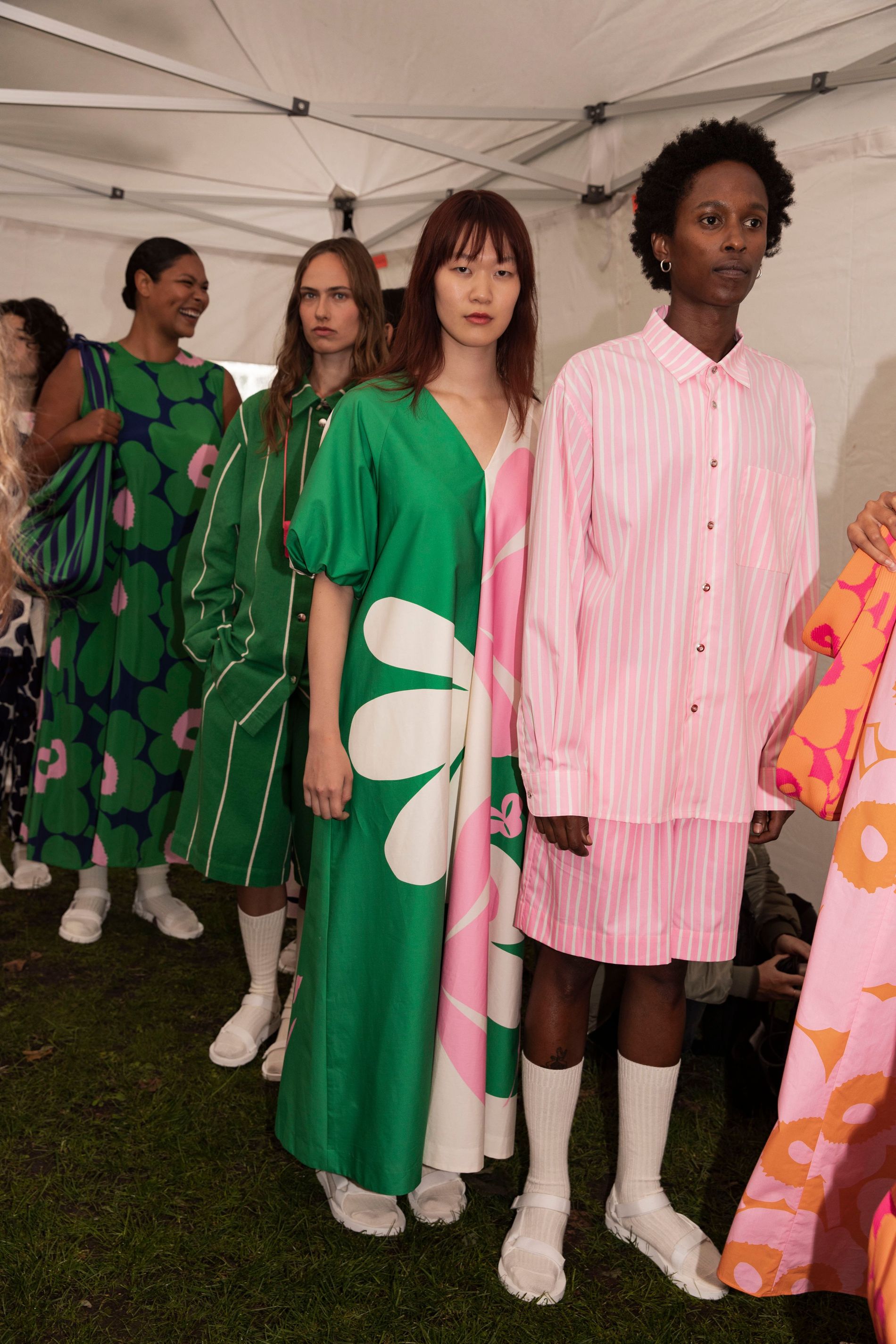 Photo: The Streetland
Marimekko's previous 'come one, come all' presentations were staged in the brand's hometown of Helsinki. But Bay, who hails from Denmark herself, and her team opted to claim a spot on Scandinavia's most significant fashion calendar to fete a very special birthday: the 60th anniversary of the 'Unikko' print.
The most instantly recognisable of Marimekko's many motifs, Unikko was designed by the brand's most prolific print designer, Maija Isola. "The story is that Armi Ratia, our founder, didn't want any floral prints in the print collection because she felt that flowers were more beautiful in a natural setting," Bay says. "But then Maija defied that. She was never taking a brief."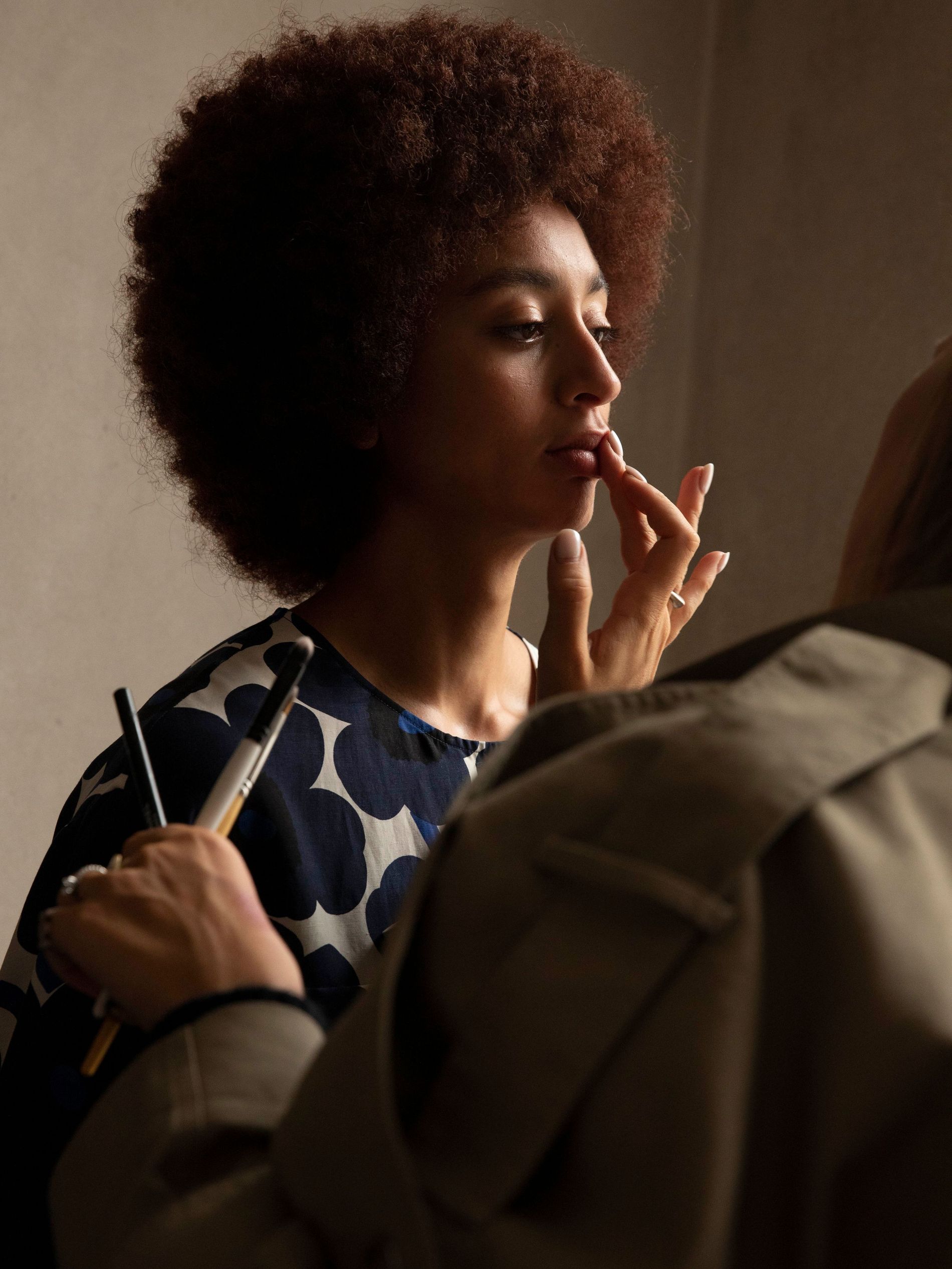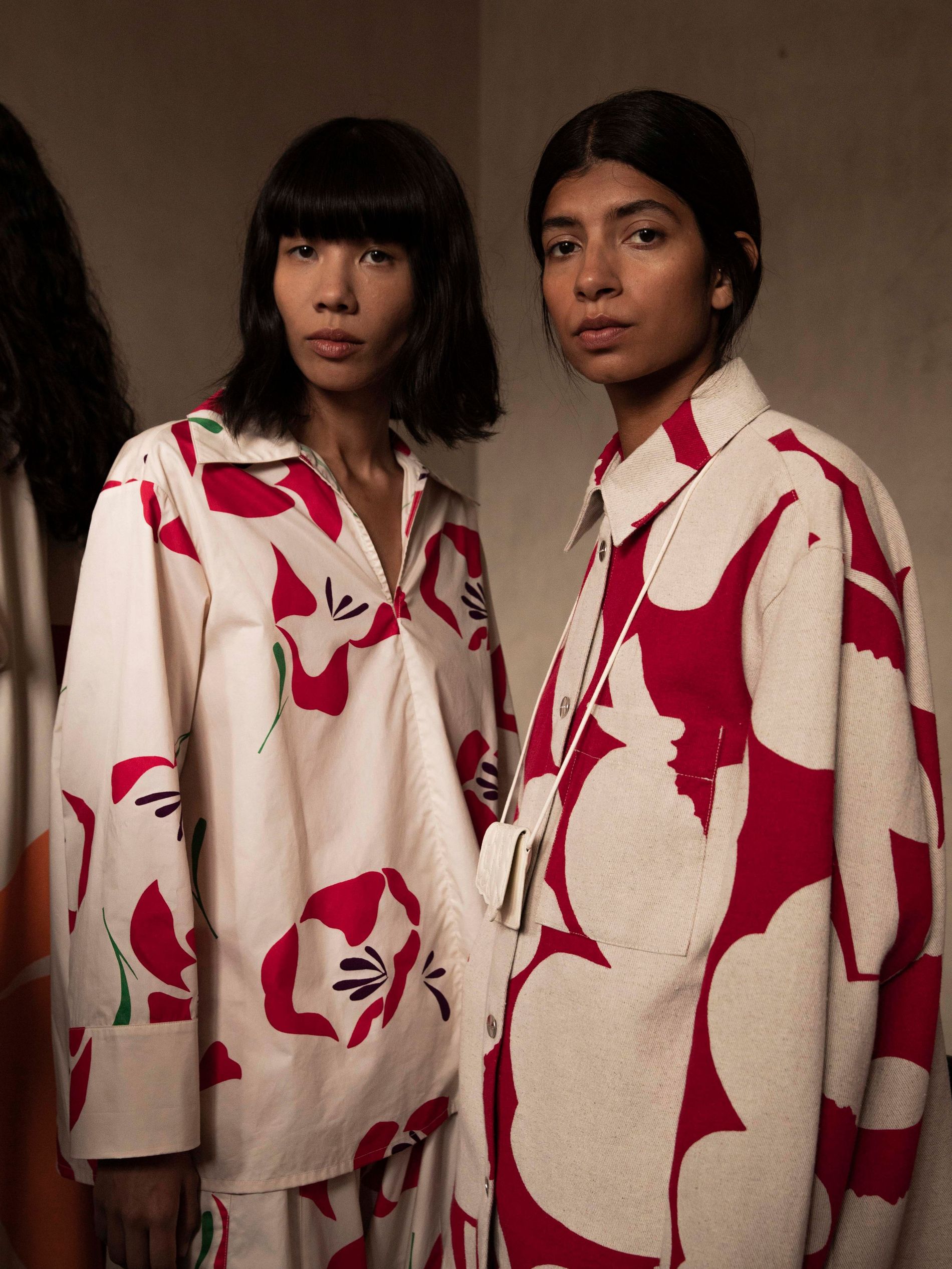 Like most Scandinavians, Bay, who took the reins at the Finnish heritage brand two years ago, has a long relationship with the print herself. "I picked up some vintage dresses way, way back – long before I worked at Marimekko," she says. "It was the first time I connected the print to a quality, to a hand feeling and also to a silhouette. It's this vague memory of, 'Oh, this is how Unikko feels like when it's printed on fabric'."
You should be able to get up in the morning and put on a dress and run out and participate in the world
Rebekka Bay, creative director of Marimekko
Isola's defiant floral permeates the spring/summer '24 collection (not to mention the runway itself, where it sprang from the ground in large, spinning blooms), adorning blouses and skirts, relaxed shorts and, of course, dresses. "We're celebrating the Unikko print by focusing on new scale, new placement, new techniques," says Bay. "If Marimekko is all about joy and optimism, this is hyper joy and optimism."
Unikko is met with a future classic; another floral print by Finnish artist Antti Kekki. A mirrored image of a thin-petaled flower – a daisy, perhaps – it embodies the same abstract quality as its predecessor. Like Unikko, it is at once timeless and strikingly modern. In fact, the new print presents an answer to one of Bay's favourite questions: "What would Marimekko look like if it was founded today?"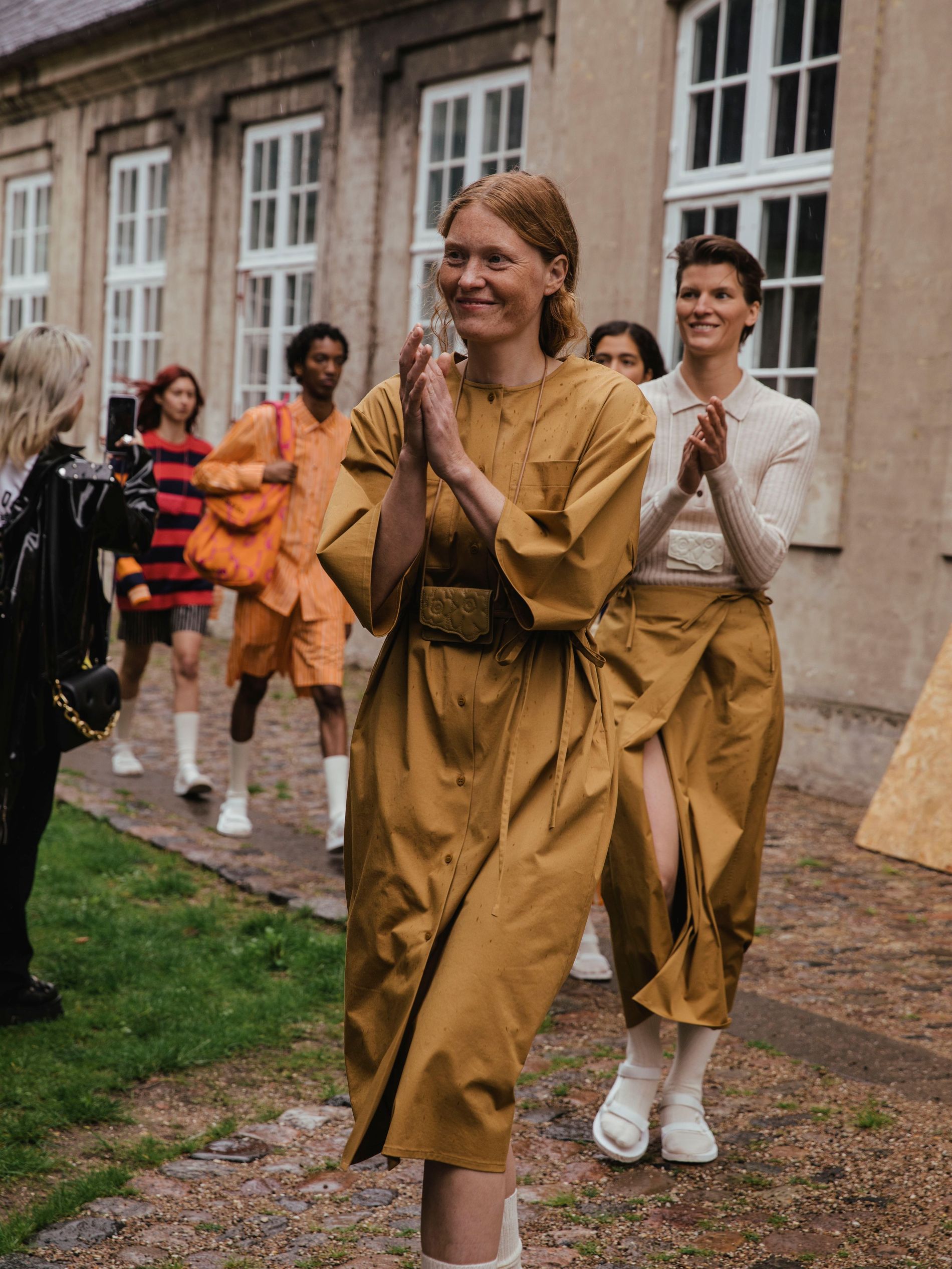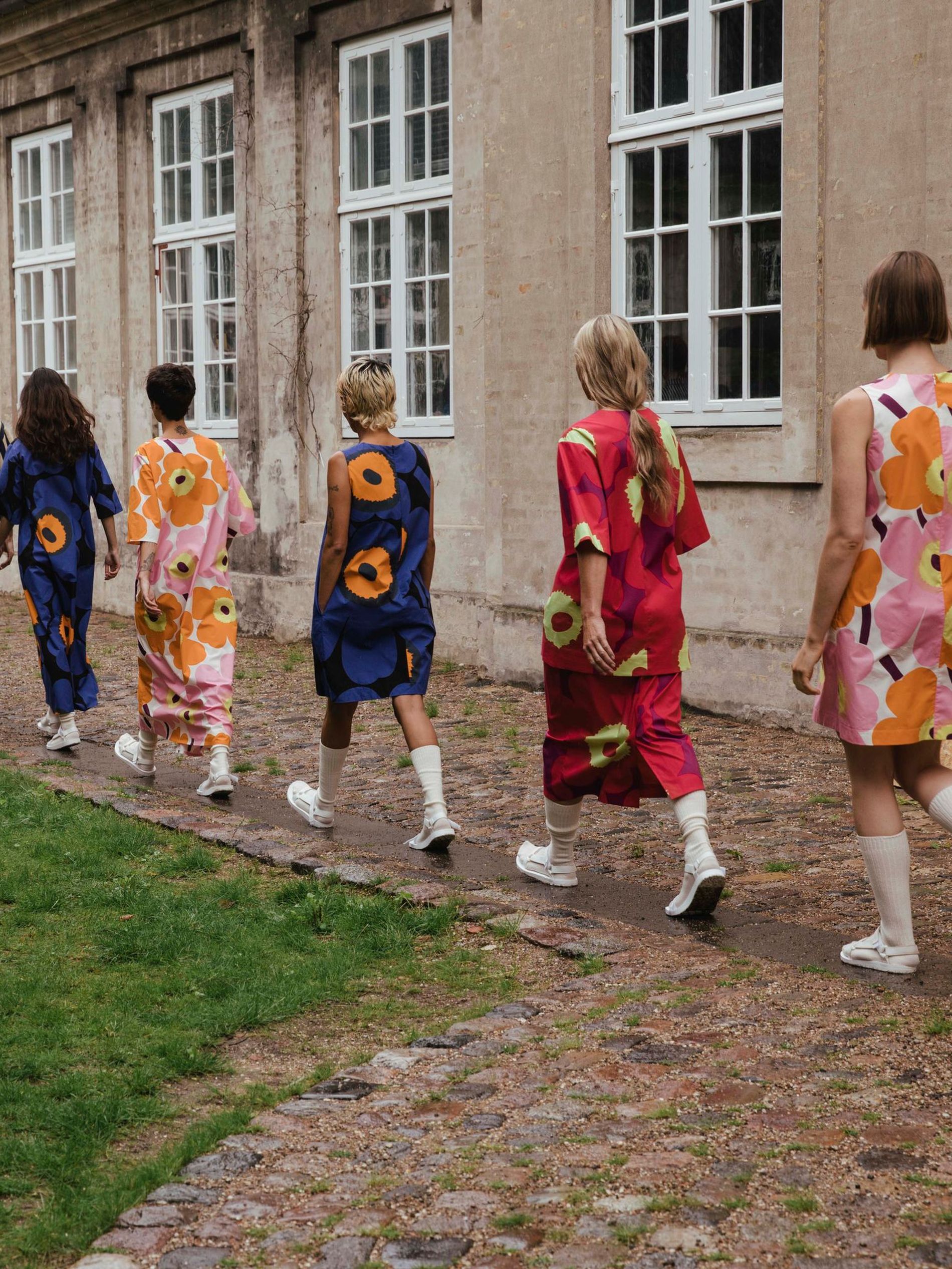 The ubiquity of Marimekko was reflected not only in the mix of show attendees, but in the cast of models that stormed the grassy runway. "We have such a diverse cast, with so many individuals and so many creative people," says Bay, noting that the backstage vibe was "literally like a group of friends hanging out". Featured in the lineup are three sisters, two of which are twins, which, in addition to its charm, reflects the brand's hand-me-down nature. "You will pass your dress down from mother to daughter, you will pass your dress on to your friends," Bay says. "I think there's something really nice about honouring that in the cast." Hair and makeup was tailored to each model and their specific look to emphasise a sense of individualism. Still, there was a casual effortlessness throughout. "We are a pragmatic brand," says Bay. "You should be able to get up in the morning and put on a dress and run out and participate in the world."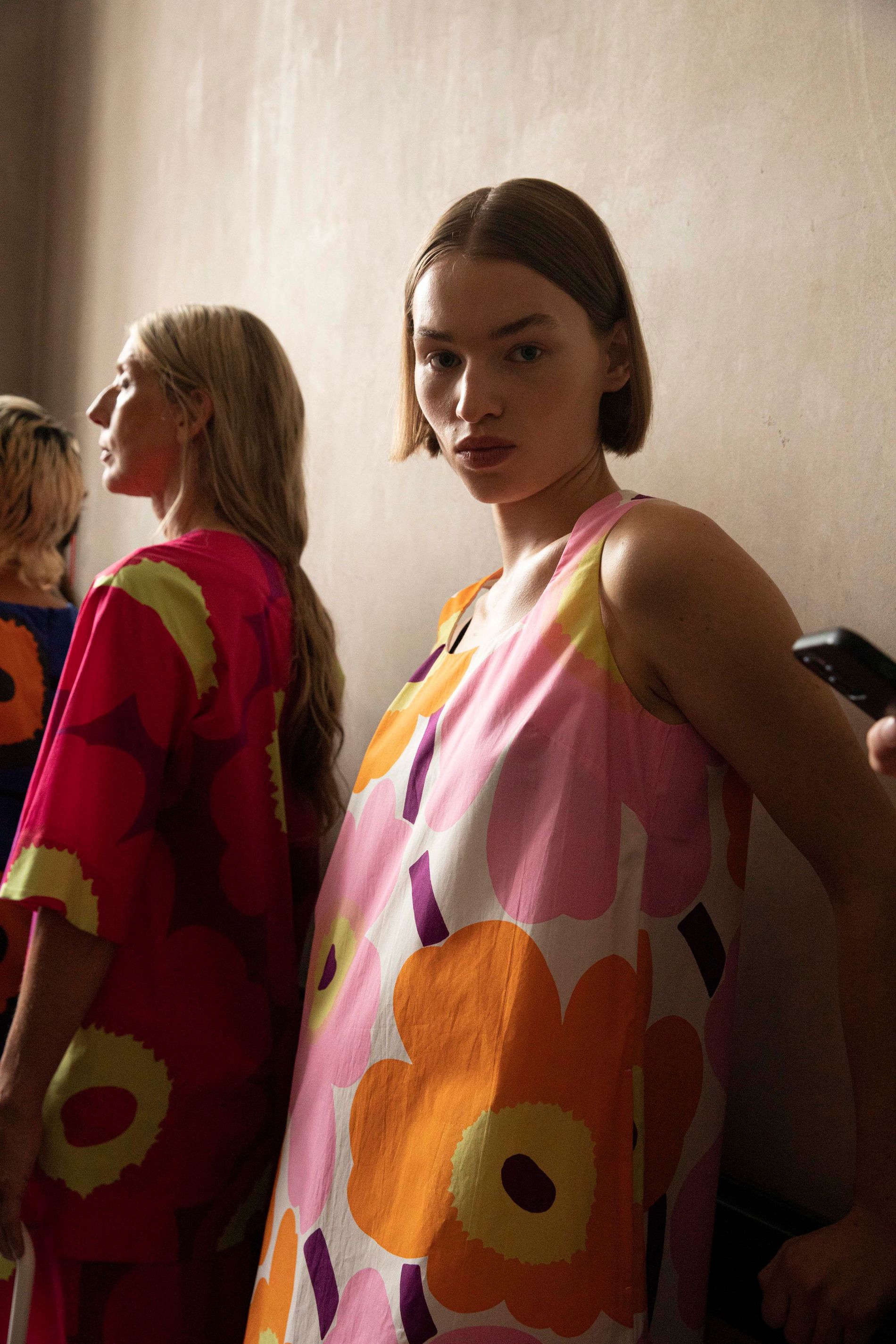 Photo: The Streetland
While many brands on the Copenhagen Fashion Week schedule craft elaborate showpieces for Instagram-friendly 'wow' moments, Marimekko's practicality extends to the fact that every item on the runway will eventually hit stores, from the breezy A-line dresses to charming recycled leather pouches worn around the neck (Bay describes them as an "extra pocket").
"I'm a firm believer in not putting anything out there that you cannot buy," says Bay. Still, there is a uniqueness in the final Unikko dresses that close out the show; the large-scale prints, still realised in the brand's Helsinki factory, the flowers are placed randomly to avoid wasting fabric, meaning each and every dress has a distinct personality. Just like its wearer.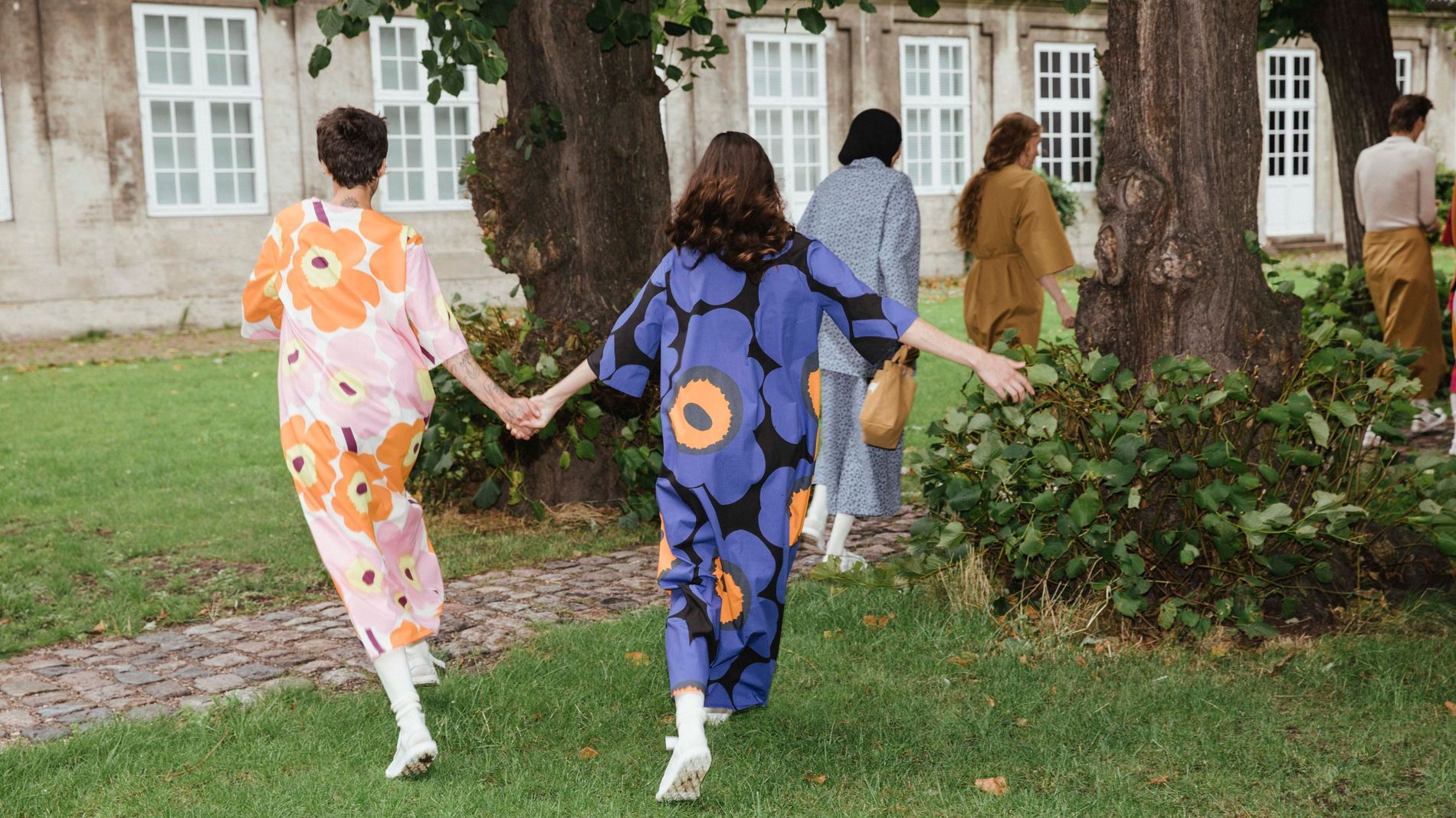 By the time the bouquet of models trotted out for the finale to the raucous live music of Finnish artist Malla Malmivaara, attendees had forgotten about the rain, truly getting in the upbeat Marimekko spirit. As for how Bay planned to celebrate afterwards? She smiles and says, "The show in itself is a celebration."