In Vogue Scandinavia's June-July issue, editor-in-chief Martina Bonnier welcomes the future and ponder the similarities of Alicia Vikander and Greta Garbo
At Vogue Scandinavia, there are four elements that weave through everything we do; nature, sustainability, diversity and technology. By the latter, we aren't speaking of dystopian innovations, but rather the digital techniques that can elevate the storytelling experience – video, audio, animation, AR, AI. Even our own avatar, AADA, grants fashion coverage a new journalistic angle.
It might sound a bit odd to talk about technology in a print magazine, but as we say time and time again, our print publication is only one slice of the our universe. To give you an example of how we work, look no further than this issue's cover story. With a scan of a QR code – which appears on the opposite page – you're taken to a video of our cover star, Alicia Vikander, taking a Rorschach test (a test that was once considered a groundbreaking innovation of its own). Taken together with our gorgeous cover editorial, you not only see Alicia but also gain insight into what she's thinking and feeling. It's just one way that our storytelling goes beyond the printed page, extending onto multiple platforms to dig deeper into a subject.
But back to our enigmatic cover star, Oscar-winning Swedish actress Alicia Vikander. She reminds me of Greta Garbo, for her serene beauty, yes, but most of all for her air of integrity and mystery. We managed to shoot Alicia in Paris, smack dab in the middle of fashion week, where she had a brief stopover to attend the Louis Vuitton show in between film productions.
Throughout my career I have done hundreds of cover shoots and the intensity of the experience never ceases to astound. Though it's just a single image, the focus on the task is extreme – afterwards you feel exhausted and, frankly, relieved. Our Alicia cover was no exception. Afterwards I found myself sitting on the Paris metro, feeling tired and content – smiling in that silly way. As always, it was a labour of love from the whole team, and I hope you will enjoy the profile by our print editor Allyson Shiffman and the film by our head of video Emir Eralp.
Vogue Scandinavia
Alicia Vikander - June-July issue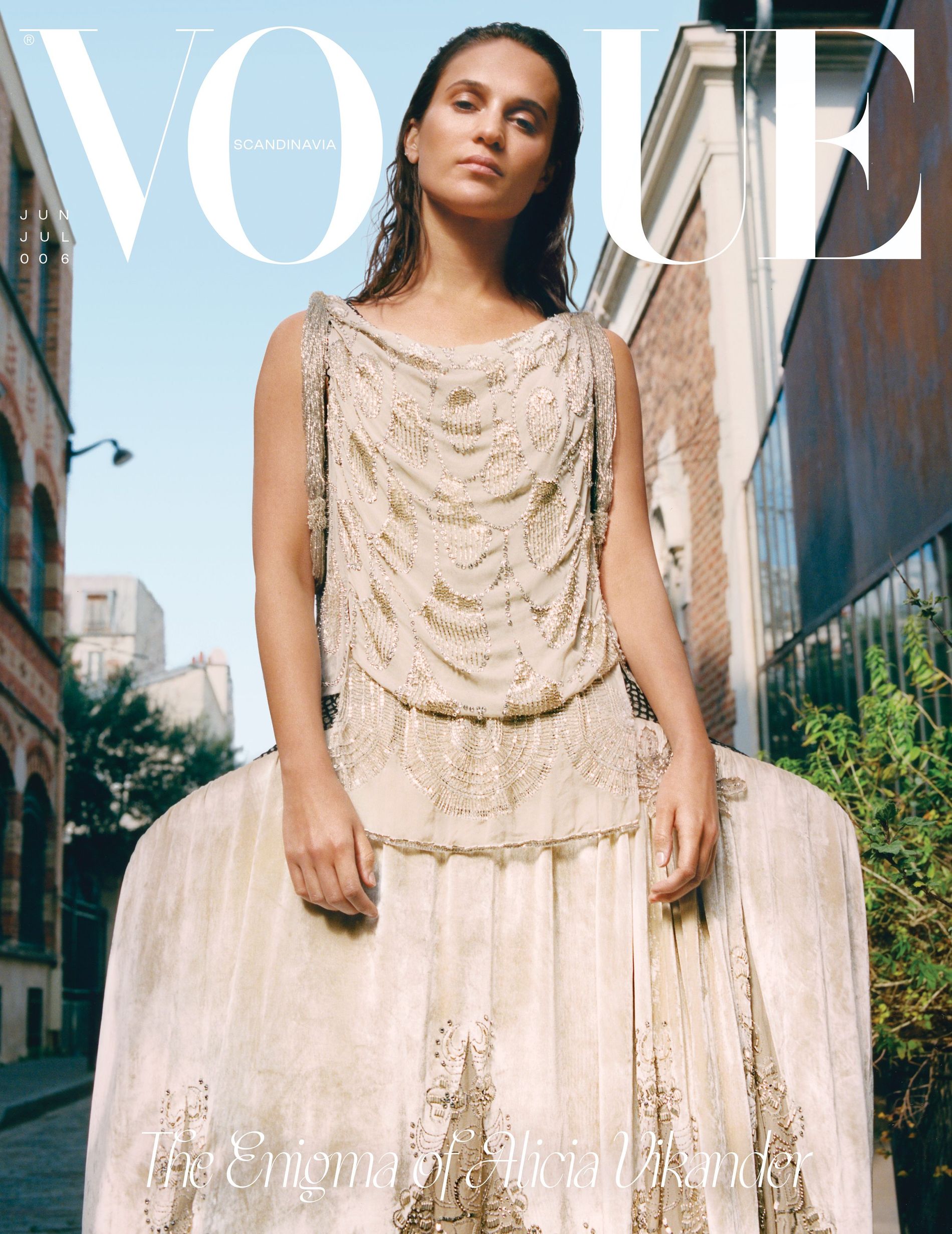 Another thing that makes me smile every time – the fashion. One of the most exciting trends this season is swimwear, which popped up far from the beach, in our everyday wardrobes. Meanwhile, the lust for futuristic expression is all over the beauty world, with metallic eyeshadow so striking no other accessories are needed.
Three female artists are featured in the issue, each with a distinct flavour and palpably innovative practice – Danish Ditte Ejerskov, Swedish Arvida Byström and Shoplifter, from Iceland. What they have in common besides their Nordic heritage is their love for breaking with art world traditions. They work with technicolour, 3D rendering in AR, NFTs and more. It's futuristic and, most notably, fun.
Our music editor, Doris Daga meets Alma, Finland's foremost rising pop star, who appears straight from another dimension with her signature neon hair. We also feature europop legend and Aqua front-woman Lene Nystrøm, who has exuded a Y2K futurism since the late 90s.
It's an honour to balance these eccentric talents with Sweden's godmother of fashion illustration, Tippan Nordén, who, at 78 years old, has been documenting fashion via illustration for decades. She exclusively illustrated five autumn/winter 2022 runway looks in her classic fashion – proof that while it's wonderful to innovate, sometimes the classic way is the most magical.
Martina Bonnier, Editor-in-Chief