Spanning generations – not to mention several quaint homes in Copenhagen – Ole Lynggaard is a Scandinavian institution. Now, the beloved Danish jewellery house and proud purveyor to the Royal Danish Court marks its 60th anniversary, celebrating a journey of exquisite craftsmanship, artisanal integrity and deep personal bonds. The Lynggaards welcome us into their magical atelier to witness their anniversary collection – couture dresses inclusive – come to life
At first glance, Charlotte Lynggaard's desk could be the workspace of a botanist or horticulturalist. A spindly, fossil-like seashell here, an anatomical sketch of a flower there – a scattering of intricate treasures carefully foraged from the natural world. We're in Charlotte's office atelier, an expansive space with lofty ceilings and light timber floors. Sunlight seeps through the many windows, which overlook the surrounding Hellerup area of Copenhagen.
Here, the headquarters of Danish fine jewellery brand Ole Lynggaard are housed across several handsome heritage buildings. Charlotte, the brand's 56-year-old Creative Director, sits behind her desk in simple striped knitwear and denim, her dark blonde hair swept back in a low bun, a cluster of softly gleaming gemstones – her own designs – at each earlobe. A gracious host, she serves cardamom buns and herbal tea on hand-painted crockery.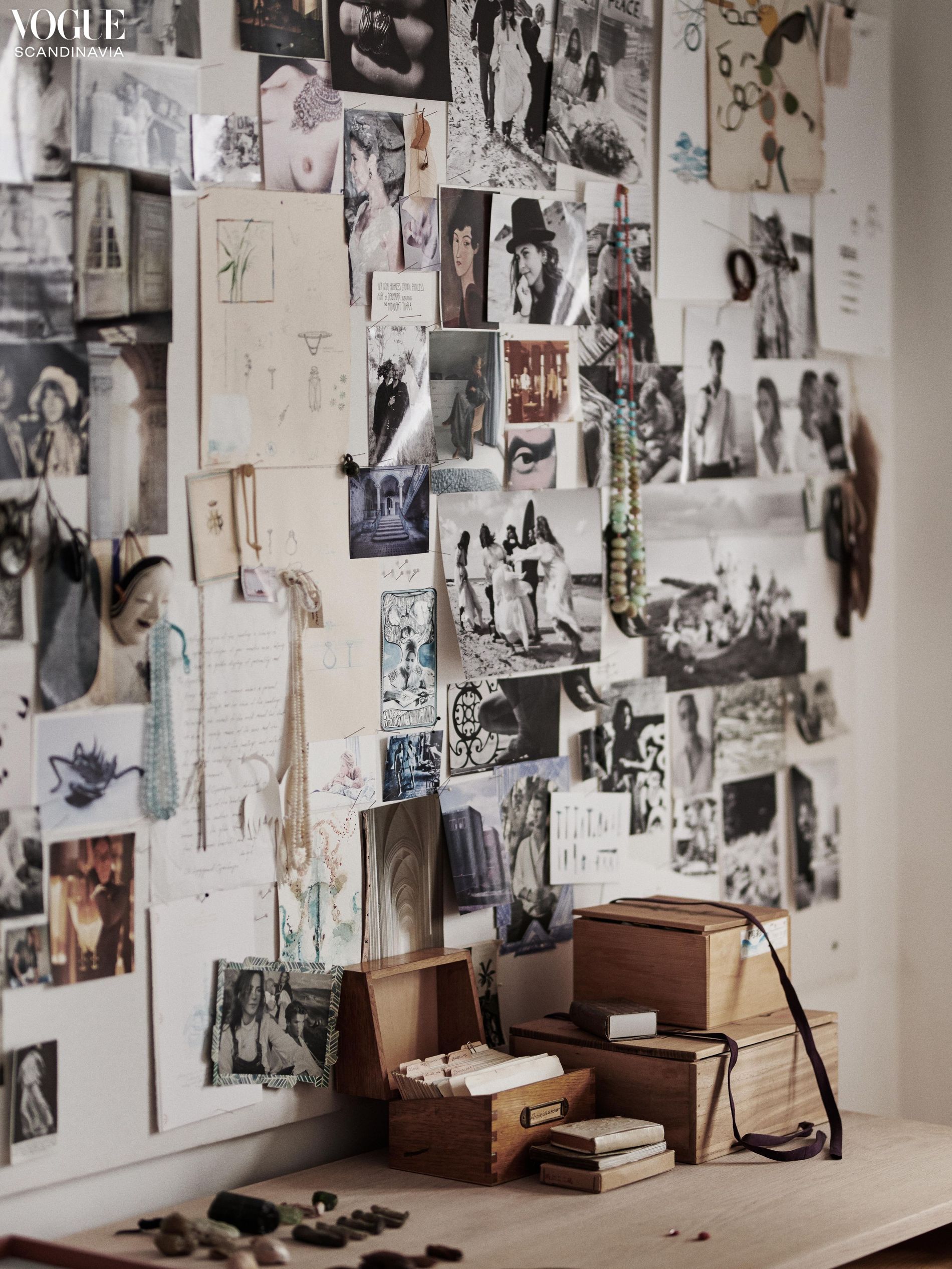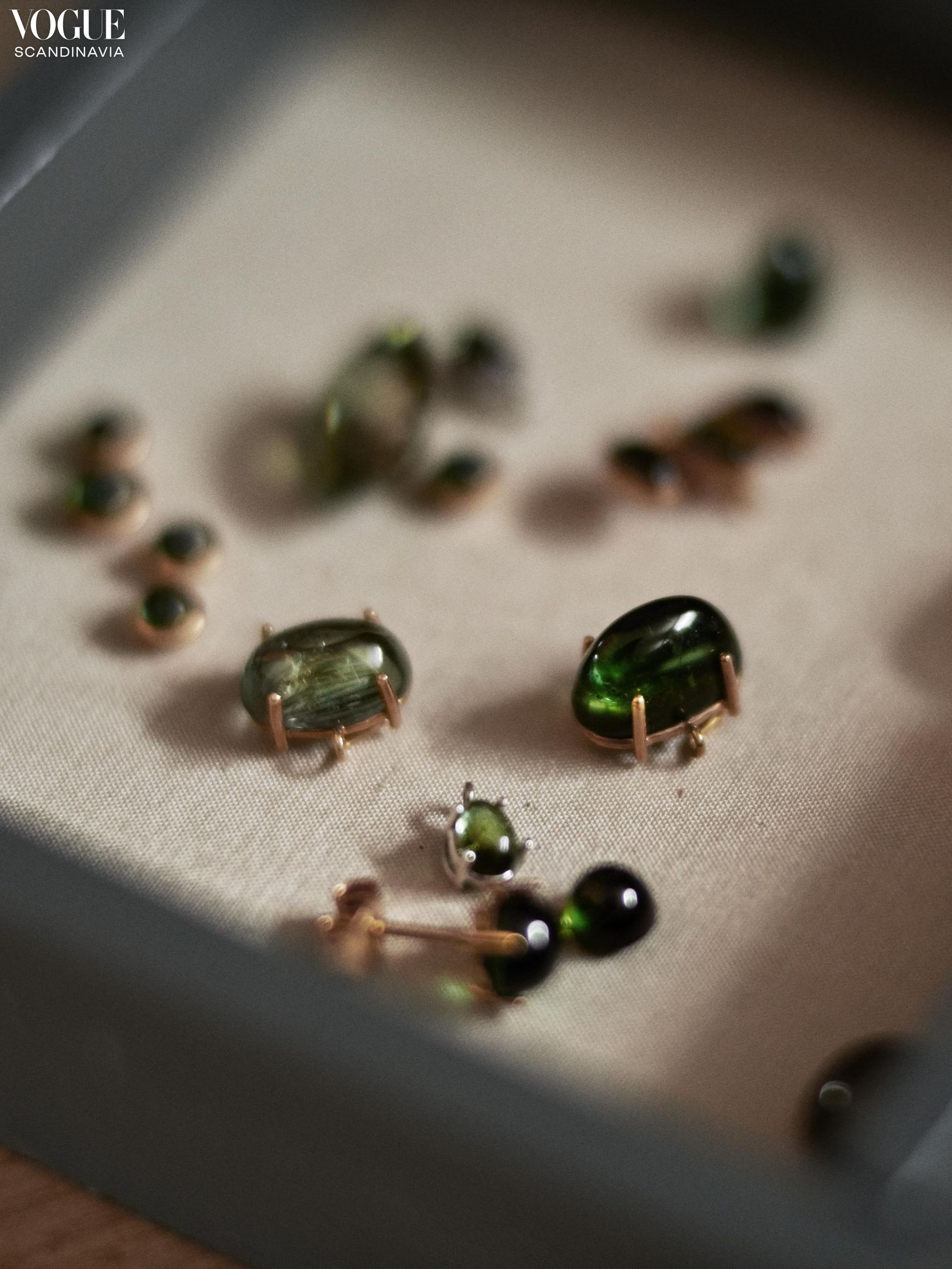 To Charlotte's right, amongst more shelves and cabinets of curiosities, is a large wooden pinboard laden with an eclectic overlap of clippings, drawings, swatches and, of course, pictures of the Lynggaard clan: the very essence of the company. "Here are my parents, meeting Queen Ingrid years ago," she says, gesturing to one photo on the board. She points at a striking young woman in short shorts and show-stopping knee-high white boots. "This is my mother, Karin," she says. "And this is my father. Quite a handsome guy, I would say!" Charlotte, smiling, points to a black and white photo of Ole Lynggaard, taken in the early 1970s.
It has been 60 years since Ole started his namesake fine jewellery company, setting in motion one of the greatest Scandinavian design houses; a brand whose influence would stretch across the world and infiltrate the branches of the Lynggaard family tree for generations to come. Many of these precious older photos of the Lynggaard patriarch Ole, together with his wife Karin, have come to light as the family sift through and curate archival materials for the upcoming anniversary proceedings.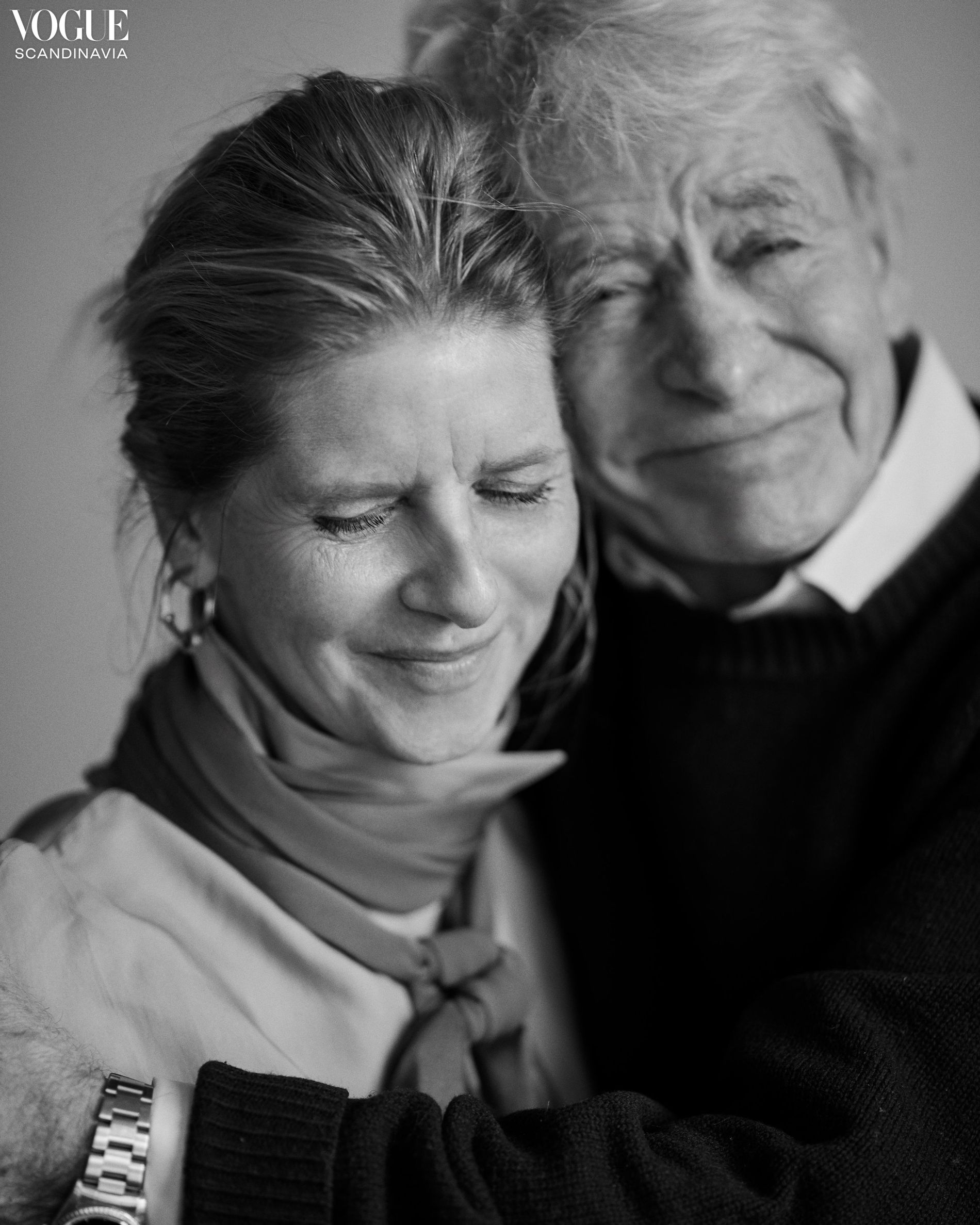 Charlotte Lynggaard and her father, Ole, at the brand's atelier. Photo: Rasmus Mogensen
For its diamond jubilee, Ole Lynggaard will serve up a captivating showcase of the craftsmanship that has earned the house steadfast international admiration. A range of iconic fine jewellery pieces dedicated to the anniversary, including a new 'Funky Stars' collection, will be unveiled. And in perfect symbiosis with the jewellery is a special line-up of couture dresses dreamed up by Charlotte, together with her 26-year-old daughter Sofia, designed as an exquisite canvas to underpin and complement the jewels.
Amid the flurry of producing these new masterpieces, the family is also spending time tracing the Ole Lynggaard story back to its beginnings in 1963. "Over the years, we have created so many things," Charlotte tells me. "Now, we are journeying through the archives to sort through and categorise everything. There are so many hidden treasures to showcase." Each time I glance at the pinboard, I notice yet another intriguing detail, like a very rough initial sketch of the iconic Ole Lynggaard elephant.
"My son came in the other day, he's here very often," says Charlotte, referring to the youngest of her three children, 22-year-old Julius. "He was wandering around the office and came home and said, 'Mum, I just can't understand it. Grandad was basically my age when he started the company, on his own!'"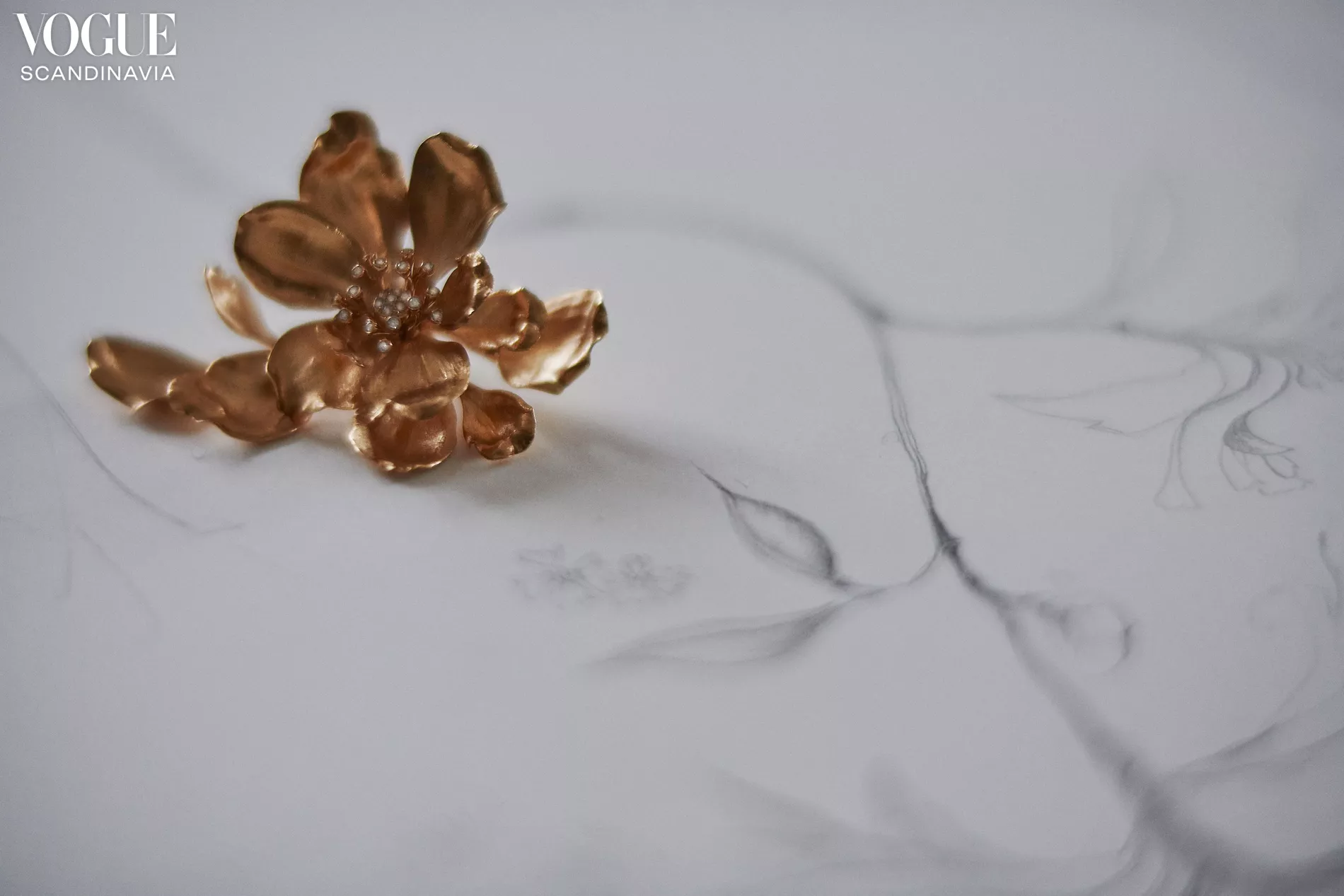 Ole was indeed a fresh-faced 20-something when he established the brand. Inspired by his parents who owned two fine jewellery stores, Ole channelled his love of sculpting and drawing into goldsmithery training in the late 1950s. Then, with just a duffel bag slung over his shoulder, he travelled for five formative years, studying metal-shaping in Germany, visiting work shops in New York and Paris, and absorbing wonderfully foreign experiences in different corners of Africa and Asia, where encounters with elephants sparked his enduring fascination with the animals. In Charlotte's words, "He came back to Copenhagen and said, 'I'm ready now, I've seen the world'." Ole managed to rent a combined workshop and office in Hellerup – spaces that are still occupied by the company to this day – and got to work.
Eschewing the traditional techniques that he had learned in his formal training, Ole instead opted to create deeply personal pieces that incorporated his affinity for organic and graphic elegance, usually with elements drawn from fauna. More often than not, his pieces were dedicated to Karin, his lifelong muse. The pair have been married for almost as long as the brand has existed. "It always started with her," Charlotte reflects. "He was creating jewellery for her, for her birthday, their wedding anniversary, those occasions. And that was where he very often started his collections." Take, for instance, the coveted Snakes collection, which stemmed from a custom serpent-shaped piece that Ole made to coil around Karin's wrist in the late 1960s.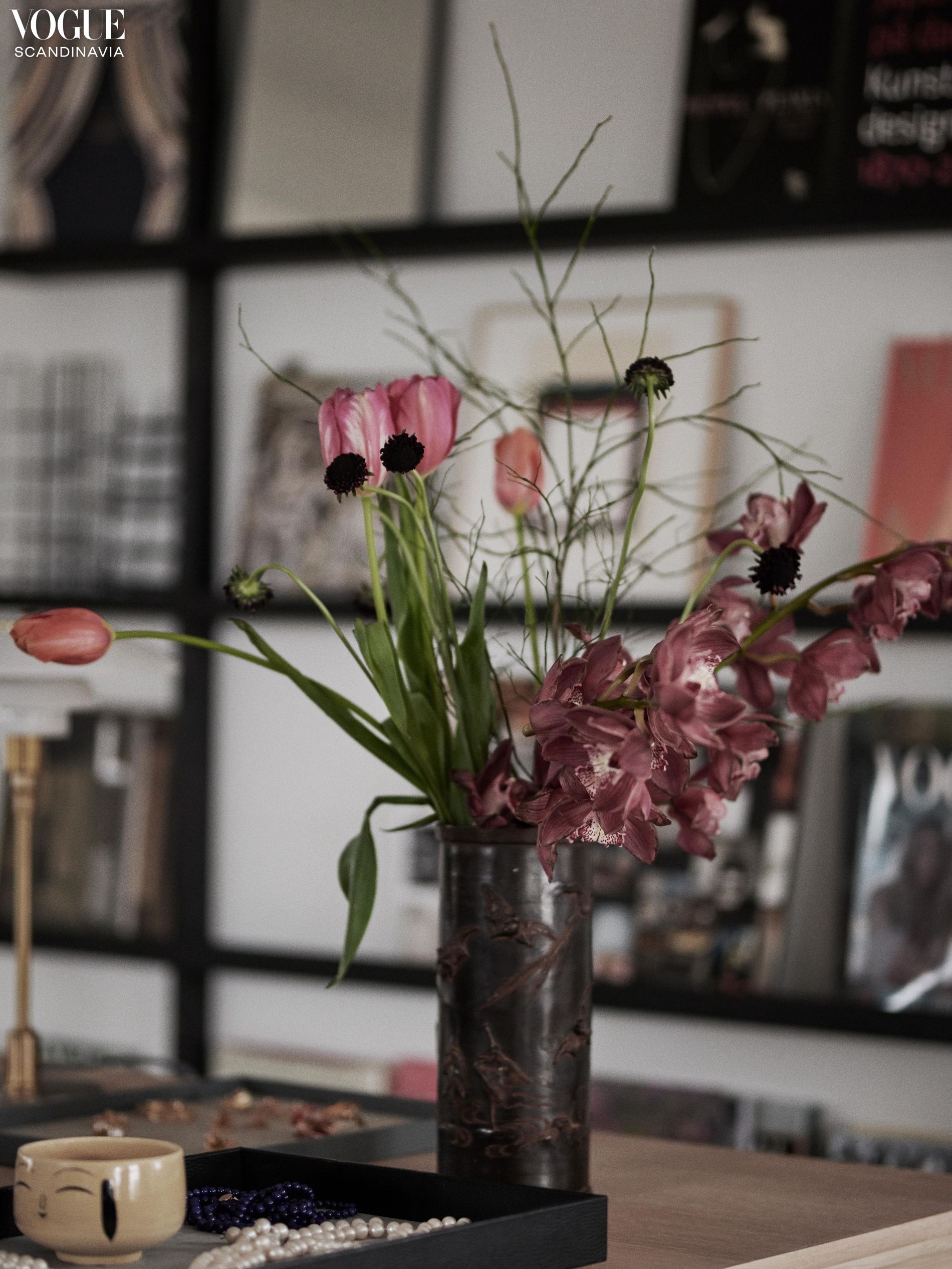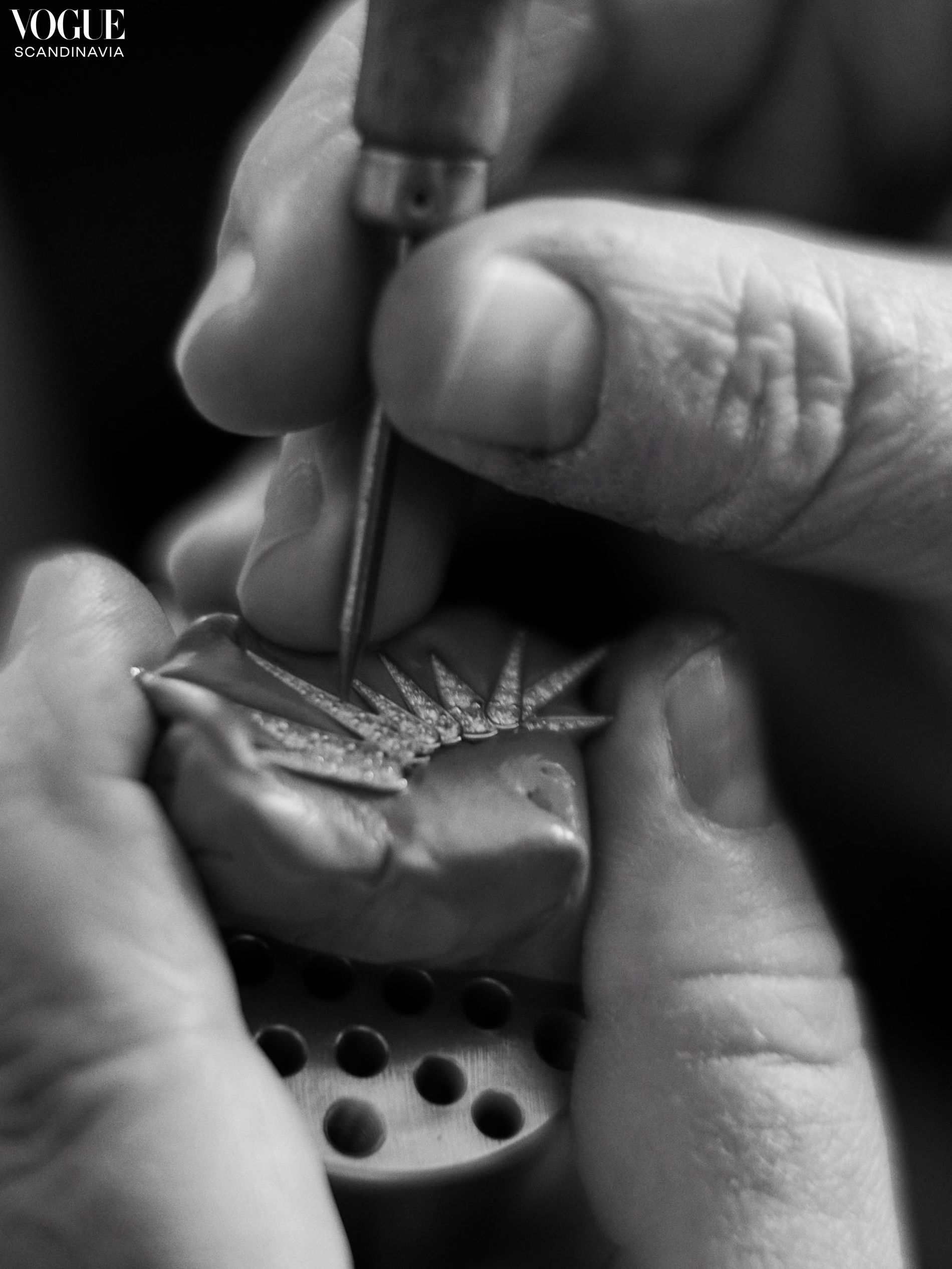 All-in family involvement seemed instinctive from the beginning. Søren Lynggaard, the 53-year-old son of Ole and Karin, now the company's CEO, says he and sister Charlotte would attend fairs and travel with their father as children. While Søren helped to clean the jewellery workshop after school, Charlotte first became involved as a teenager, modelling in Ole Lynggaard's campaigns in the 1980s. "There was very blue eyeshadow, very wide shoulders," she says, wincing, as I note these pictures haven't made it to her pinboard. "And the hair was something else'," she laughs, throwing her hands up to imply a voluminous perm.
Søren tells me there was "no pressure, no expectation" for either of them to enter into the Ole Lynggaard fold, but both found their own natural pathway there. Charlotte wanted to foster her boundless artistic skill, which includes sewing, drawing, painting, knitting and sculpting (alongside, of course, being a trained goldsmith), while Søren proved to have a head for business. In 1994, somewhat inevitably, both made official strides into the company, with Charlotte launching her inaugural Bees & Flowers collection, and Søren appointed as Production Manager.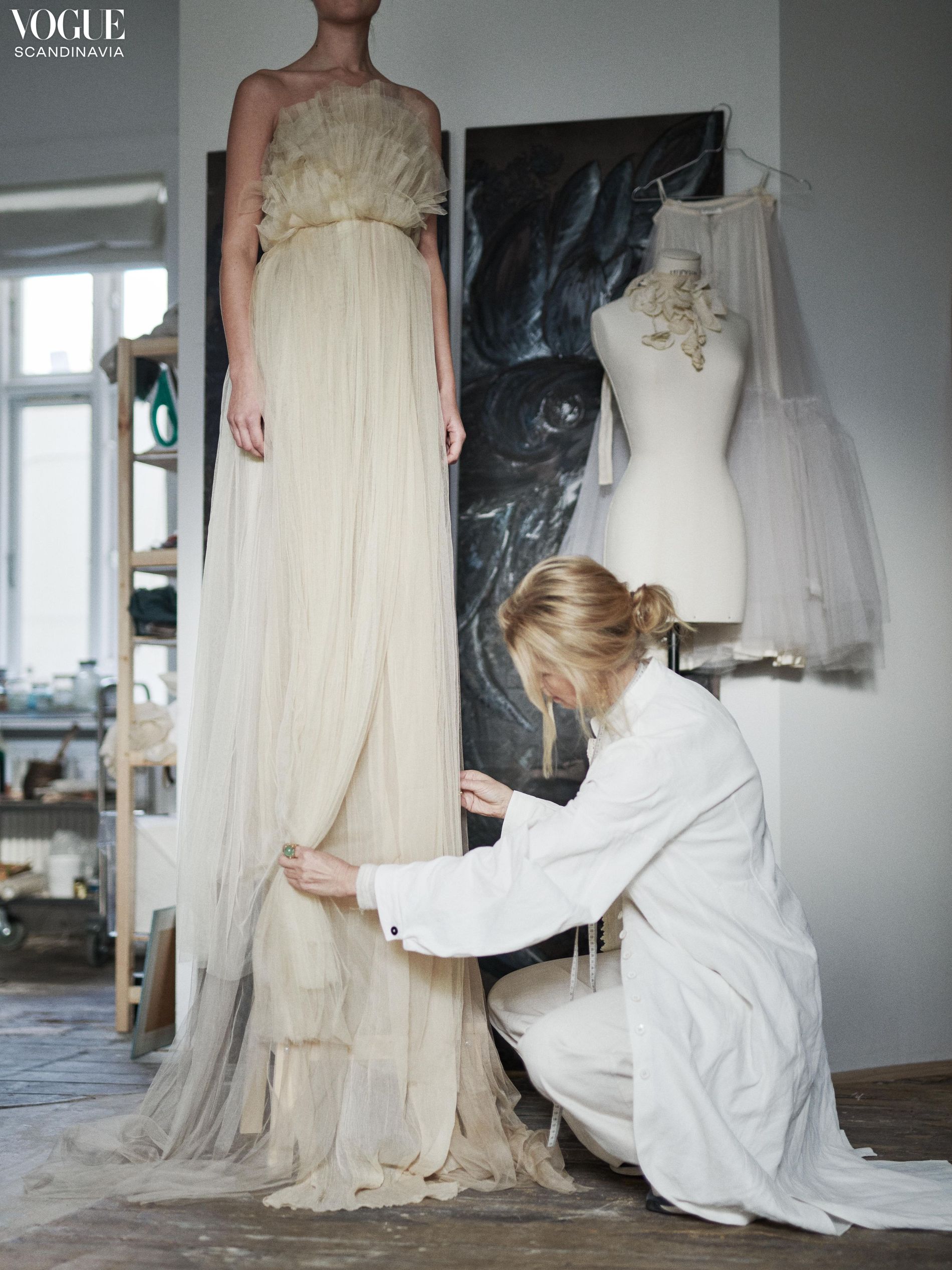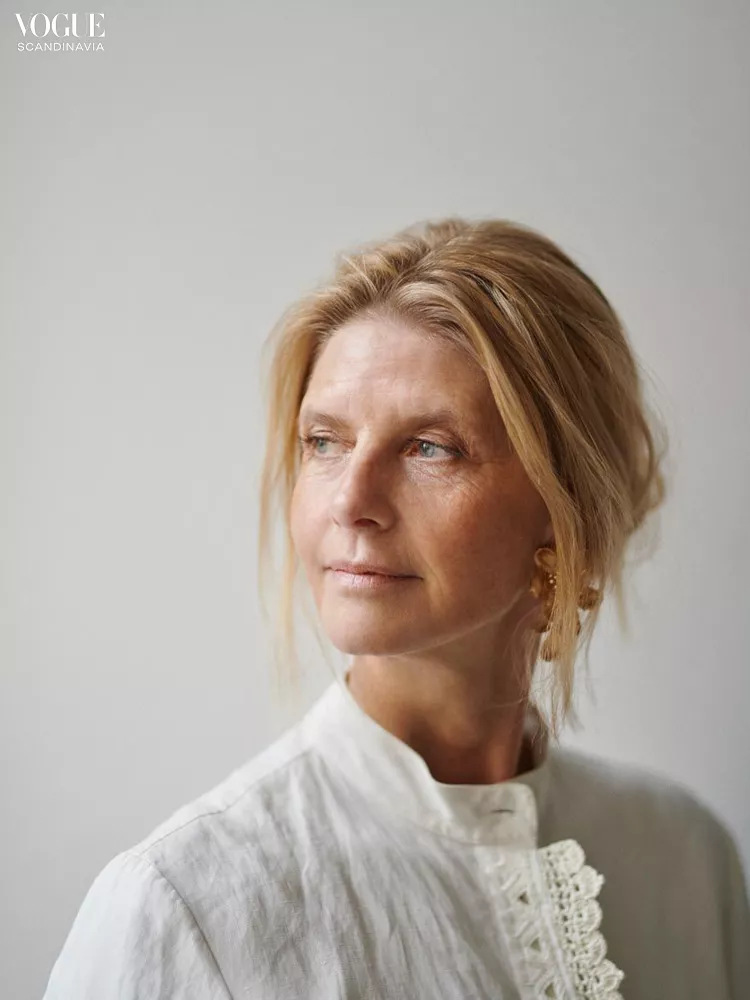 With Charlotte's arrival came a more feminine DNA to the jewellery designs. "I started with flowers because I knew that my father would never do a flower," she says. "That was just too feminine for him, and I always loved flowers, as you can see." She glances at the floral illustrations covering the deskspace in front of her. Charlotte had a clear creative vision that complemented her father's, but she wanted to create her own expression. "I remember my first fine jewellery collection, I was like, 'Oh wow, this is so difficult. I don't know if I can do it'," she recounts.
Charlotte had developed an experimental style in her artistry, working bravely with textiles and paints, but the permanence and value of fine jewellery was daunting. "There's something serious about gold," she says. "You think, 'This is going to stay like this for hundreds of years!'" But Charlotte quickly became confident with the precious materials, going on to design a multitude of pieces for Ole Lynggaard each year.
It's just too hard for me to ever compromise on quality. It almost hurts
Charlotte Lynggaard
While Charlotte brought a newer – and highly successful – aesthetic into the Ole Lynggaard house, she was always aligned with her father's unwavering focus on design integrity and quality craftsmanship. "Any jewellery that comes out of this house has to be a piece that I put on my hand and think: 'Wow, this will be a piece that I can wear forever'," she says. "It's just too hard for me to ever compromise on quality. It almost hurts."
Together, over the last 35 years, the father and daughter duo have brought the world glistening 18-karat gold hand-hammered masterpieces, architectural treasures dotted with diamonds and pearls and iridescent gemstones: waxy-soft amber, intense tourmaline, lustrous moonstones and aquamarines. "We have a special light in Scandinavia. We need the colours," Charlotte says. And now, fresh energy has again arrived in the creative team, as Charlotte's daughter Sofia – who bears an uncanny resemblance to her mother – joins the design ranks. Usually stationed by her mother's and grandfather's side at the atelier, Sofia connects with me over the phone as she recovers at home from a recent skiing injury, unfortunately rendering her unable to feature in our Vogue Scandinavia shoot.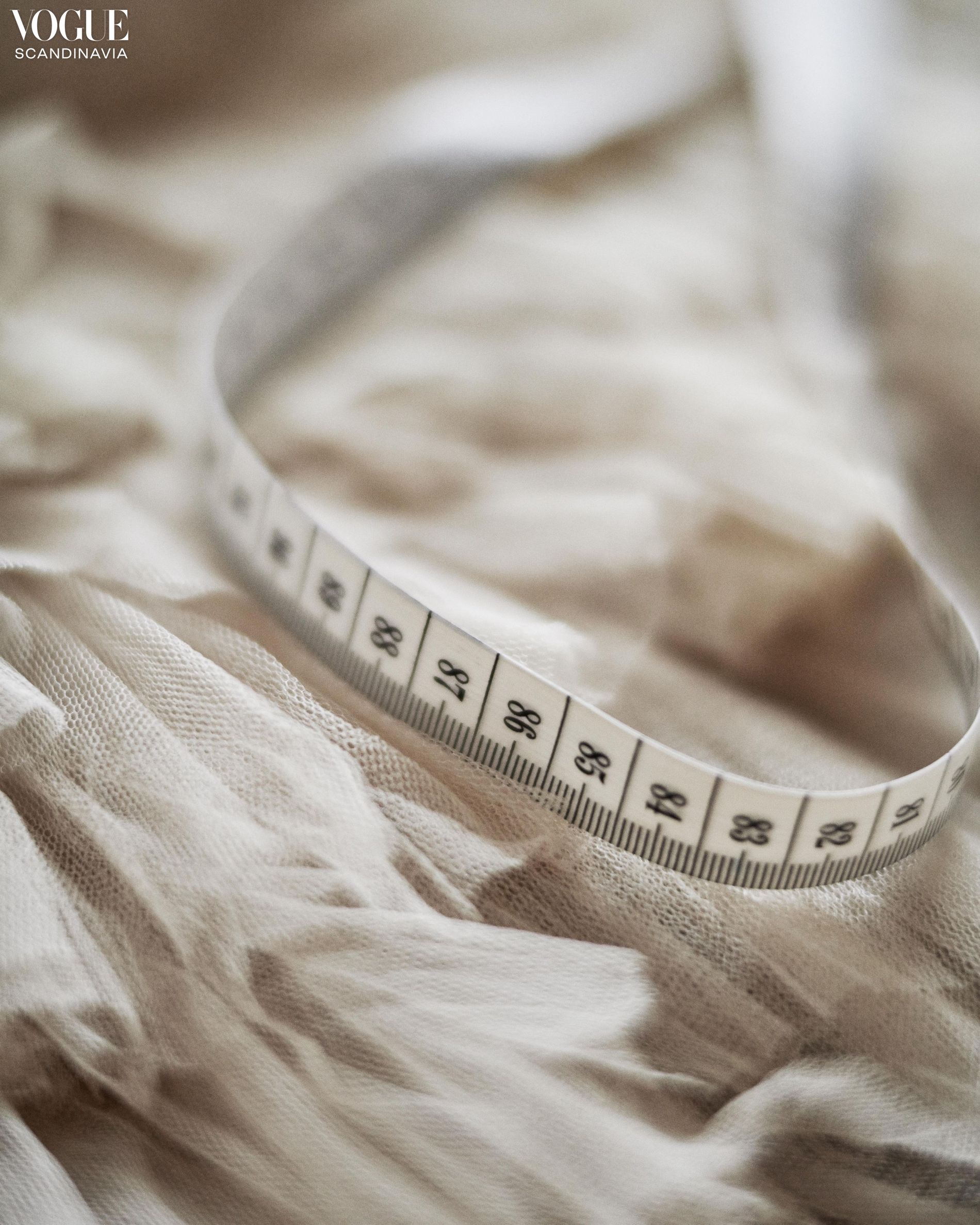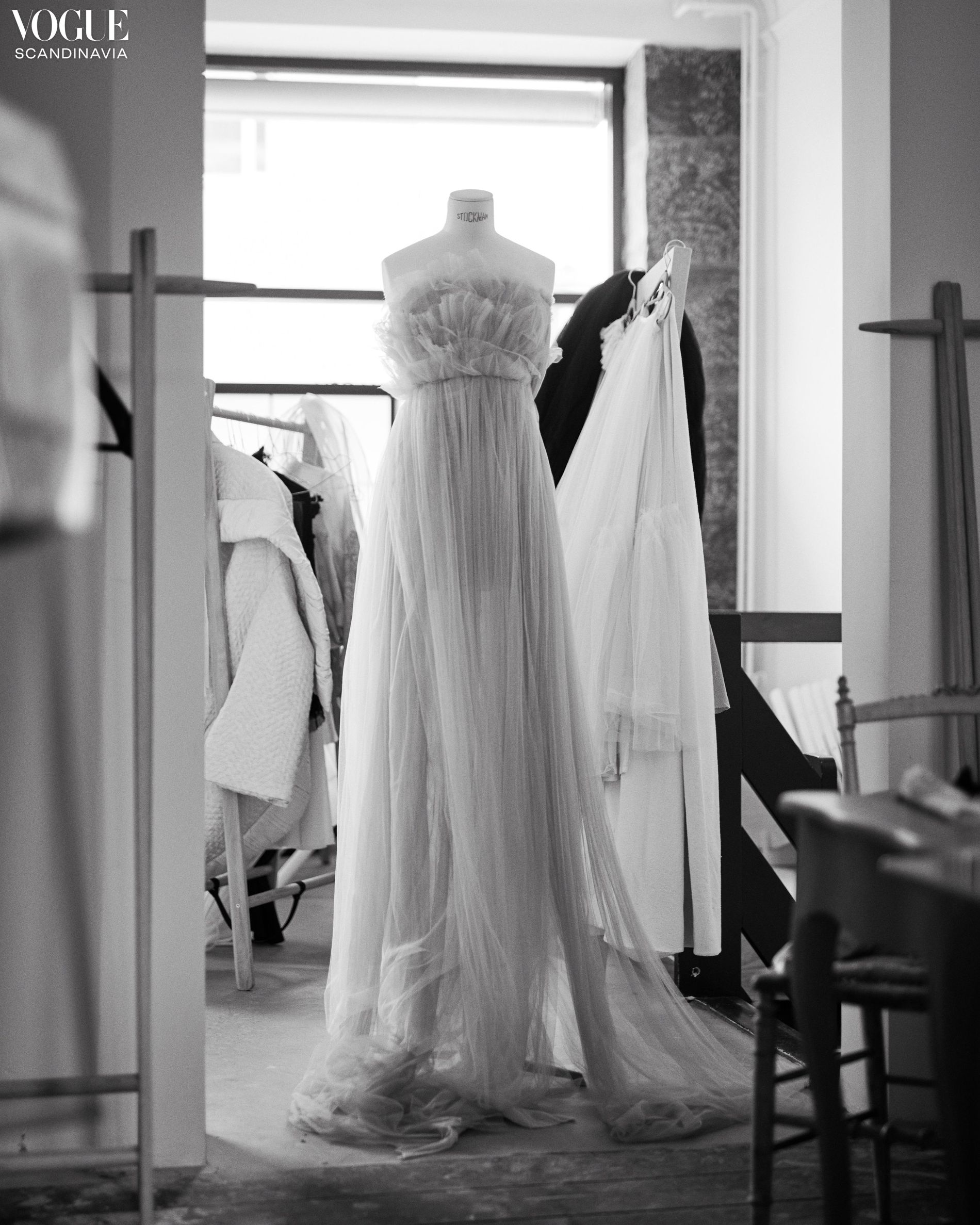 While the anniversary couture dresses mark the first official collaboration between mother and daughter, Sofia has already made significant advances in her fine jewellery career at the atelier. Just like her grandfather, Sofia spent time overseas before getting started, with the majestic waters of Australia serving as her creative wellspring. "I went to the Great Barrier Reef and fell in love with the whole new world that opened up for me under the water. I got so much inspiration from the seaweed, the corals, the funny fish and the movement," she tells me. "A world that's always in motion."
Naturally, her debut fine jewellery collection dives into oceanic depths. Titled 'Young Fish', Sofia refers to one of the collection's standout pieces being a uniquely animated ring: "I wanted to bring a fairytale to life about a fish who has found a pearl at the bottom of the sea which it keeps in its mouth," Sofia says. "When you touch the pearl, there is a small vibration as a fun detail." From Charlotte's perspective, Sofia's work is eerily attuned with Ole's. "They are very alike, they have a very special connection and the way they both draw... It's like the drawing is almost moving," she says. "Sometimes, I'm like, 'Did my father draw that? Or did she draw that?' It's so fun."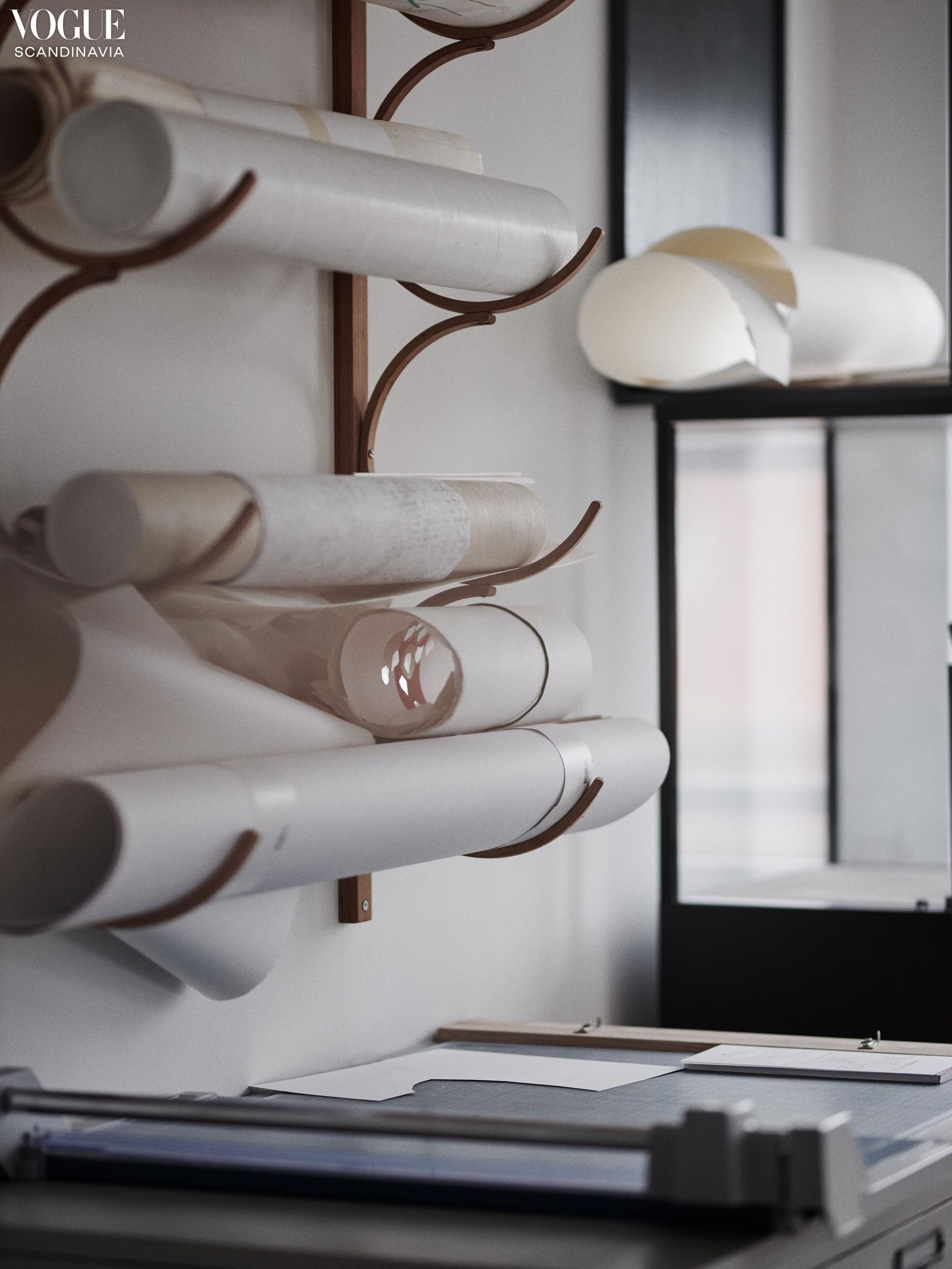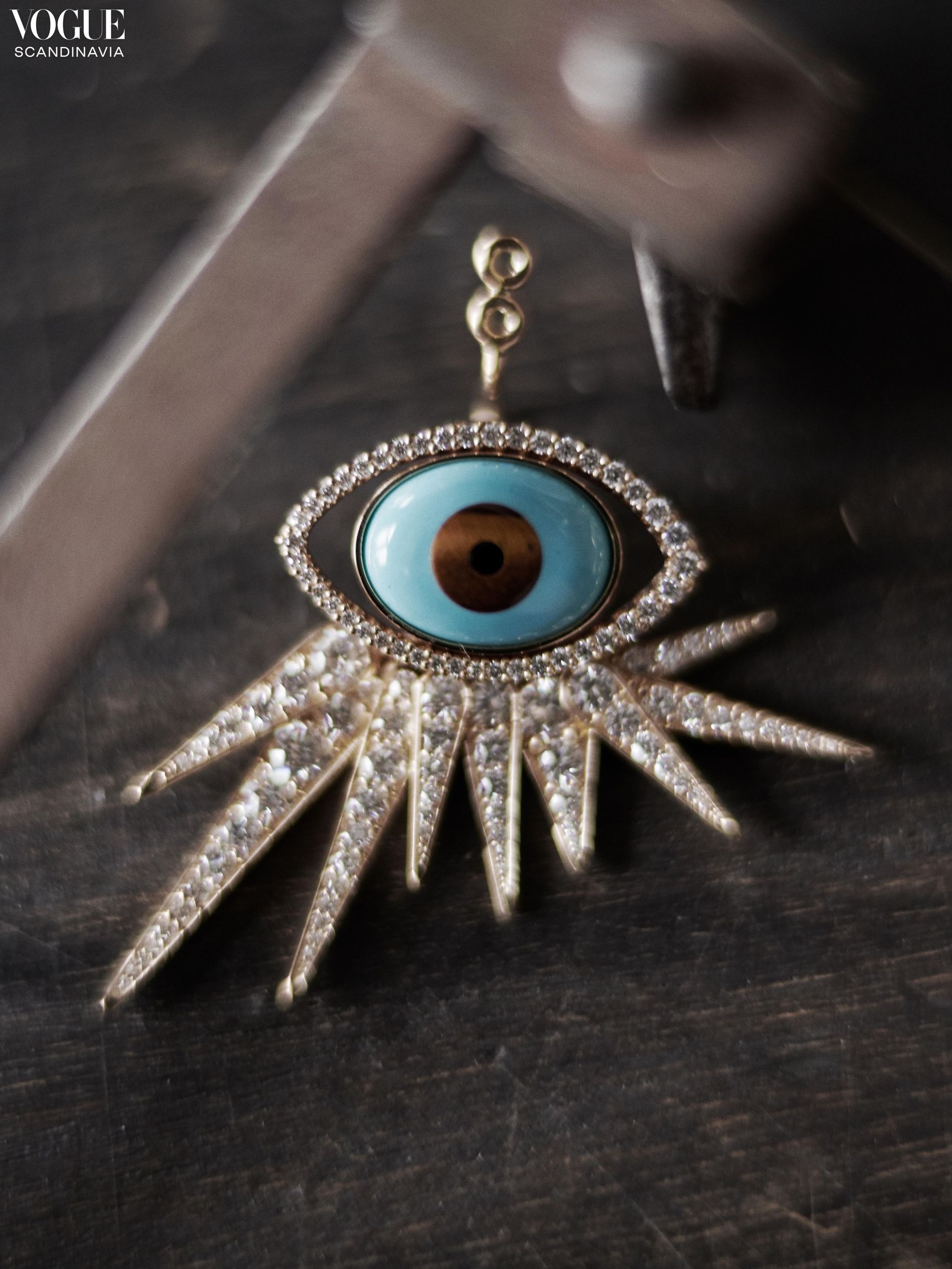 The mother and daughter are also unified in the clarity of their creative vision, almost to a fault. "It's truly a gift to work closely with one another," Sofia says. "But when we both have a clear picture of how something should be, we can end up guiding someone in two different directions. It can be tricky, but we end up just laughing about it." Charlotte, however, is hyper aware of allowing Sofia the room to grow. "My father has always been very good at giving me space," she says. "I want to see if I can be just as good to Sofia as he was to me. I hope I am. She has good taste. She knows what she's doing."
"I'm proud of my work," adds Sofia. "But I look up to my grandfather and my mother so much." You can feel how much respect the family holds for each other. In fact, it's the one thing that Charlotte calls out as the magic ingredient to balancing their professional and personal lives together. "It's really important to have this respect and, of course, love," she says. "We are always saying: first family and then company." It turns out the family bonds are not only limited to those within the Lynggaard genealogy – Charlotte, Søren and Sofia all casually refer to the jewellery pieces as their own offspring, too. In Sofia's words: "I know [Charlotte and Ole] consider the jewellery as their own children. I feel the same way now, like my pieces are my small babies, with all of the work that I put into them."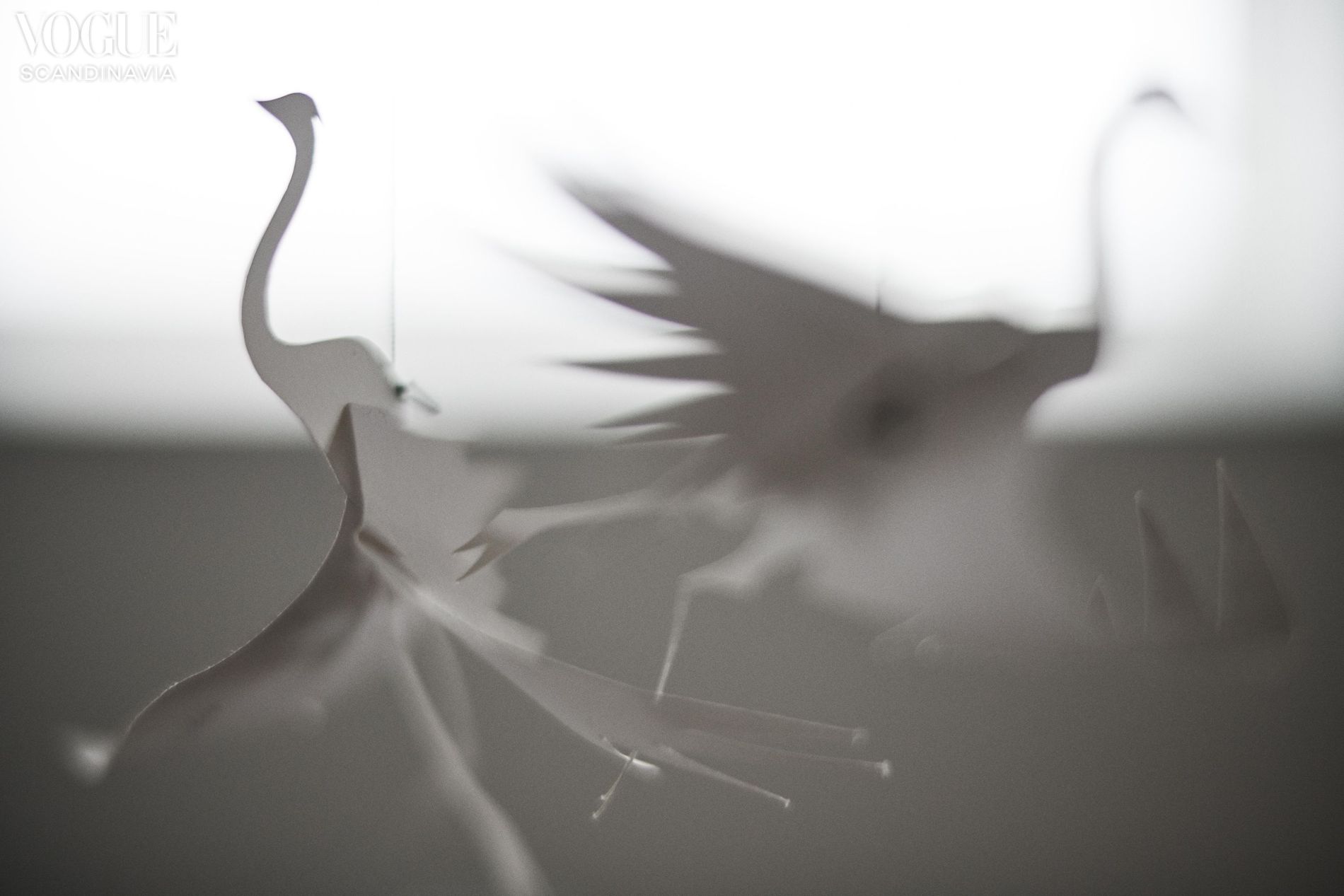 If Charlotte's lofty atelier – which serves as a combined workspace for Søren and Sofia, too – is the creative heart of the Ole Lynggaard headquarters, then figuratively, the on-site workshops are the dextrous hands. Within, 40 goldsmiths are seated at rustic wooden desks, peering down into microscopes, flanked by tiers of tiny apparatus and the printed stone maps of their assigned pieces. There's something magical about seeing the bustling group working away at such a skillful, age-old handicraft.
Together with Johannes, the company 's Head of Product Development and Quality, we wander through the workshops, peering over the shoulders of the goldsmiths. The atmosphere is cheery but their focus is razor sharp as they work against the clock to create the new 'Funky Stars' pieces. "Charlotte saw that we needed something more flash, more rock and roll, so she made these stars," Johannes tells me. "She has a vision and then nothing else matters."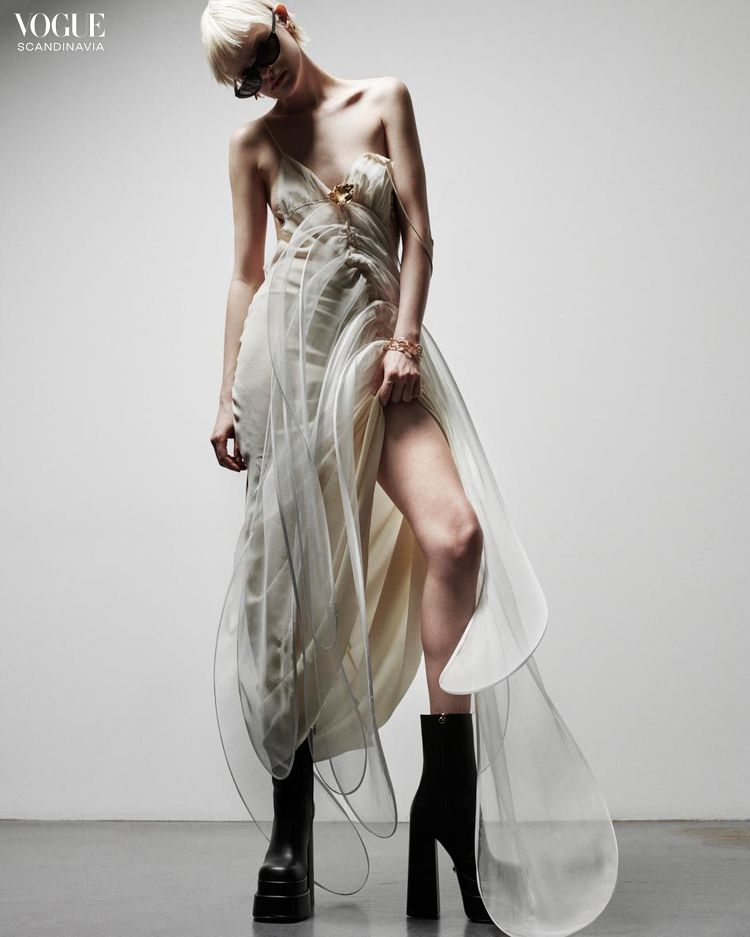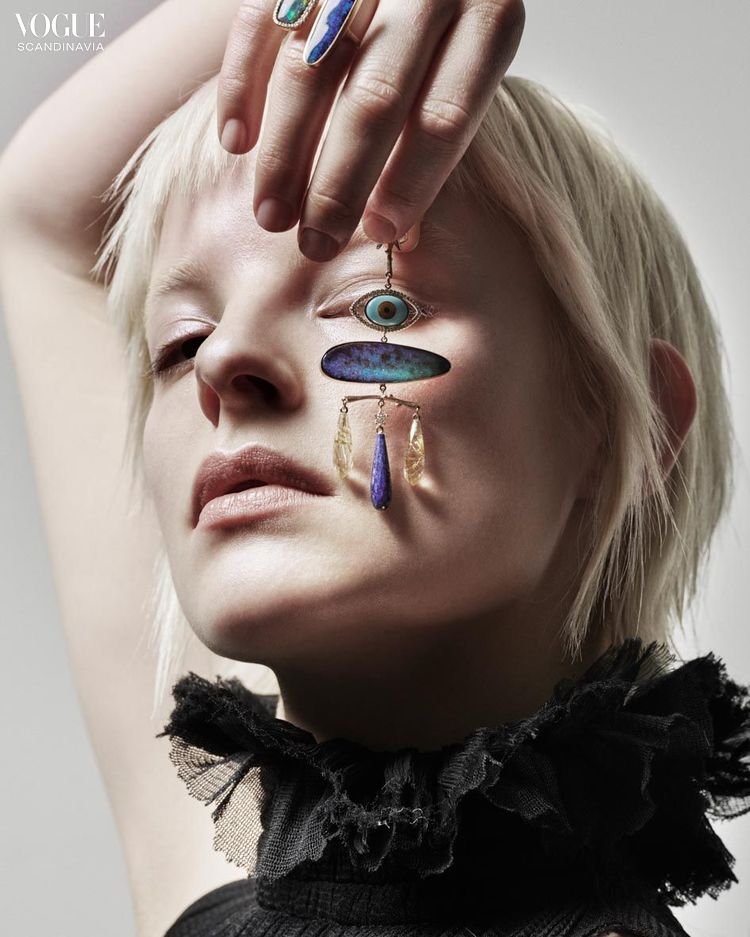 It 's no exaggeration that 'Funky Stars' will push the boundaries of the goldsmiths, and the fine jewellery industry, to a new level. "It's just crazy difficult jewellery to make," Søren says. To achieve a continuation of diamonds through to the point of each star, the diamonds are impossibly small. I witness one on the finger of a goldsmith, almost imperceptible, like a sparkling speck of dust. "You can fit 1,000 of them in one carat, and one carat is not so big," Søren goes on. "And to get 57 facets on something that's half a millimetre in diameter, all by hand, is just mind-blowing. But we have some of the most skilled jewellers in the world to make it happen."
In the last workshop, one of the goldsmiths, Morten, introduces himself. Morten started working at Ole Lynggaard in 1975 – this kind of long-term tenure at the company is common – and was actually responsible for training Charlotte. "They have this language they speak together about everything," Johannes says, "and they produce so many items that no one can keep up with them."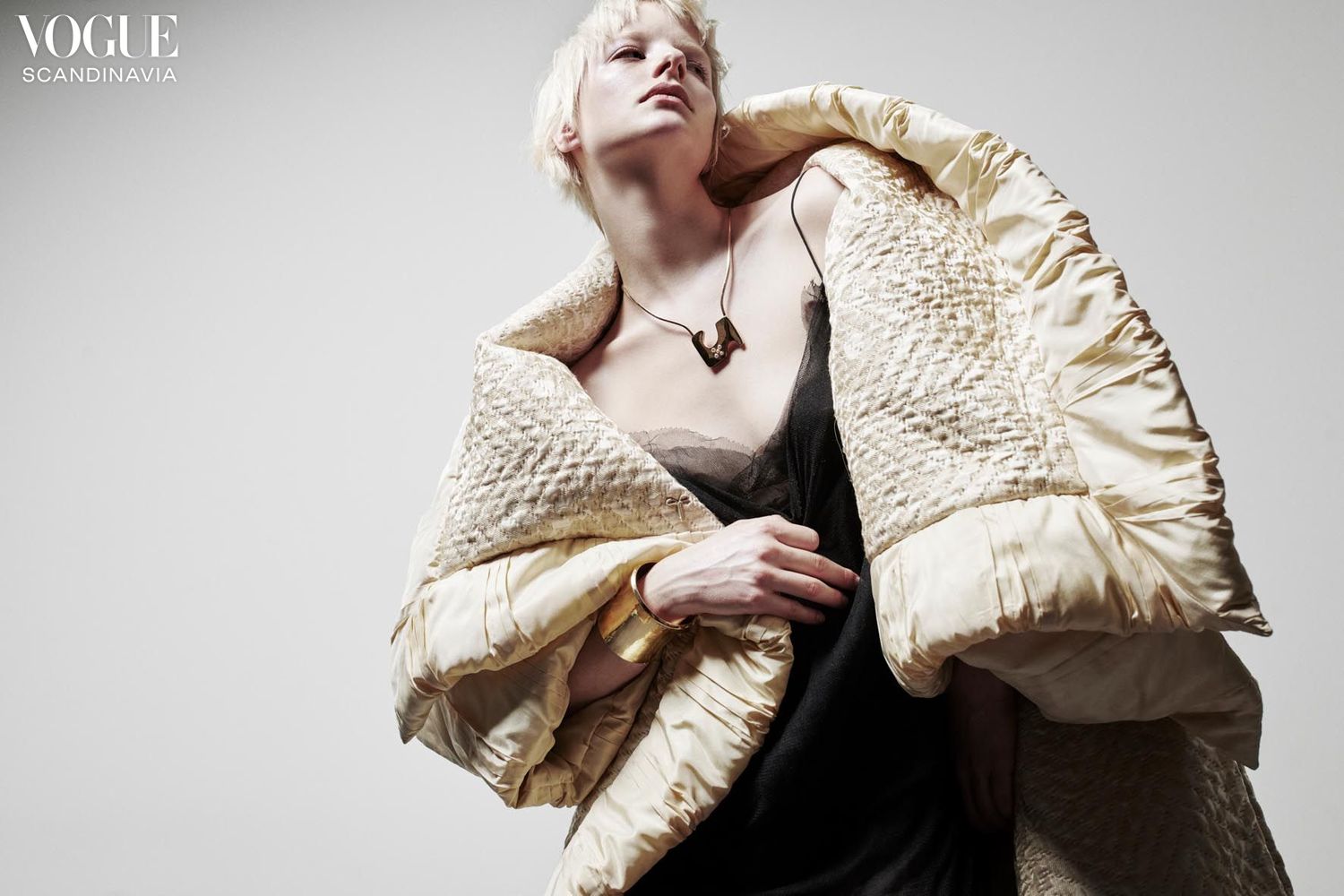 Morten, together with Charlotte, was responsible for the creation of the much-loved 'Midnight Tiara' in 2009. The diadem, with its polished moonstones and diamonds nestled amongst gold and oxidised silver leaves, was specially created for an exhibition at Amalienborg Palace. Queen Margrethe II brought it to the attention of Crown Princess Mary, who requested it for her own royal rotation and has worn it routinely since. "It suits her very well, actually," Charlotte remarks. "Our connection with the Royal Danish Court has been ongoing for many years, but we don't mention it often," says Charlotte. "It's always a very big honour to do a piece for them, because in a way, you feel like that piece becomes part of history."
A stone's throw away from the goldsmithery workshops, the anniversary couture dresses are taking shape, owing to meticulous, highly-skilled hands. Tulle, silk, thin wools and lace – some in black that Charlotte describes as having a "spider nest" effect, others in soft natural hues – are carefully cut, swathed and finessed, with the help of tailors who have worked with the house for many years. The fabrics have been carefully selected from Charlotte's own collection: some sourced from her grandmother, others procured from antique flea markets around the world. "I have collected vintage textiles for as long as I can remember. Silk, tulle, laces and ribbons," Charlotte says, explaining that across the collection of gowns, that "every dress is one of a kind – tailored and couture".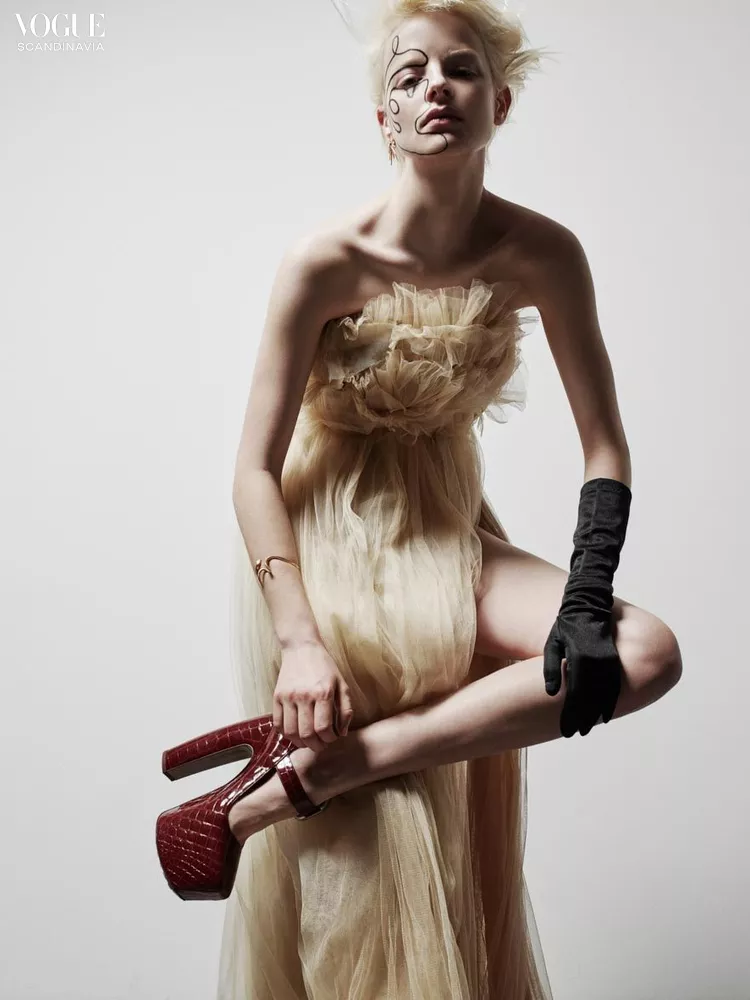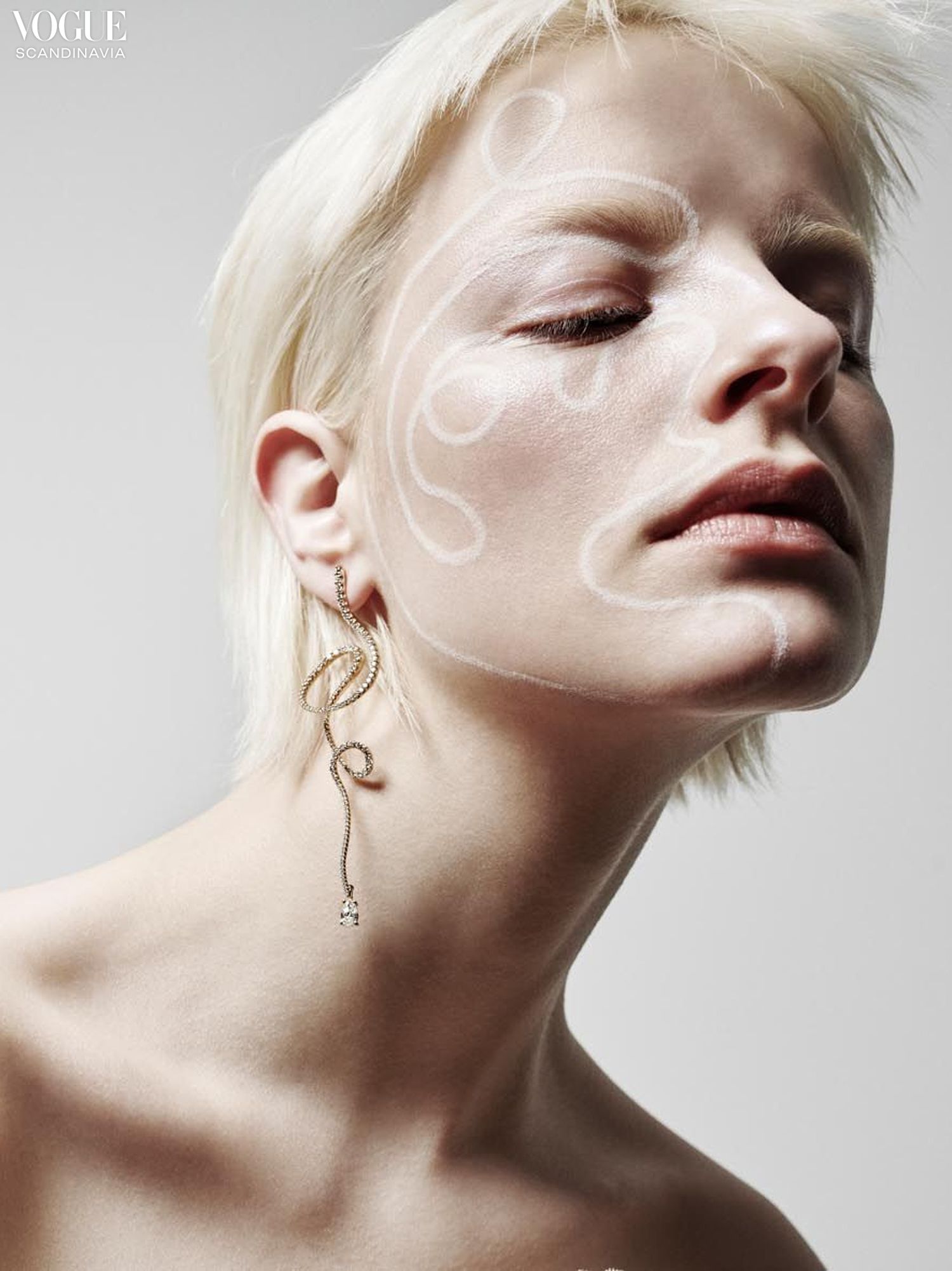 It's time for lunch at the Ole Lynggaard headquarters. The convivial energy of the workshop continues into the communal dining space, laughter resonating around the artfully decorated room. Unannounced and unassuming, 87-year-old Ole walks in with Karin. Ole has a commanding but gentle presence, while Karin beams warmly at each person she passes. They take a seat with their children and grandchildren as other constellations of colleagues come to join them. I sense from the ease of their happy chatter that these kinds of visits are a regular occurrence.
On the occasion of a milestone anniversary, it's natural to look back at the journey so far, but also to look forward to the future. "Actually, we don't like to think too much about the future," Charlotte tells me. "Now, we're here." But what she does know is the plan is to keep it in the family – a decision that came to the fore for the Lynggaards recently when LVMH came knocking on their door. "We looked at each other and we said 'no'. Sometimes it's challenging to be a family business, but it's also challenging not to be a family business," Charlotte explains. "This is our home, this is our life, this is our passion. We can't help it. Our hearts beat for it."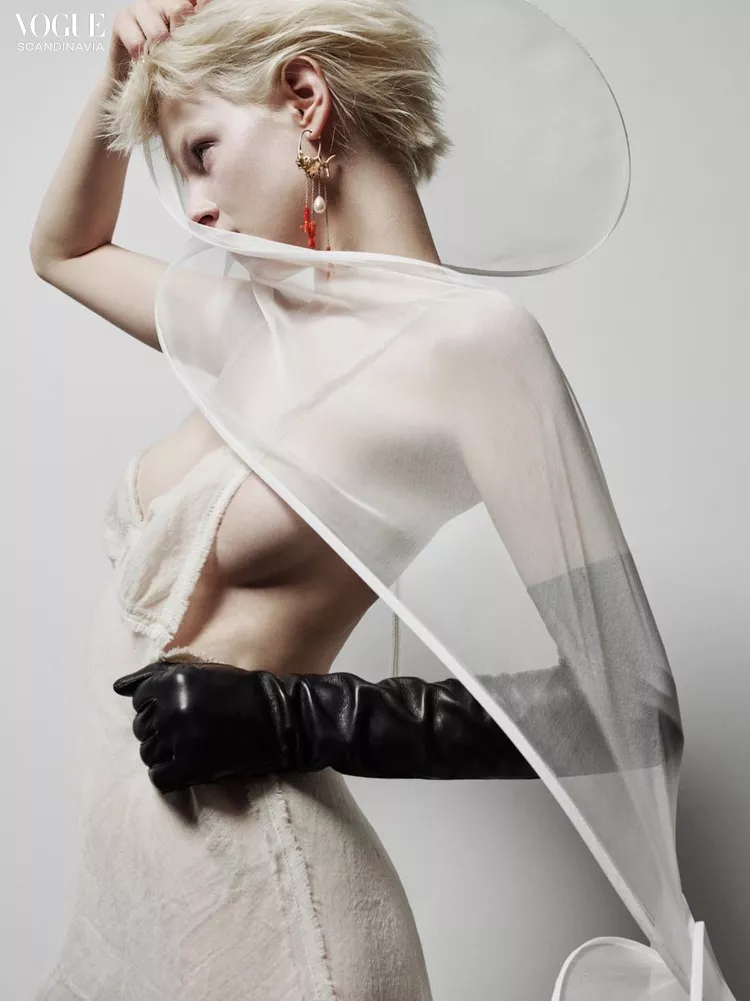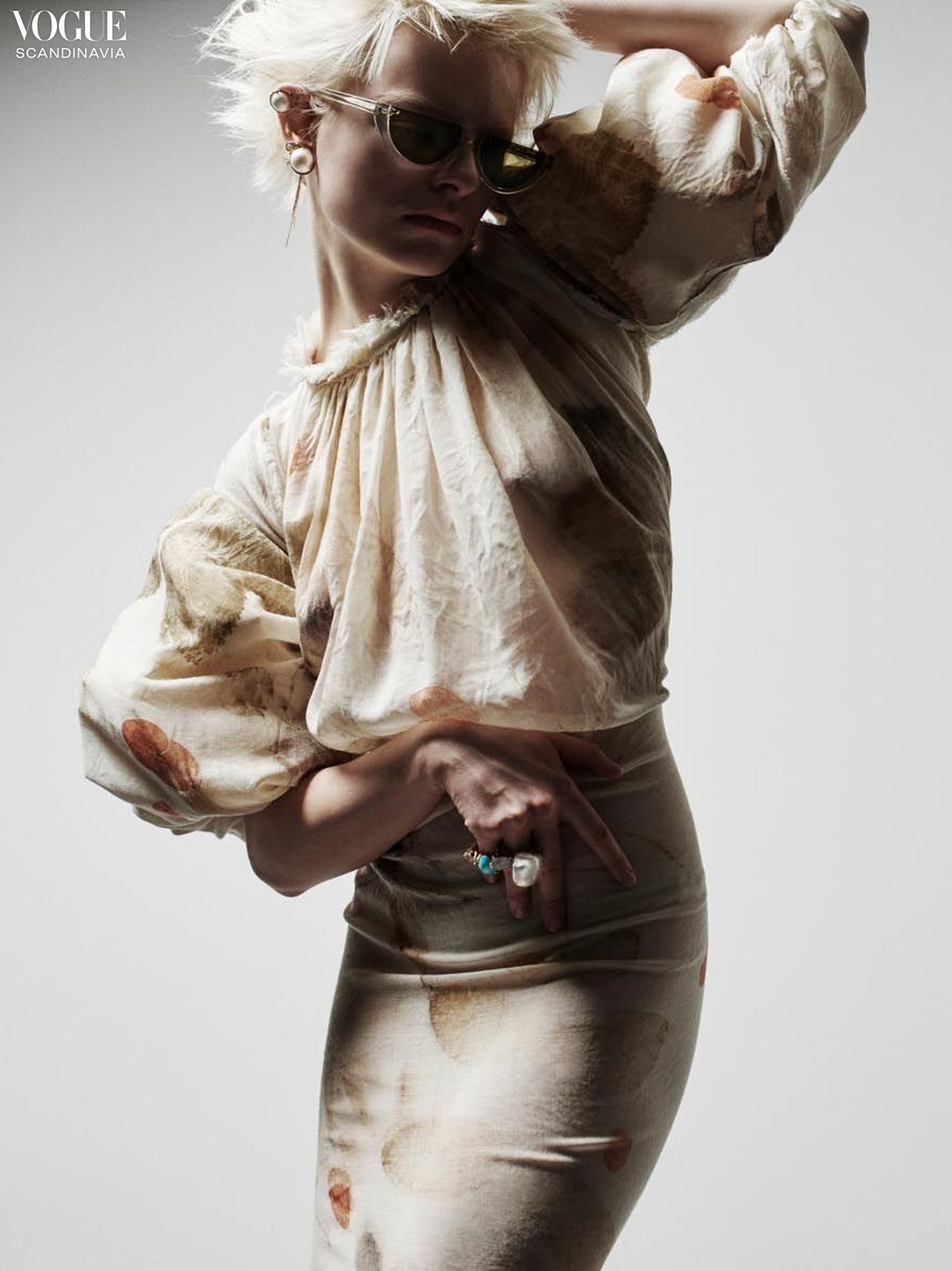 Photographer: Rasmus Mogensen
Stylist: Kim Grenaa, Rasmus Sandberg Sloth
Hair Stylist: Sabina Simmelhag
Makeup Artist: Anne Staunsager
Model: Antonia Przedpelski
Stylist Assistants: Nanna Hedegaard, Oscar Severin Bach, Zander Brøgger
Equipment: The Lab
Production: Grenaa Creative
Vogue Scandinavia
Zara Larsson's Icon Era – April / May Issue