From picturesque apartments in historic buildings to small hideaways, these boutique hotels guarantee a memorable stay in the Danish capital
While Copenhagen is celebrated for its ambience and interior design, finding a hotel that meets certain aesthetic criteria can be quite overwhelming. Are you looking for breathtaking architecture just a stone's throw from the city centre or an abundant residence with that certain Grand Dame feeling? A lavish healthy breakfast or a quiet cocktail in a leafy garden? We've got the most fashionable places to stay in Copenhagen covered.
Below, an effortless guide to the most stylish boutique hotels as tried and tested by the Vogue Scandinavia team.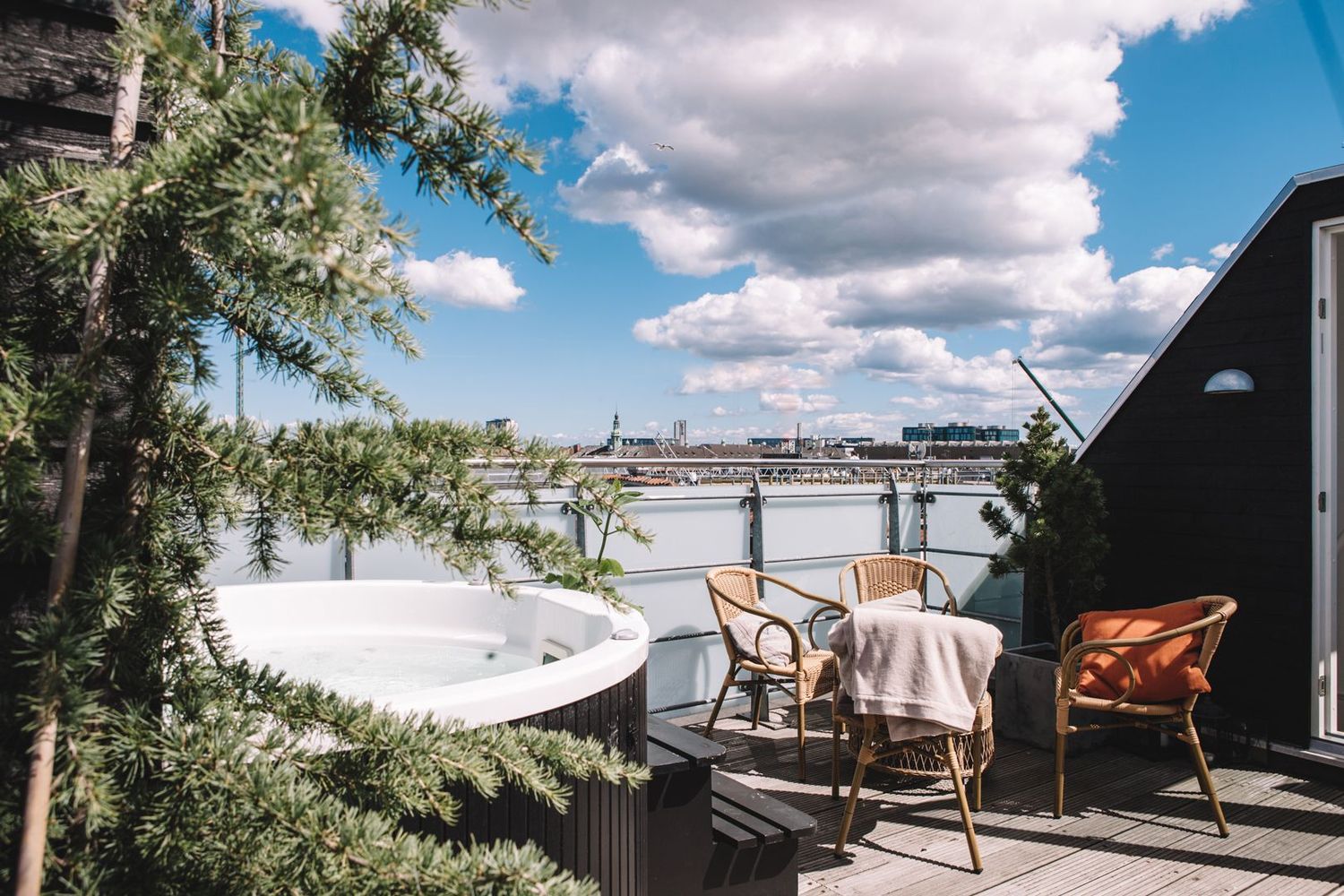 Photo: Axel Guldsmeden
Axel Guldsmeden
If Axel Guldsmeden's cozy decor and Nordic-Balinese design don't have you instantly hooked, then its outstanding sustainability credentials will do the trick – it is both Green Globe and Green Key approved. Located a stone's throw from Tivoli Gardens and Copenhagen Central Station, the site holds a jungle-like courtyard, sought-out penthouse suites with rooftop terraces and hot tubs, and an idyllic spa oasis within. Before you step out to enjoy a day in the Danish capital, we recommend digging into the organic Guldsmeden signature breakfast.
Axel Guldsmeden, Colbjørnsengade 14, 1652 Copenhagen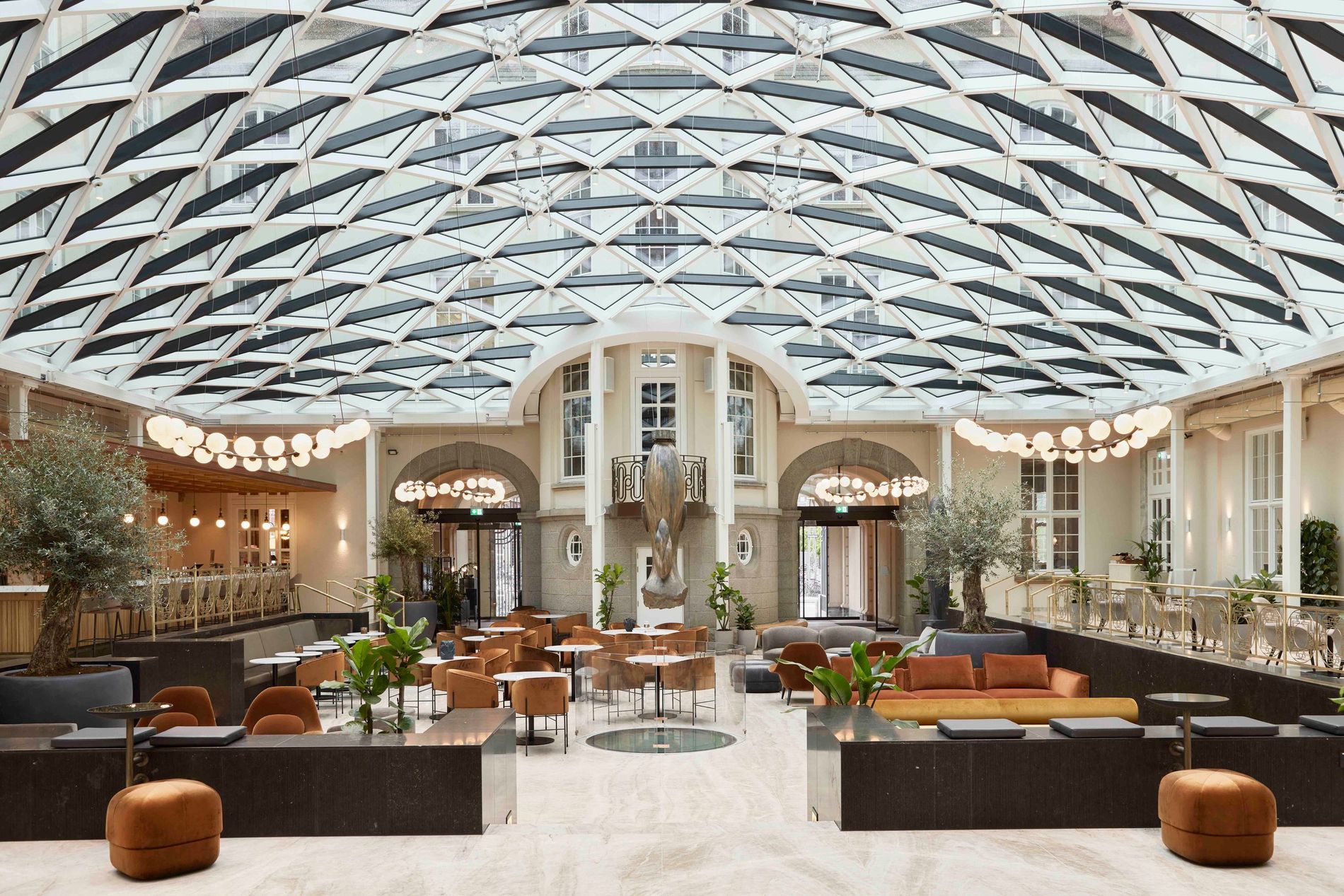 Photo: Villa Copenhagen
Skt. Petri
Arguably one of the most iconic boutique hotels of the Scandi style set every Copenhagen Fashion Week, Skt. Petri is a light-filled, spacious building in an urban village setting on Krystalgade, perfectly placed in the heart of Indre By. Once an old department store, today a 5-star hotel excelling in delivering laidback first-class experiences. Think sustainable luxury, fashionable interiors and a breezy vibe.
Skt. Petri, Krystalgade 22, 1172 Copenhagen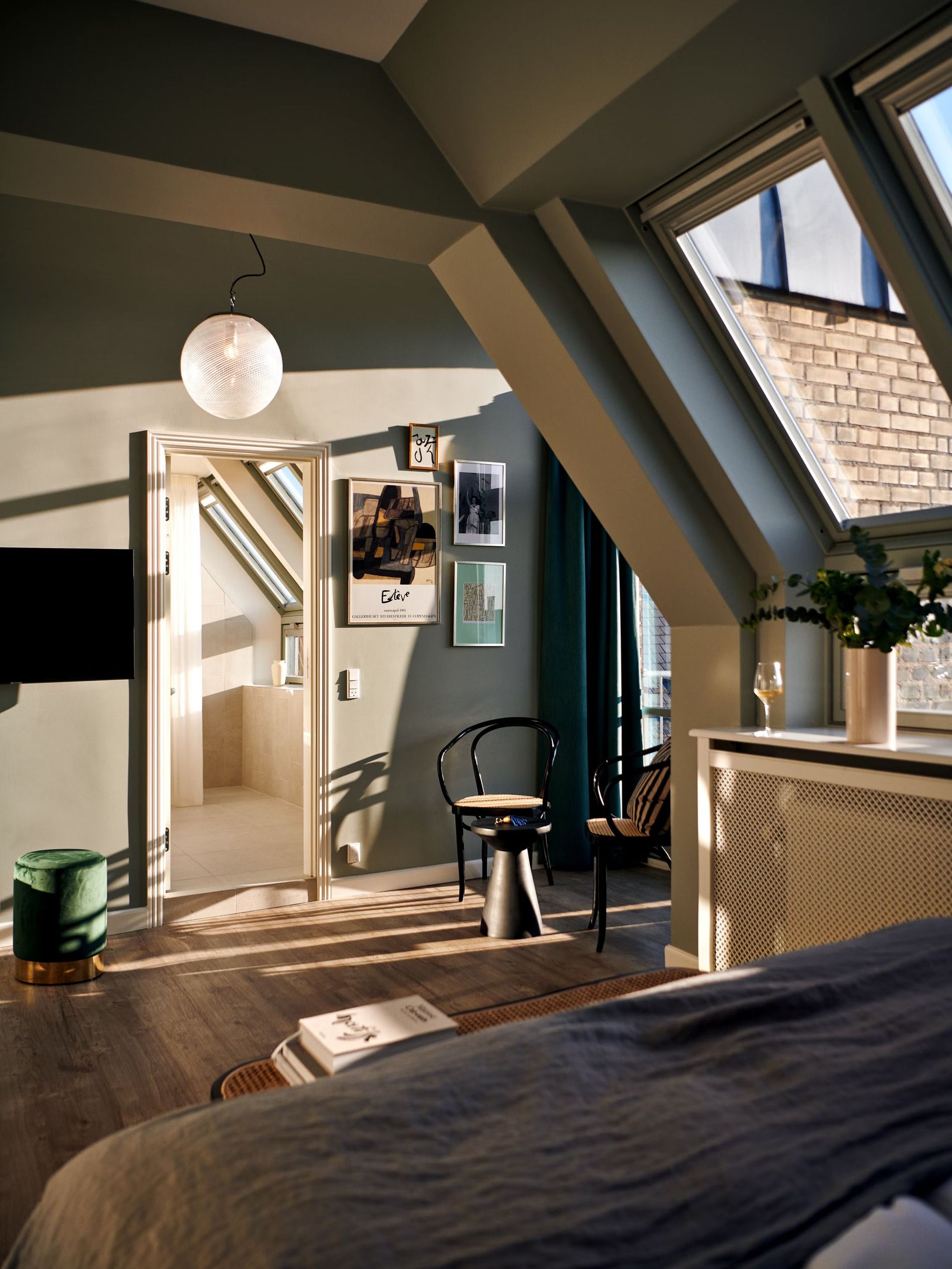 Photo: Coco Hotel
Coco Hotel
With its impeccable interior design and the ideal location in the heart of buzzing Vesterbro, Coco Hotel offers a modern stay. The 4-star sustainable boutique hotel mixes modern Danish aesthetics with a Parisian vintage vibe. Equipped with 88 charming rooms, a lavish green courtyard, and two culinary heavyweights – Café Coco and Delphine Restaurant – Coco Hotel makes the perfect home when you are far away from it.
Coco Hotel, Vesterbrogade 41, 1620 Copenhagen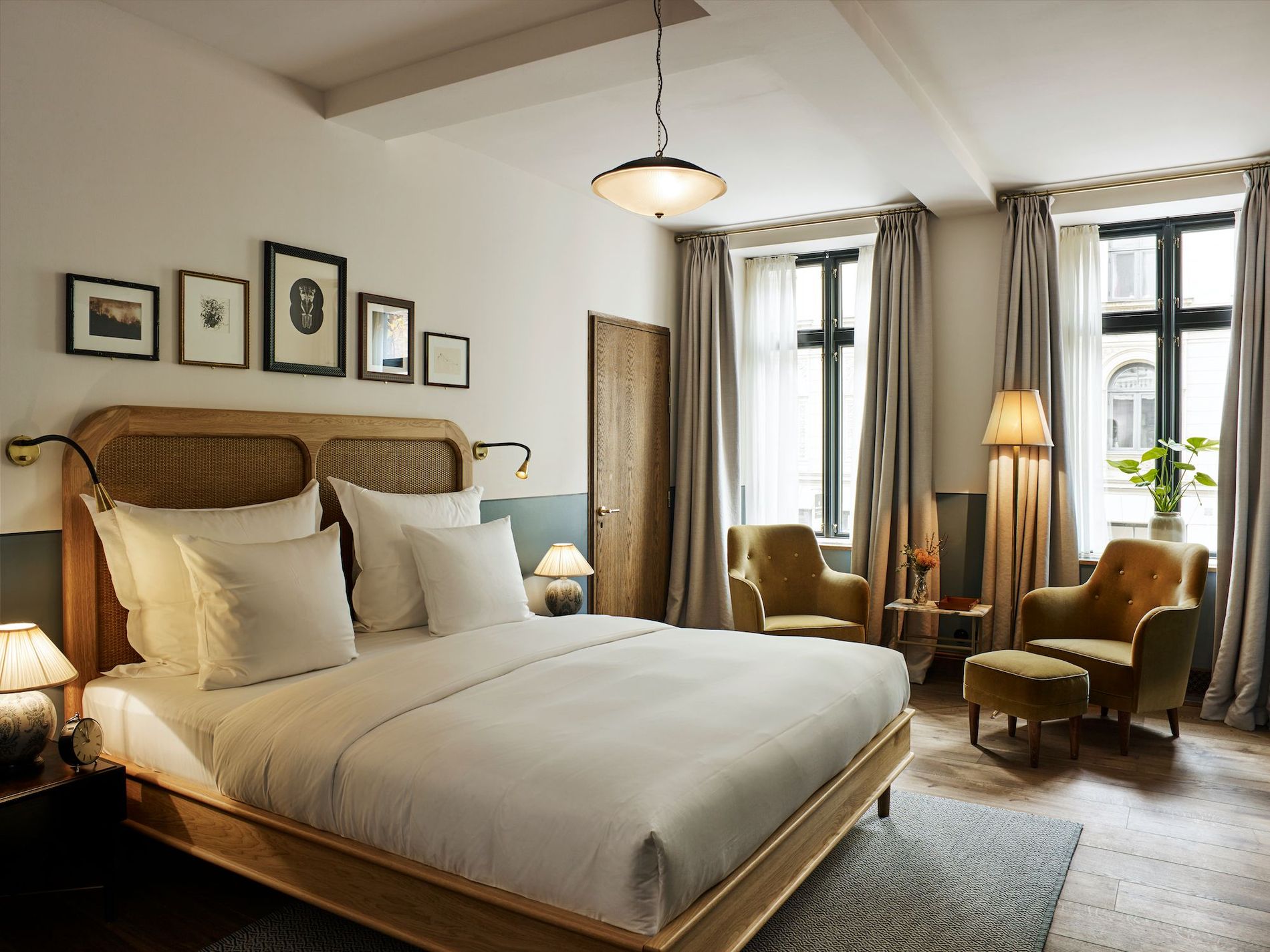 Photo: Hotel Sanders
Hotel Sanders
This boutique hotel is a warren of cute-as-a-button rooms inspired by the bygone era of luxury train cabins. Featuring understated opulent furniture, walk-in showers, plush lounge chairs, and a tranquil glass-covered terrace over the city's tiled roofs, Hotel Sanders offers a charming contrast to the big city feel in the centre of Copenhagen.
Hotel Sanders, Tordenskjoldsgade 15, 1055 Copenhagen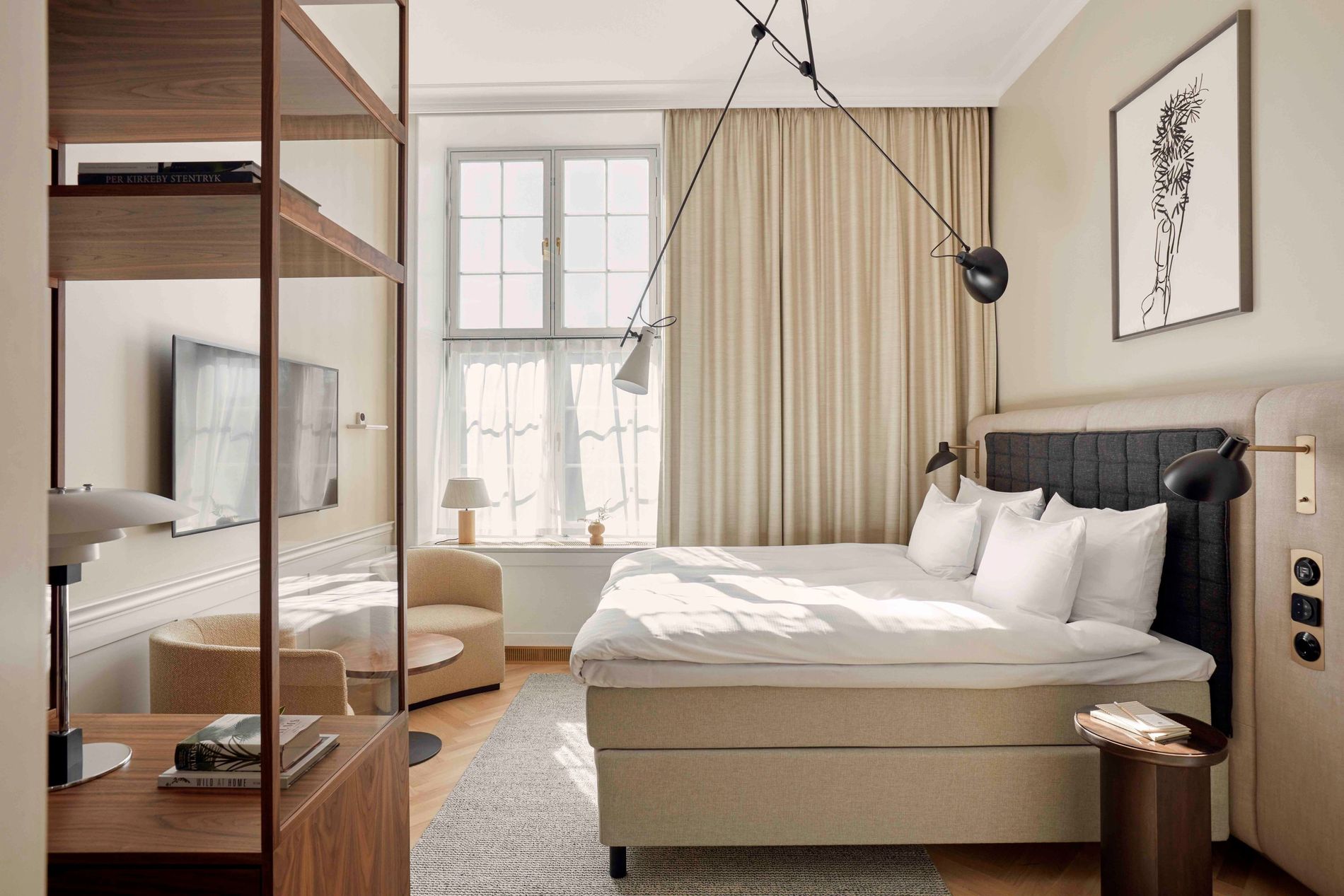 Photo: Villa Copenhagen
Villa Copenhagen
Conscious luxury at its best would be the proper motto to describe this gorgeous oasis in the city centre. Carrying on the history of the Central Post & Telegraph Head Office dating back to 1912, the 5-star hotel is not only an excellent choice for any city traveller but also for locals who are looking to indulge in an upper class retreat once in a while. Known for its 25-meter lapping rooftop pool, terrace bar, sauna, and fitness facilities, Villa Copenhagen is the perfect holiday-in-holiday residence with a vibrant atmosphere.
Villa Copenhagen, Centralpostbygningen, Tietgensgade 35-39, 1704 Copenhagen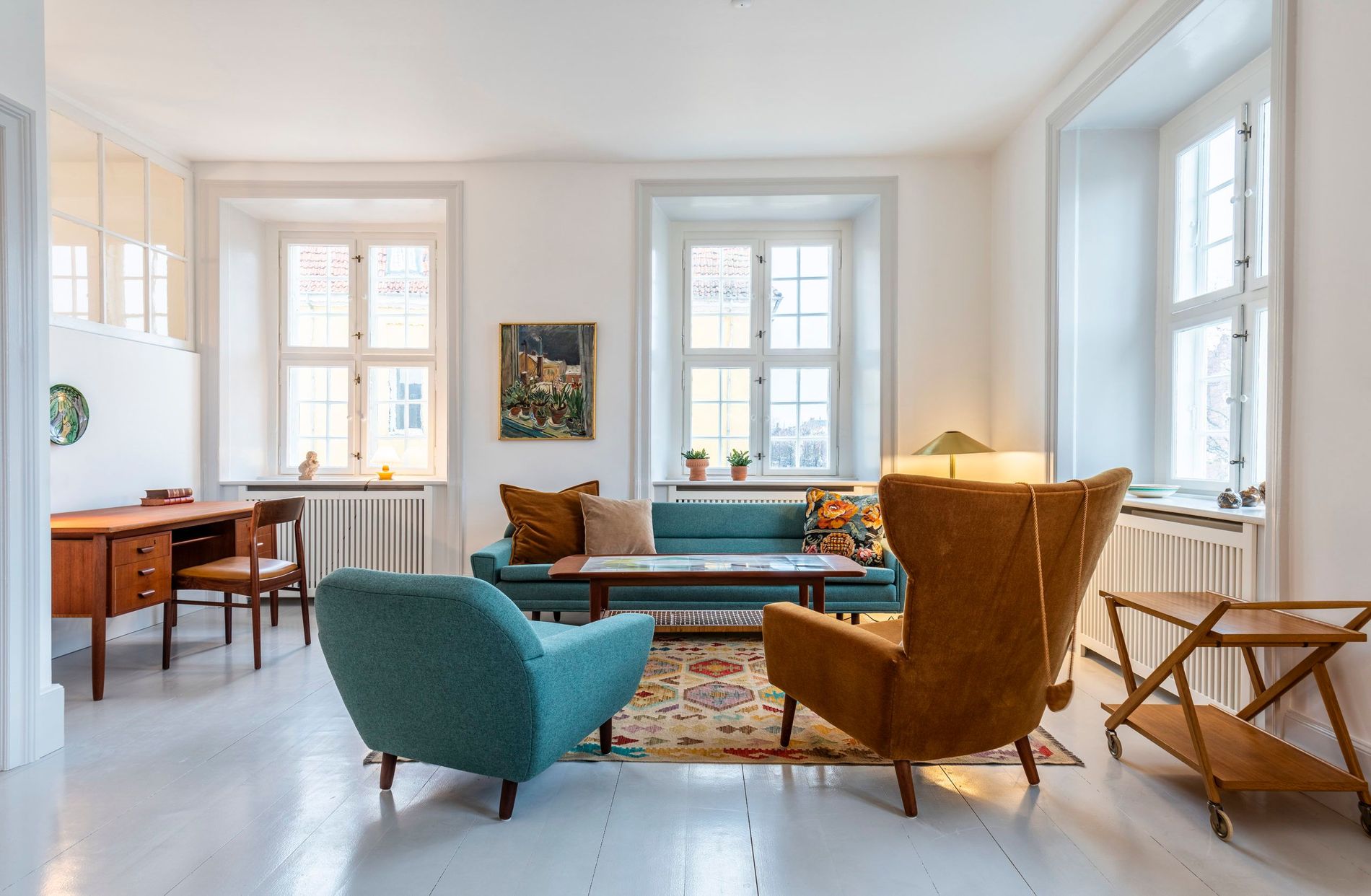 Photo: Kanalhuset
Kanalhuset
Located on the historic island Christianshavn with its cobblestone streets, Kanalhuset offers a breathtaking view of the canal and 14 large apartments, a bar, a restaurant, and yoga classes, a running club, and a knitting class. Inspired by Danish design from the 1930s to 1970s, all apartments are decorated with vintage furniture and decoration from auctions, flea markets and private collections, adding this extra wow factor to the sophisticated aesthetic of the hotel.
Kanalhuset, Overgaden Oven Vandet 62A, 1415 Copenhagen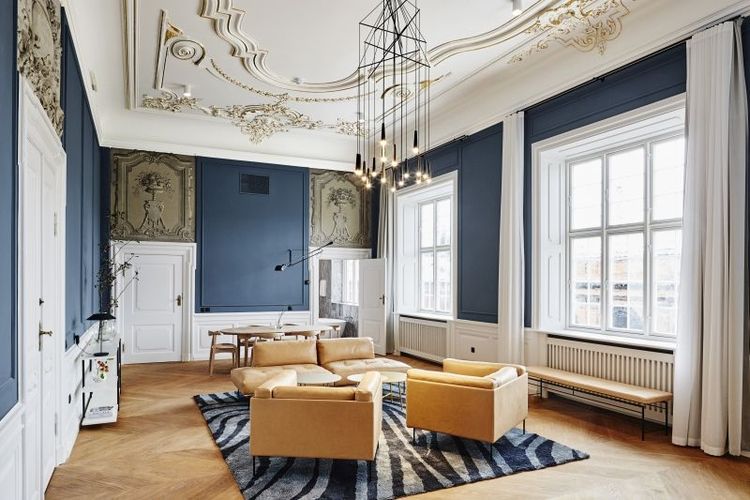 Photo: Nobis Copenhagen
Nobis Copenhagen
If you are looking for that extra touch of contemporary luxury, Nobis Copenhagen is your place to go. Featuring custom-made furniture in a minimalist setting, it is all about a divine experience here, from the modern yet timeless architecture by Swedish star architect Gert Wingårdh to the hotel's fine-dining restaurant, the mesmerizing Marble Bar and the fitness and relaxation area. Don't miss a visit to Glyptoteket and the Tivoli Gardens next door.
Nobis Copenhagen, Niels Brocks Gade 1, 1574 Copenhagen